Our best potluck recipes are perfect for game day or any other party that you need to handle. Potluck recipes aren't just for potlucks, either. They are also great recipes when you just want to batch cook for your family.
This roundup post is a collection of our favorite potluck recipes.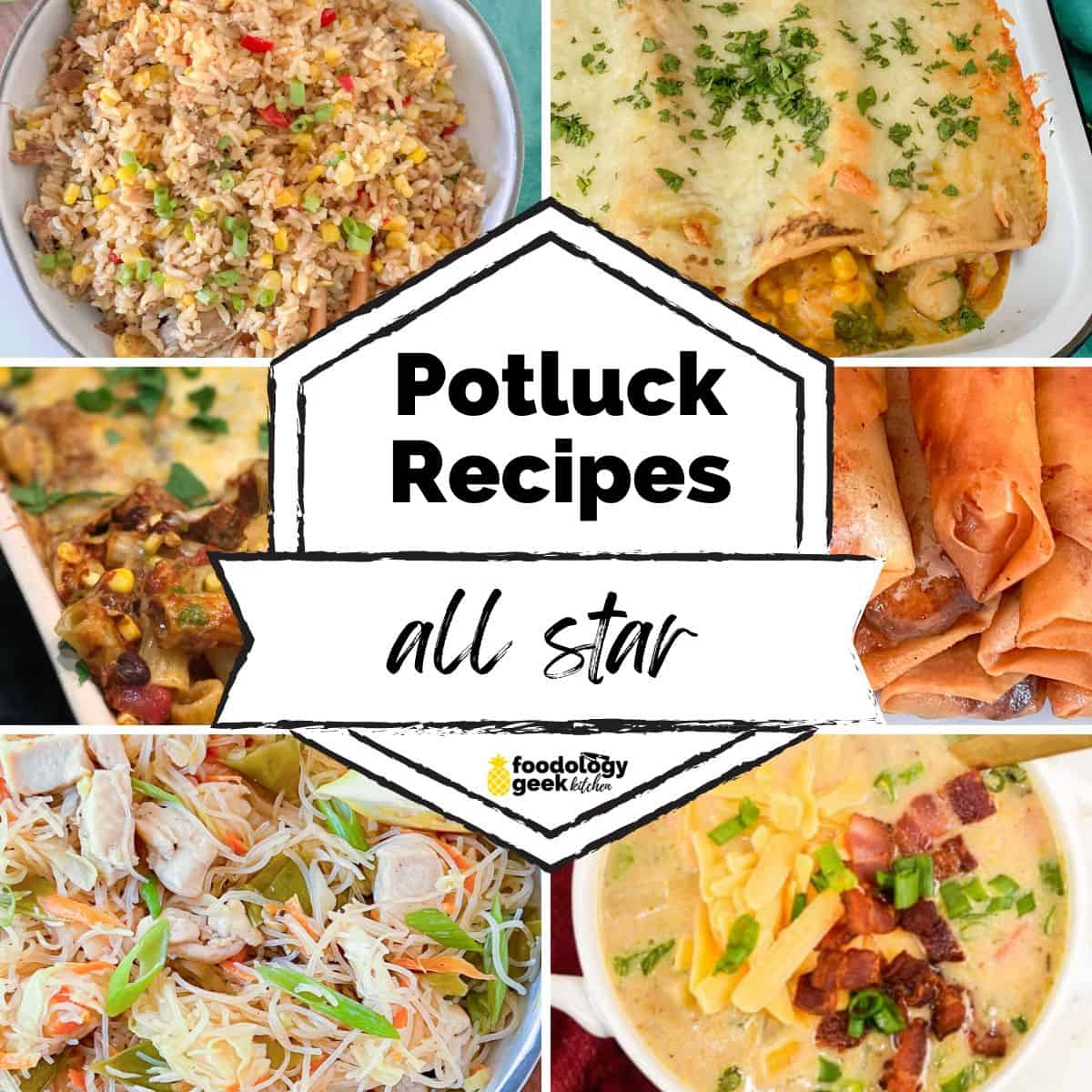 No matter the occasion, our curated collection of potluck ideas will surely delight your family and friends! From quick snacks for game day to batch-cooking eats that will have everyone coming back for more, these easy-to-follow recipes are perfect whether you're hosting a party or feeding the fam.
What is a potluck?
The word potluck means taking a chance that whatever is available will prove good or acceptable, which I have found to be true at most. There's always something tasty. Right? Let's dive into our favorites.
Just a few ideas that are potluck worthy:
Dips
Dip recipes are always contenders for any party. Creamy, tasty, and easy to eat. Who doesn't like a good appetizer dip?
We like them so much that we have a few. Check our complete collection of dip recipes.
Cheesy Dips like the 🥨 Pub Style Beer Cheese, 🐔 Buffalo Chicken Dip, and of course, the mouthwatering 🧀 Queso Dip. You can't go wrong with any of these tasty dips.
Creamy Dips are also worth mentioning. 🧅 Homemade French Onion Dip might be our favorite. But a classic 🥑 Guacamole or an exciting but super delicious 🌶 Kimchi Dip are all sure to be crowd-pleasers.
Are you searching for the ultimate pimento cheese recipe that will have your taste buds dancing? Look no further! This classic southern recipe is an…
Salsas
Salsa recipes can indeed compete for the best-ever potluck contribution. Salty, crunchy chips and spicy, juicy salsa are my favorites. How about you?
At Foodology Geek, we're obsessed with tacos, so we have a few salsa recipes you'll love.
Fruit Salas like 🍍 Pineapple Salsa & 🥭 Mango Salsa are two favorites everyone loves.
Classic Salsa Recipes like Pico de Gallo and 🍅 Roasted Tomato Salsa never disappoint.
Salsa recipes with a new twist like our 🌽 Sweet & Spicy Corn Salsa or Try Esquites, a Mexican Street Corn Salad that is ideally chip worthy.
Looking to add a burst of flavor to your favorite Mexican dishes? Look no further than salsa verde! This zesty and vibrant green sauce will…
Lomi-Lomi Salmon is a popular Hawaiian dish made with ripe, juicy tomatoes, sweet Maui onion, green onions, and shredded or diced salted salmon. This simple…
This pineapple salsa is like a vacation for your taste buds. With bright, sunny flavors from the juicy pineapple and jalapeño pepper, it's the perfect…
Looking for a fresh and tasty way to enjoy corn this summer? Look no further than this delicious corn salsa recipe! With just a few…
Mango Salsa is sweet and spicy. This fruit salsa recipe is made with ripe juicy mangos, serrano peppers, red onion, cilantro, and a fresh squeeze…
Homemade salsa recipes add so much flavor to all of your favorite Mexican food. This collection of the BEST Salsa Recipes gives you salsa for…
Hearty Crockpot Stews
Thick stews and chowders are always an easy win for a potluck. Bring them in your slow cooker to stay warm during the party.
Warm Stew Recipes make great potluck recipes. We have a lot of soup and stew recipes. Take your pick from our collection.
A warm bowl of Turkey Soup is the ultimate comfort food when you have leftover Thanksgiving turkey. This homemade turkey soup recipe, or my Turkey Pot Pie…
Phở Tai is a Vietnamese Beef Noodle Soup that is delicious and comforting. This flavorful and healthy soup recipe is easy to make. Now, you…
Indulge in autumn's warm and comforting flavors with our ultimate pumpkin soup recipe. Bursting with the rich, earthy taste of pumpkin and seasoned with warm spices,…
Are you ready to savor the fiery deliciousness of keto chili? Don't miss out on this exciting adventure! Grab your apron, gather the ingredients, and…
Warm your soul with our nourishing lentil soup with wild rice recipe. Packed with protein, fiber, and a medley of flavors, this comforting dish is…
This delicious Japanese Beef Curry recipe is an umami-packed beef stew with carrots and potatoes simmered in a subtle but savory Japanese curry sauce. Let…
Fried Rice Recipes
Fried rice might be the ultimate side dish. A good fried rice recipe can stand alone as the main dish. They are super easy to make, filling, and ultra tasty.
We might be aficionados of fried rice. Here are a few of our favorite versions.
Super simple 🥡 Chinese Take Out Fried Rice is easy to make and customizable, so you can use whatever meat you like or even no meat. Spam Fried Rice and Pork Fried Rice are two 🌺 Hawaiian-Style Favorites. The 🌶 Spicy Dirty Fried Rice might be for you if you want something spicy. It's also been the most controversial post on the blog.
Indulge in the tantalizing flavors of fried rice with a delightful twist – Garlic Fried Rice! This dish is a harmonious blend of aromatically sautéed…
This yummy pork fried rice is a spin on Hawaiian fried rice. It's made with my Smoked Kalua Pulled Pork. This fried rice recipe is…
If you've ever wondered how to make risotto, this risotto recipe is totally for you. An easy vegan risotto recipe is just what cold and…
When you can't make it to your favorite Chinese restaurant, you can make this easy fried rice recipe at home in less than 20 minutes. Not…
Cauliflower Rice is a delicious low-carb 'keto rice' alternative for your favorite rice and burrito bowls. Chipotle's copycat recipe for their cilantro lime cauliflower rice….
I know what you're thinking. Fried rice is such a simple dish, why would I need a recipe for it? But trust me, this Spam…
Chicken Wings & Things
Buffalo Wings, AKA Hot Wings, are finger food crowd-pleasers. If you like your wings a little less spicy, you can try the Garlic Parmesan Wings.
Other notable dishes perfect for bringing to a potluck are Chicken Satay Skewers with Peanut Sauce, Buffalo Shimp Jalapeño Poppers, and our Spicy Bacon Wrapped Shrimp.
Buffalo wings might just be one of the best appetizer recipes ever created. Hot wings deliver when you're craving something crispy, spicy, and saucy. Swimming…
Chicken Satay is a famous grilled meat dish that originated in Indonesia. The marinade is made with ginger, garlic, and turmeric. You can find chicken…
If you're looking for an easy appetizer recipe or a kid-friendly dinner. Look no further. Garlic Parmesan Wings are it! These babies are baked but…
Bacon-wrapped shrimp is a super easy party snack recipe that everybody loves. You can serve this surf and turf finger food for any holiday gathering,…
My Buffalo Shrimp Jalapeño Poppers are an upgraded version of the classic jalapeño poppers recipe. Shrimp seasoned with buffalo spice, stuffed with brie, and then…
Crunchy Appetizers
Crunch is King when there is a potluck spread. Easy appetizer recipes like Cripsy Buffalo Eggrolls, Southwest Eggrolls, and Lumpia will make your mouth water.
Crispy bread, like Italian Breadsticks, is perfect for serving with a Cheese Plate or Charcuterie Board. Crunchy Crostini topped with your favorite toppings are an easy potluck dish.
Crostini is a super simple and delicious appetizer that can be made with just a few ingredients. This recipe is perfect for any occasion and…
Learning to make grissini is a great way to step up your home cooking game. These crispy breadsticks 🥖 are perfect for any occasion and…
Lumpia is a Filipino egg roll filled with meat and veggies. These crispy, golden brown spring rolls make a tasty appetizer. Serve these crispy rolls…
Crostini smothered with whipped lemon-scented goat cheese, then topped with perfectly browned mushrooms with butter and thyme. This appetizer is so easy but super impressive….
Southwestern Egg Rolls are a spicy crispy game-day appetizer recipe that's perfect for your next super bowl party. Serve them with a creamy spicy southwest…
Baked, fried, or in your air fryer! This healthy buffalo chicken egg rolls recipe is the perfect thing to bring for your next party. Everybody…
Delicious parmesan shortbread in the form of edible monster fingers— Anyone? If you are looking for Halloween treat ideas 😜— I'm your girl! If you…
My Buffalo Shrimp Jalapeño Poppers are an upgraded version of the classic jalapeño poppers recipe. Shrimp seasoned with buffalo spice, stuffed with brie, and then…
Other Potluck Recipes Worth Mentioning
When it comes to it, anything can be a potluck recipe as long as it's portable. Salads and veggie sides are great choices. Easy casserole recipes and Enchiladas are quick and easy one-dish recipes that can be packed and reheated.
We would be remiss if we left our noodles. Everyone loves noodles. Noodle dishes can often be served cold or at room temperature, so you won't have to reheat them.
Pancit is an iconic Filipino noodle dish made with stir-fried meat, vegetables, and rice noodles seasoned with a savory broth. This pancit recipe is a…
As far as shrimp recipes go, these spicy noodles are among the best. Slurpy rice noodles with crisp veggies, spicy shrimp, and tons of flavorful…
Noodle bowls are the best kind of comfort food. These Thai noodles are made with red curry paste and yellow curry paste for the most…
This homemade noodle recipe might be the ultimate comfort food. In my family these are the must-have every single year Thanksgiving noodles. I've been making…
Salad Recipes Good For A Potluck
Here are some of our Salad Recipes and our favorite Coleslaws. Coleslaw travels well and is always a tasty contribution to the table. Macaroni and Pasta Salads are another favorite dishes to bring when sharing. Don't forget about the Potato Salad.
Hawaiian-style macaroni salad is an iconic Hawaiian recipe. This creamy Hawaiian side dish is the sidekick on every plate lunch in Hawaii. If you've ever…
This creamy cucumber salad recipe is easy, refreshing, and crunchy. It's the perfect summer side dish that pairs well with all of your favorite grilled…
This Asian slaw is packed with crisp veggies and then tossed with a flavorful Asian peanut dressing. It's the perfect side dish for grilled chicken…
This easy Asian cucumber salad is marinated in a spicy-sweet sesame ginger dressing. The result is a crunchy, refreshing, umami-packed salad that's a delicious side…
Get ready to kick your summer BBQ game up a notch with a side dish that is sure to steal the show – Broccoli Salad!…
This classic Caesar Salad Recipe has all the things that you love, crisp romaine lettuce, cheesy garlic croutons, and the best Caesar salad dressing. The…
The Best Vegetable Sides For Potlucks
Hearty veggie side dishes baked in one dish are easy to make, transport, and consistently well received by a crowd. Dishes like Scalloped Potatoes, potato casseroles like Funeral Potatoes, and Green Bean Casserole are a few holiday sides that also work for potluck dishes.
Roasted Sweet Potatoes are everything you love about Thanksgiving but in a simpler, easier-to-make form. These tasty spuds get the same touch of maple syrup…
Mexican Corn Salad is a charred, buttered corn salad with a cheesy, creamy, spicy dressing. This fresh corn salad is a version of Esquites which…
Up your nutrition game with these Bacon, Tomato, and Avocado Deviled Eggs. These nutrient-packed deviled eggs made without mayo are about to rock your Holiday!…
This is truly the best Mexican rice recipe out there. Restaurant-style Mexican Rice is easy to make at home. This delicious rice recipe is fluffy,…
Fluffy, warm cornbread is always a treat! Especially if you have honey butter. This recipe always comes out moist, delicious. Plus it's super easy to…
Homemade guacamole is so easy to make. If you're craving that creamy but chunky guacamole for all of your favorite Mexican Food. Look no further….
One Dish Recipes Good For A Potluck
One-dish recipes like casseroles, enchiladas, and meatloaf can also be brought to a potluck. All these recipes transport well, are good at room temperature, and can be reheated.
Noodle dishes like Pancit, pasta tossed with a sauce such as Pesto or Bolognese, are easy to serve at a party. Serve it in a large bowl and let guests dig in with tongs.
This pot roast recipe contains everything you want in a family favorite comfort food dinner: melt-in-your-mouth beef, carrots, and potatoes, all swimming in a succulent…
Bolognese sauce is an authentic Italian meat sauce that's truly satisfying. Its rich meaty flavor is something to write home about. Making the very best…
This Easy Shredded Beef Recipe is one of my favorite recipes! Not only is it delicious and flavorful, but it's also so flexible. You can…
Beef Stew is the perfect cold-weather meal. Luxurious stock and melt in your mouth tender chunks of beef make this stew a family favorite. You…
Nothing says all American comfort food like an old-fashioned meatloaf recipe. After much testing, I've finally figured out how to make the BEST meatloaf. It's tender and…
Homemade Turkey Pot Pie made from Thanksgiving leftovers and the flakiest pie crust is everyone's favorite comfort food recipe. My two favorite things to make…
Shepherd's pie is made with ground beef (or lamb) and hearty vegetables in a rich gravy. The whole thing is topped with fluffy mashed potatoes…
There's no doubt that beef short ribs are the ultimate comfort food recipe. Serve this tender, fall off the bone beef with mashed potatoes OR…
This grilled chicken marinade adds a ton of flavor and tenderizes the chicken breasts. Say Hello to the Best Grilled Chicken! This is the best-grilled…
Gear up for summer with BBQ Pork Shish Kabobs! These grilled pork skewers are tender, juicy, and seasoned with smokey BBQ bacon rub. After grilling,…
Leave A Review
Did you make this recipe? Leave a comment and a 5 ★ review. Your feedback helps other readers and helps me continue to offer recipes at no cost. Happy Cooking!!