Our best potluck recipes are perfect for game day or any other party that you need to handle. Potluck recipes aren't just for potlucks, either. They are also great recipes when you just want to batch cook for your family.
This roundup post is a collection of our favorite potluck recipes.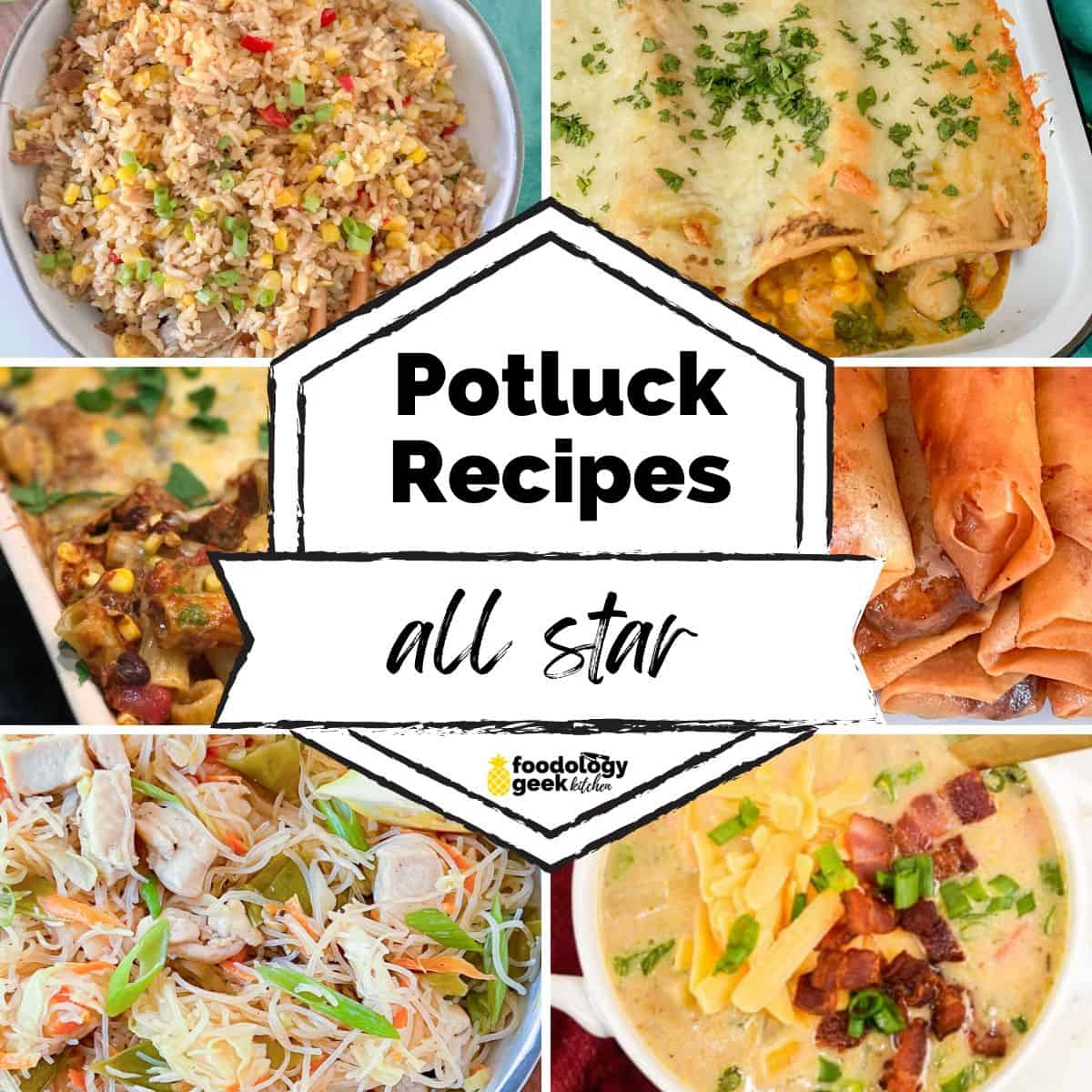 No matter the occasion, our curated collection of potluck ideas will surely delight your family and friends! From quick snacks for game day to batch-cooking eats that will have everyone coming back for more, these easy-to-follow recipes are perfect whether you're hosting a party or feeding the fam.
What is a potluck?
The word potluck means taking a chance that whatever is available will prove good or acceptable, which I have found to be true at most. There's always something tasty. Right? Let's dive into our favorites.
Just a few ideas that are potluck worthy:
Dips
Dip recipes are always contenders for any party. Creamy, tasty, and easy to eat. Who doesn't like a good appetizer dip?
We like them so much that we have a few. Check our complete collection of dip recipes.
Cheesy Dips like the 🥨 Pub Style Beer Cheese, 🐔 Buffalo Chicken Dip, and of course, the mouthwatering 🧀 Queso Dip. You can't go wrong with any of these tasty dips.
Creamy Dips are also worth mentioning. 🧅 Homemade French Onion Dip might be our favorite. But a classic 🥑 Guacamole or an exciting but super delicious 🌶 Kimchi Dip are all sure to be crowd-pleasers.
Do you like beer and cheese? Of course, you do! Beer cheese is a delicious appetizer that is perfect for game day or any party….
Salsas
Salsa recipes can indeed compete for the best-ever potluck contribution. Salty, crunchy chips and spicy, juicy salsa are my favorites. How about you?
At Foodology Geek, we're obsessed with tacos, so we have a few salsa recipes you'll love.
Fruit Salas like 🍍 Pineapple Salsa & 🥭 Mango Salsa are two favorites everyone loves.
Classic Salsa Recipes like Pico de Gallo and 🍅 Roasted Tomato Salsa never disappoint.
Salsa recipes with a new twist like our 🌽 Sweet & Spicy Corn Salsa or Try Esquites, a Mexican Street Corn Salad that is ideally chip worthy.
Hearty Crockpot Stews
Thick stews and chowders are always an easy win for a potluck. Bring them in your slow cooker to stay warm during the party.
Warm Stew Recipes make great potluck recipes. We have a lot of soup and stew recipes. Take your pick from our collection.
Fried Rice Recipes
Fried rice might be the ultimate side dish. A good fried rice recipe can stand alone as the main dish. They are super easy to make, filling, and ultra tasty.
We might be aficionados of fried rice. Here are a few of our favorite versions.
Super simple 🥡 Chinese Take Out Fried Rice is easy to make and customizable, so you can use whatever meat you like or even no meat. Spam Fried Rice and Pork Fried Rice are two 🌺 Hawaiian-Style Favorites. The 🌶 Spicy Dirty Fried Rice might be for you if you want something spicy. It's also been the most controversial post on the blog.
Chicken Wings & Things
Buffalo Wings, AKA Hot Wings, are finger food crowd-pleasers. If you like your wings a little less spicy, you can try the Garlic Parmesan Wings.
Other notable dishes perfect for bringing to a potluck are Chicken Satay Skewers with Peanut Sauce, Buffalo Shimp Jalapeño Poppers, and our Spicy Bacon Wrapped Shrimp.
Crunchy Appetizers
Crunch is King when there is a potluck spread. Easy appetizer recipes like Cripsy Buffalo Eggrolls, Southwest Eggrolls, and Lumpia will make your mouth water.
Crispy bread, like Italian Breadsticks, is perfect for serving with a Cheese Plate or Charcuterie Board. Crunchy Crostini topped with your favorite toppings are an easy potluck dish.
Other Potluck Recipes Worth Mentioning
When it comes to it, anything can be a potluck recipe as long as it's portable. Salads and veggie sides are great choices. Easy casserole recipes and Enchiladas are quick and easy one-dish recipes that can be packed and reheated.
We would be remiss if we left our noodles. Everyone loves noodles. Noodle dishes can often be served cold or at room temperature, so you won't have to reheat them.
Salad Recipes Good For A Potluck
Here are some of our Salad Recipes and our favorite Coleslaws. Coleslaw travels well and is always a tasty contribution to the table. Macaroni and Pasta Salads are another favorite dishes to bring when sharing. Don't forget about the Potato Salad.
The Best Vegetable Sides For Potlucks
Hearty veggie side dishes baked in one dish are easy to make, transport, and consistently well received by a crowd. Dishes like Scalloped Potatoes, potato casseroles like Funeral Potatoes, and Green Bean Casserole are a few holiday sides that also work for potluck dishes.
One Dish Recipes Good For A Potluck
One-dish recipes like casseroles, enchiladas, and meatloaf can also be brought to a potluck. All these recipes transport well, are good at room temperature, and can be reheated.
Noodle dishes like Pancit, pasta tossed with a sauce such as Pesto or Bolognese, are easy to serve at a party. Serve it in a large bowl and let guests dig in with tongs.
➽ Did you make this recipe? I love to see what's going on in your kitchen. Show me what you're cooking. 🍳 Tag me @foodologygeek on your favorite social channel! Facebook, Instagram & Pinterest. If you loved ❤︎ this recipe, please leave a five ★ review and a comment!