I created this recipe just for Super Bowl: Buffalo Shrimp Jalapeño Poppers. Yum! This recipe is a spin on the traditional Super Bowl snack.
I was inspired to make this bombastic Super Bowl appetizer when I was down in San Diego last week.
My sister-in-law was telling me about these jalapeño poppers her friend made and how spicy they were.
At the exact same time, I was watching Ree Drummond make brie stuffed mushrooms for her Super Bowl party line-up.
Then... bam! Buffalo Shrimp and brie found their way into a jalapeño and got wrapped in bacon for the win!
This is how my brain works folks! 85% of the time, I'm thinking about food and how to cook it!
I can be watching MacGyver and get inspired you never know when it'll happen. But, when it does, it's usually pretty fantastic.
Spicy shrimp with brie, nestled into a jalapeño then wrapped in bacon for the win.
If you're like me, you only watch Super Bowl for the commercials. Well, and the party snacks.
I grew up in a family that wasn't really into sports, but we always loved appetizers and party snacks. A lot of my friends are surprised when I tell them I don't watch sports.
I'm a tomboy, so I guess they figure it just goes with the territory.
I grew up riding dirt bikes and playing in the mud, and I'm super into ballet and MMA fighting. Go figure!
The first thing I think about when I think about football is a big pot of chili.
Chili is one of my favorite foods anyway, but it makes excellent party food on its own, OR you can add some cheese to it and warm it in a slow cooker. Ummm, yes, on the Chili Con Queso!
You can find the recipe for my 5 Alarm Firehouse Chili and eat it straight up, but I always serve it with tortilla chips, sour cream, shredded cheddar, and some chopped green onions.
FOR THE CHILI CON QUESO:
Add about 5 cups of chili to a slow cooker on low. To that, add 5 cups of shredded or diced cheddar or Monterey jack cheese. Let it melt and watch the magic happen.
I love my chili topped with sour cream and green onions. A handful of tortilla chips makes a tasty, crunchy side.
A beautiful cheese plate – cheese and crackers always make a super-easy party snack.
Fruit and cheese are a gorgeous appetizer. And BONUS: No cooking is involved.
This appetizer isn't a recipe – making a cheese plate for your Super Bowl appetizer just involves a large platter, some delicious fruit, cheese, crackers, and usually nuts.
I usually pick two or three of my favorite cheeses. My go-to cheeses are triple cream brie, a Dubliner cheddar, and a piece of blue cheese that I always serve with honey and dried apricots.
Grab the recipe for my delicious Spiced Nuts.
They might be addictive; I have to warn you! There is a savory version and a sweet version, so make both! You can't go wrong with these easy-to-prepare Super Bowl snacks.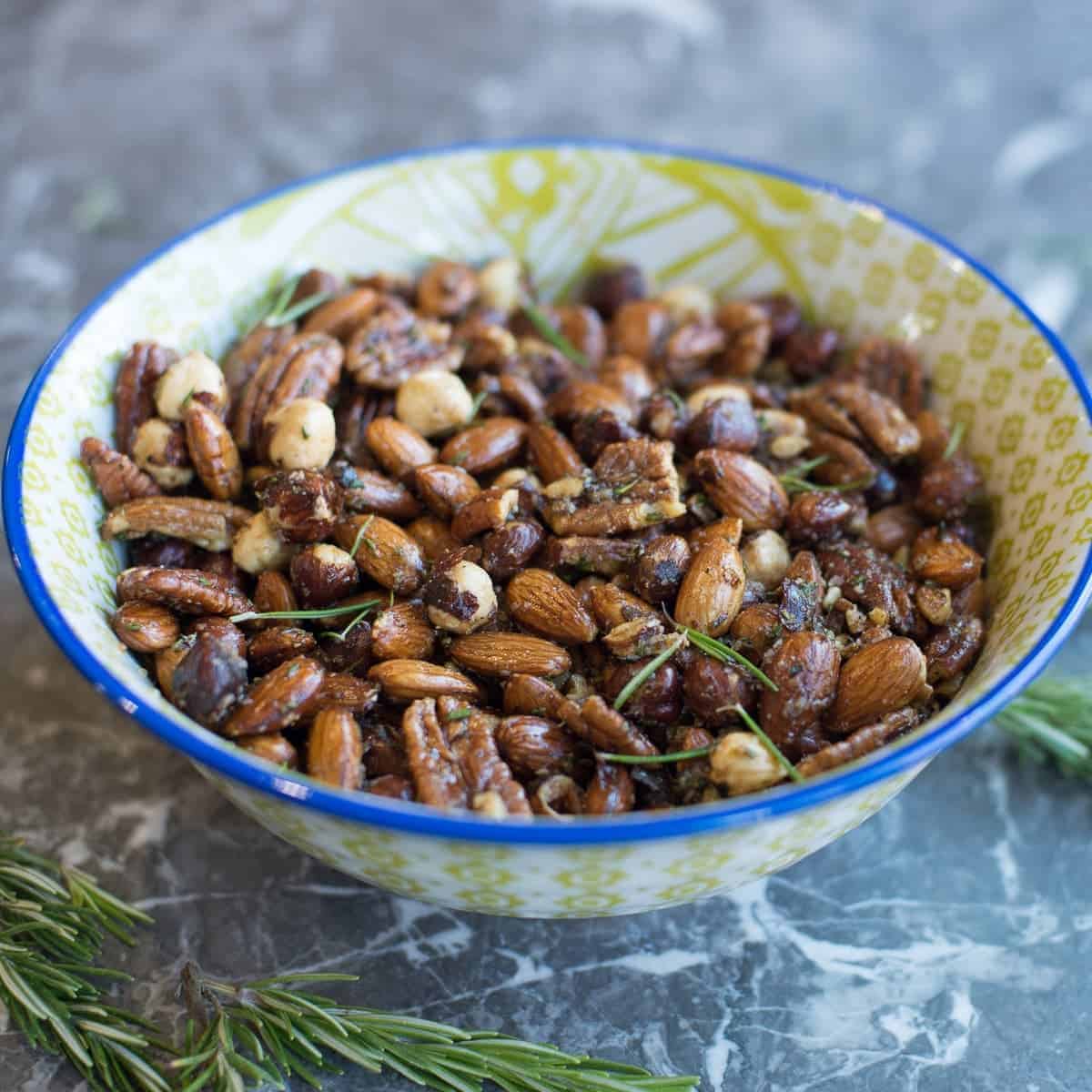 If you're feeling fancy... Goat Cheese and Fig Tart with Bacon is always an impressive appetizer!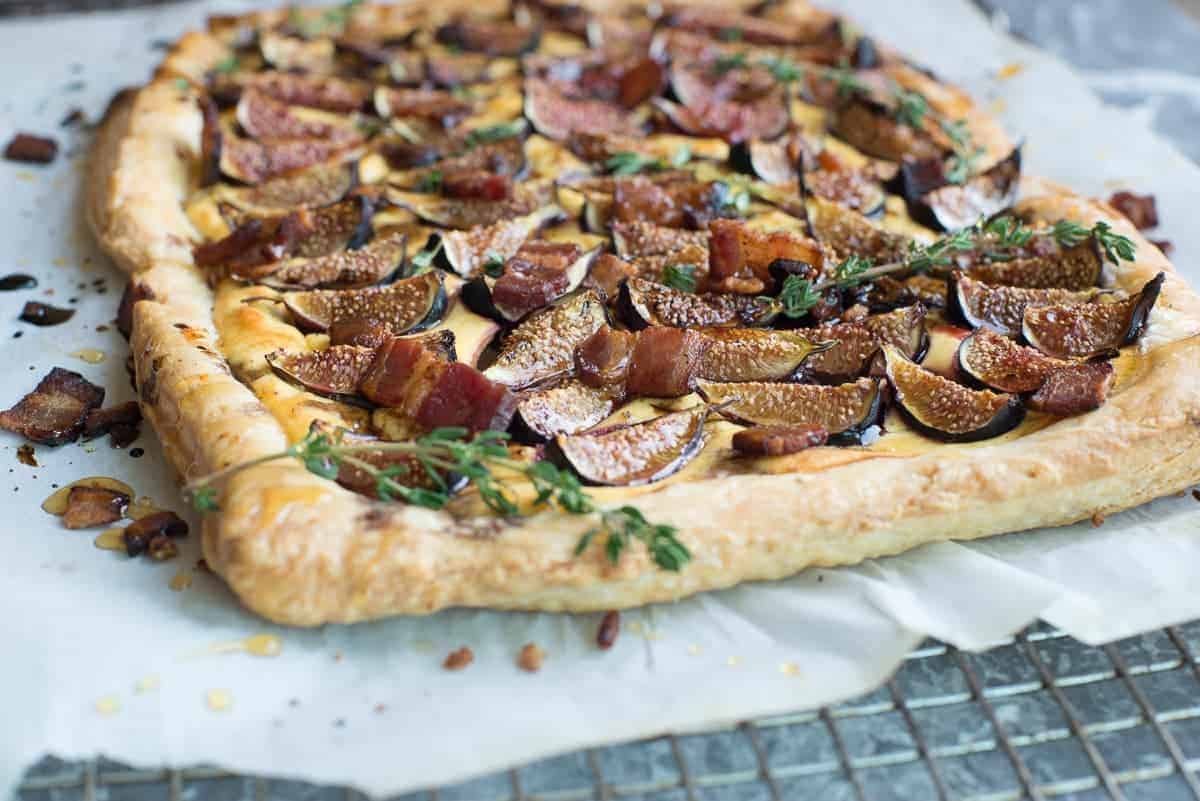 This Fig Tart appetizer recipe has all the making of a signature dish. Puff pastry (I buy it frozen and let it thaw), crispy salty bacon, lemon-thyme scented goat cheese, and fresh figs. Then the whole thing is finished off with a balsamic reduction and honey – it is to die for!
If you are going to make a delicious tart, why not make it with superfoods like juicy fresh figs?
I love a puff pastry tart because you can get creative with it. It's like having a canvas, build what you like with it. However, this Fig Tart combination is pretty fantastic – I highly recommend giving it a try!
Wherever you fall on the sports fan spectrum, have a fantastic Super Bowl Sunday!
Make sure you spend time with friends and have some great party snacks, a limited number of alcoholic beverages, and lots of water.
Peace Out and may your favorite team take home the cup or whatever it's called.
Buffalo Shrimp Jalapeño Poppers
These are my kicked up version of Jalepeño Poppers. They're stuffed with a spicy buffalo seasoned shrimp and brie cheese. This flavor profile is to die for. And you get more protein!
Ingredients
2

tbsp

Buffalo Seasoning Mix

12

Jalapeño Peppers

halved and seeded

24

Shrimp

medium, raw, tail-off

1

round

Triple Cream Brie

24

slices

Applewood Smoked Bacon
Instructions
Prepare a baking sheet by lining it with parchment paper.

Rinse the shrimp with cold water and pat dry with a paper towel or a clean kitchen towel.

Cut all of the jalapeños in half and seed them. It's a good idea to use gloves for this step.

Slice the brie into 24 pieces, they don't have to be exactly the same size, but close.

Toss the thawed shrimp with the buffalo seasoning.

Start to assemble: Add a piece of brie and one shrimp to each jalapeño, then wrap with a slice of bacon. Secure with a toothpick.

Place the bacon-wrapped poppers on to your baking sheet. Make sure that they have plenty of space. This makes sure that they get crispy while baking.

Bake for about 20 minutes. Oven temperatures vary, so make sure that you watch them. I usually rotate the pan halfway through the cooking time.
Nutrition
Calories:
133
kcal
Carbohydrates:
1
g
Protein:
6
g
Fat:
12
g
Saturated Fat:
5
g
Cholesterol:
39
mg
Sodium:
252
mg
Fiber:
1
g
Sugar:
1
g
Calcium:
29
mg
Iron:
1
mg
(Visited 224 times, 1 visits today)