Guinness Braised Beef Short Ribs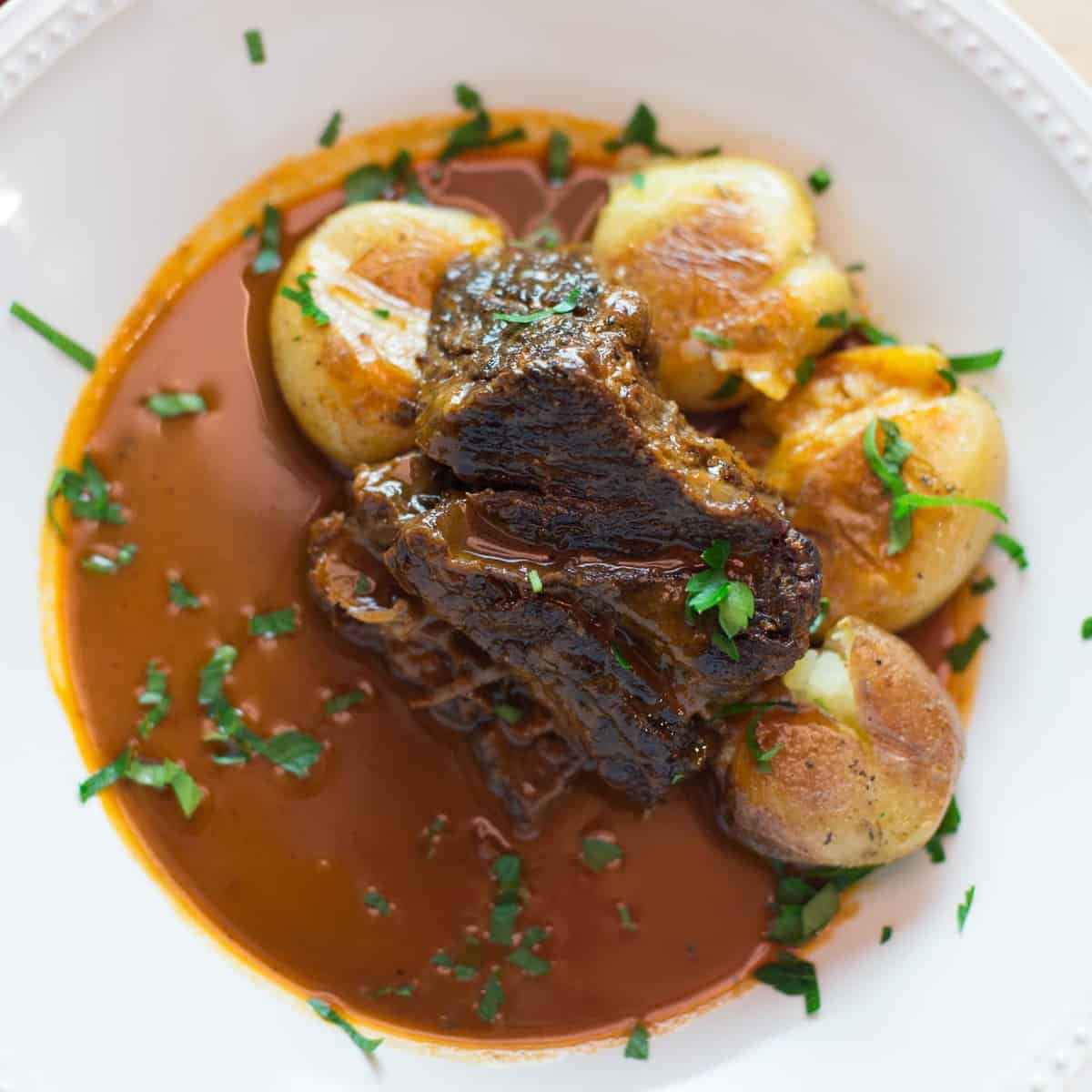 Recipe
Comments
Save
Go to Collections
This post may contain affiliate links. Please read my
disclosure policy.
There's no doubt that beef short ribs are the ultimate comfort food recipe. Serve this tender, fall off the bone beef with mashed potatoes OR smashed, roasted baby potatoes. This is the best short rib recipe and a perfect St. Patrick's Day dinner.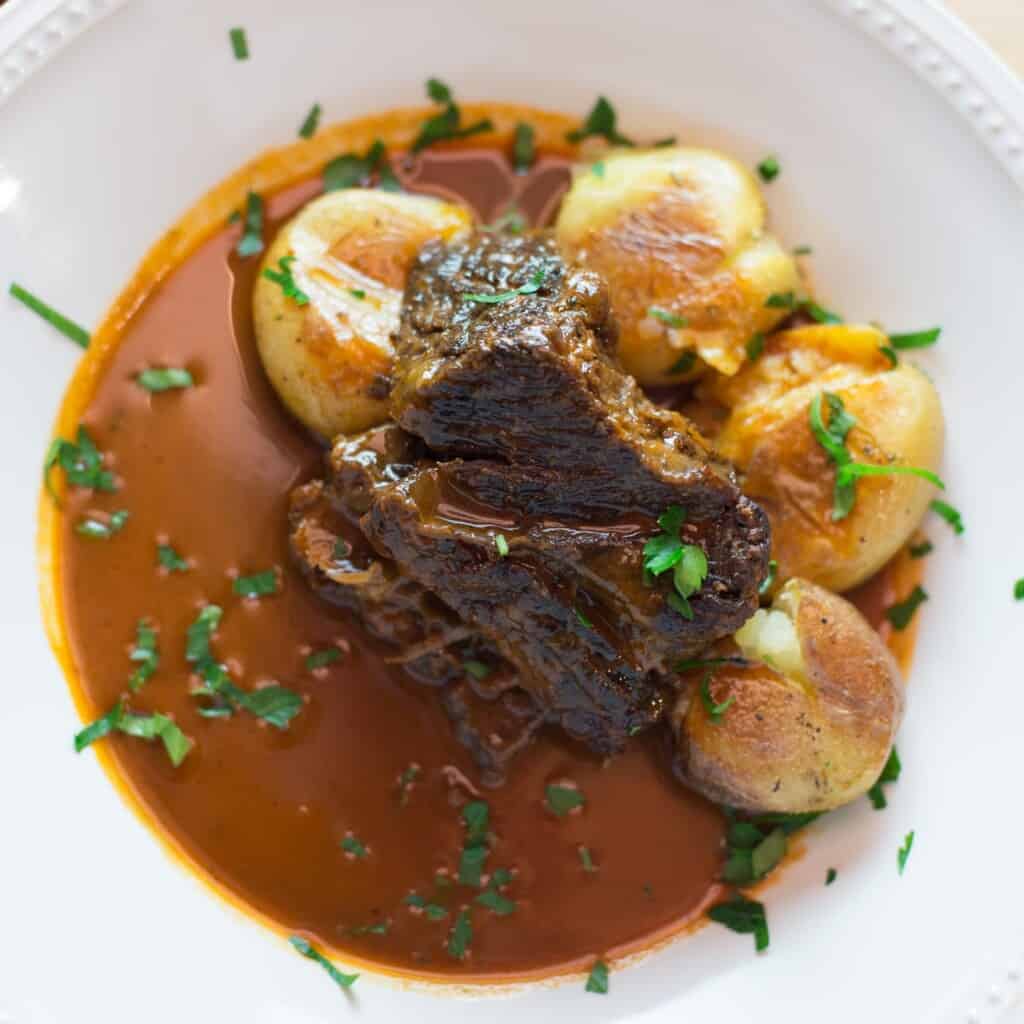 Most of the time, beef short ribs are braised in a wine-based sauce, which is also magnificently delicious. But I love the flavor that a rich Guinness Stout adds to this classic dish.
I'm not entirely sure when I officially became an expert on braised beef short ribs, but if I had to guess, it was probably about the 60th time that I ordered short ribs. After spending that much quality time with a piece of meat, I think I know it pretty well.
What You'll Love About This Recipe
EASY: This dish might look fancy. But don't let that fool you. Braised beef is super easy to make, and it has so much flavor.
HEARTY: Talk about comfort food. These tasty, succulent short ribs are everything that soul-warming food should be.
FANCY: This easy dinner recipe is fancy enough for company. You don't have to tell them your secret.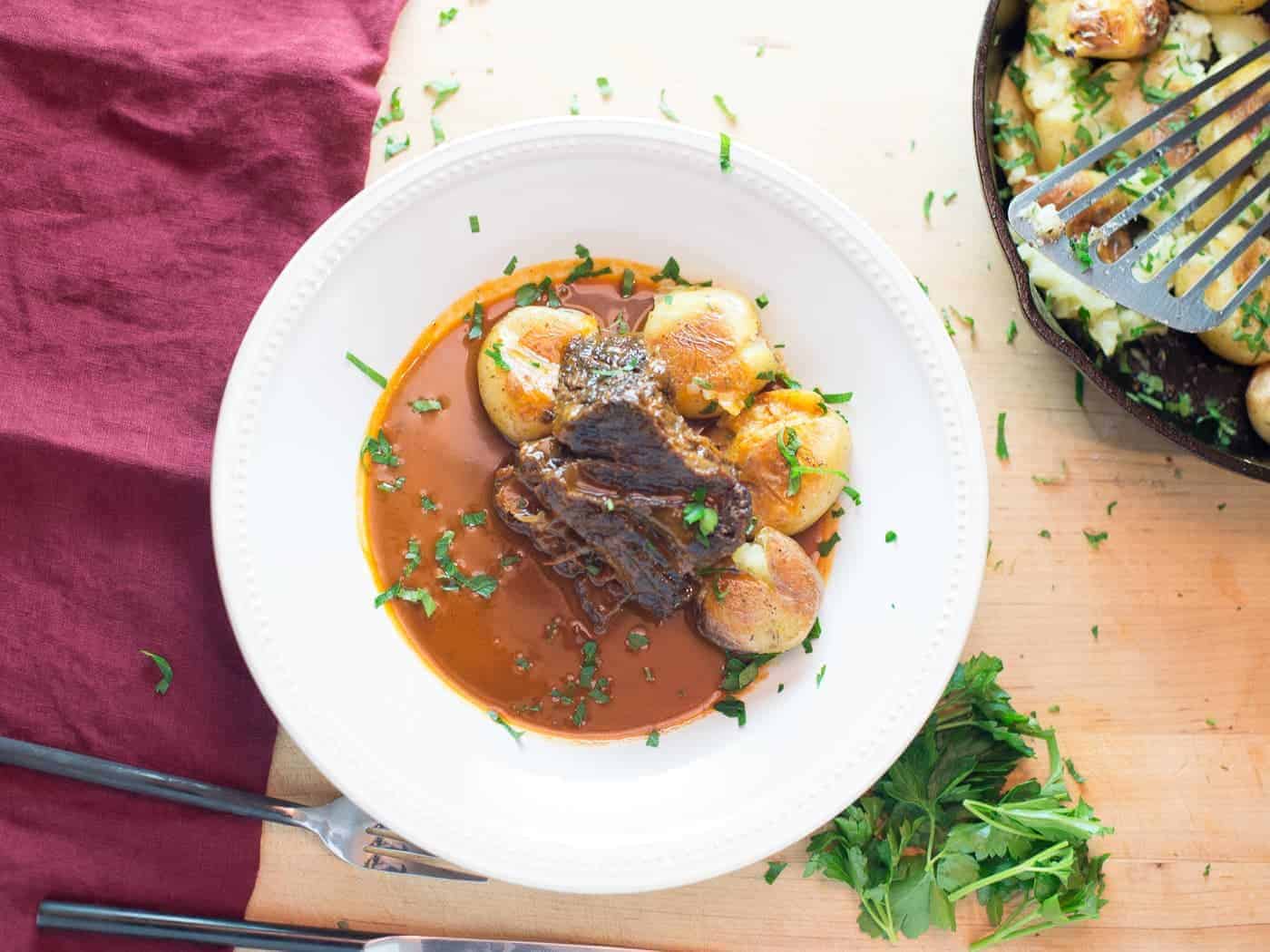 Recipe Notes
Braised short ribs are super easy to make. This recipe calls for Guinness, but you can also make this recipe using red wine. Red wine braised short ribs are a real classic. Either way, you're sure to have a satisfying, easy-to-make-one-pot dinner.
This recipe can be made on the stovetop or in an Instant Pot. You can also use your slow cooker to make these Guinness braised short ribs. I personally love cooking this recipe in my Staub Dutch oven.
The bone-in status of this cut of meat is what gives this dish all that meaty flavor. It's rumored that fat is what adds flavor to meat, but in reality, the flavor bomb really comes from connective tissue breaking down in the cooking process.
Any time you cook with bone, you can expect maximum flavor. As the short ribs cook, the bone in a large Dutch oven (over medium-high heat) sort of melts into the broth to create intensity.
Ingredients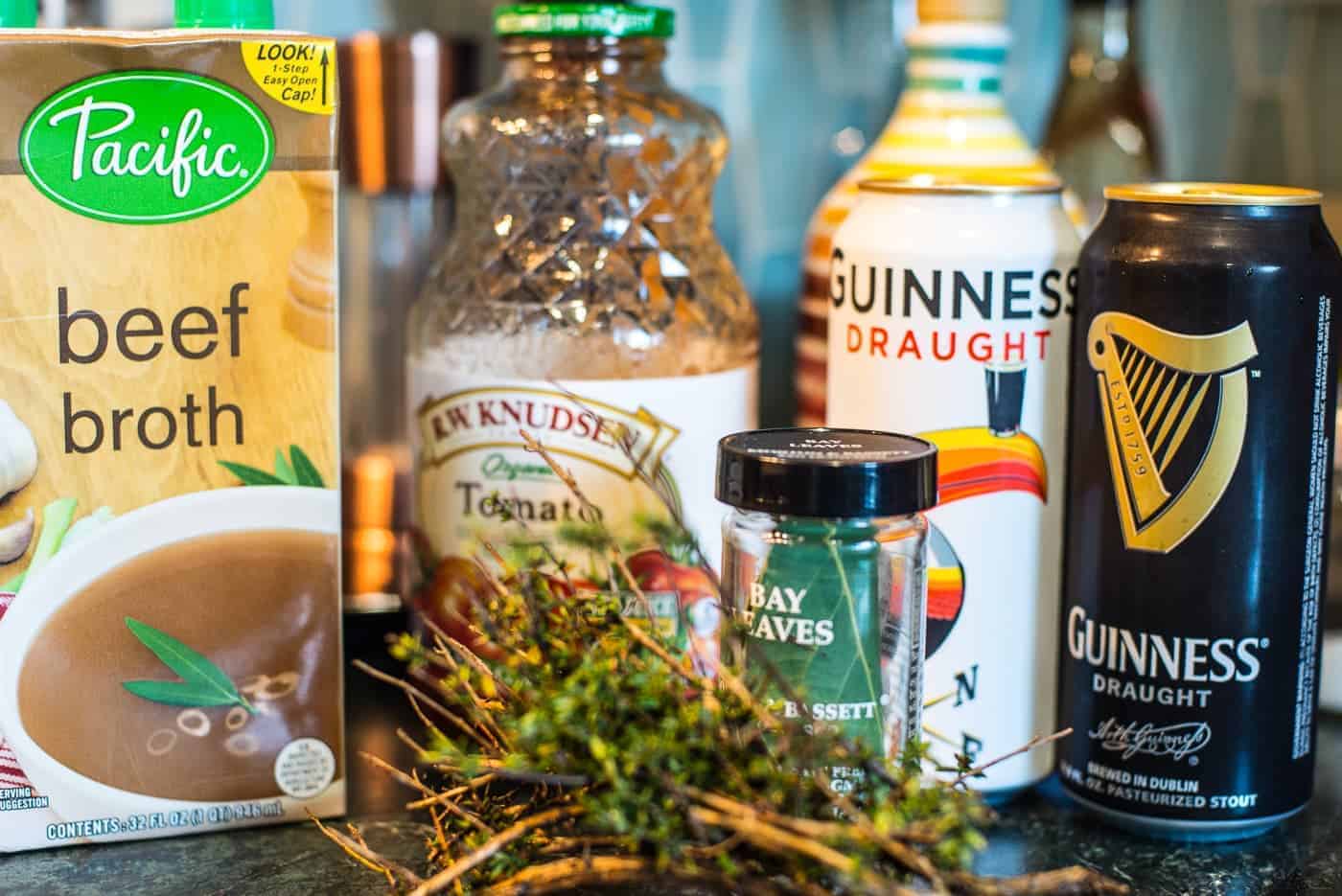 Beef Short Ribs: Use bone-in beef short ribs for this recipe. Ask the butcher to cut them for you if they aren't already cut.
Guinness: 2 cans of Guinness Irish stout.
Veggies: Carrots, celery, cipollini onions, and fresh thyme. Add garlic if you like.
Beef Broth: Use a low sodium beef broth or beef stock.
Tomato Juice: Same here. Use a low salt tomato juice if you can find it.
Cold Butter: You will use this for finishing the sauce.
Step-by-Step Instructions
These braised short ribs are started on the stovetop and then finished in the oven. Braising is a cooking technique that involves slow cooking in liquid. The liquid and the steam create a lot of flavor and incredibly tender meat.
Step 1: Brown the Short Ribs
Set your Dutch oven on medium-high heat. Season the short ribs with salt and pepper. Add a few tablespoons of neutral oil to the Dutch oven.
Sear the short ribs until they are a deep golden brown color. Set them aside on a plate.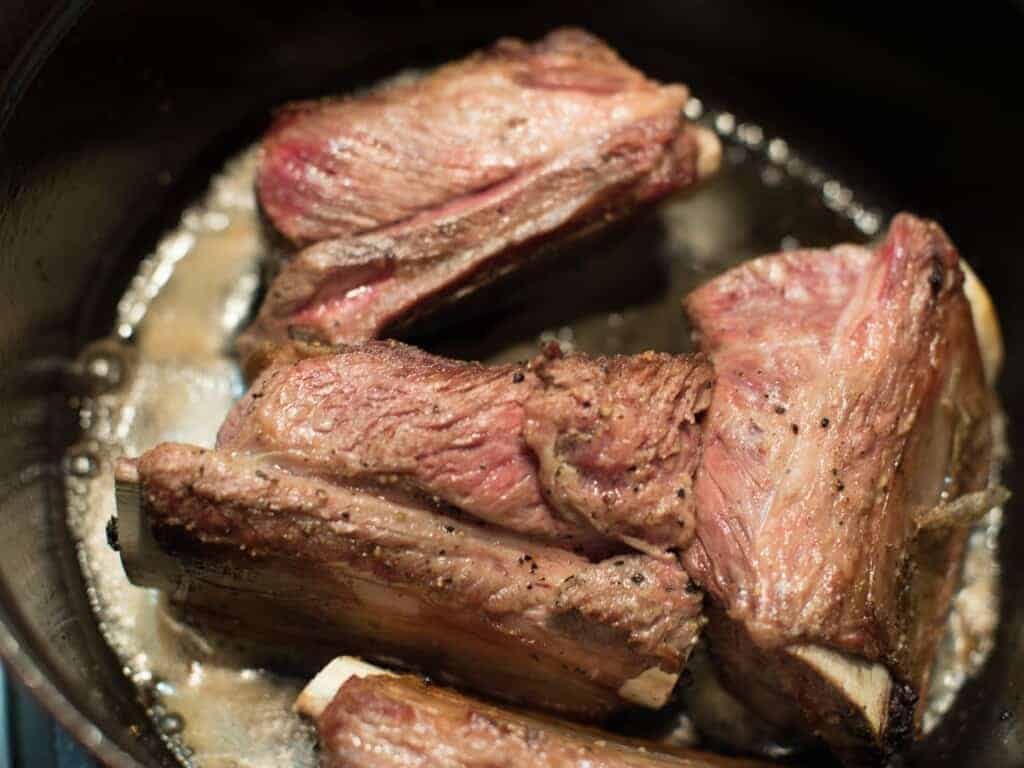 Step 2: Add the Veggies
Rough chop the veggies. These will be strained out later after everything is braised, so you don't even need to peel the onions and garlic. Just wash, chop, and then add the veggies to the pot.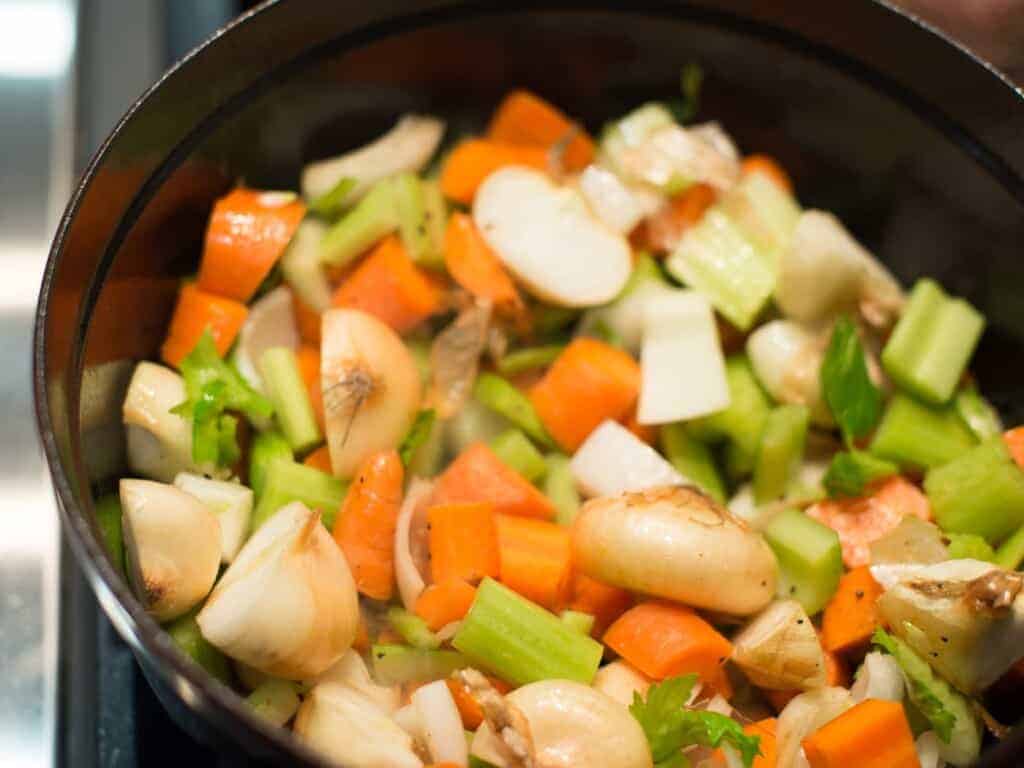 Step 3: Deglaze the Pan
Deglazing refers to the step of adding liquid to a hot pan and dissolving the browned bits back into that liquid.
In this recipe, we will be using Guinness to deglaze the pan. You can also use red wine. If you wanted to leave the alcohol out of this recipe, just use the beef broth for this step.
Step 4: Return the Short Ribs to The Dutch Oven
Add the meat back to the pan. Add the beef broth and tomato juice. Bring to a boil.
Cover the Dutch oven and place the entire Dutch oven into your preheated oven.
Cook the short ribs for 30 minutes, until fork-tender.
Step 5: Reduce the oven temperature.
After 30 minutes, reduce the oven temperature to 325℉. Braise your short ribs for 2 1/2 to 3 hours.
Cooking time may vary depending on your oven.
FAQs and Expert Tips
What's the difference between braising and stewing?
Have you ever wondered what the difference is between braising and stewing meat? I know my geeky self is always curious about these kinds of things.

The main difference comes down to the amount of liquid used. Braising uses less liquid and essentially cooks the food in a steam bath, while stewing involves cooking food in enough liquid to be completely submerged.
What can I use instead of Guinness?
If you're running low on Guinness, you can use another type of dark beer in this recipe. Any other brand of stout would work. Modelo dark is another good choice here.

You can also use red wine to make red wine braised short ribs. I recommend a dry Italian variety, like Chianti.
What are short ribs?
Short ribs are taken from the same area of beef that the chuck roast is taken from. This area is too short to cut steaks from so you end up with roast cuts and the short rib cut.

The short ribs are a shoulder cut and are literally the shorter ribs on the cattle. You will also see Hawaiian ribs cut from this same area.
Can I freeze braised short ribs?
Yes, this recipe freezes beautifully. Just store in an airtight container and freeze for up to 3 months.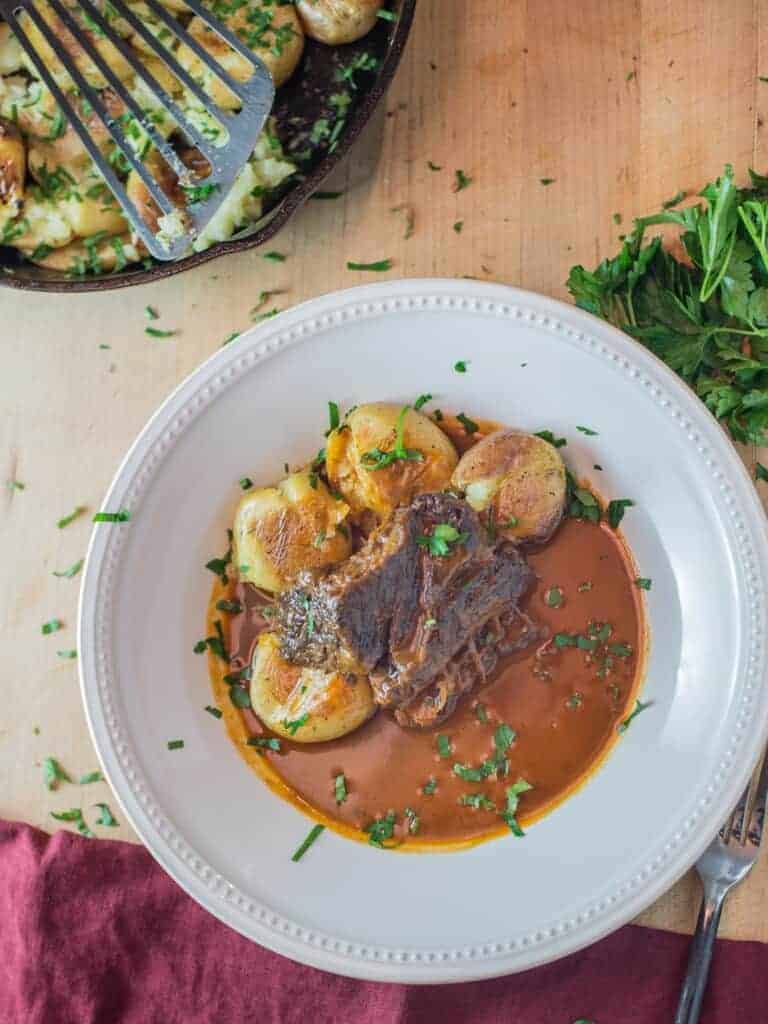 Other Comfort Food Recipes That You'll Love
What to make with Braised Short Ribs
🍀🍀🍀 Another one of my favorite Guinness recipes is my Irish Car Bomb Cupcakes.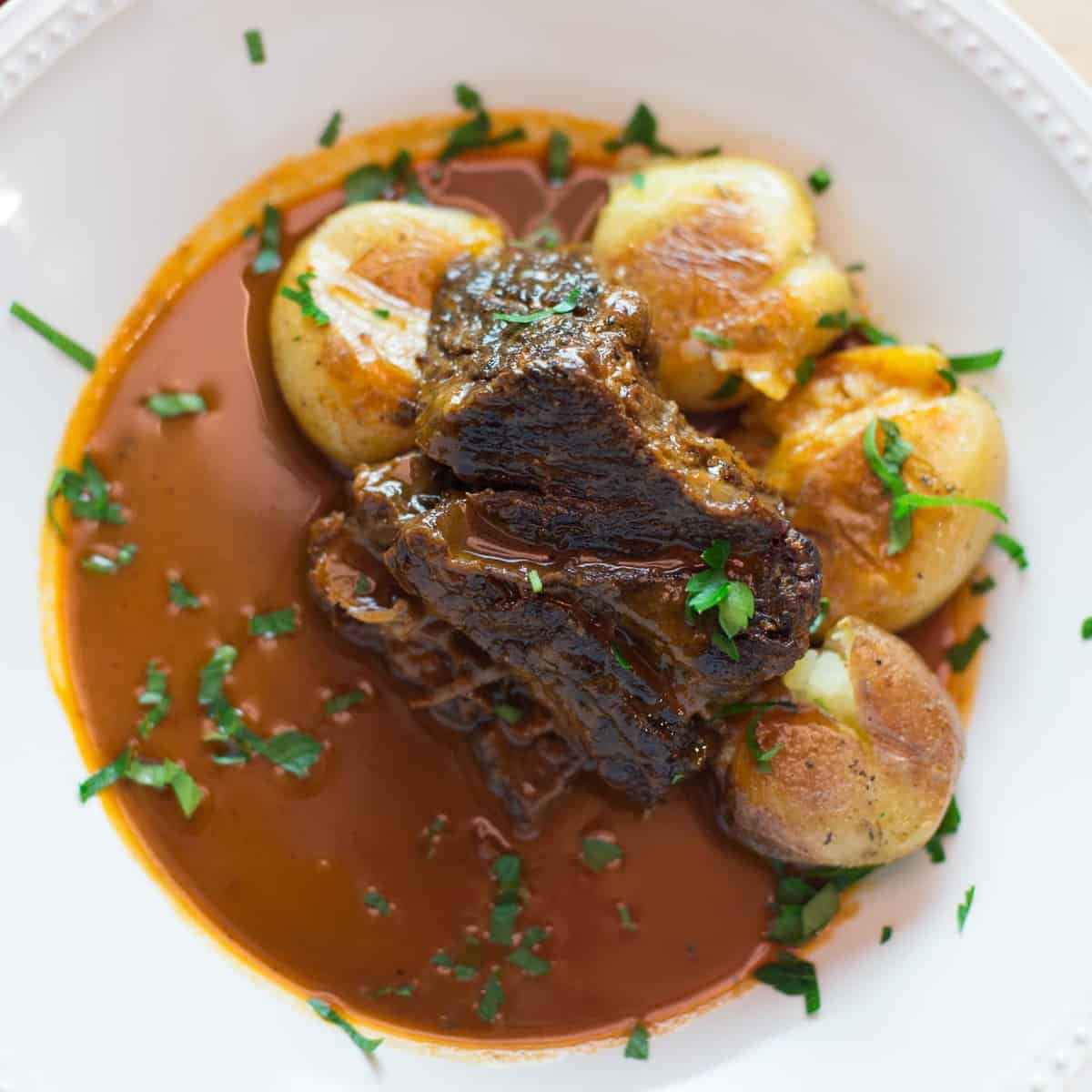 Guinness Braised Short Ribs
Amazingly tender, falling off the bone short ribs. This recipe is a keeper. It's a classic recipe that you'll come back to it again and again. Perfect for a romantic dinner. Serve with a nice bottle of red wine and some fantastic dinner rolls, and it is always a home run in our house.
Ingredients
3

lbs

bone in short ribs

,

4 equally sized ribs

2

carrots

,

rough chopped

3

stalks

celery

,

rough chopped

1

lb

cipollini onions

,

peeled

4

cloves

garlic

,

smashed

2

cans

Guinness stout

1 ½

cups

tomato juice

4

cups

beef stock

4-6

sprigs

fresh thyme

2

tbsp

oil

,

I prefer coconut or bacon fat

salt and pepper

2

tbsp

unsalted butter

,

cubed
Instructions
Add the oil to a hot Dutch oven. Heat on medium high heat.

Season the short ribs well with salt and pepper.

Sear the ribs on each side until a deep golden brown is achieved, remove from the pan and set aside on a plate.

Add the veggies (carrots, celery and onions) Dutch oven and cook in the pan for 3-5 minutes. They should be fragrant.

Add the Guinness to the pot and deglaze the pan by scraping all of the golden crunch bits into the sauce as the liquid is boiling.

Add the short ribs back to the pot.

Note: If you're using a slow cooker, you can add all of your ingredients to the slow cooker at this time. Then just follow the recipe as follows.

Add the tomato juice, the beef stock, and the garlic, thyme and bay leaves.

Cover everything with the lid and place inside the oven for 30 minutes. After 30 minutes, reduce the heat to 325℉

Cook at 325℉ for another 2 ½- 3 hours. (Oven temperatures vary) About half way through you can check the liquid. Make sure there a sufficient amount of liquid in the pan. There should be no less than ¼ of the liquid left.

Continue to cook until the meat is falling off the bone. Add more liquid if needed.

Remove from oven and let rest 20 minutes.

Remove short ribs and set aside.
Make the Sauce
Strain the liquid and vegetable mixture. Make sure to save the sauce. You should have about 1 ½ – 2 cups of liquid left over.

Return the sauce to the pan and bring to a boil. If you don't you can add a little water or broth.

Bring the sauce to a boil and then whisk in cold butter to finish sauce.

Serve with mashed potatoes or roasted smashed whole roasted baby potatoes.
Laura's Tips + Notes
A little science geek tidbit coming at you – the bone-in status of this cut of meat is what gives this dish all that meaty flavor. It's rumored that fat is what adds flavor to meat, but in reality, the flavor bomb really comes from connective tissue breaking down in the cooking process.
Braised meats are slow-cooked in liquid. This process allows all of that flavor to present itself in the form of a magnificent sauce.
YOUR OWN NOTES
Sign In to add your own private notes
Nutrition
Calories:
589
kcal
Carbohydrates:
7
g
Protein:
53
g
Fat:
38
g
Saturated Fat:
15
g
Trans Fat:
1
g
Cholesterol:
162
mg
Sodium:
696
mg
Fiber:
1
g
Sugar:
5
g
Calcium:
50
mg
Iron:
6
mg
SaveSave