Homemade Turkey Soup is the ultimate comfort food when you have leftover Thanksgiving turkey. This soup recipe is just like your mom used to make. Curl up in a cozy sweater, grab a bowl of warm soup, and some freshly made dinner rolls. Is anything more satisfying?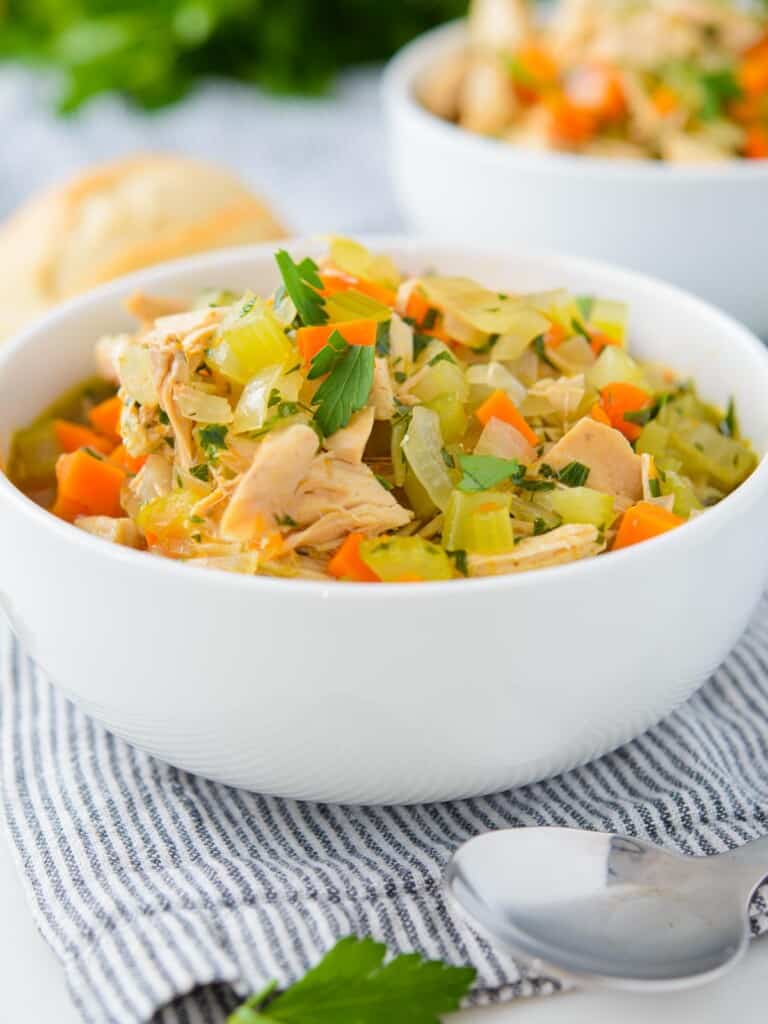 Turkey Soup Ingredients
Homemade turkey stock. You can use prepared turkey stock or even chicken broth here.
Leftover turkey meat. You'll want about 3 cups.
Vegetables. Onions, carrots, and celery. Optional: Frozen mixed vegetables.
Seasoning. Fresh parsley, rubbed sage, and some poultry seasoning.
Optional Additions
Noodles. Egg noodles or homemade dumpling noodles.
Orzo. Orzo or another type of small pasta.
Rice. Long grain white rice, brown rice, or wild rice.
Cream. Add a little cream to turn this soup into a creamy turkey soup.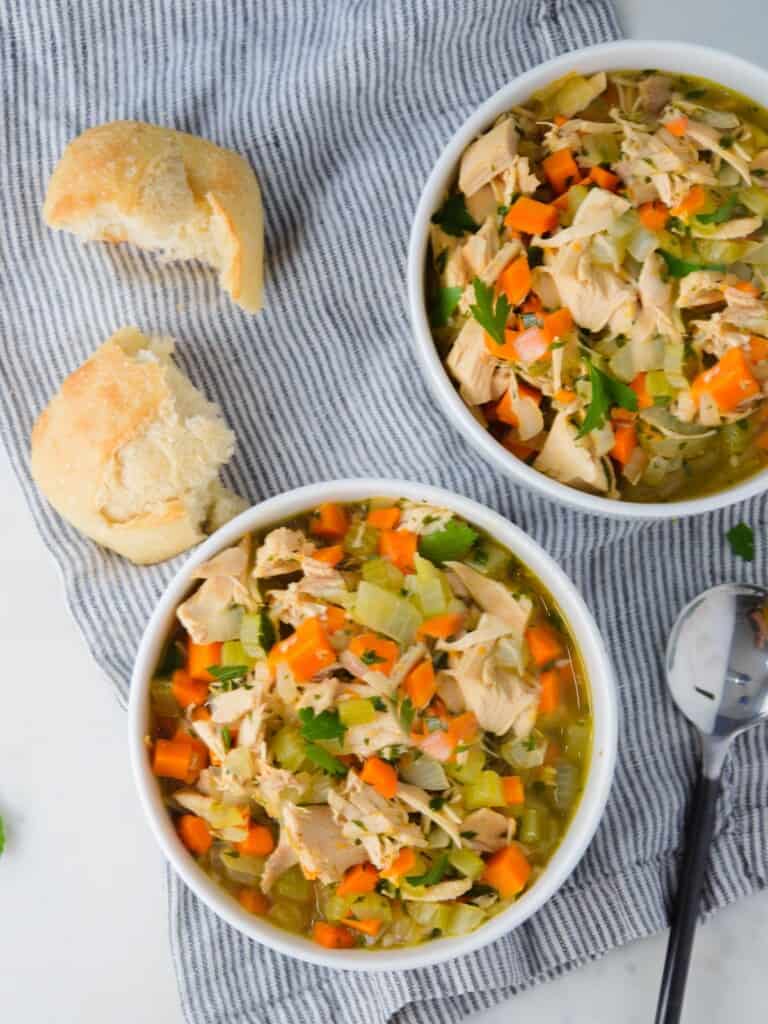 Soup From Scratch
Leftover turkey soup involves making turkey stock from the leftover turkey carcass. If you've never done this before, let me talk you through it.
**You can also use this method to make chicken stock and chicken soup. Anytime I have leftover roast chicken or roast turkey, I use it to make a soup.
Making Homemade Turkey Stock
You can make turkey stock in a large stockpot on the stove or in the crockpot. The secret to making flavorful broth is to simmer it for a long time, ensuring that you will have a delicious broth.
You can make turkey stock by covering the turkey carcass with water and simmering. However, I like to add a mirepoix and a bay leaf to get the extra flavor in the stock, which is optional.
Start by removing as much turkey meat from the turkey carcass as possible. Set it aside until you are ready to use it.
Add the turkey carcass to a large stockpot and cover it with water. [note]
Add onion, garlic, carrot, and celery.
Season the stock with salt, black peppercorns, and bay leaf.
Bring the water to a boil.
After the stock reaches a boil, reduce the heat to a simmer.
Cover and simmer the stock for a few hours and up to 8 hours. When it's done, the stock should have a rich turkey flavor. Make sure to check the stock periodically to ensure that there's still enough water in the pot.
After the stock has a good flavor, strain the turkey carcass and the vegetables from the stock. Set aside until you are ready to use it for soup.
Let's Make Homemade Soup
Soften the onion by sautéing it in a little bit of butter or olive oil.
Add in the vegetables that you'll be adding. [note]
Add the turkey and the turkey stock.
Add in the seasoning and some fresh chopped parsley.
Allow everything to warm.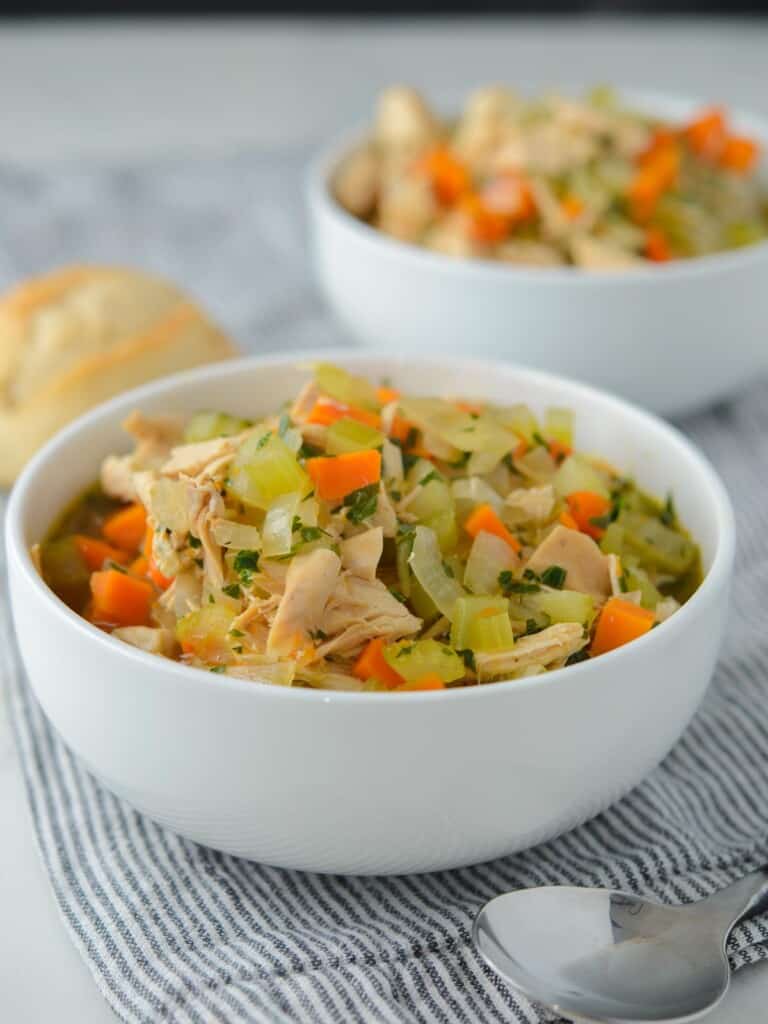 Recipe Variations
Turkey soup is fantastic in its simplest form. But, you can make it even better with your favorite noodles, pasta, or rice. When adding noodles or rice to your soup, the only thing to remember is that they will absorb a significant amount of the broth.
You can thin the soup by adding additional broth or by adding a little bit of water.
Turkey Noodle Soup
Any variety of dried noodles or pasta can be added directly to the pot and then cooked to al dente before serving. Use about a half cup to a cup of dried noodles.
Fresh dumpling noodles take less than 10 minutes and are perfect for making turkey noodle soup.
Turkey Soup With Rice
Dried rice can be added directly to the soup as well. You can pick any combination of rice you like, and some good choices are long-grain white rice, brown rice, or wild rice.
Barley or bulgar is another good addition to make this turkey soup more hearty.
The Right Tools & Expert Recommendations
As with every recipe, having the right tools gives you the best chance for success. To make the best homemade soup, you'll need:
Stockpot
A stockpot is a large, tall pot that gives you enough room to add in things like a turkey carcass or chicken bones, a significant amount of water, and whatever vegetables and seasonings you want to add.
My personal favorite goto cookware is All-Clad. I recommend purchasing an 8 to 10-quart stockpot. This size stockpot is versatile and a lifetime investment piece that usually comes with a steamer basket and pasta strainer insert. You will never need to buy another stockpot as long as you live.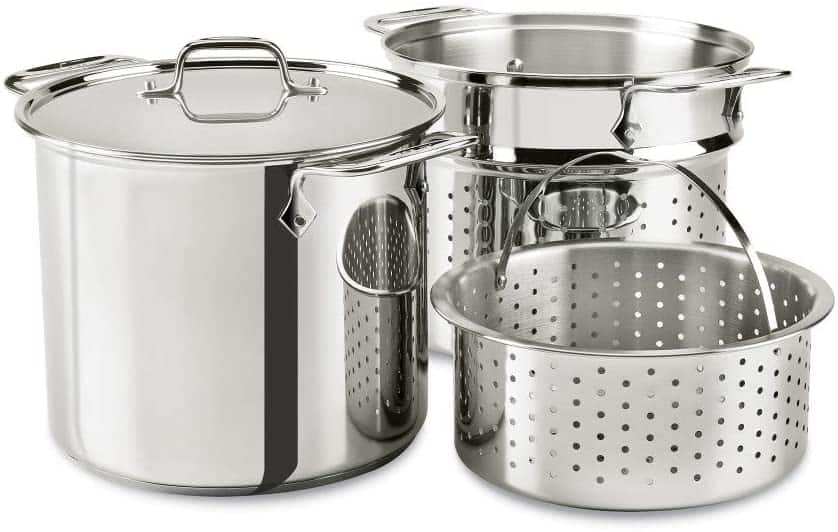 All-Clad Stock Pot Set
Soup Pot
A soup pot can be a cast iron Dutch oven (my favorite), or any 5 to 8-quart pot with a lid. Choose something heavy-bottomed that holds its temperature well.
I almost exclusively make soup in my 5.5 quart Staub Dutch oven. Le Creuset produces an equally worthy Dutch oven. Both of these are enamel-coated cast iron. They hold their heat exceptionally well and are super durable.
A traditional soup pot is also great for homemade soup on the stovetop. You'll want a 5 to 8-quart soup pot with a lid. I recommend the All-Clad 6 Quart Soup (affiliate link) Pot.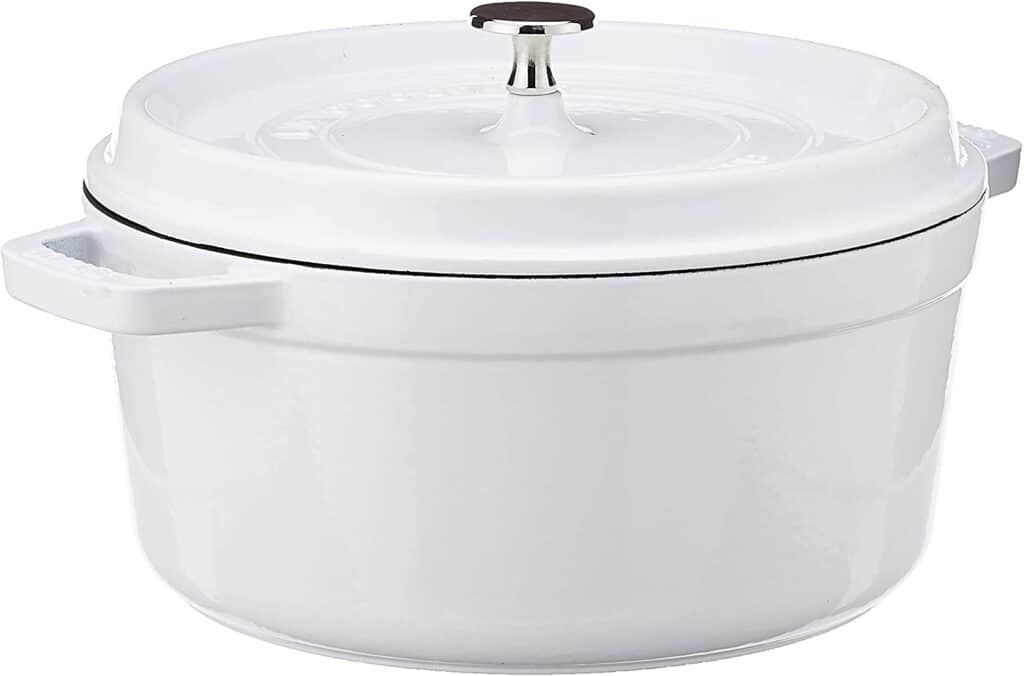 Staub 5.5 Quart Dutch Oven
What to Serve With Turkey Soup
Warm bread is a soup's best friend. Leftover dinner rolls or warm and toast french bread are fantastic for mopping up all that delicious broth.
You can drop dumpling noodles right into the broth.
These magnificent fluffy dinner rolls are soft, warm, and beautiful. This bread dough is a super versatile dough that you can use to make these…
This is a classic french bread recipe. You'll be amazed at how easy it is to make perfect, crusty- on-the-outside, soft-on-the-inside French bread right in…
This homemade noodle recipe might be the ultimate comfort food. In my family these are the must-have every single year Thanksgiving noodles. I've been making…
Hungry For More Soup Recipe
When it's chilly outside, soup makes the best meal. It's always warm and comforting and usually a well-rounded meal. Check out our full lineup of soup recipes along with a few of our favorite fall soups.
This delicious Japanese Beef Curry recipe is an umami-packed beef stew with carrots and potatoes simmered in a subtle but savory Japanese curry sauce. Let…
➽ Did you make this recipe? I love to see what's going on in your kitchen. Show me what you're cooking. 🍳 Tag me @foodologygeek on your favorite social channel! Facebook, Instagram & Pinterest. If you loved ❤︎ this recipe, please leave a five ★ review and a comment!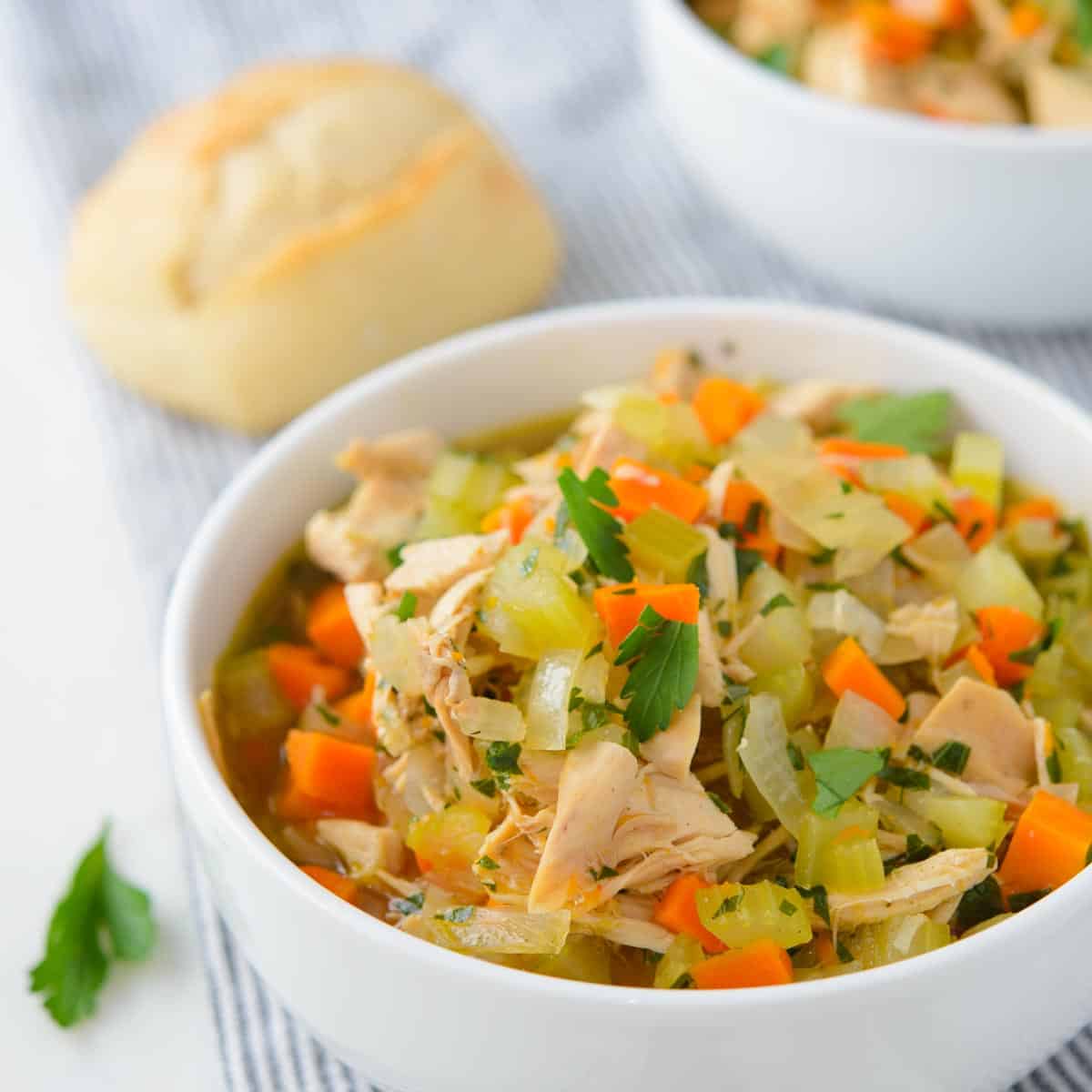 Turkey Soup Recipe
Homemade Turkey Soup is the ultimate comfort food when you have leftover Thanksgiving turkey. This recipe is just like the soup your mom used to make. Curl up in a cozy sweater, grab a bowl of warm soup, and some freshly made dinner rolls. Is anything more satisfying?
Ingredients
1

large

yellow onion

,

diced

3

medium

carrots

,

peeled and diced

4

medium

stalks of celery

,

diced

8

cups

turkey bone broth

2

cups

turkey meat

,

shredded

½

cup

fresh parsley

,

finely chopped

½

fresh lemon

,

juiced

1

tsp

olive oil,

or coconut oil
Instructions
Add the vegetables to a large stock pot along with the olive oil and salt. Sauté for about 5 minutes, until the vegetables are tender and fragrant.

Add the bone broth, bay leaves, and turkey. Bring everything to a boil.

Reduce heat, and simmer for about 20 minutes.

Remove bay leaves. Add fresh parsley and lemon juice, and salt and pepper to taste.

Add noodles or pasta, if desired. Cook until they are al dente.
Laura's Tips + Notes
This recipe also works to make The BEST Chicken Soup.
YOUR OWN NOTES
Nutrition
Calories:
144
kcal
Carbohydrates:
12.7
g
Protein:
14.5
g
Fat:
3.7
g
Fiber:
1.2
g