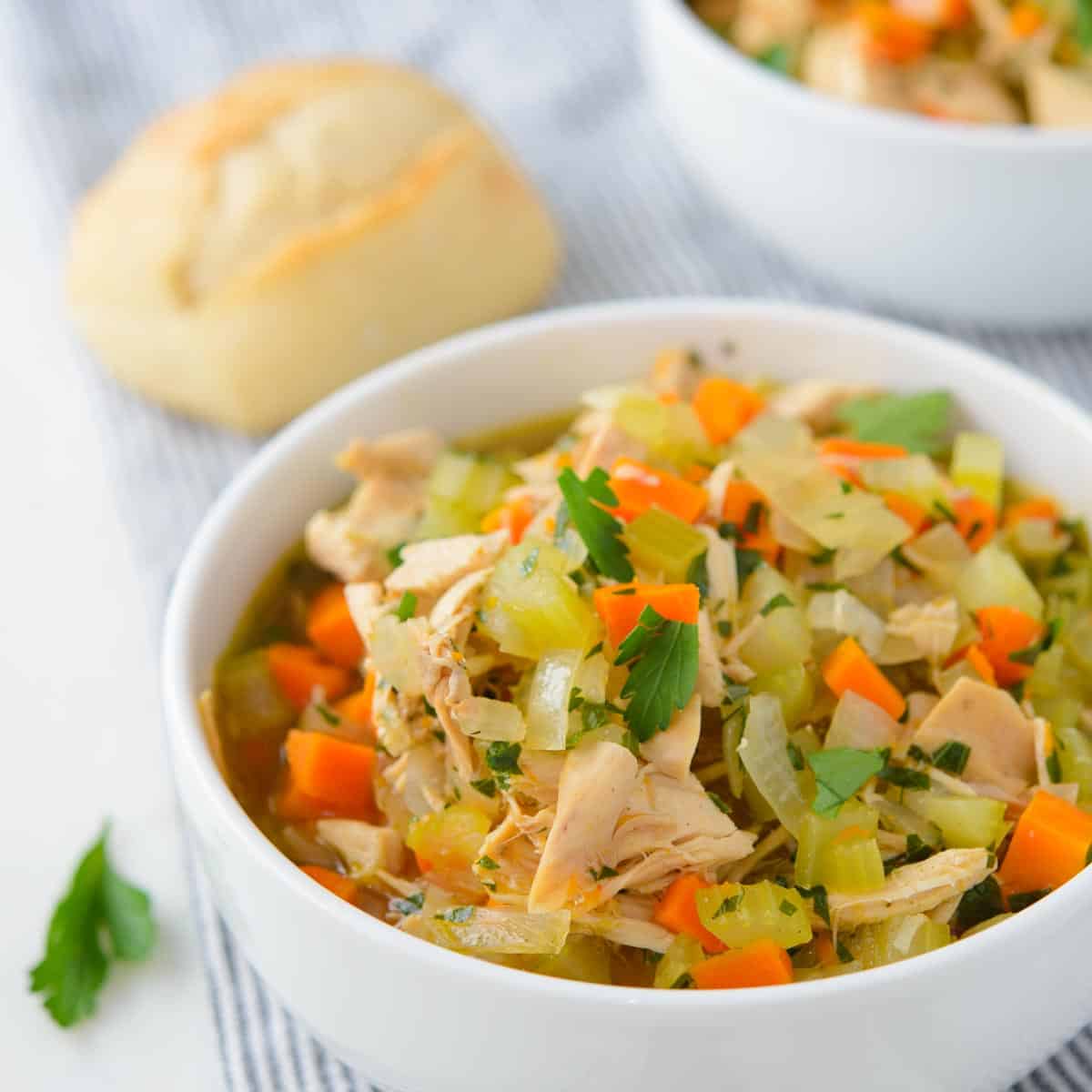 Recipe
Comments
Save
Go to Collections
This post may contain affiliate links. Please read my
disclosure policy.
A warm bowl of Turkey Soup is the ultimate comfort food when you have leftover Thanksgiving turkey. This homemade turkey soup recipe, or my Turkey Pot Pie recipe, is a delicious way to use turkey leftovers.
Made with homemade stock, hearty vegetables, and your favorite noodles or rice. You can customize this easy soup recipe to your taste and personal preference.
Curl up in your favorite cozy sweater, grab a spoon, and some freshly made bread. When it's soup season, is anything more satisfying than a bowl of soup?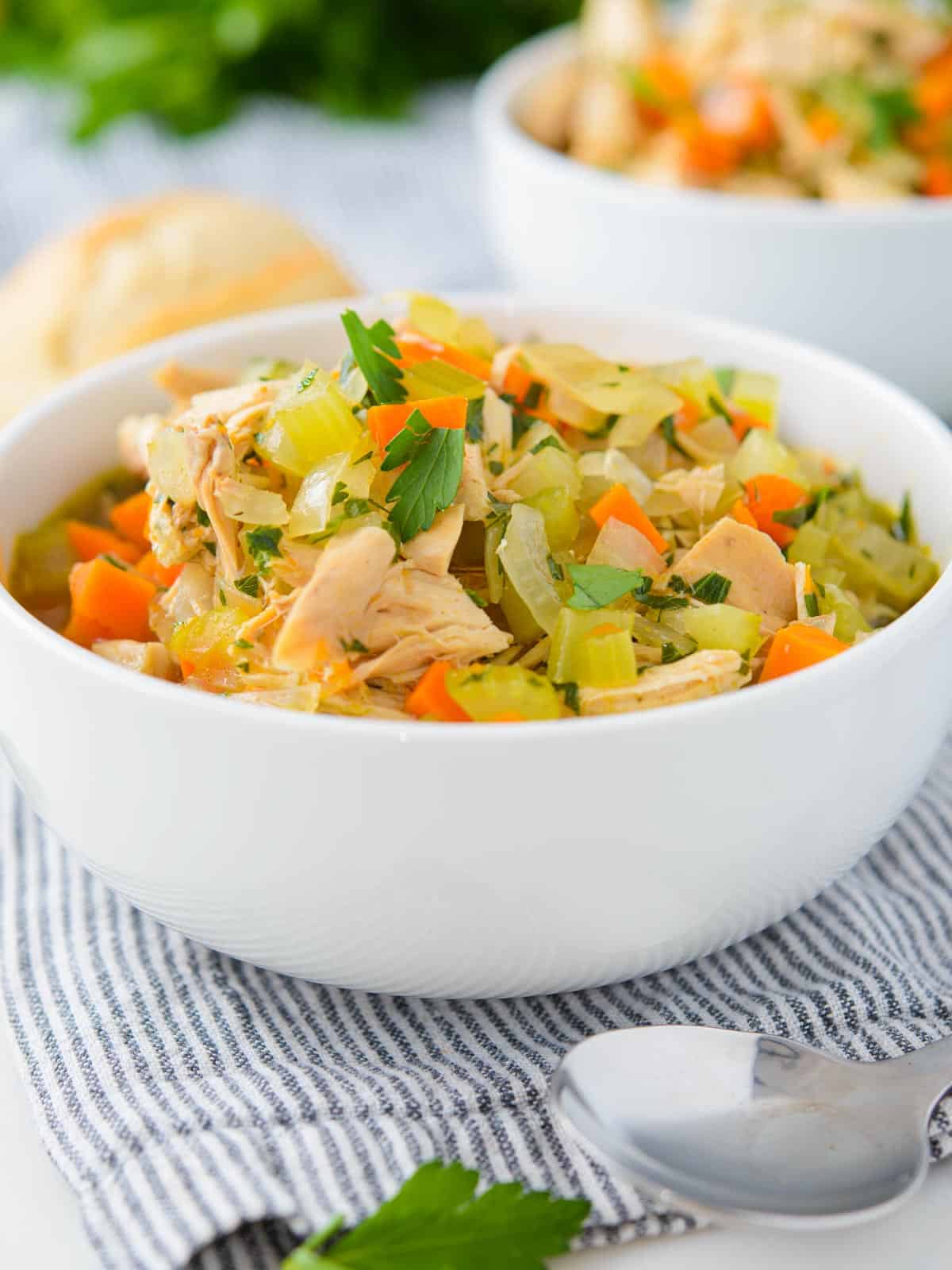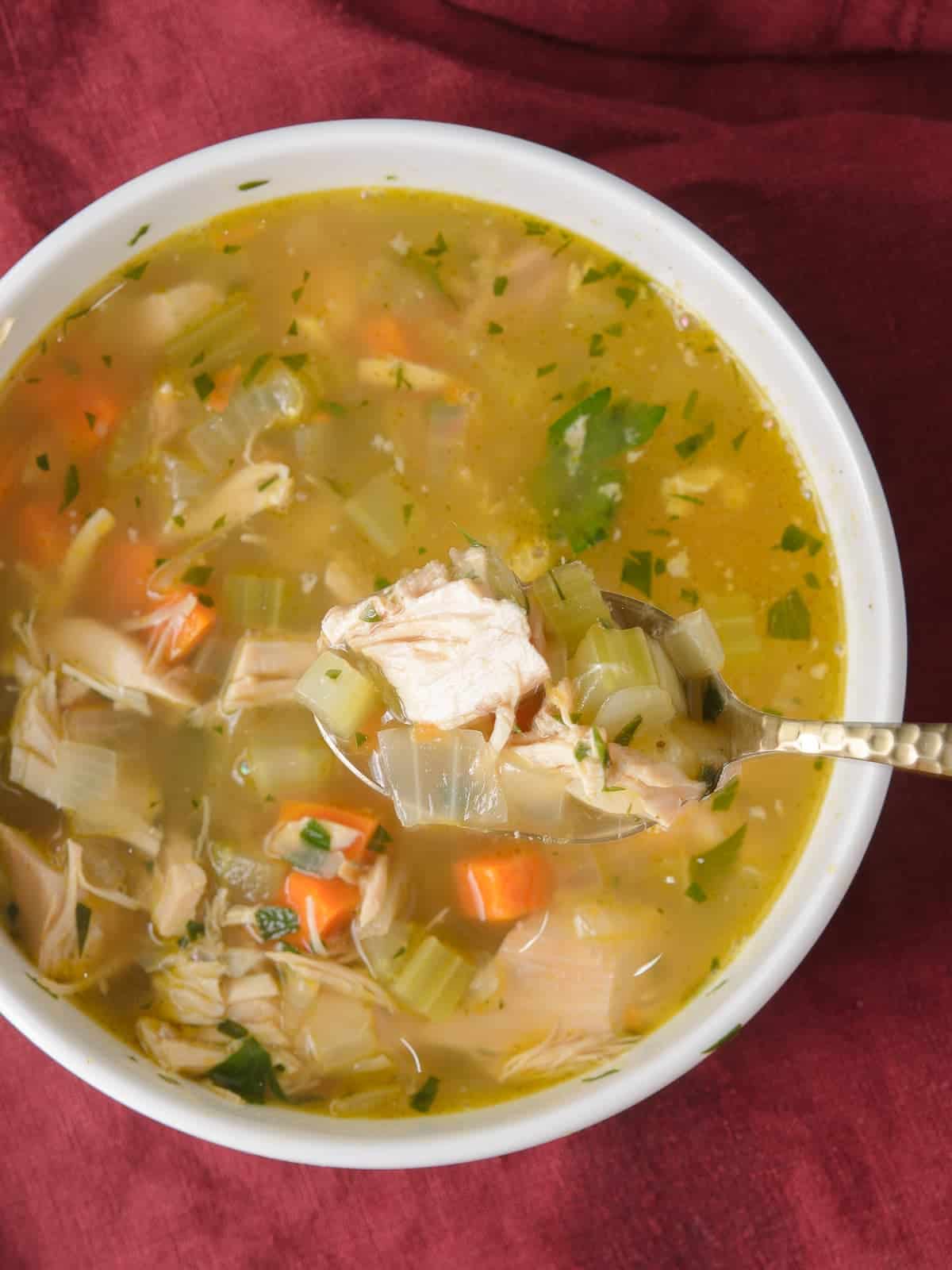 Turkey Soup Ingredients
This recipe works for making turkey soup or chicken soup.
Turkey stock. Homemade turkey stock is best. But you can always use prepared turkey broth or even chicken broth here.
Leftover meat. You'll want about 3 cups of leftover turkey meat. If you don't have leftovers, use a precooked rotisserie chicken.
Vegetables. Onions, carrots, and celery.
Fresh herbs: Parsley and fresh thyme.
Seasoning. Sage and poultry seasoning.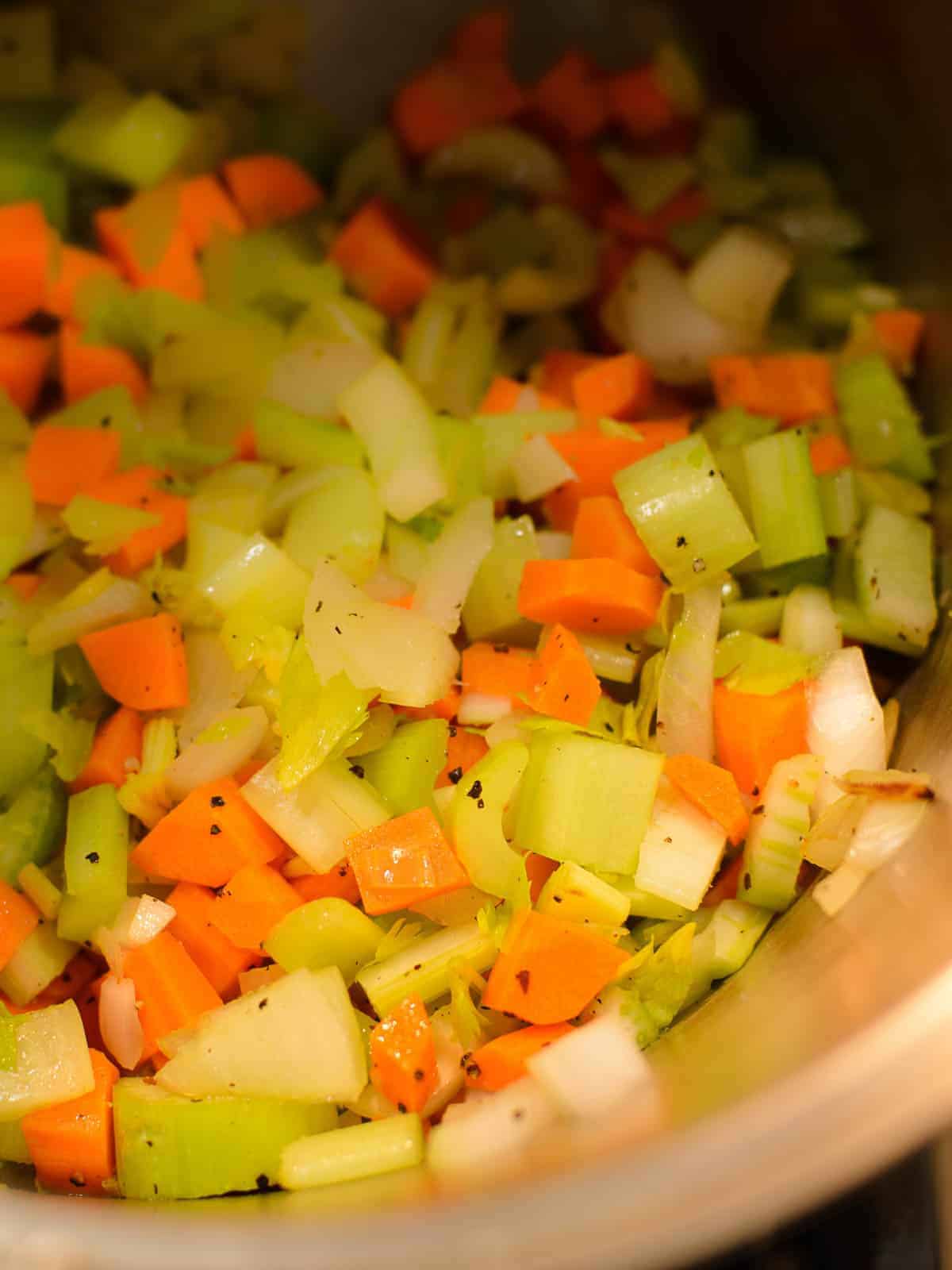 Optional Add-Ins
Noodles. Egg noodles or homemade dumpling noodles.
Pasta. Orzo or another type of small pasta.
Rice. Long grain white rice, brown rice, or wild rice.
Frozen mixed vegetables. I like the blend with corn, carrots, and green beans.
Cream. Add a little cream to turn this soup into a creamy turkey soup.
How To Make Soup From Scratch
Leftover turkey soup involves making turkey stock from the leftover turkey carcass. If you've never done this, let me talk you through it.
Check out my ultimate guide to making stock, AKA bone broth.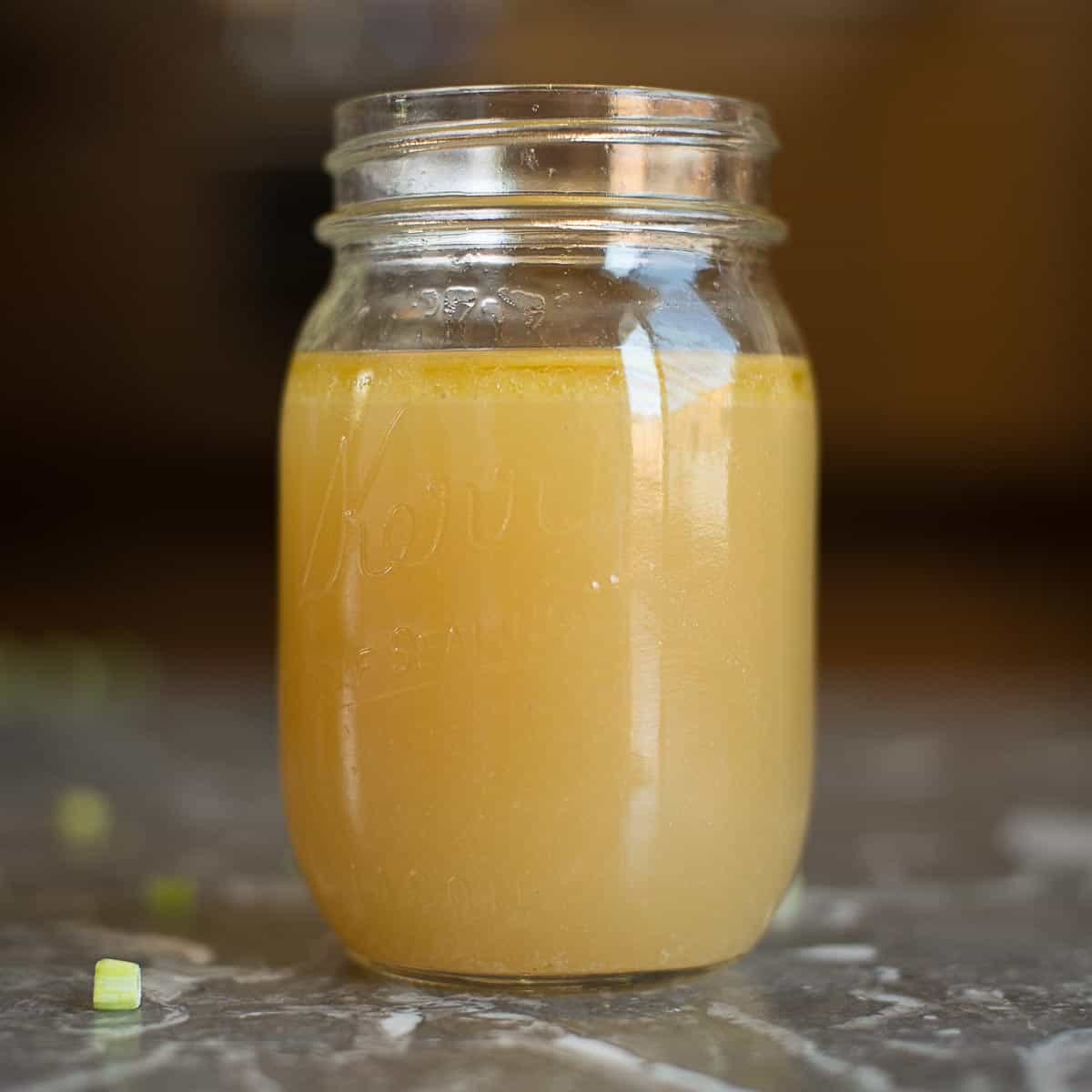 The Right Tools & Expert Recommendations
As with every recipe, having the right tools gives you the best chance for success. To make the best homemade soup, you'll need:
Stockpot
A stockpot is a large, tall pot that gives you enough room to add in things like a turkey carcass or chicken bones, a significant amount of water, and whatever vegetables and seasonings you want to add.
My personal favorite goto cookware is All-Clad. I recommend purchasing an 8 to 10-quart stockpot. This size stockpot is versatile and a lifetime investment piece that usually comes with a steamer basket and pasta strainer insert. You will never need to buy another stockpot as long as you live.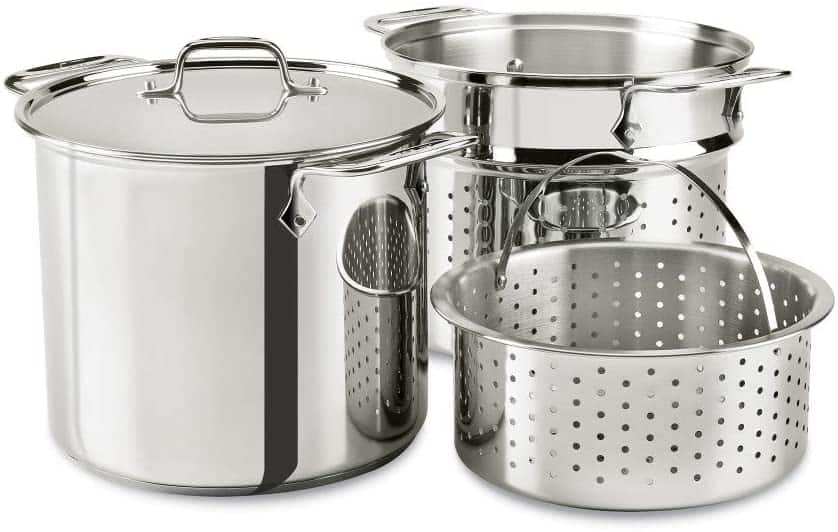 All-Clad Stock Pot Set
Soup Pot
A soup pot can be a large Dutch oven (my favorite), or any 5 to 8-quart pot with a lid. Choose something heavy-bottomed that holds its temperature well.
I almost exclusively make soup in my 5.5 quart Staub Dutch oven. Le Creuset produces an equally worthy Dutch oven. Both of these are enamel-coated cast iron. They hold their heat exceptionally well and are super durable.
A traditional soup pot is also great for homemade soup on the stovetop. You'll want a 5 to 8-quart soup pot with a lid. I recommend the All-Clad 6 Quart Soup (affiliate link) Pot.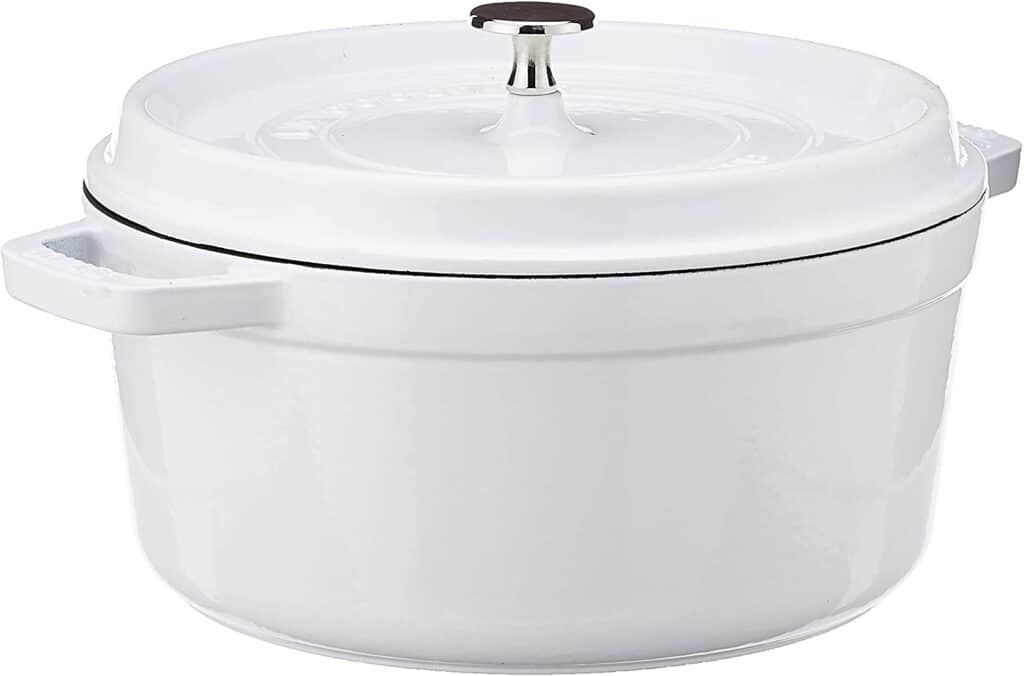 Staub 5.5 Quart Dutch Oven
Making Homemade Turkey Stock
You can make turkey stock in a large stockpot on the stove or the crockpot. The secret to making flavorful broth is to simmer it for a long time and make sure that it is well seasoned.
You can make a simple turkey stock with the turkey carcass and water. However, I like adding a mirepoix (onion, carrot, and celery) and herbs and spices add extra flavor.
Start by removing as much turkey meat from the turkey carcass as possible. Set it aside until you are ready to use it.
Add the turkey carcass to a large stockpot and cover it with water.
Add the onion, garlic, carrot, and celery.
Season the stock with salt, black peppercorns, and bay leaf. You can add fresh thyme and parsley if you have some on hand.
Bring the water to a boil.
After the stock reaches a boil, reduce the heat to a simmer.
Cover and simmer the stock over medium-high heat for a few hours and up to 8 hours. When it's done, the stock should have a rich turkey flavor. Make sure to check the stock periodically to ensure that there's still enough water in the pot.
After the stock has a good flavor, strain the turkey carcass and the vegetables from the stock. Set aside until you are ready to use it for soup.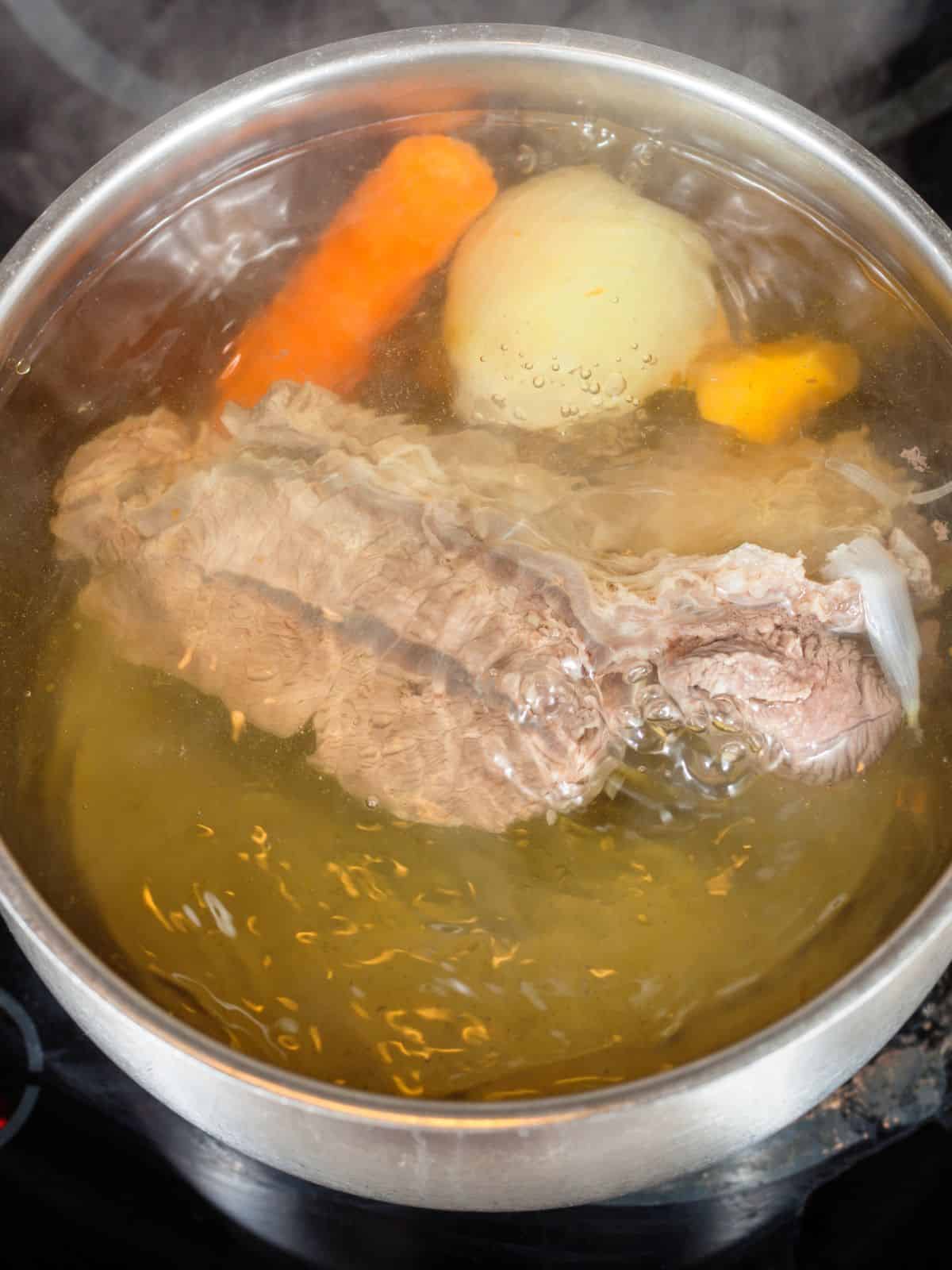 Best Turkey Soup
This delicious turkey soup is broth-based, which means it's made with a broth or stock from leftover turkey. It's probably my favorite leftover turkey recipe.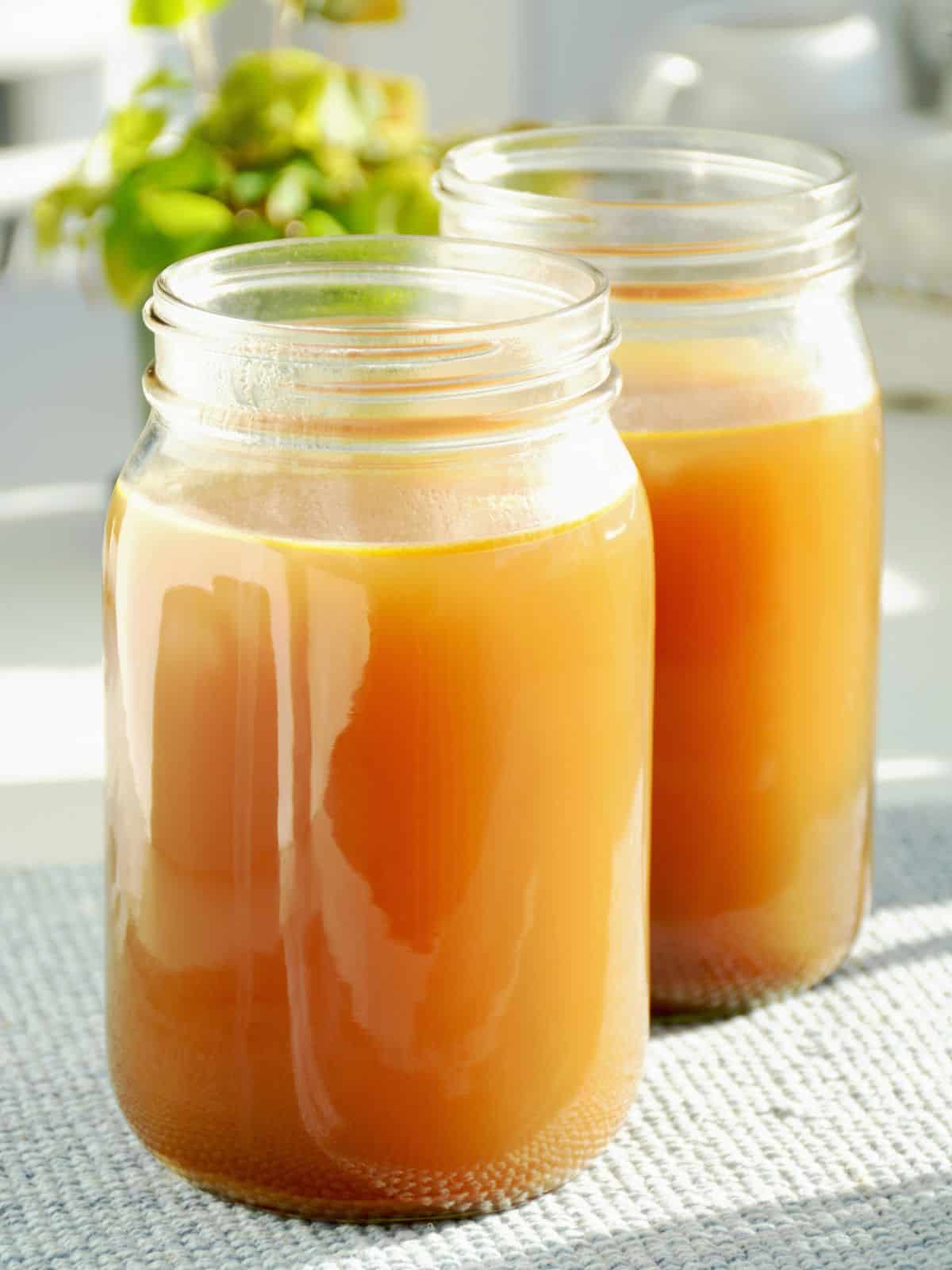 Let's Make Homemade Soup
Add a small amount of butter or olive oil to a medium-high pot. Add the minced onion and sauté for 3-5minures
Add in the vegetables that you'll be adding. [note]
Add the turkey and the homemade turkey broth.
Add in the seasoning and some fresh chopped parsley.
Allow everything to warm.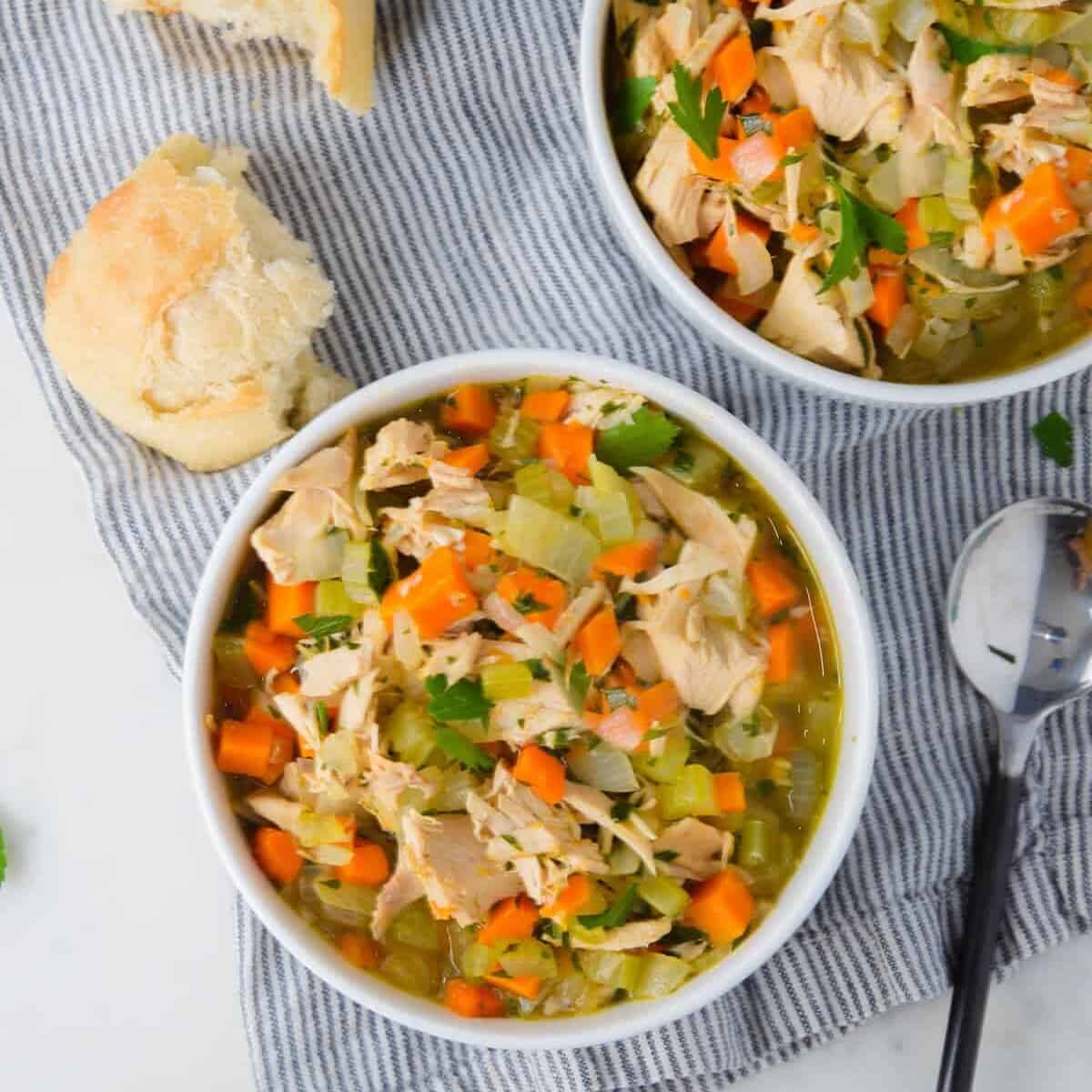 Recipe Variations
Turkey soup is an easy recipe and a good use of leftover turkey. You can change up this recipe in a few different ways by adding in different ingredients.
Turkey noodle soup. Add in your favorite type of noodles or pasta. Try my homemade dumpling noodles for a special treat.
Turkey wild rice soup. Add wild rice or a mix for a hearty turkey and rice soup. Trader Joe's has a great wild rice blend.
Barley or bulgar is another good addition to make this turkey soup more hearty.
Ground turkey soup. Use ground turkey.
Creamy turkey soup. Add heavy cream to make a creamy soup.
Use leftover chicken. Chicken breast or chicken thigh meat is equally good in this soup recipe.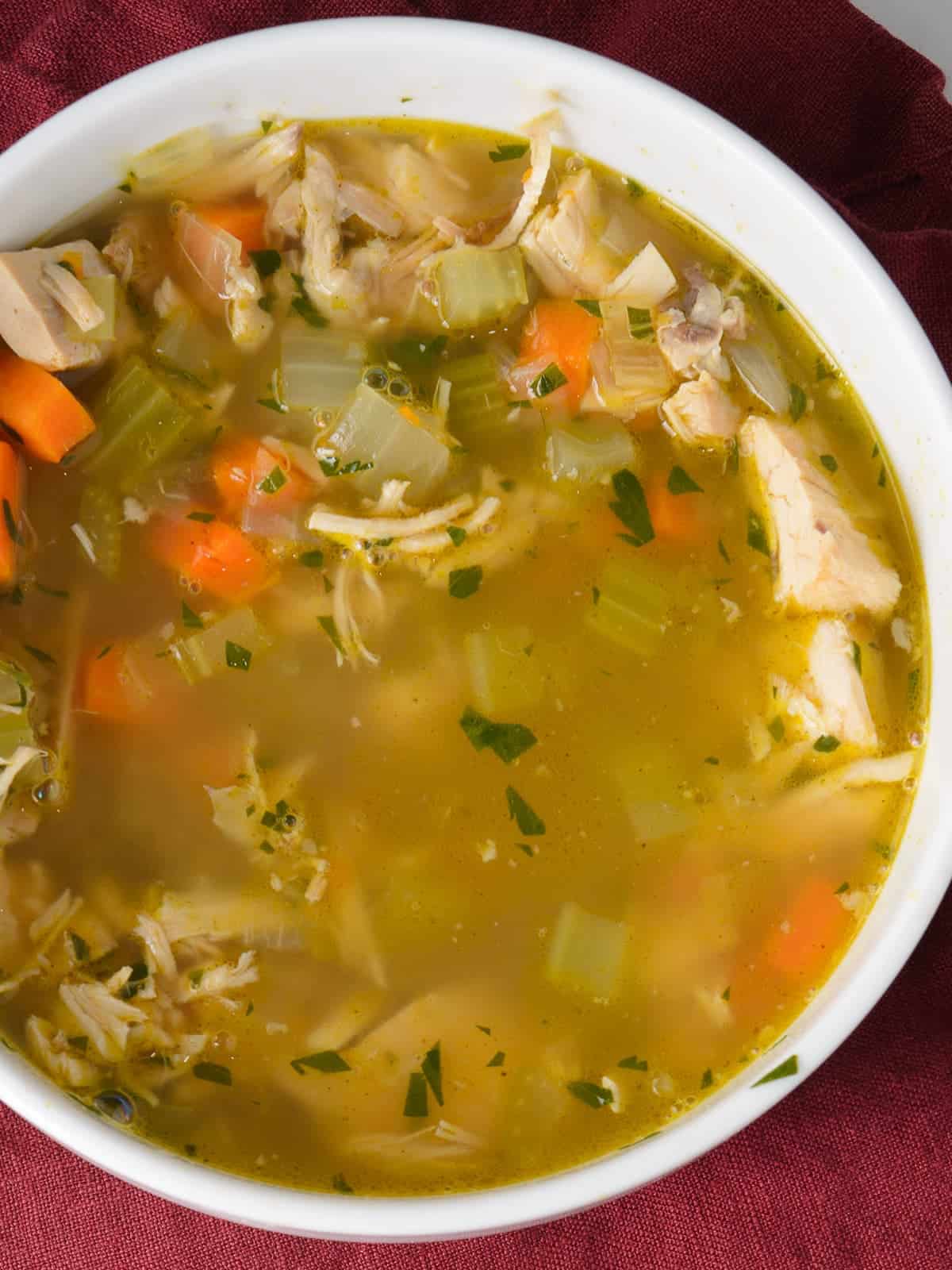 ​Frequently Asked Questions
How do you make bland turkey soup taste better?
Seasoning is essential in making any bland dish taste better.

Using sufficient salt and pepper is a good start. Be sure to use a quality salt (not iodized salt). Kosher salt, sea salt, or Himalayan salt are all great choices. I also like Redmond's Real Salt.

Fresh herbs add flavor to turkey soup. Fresh parsley, sage, and thyme are great complementary herbs in turkey soup.

Lemon juice. A few tablespoons of fresh lemon juice or apple cider vinegar can add a nice acid balance to the soup. This acid adds a brightness that complements the fresh vegetables and rich turkey stock.
How do you thicken turkey soup broth?
There are a few ways to thicken turkey soup broth.

Cornstarch slurry. This is probably the easiest and fastest way to thicken a soup.

A general rule is to use 1 tablespoon of cornstarch + 1 tablespoon of water for every cup of liquid. Mix the water and the cornstarch together, add it to the soup, and allow it to simmer over medium heat until it thickens. You can also use arrowroot powder instead of cornstarch.

Roux. Roux is the classic way to thicken sauces and soups. It requires a little more work but is still really easy.

Roux is made with equal parts of flour and fat. You don't need a lot to thicken a sauce or soup. 2 to 3 tablespoons of butter + 2-3 tablespoons of flour is sufficient. The more roux you use, the thicker the soup will be.

I use 3 tablespoons if I'm wanting the soup to feel like a turkey pot pie filling—thick and chowdery.

Add the butter to a small skillet and cook until the butter is bubbling. Sprinkle with flour and whisk to combine. Brown the flour until it is a light golden brown.

Add about a cup of liquid (Pull the liquid directly from your soup pot.) Whisk until it's smooth. You can add an additional cup of liquid if the roux seems too thick. I look for it to the texture of a pancake or crepe batter. Add the mixture to your soup and stir to combine.

Roux will start to thicken when it comes to a boil. Be patient.
Storing and Freezing Soup
Homemade soup will keep in the refrigerator in an airtight container for 3-4 days.
To freeze soup, I love to use Souper Cubes (affiliate link). You can freeze individual portions of soup and reheat whenever you need a warm, comforting bowl of hot soup.
What to Serve With Turkey Soup
Warm bread is a soup's best friend. Leftover dinner rolls or warm and toasty French bread are fantastic for mopping up all that delicious broth.
You can drop dumpling noodles right into the broth.
These magnificent fluffy dinner rolls are soft, warm, and beautiful. This bread dough is a super versatile dough that you can use to make these…
This is a classic french bread recipe. You'll be amazed at how easy it is to make perfect, crusty- on-the-outside, soft-on-the-inside French bread right in…
This homemade noodle recipe might be the ultimate comfort food. In my family these are the must-have every single year Thanksgiving noodles. I've been making…
Hungry For More Soup Recipes
When it's chilly outside, soup makes the best meal. It's always warm and comforting and usually a well-rounded meal. Check out our full lineup of soup recipes and a few of our favorite fall recipes.
Are you ready to savor the fiery deliciousness of keto chili? Don't miss out on this exciting adventure! Grab your apron, gather the ingredients, and…
Leave A Review
Did you make this recipe? Leave a comment and a 5 ★ review. Your feedback helps other readers and helps me continue to offer recipes at no cost. Happy Cooking!!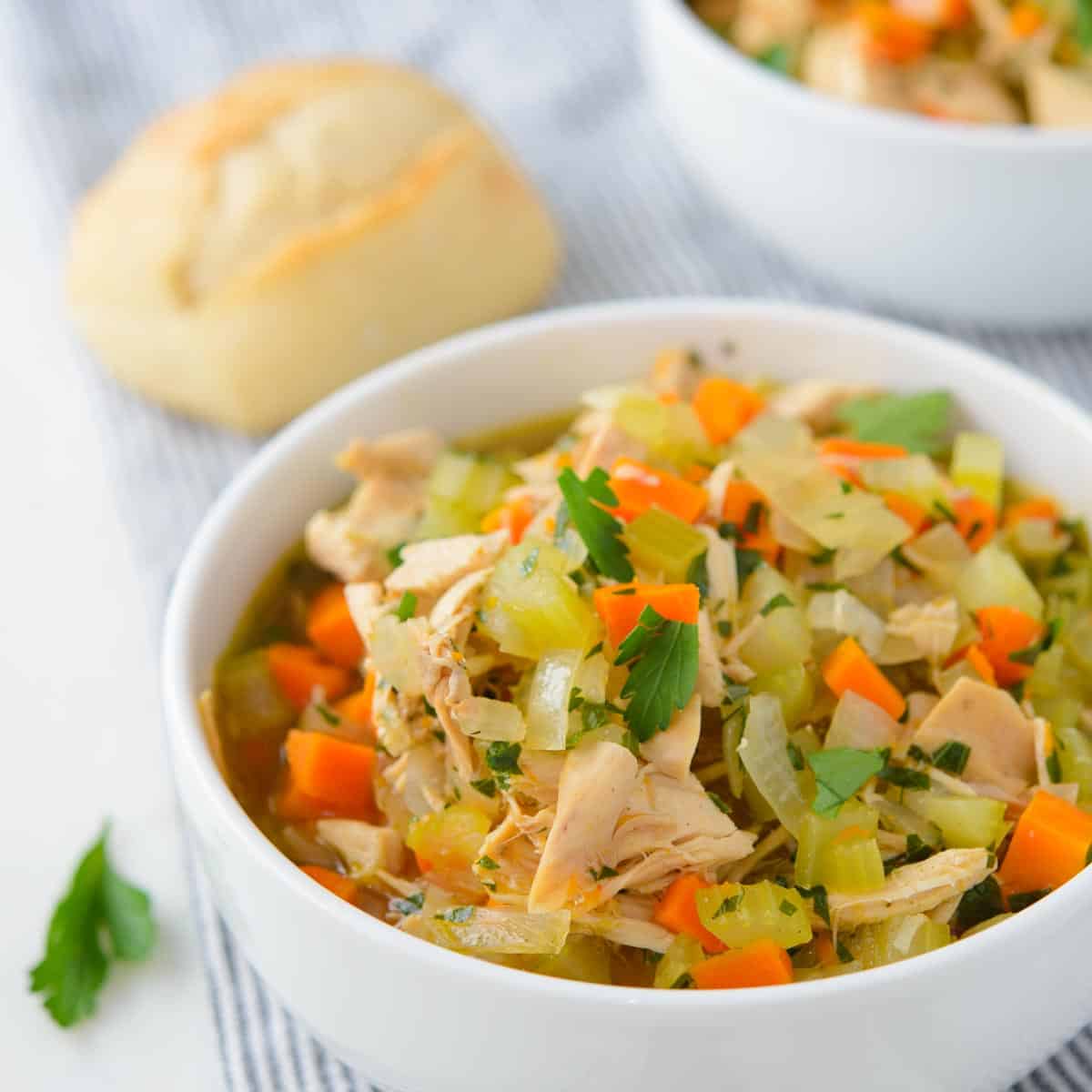 Turkey Soup Recipe
Homemade Turkey Soup is the ultimate comfort food when you have leftover Thanksgiving turkey. Curl up in a cozy sweater, grab a bowl of warm soup, and some freshly made dinner rolls. Is anything more satisfying?
Ingredients
1

large

yellow onion

,

diced

3

medium

carrots

,

peeled and diced

4

medium

stalks of celery

,

diced

8

cups

turkey bone broth

2-3

cups

turkey meat

,

shredded

½

cup

fresh parsley

,

finely chopped

½

fresh lemon

,

juiced

1

tsp

olive oil

(affiliate link)

,

or coconut oil

Kosher salt

(affiliate link)
Instructions
Add the vegetables to a large stock pot along with the olive oil and salt. Sauté for about 5 minutes, until the vegetables are tender and fragrant.

Add the broth, bay leaves, and turkey. Bring everything to a boil.

Reduce the heat, and simmer for about 20 minutes.

Remove bay leaves. Add fresh parsley and lemon juice, and salt and pepper to taste.

Add noodles or pasta, if desired. Cook until they are al dente.
Laura's Tips + Notes
This recipe also works to make The BEST Chicken Soup.
Thicken soup with cornstarch. 4-8 tablespoons of cornstarch + 4-8 tablespoons of water. The more you use, the thicker the soup will be.
Thicken soup with a roux. 2-3 tablespoons of butter + 2-3 tablespoons of flour. Combine in a skillet, brown, and add liquid to create a smooth paste. Add the roux to the soup and bring toa boil to thicken.
YOUR OWN NOTES
Sign In to add your own private notes
Nutrition
Serving:
1
cup
Calories:
101
kcal
Carbohydrates:
7
g
Protein:
13
g
Fat:
3
g
Saturated Fat:
1
g
Trans Fat:
0.003
g
Cholesterol:
23
mg
Sodium:
714
mg
Fiber:
1
g
Sugar:
2
g
Calcium:
32
mg
Iron:
1
mg