There is nothing easier or healthier than grilled chicken breasts. Grilling a batch of chicken breasts once a week can give you a multitude of lunch and dinner meals all week long.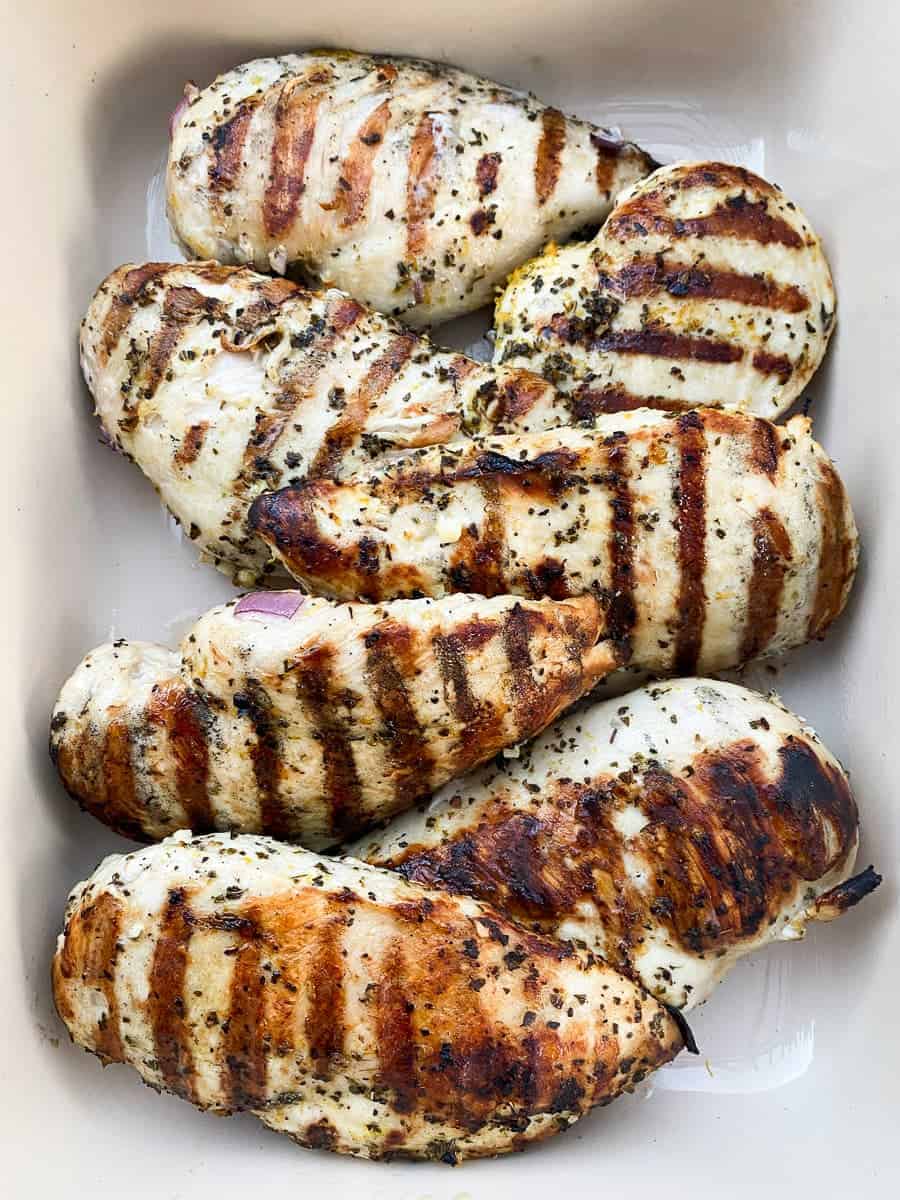 This is seriously the best-grilled chicken breast recipe. It's one that I've been making for a long time.
There are a lot of chicken marinade recipes out there, this one is really forgiving. It's always flavorful and you barely have to measure. You can mostly just eye the ingredients and it always comes out delicious.
These chicken breasts are marinated in a few simple ingredients and then grilled. I typically grill 6 to 8 chicken breasts and then use the leftovers to make healthy salads topped with grilled chicken or chicken wraps.
When you have a batch of leftover protein in waiting for you in the fridge, healthy eating is just one step closer.
What You'll Love About This Easy Grilled Chicken
It's So Easy: All you have to do to make this recipe is have thawed chicken and a few simple ingredients.
Perfect for Meal Prep: Grille chicken is the perfect protein for meal prep. It's lean and easy to portion.
Healthy: Grilled chicken is healthy and making a batch of this grilled chicken will make sure that you have a serving of healthy protein for several meals all week long.
Foodology Geek's Recipe Notes
Although this is a grilled chicken breast recipe, you can just as easily use this recipe for a batch of chicken thighs, chicken wings, or even and whole cut up fryer.
Ingredients
Chicken: I usually buy chicken breasts of thighs from this recipe. To make things super easy you can buy boneless skinless chicken.
Easy Grilled Chicken Marinade: Lemons, olive oil, garlic, oregano, salt, and pepper.
Instructions for Cooking Chicken Breasts On The Grill
All grills vary in temperature. Cooking times will vary depending on what kind of grill you have.

Make sure that your chicken is cooked to the proper internal temperature. The safe internal temperature is 165℉.

I usually take my chicken off of the grill at 155℉ and let it rest for 10 minutes. The temperature will continue to rise after it is taken off of the grill.
Make sure your grill is hot and clean. Use a little bit of oil on the grates to prevent sticking.
Place the chicken on the grill and DO NOT move it until it's time to flip it. Just let it do its thing.
Grill 8 minutes on the first side and 8 to 8 minutes on the second side.
Use a probe thermometer to make sure you have the proper temperature.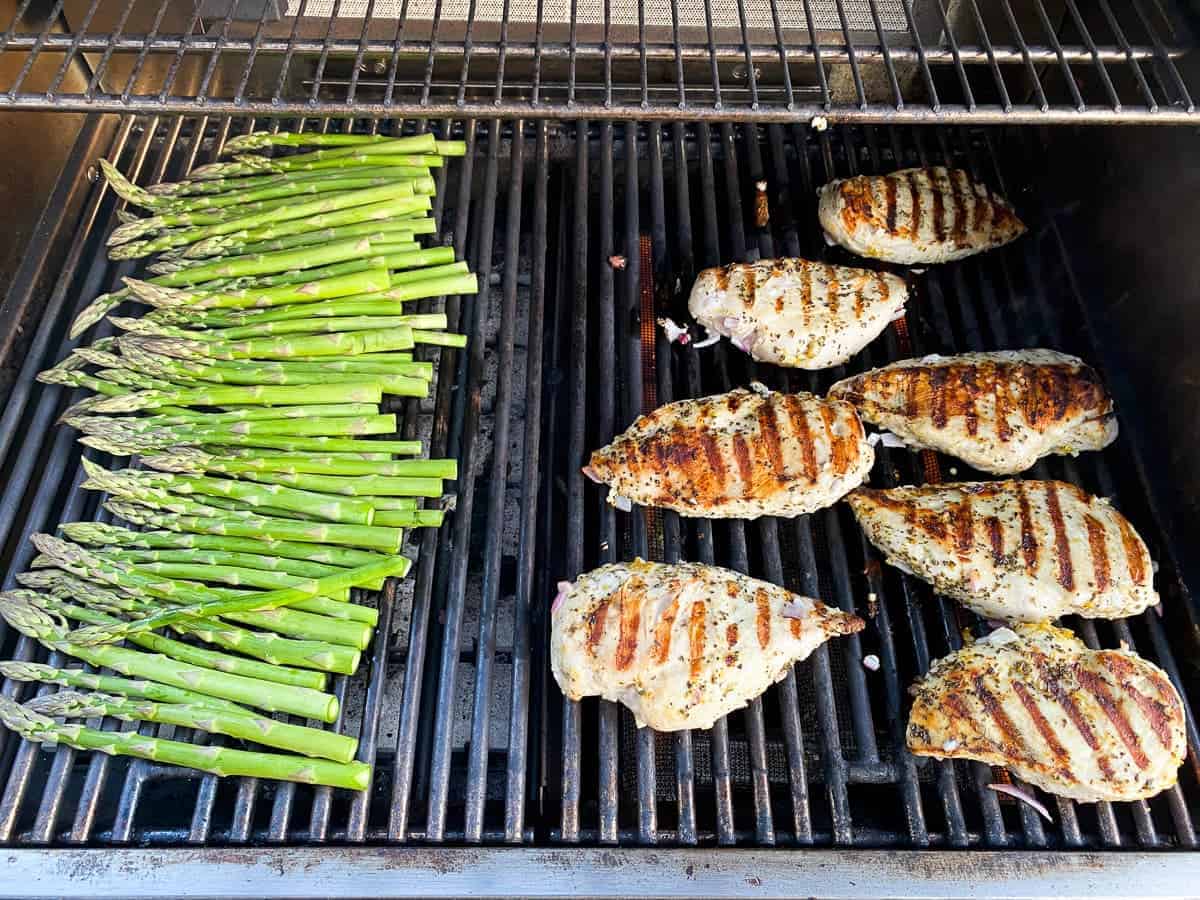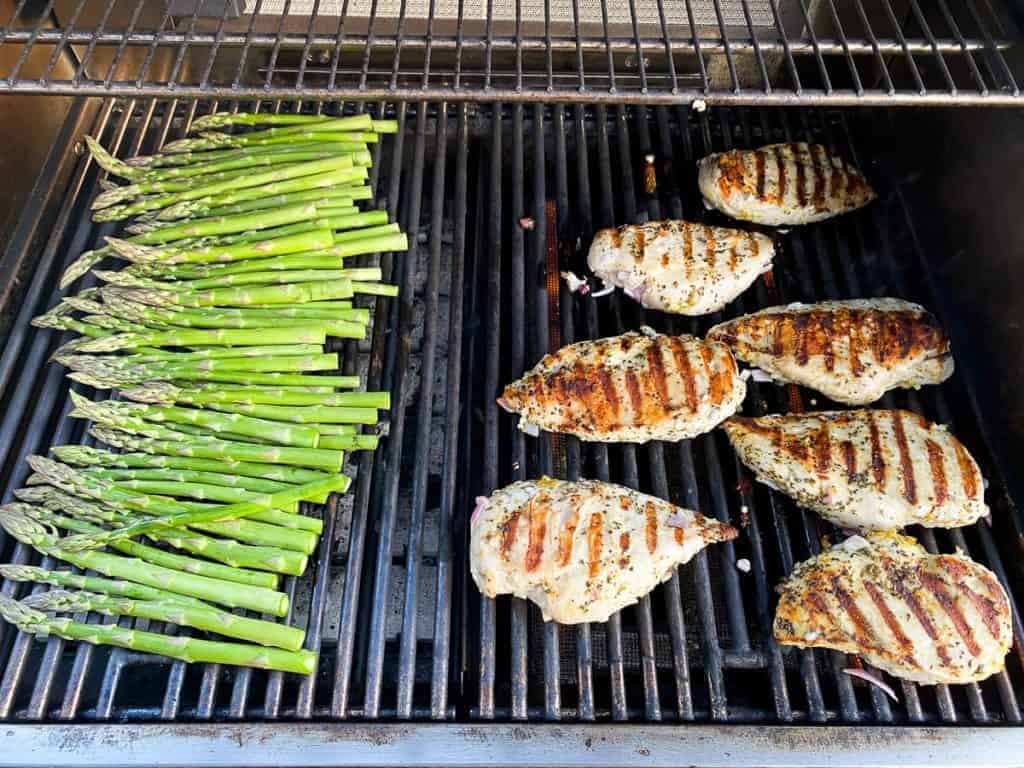 FAQ's and Variations of the Best Grilled Chicken Recipe
Grilled chicken breasts are easy to make with countless seasonings and marinades.
I have several Seasoning Blend Recipes that I use again and again. These seasoning blends are great whether I am grilling or baking my chicken in the oven.
You can grab a copy of my go-to Seasoning Blend Recipe HERE!
Cooking Chicken Thighs on the Grill
Boneless chicken thighs will cook for less time on the grill. They tend to be smaller. Start with 6 minutes on the first side and then 4 to 6 minutes on the second side.
If you're not in the mood to fire up the grill, give my Baked Crispy Chicken Thighs a try.
Grilling Bone-In Chicken
If you are grilling bone-in chicken, the cook-time will be longer. Always use a probe thermometer to check the temperature.
A cut of fryer will have different pieces that will all come off the grill at different times. Although in my experience it sometimes doesn't make a huge difference. It depends on the size of your chicken and the heat of your grill. Dark meat tends to stay moister even it is slightly overcooked.
Don't overthink it! JUST GRILL!
What to Serve with This Grilled Chicken
I love a big salad topped with my Greek Salad Dressing. This Grilled Chicken Recipe is also really good with a pan of roasted vegetables and my Greek Tzatziki Sauce. This yummy dill cucumber sauce is AMAZING on practically everything.
Did you make this recipe? If you loved it, make sure you leave a 5-star review and a comment! 👇
I love to hear from you! ➡️Follow me @foodologygeek on your favorite social channel! Facebook, Instagram, OR Pinterest.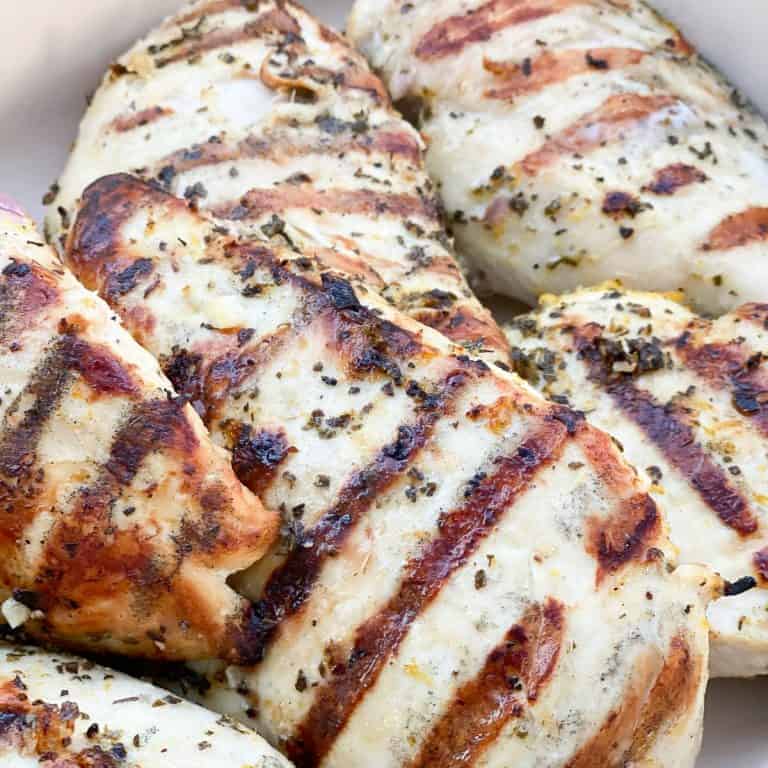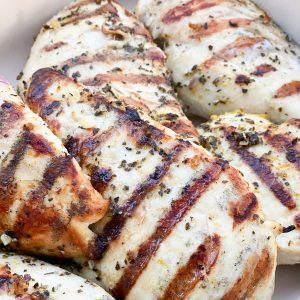 Best Grilled Chicken Recipe
There is nothing easier or healthier than grilled chicken breasts. Grilling a batch of chicken breasts once a week can give you a multitude of lunch and dinner meals all week long.
Print Recipe
Pin Recipe
Ingredients
6 to 8

Chicken Breasts

or thighs
Instructions
Mix up the ingredients for the Easy Chicken Marinade

Place the chicken into a glass dish or a zip top bag.

Add the marinade and toss the chicken to coat.
Options for Marinating
Overnight: This is the perfect recipe to make the night before. Marinate the chicken overnight in the fridge. Remove from the fridge one hour before grilling.

For at least an hour: If you are short on time, simply marinate this chicken for about an hour at room temperature before grilling.

In the freezer: This chicken can be frozen. It is the perfect recipe to make a double batch of on then stick one batch in the freezer to cook at a later date.
Grilling
Preheat the grill on HIgh. Bring the grill temperature to about 500 degrees.

Add the chicken to the grill, then turn the grill down to a medium heat.

Cook on side one for 8 minutes.

Flip and continue to cook on the second side until the chicken reaches an internal temperature of about 155°F. About 6 to 8 minutes.

NOTE: Cooking time will vary based on thickness of the chicken breasts and the temperature of the grill, which can vary greatly. I always use a probe thermometer when cooking. (It's science and I like tools.)

Remove the chicken from the grill and place it on a platter, cover with foil and rest for 10 minutes. (the internal temperature of the chicken will climb during this time.)
Nutrition
Calories:
216
kcal
|
Carbohydrates:
2
g
|
Protein:
36
g
|
Fat:
6
g
|
Saturated Fat:
1
g
|
Cholesterol:
108
mg
|
Sodium:
779
mg
|
Fiber:
1
g
|
Sugar:
1
g
|
Calcium:
23
mg
|
Iron:
1
mg
(Visited 45 times, 1 visits today)