Maple and Mustard Brown Sugar Glazed Ham is the perfect Holiday Centerpiece. This easy ham glaze is one that I've made over and over! It is savory-sweet and comes out perfect every single time! Serve it with your favorite holiday sides.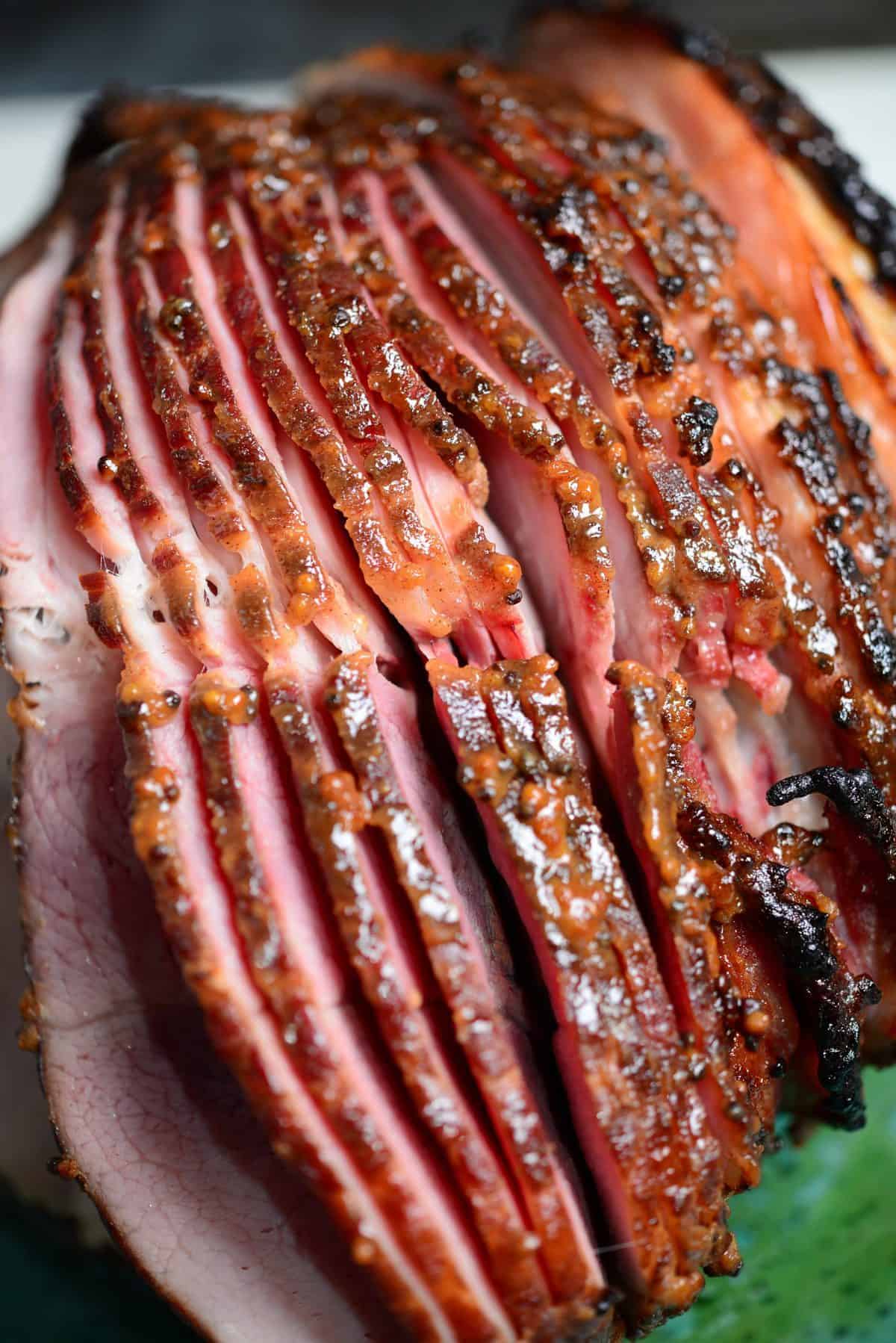 This post does contain affiliate links. Please see my Affiliate Link Policy.
Growing up, we only had ham on special occasions like Easter or Christmas! It was always a special treat.
These days whenever I bake a ham, I wonder why I waited so long.
Not only do you get a fantastic dinner when you bake a ham, but the leftovers are [top notch].
With an average-sized spiral sliced ham, which is usually at least four pounds, you'll end up with enough ham leftover for sandwiches all week.
Then you have the ham bone. In my book, this is where the real money is. There's nothing better than a pot of ham and bean soup. Or try my Split Pea Soup.
My mom made this every year the day after Easter. It was a simple soup with nothing but dried navy beans and a ham bone.
Everything would go into the slow cooker and cook overnight, or sometimes she might start the soup in the morning. We almost always had ham and bean soup the next night for dinner.
She would make a batch of her Skillet Cornbread and serve the bean soup with diced white onions and tabasco.
It is these kinds of memories that remind me of why I love cooking.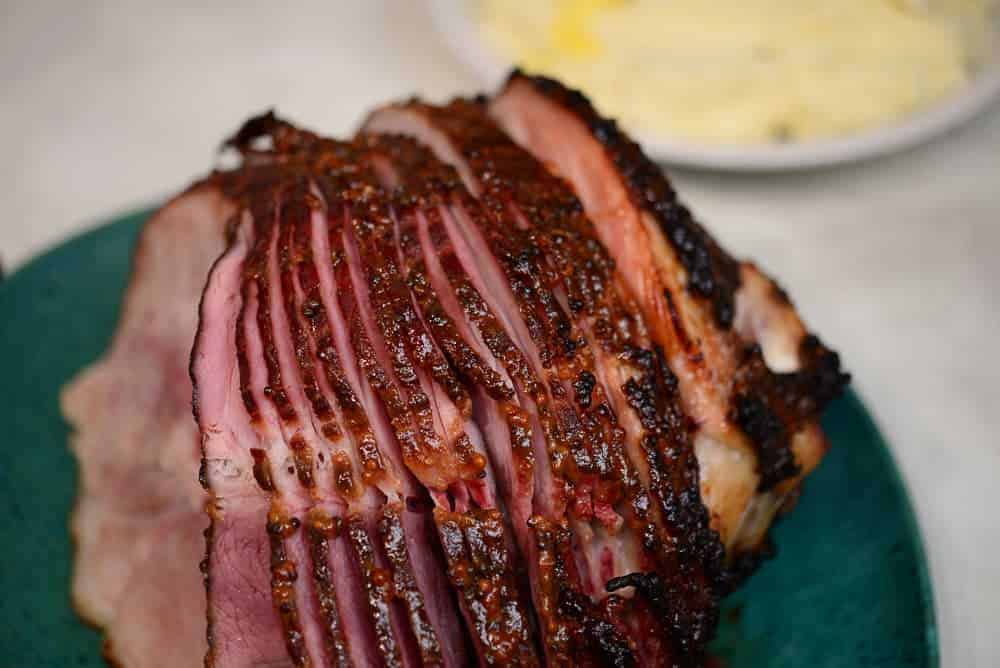 What you'll love about this recipe.
The Flavor: The glaze has so many flavors that I love; mustard, maple, pineapple, cinnamon, and nutmeg. It's a savory-sweet combo that is amazing on the salty baked ham.
It's Easy: Nothing could be easier than baking a spiral sliced ham. Because it is already fully cooked, you are just warming it up. It is entirely idiot-proof!
All The Leftovers: Ham sandwiched, Ham and Bean Soup, you could even make a Ham Fried Rice.
Foodology Geek Recipe Notes
Ingredients
One Spiral Cut Bone-In Ham: You can use the brand that you like. I used a Niman Ranch Ham for my recipe. Kirkland has a great spiral cut ham as well.
Good Mustard: I like whole-grain dijon mustard for this spiral ham glaze recipe.
Sweeteners: This recipe calls for brown sugar, maple syrup, and pineapple juice.
Spices: Cinnamon and nutmeg.
Special Equipment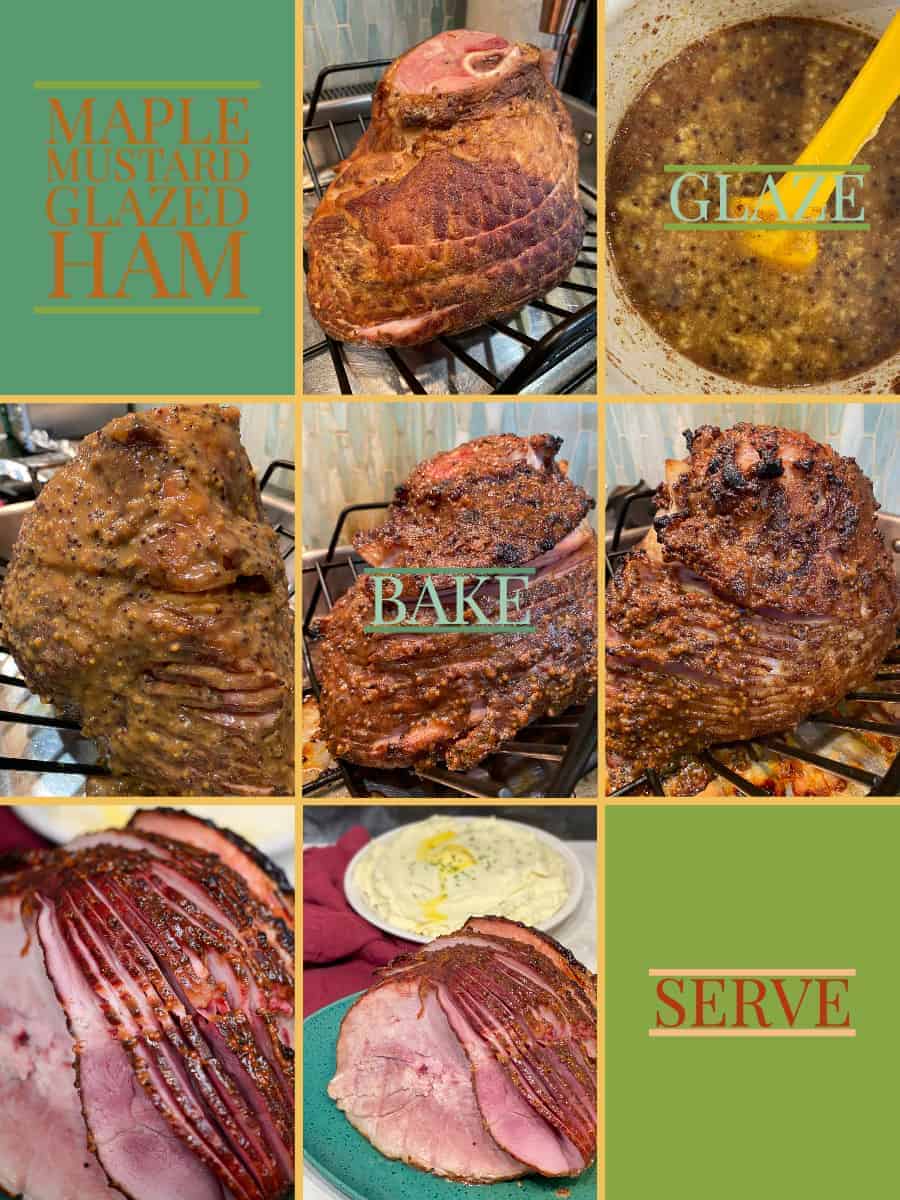 Instructions
Make the Ham Glaze: Add all of the ingredients into a small saucepan and bring them to a boil. Reduce the heat and simmer for about 5 minutes. Turn the glaze off and set it aside.
Bake the Ham: The ham will bake for about an hour and forty minutes at 300℉. For this first part of the bake, you'll want to cover the ham with foil.
Glaze: Remove the ham from the oven and pour on the glaze. Smother it with the brush so that the outside of the ham is completely covered. Turn up the heat on the stove to 400℉, return the ham and bake for an additional 20 to 25 minutes.
Slice: Let the ham rest for about ten minutes. Slice and serve.
Don't forget to save your ham bone for making a nice batch of Ham and Bean Soup. If you aren't coing to use it right now you can freeze it for later.
Tips and FAQs
How to make a glaze for ham
Simply add the mustard, light brown sugar, maple syrup, pineapple juice, and spices to a saucepan. Bring the mixture to a boil and then reduce the heat to a simmer. Let the mixture simmer for about 10 minutes, OR until it has reduced by one-third.
How to cook a precooked ham with glaze
Spiral cut ham sometimes comes with a packet of glaze. It is fine to use that, but I highly recommend making your own Mustard Maple Ham Glaze.
What to Serve with Spiral Cut Ham
Mashed Potatoes
Bacon-Wrapped Green Beans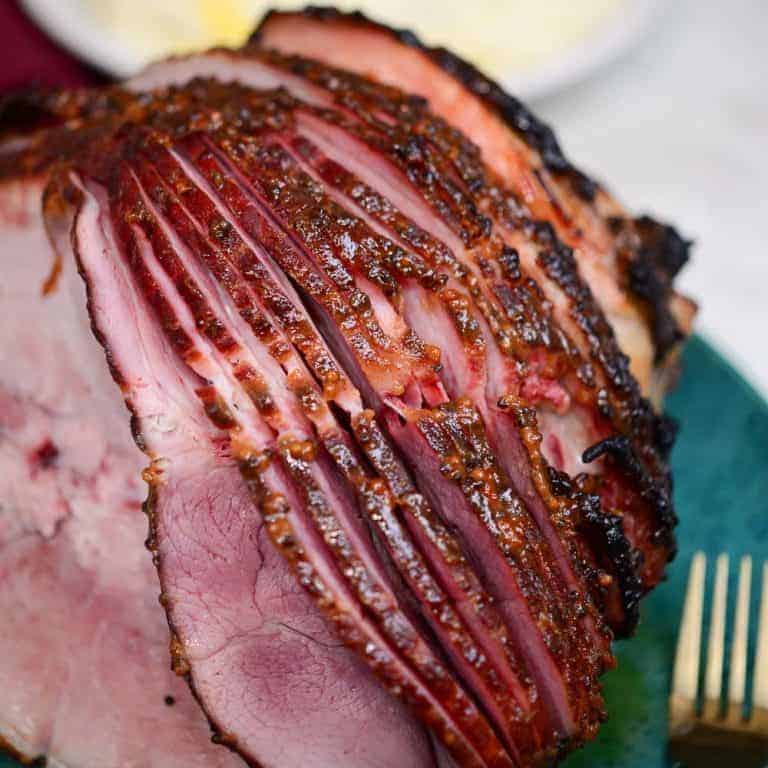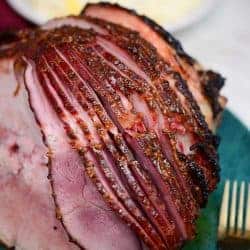 Glazed Spiral Sliced Ham Recipe
Instructions
Preheat the oven to 300°F
Make the Ham Glaze
Add all of the ingredients to a small saucepan.

Bring the mixture to a boil. Then reduce the heat to a simmer.

Simmer for about 5 minutes. The glaze should get thicker as the pineapple juice reduces and the sugar melts.
Bake the Ham
Unwrap the spiral cut ham and place it in your roasting pan.

Add a cup of water to the bottom of the roasting pan.

Cover the ham with foil and then place it in the oven for 1 hour and 40 minutes.

Remove the ham and turn the oven temperture up to 400°F.

Take the foil off of the ham and slather the glaze over the outside of the ham.

Return the ham to the oven and bake for an additional 20 to 25 minutes.

Remove the ham and let if rest for 10 minutes before slicing.
Nutrition
Calories:
289
kcal
Carbohydrates:
15
g
Protein:
29
g
Fat:
12
g
Saturated Fat:
3
g
Cholesterol:
110
mg
Sodium:
1867
mg
Fiber:
1
g
Sugar:
14
g
Calcium:
31
mg
Iron:
2
mg