Pork Shish Kabobs (with Bacon Rub)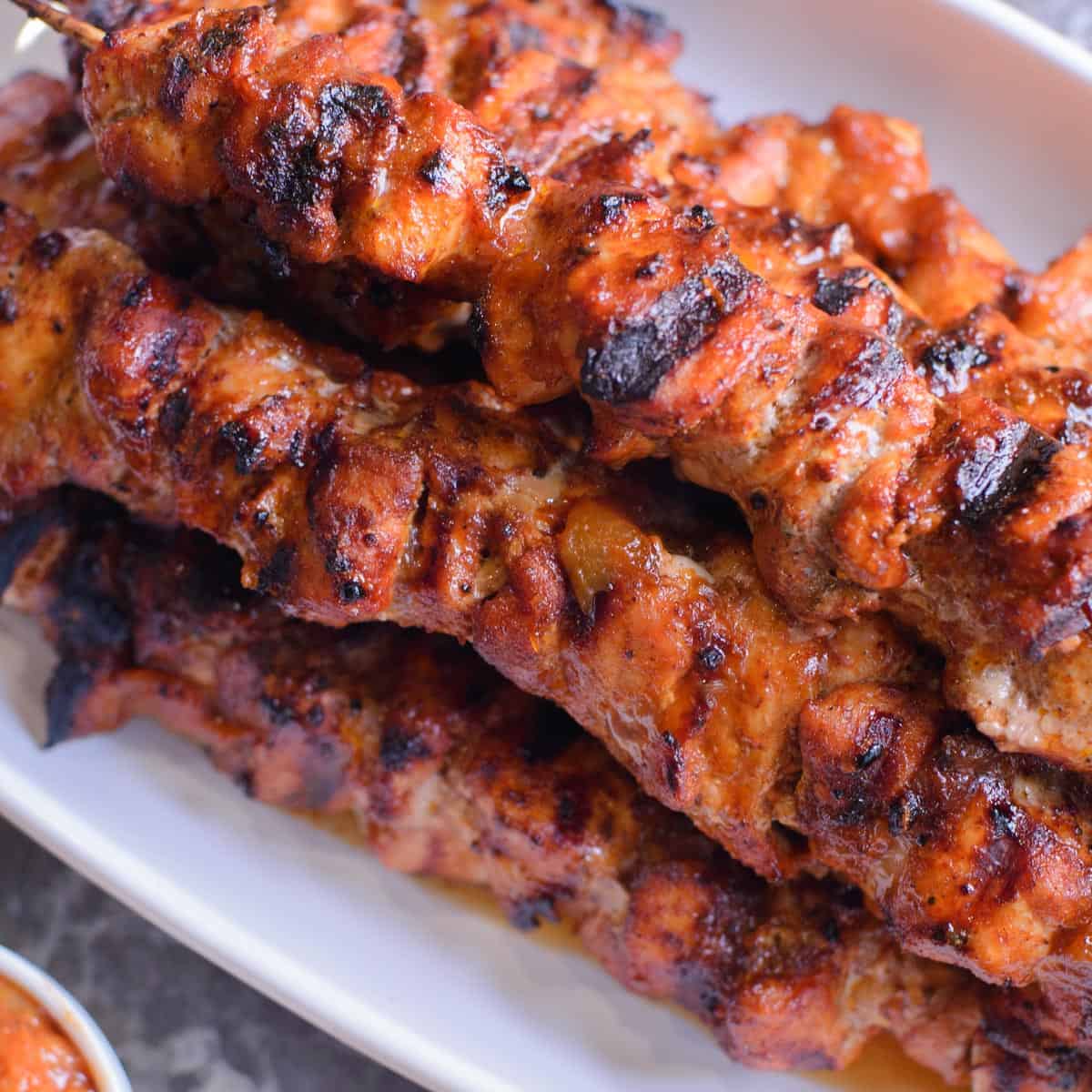 Recipe
Comments
Save
Go to Collections
This post may contain affiliate links. Please read my
disclosure policy.
Gear up for summer with BBQ Pork Shish Kabobs! These grilled pork skewers are tender, juicy, and seasoned with smokey BBQ bacon rub. After grilling, they're slathered with Peach-Bourbon BBQ Sauce! Yeah, they're pretty magical.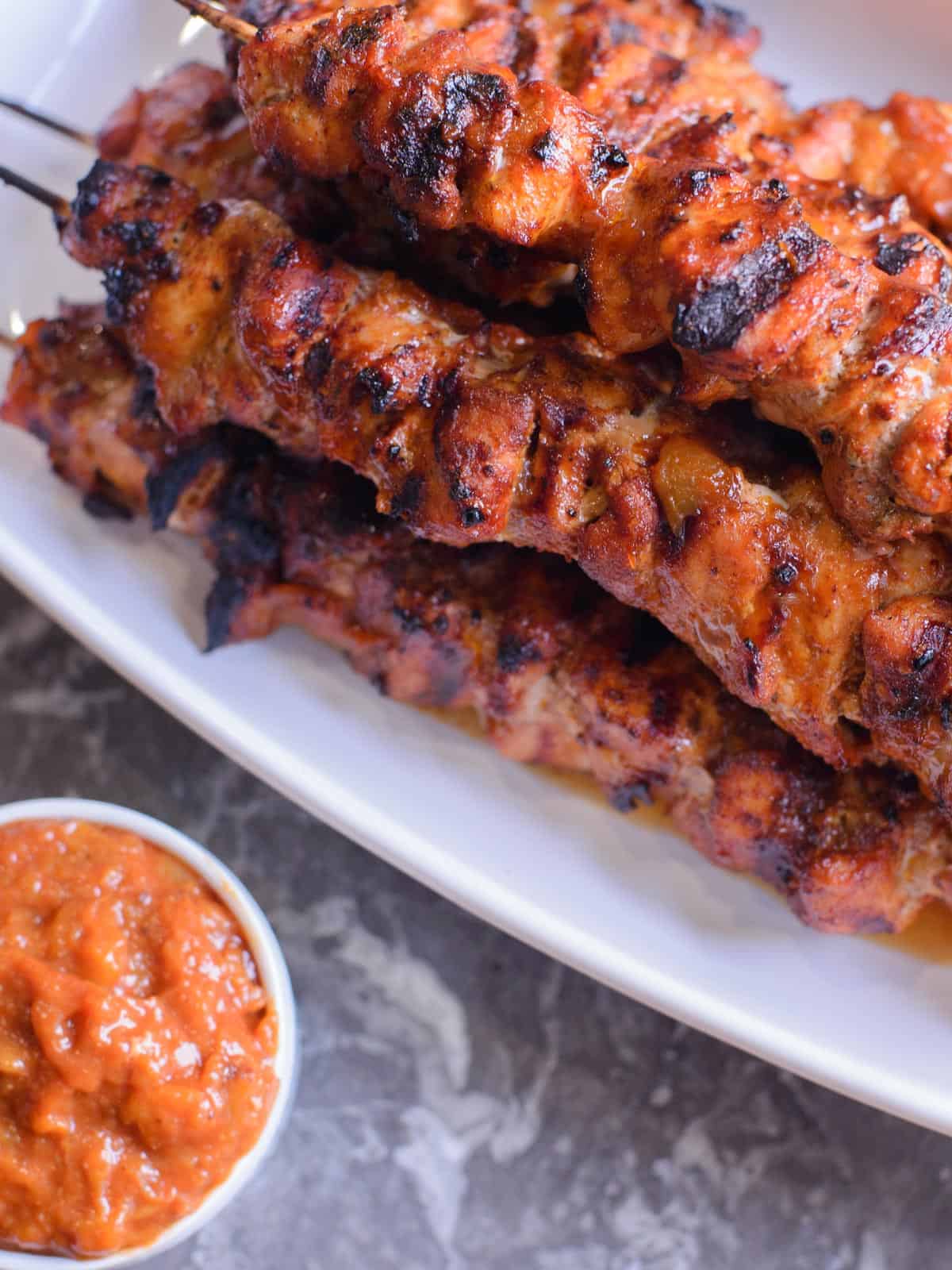 Whether you call these grilled kabobs or kebabs, they are perfect with my Peach Bourbon BBQ Sauce recipe. Sweet and spicy flavor.
Summer grilling makes kitchen clean-up so easy! Not to mention grilled food is a great way to I also use my signature BBQ Spice Rub.
Why you need to make this recipe
Bacon: Everything is better with bacon, right? The bacon rub on these grilled pork kebabs is simply scrumptious. Lots of smoky-sweet bacon flavor coming right up. What could be better?
BBQ: I don't know about you, but cooking on the grill is my favorite. Say goodbye to kitchen cleanup.
Why you'll love these shish kabobs
These pork kebabs are one of my favorite things to put on the grill. The bacon rub gives these pork skewers so much flavor.
What You'll Need
Pork tri-tip, AKA club roast: This is my favorite cut of pork for this recipe. It's leaner than pork shoulder but is still tender and has great flavor.
Bacon rub: I make bacon rub by adding the BBQ rub and the uncooked bacon to my food processor. Using the blade, pulse until you have a thick paste.
Step By Step Instructions
Make the bacon rub in the food processor.
Cut the pork club roast into 2-inch chunks and then add the pieces of pork to a large bowl. Toss with the bacon rub until all the pieces are well coated.
Using metal skewers or bamboo skewers, skewer the meat and set on a large platter.
Heat the grill to about 500℉ if you are using a gas grill. For a charcoal grill, you want to grill these pork kabobs over a hot flame.
Grill the pork for about 4 minutes, flip and grill for an additional 4 minutes.
Safe Cooking Temp For Pork
According to the National Pork Board, the safe temp for pork is 145℉/63℃.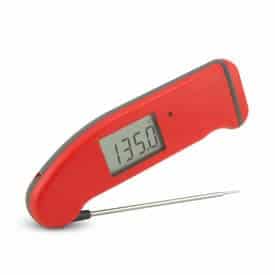 I always use a probe thermometer to ensure that the internal temperature of meat and poultry is cooked to the proper temperature.
There are a lot of thermometers on the market, but Thermoworks (affiliate link) makes some of the best.
This is one of my favorite pack-ahead camping recipes!
I'm not willing to compromise my foodie ways, even if we're roughing it.
To make a deconstructed version of my BBQ Pork Kabobs, just season them and pack up your prepared ingredients for transport.
When you're ready to cook, pull out your lodge dutch oven and cook them right on the fire! I like to add in some Yukon gold potatoes.
Always a crowd pleaser!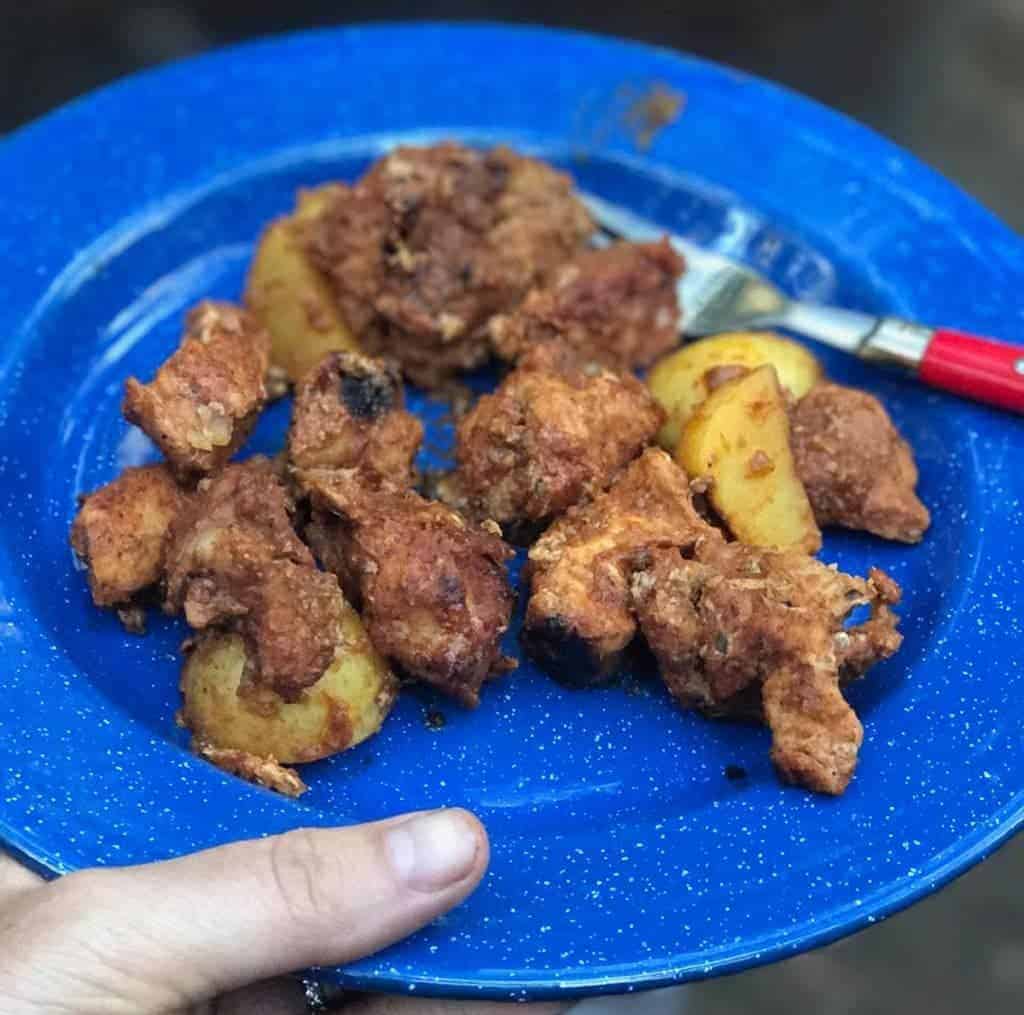 FAQs and Recipe Tips
What is the best meat for BBQ?
I have two favorite cuts of meat for BBQ.

1. Pork tri-tip cut: This roast is often called a pork club roast. The pork club roast is a boneless pork roast cut. It is a tender cut that is leaner than a pork shoulder.
2. Pork shoulder, AKA pork butt: Pork shoulder is typically used for pulled pork recipes. The pork shoulder is a fattier cut and does well during the long process of smoking.
How do I barbecue over a campfire?
This recipe is so easy to make camping! I bring my Lodge Cast Iron Camp Oven and cook this BBQ pork in the campfire.

Want to know what other campfire recipes I cooked while camping?
Check out my super easy camping recipes post to see what we ate on our Big Sur camping trip!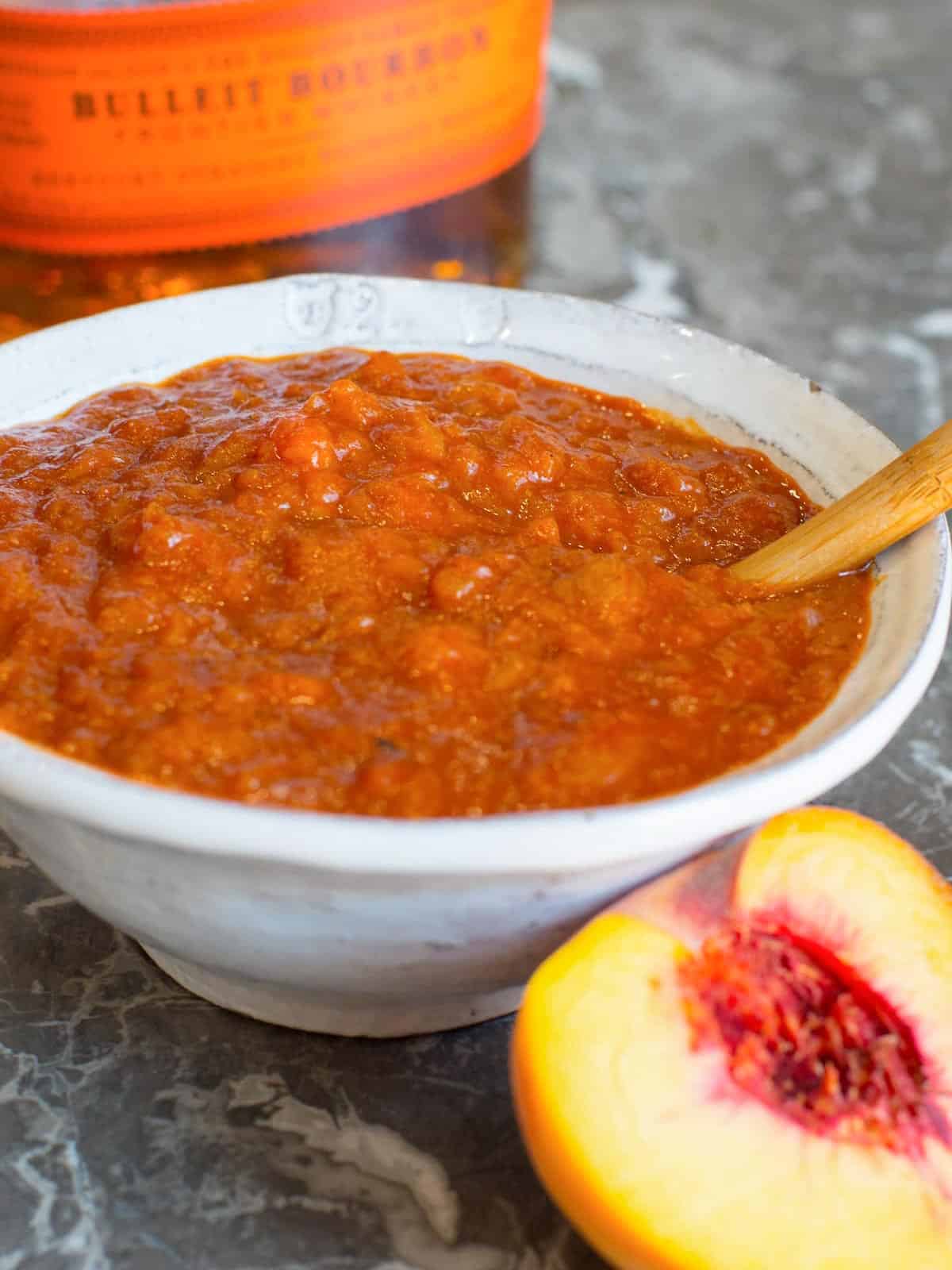 What to serve with Grilled Pork Skewers
More Summer Grilling Recipes
More Spice Blend Recipes
Leave A Review
Did you make this recipe? Leave a comment and a 5 ★ review. Your feedback helps other readers and helps me continue to offer recipes at no cost. Happy Cooking!!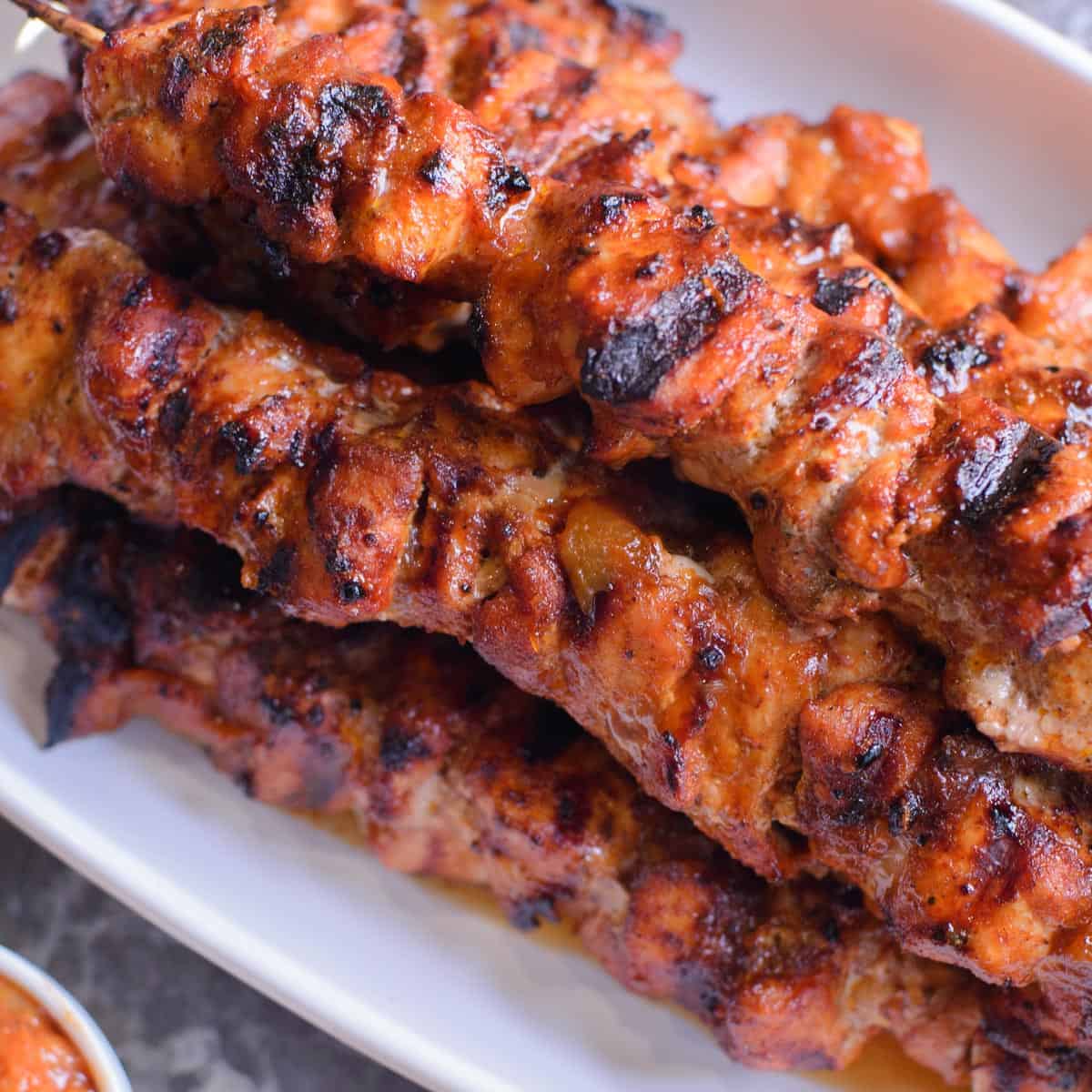 BBQ Pork Kebabs
Gear up for summer with BBQ Pork Kebabs! These grilled pork kebabs are tender, juicy, and seasoned with smokey BBQ bacon rub. After grilling they're slathered with Peach-Bourbon BBQ Sauce! Yeah, they're pretty magical.
Ingredients
Meat
2

lbs

pork club roast

,

cut, cubed
Bacon-Rub
8

slices

Applewood smoked bacon

2

tablespoons

BBQ Rub
BBQ Rub Blend (Use 2 tablespoons, store the rest)
Instructions
Bacon Rub
Combine the bacon and the bbq rub in a food processor and process until you have a smooth paste.
Meat
Cube the roast into 2-inch chunks. Combine the meat with the bacon rub and toss to coat.

Skewer the meat on bamboo or metal skewers.
Laura's Tips + Notes
Recipe Variations:
This recipe also works with chicken or shrimp.
To prepare this recipe for camping:
Prepare the meat as instructed above and seal it in a freezer bag or in a vacuum-sealed bag. Freeze the meat for transport. I leave the meat un skewered for camping.
When you are ready to cook the pork on the campfire.
Add the pork, 1 cup of barbecue sauce, and the potatoes to a parchment-lined campfire dutch oven.

Prepare the charcoal fire: When the coals are white-hot spread them out into a single layer and then place the cast-iron dutch oven into the fire.

Using heavy tongs, cover the top of the dutch oven with hot coals.
Cook for 25 minutes.
Using the castiron lid-puller you can check to see if the meat is done. If not you can replace the lid and cook it longer.
Serve with Peach Crumble
I highly recommend starting the peach crumble while you're eating your campfire dinner.
I use Lodge's Cast Iron Dutch Oven

(affiliate link)

for campfire cooking and these parchment liners.

(affiliate link)
YOUR OWN NOTES
Sign In to add your own private notes
Nutrition
Calories:
440
kcal
Carbohydrates:
1
g
Protein:
57
g
Fat:
21
g
Saturated Fat:
7
g
Cholesterol:
170
mg
Sodium:
405
mg
Calcium:
11
mg
Iron:
2
mg