Homemade Turkey Pot Pie might be the BEST thing to do with Thanksgiving leftovers. All you need is leftover roast turkey and a flaky pie crust or puff pastry.
After Thanksgiving is over, you might be lucky enough to have a ton of Thanksgiving leftovers. My two favorite things to make with leftover turkey is this classic turkey pot pie recipe or an easy turkey soup.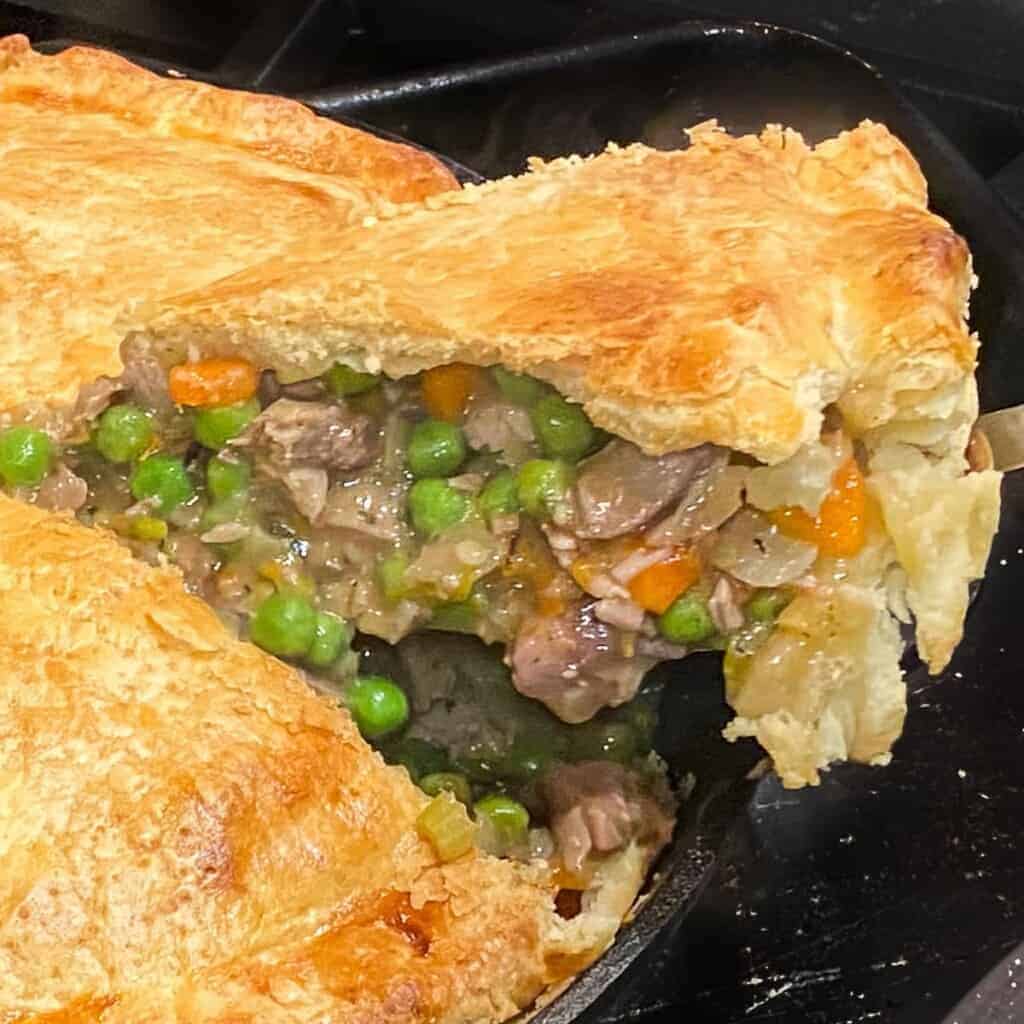 Recipe Notes
Keep in mind that this recipe is also perfect for making chicken pot pie or chicken soup. Anytime I have leftover roast chicken or turkey, I use the leftovers to make one of these easy dinner recipes.
Let's get started!
What You'll Need For This Recipe
Leftover turkey. You'll want 2 to 3 cups of leftover roast turkey meat. Chop the turkey into bite-sized pieces.
Turkey Stock. Use the leftover turkey bones to make a rich turkey stock. I'll talk you through the steps for making bone broth.
Veggies. Peas, carrots, and green beans. Frozen veggies are fine here.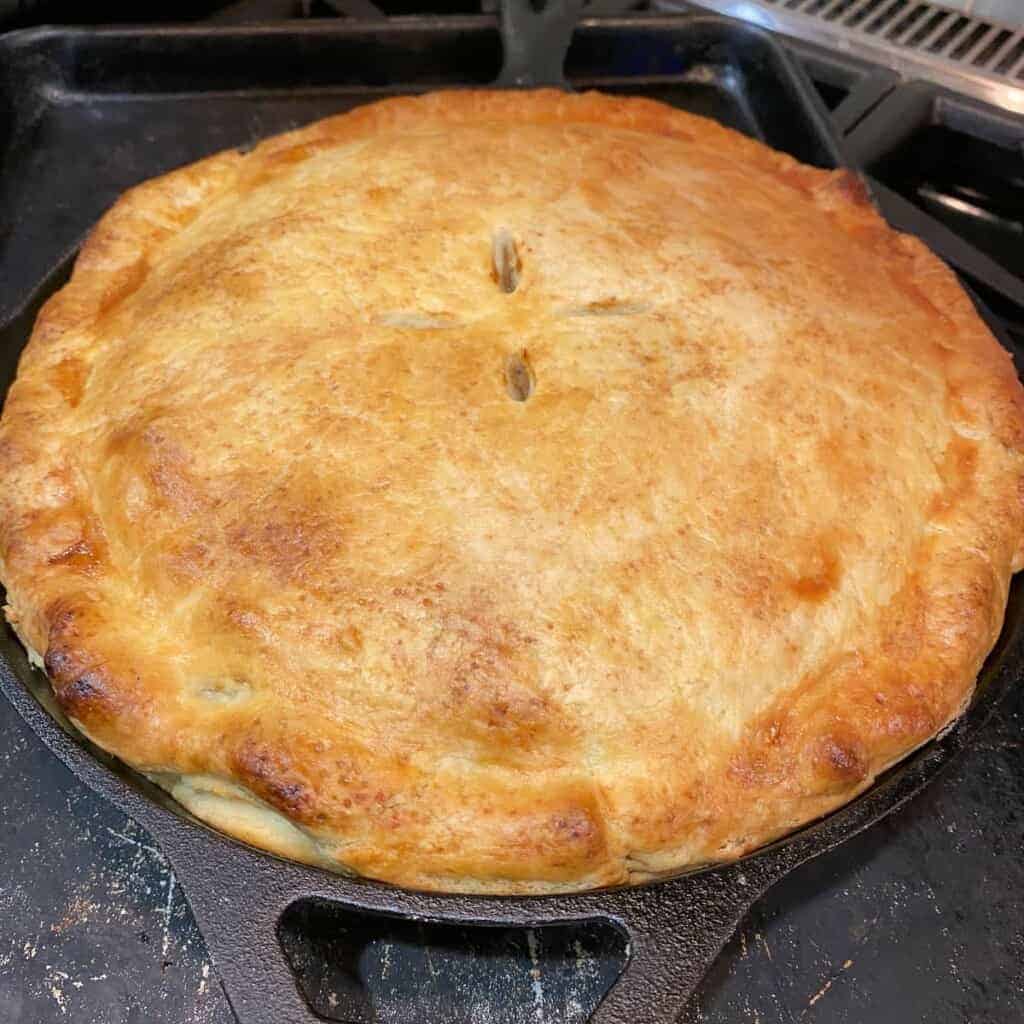 Step-by-Step Instructions
Step 1: Get as much meat from your leftover roast turkey as possible.
Pull the leftover turkey meat off of the turkey bones and then chop it into bite-sized pieces. You will want 2 to 3 cups of meat.
Step 2: Make turkey broth.
Place all of the leftover turkey bones into a large stock pot. Add one onion (cut in half), a few stalks of celery, and a few carrots. Add enough water to cover everything and then bring the pot to a boil.
Once the broth is boiling, you can reduce the heat and let it simmer for an hour or so. Add water as needed.
Taste the turkey stock to make sure it has a good flavor and then strain off all of the veggies and bones. Place a fine sieve over a large bowl and pour the turkey stock through it.
Check out the Complete Guide to Making Bone Broth if you have any questions on how to make stock from poultry.
Step 3: Make the turkey pot pie filling.
In a Dutch oven, melt the butter and add the diced carrots, celery, and onion. Sauté for 4 to 5 minutes until the veggies are tender.
Add 3 tablespoons of flour to the veggies and toss everything together. Then add the turkey stock to the veggies and bring the mixture to a boil. Cook and stir so that the stock and the flour combine to create a turkey gravy. Adjust the consistency by adding more turkey broth if needed.
Add the frozen peas and carrots and let them cook until they are warm.
Stir in the turkey. Add salt and pepper to taste. Remove from heat.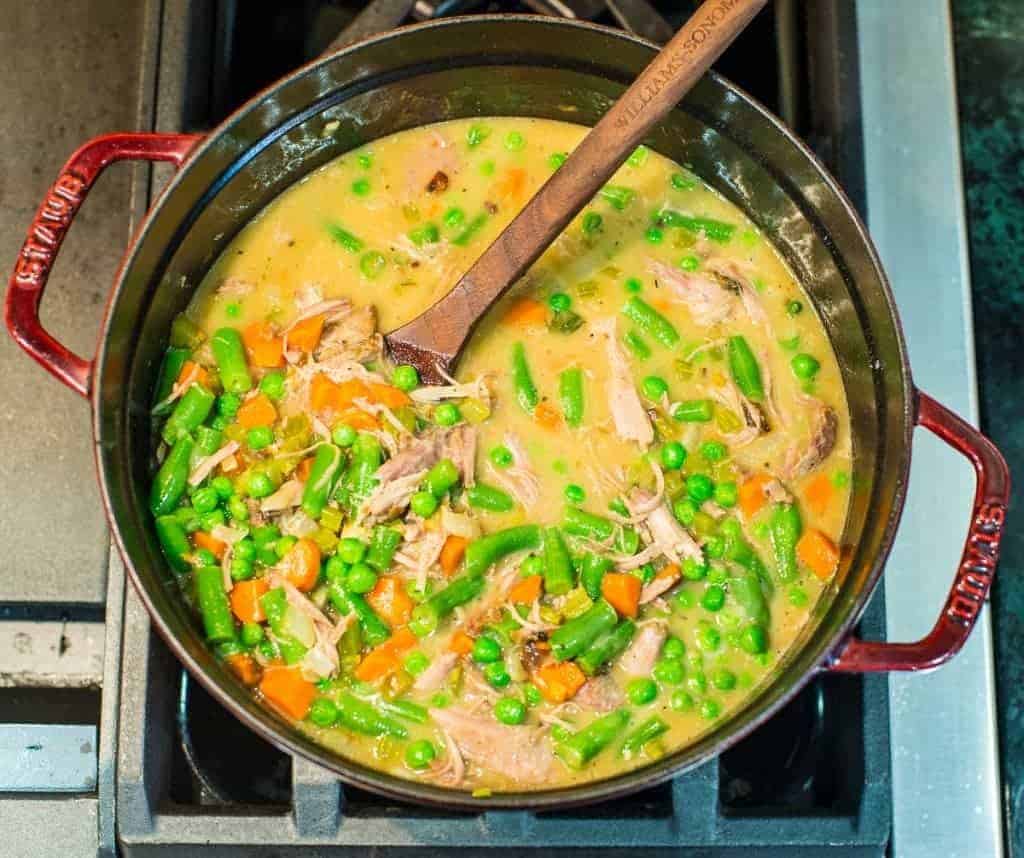 Step 4: Put the pot pies together and bake.
There are a few different ways to make a pot pie recipe. You can pick whichever one you like best. I'm using the double crust method in this recipe, which uses both a top and bottom crust.
I baked the pot pie in these pictures in a Lodge 12-inch cast iron skillet. You can use a pie plate, a casserole dish or even small ramekins to make individual mini pot pies.
Double pie crust pot pie: For this version, you will make a double batch of pie dough. Preheat the oven. Roll out 2 pie crusts and add the first one to the pie dish. Fill it with the turkey mixture, then top it off with the second pie crust. Vent the top dough and bake for 40 minutes.
Single pie crust pot pie: Add the turkey pot pie filling to the bottom of a pie dish. Add the top pie crust, vent the crust, and bake for about 20 minutes.
Turkey pot pie with puff pastry sheets: Add the pot pie filling to a pie dish, or to individual ramekins to make mini pot pies. Top with a sheet of puff pastry. Bake according to the puff pastry directions.
Turkey shepherd's pie: This option is perfect if you have leftover mashed potatoes. Plus, it's a good alternative if you're trying to avoid saturated fat. Top this one off with some freshly ground black pepper!
Turkey pot pie with biscuits: A batch of biscuits makes a great topping for pot pie.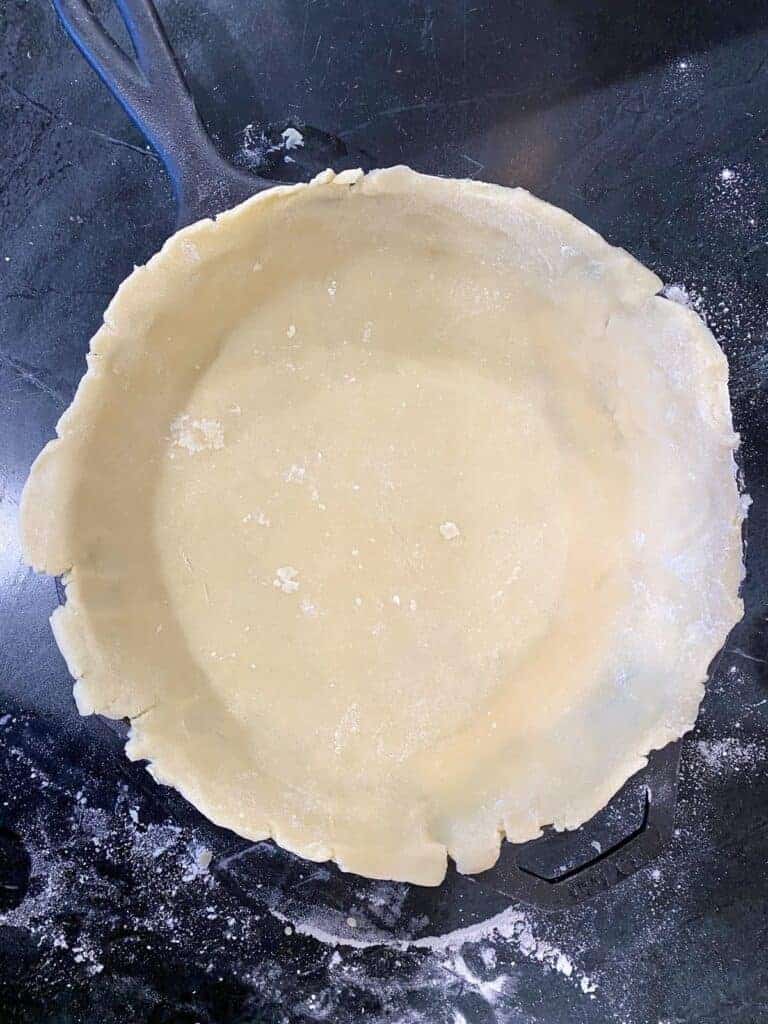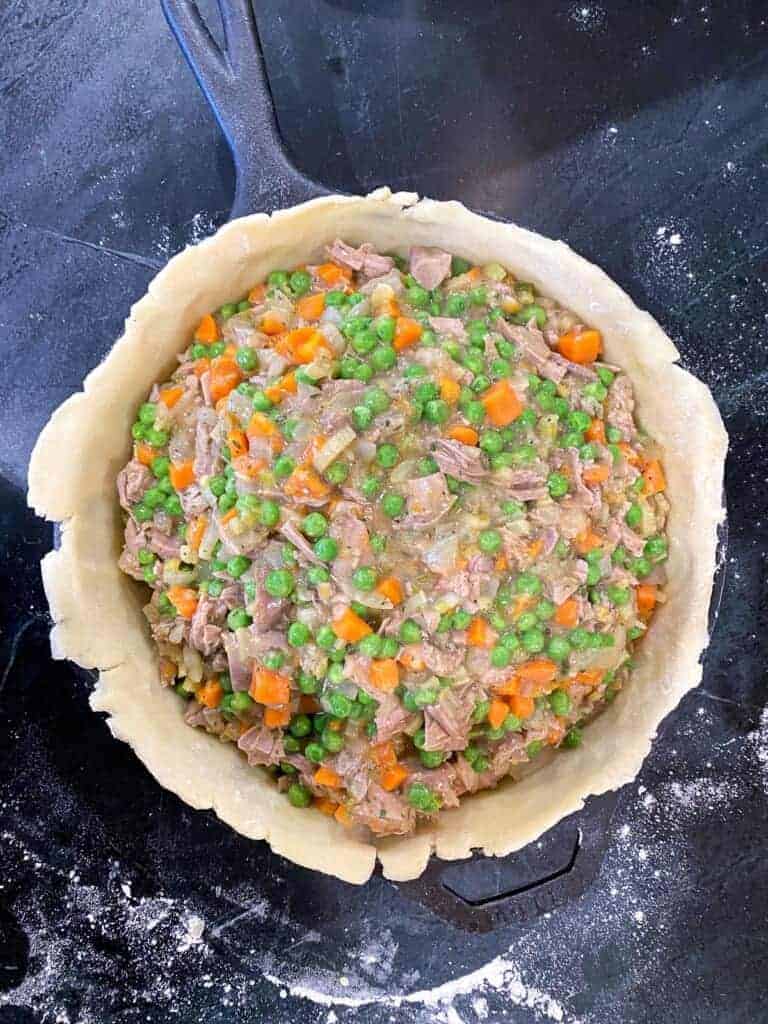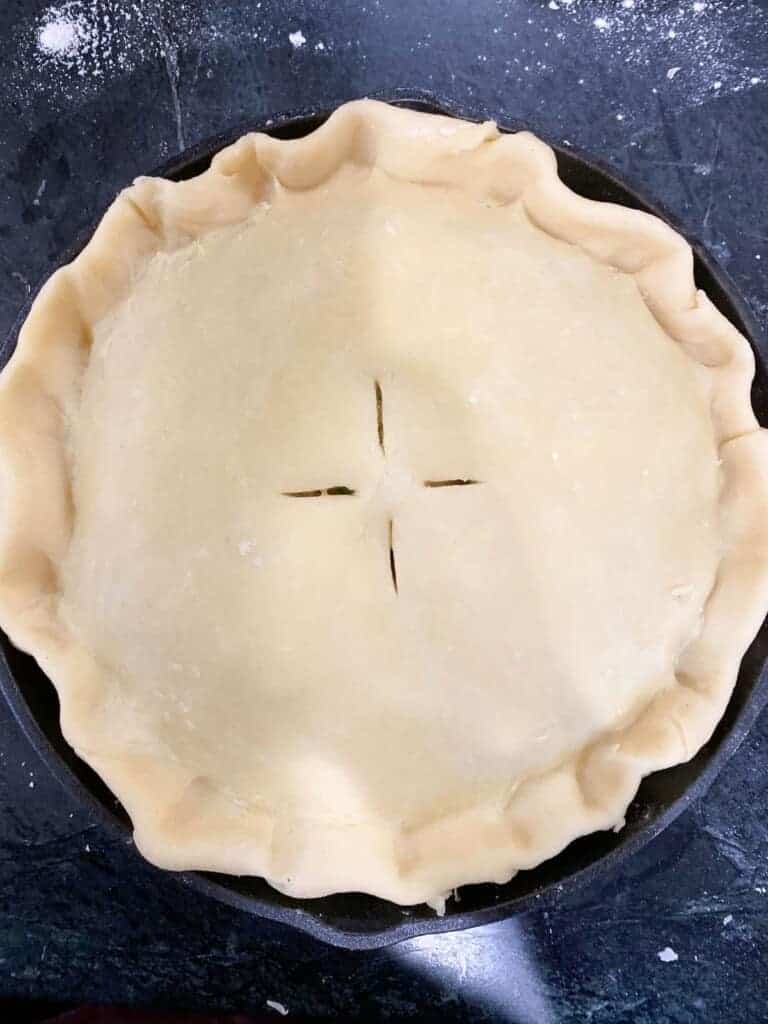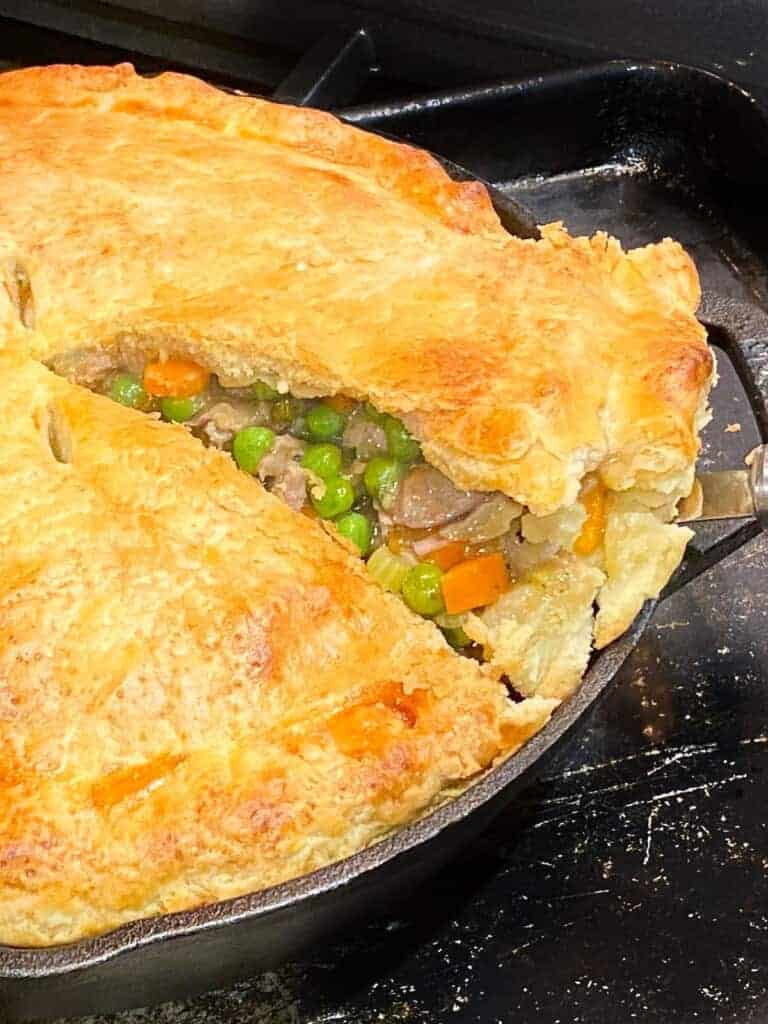 FAQs and Expert Tips
How to make mini turkey pot pies:
To make mini turkey pot pies, use 4-ounce ramekins. Add a half cup of pot pie filling to each ramekin. Then top with pie crust or puff pastry.
How to store leftover turkey pot pie:
To store leftover turkey pot pie, cover the pie dish with foil and store in the fridge. Alternatively, I like to portion out individual servings in oven-proof dishes so that I can reheat each serving one at a time.
Variations for turkey pot pie crust.
1. Flaky pie crust is just one option. You can use premade pie crust or homemade pie crust. The other question is double crust or crust on top only?
2. Puff pastry. Frozen puff pastry dough, like Dufour brand, is another option for pot pie crust.
3. Biscuits. Topping the turkey pot pie with biscuits is another classic way to serve pot pie. Bisquick may just have created the perfect recipe for this easy pot pie topping.
What to serve with Turkey Pot Pie
➽ Did you make this recipe? I love to see what's going in your kitchen. Show me what you're cooking. 🍳 Tag me @foodologygeek on your favorite social channel! Facebook, Instagram & Pinterest. If you loved ❤︎ this recipe, please leave a 5 ★ review and a comment!
Leftover Thanksgiving Turkey Pot Pie
This recipe is great for leftover holiday turkey. Make this classic turkey pot pie with leftover Thanksgiving turkey, veggies, and a flaky pie crust.
Ingredients
Turkey Pot Pie Filling
3

tablespoons

unsalted butter

3

carrots

peeled and diced

3

stalks

celery

diced

1

sweet onion

diced

3

tablespoons

all purpose flour

4 to 6

cups

turkey Stock

check out how to make bone broth

2 to 3

cups

leftover Thanksgiving turkey meat

cut into bite-sized pieces

1

cup

peas

frozen or fresh

1

cup

green beans

frozen or fresh

1

teaspoon

salt

¼

teaspoon

black pepper

2

teaspoon

thyme

½

teaspoon

poultry seasoning
Instructions
Turkey Pot Pie Filling
Using your leftover turkey bones, make a bone broth. Set aside 4-6 cups of broth.

Over medium heat melt butter and add the carrots, celery, and onion. (Mirepoix). Sauté until soft about 5-10 minutes.

Sprinkle the flour over the vegetables and toss to coat.

Add the thyme and poultry seasoning. Add 2 cups of the bone broth over the vegetables and bring to a boil. The sauce will start to thicken.

Add another 2 cups of broth and bring to a boil.

Add the peas and green beans.

Season to taste with salt and pepper.

Adjust the consistency of the filling by adding additional broth if needed.
Assembling the Turkey Pot Pie
Laura's Tips + Notes
Substitutions
Chicken can be used instead of turkey in this recipe.
Frozen veggies can be used.
Variations
Individual Pot Pies. Use 4-ounce ramekins to prepare the pies. Bake them on a cookie sheet.
Puff pastry instead of pie dough. I sometimes use a frozen puff pastry dough on top of the pot pie. My favorite brand is Dufour. You can find it near the pies in the freezer section of your grocery store.
Nutrition
Serving:
1
slice
Calories:
467
kcal
Carbohydrates:
49
g
Protein:
20
g
Fat:
21
g
Saturated Fat:
12
g
Cholesterol:
85
mg
Sodium:
838
mg
Fiber:
4
g
Sugar:
11
g
Calcium:
68
mg
Iron:
3
mg