These Soft and Spicy Persimmon Cookies are so good! Soft, chewy, full of fruit, and a little bit of spice. They are perfect when served with a hot cup of tea!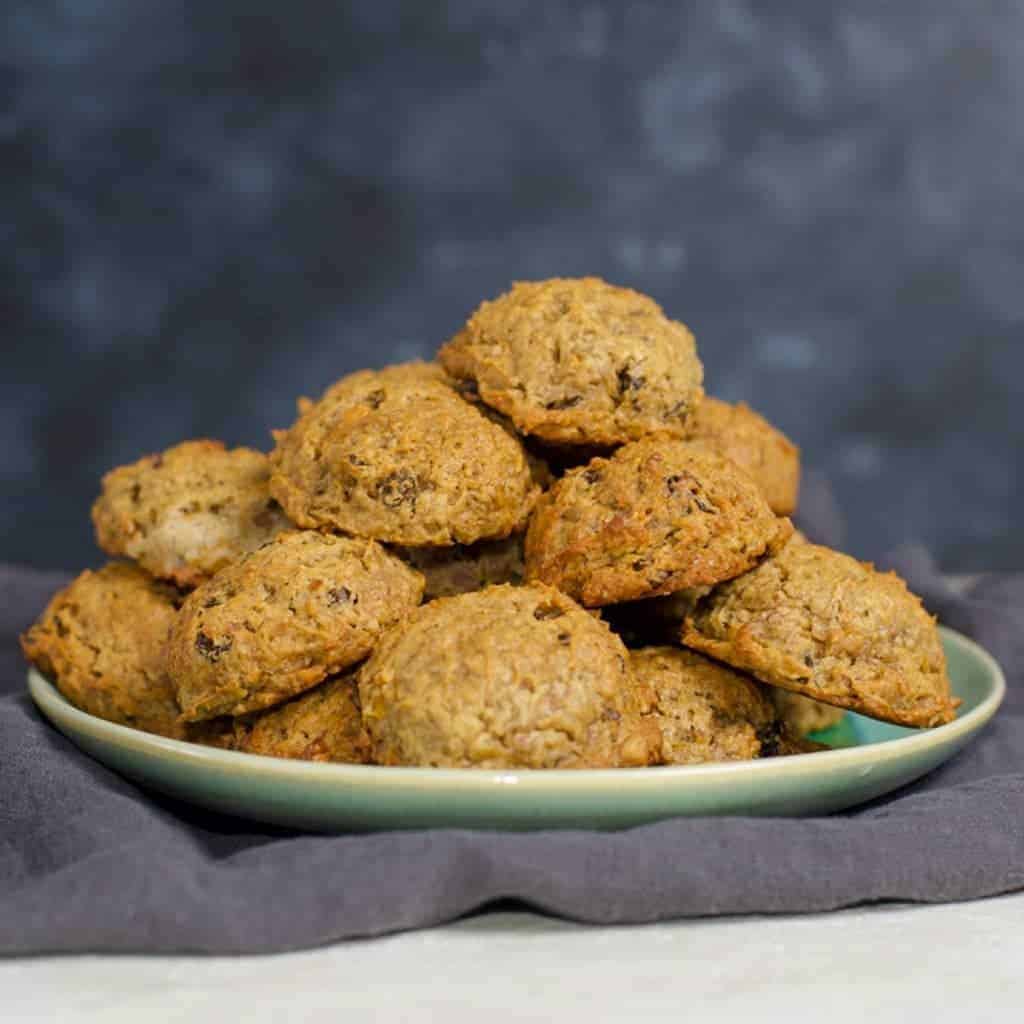 Persimmons are a short-lived fall treat here in California
My neighbor has a few trees right in his backyard and brought me a few at the perfect time to share this recipe.
I love family recipes. There is nothing more special than being able to bake up a batch of grandma's cookies every year and relive my childhood. Because I moved so much growing up, I never developed any real roots. I am a from all-over. I am grateful for all the places that I have lived and all of the different experiences that I have had. Food is the way I reconnect with those times. I love hearing the stories behind the recipes and all about the people that cooked them.
These cookies were sent to me by one of our readers and a long-time family friend, Denise. Denise and I met when her husband and my dad were stationed on Oahu at the same Naval base. I was good friends with her daughter Julie. We went to middle school and some of our high school together. During high school, we were all transferred to San Diego. Julie and I ended up at different schools but kept in touch. We all live in different parts of the country now but still keep in touch once in a while.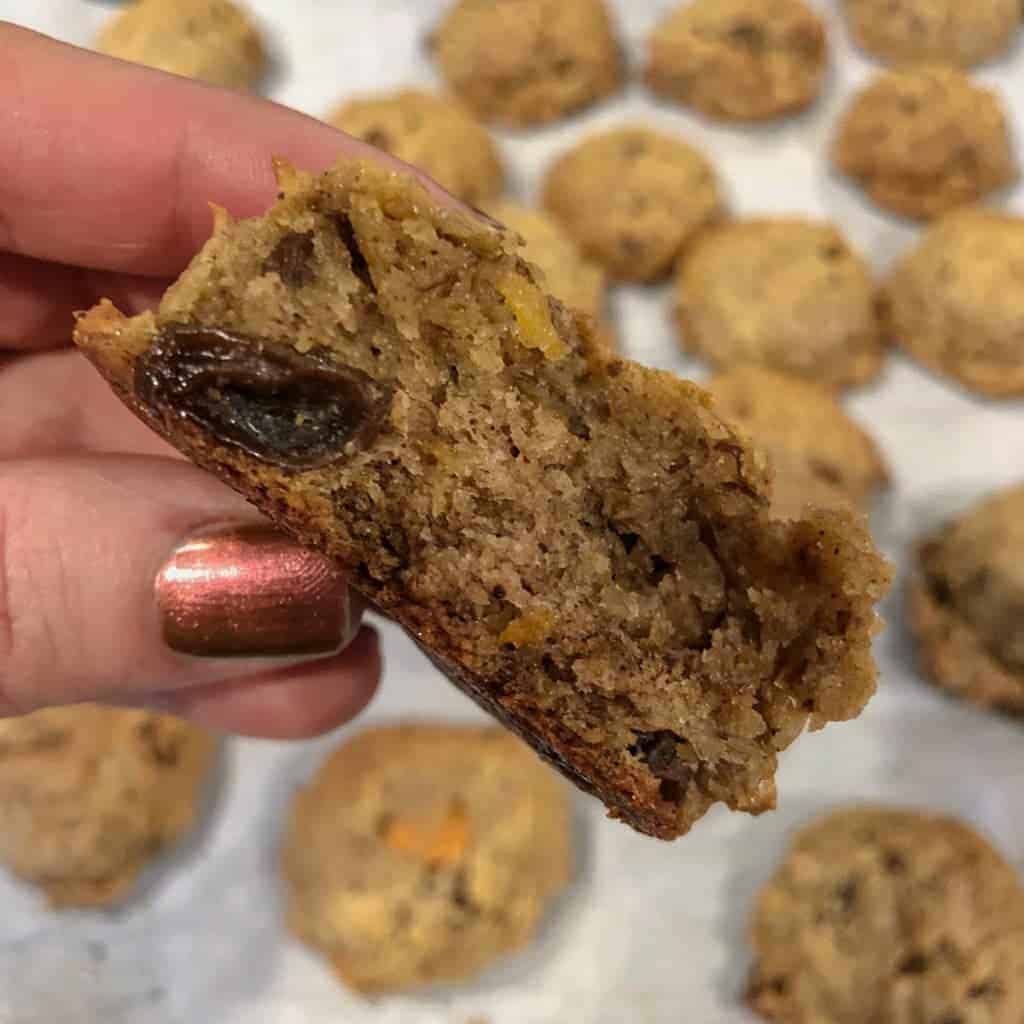 One of the best things about having a substantial blended military family is that people are from all over the place. I got to try so many different foods growing up. This experience has shaped and given me not only a love of cooking and eating, but it has lead to a career that I love. Being able to share recipes is a dream come true.
Some History about Grammie's Persimmon Cookies:
Denise remembers always having these cookies at Christmas, in her childhood. Grammie was her mom's step-mom. Grammie got the recipe from her mother, and while it's unknown where either of them grew up, this is most likely a California recipe since that's where it originated for Denise.
Grammie was funny and loving and cranky at times but oh so special. She and Denise had a bond that came from out of the blue. Denise can't explain precisely why they were so close; maybe kindred souls? Grammie never showed any favoritism amongst her grandchildren, but everyone just knew Denise was her favorite. They had an extraordinary bond. Grammie taught Denise to crochet, and she showered her with love (not presents).
Denise misses her something fierce. Grammie passed away while we were in living in Hawaii. She was so much a part of her life that Denise still catches herself wanting to share things with her.
Family recipes are so special
I adore this extraordinary story. It is this reason that cooking is so special to me. I am so profoundly connected to the recipes from my childhood. There is just something about the love and care that goes into crafting a meal for someone you love. If it one of the simple pleasures in life that is profoundly impactful.
I believe that having a meal and sharing food has the power to change relationships and bring us closer. There is no more significant thing than that.
Happy baking everyone!!
Please send me one of your special family recipes if you would like it o be featured here. I would be so grateful and humbled to share your family story.
Drop me an email at Laura@foodologygeek.com. I would love to hear from you and if your recipe is published here I will send you FREE copy of Beast Bowl Nutrition. Thank you for all of your support!
➽ Did you make this recipe? I love to see what's going in your kitchen. Show me what you're cooking. 🍳 Tag me @foodologygeek on your favorite social channel! Facebook, Instagram & Pinterest. If you loved ❤︎ this recipe, please leave a 5 ★ review and a comment!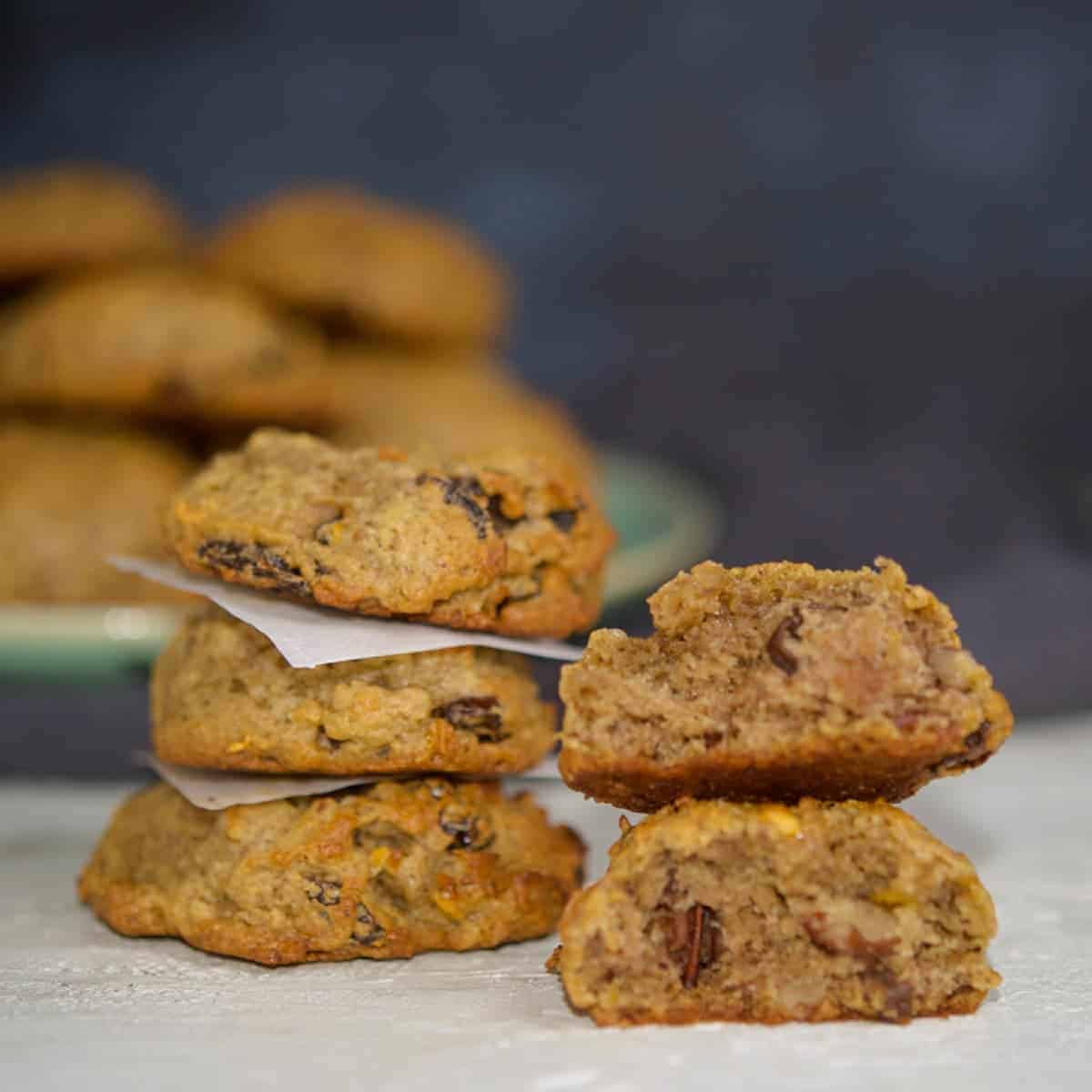 Persimmon Cookies
Soft, not too sweet, and just the right amount of spice. These persimmon cookies are so yummy. Brought to you by one of our very own readers. Thank you Denise.
Instructions
Preheat your oven to 350℉

Cream sugar with the butter until light and fluffy.

Mix in the persimmon pulp, nuts, and raisins.

Add the flour, baking soda, baking powder, salt, and spices.

Drop by the spoonful onto a parchment-lined baking sheet.

Bake for 10-12 minutes. They will be soft but a nice golden brown color.

NOTE: Oven temperatures vary so make sure to check on these.