Easy Shepherd's Pie Recipe
Shepherd's pie is made with ground beef (or lamb) and hearty vegetables in a rich gravy. The whole thing is topped with fluffy mashed potatoes and then baked to crispy perfection. This is a one-dish meal that the whole family loves!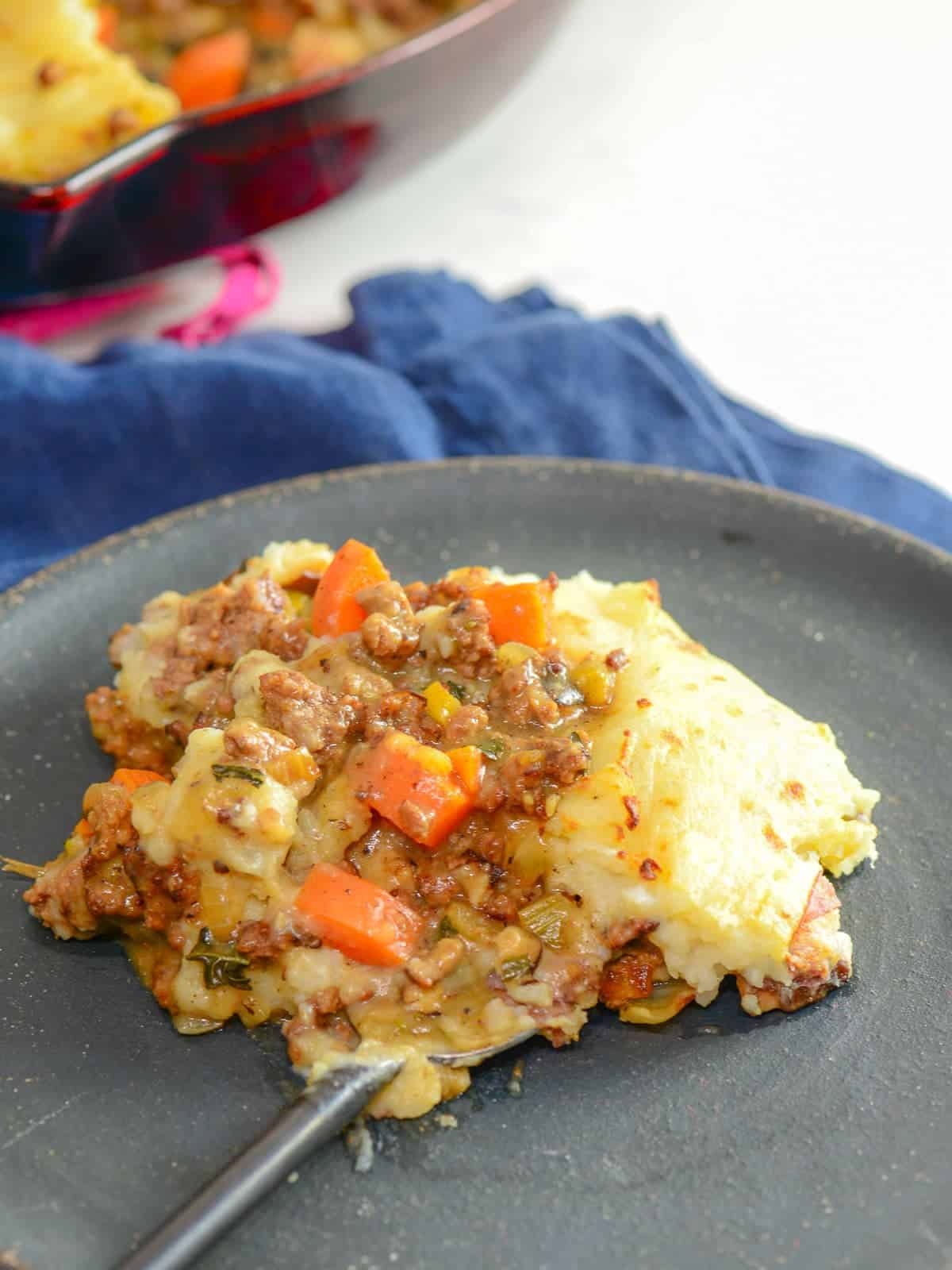 Just like my Turkey Pot Pie recipe, this easy shepherd's pie recipe is super flexible. It can be made with basically any kind of ground beef or lamb and almost whatever veggies you have in the fridge or freezer.
This one-dish meal is easy and a great way to make a dinner everyone in the family will love. I've never met anyone who doesn't love it.
What You'll Love About This Recipe
Easy: Sheperd's pie is an easy one-pot dinner that bakes in the oven. Use ground beef or lamb, and you can choose what veggies to use.
Healthy: Shepherd's pie has a solid amount of protein and veggies. Choose relatively lean meat and you'll have a healthy dinner and a soul-nourishing meal.
One-Pot Recipe: Except for making the mashed potatoes, this recipe is essentially a one-pot recipe. I often make this when I already have leftover mashed potatoes.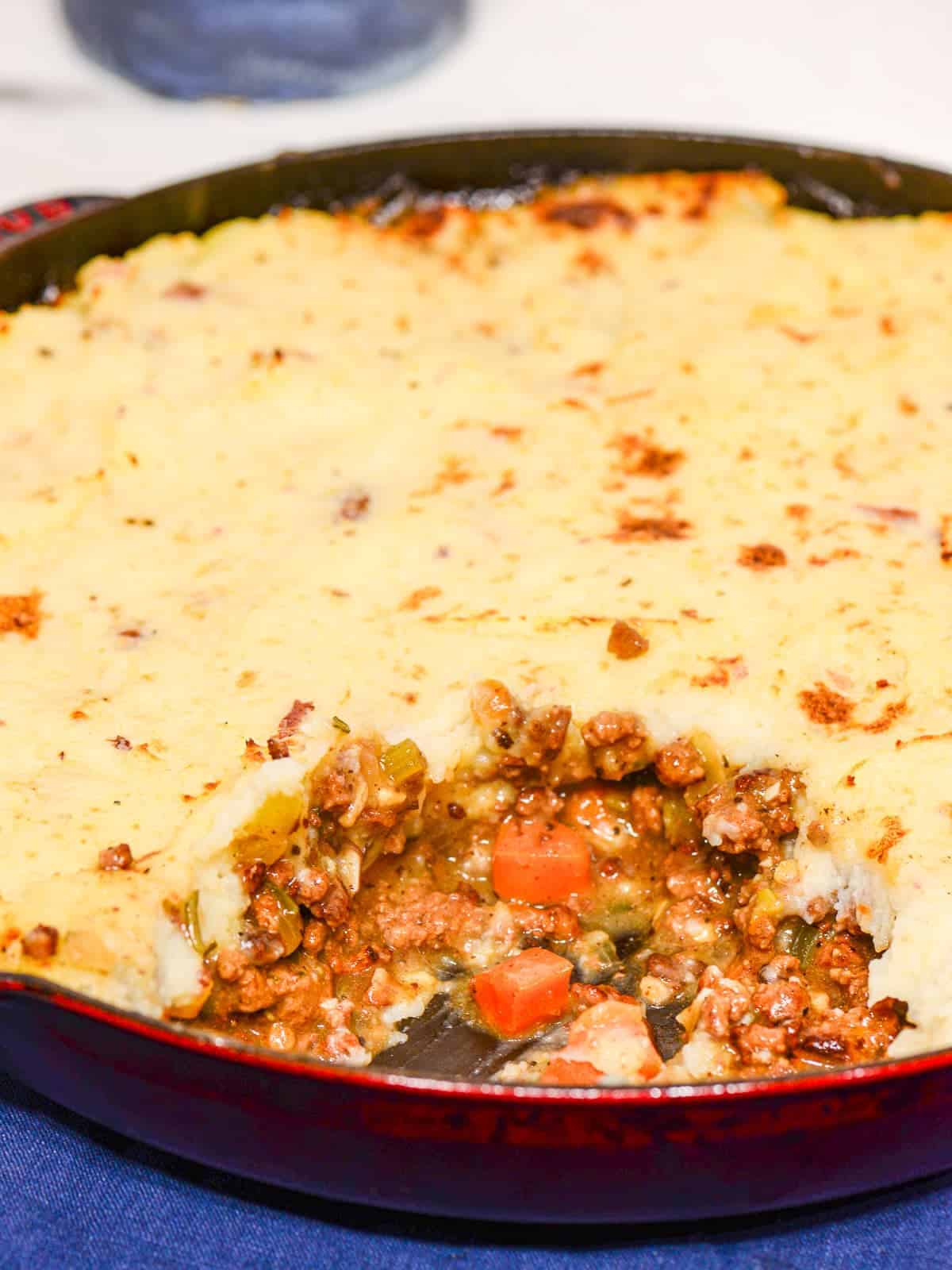 Recipe Notes
I usually make this recipe in a large cast-iron skillet (affiliate link). That way I only have one dish to clean up at the end of the night. This is seriously the best shepherds pie recipe for a busy evening.
What you'll need
Simple shepherd's pie ingredients are flexible. You can use whatever veggies you like in the filling. This is a good opportunity to try sneaking new veggies into picky eaters' mouths!
Ground beef or lamb: Shepherd's pie is traditionally made with ground lamb. I used ground beef in this recipe, but both are equally delicious. You can even use a meat mixture of half beef and half lamb. Ground turkey is also tasty.
Onion, garlic, mushrooms, carrots, zucchini, and kale: This recipe is a spin of classic shepherd's pie, which uses carrots, peas, and frozen corn. I like to use a little bit more varied and seasonal veggies. But you can always stick with the classic version!
Rosemary, thyme salt, and pepper: There is a ton of flavor in the filling just from the meat and veggies. You really don't need to add a whole bunch of extra seasonings. I love the rosemary in this comforting fall dish.
Beef broth and flour: You can use any kind of stock. However, with beef or lamb, I stick with a beef stock. (Chicken broth works in a pinch.) Use homemade if you've got it! A few tablespoons of flour will thicken the broth to create a savory beef gravy. Yum!
Potatoes, butter, and milk: Three russet potatos is usually the perfect amount for this recipe. I use unsalted butter and milk. I like to use goat milk and butter, but that is totally optional. Use dairy free subs as needed.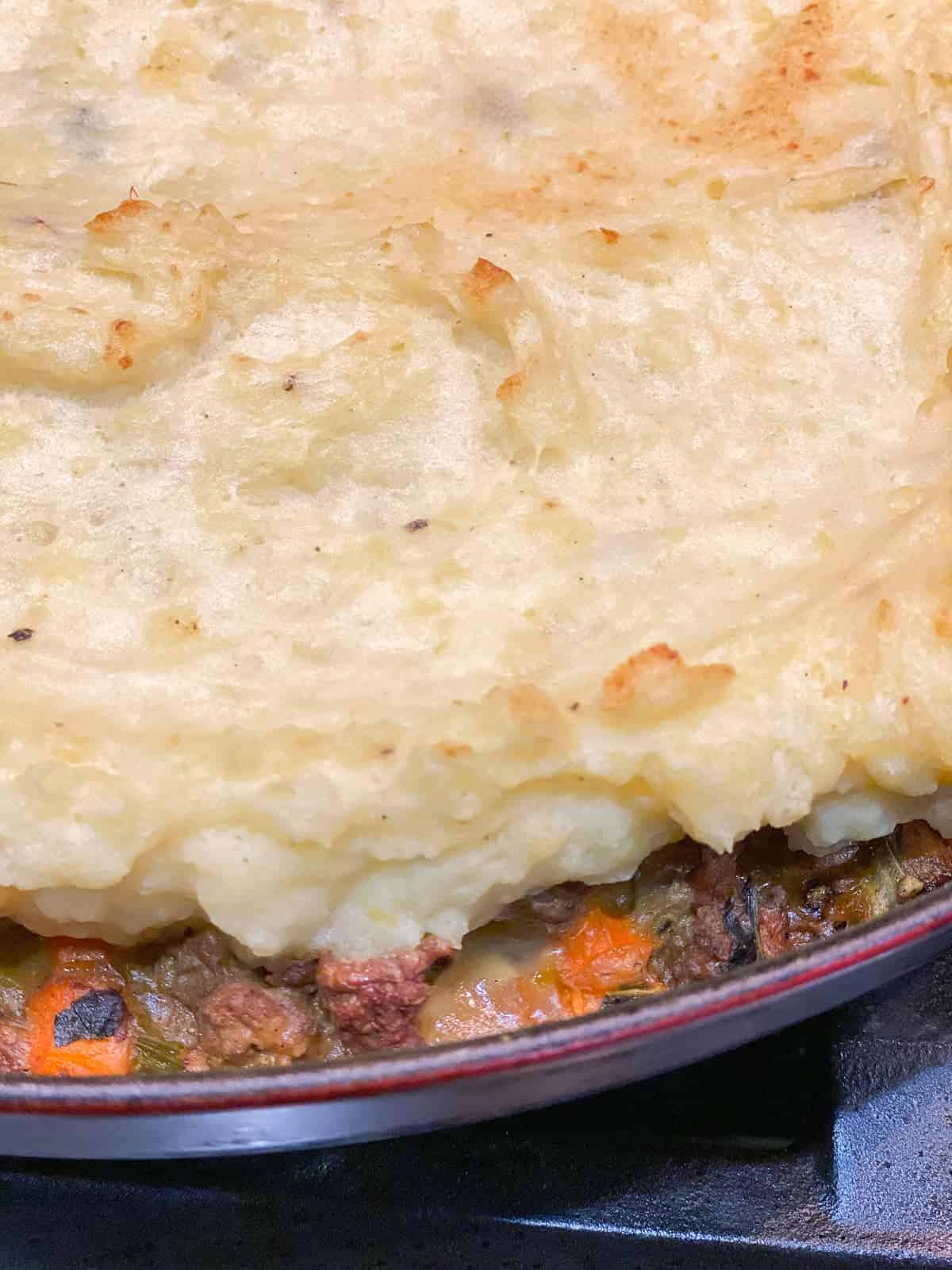 Step-by-Step Instructions
I brown up the meat, add the veggies, and make the gravy all in one cast iron pan. Then I just top the whole thing with mashed potatoes before baking. Start your potatoes so that they boil and are ready to make mashed potatoes by the time your meat filling mixture is ready.
Instructions for Shepherd's Pie Filling
Combine the beef, onions, and garlic. In a large cast-iron skillet, brown the ground meat.
Add the veggies. Once the ground beef is nice and cooked thoroughly, it's time to add the veggies. Dice the veggies so that they are all approximately the same size. Add them to the browned meat and sauté until they are tender, approximately 5 minutes.
Make the Gravy: Sprinkle 3 tablespoons of flour on top of the meat and veggie mixture. Stir to combine. Once the flour is fully incorporated, add the broth and bring everything to a boil. Reduce the heat and simmer until you have a nice thick gravy. (See the recipe note for how to make a gluten-free shepherd's pie.)
Remove from the heat. Remove the filling mixture from the heat and set it aside. At this stage, you can decide if you want to bake the shepherd's pie in the cast iron skillet or transfer it to a 9×13 baking dish.
Instructions for Simple Mashed Potatoes
This is the simplest mashed potato recipe I know.
Dice the potatoes. Cut each potato into 6 pieces. You can peel them first, but I usually just leave the skin on and pull it off after the potatoes are boiled.
Bring the potatoes to a boil. Put the potatoes in cold water and bring to a boil. Then reduce the heat to a medium simmer. Cook the potatoes in the boiling water until they are fork tender. Drain in a colander. Cool slightly and remove the skin.
Mash the Potatoes. Use a simple handheld potato masher to mash the potatoes. For extra creamy mashed potatoes, you can also use a ricer for this step.
Add the butter and milk. Add the butter and milk to the potatoes and mix with a wooden spoon until the milk and butter is completely incorporated. Salt and pepper to taste.
Top the Shepherd's Pie. Top the shepherd's pie with the mashed potatoes, and now you're ready to bake.
How To Bake Shepherd's Pie
Preheat the oven to 400℉/ 200℃.
Bake: Place the cast iron pan on a baking sheet and place in the oven. Bake for 30 to 40 minutes.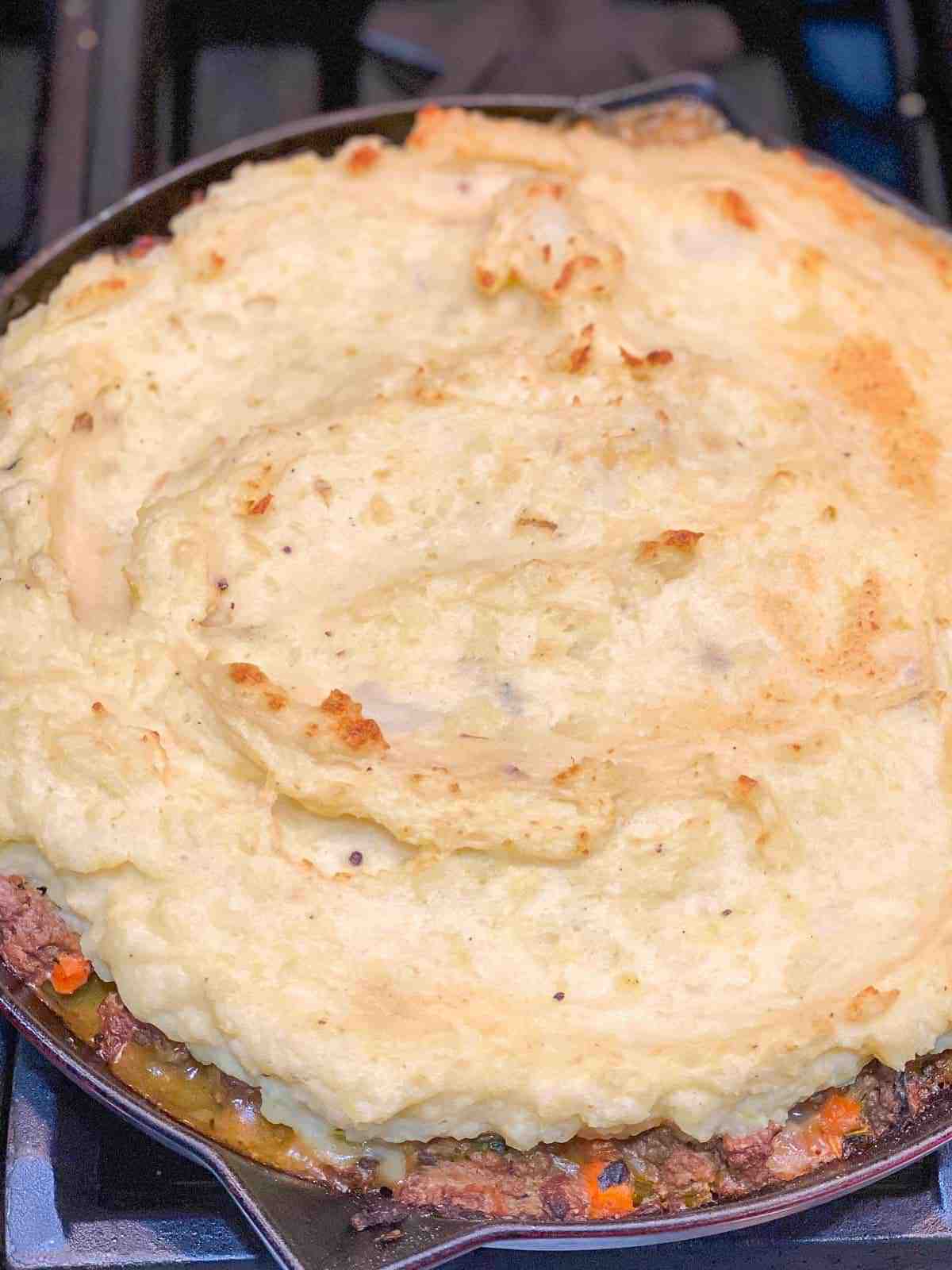 FAQs and Expert Tips
Can I make shepherd's pie ahead of time?
Yes, absolutely. Shepherd's pie can be made ahead of time and this recipe also freezes really well.
I like to freeze it in individual portions so that I can just reheat it and have a quick and easy lunch.
How do you reheat shepherd's pie in the oven?
To reheat shepherd's pie in the oven, simply preheat the oven to 275 to 300℉.
Time will vary depending on how much shepherds pie you are reheating. According to USDA guidelines, the safe reheating temp for food is 165℉.
Is homemade shepherd's pie healthy?
In my opinion, eating a diet of whole foods is always healthy. Homemade shepherd's pie is a well-balanced meal made of protein, veggies, and a small number of mashed potatoes.
How long to cook a shepherd's pie?
From start to finish, this meal can be ready in about an hour. As long as the meat is thoroughly cooked and the veggies are tender, you can't go wrong.
What is the difference between cottage pie vs. shepherd's pie?
The term "cottage pie" usually indicates that the meat is beef, rather than lamb. While "shepherds" refers to the sheep and lamb of shepherds, "cottage" refers to farmers who lived in cottages and kept cows.
Possible Variations
Classic Shepherd's Pie. Replace the veggie mixture with peas, carrots, and corn. In addition, you will also use a few tablespoons of tomato paste and 1 tablespoon of Worcestershire sauce to the gravy.
Cheesy Mashed Potatoes. To give this shepherd's pie an even more decadent spin, you can take your mashed potatoes up a notch by adding parmesan or cheddar cheese and sour cream.
Low Carb. Cauliflower Mashed Potatoes can be used instead of mashed potatoes.
Garnish. Top the shepherd's pie with minced chives or parsley after it comes out of the oven.
What to Serve with Shepherd's Pie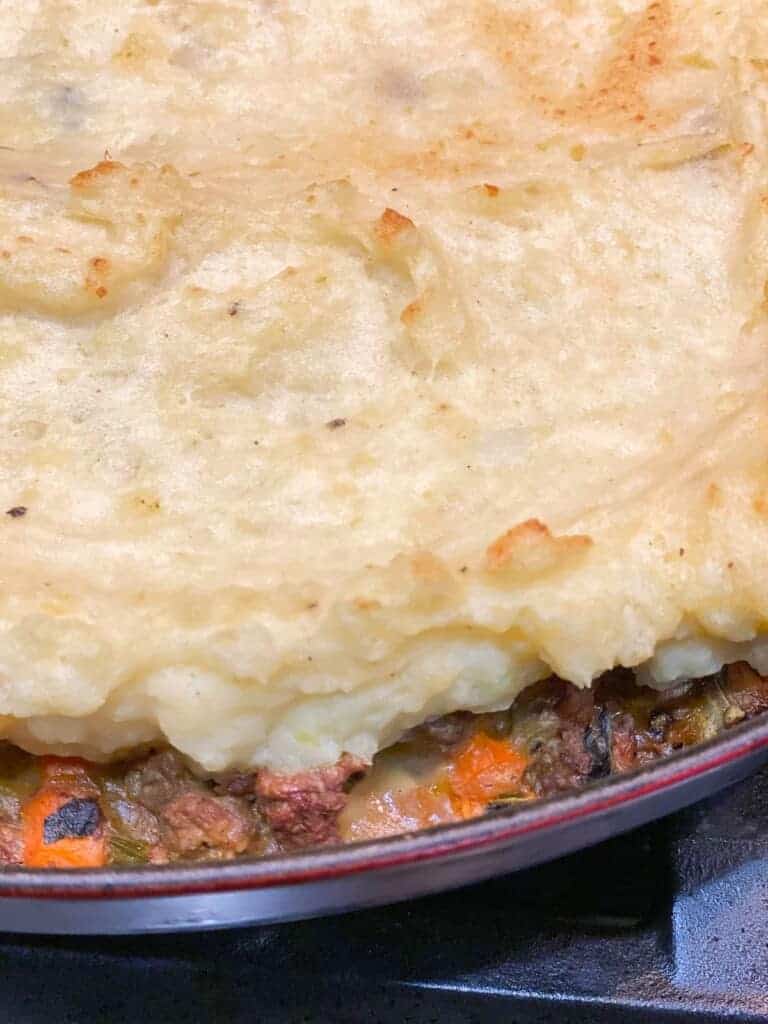 Looking for more warm and comforting soup recipes? Here are just a few of my favorites.
➽ Did you make this recipe? I love to see what's going on in your kitchen. Show me what you're cooking. 🍳 Tag me @foodologygeek on your favorite social channel! Facebook, Instagram & Pinterest. If you loved ❤︎ this recipe, please leave a five ★ review and a comment!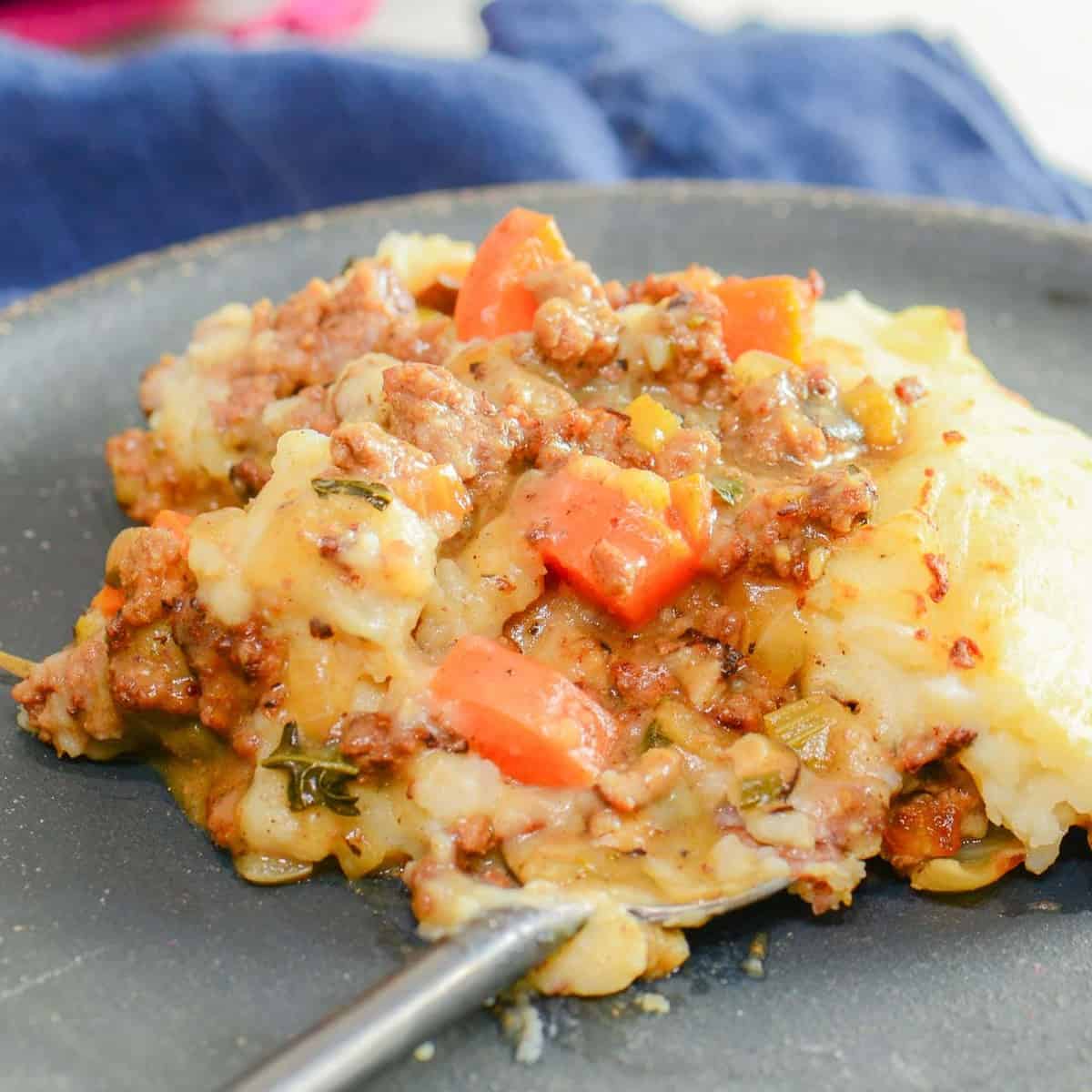 Shepherd's Pie
Classic shepherd's pie is a simple and easy dinner recipe that is made of mixture or ground beef or lamb and vegetables. Then the whole thing is topped with a layer of creamy mashed potatoes.
Ingredients
Shepherd's Pie Filling
1

lb

ground beef

,

OR lamb

1

medium

onions

2

stalks

celery

2

medium

carrots

2

cloves

garlic

3

tablespoons

flour

1

cup

beef broth

,

unsalted

1

cup

peas

,

fresh or frozen

1

teaspoon

rosemary

1

teaspoon

thyme

1 to 2

teaspoons

Kosher salt

½

teaspoon

black pepper
Shepherd's Pie Topping
2 to 3

medium

russet potatoes

,

OR leftover mashed potatoes

¼

cup

heavy cream

,

OR milk

¼

cup

unsalted butter

¼

cup

parmesan cheese

,

grated

½

teaspoon

Kosher salt

¼

teaspoon

pepper
Instructions
How to Make Shepherd's Pie Filling
Add the diced vegetables.
How to Make the Mashed Potato Topping
Add the butter, cream, and cheese.
Assemble the Shepherd's Pie
Before assembling the shepherd's pie, preheat the oven to 400°F.

Add the filling to a dish.

Spread the mashed potato filling on top.
Bake the Shepherd's Pie
Place the shepherd's pie on a heavy baking sheeet and place it in the oven.

Bake for 40 minutes or until the shepherd's pie is bubbly around the edges.

Remove from the oven and rest for 5 to 10 minutes before serving.
Laura's Tips + Notes
Recipe Variations
I like to mix it up and use different vegetables.
My second favorite veggie combination for this recipe is shiitake mushrooms, zucchini, and kale.
You can use any type of ground meat that you like. Ground beef, ground lamb, or ground turkey are all great in this hearty dinner meal.
YOUR OWN NOTES
Nutrition
Serving:
1
slice
Calories:
317
kcal
Carbohydrates:
18
g
Protein:
14
g
Fat:
21
g
Saturated Fat:
10
g
Cholesterol:
68
mg
Sodium:
662
mg
Fiber:
3
g
Sugar:
3
g
Calcium:
81
mg
Iron:
2
mg