Green Bean Casserole From Scratch
Green Bean Casserole is a classic Thanksgiving side dish recipe. This gourmet version is made from scratch. Think old-school French's Green Bean Casserole without the preservatives.
With creamy mushroom sauce, fresh green beans, and oven-fried crunchy onion rings, the food snob in me approves of this elevated version of holiday green bean casserole. I know you will, too!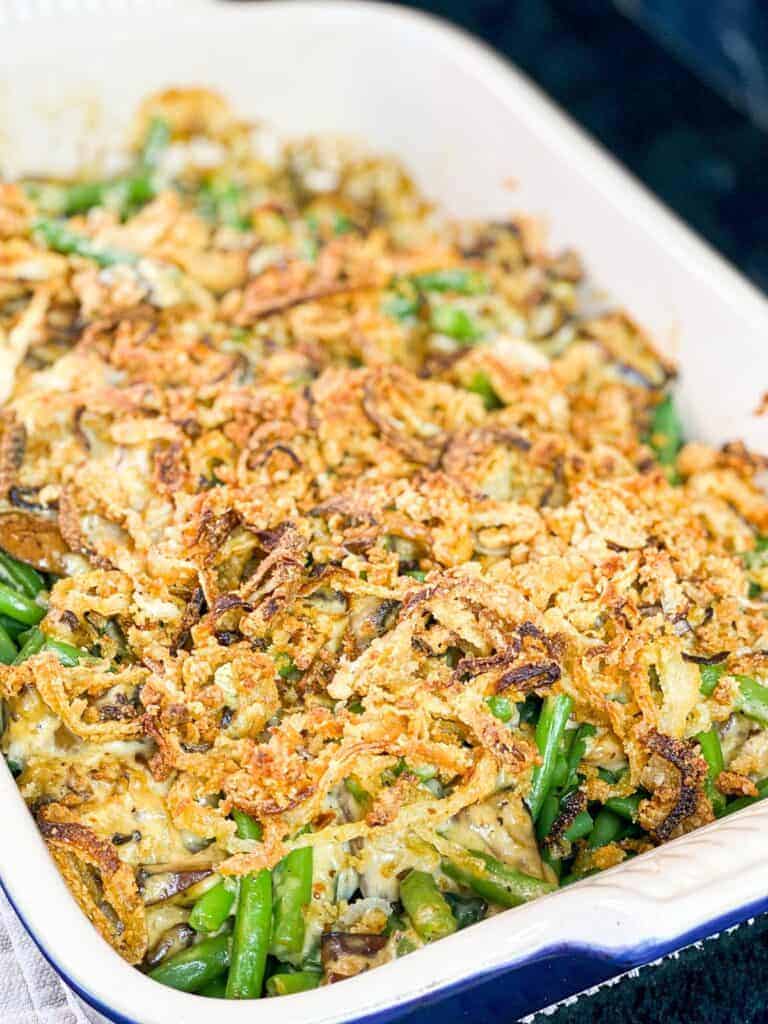 What's your favorite dish from your childhood? Remember that classic French's green bean casserole with crunchy onions on top? Of course, you do. Everyone's mom made it! I loved it.
The green bean casserole dates back to a lady named Dorcas Reilly, who worked for the Campbell's soup company test kitchen. She lived to the ripe old age of 92 and changed American holiday cooking forever.
Her casserole was a total 50's dish, made with condensed cream of mushroom soup and that signature can of French's fried onions. It was perfect for thrifty, post-war cooks who were following the trend of convenience cooking.
Fast forward to the '80s! Thirty years later, the condensed soup was still going strong. I'm probably dating myself here, but I must confess that sometimes I crave a good old-fashioned cheddar and broccoli rice casserole or even a retro tuna casserole with frozen peas. To me, it tastes like generations of family love.
At the same time that we were chowing down on awesome 50's recipes, I also happened to be a total foodie. You can ask my mom, she'll confirm. She has even, on occasion, called me a food snob. I know—shocking.
Even back in elementary school, I was studying ingredients. Dissecting the flavors in sauces and dishes at restaurants. Confirming that a sauce surely had turmeric in it. I think my mom always found me a little odd. I mean, what kid is subscribing to Food and Wine by junior high school?
I will teach you how to improve the beloved holiday side dish! I promise this is going to be your new old family favorite.
This is my food snob-worthy version of retro green bean casserole.
I love the classic version too, but I don't always love that I'm not 100% sure what condensed soup is made of. And are those onions? Or are they just some weird onion-esque crunchy thing that tastes amazing but isn't an onion? I like knowing how to make green bean casserole from scratch so that I know exactly what's in my baking dish.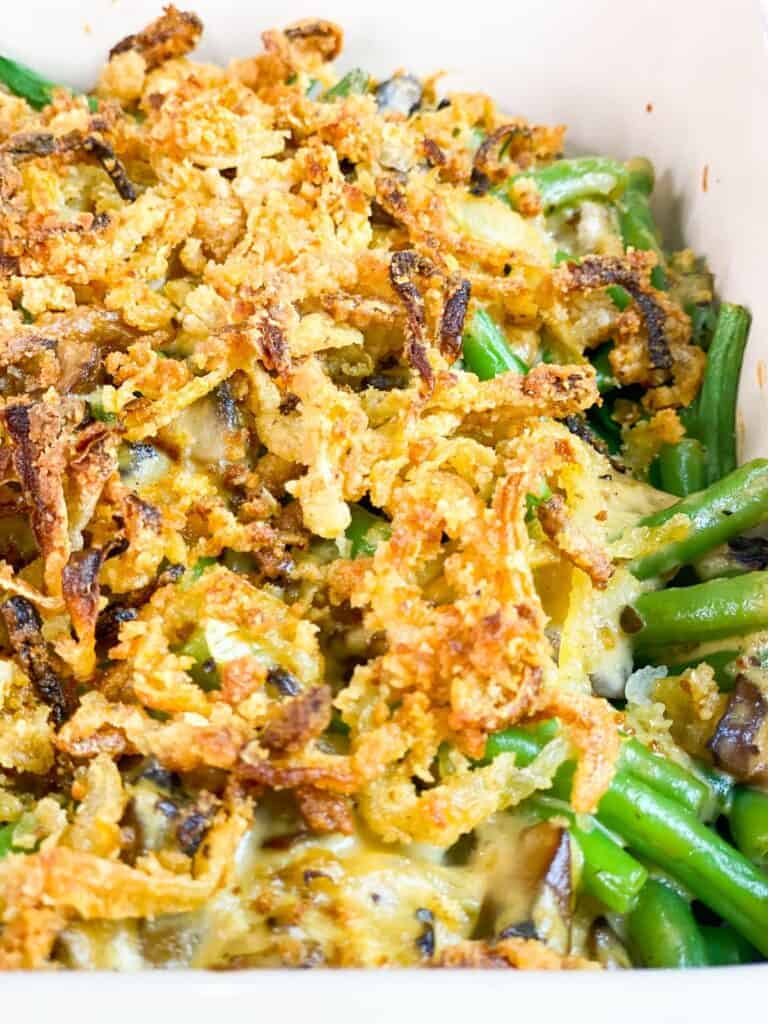 What You'll Love About This Recipe
The mushroom sauce. The creamy mushroom sauce for this recipe is divine, and it's easy to make. Seriously, it only takes a tiny bit longer than opening a can of condensed soup.
Healthier green bean casserole. Because this recipe contains no artificial ingredients, you know it's better for you.
Make it ahead. This green bean casserole can be made ahead of time so you'll have less to do on go day! Pop it in a pretty casserole dish for easy serving.
Recipe Notes
This is the best green bean casserole. If you need this recipe to be gluten-free or dairy-free, no problem! There are a few substitutions that you can make to the recipe, and I promise it will still be delicious.
Ingredients
Haricots verts. These are just fancy French green beans. I like to use them because there is no prep work. But you can use any fresh green bean, OR frozen, if you must.
Mushrooms. I usually use baby bella mushrooms or brown mushrooms. To save time, you can buy them pre-sliced.
Onions. I recommend sweet yellow onions in this recipe.
Panko bread crumbs. Panko bread crumbs can be found in most grocery stores. You can also use packaged regular dried bread crumbs or make your own bread crumbs.
Heavy cream and butter. If you are going dairy-free, feel free to sub in your favorite dairy-free creamer. I have also used a simple cashew sauce to sub in this recipe. (See recipe notes below.)
Broth. I usually use chicken broth. You can also use a mushroom or vegetable broth.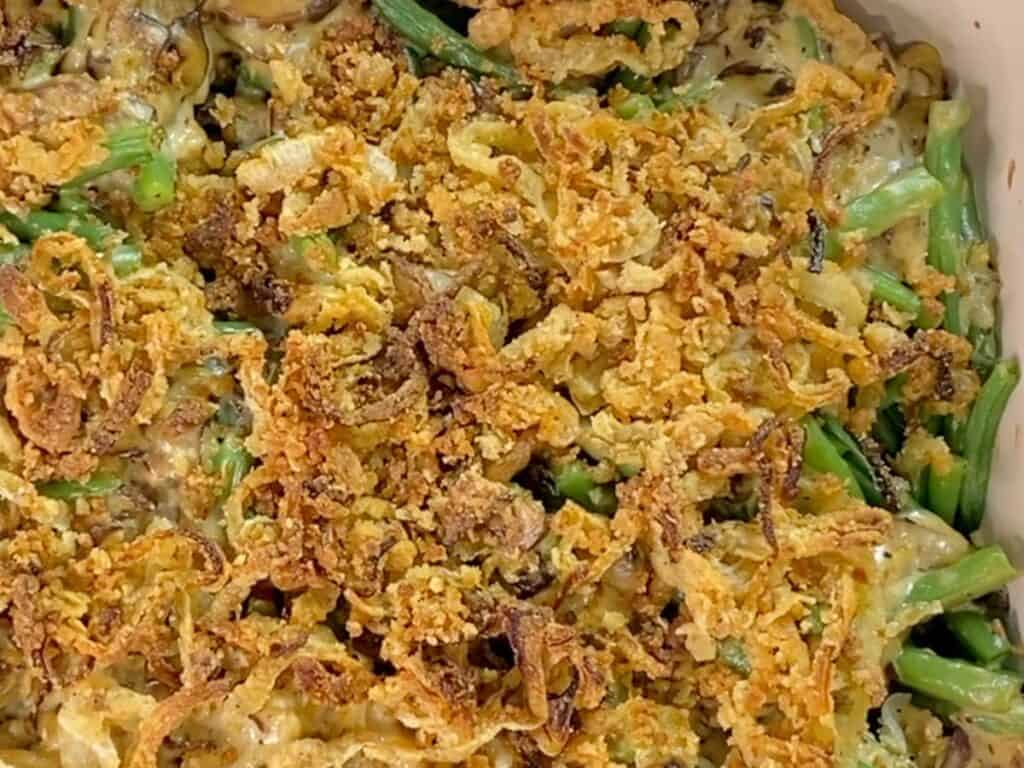 Step-by-Step Instructions
Step 1. Make the "fried" onion rings
I bake the onion rings for this recipe, but they are just as tasty as fried onion rings.
Start by slicing the onions into thin slices. You can halve the onions or use full rings.
I like to use a mandoline slicer to speed up the work. Make sure you get the fancy glove! It makes a great stocking stuffer. Drop a hint to your friends.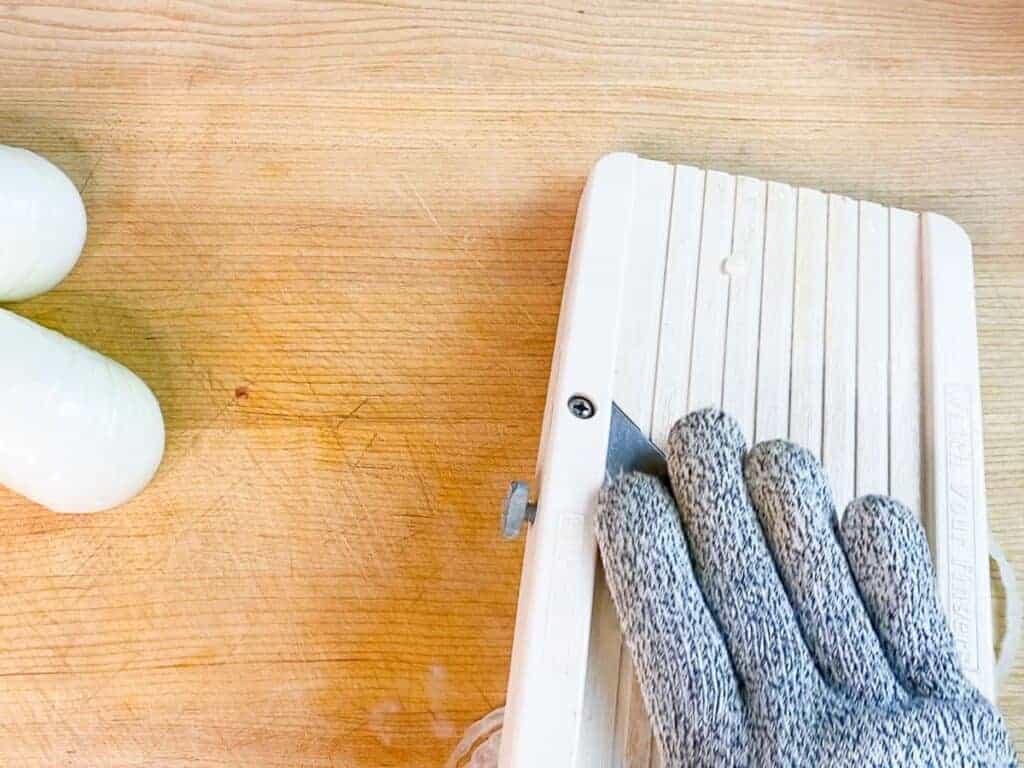 Step 2. Bread the onion rings
Preheat the oven to 400℉. Toss the onion rings in a mixture of bread crumbs and flour. Add a little bit of oil and bake at 400℉ until they are golden brown and crunchy, about 20 minutes.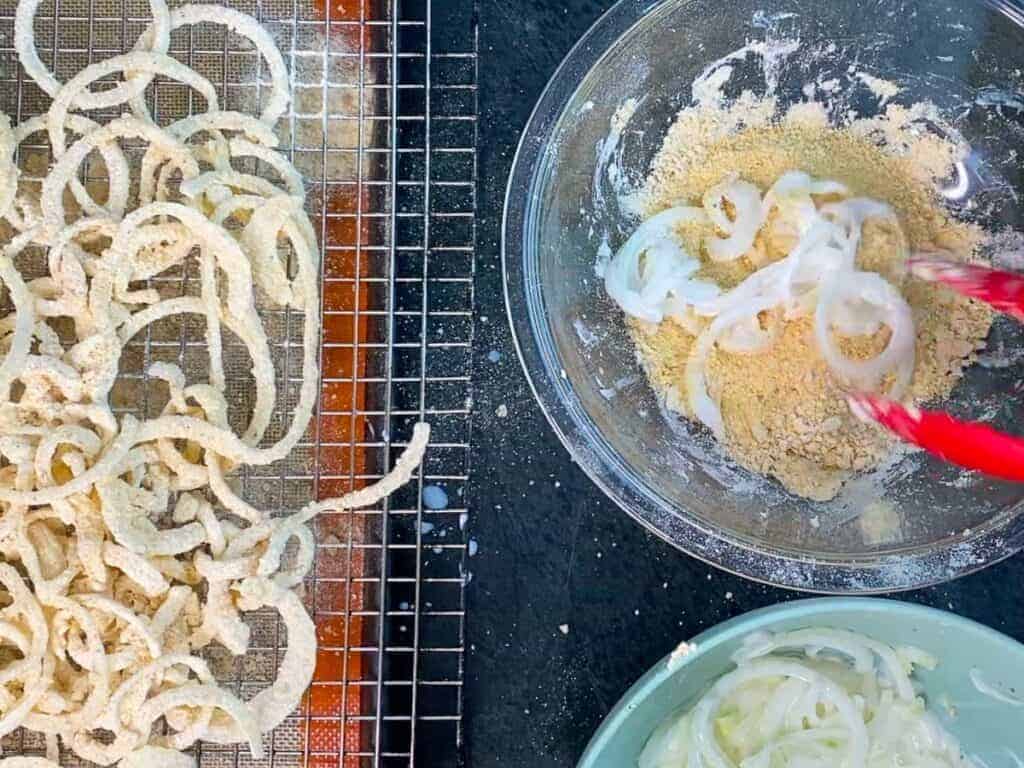 Step 3. Blanch the green beans
Bring salted water to a boil, and then add the green beans. Blanch the green beans for 4 to 6 minutes. You want them to be bright green.
Prepare an ice bath. When the green beans are bright green, quickly add them to the ice bath and set them aside.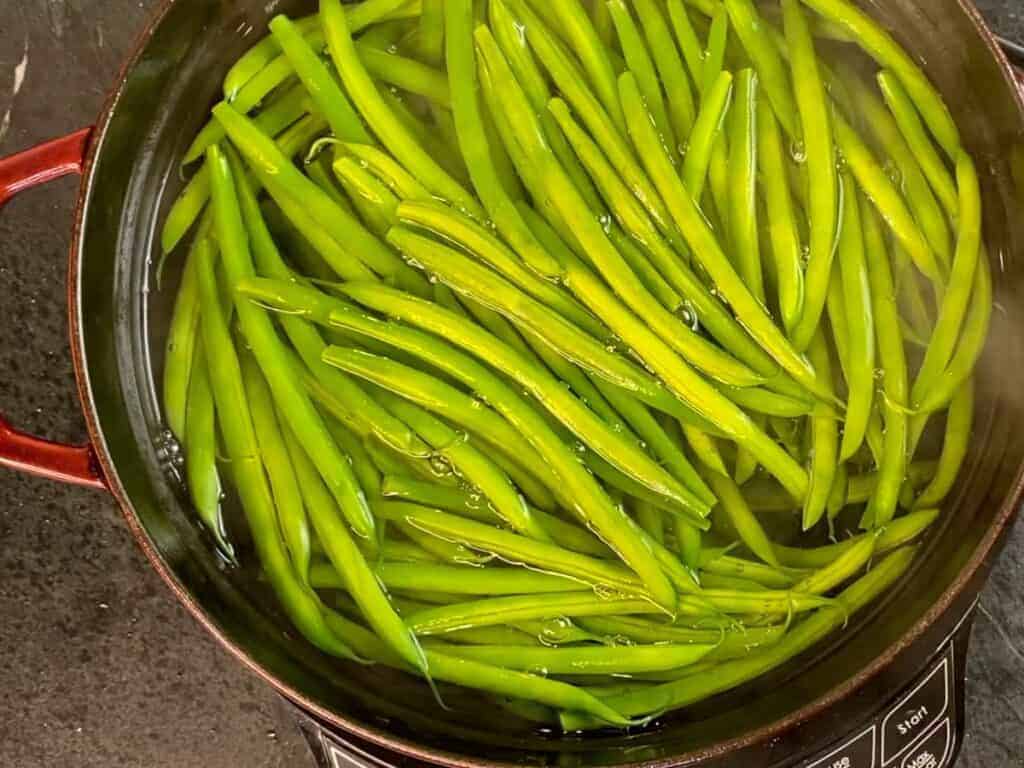 Step 4. Make the mushroom cream sauce
Start by sautéing mushrooms in butter and olive oil. Once they are brown, add the garlic.
Thicken the sauce by adding a few tablespoons of flour to the mushrooms. Stir the flour in and then add the broth, stirring to combine. The flour and broth will combine to create a thick sauce.
Add the cream to the sauce, stirring occasionally. Then finish the whole thing with a sprinkle of fresh thyme. For a subtle kick, add a dash of red pepper flakes.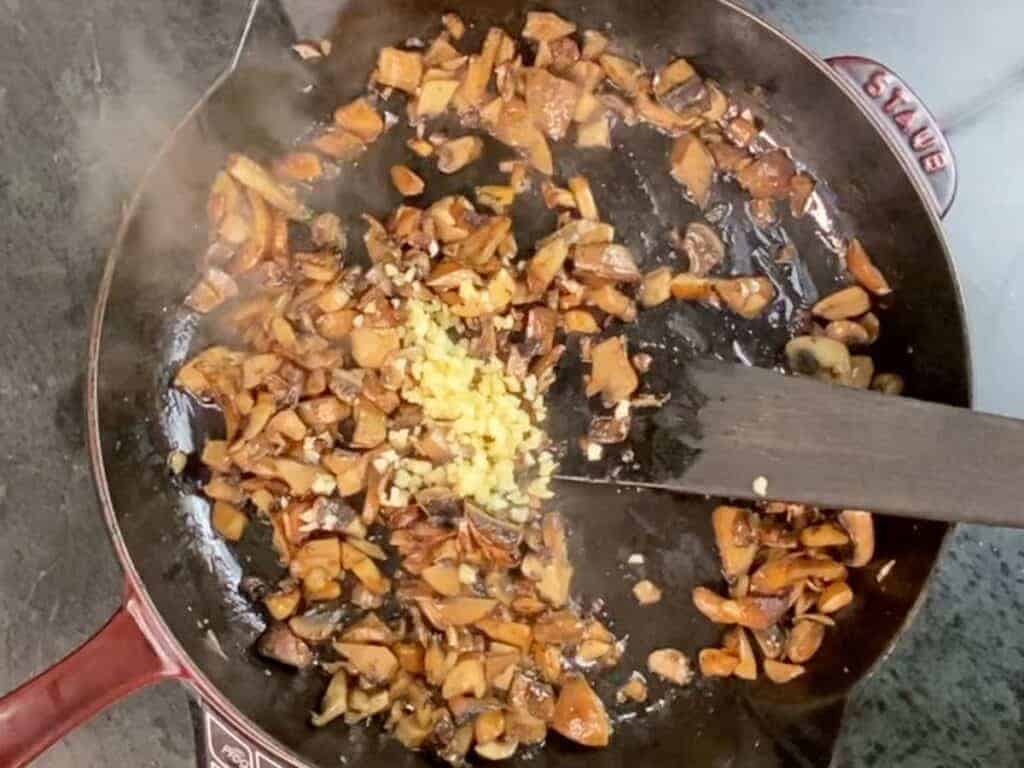 Step 5. Assemble the green bean casserole and warm in the oven
If you make the casserole ahead of time, you'll just need to warm it up until it's hot and bubbly, about 30 minutes. (Cooking times will vary.) If you want to make sure the onion rings are crispy, it is best to make them the same day.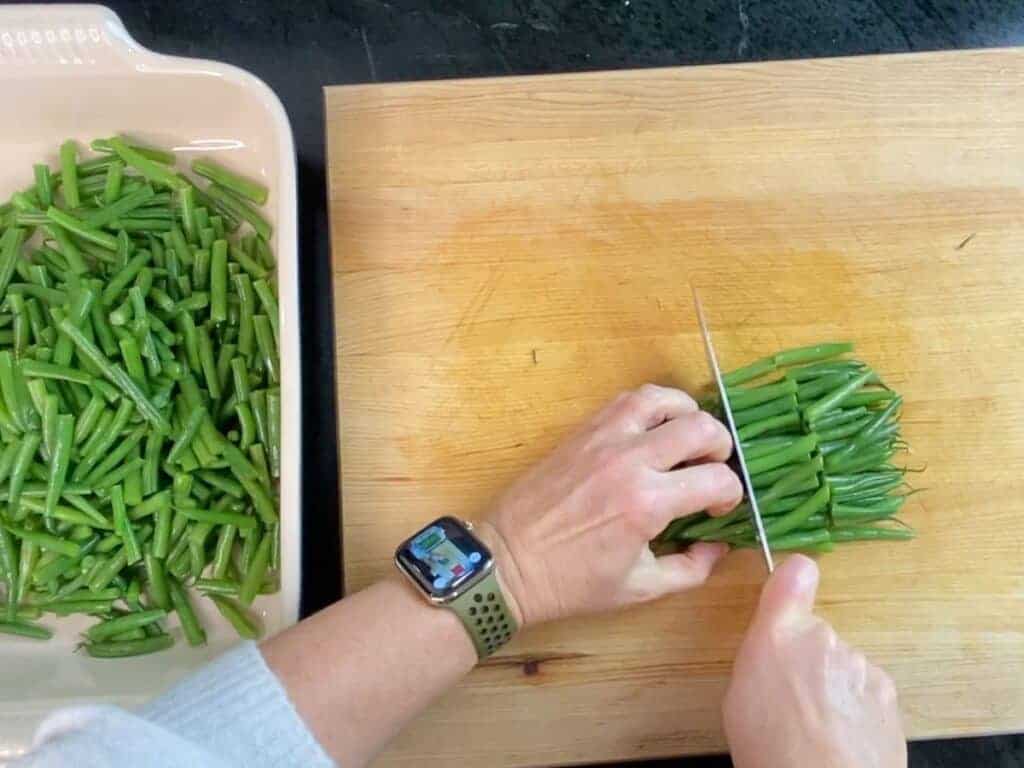 FAQs and Expert Tips
How long to cook green bean casserole?
Green bean casserole should be cooked long enough to warm it up and get the sauce nice and bubbly. Everything in it is already cooked, so you just want to get it warm enough to eat.
Gluten-free substitutions.
Use gluten-free flour (affiliate link) and gluten-free bread crumbs.
Dairy-free substitutions.
Use a dairy free cream, or a simple cashew sauce. (See recipe notes below.)
What can I use instead of cream of mushroom soup in green bean casserole?
I use a homemade mushroom cream sauce in place of canned condensed soup.
Can you prep green bean casserole the night before?
Yes! However, I do recommend adding the onion rings the day that you will be baking to make sure that they stay nice and crispy.
Can I use frozen green beans?
Yes, you can use frozen green beans. I do not recommend the canned ones as I find them to be mushy and too salty.
Crispy Gluten-Free Latkes
➽ Did you make this recipe? I love to see what's going on in your kitchen. Show me what you're cooking. 🍳 Tag me @foodologygeek on your favorite social channel! Facebook, Instagram & Pinterest. If you loved ❤︎ this recipe, please leave a five ★ review and a comment!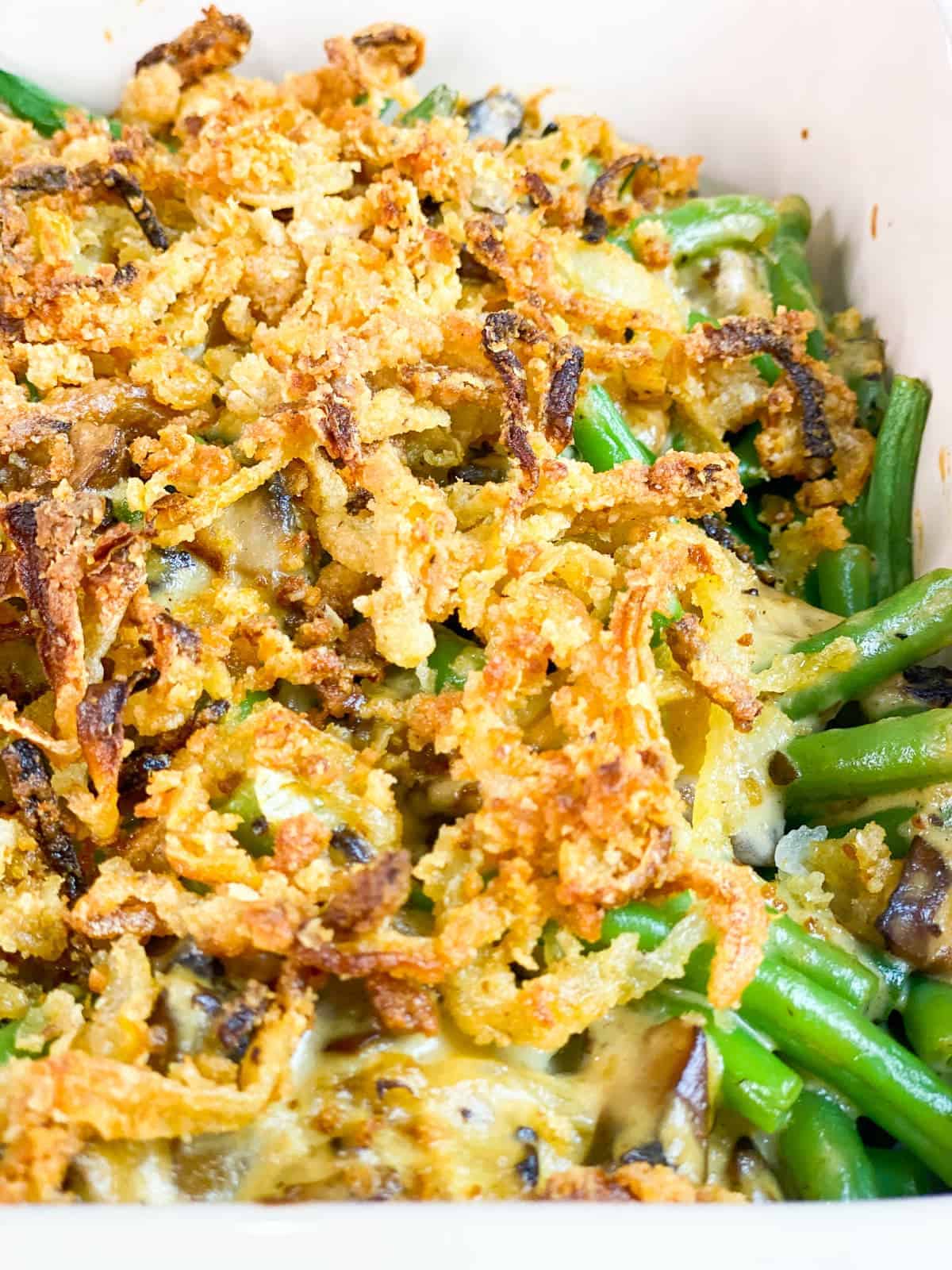 Fresh Green Bean Casserole From Scratch
Not your mom's green bean casserole. This is a completely from-scratch version of French's old school green bean casserole. Once you make this version, you'll never go back.
Ingredients
For the Onion Topping:
2

medium onions

,

thinly sliced

½

cup

buttermilk

,

substitute regular milk in a pinch

¼

cup

all-purpose flour

¼

cup

bread crumbs

,

panko

1

tsp

kosher salt

nonstick cooking spray

,

I use sprayable coconut oil
Blanched Green Beans
1

pound

haricots verts

,

or green beans, rinsed and trimmed

10

cups

water

2

tablespoons

kosher salt

10

cups

ice water
Creamy Mushroom Sauce
12

ounces

mushrooms

,

trimmed and cut into 1/2-inch pieces

2

tablespoons

unsalted butter

1

tablespoon

olive oil

2

cloves

garlic

,

minced

½

teaspoon

freshly ground black pepper

2

tablespoons

all-purpose flour,

or use 1 tbsp cornstarch

1

cup

chicken broth,

or veggie broth

1

cup

half-and-half

,

or heavy cream

1

teaspoon

fresh thyme
Instructions
Preheat the oven to 400 degrees F.
Make the onion rings
Buttermilk soak. Combine the onions with the salt, and the buttermilk. Let them sit for 5-10 minutes.

Bread. In a large shallow dish, combine the flour and the panko bread crumbs and toss to combine. Add in the onion rings a little at a time. Toss to coat with the breading mixture and then set them on a wire rack or baking sheet until you are ready to cook them.

Bake. Coat a sheet pan with cooking spray and evenly spread the onions on the pan. Spray a thin coat of spray on the onion rings.

Place the pan on the middle rack of the oven and bake until golden brown, approximately 20 minutes.

Watch closely as oven temperatures vary. Toss the onions 2 to 3 times during cooking.

Once done, remove from the oven and set aside until ready to use. Turn the oven down to 400 degrees F.
Blanch the green beans
While the onions are cooking, prepare the beans.

Boil water. Bring the water and 2 tablespoons of salt to a boil in an 8-quart saucepan.

Blanch. Add the beans and blanch for 5 minutes.

Ice bath. Drain in a colander and immediately plunge the beans into a large bowl of ice water to stop the cooking. Once they thoroughly cooled, drain off the water and set aside.
Creamy mushroom sauce
Sauté the mushrooms. Melt the butter in a large heavy-bottomed skillet set over medium-high heat. Add the sliced mushrooms and 1 teaspoon salt. Cook, occasionally stirring, until the mushrooms are a deep golden brown, approximately 10 minutes.

Add the garlic. Stir in the garlic and continue to cook for another 1 to 2 minutes.

Make the cream sauce. Sprinkle the flour over the mixture and stir to combine. Cook for 1 minute. Add the broth and simmer for 1 minute. The flour and broth will combine to thicken the sauce.

Thicken. Decrease the heat to medium-low and add the half-and-half. Cook until the mixture thickens, stirring occasionally, approximately 6 to 8 minutes.

Finish the sauce with a sprinkle of fresh thyme.

Mix in some onion rings. Remove the mushroom mixture from the heat and stir in 1/4 of the onion rings. Stir to combine.
Assemble the green bean casserole
Combine the green beans and the creamy mushroom sauce. You can finish the casserole on the pan that you made the sauce in OR add everything to a cute casserole dish to bake and serve in. (This step can be done serval days ahead.)

Top with onions. Top with the remaining onion rings. (Right before baking.)

Bake @ 400℉. Place the casserole into the oven and bake until bubbly, approximately 20 to 30 minutes. Remove and serve immediately. (If you have made the green beans ahead of time and they have been refrigerated, you will need to bake them longer.)
Laura's Tips + Notes
Substitutions
Gluten-free: Use gluten-free flour and bread crumbs.
Dairy-free: Use a dairy-free creamer instead of half and half, OR use a simple cashew sauce.
Make-ahead Instructions
You can easily make the mushroom cream sauce and even blanch the green beans several days ahead. If you want to make sure the onion rings are crispy, it is best to make them the same day.
Follow the instructions for the mushroom cream sauce with the exception of adding the onion rings. Store in an airtight container.
Blanch the green beans and refrigerate until you are ready to bake.
Simple Cashew Sauce (Used In my Vegan Butternut Squash Alfredo)
1 cup of raw cashews
3 cups of water (to soak overnight)
2 cloves of garlic
a few pinches of salt
How to make the cashew sauce
Soak the cashews overnight in water.
Drain, and then add the cashews, garlic, and salt to a high-speed blender.
Turn the blender on and begin to add fresh water until the sauce is the consistency of a thin pancake batter. You will use 1 to 2 cups of water.
Optional: Add a squeeze of lemon juice.
YOUR OWN NOTES
Nutrition
Calories:
132
kcal
Carbohydrates:
14
g
Protein:
4
g
Fat:
7
g
Saturated Fat:
4
g
Cholesterol:
16
mg
Sodium:
367
mg
Fiber:
2
g
Sugar:
4
g
Calcium:
70
mg
Iron:
1
mg