This Easy Shredded Beef Recipe is one of my favorite recipes! Not only is it delicious and flavorful, but it's also so flexible. You can make this easy shredded beef in a dutch oven, in your slow cooker, or in a pressure cooker (Instant Pot). This recipe is also freezer-friendly!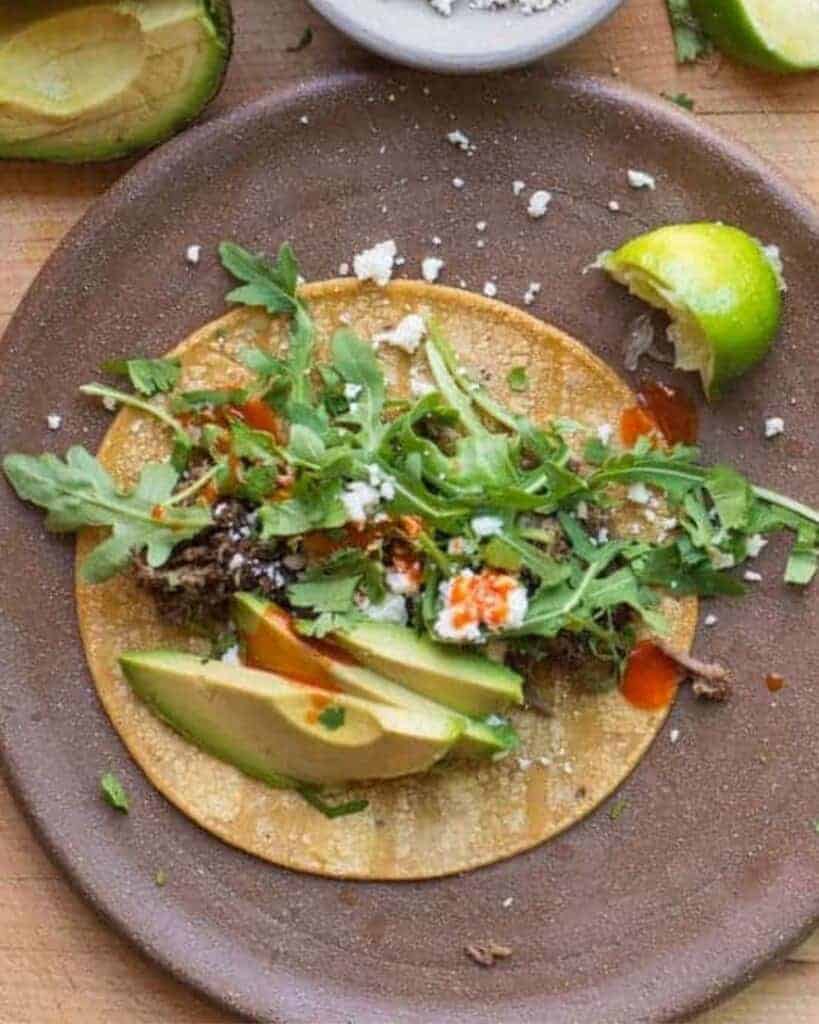 If you've met me you know I am a freak about tacos! Not only am I obsessed with the authentic street taco, but I can also turn almost any meal into a taco.
Case in point, I love eating my Thai Chicken Meatballs with my Cucumber Salad on a Tortilla and calling it a Bahn Mi Taco. Disclaimer: totally not authentic, but really delicious anyhow.
Recipes like this one are great because it means that I always have a low carb, a keto-friendly protein on hand. I even have another version of this shredded beef recipe on the blog too!
What You'll Love About This Shredded Beef Recipe
This easy pulled beef recipes is great when making tacos but you can also use it to make pulled beef sandwiches or even just eat it on top of a salad or some rice.
Easy: You can make this recipe in the oven, in a slow cooker, or in an instant pot.
Flavorful: This recipe is so flexible. You can make it simple with a little Taco Seasoning or more interesting with a Mocha Rub.
Perfect for Meal Prep: This recipe freezes well and you can eat it in more that one way, so it's a perfect easy meal prep recipe.
Tacos: This is the BEST Mexican Shredded Beef Taco Recipe! It comes out perfect every single time.
Multi-Purpose: This easy shredded beef recipe is perfect for tacos, burritos, or taco salad and even sandwichs!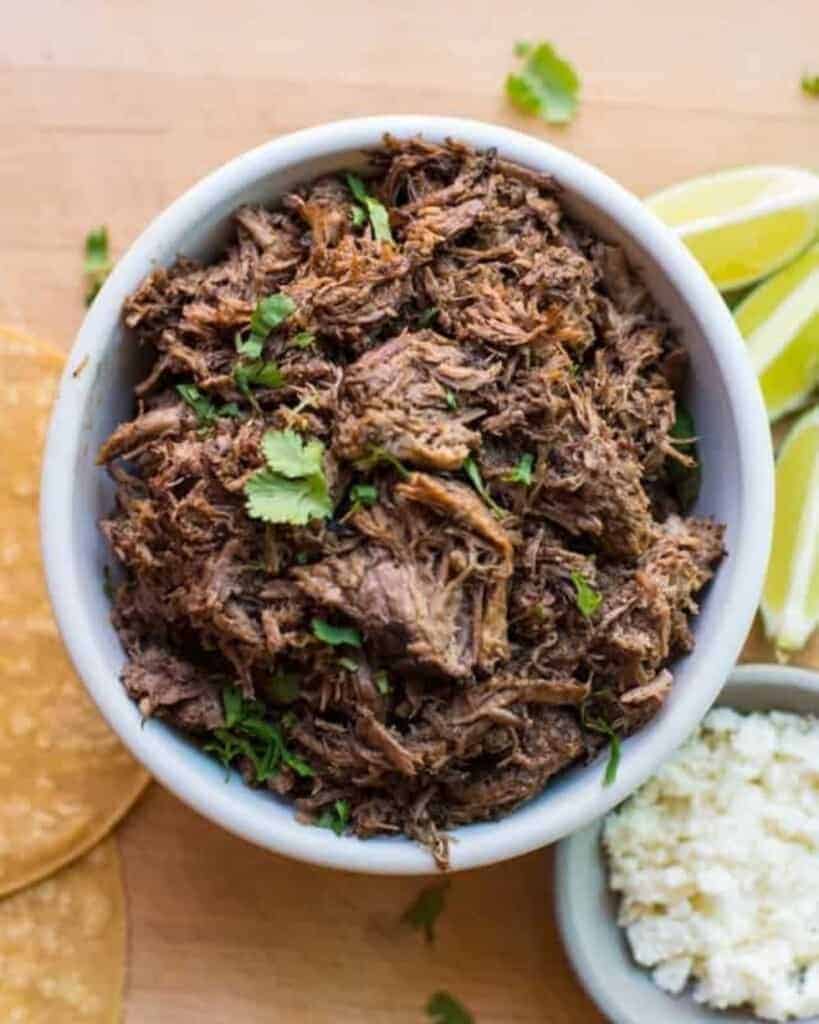 Recipe Notes
Making the BEST Shredded Beef is easy. Just follow a few basic steps and you can make this super flavor full dish that everyone is going to love!
Ingredients
Chuck Roast: A 4 to 6-pound chuck roast is perfect for this recipe. Remember, you can make this recipe and then immediately freeze half.
Beef Broth: Buy a low sodium beef stock or beef broth. You can also make your own if you are feeling ambitious.
Spices: This recipe calls for a mix of smoky spices and finely ground coffee.

Smoked paprika, chili powder, ginger, cocoa powder, and Aleppo pepper all give this recipe it's unique coffee-rubbed flavor.
Special Equipment
Depending on which method you are using to cook this shredded beef you need to have one of these. I have to be totally honest and say that normally I am not a fan of slow cooker recipes. However, this recipe makes incredible slow cooker shredded beef tacos.
I am a huge fan of both the dutch oven and then instant pot because it saves me the step of having to brown my chuck roast in a separate pan.
Pressure Cooker: I have a 6 quart Instant Pot. I have had great success with this recipe using my Instant Pot.
Dutch Oven: I use a 5.5 quart Staub Dutch Oven. I am in love with this pan. I used it at least once a week. It makes amazing soups, stews, and roasts. Recently, I have even started using it for sourdough bread. If you don't have one, I highly recommend splurging on this essential cookware.
Slow Cooker: I have a large crockpot. I use it very rarely. I use it for this recipe, and for my Slow Cooker Pulled Pork.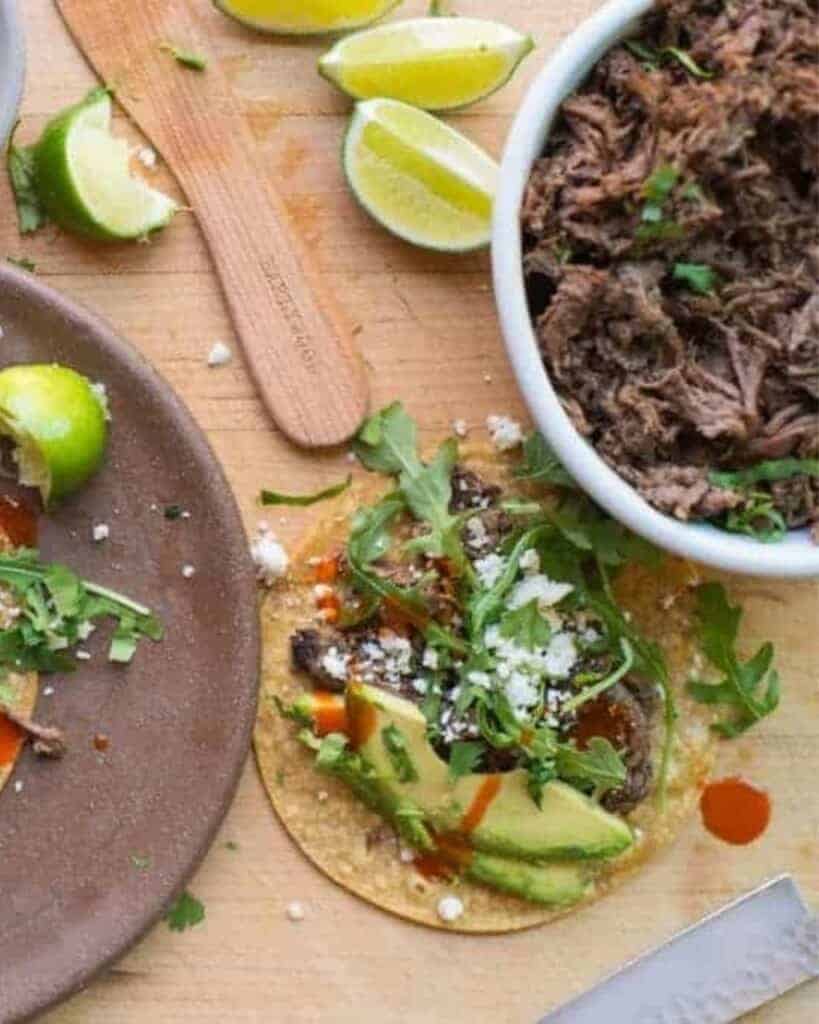 Instructions
Step 1: Season and Brown
Remove the chuck roast from the refrigerator then rinse it and pat it dry.
Season the meat with the Mocha Rub.
Add a few teaspoons of oil to a pan and then brown the roast on all sides.
Step 2: Add liquid
Add the beef broth.
If you are using the dutch oven or the pressure cooker, double the amount of liquid that you add.
Step 3: Cook
Instant Pot Instructions:
Season and brown the chuck roast on the Sauté setting in the Instant Pot.
After browning the chuck roast, add the liquid and set to pressure cook on high pressure for 50 minutes.
Let the pressure release for 10 to 15 minutes.
Dutch Oven Instructions:
Season and brown the chuck roast in the dutch oven over medium-high heat.
Preheat the oven to 450℉.
Add the liquid to the dutch oven, cover.
Cook in the oven for 30 minutes.
Reduce the temperature of the oven to 35o℉. Cook for 4 hours.
Slow Cooker Instructions:
Season and brown the chuck roast in a heavy-bottomed skillet.
Add the roast and the liquid to the slow cooker. Cover.
Cook on low for 6 to 8 hours OR on high for 4 to 5 hours.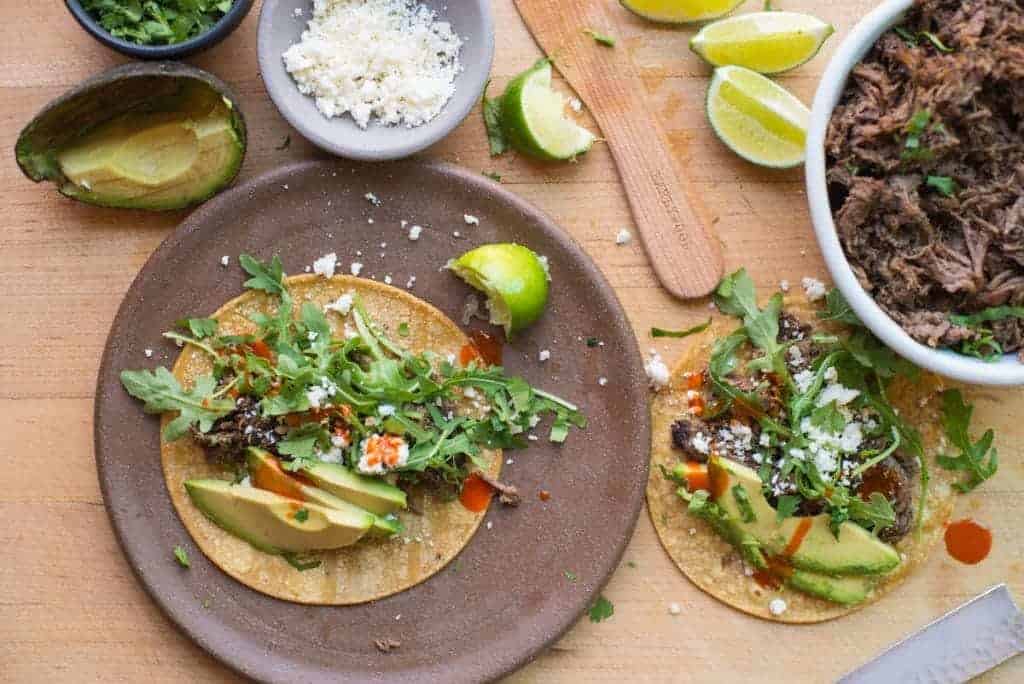 What To Serve With Shredded Beef
Other Recipe You Might Like:
➽ Did you make this recipe? I love to see what's going in your kitchen. Show me what you're cooking. 🍳 Tag me @foodologygeek on your favorite social channel! Facebook, Instagram & Pinterest. If you loved ❤︎ this recipe, please leave a 5 ★ review and a comment!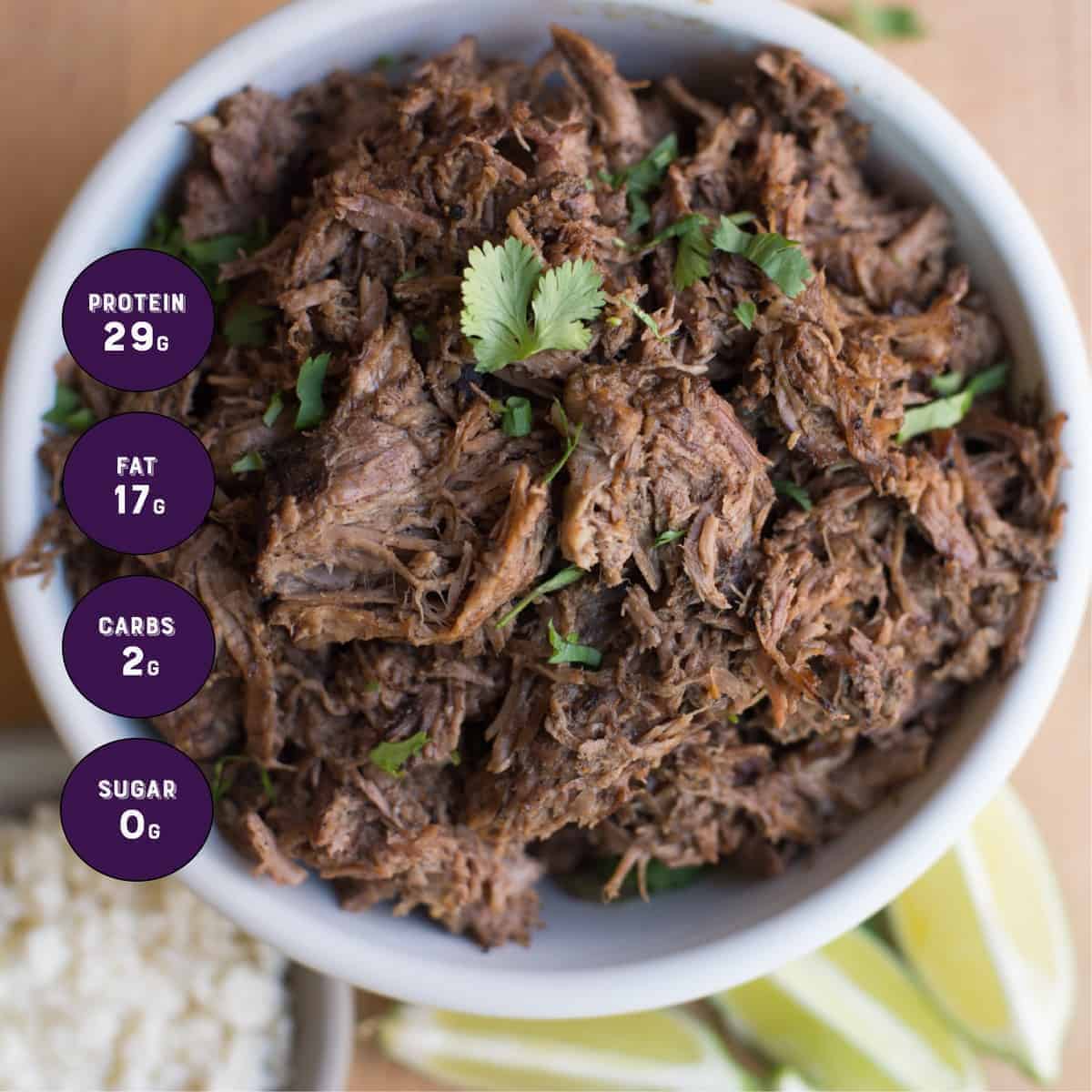 Shredded Beef with Mocha Rub
Super easy slow cooker shredded beef. Includes dutch oven and Instant Pot Instructions.
Ingredients
4

lbs

Chuck Roast

1

White Onion

Sliced, about 1 cup

1

cup

Beef Broth

or Filtered Water
Instructions
Mix up a batch of Mocha Rub

Use a few tablespoons to seasoning your roast.

Add seasoned roast and beef broth to a slow cooker.

Cook on high for at least 4 hours. Meat should be fork tender.

Remove meat and shred with two forks.

Serve with taco fixins or your favorite veggies.
Laura's Tips + Notes
Instant Pot Instructions:
Brown the seasoned Chuck Roast. Add the onions and the broth. Cook on High Pressure, manual for 50 minutes. Let the pressure release for 10-15 minutes. Remove roast and place on a cutting board. Use 2 forks to shred.
Dutch Oven Instructions:
On the stovetop, brown the seasoned roast on all sides. Preheat oven to 450℉. Place the roast in the oven, add the onions, and the broth. Cover and cook for 30 minutes. Reduce temperature to 350℉ then cook for an additional 3-4 hours.
Slow Cooker Directions:
After seasoning the chuck roast, brown on all sides. Add the onions to the slow cooker, add the roast, then the broth. Cook on low for 6 to 8 hours. Cook on HIGH for 4 to 5 hours.
Nutrition
Calories:
286
kcal
Carbohydrates:
2
g
Protein:
29
g
Fat:
17
g
Saturated Fat:
7
g
Cholesterol:
104
mg
Sodium:
599
mg
Fiber:
1
g
Calcium:
38
mg
Iron:
4
mg
FAQs and Variations
What is the best beef for shredded beef?
Chuck roast is the best of cut of beef for making shredded beef tacos. This cut of meat is a fibrous cut that needs to be cooked for a long time (or with a pressure cooker) to be tender. Once it is tender you can easily shred it.

Beef brisket is also a great choice for making shredded beef.
How to make shredded beef tacos
Making tacos is as easy as getting together your favorite tortillas and toppings. Be creative! See below for a few ideas for what to serve with Shredded beef tacos.
Is this paleo shredded beef?
This shredded beef is paleo. In addition, this recipe is also keto-friendly. Serve on top of a salad or with grain-free tortillas.