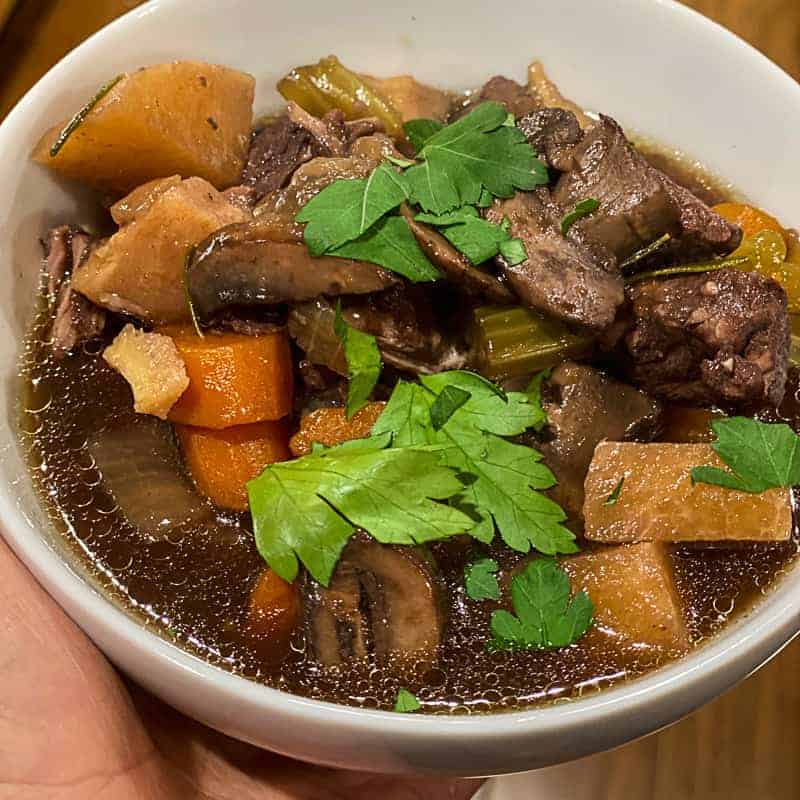 Recipe
Comments
Save
Go to Collections
This post may contain affiliate links. Please read my
disclosure policy.
Beef Stew is the perfect cold-weather meal. Luxurious stock and melt in your mouth tender chunks of beef make this stew a family favorite. You can make this stew recipe on the stovetop or in your Instant Pot.
The best beef stew is chunky and filled with tender beef and big chunks of carrots and potatoes, all swimming in rich, silky beef stock. This easy beef stew recipe will take you there and come together in less than twenty minutes.
By making a few simple substitutions to the Classic Homemade Beef Stew Recipe, you can turn this hearty bowl into a satisfying low-carb meal.
WHAT CUT OF BEEF SHOULD YOU USE FOR BEEF STEW?
So what cut of beef is considered stew meat. And why?
For a beef stew, I usually chose a Chuck roast or steak.
Chuck comes from the shoulder of the cow. The should muscle is heavily used and builds up a lot of collagen fiber.
Collagen is a good thing when you're making a stew because as you cook the meat in broth for a long time, the collagen breaks down. The collagen is released into the stew giving it flavor, and because it is no longer hanging out between the meat fibers, the meat is transformed to that tender melt in your mouth meat that you want in a stew.
For this recipe, you will need 2 to 3 pounds of beef chuck cut into large but still bite-sized pieces. Buying your stew meat in a larger piece and cutting it down yourself will save you a few bucks at the butcher.
HOW TO MAKE GLUTEN-FREE BEEF STEW
I know so many people that are avoiding gluten, so I wanted to make sure you would be able to modify the Classic Beef Stew Recipe.
As a result, I designed a low-carb or keto beef stew recipe that is also gluten-free.
I made two simple substitutions:
Potatoes – I used diced jicama instead of potatoes. Jicama is an excellent substitute for potatoes. They cook up wonderfully and hold their texture very well. A lot of low carb recipes call for turnips or radishes as a substitute. But the flavor is a little off to me. Give jicama a try!
Thickening the broth – Usually, you would thicken beef stew with flour or even cornstarch. I chose to use Xanthum Gum as a low carb alternative. This swap makes the stew gluten-free and low carb. I consider it a win-win.
BEEF STEW WITH RED WINE
Adding a dry red wine serves two purposes:
Wine deglazes the pan after browning, so you can incorporate the flavor from all of those tasty brown bits back into the broth.
A bold dry red wine adds an incredible amount of flavor to your stew for an extra layer of complexity. A beef stew made with broth is beefy but, when you add wine, you add a second note of flavor that is fabulous.
I usually pick up a Dry Italian Wine like Chianti. It doesn't have to be an expensive wine, but as a rule of thumb, never cook with something that you wouldn't drink.
I like to call my drinkable but less expensive wine, Tuesday wine! You know, like the wine you might drink on a Tuesday night with take-out.
HOW ABOUT A GUINNESS BEEF STEW?
You can also substitute Guinness Stout for the wine in any beef stew recipe, and it is fantastic.
If you like the idea of a Guinness braised beef, check out my Guinness Braised Short Ribs Recipe. They are the melt in your mouth, stick to your ribs kind of comfort food.
If you don't know what to do with the extra three cans of Guinness, you can make my Irish Car Bomb Cupcakes for dessert.
INSTANT POT BEEF STEW RECIPE
I love my Instant Pot for this recipe. Being able to brown the meat in the same pot that you will be cooking the stew in ensures that you aren't going to lose the flavor earned from the brown bits.
The pressure cooker feature of the Instant Pot allows you to cook a beef stew with wicked tender beef in half the time that it would take you to cook it on the stovetop or in your oven.
Making instant pot beef stew is very similar to making pressure cooker beef stew; but, less scary. There is no loud whistling of the pot.
If you've ever used a traditional pressure cooker, you know what I'm talking about.
The beauty of the Instant pot is that you can brown your meat right in the pot, then add your veggies and broth, seal the whole thing up, and just hit the cook MEAT/STEW button. Then you wait.
How easy is that?
DUTCH OVEN BEEF STEW
A dutch oven is a magical thing. If you don't have one in your kitchen, it's a worthy investment.
The dutch oven is a heavy and usually large pot.
Dutch ovens are cast iron and range in size, starting at about a 6-quart capacity. My 6 quart Staub (affiliate link) is my most used dutch oven. It's perfect for stew, soup, pot roasts, and even for roasting a chicken.
You can find Staub (affiliate link) and Le Crueset dutch ovens (affiliate link) enameled, which makes them not only beautiful but easier to clean.
Lodge is the Gold Standard in Cast Iron Cookware, and they have also started making enamelware.
I've always used my dutch oven like a slow cooker in my oven. Did you know that you can set your oven to turn off after a set time?
This method makes impressive roasts and stews because you can do all the heavy browning of your stew meat, which gives you marvelous flavor plus then you set the dutch oven, covered into your oven. Set your oven timer for 3 hours. The oven turns off but usually keeps the stew warm so that when you get home from work, you have a lovely, perfectly cooked pot of stew. I prefer this method over using my slow cooker.
Give it a try, and I would love to know what your favorite method is?
HOW TO MAKE BEEF STEW IN A CROCKPOT OR SLOW COOKER
If you are a die-hard slow cooker fan, you can always make beef stew in a crockpot.
Add all of the ingredients to the slow cooker pot and turn it on high. Let it cook for 4 to 6 hours. If you plan on being gone longer than that, set your slow cooker to low instead.
I recommend browning the beef before you add it to the slow cooker although this isn't necessary.
HOW LONG SHOULD YOU COOK BEEF STEW?
In an Instant Pot:
The beef stew cooks for about 70 minutes. Plus, the pressure release time.
Traditional pressure cooker:
I brown my beef then add my broth, wine, and spices. Cook under pressure for about 20 minutes. Release the steam and then add the veggies and cook again, under pressure for another 20 to 30 minutes.
Stove Top:
When using a dutch oven, there are about 30 minutes of prep time that includes browning the beef and then deglazing the pan with wine or Guinness. After that, you can add in everything else, bring to a boil, cover, then reduce the heat to a simmer.
In the oven:
The prep is the same as for the stovetop directions.
Preheat your oven to 450℉. Place your dutch oven, covered in the oven, and time for 10 minutes. Then reduce the heat to 325℉ — Cook for 3 to 4 hours.
There is such a variance in time because, after a few hours, your stew is technically done. But the longer you let it cook, the more tender the beef will be.
WHAT TO SERVE WITH BEEF STEW
OTHER SOUPS AND STEWS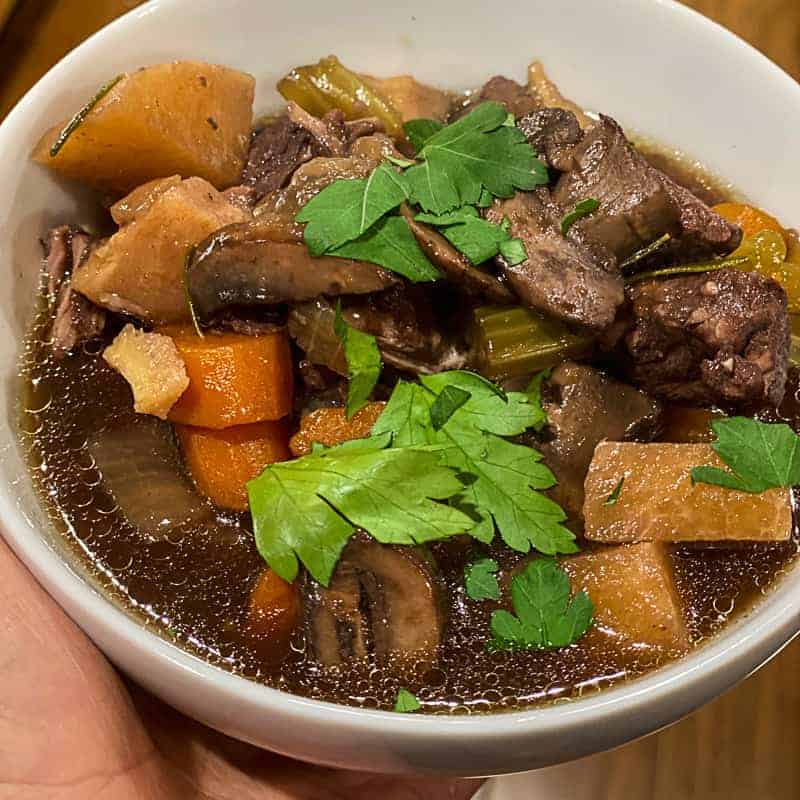 Keto Beef Stew
This low carb version of beef stew can be made in your Instant Pot. Or you can make it the traditional way in a dutch oven. Swap out potatoes for a low carb alternative if you're watching your carbs.
Ingredients
2

tbsp

Unsalted butter

,

or bacon grease

2

lbs

beef chuck roast

,

diced

16

ounces

Mushrooms

,

sliced

1

medium

Onions

,

diced

3

medium

Carrots

,

chopped

3

stalks

Celery

,

diced

1 ½

cups

jicama

,

diced

2

tbsp

Tomato paste

5

thyme sprigs

2

fresh rosemary sprigs

1 ½

cups

Dry red wine

4

cups

Beef stock

1

tsp

xanthan gum
Instructions
Instant Pot
Dice the chuck roast into large bite-sized pieces. Season with salt and pepper.

Turn the Instant Pot on Sauté, add the butter or bacon grease.

Add the seasoned beef and brown well. You want a rich brown color on the beef.

Remove the browned beef and set aside.

Add the mushrooms to the pot, sauté until browned. You can leave these in the pot.

Add the onions to the mushrooms and sauté until they are soft and translucent. About 5 minutes.

Add the tomato paste and sauté for a few minutes.

Add all of the remaining vegetables and herbs.

Add the wine and the broth. (If you are using Guinness instead of wine, you will add it here)

Seal the lid on the Instant Pot and make sure the steam valve is closed

Turn on the Meat/Stew setting and let it cook for 70 minutes.

Let the low-pressure cook for 10 minutes.

Release the pressure for about 10 minutes before you remove the lid.
Dutch Oven
Place your dutch oven on medium-high heat and then add the bacon grease of butter.

Follow the instructions for browning and cooking the vegetable exactly as you would for the Instant pot.

STOVE TOP: Bring the stew to a boil and then reduce the heat to a simmer. Cover and cook on low or simmer for three to four hours.

OVEN: Preheat the oven to 450°F. Cover the stew and place in the oven for 10 minutes.

Reduce the heat to 325°F and let the stew cook for three to four hours. You can set the cook timer to four hours. The oven will turn off and then you can take the stew out of the oven when you are ready to serve it.

You may need to reheat it on the stovetop if it has been more than a few hours.
YOUR OWN NOTES
Nutrition
Calories:
280
kcal
Carbohydrates:
11
g
Protein:
30
g
Fat:
9
g
Saturated Fat:
4
g
Cholesterol:
78
mg
Sodium:
365
mg
Fiber:
3
g
Sugar:
5
g
Calcium:
56
mg
Iron:
3
mg