These Southwestern Vegetable Egg Rolls are filled with spicy beans, sweet potatoes, and corn. Mixed with cheese and southwest spices makes these ultra snackable.
These Southwest-inspired appetizers are baked and not deep fried so you can feel good about them being healthy.
Of course, you can always fry these if you want to.
Making egg rolls in an air fryer is also a great option if you have one. I find that the air fryer gives you a crispier texture than baking alone.
What you will need to make these Southwest Egg Rolls.
One package of egg roll wrappers.
A sweet potato.
One half of a white onion.
One can of black beans.
One and a half cups of corn (about two cobs).
A few handfuls of fresh spinach.
A bunch of cilantro (unless you're a hater).
Three cups of Mexican blend shredded cheese.
Cumin
Chipotle Chili
Foodology Geek Brand Taco Seasoning (see notes)
Salt and pepper.
My daughter created this egg roll recipe just last night.
I cannot tell you how stinking proud I was watching her cook like a pro with accurate culinary instincts. She wasn't following a recipe she just whipped these bad boys up. All I could think was — Yep, mama taught her something right.
God knows being a mom ain't easy, and we feel like failures more often than we ever say out loud. So, it is crucial to hold on to the moment that shows you your babies are gonna be okay. This was one of those moments for me. She is going off to college in the fall and at least I can rest assured she knows how to feed herself.
I just sat there and watched her while we chatted and wrote down all of the ingredients so that I could share this recipe with you.
Making homemade egg rolls from scratch is easy if you know what you are doing.
These are some tips to get you off on the right foot.
Where can you find egg roll wrappers?
Egg roll wrappers are usually in the produce section at the grocery store. They are lightly refrigerated. They are usually near the tofu!
What is the best oil to use for egg rolls?
Traditionally egg rolls are made with canola oil because it is relatively flavorless. However, my favorite oil to use for the egg roll recipe is avocado oil. Use a little to sauté the vegetables and then brush a little bit of the avocado oil on the tops and sides of the egg rolls before you bake or air fry them.
The most important thing to remember is to use an oil with a neutral flavor. Stay away from olive oil in this case.
Can you refrigerate uncooked egg rolls?
You can refrigerate them, for a short period of time. But for the most part, it is best to refrigerate the filling and make the egg rolls right before you will cook them. They are pretty quick to roll up.
If your filling has a lot of moisture in it it can cause issues with the egg roll wrappers. Also, even while you are preparing them do not stack them or they might stick to each other. This causes a big mess when you try to pull them apart.
Can you freeze uncooked egg rolls?
Freezing uncooked egg rolls is a better option if you need to make them ahead or if you want to make a large batch and have leftovers that you can cook up another day.
Egg rolls are easy to freeze.
Start by placing them on a parchment-lined baking sheet.
Make sure they have space between them.
Freeze them on the baking sheet if possible.
Once they are frozen you can place them in a freezer bag and store them in the freezer until you are ready to use them.
How to thaw and reheat frozen egg rolls.
Remove them from the refrigerator.
Let them thaw on a plate in the refrigerator.
Make sure they are not touching.
When they are thawed set them at room temperature for about 3o minutes.
Bake, air fry or fry in a mild oil until they are golden brown.
PRO TIP: If you have meat in your filling and you are worried if it is the correct temperature you can use a meat thermometer to check.
Can I bake egg roll wrappers?
Yes, you can bake egg roll wrappers. In fact, the ones in this recipe are baked. You will get a crispier egg roll if you generously oil the outside of the egg roll wrapper. Bake egg rolls at 450℉ for 20 minutes.
Can you reheat egg rolls in an air fryer?
An air fryer is a great option not only for reheating egg rolls but for baking them in the first place. An air fryer cook food by circulating hot air around it. Air frying is a fancy word for convection. I have a fancy Cooktop Oven that has an air fry setting. It works great for reheating anything that you want to be crispy and not soggy.
What are some good dishes to serve with egg rolls?
In my opinion, every egg roll should be served with a sauce or dip. Guacamole and Salsa Fresca seem like tow obvious choices. You can try my Chipotle Ranch or Avocado Crema for these. Oh but you probably meant what real food should you eat with your egg rolls. That is very grown up of you.
I always recommend a big salad. A Spicy Slaw is another great option. If you are looking for a side of protein you can try the Chipotle Chicken.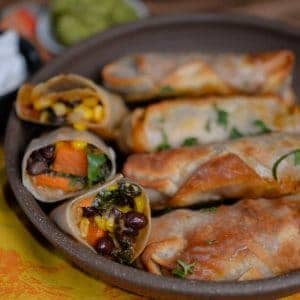 Southwest Egg Rolls - Vegetarian Baked Version
Egg Rolls filled with vegetables, cheese, and southwestern spices. The egg rolls are baked.
Print Recipe
Pin Recipe
Ingredients
Filling
1 to 1½

cups

Corn kernels

Approximately 2 ears or corn.

1

medium

Sweet potato

peeled and diced

1

can

Black beans

drained

¼

cup

Fresh cilantro

finely minced

1

cup

Fresh spinach

finely chopped

½

White onion

finely diced

½

tsp

Cayenne pepper

½

tsp

Cumin

½

tsp

Chipotle chili powder

1

tsp

Taco seasoning blend

Foodology Geek Brand (see notes)

3

cups

Shredded Mexican Blend Cheese

1

pkg

Egg roll wrappers

1 to 2

tbsp

Avocado oil
Special Equipment
A Small bowl of water

for sealing the egg rolls
Instructions
Prepare your vegetables by doing all the necessary peeling and dicing. Set them aside.

Keep the onions by themselves and the sweet potato by itself, but all other vegetables can be mixed to in a large bowl.

Add 1 to 2 teaspoons of avocado oil to a large skillet. Heat on medium-high heat.

Add the diced onion to the pan and sauté for a few minutes until the onion is soft and slightly translucent.

Add the sweet potato and cook for about 5 to 7 minutes, until they are slightly tender.

Remove the pan from the heat and toss in the remaining ingredients.
Assembling the Egg Rolls
Preheat the oven to 425°F while you are rolling the egg rolls.

Prepare a large baking sheet by lining it with parchment paper.

Set out on egg roll wrapper and moisten the edges with a small amount of water. You can use your finger for this step.

Using the cookie scoop, add one scoop of filing and fold the egg rolls according the package directions.

Place the egg rolls seam down on a baking sheet.

Make sure that you leave enough room so that they can evenly brown.

Continue until all of the egg rolls are assembled and placed on the baking sheet.

Brush each egg roll generously with the avocado oil.

Bake the egg rolls for 15 to 20 minutes.
Nutrition
Calories:
189
kcal
|
Carbohydrates:
23
g
|
Protein:
8
g
|
Fat:
8
g
|
Saturated Fat:
3
g
|
Cholesterol:
18
mg
|
Sodium:
293
mg
|
Fiber:
2
g
|
Sugar:
1
g
|
Calcium:
131
mg
|
Iron:
1.4
mg
Other Snack Recipes You Make Love:
(Visited 99 times, 1 visits today)