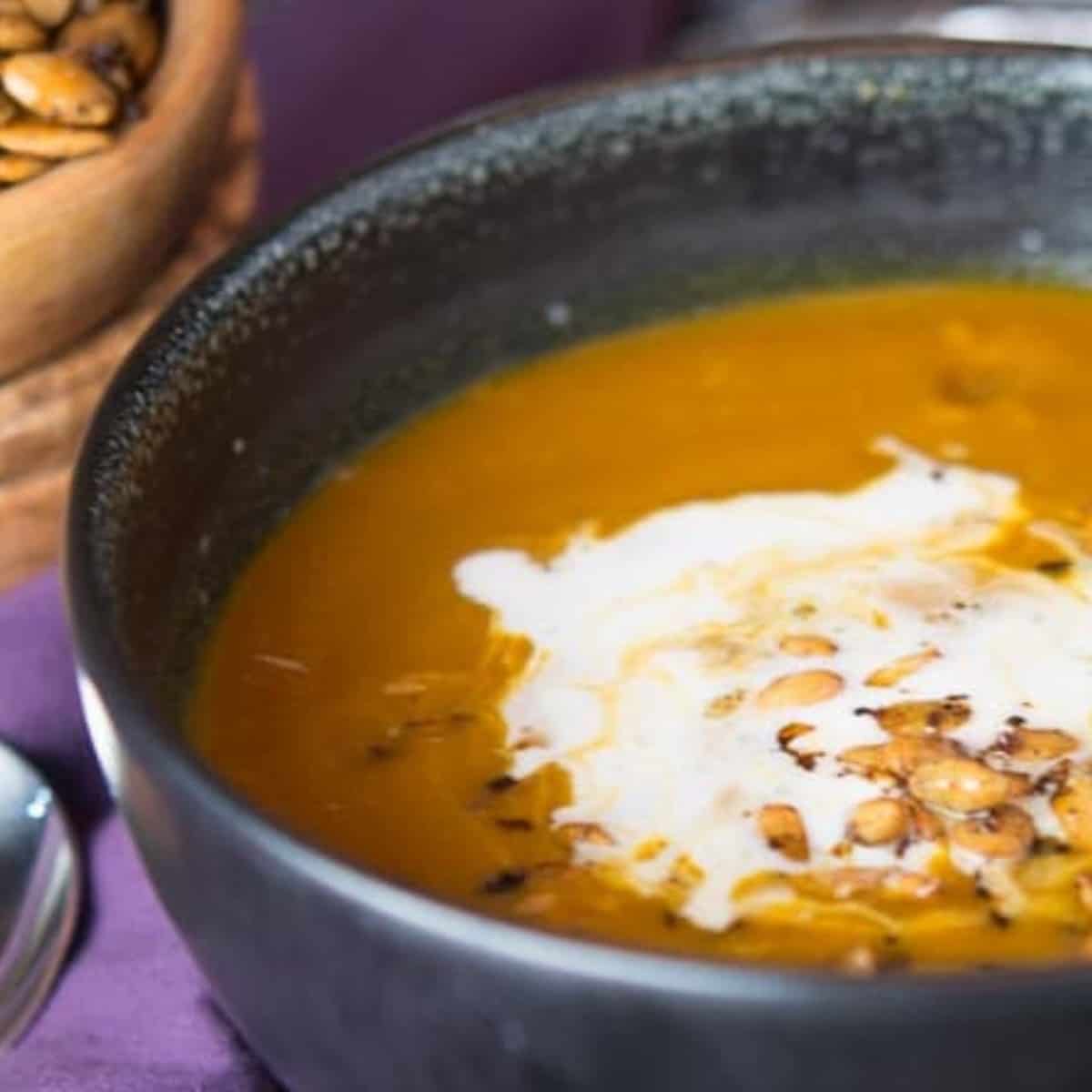 Recipe
Comments
Save
Go to Collections
This post may contain affiliate links. Please read my
disclosure policy.
Indulge in autumn's warm and comforting flavors with our ultimate pumpkin soup recipe. Bursting with the rich, earthy taste of pumpkin and seasoned with warm spices, this classic soup recipe is a delightful way to embrace pumpkin season.
Whether you decide to use canned pumpkin puree or freshly roasted pumpkin, our step-by-step guide will show you how to prepare this cozy soup from scratch. From selecting the perfect pumpkin to achieving the ideal consistency, we have all the tips and tricks to ensure your soup turns out perfectly every time.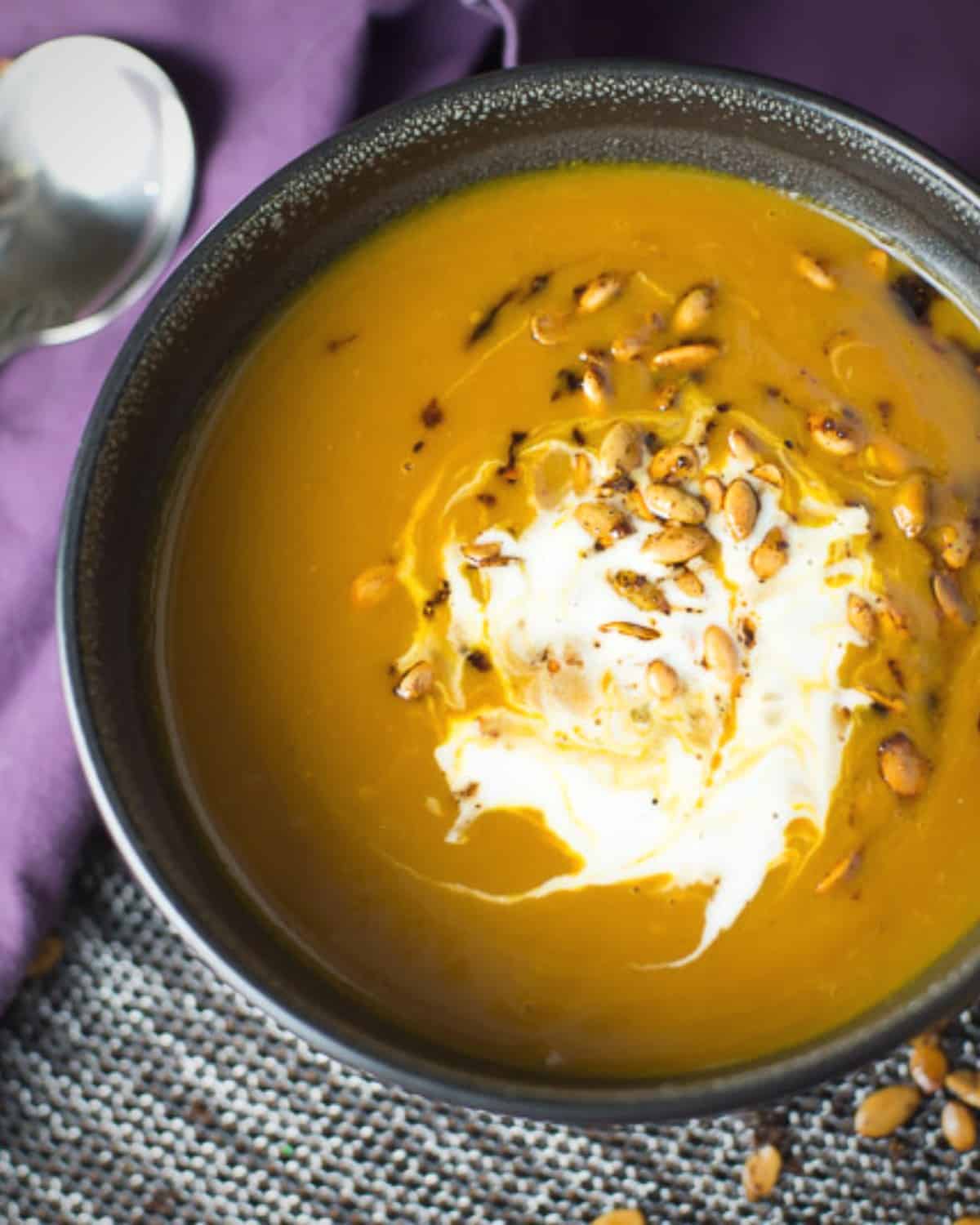 Our recipe is designed to be easy to follow. It will have you enjoying a steaming bowl of homemade pumpkin goodness in no time. Plus, we'll share creative variations and topping ideas to help you customize your soup to your liking.
Creamy Pumpkin Soup Recipe
Making pumpkin soup at home offers numerous benefits that go beyond just the delicious taste.
Full control over the ingredients: This allows you to adjust the seasoning and spices to suit your preferences.
Cooking therapy: Cooking from scratch is a fulfilling and rewarding experience that allows you to showcase your culinary skills.
Avoid the preservatives and additives often found in store-bought options by making pumpkin soup at home. This means you can enjoy a healthier, more natural version of this comforting soup.
Use leftover pumpkin: homemade pumpkin soup is a great way to utilize leftover pumpkin from other recipes, reducing waste and saving money.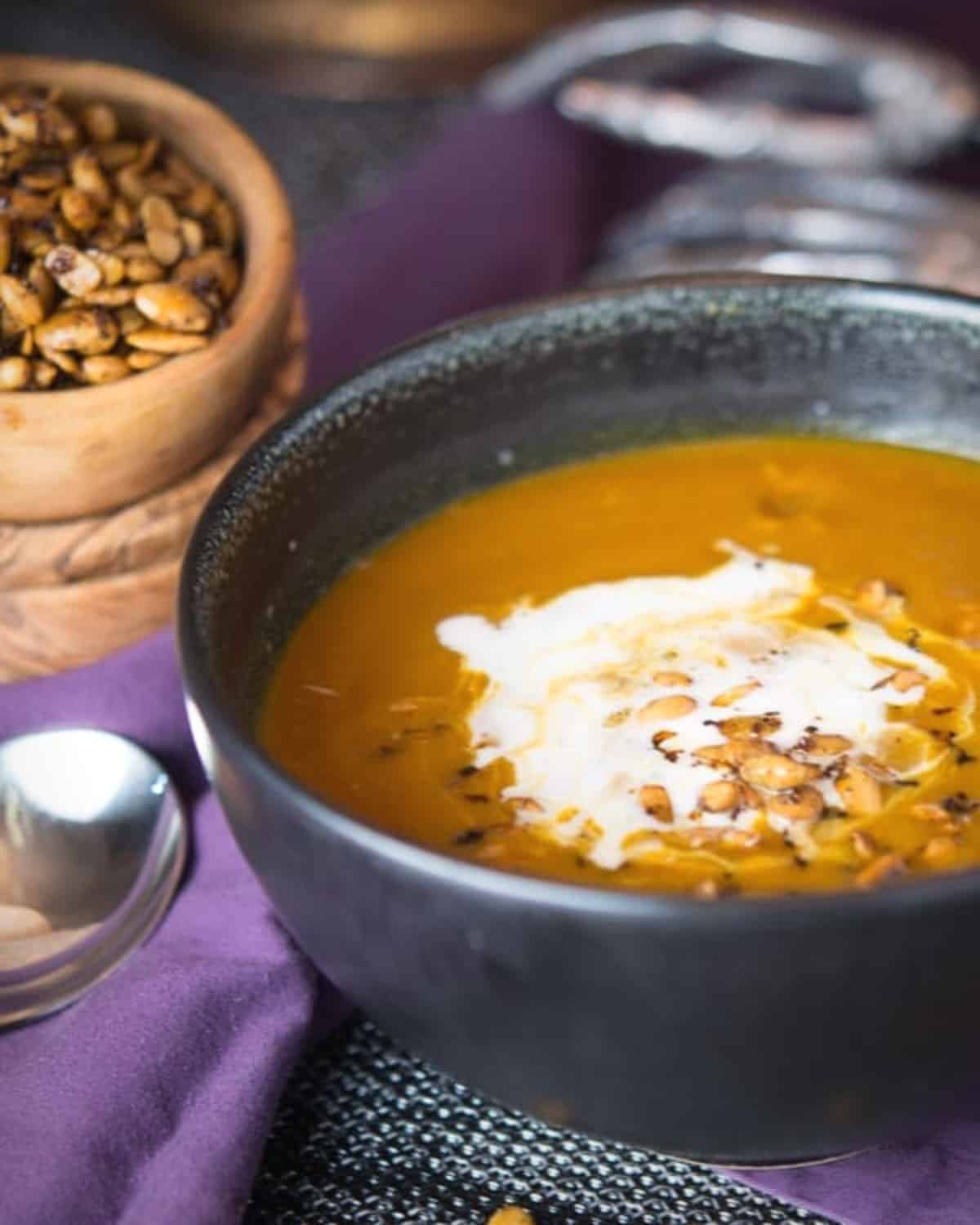 Ingredients needed for creamy pumpkin soup
To make a delicious and creamy pumpkin soup, you will need the following ingredients: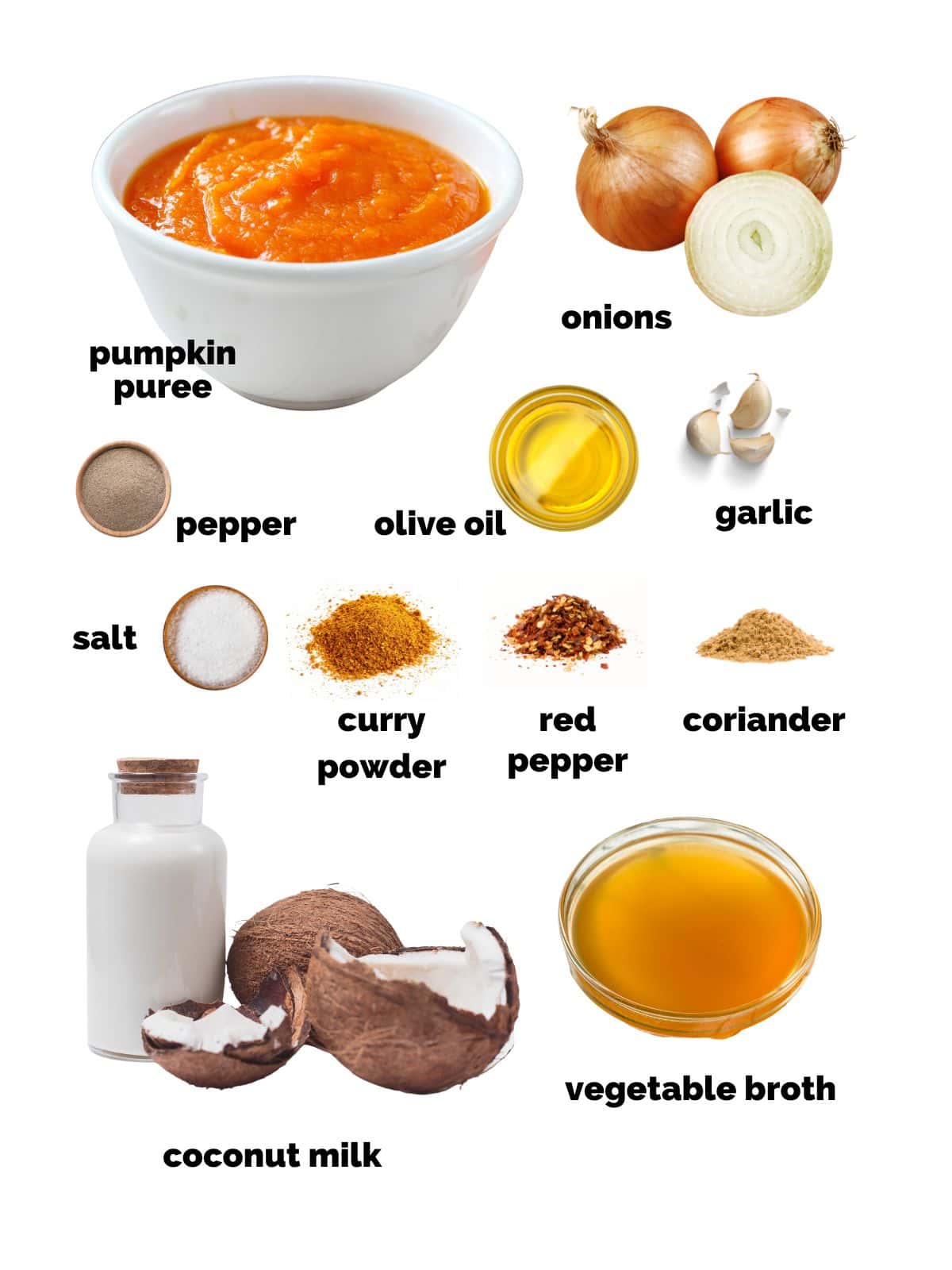 Pumpkin – Canned pumpkin puree is fine for this recipe. However, if you want to go the extra mile and use freshly roasted pumpkin, look for a small to medium-sized pumpkin with sweet and vibrant orange flesh, such as a sugar pumpkin or pie pumpkin.
Olive oil – This will be used for roasting the pumpkin and sautéing the aromatics.
Onion – A yellow or white onion works well for adding depth of flavor to the soup.
Garlic – Fresh garlic cloves infuse the soup with a wonderful aroma and taste.
Vegetable broth or chicken broth – This will serve as the base of the soup, providing a savory and rich flavor.
Coconut milk– The soup's creaminess comes from adding coconut milk. Alternatively, you can use heavy cream.
Spices – A combination of curry powder, coriander, and red pepper will give the soup its signature autumnal flavor.
Salt and pepper – Season to taste with salt and black pepper for a well-balanced soup.
Which Pumpkins to Use For Cooking & Baking
Sugar pumpkins, AKA sugar pie pumpkins and pie pumpkins, are small, firm-skinned winter squashes with flesh sweeter flavor than Jack-O-Lantern pumpkins.
They are perfect for roasting to make fall homemade pumpkin puree for pumpkin pie or pumpkin soup recipes.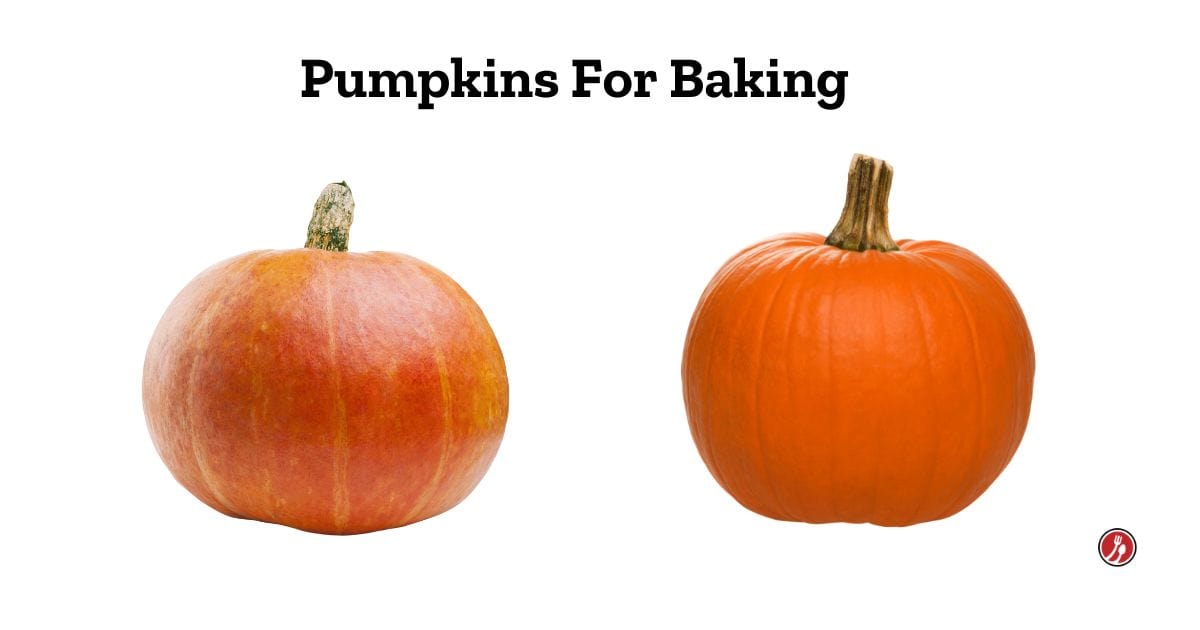 Step-by-step instructions for making creamy pumpkin soup
If you are using canned pumpkin puree, skip to step number 5.
Step 1—Preheat the oven to 400°F (200°C)
Step 2—Prepare the Pumpkin
Carefully cut off the top of the pumpkin and then slice it in half vertically.
Scoop out the seeds and strings from the center using a spoon.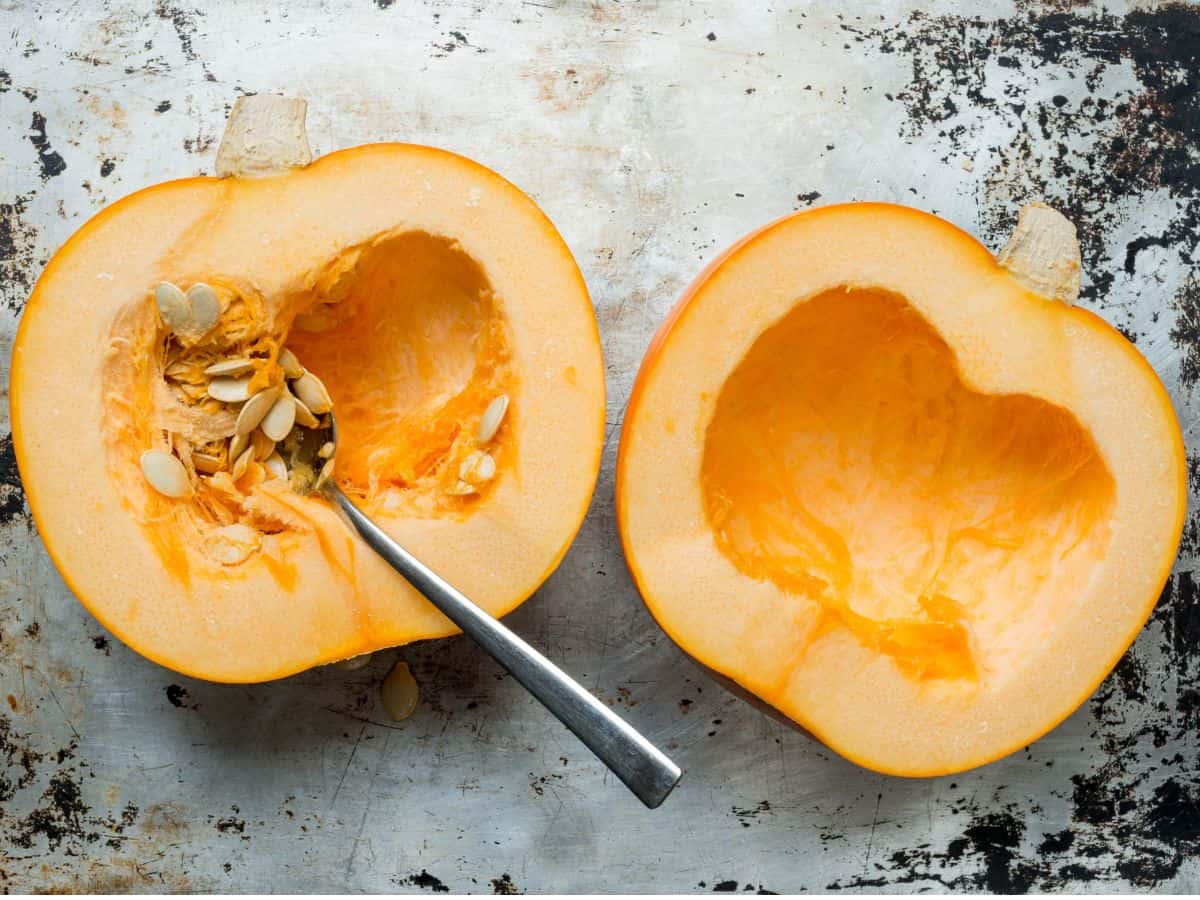 Drizzle the pumpkin halves with olive oil and season with salt and pepper. Place them on a sheet pan cut side down. For easy cleanup, line the baking sheet with parchment paper.
Roast the pumpkin in the preheated oven for approximately 45 minutes or until the flesh is fork-tender and slightly caramelized.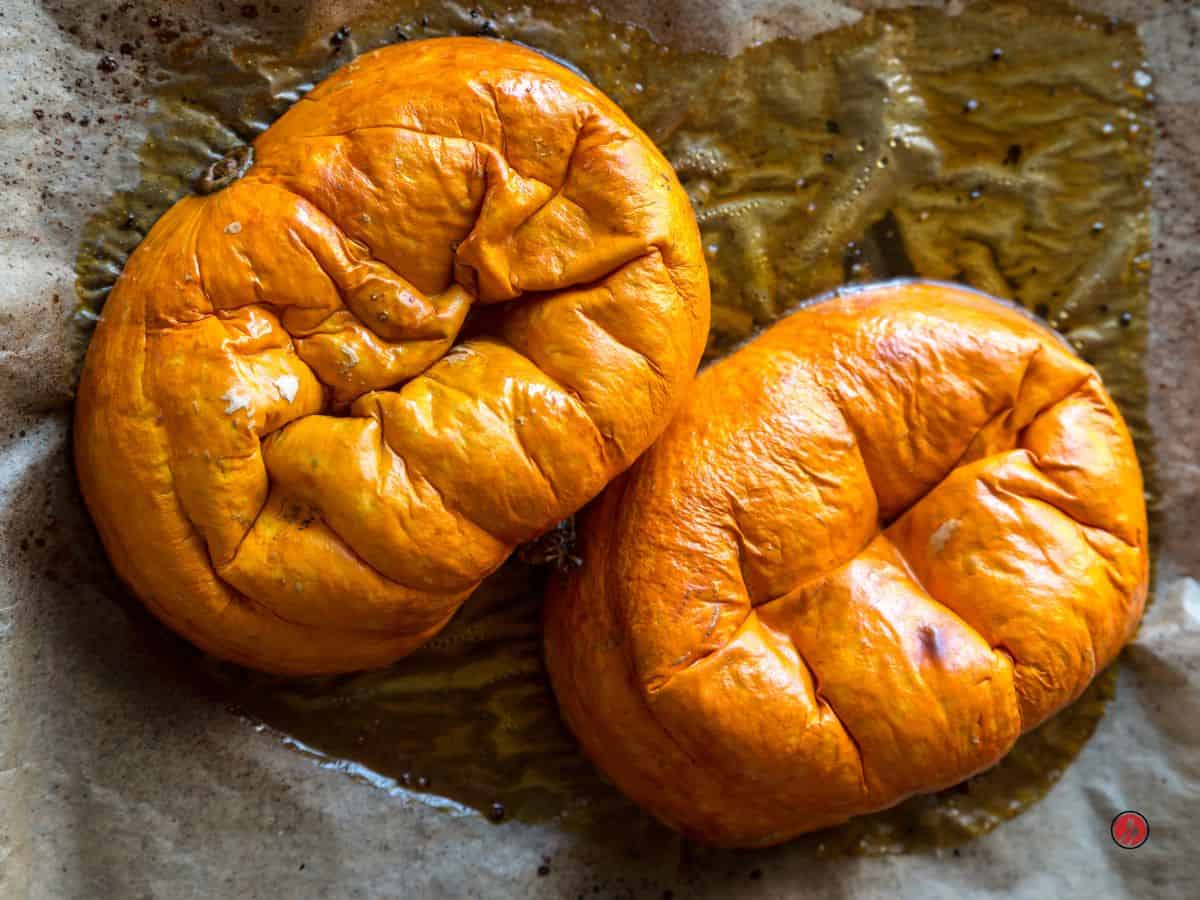 Step 3—Start Making The Soup
While the pumpkin is roasting, heat a large pot over medium heat. Add a drizzle of olive oil and sauté the chopped onion until it becomes translucent and fragrant.
Add the minced garlic to the pot and cook for an additional minute, stirring constantly to prevent burning.
Once the pumpkin is done roasting, carefully remove it from the oven and let it cool slightly. Use a spoon to scoop out the flesh from the skin.
Add the roasted pumpkin flesh to the soup pot and stir it well with the sautéed onion and garlic.
Pour in the vegetable or chicken broth until the pumpkin is fully covered. Bring the mixture to a boil, then reduce the heat and let it simmer for about 15 minutes to allow the flavors to meld together.
Remove the soup pot from the heat and use an immersion blender to puree the soup until smooth and creamy. Alternatively, you can transfer the soup in batches to a blender and blend until smooth.
Return the pot to low heat and stir in the heavy cream. Season the soup with the ground cinnamon, nutmeg, ginger, and cloves. Adjust the seasoning to your taste preferences by adding salt and pepper.
Let the soup simmer for an additional 5 minutes to allow the flavors to develop. Stir occasionally to prevent sticking.
Remove it from the heat once the soup reaches your desired consistency and the flavors have melded together.
Serve the creamy pumpkin soup hot in bowls, garnished with a drizzle of heavy cream, a sprinkle of cinnamon, and a few toasted pumpkin seeds for added crunch.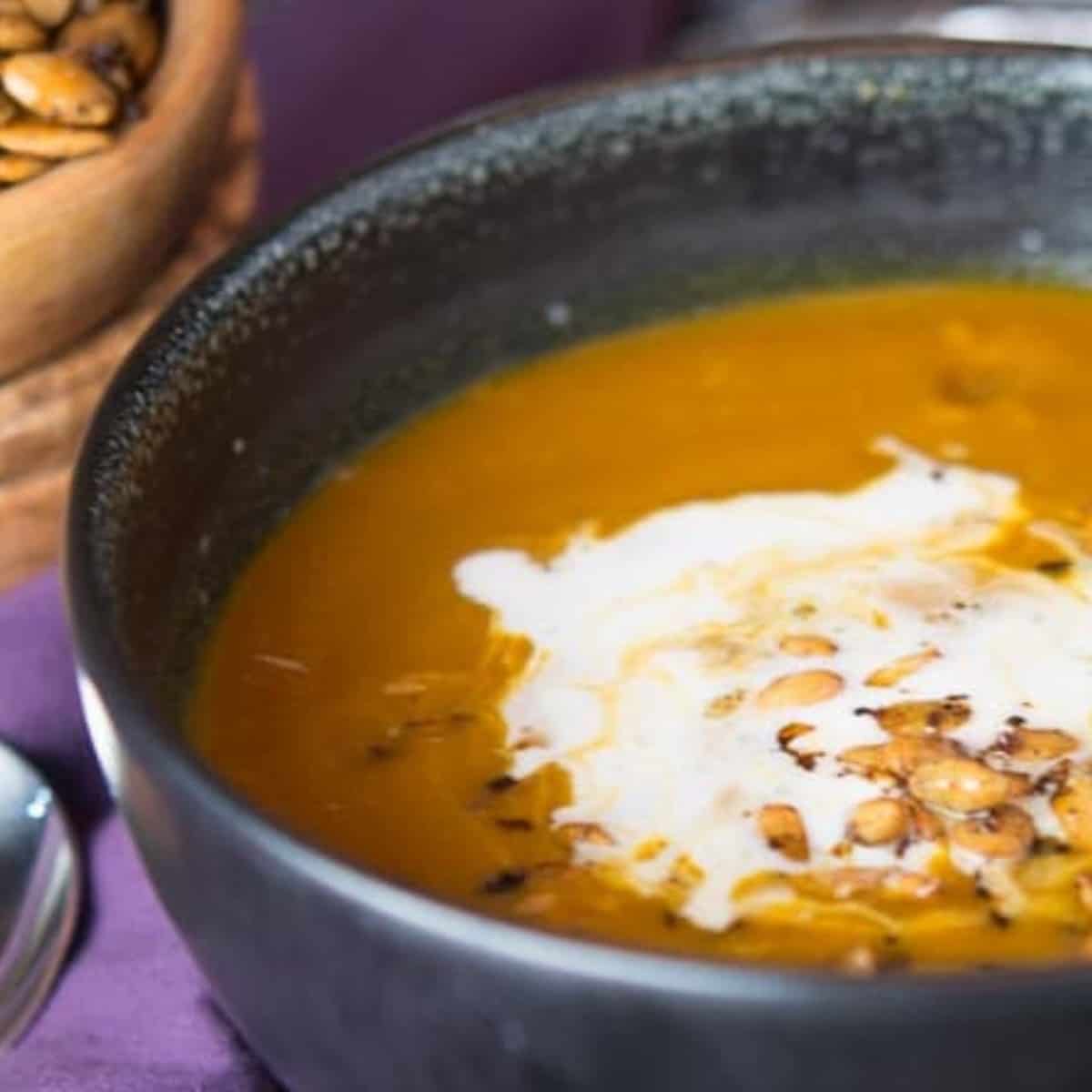 Tips for achieving the perfect creamy texture
To achieve the perfect creamy texture for your pumpkin soup, consider the following tips:
Roasting the pumpkin gives the best flavor depth and helps concentrate the natural sugars in the flesh. Make sure to roast the pumpkin until it is fork-tender and slightly caramelized for the best results.
Use an immersion or high-speed blender to puree the soup until smooth and velvety. This will ensure that there are no lumps or chunks in the final result. A regular blender or food processor can also be used to achieve a creamy texture.
If you prefer a thinner consistency, you can add more broth until you reach your desired texture. Alternatively, if you want a thicker soup, you can simmer it for longer to reduce the liquid.
Be cautious when adding heavy cream. Start with a smaller amount and taste the soup before adding more. You can always add more cream to achieve a creamier consistency, but it's harder to remedy an overly creamy soup.
You can substitute heavy cream with coconut milk or a non-dairy alternative for a healthier twist. This will give the soup a slightly different flavor profile while maintaining a creamy texture.
Experiment with these tips to find the perfect balance of flavors and textures for your palate. Let's explore creative variations and add-ins to elevate your pumpkin soup further.
Serving suggestions and garnishes
When it comes to serving pumpkin soup, there are numerous ways to enhance its presentation and taste. I make this savory pumpkin soup as an appetizer for our annual Thanksgiving dinner. I serve it in miniature mugs and pair it with miniature popovers.
Consider the following serving suggestions and garnishes:
Fresh Herbs: Sprinkle chopped fresh herbs such as parsley, chives, or cilantro over the soup to add freshness and vibrant color.
Croutons or Crusty Bread: Serve the soup with crunchy croutons or toasted slices of crusty bread. These add texture and make the meal more filling.
Creme Fraiche or Greek Yogurt: A dollop of sour cream or Greek yogurt on top of the soup adds a creamy tanginess that complements the rich flavors of the pumpkin.
Pumpkin Seeds: Toasted pumpkin seeds make a fantastic garnish for pumpkin soup. They add a satisfying crunch and are a great way to utilize the seeds from the pumpkin.
Drizzle of Olive Oil: Finish the soup with a drizzle of high-quality olive oil to enhance the flavors and give it a glossy appearance.
Feel free to mix and match these serving suggestions and garnishes to create a visually appealing and delectable soup. Now, let's move on to discuss how to store and reheat leftover pumpkin soup.
Storing and reheating leftover pumpkin soup
If you have any leftover soup, you can store it in an airtight container in the refrigerator for up to 4 days. Make sure to let the soup cool completely before transferring it to the container.
When reheating the soup, you can do so on the stovetop over low heat, stirring occasionally until heated through. Alternatively, you can microwave it in a microwave-safe bowl, making sure to stir it every minute to ensure even heating.
Remember that the consistency of the soup may change slightly upon reheating, but it should still be just as tasty. If the soup becomes too thick, you can add a splash of vegetable or chicken broth to thin it out. Enjoy your homemade pumpkin soup for several days after making it!
Frequently asked questions about making pumpkin soup
Can I use canned pumpkin instead of fresh pumpkin?
While fresh pumpkin is preferred for its natural flavor, you can use canned pumpkin as a convenient alternative. Just make sure to choose pure pumpkin puree without any added sugars or spices.
Can I freeze pumpkin soup?
Yes, you can freeze pumpkin soup for up to 3 months. Allow the soup to cool completely before transferring it to a freezer-safe container. Leave some room for expansion, as the soup will expand when frozen. Thaw the soup in the refrigerator overnight before reheating it.
Can I make pumpkin soup in advance for a dinner party?
Absolutely! Pumpkin soup is a great make-ahead dish. Prepare the soup according to the recipe, let it cool, and store it in the refrigerator. Reheat it gently on the stovetop or in the microwave before serving.
Can I substitute pumpkin with butternut squash?
Yes, you can substitute pumpkin with butternut squash. The flavors and textures are similar, so the soup will still turn out delicious. Adjust the cooking time as needed, as butternut squash may require less roasting time.
How can I make the soup spicier?
If you prefer a spicier pumpkin soup, you can add a pinch of cayenne pepper or red pepper flakes to the soup while it simmers. Taste and adjust the seasoning accordingly.
If you love soup as much as we do, check out all of our soup recipes. Including a few of our fall favorites:
This delicious Japanese Beef Curry recipe is an umami-packed beef stew with carrots and potatoes simmered in a subtle but savory Japanese curry sauce. Let…
Leave A Review
Did you make this recipe? Leave a comment and a 5 ★ review. Your feedback helps other readers and helps me continue to offer recipes at no cost. Happy Cooking!!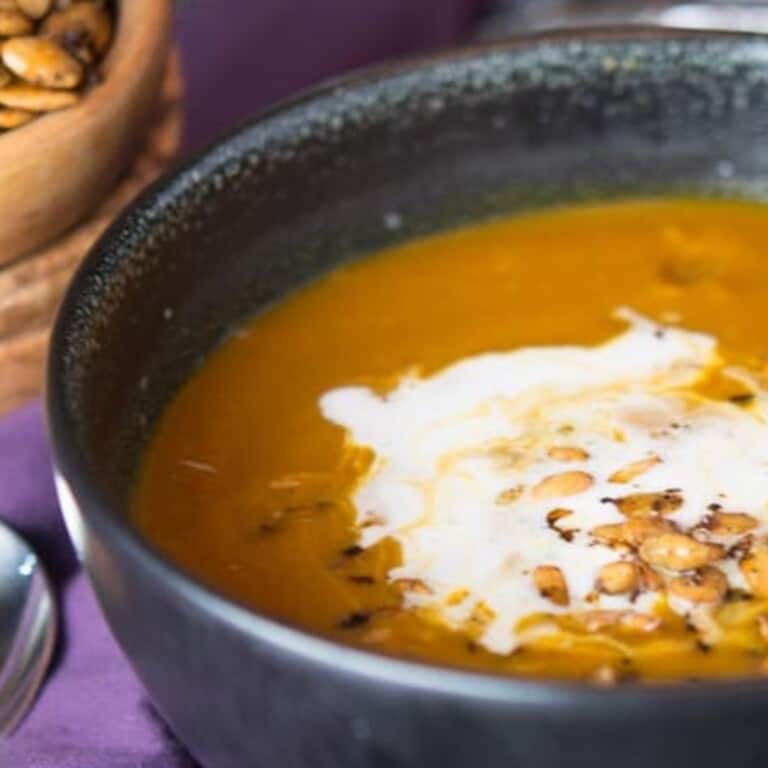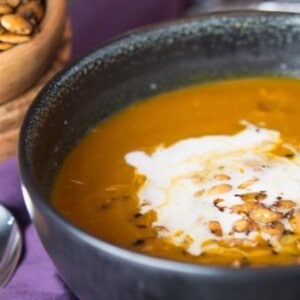 Pumpkin Spice Soup Recipe
Warm and comforting Pumpkin Spice Soup. This vegan soup is healthy and delicious. It's topped with toasted pepitas and a little bit of creme fraiche.
Ingredients
Extra for topping
creme fraiche

,

or heavy cream
Instructions
Pumpkin Soup
In a large pot on medium-high heat, add coconut oil, diced onion, and diced garlic. Sauté until translucent and slightly golden.

1 tbsp oil,

2 yellow onions,

3 cloves garlic

Add the spices and pumpkin.

45 oz canned pumpkin,

2 tsp yellow curry powder,

½ tsp ground coriander,

¼ tsp crushed red pepper,

salt and pepper

Add the vegetable broth and coconut milk. Bring to a boil.

5 cups vegetable broth,

2 cups coconut milk

Reduce the heat, and simmer for about 30 minutes.

Remove from the heat and carefully use an immersion blender to blend in onions. Blend until smooth.
Roasted Pepitas
Toss pepitas with spices, sugar, and oil.

½ teaspoon oil,

¼ cup pepitas,

½ tsp chipotle chili powder,

¼ tsp ground coriander,

¼ tsp ground aleppo pepper,

¼ tsp sea salt,

1 tsp brown sugar,

creme fraiche

On a baking sheet lined with parchment paper, roast at 325℉ for 20 minutes or until golden brown.
Serving Suggestions
Serve in bowls or large mugs. Top with a swirl of creme fraiche or heavy cream. Sprinkle with roasted pepitas.
Laura's Tips + Notes
Nutrition information is for the soup only.
Garnish
Add extra for pepitas and creme fraiche.
How to Roast a Pumpkin
Preheat your oven to 425℉
Place the entire pumpkin on a baking sheet and place it in the oven.
Roast for about an hour.
Remove the pumpkin and let it cool.
Once the pumpkin is cool, cut it in half and scoop out all the seeds.
Scoop out the pumpkin flesh.
Freeze This Pumpkin Soup:
This soup freezes well. I like to freeze it in single-serving containers to reheat it quickly. It's perfect for packing for a work lunch. The soup will be mostly thawed by lunch, and then you can reheat it in the microwave or 3 or 4 minutes.
YOUR OWN NOTES
Sign In to add your own private notes
Nutrition
Calories:
136
kcal
Carbohydrates:
21
g
Protein:
3
g
Fat:
6
g
Saturated Fat:
4
g
Sodium:
897
mg
Fiber:
2
g
Sugar:
9
g
Calcium:
159
mg
Iron:
2
mg