I was a little bit nervous about attempting this recipe. I love Phó so much and I've always wanted to make it at home but I felt like I might be disappointed with my own home-cooked result. I was pleasantly surprised. Not only was it pretty easy – it has all the flavor that I was hoping for.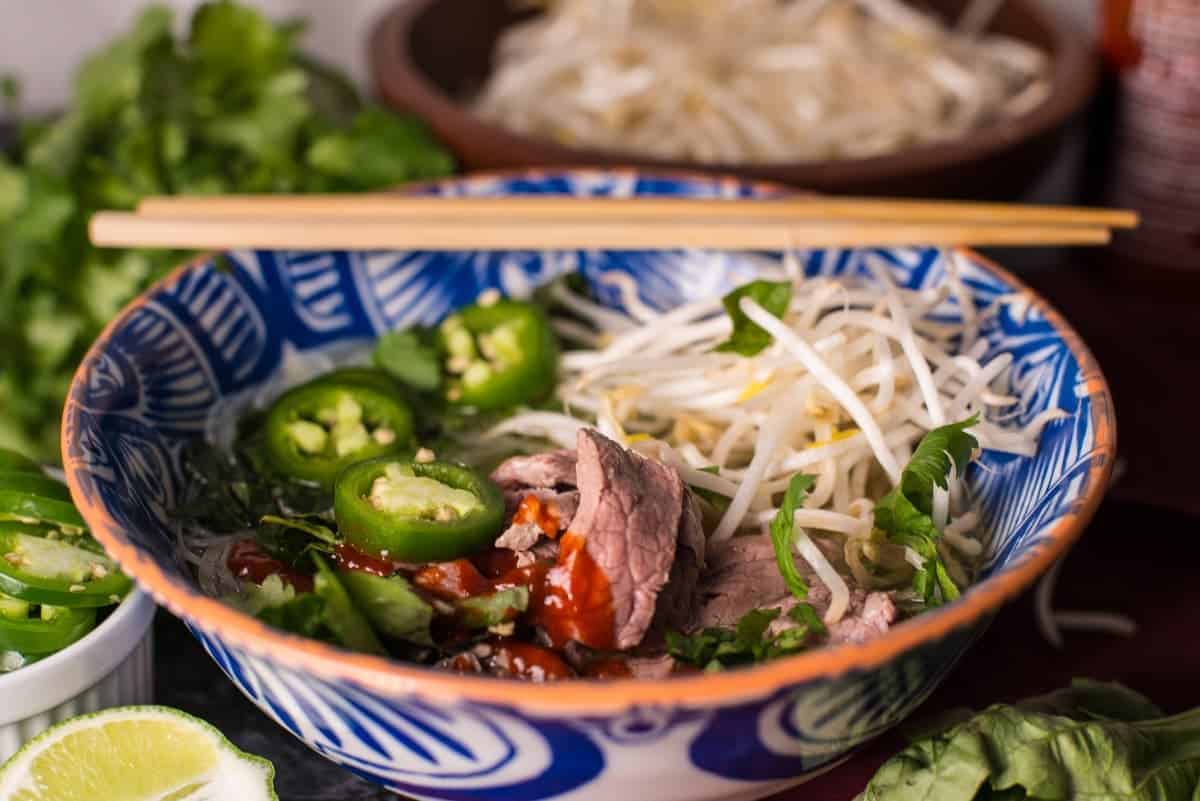 This Vietnamese noodle soup is easier than you might think.
What's not to love about a bowl full of slurpy noodles?
I used the recipe featured in Eat Real Vietnamese Food by Lien Nguyen.
This cookbook is a collection of traditional Vietnamese recipes that are fantastic! I love finding recipes that make me feel like I have an inside seat in someone's family kitchen. This book definitely checks that box.
When served the hot broth is poured over a generous helping of rice noodles.
Phó should have a nice clear broth that tastes clean and fresh while offering a rich beef flavor that is infused with subtle spices.
The foundation of this traditional Vietnamese soup is a stock made from either short ribs or beef knucklebones. The spices are what then give phó it's distinctive flavor.
The steaming hot broth cooks the steak to a rare to medium-rare temperature.
Raw steak that is sliced exceptionally thin is added to the bowl along with a few sliced onions.
To slice extra thin steak, freeze the meat for about 30 minutes before slicing. Freezing firms up the meat and makes it easy to slice paper thin.
Phó is typically served with a helping of bean sprouts, fresh Thai basil, lime, and jalapeños.
Although it is debated whether or not this is traditional, for me an absolutely necessary part of eating phó is the inclusion of an obscene amount of Sriracha Hot Sauce.
I'm a true believer in the magical healing properties of soup – Especially Chicken Noodle Soup.
Phó Gá is one of my favorite versions of chicken noodle soup. Once you give the traditional beef version a try, the chicken version should be next on your list.
How do you pronounce pho?
Is pho healthy to eat?
YES. Pho is a nutrient-rich soup made of bone broth, lean beef or chicken, and fresh vegetables.
What is the difference between Ramen and Pho?
Ramen is typically made with a rich pork broth and egg noodle. Pho is made with beef or chicken bone broth and rice noodles.
What is Pho Tai?
Pho Tai is the version of Pho that contains beef broth and rare steak.
More of my favorite Asian Noodle Recipes and Sides
Spicy Shrimp Noodle Bowls
Spicy shrimp with rice noodles and a ton of fresh veggies! This healthy noodle bowl has so much flavor.
See The Recipe
Pin For Later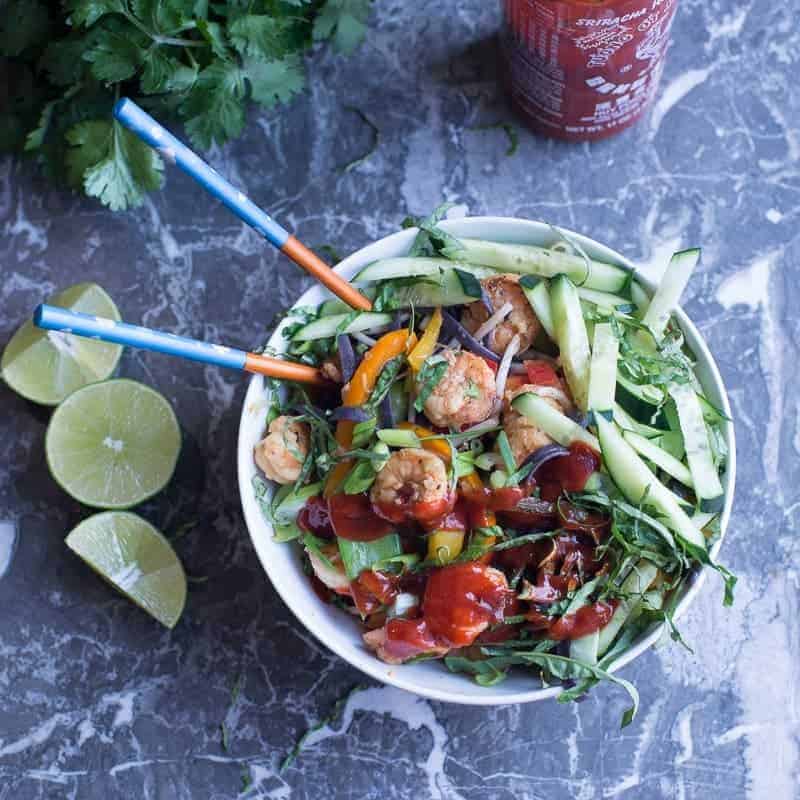 Lemongrass Shrimp Bowls
Protein-packed lemongrass shrimp, served with a ton of fresh vegetables and a Vietnamese dipping sauce.
See The Recipe
Pin For Later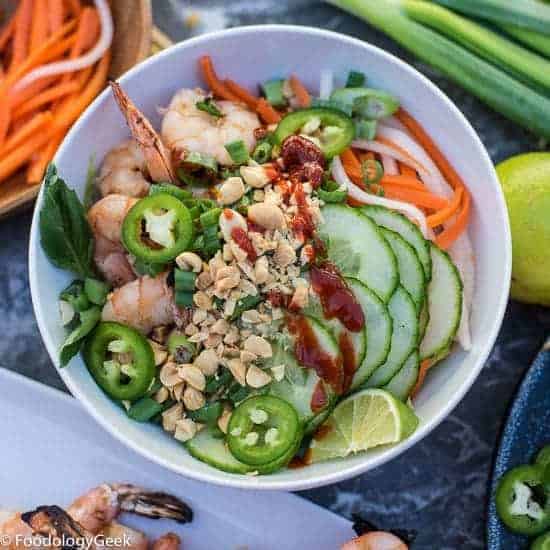 Spam Fried Rice
Spam Fried Rice – Delicious fried rice recipe reminiscent of my days in Hawaii. Don't knock it 'til you try it.
See The Recipe
Pin For Later
Hawaiian Mac Salad Recipe
Hawaiian Mac Salad - This is just like the mac salad that comes with plate lunch in Hawaii. It's so good and super authentic.
See The Recipe
Pin For Later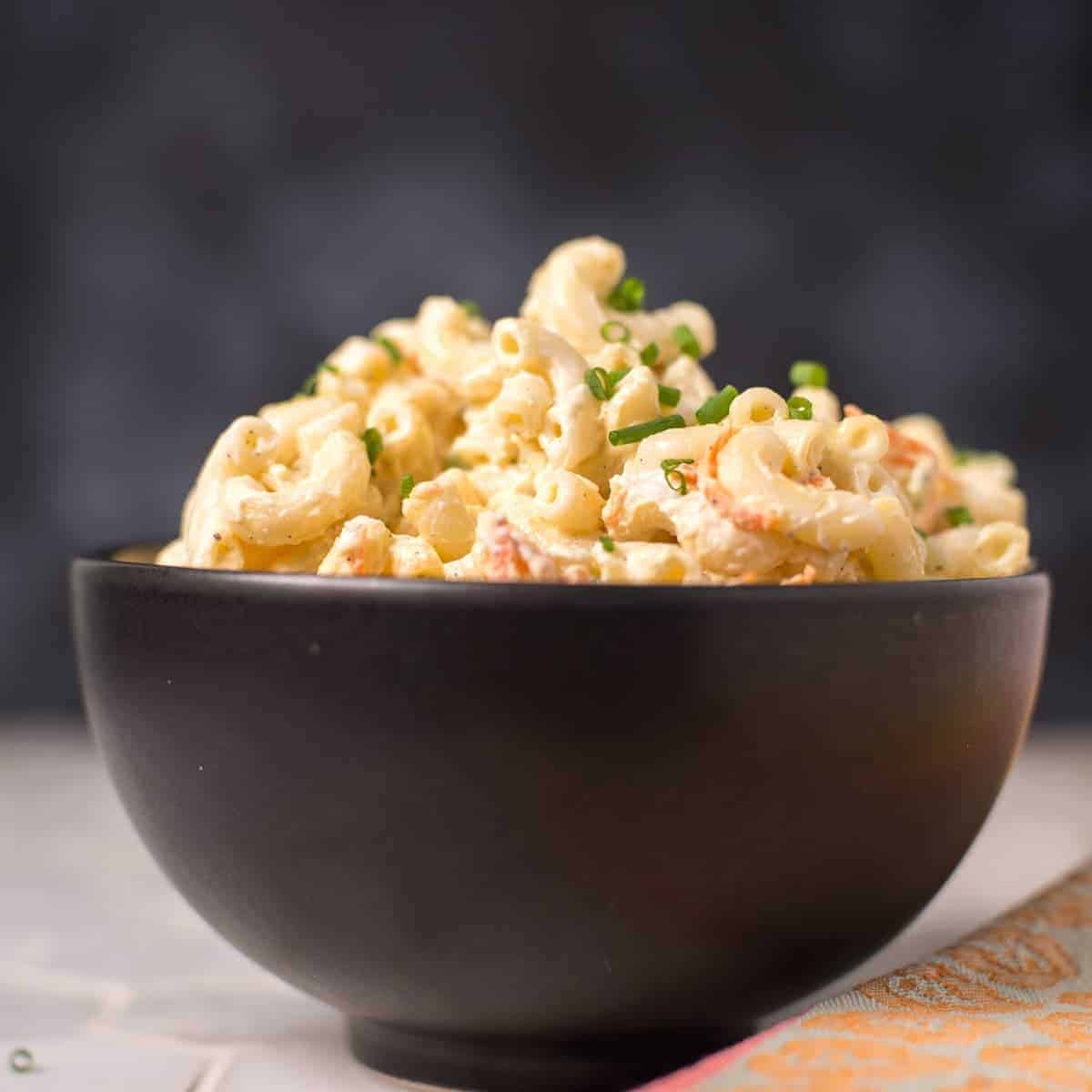 Furikake Fried Chicken
This Hawaiian style fried chicken is impressively umami-filled. Top it with spicy sriracha aioli. Are your taste buds ready?
See The Recipe
Pin For Later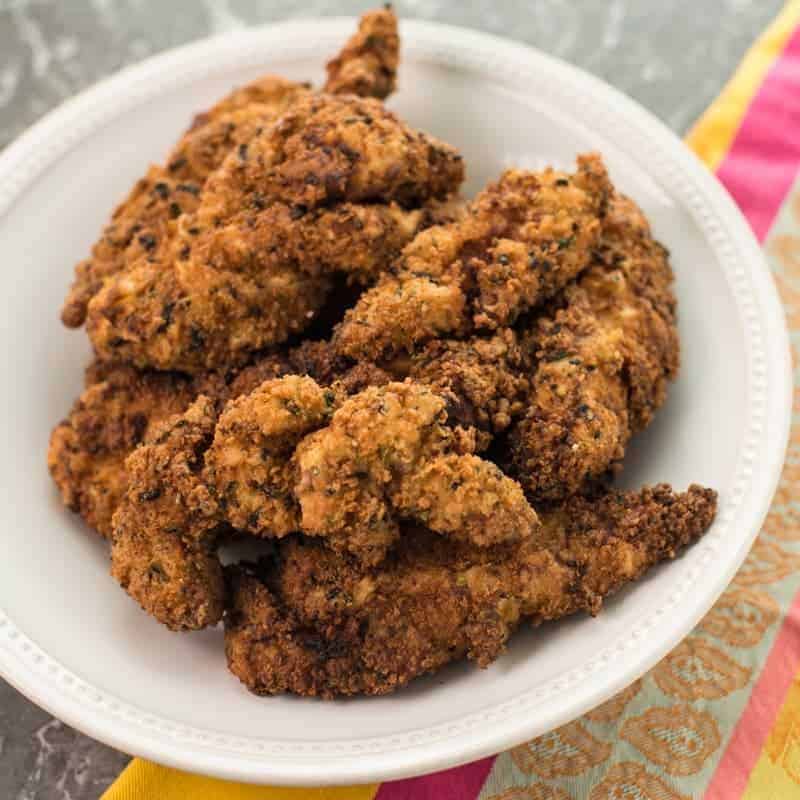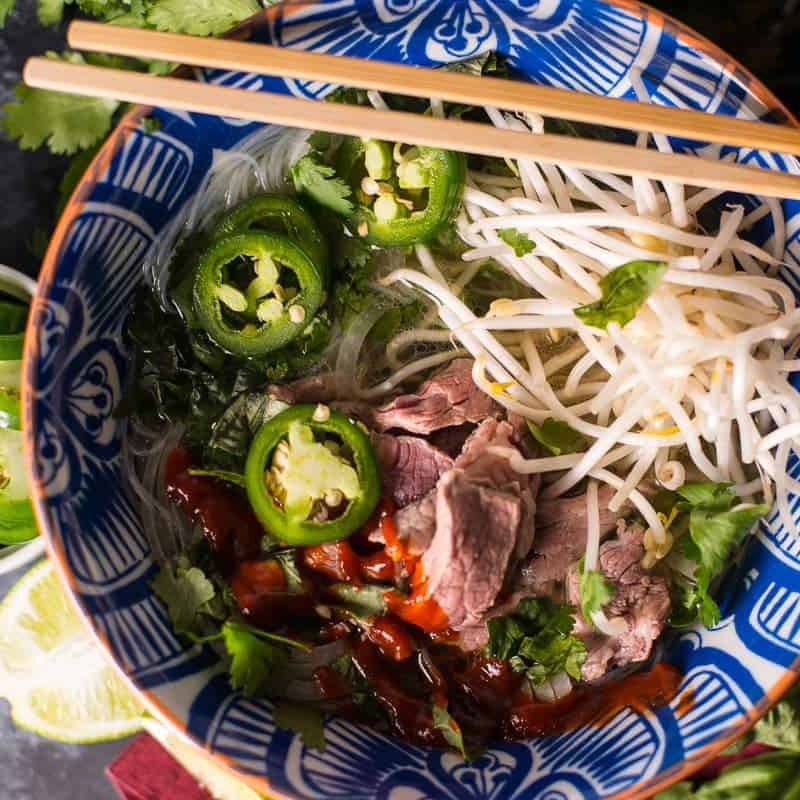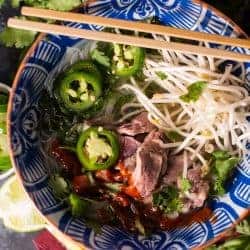 Phó Tai
Vietnamese Beef Noodle Soup
Ingredients
Stock
2

lbs

Braising Beef

Short Ribs, Beef Knuckle, or Oxtail

5

large

Onions

peeled

1

bunch

Cilantro

stalks and leaves divided

1-2

Star Anise

1-2

Black Cardamom Nut

1

Cinnamon Stick

1

4 inch piece

Fresh Ginger

Scallions

Mushroom Seasoning

Lemon

Chili Pepper

1

lb

Lean Beef

12

ounces

Rice Sticks

Banh pho
Toppings
Bean Sprouts

Basil

Limes

Jalapeños
Instructions
Add braising beef to a large stock pot and cover with water.

Add 4 of the peeled onions and the cilantro stalks.

Bring to a boil. Maintain heat at a vigorous boil. This allows the scum to come to the surface.

Skim off the top of the broth to ensure that is stays clear.

Once there is no more scum coming to the topic reduce the heat and simmer for 3-4 hours.

Place the aromatics, the star anise, cardamom, cinnamon, and ginger in a cloth or cheese cloth bag so that they can be easily removed later.

Let the aromatics steep in the simmering broth unit the flavors are infused into the broth. Let the aromatics steep according to taste. Don't let the flavors get too strong.

Cook the rice sticks according to directions. Set aside.

Freeze beef for about an hour. Slice thinly.

Thinly slice beef can be cooked in hot broth before serving or immedietely before.

Slice remaining onion into thin slices. Add to bowl immediately before adding hot broth.
(Visited 177 times, 1 visits today)