Hawaiian style macaroni salad has a very specific flavor profile! If you've ever tried to make it at home and it just wasn't the same, let me show you how to get all that authentic Hawaiian flavor!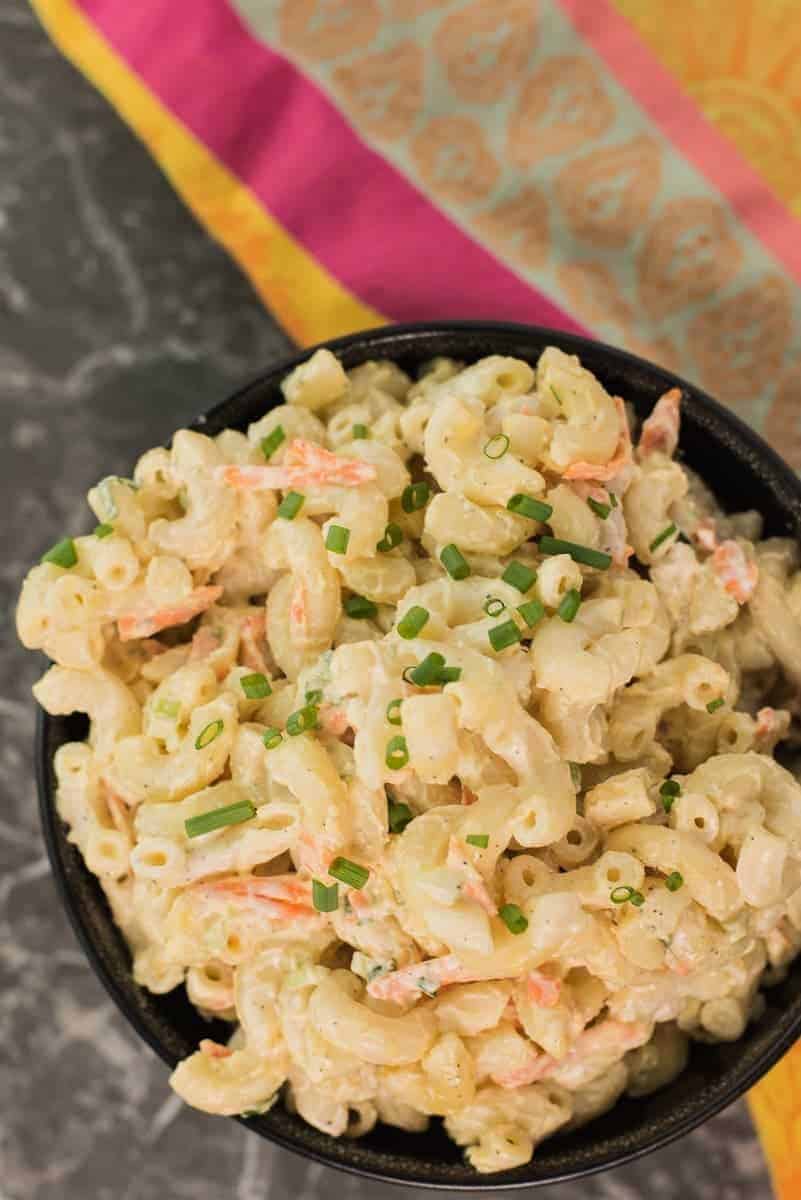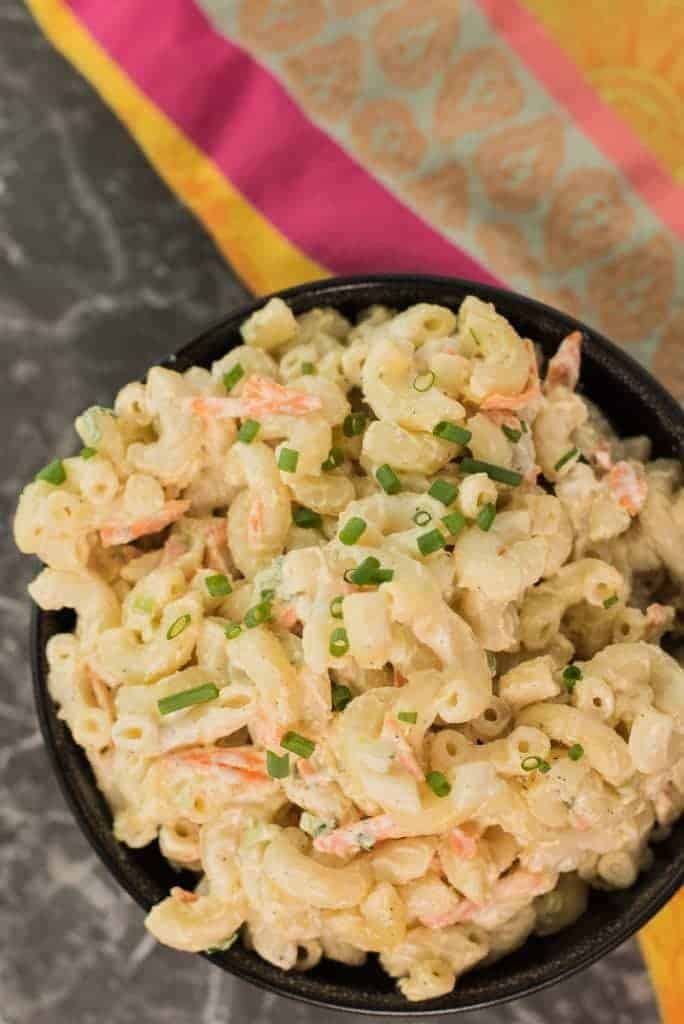 Have you ever wondered why is Hawaiian mac salad is so good?
I am going to give you all the secrets you'll need to make the authentic version of this plate lunch side dish.
If you've ever visited Hawaii and had plate lunch you've probably had a scoop of mac salad. It's usually served with a side of rice.
Who doesn't need extra carbs with your carbs?
Either way, once you've tasted it it's hard to imagine a trip to Hawaii without it.
What Makes Hawaiian Macaroni Salad Different?
Even in Hawaii you can find different versions of mac salad.
Sometimes there is tuna or even potatoes in the mac salad. These versions are fine. But, they aren't what I think of when I remember the mac salad I used to get when I was living in Hawaii.
Authentic Hawaiian Mac Salad only had a few ingredients: macaroni, mayo, onions, and carrots, and green onions. (plus a few secret ingredients)
Simple enough, right? Getting the flavor is all in the technique. Don't worry I am going to show you how!
I grew up on Oahu!
I believe that the food you grow up with becomes a collection of happy memories that bring you joy when you're able to experience them again.
I'm sure you have a few recipes that remind you of great times and people that you love. Maybe it's your grandma's chocolate chip cookie recipe or your mom's lasagna. Maybe your dad made a wicked stir-fry.
Whatever it is this food is soul food. When you are able to eat it again, it gives you that "oh yeah, it's just like I remembered it" pause. Your eyes close and your senses come alive with the flavor and the memories that that perfect bite of food brings back.
Or is that just me?
Hawaiian Recipes are like that for me
Hawaiian cooking uses simple ingredients. It seems like the recipes would be easy to throw together, but if you've ever tried and failed you realized that there is always a secret ingredient or technique.
This Hawaiian Mac Salad Recipe is no different
There are only a few simple ingredients in the macaroni salad recipe. But, it's all in how you but those ingredients together that makes all the difference.
If you live near an L&L Barbecue, their mac salad is pretty spot on! It's not quite as good as this recipe, but for fast food it'll do.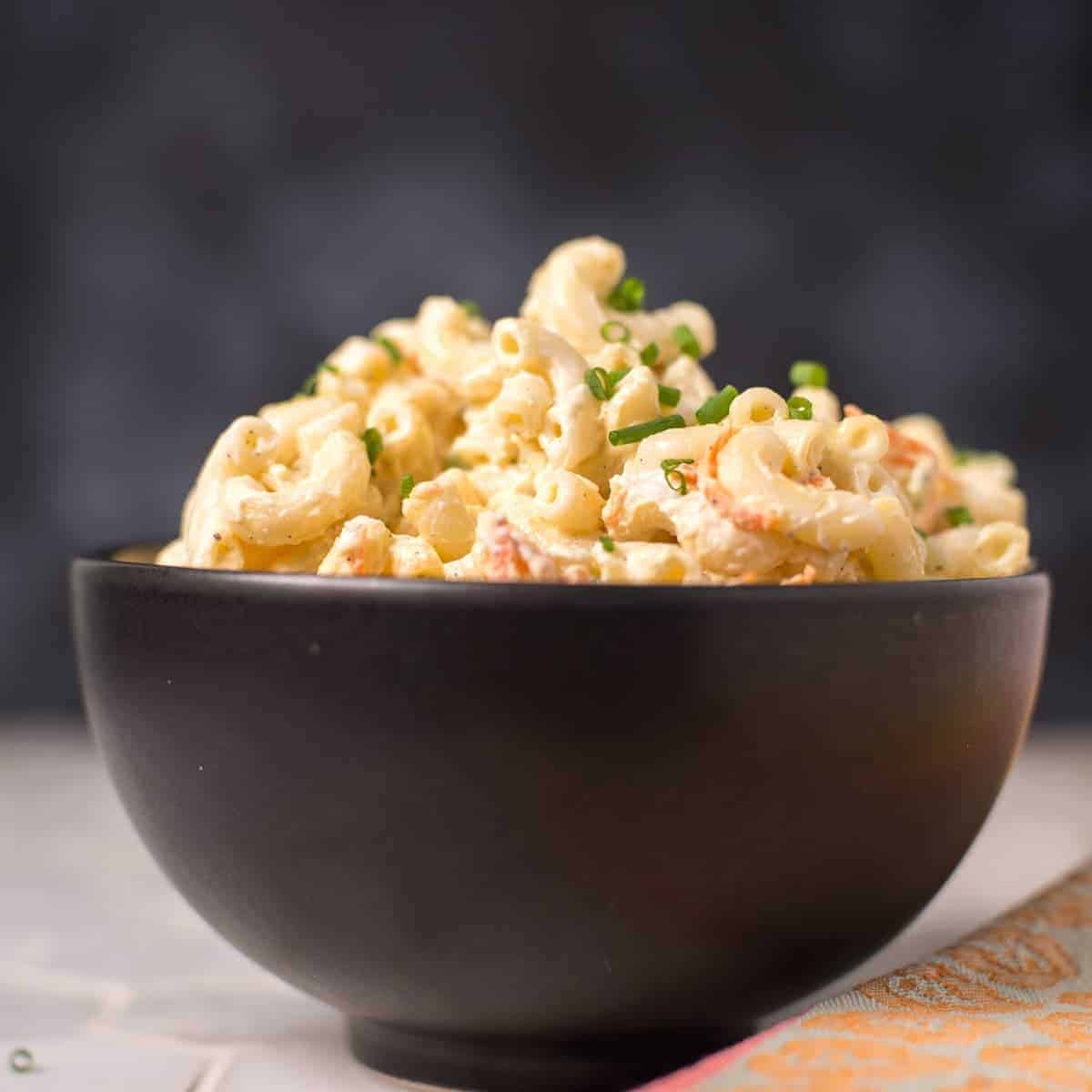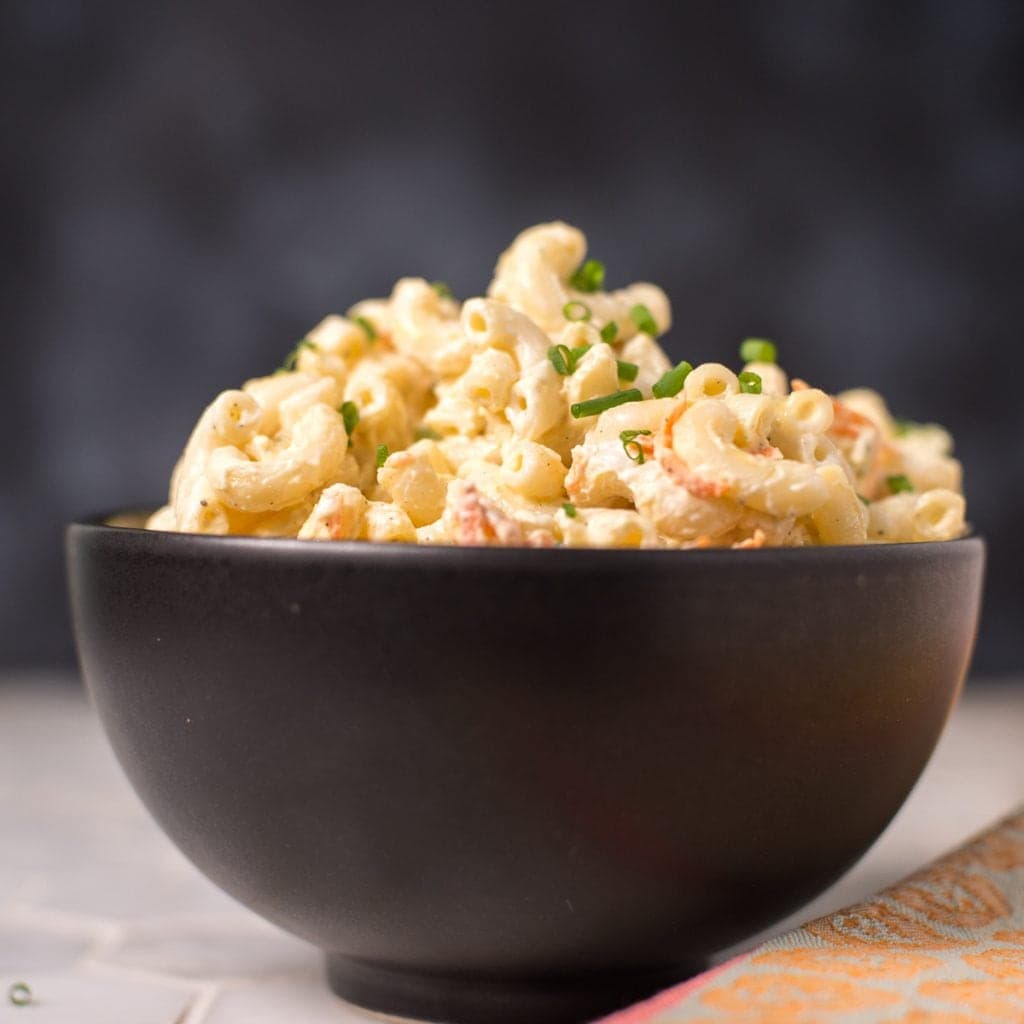 Ingredients For making Hawaiian Macaroni Salad
Elbow Macaroni: The same kind that you use for classic macaroni and cheese.
Apple Cider Vinegar: One of the techniques to get flavor into this macaroni salad is to add the ACV to the macaroni right after you drain it, while it's still hot. I use this technique on traditional macaroni salad, pasta salads, and potato salad.
Grated Onion: Grating the onion is an absolute must. You'll want to collect all of the onion juice too and add that to the macaroni.
Salt and pepper: Mac salad has a lot of black pepper in it. Make sure it is finely ground black pepper. And use enough salt.
Whole Milk and Mayo: The creamy dressing on mac salad is made with whole milk and sweetened mayo. I use Best Foods mayo and add a little brown sugar.
Veggies: Finely shredded carrots, finely diced celery, and sliced green onions or chives.
How to make Mac Salad
Make the Dressing: Whisk together all of the ingredients for the dressing and set aside.
Boil the Macaroni: Bring salted water to a boil, add the macaroni and cook according to directions. You want the macaroni on the slightly overdone side. Drain and add to a bowl.
Add the Seasoning: Immediately add the vinegar, grated onion, carrots, and celery to the macaroni, while it is still hot. Then toss.
Add the Dressing: Add about half of the dressing, toss well. Then let the macaroni cool for about 10 minutes. Then add the remainder of the dressing.
Chill: Cover and chill in the refrigerator for a few hours. Top with green onions before serving.
More Of My Hawaiian Recipes: So Ono!
Pineapple Sweet Rolls
Hawaiian sweet bread dough swirled with caramelized pineapple and pineapple curd. Topped with a tangy-sweet pineapple cream cheese icing.
See The Recipe
Pin For Later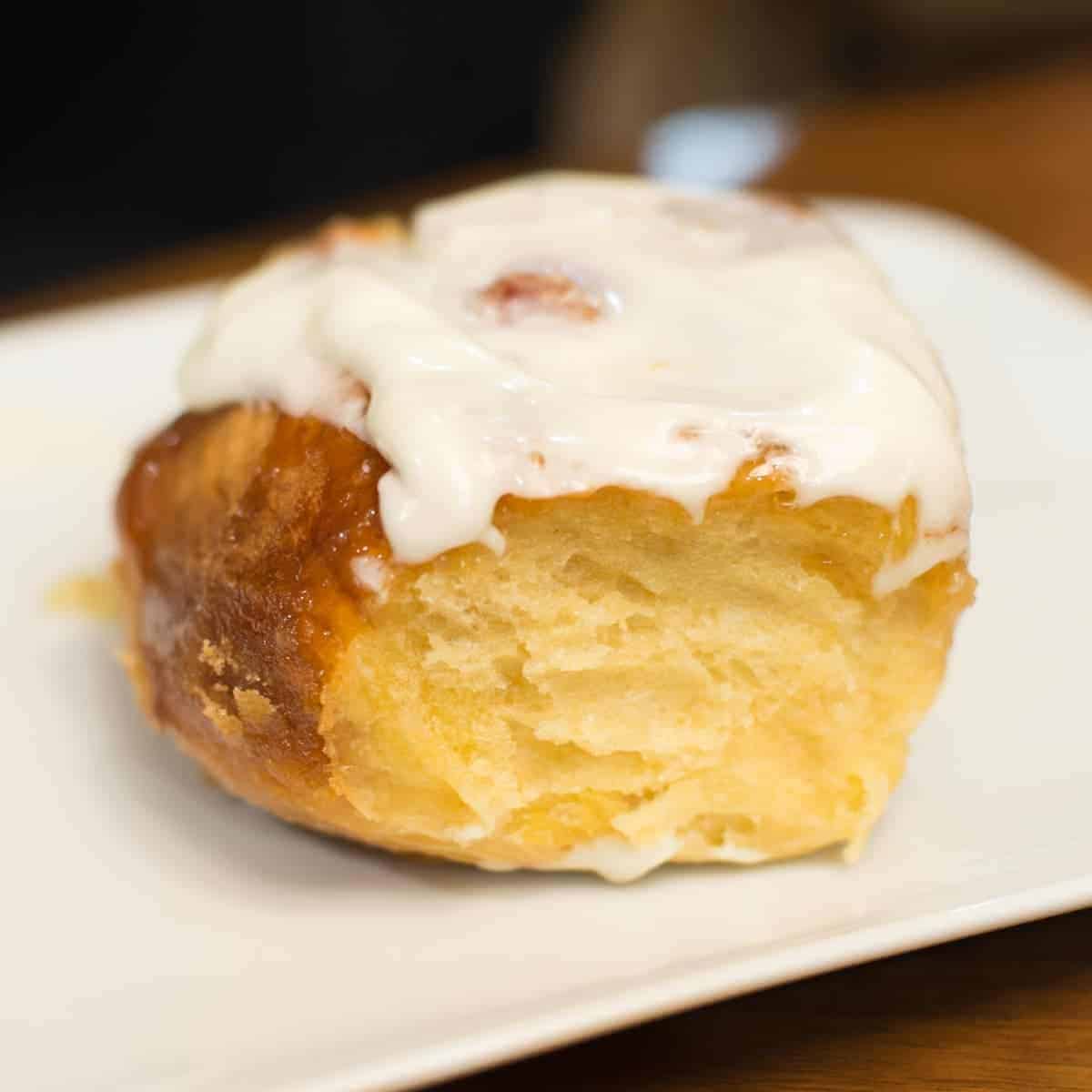 Spam Fried Rice
This Hawaiian fried rice recipe is a classic legit Hawaiian comfort food. Everyone that eats this recipe is blown away by its authentic local flavor. After growing up on Oahu I have a heart for Hawaiian soul food. This recipe is a classic.
See The Recipe
Pin For Later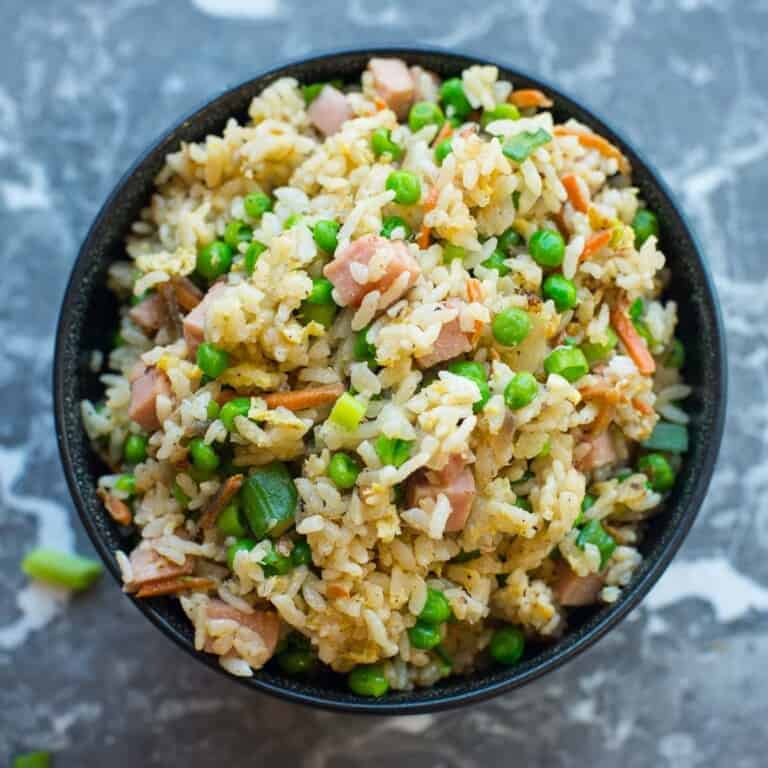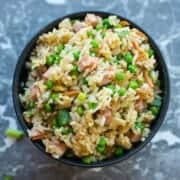 Furikake Fried Chicken
This Hawaiian style fried chicken is impressively umami-filled. Top it with spicy sriracha aioli. Are your taste buds ready?
See The Recipe
Pin For Later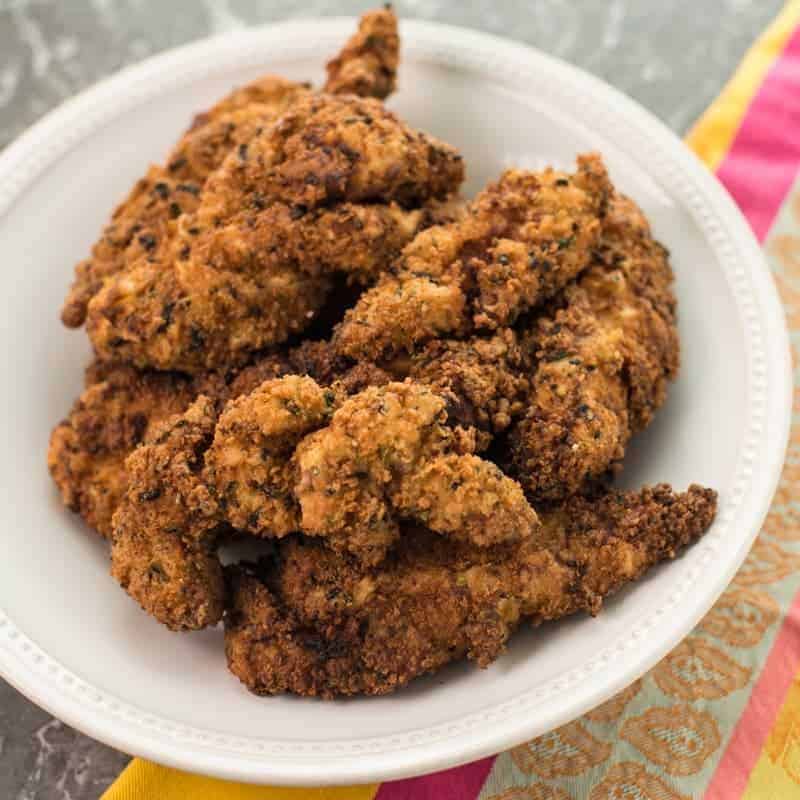 Pineapple Salsa
This sweet and spicy tropical salsa is a bright addition to most any dish. It pairs really well with grilled fish or chicken.
See The Recipe
Pin For Later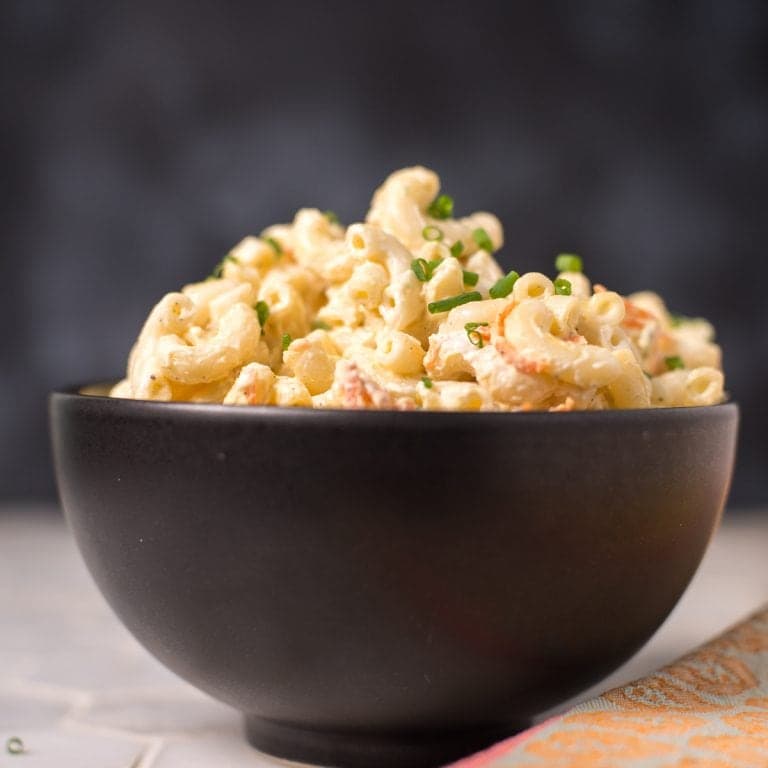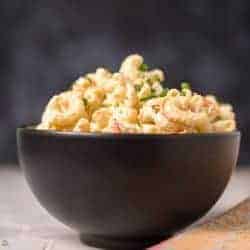 Hawaiian Mac Salad Recipe
Hawaiian Mac Salad - This is just like the mac salad that comes with plate lunch in Hawaii. It's so good and super authentic.
Ingredients
Dressing
2

cups

whole milk

divided, use 1½ cups, set aside ½ cup

2

cups

mayonnaise

divided, use 1 cup, set aside 1 cup

1

tablespoon

brown sugar

½

teaspoon

Kosher salt

1 to 2

teaspoons

finely ground black pepper
Macaroni
1

pound

elbow macaroni

1

tablespoon

Kosher salt

added to water for boiling

½

cup

apple cider vinegar

¼

sweet onion

grated

½

cup

carrot

peeled and grated, approximately one large carrot

¼

cup

celery

chopped fine, approximately one celery stalk

4

scallions

green onions, sliced thin
Instructions
Make The Dressing
Whisk together 1½ cups milk, 1 cup mayonnaise, brown sugar, ½ teaspoon salt, and 2 teaspoons pepper in a bowl.
Cook The Pasta
Bring 4 quarts water to a boil in a large pot. Add 1 tablespoon salt and pasta and cook until very soft, about 15 minutes.

Drain the pasta and return to pot. Add the cider vinegar and toss until absorbed.

Transfer to a large bowl. Add the grated onion, carrots, and celery. Toss.

Add the dressing. Toss well.

Let the pasta cool for about 10 minutes. Then add the remaining milk and mayonnaise. Stir to combine.

Cover and refrigerate for at least 1 hour or up to 2 days.

Serve topped with scallions.
Laura's Tips + Notes
Notes: Follow this recipe exactly. Don't change a thing and it will taste exactly like the macaroni salad you can get at Hawaiian restaurants. Whatever you do don't use low-fat milk or mayonnaise. Be generous with the pepper.
Nutrition
Calories:
431
kcal
Carbohydrates:
33
g
Protein:
7
g
Fat:
30
g
Saturated Fat:
5
g
Cholesterol:
20
mg
Sodium:
941
mg
Fiber:
2
g
Sugar:
5
g
Calcium:
63
mg
Iron:
1
mg