Hawaiian style macaroni salad has a very specific flavor profile! If you've ever tried to make it at home and it just wasn't the same, let me show you how to get all that ono flavor!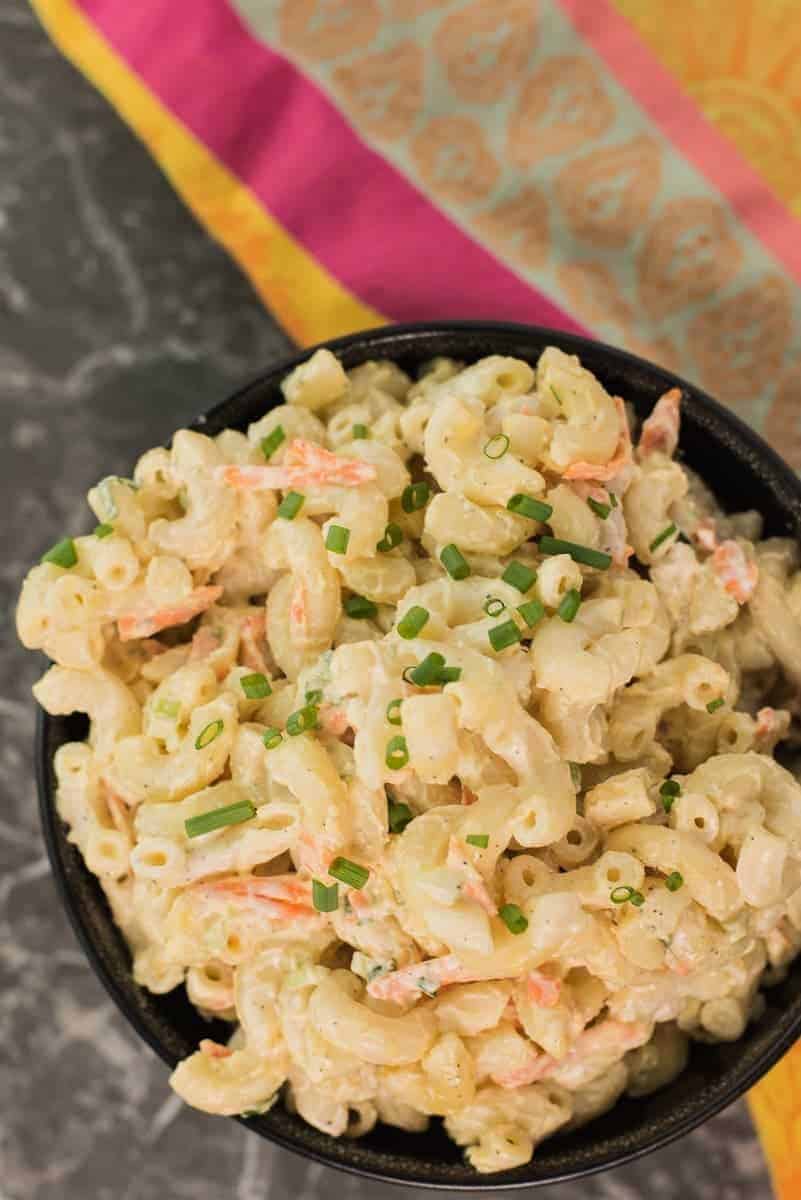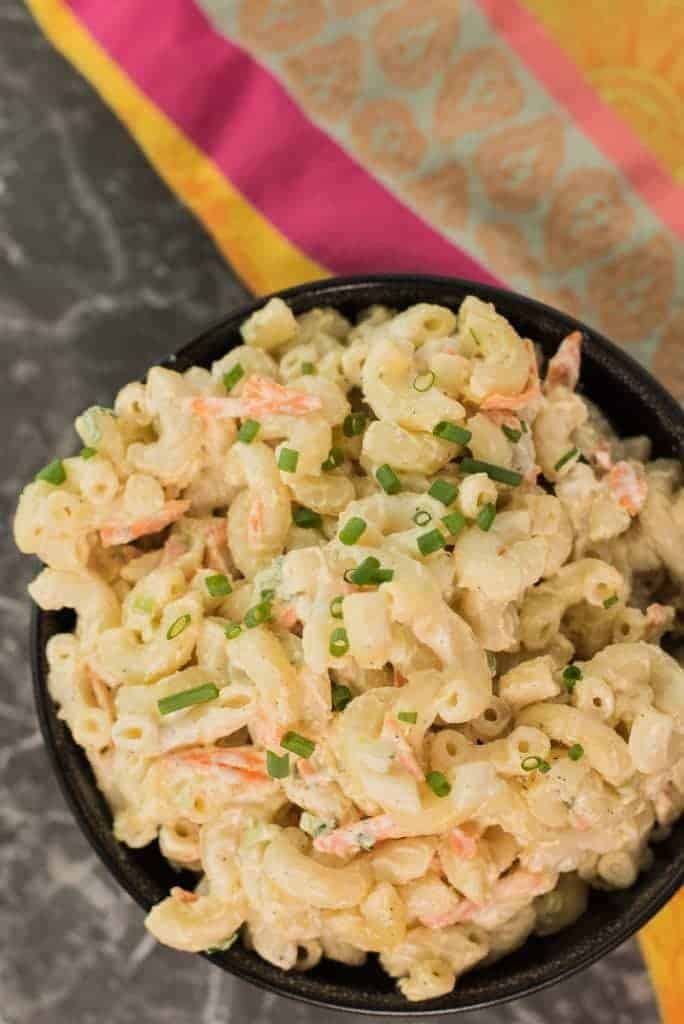 I grew up on Oahu!
I believe that the food you grow up with becomes a collection of happy memories that bring you joy when you're able to experience them again.
I'm sure you have a few recipes that remind you of great times and people that you love. Maybe it's your grandma's chocolate chip cookie recipe or your mom's lasagna. Maybe your dad made a wicked stir-fry.
Whatever it is this food is soul food. When you are able to eat it again, it gives you that "oh yeah, it's just like I remembered it" pause. Your eyes close and your senses come alive with the flavor and the memories that that perfect bite of food brings back.
Or is that just me?
Hawaiian Recipes are like that for me
Hawaiian cooking uses simple ingredients. It seems like the recipes would be easy to throw together, but if you've ever tried and failed you realized that there is always a secret ingredient or technique.
This Hawaiian Mac Salad Recipe is no different
There are only a few simple ingredients in the macaroni salad recipe. But, it's all in how you but those ingredients together that makes all the difference.
Making authentic Hawaiian macaroni salad requires cooking with love.
If you live near an L&L Barbecue, their mac salad is pretty spot on! It's not quite as good as this recipe, but for fast food it'll do.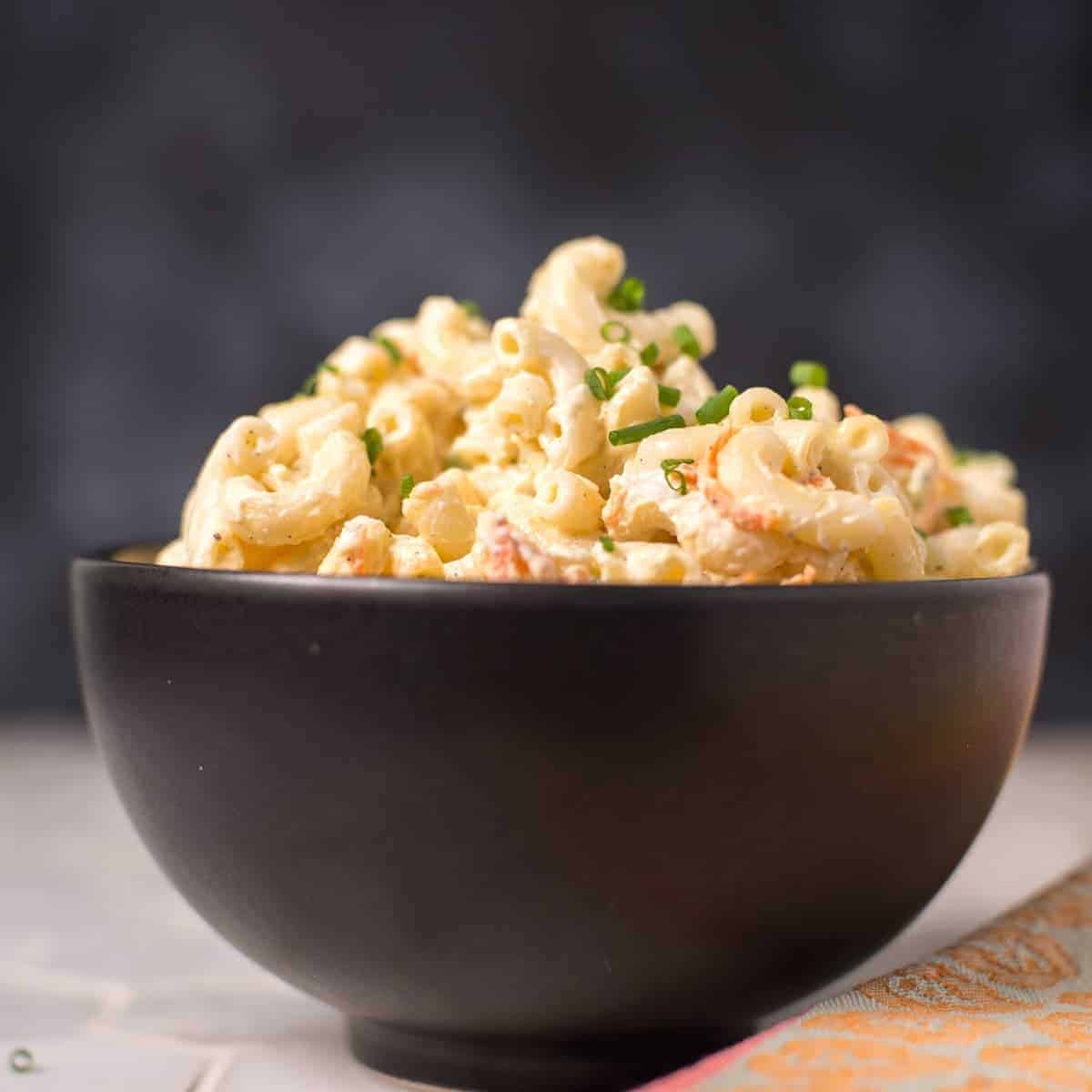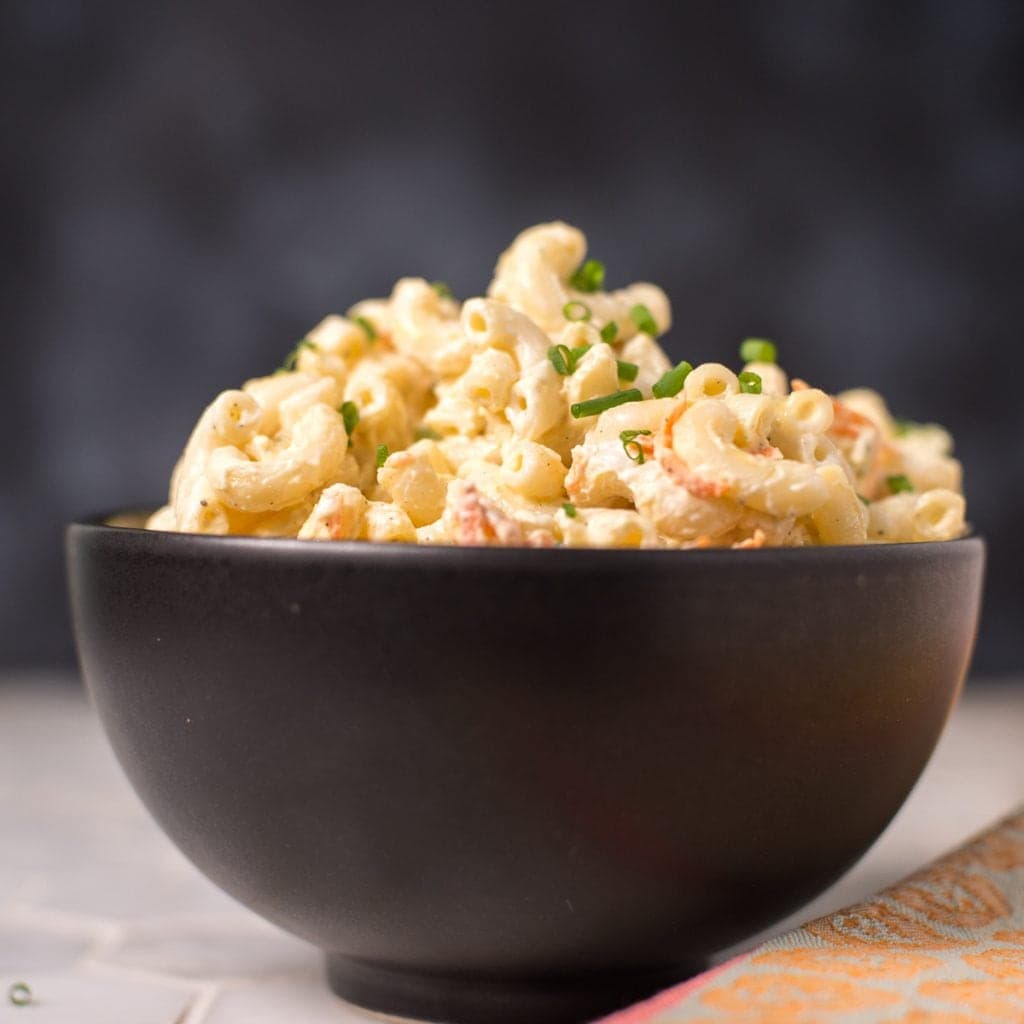 Ingredients for making Hawaiian Macaroni Salad
Elbow Macaroni: The same kind that you use for classic macaroni and cheese.
Apple Cider Vinegar: One of the techniques to get flavor into this macaroni salad is to add the ACV to the macaroni right after you drain it, while it's still hot. I use this technique on traditional macaroni salad, pasta salads, and potato salad.
Grated Onion: Grating the onion is an absolute must. You'll want to collect all of the onion juice too and add that to the macaroni.
Salt and pepper: Mac salad has a lot of black pepper in it. Make sure it is finely ground black pepper. And use enough salt.
Whole Milk and Mayo: The creamy dressing on mac salad is made with whole milk and sweetened mayo. I use Best Foods mayo and add a little brown sugar.
Veggies: Finely shredded carrots, finely diced celery, and sliced green onions or chives.
How to make Mac Salad
Make the Dressing: Whisk together all of the ingredients for the dressing and set aside.
Boil the Macaroni: Bring salted water to a boil, add the macaroni and cook according to directions. You want the macaroni on the slightly overdone side. Drain and add to a bowl.
Add the Seasoning: Immediately add the vinegar, grated onion, carrots, and celery to the macaroni, while it is still hot. Then toss.
Add the Dressing: Add about half of the dressing, toss well and let the macaroni cool for about 10 minutes. Then add the remainder of the dressing.
Chill: Cover and chill in the refrigerator for a few hours. Top with green onions before serving.
More of my Hawaiian Recipes: So Ono!
(Visited 1,025 times, 1 visits today)