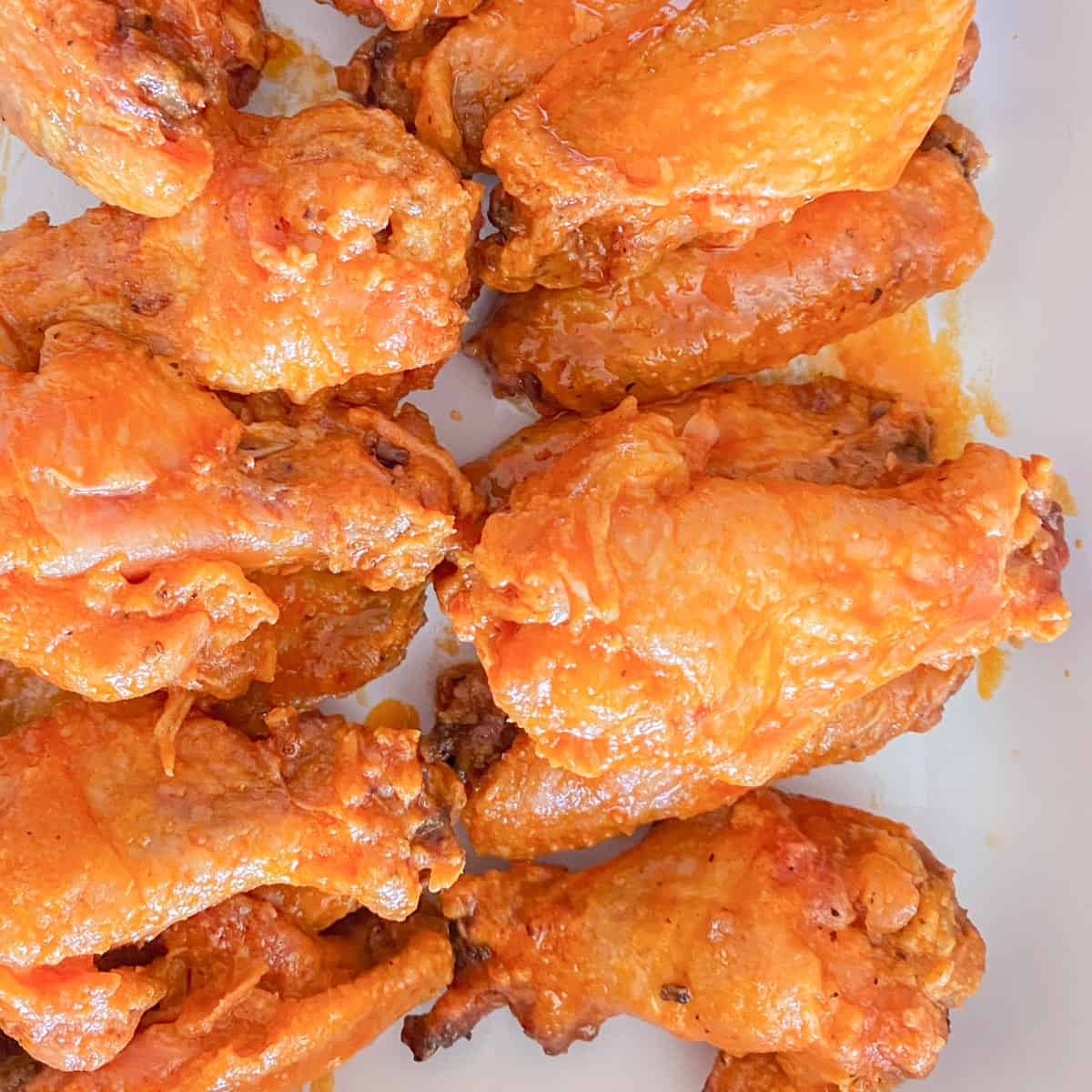 Recipe
Comments
Save
Go to Collections
This post may contain affiliate links. Please read my
disclosure policy.
Buffalo wings might just be one of the best appetizer recipes ever created. Hot wings deliver when you're craving something crispy, spicy, and saucy. Swimming in your favorite buffalo wing sauce or in a Garlic Parmesan Sauce.
This easy appetizer recipe for baked chicken wings uses a tried and true method that results in an ultra-crispy buffalo wings recipe. You'll hardly believe that these chicken wings are baked in the oven and not fried.
Extra Crispy Baked Buffalo Wings!
Making this extra crispy chicken wings recipe in the oven uses a method developed by Cook's Illustrated. This technique for baking chicken wings can be used no matter what kind of wings sauce you plan on using.
What you are going to love about this recipe for chicken wings.
These hot wings are baked and not fried which means you don't have any of the calories of the mess from deep frying.
This wings recipe doesn't use any flour so they are not only gluten-free, they're low carb.
Baking Chicken Wings
The secret to baking the crispiest wings is making sure the chicken skin is as dry as possible. Removing the moisture from the chicken allows the fat that's in the skin to crisp up.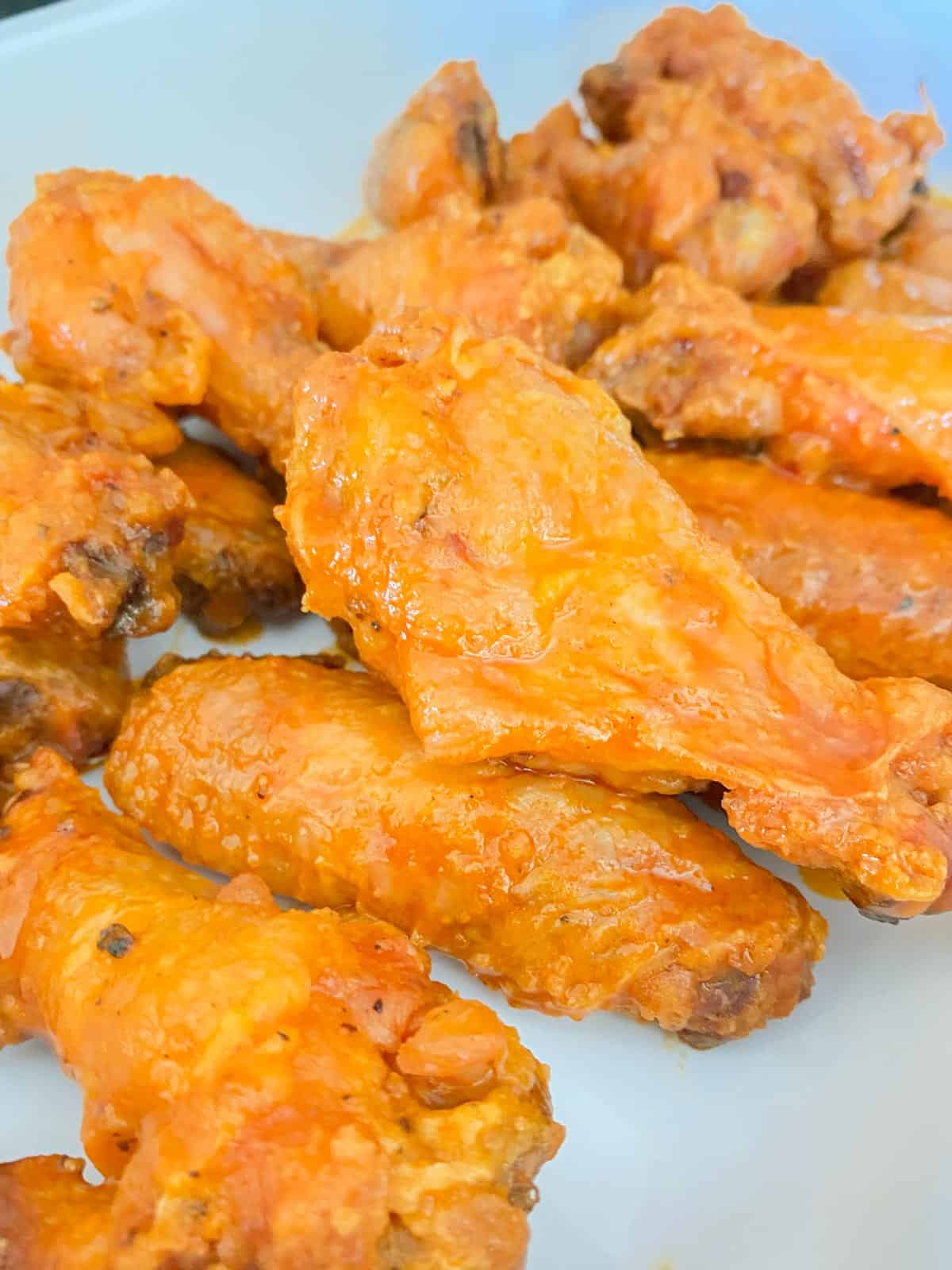 What You'll Need
Chicken wings. 3 to 4 pounds of chicken wings, dried as uch as possible.
Baking powder. I usually recommend about 1 tablespoon of baking soda per pund of wings. Do not substitute baking soda.
Buffalo sauce. Toss the wings your favorite hot wings sauce. Franks Red Hot Sauce is always a classic.
Blue cheese dip. A cool and creamy blue cheese dip or blue cheese dressing is the perfect dipping sauce for hot wings.
Celery. Crispy celery and carrot sticks are a delicious and crunchy side to serve with
How to Bake Chicken Wings
Toss with baking powder. Baking powder is the secret to extra crispy baked wings. You'll want to first pat the wings dry with paper towels and then toss them with a generous amount of baking soda. This step makes sure the wings are super dry before baking.
Bake on low, then on high. The wings are first baked at a low temperature on the lower rack of the oven which removes even more of the moisture as well as beginning to render the fat out of the chicken skin. Then bake at a higher temperature which crisps the skin to perfection.
Don't be misled by all the steps for drying these wings. These wings bake up crispy and juicy. I can guarantee that you're going to like these baked wings even more than the deep-fried version.
Not only are these easier and less messy to make, but they are also seriously the crispiest wings you've ever had.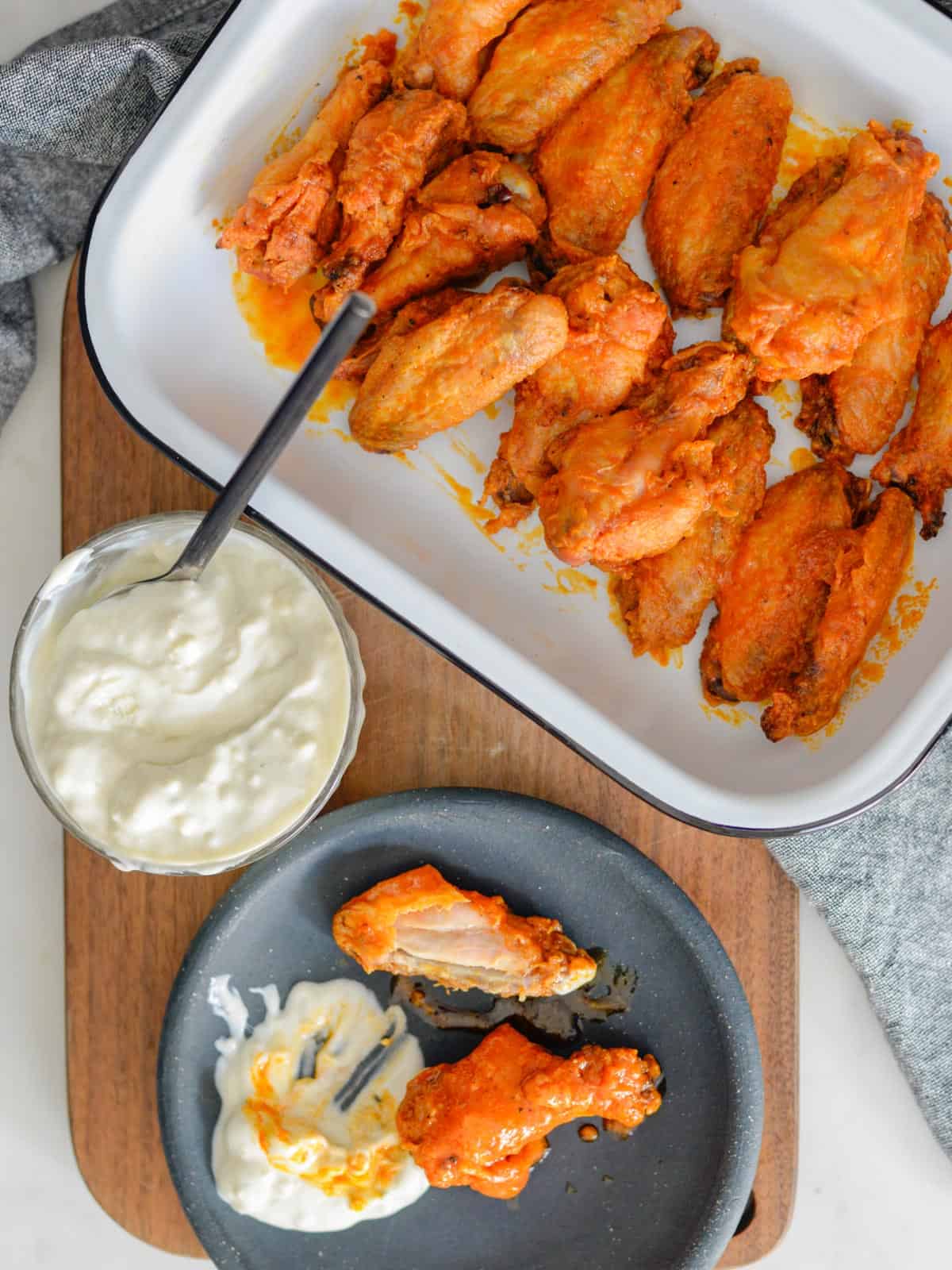 Recipe Variations
Crispy Baked Garlic Parmesan Chicken Wings
Extra crispy savory chicken wings tossed in a scrumptious butter and herb garlic parmesan sauce. This recipe make a great appetizer or an easy dinner recipe that everyone loves.
SEE THE RECIPE
PIN FOR LATER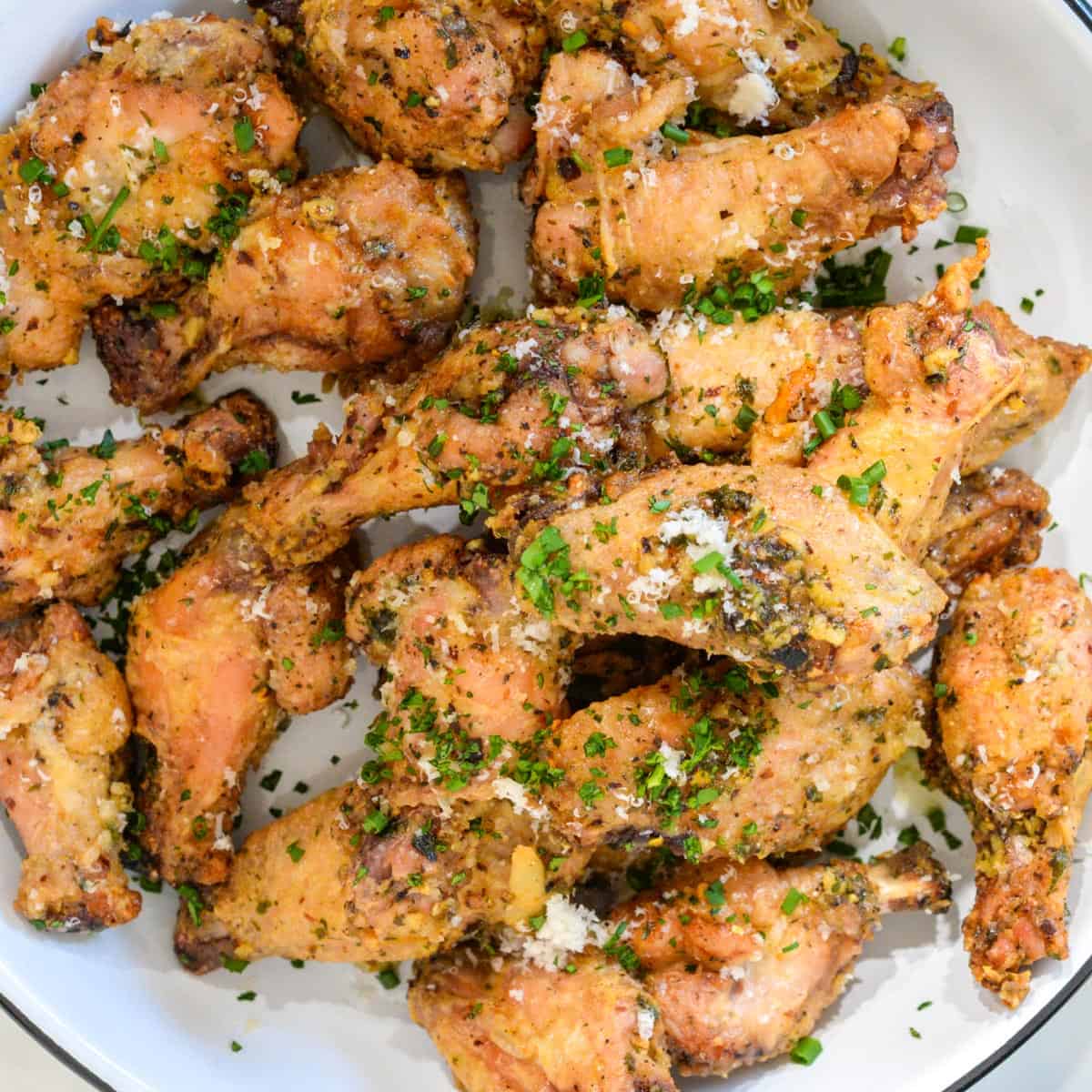 How to air fry chicken wings
This wing recipe is practically made for the air fryer.
I have a Breville oven that functions as an air fryer. I love this little oven because as far as air fryers go, you can fit a large number of wings in this oven.
Preheat the Air Fryer to 400 ℉ for 2 minutes.
Add the wings in a single layer to the air fryer tray or trays (they should NOT be touching), cook for 10 minutes at 400℉.
Remove the wings from the air fryer and toss with wing sauce.
How to reheat chicken wings
On the off chance that you have any leftover chicken wings, they can be easily reheated.
One thing to keep in mind is that once the wings are tossed in sauce, they will start to lose their crispiness.
You can easily reheat leftover wings in the oven for 5 to 7 minutes.
More Buffalo Recipes
More Appetizer Recipes
Appetizers are essential party food for your next cookout or gameday. We've got plenty of fantastic dip recipes, eggrolls, and tons of salsa recipes.
You're sure to find something new and delicious for your next party.
Leave A Review
Did you make this recipe? Leave a comment and a 5 ★ review. Your feedback helps other readers and helps me continue to offer recipes at no cost. Happy Cooking!!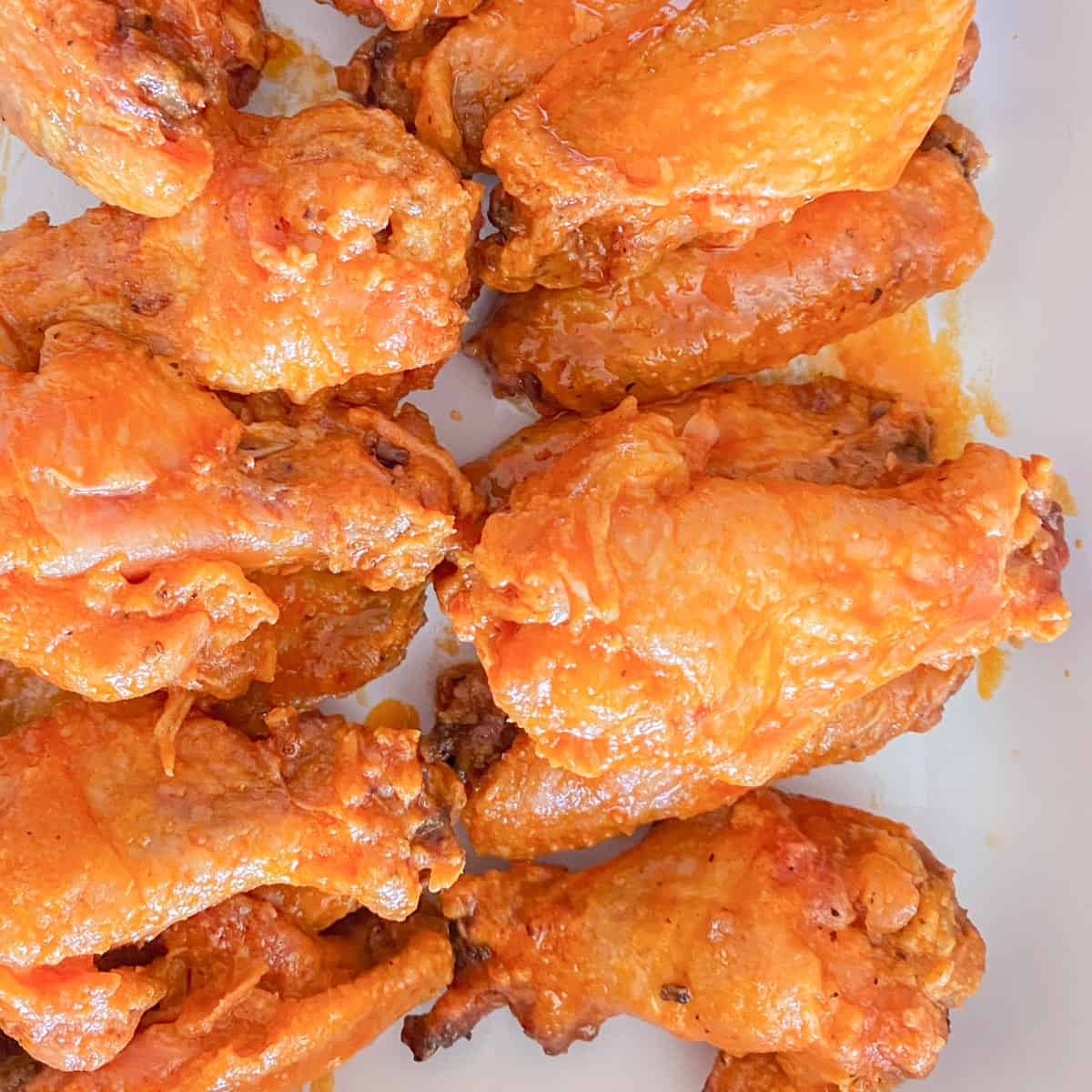 Crispy Baked Buffalo Chicken Wings
This easy appetizer recipe for baked chicken wings uses a tried and true method that results in an ultra-crispy buffalo wings recipe. You'll hardly believe that these chicken wings are baked in the oven and not fried.
Ingredients
Buffalo Wings Sauce
4

tablespoons

unsalted butter

½

cup

Frank's red hot sauce
Instructions
Bake the Wings
Preheat the oven to 250°F

Prepare a baking sheet by covering it in foil and then placing a wire rack over the top of it. Oil the rack to prevent sticking.

Pat the wings dry using paper towels or a lint-free flour sack towel. It's important to get the wings as dry as possible. This ensures that they will be extra crispy.

Add the wings to a large bowl or a Ziploc bag. Add the salt and pepper and the baking powder. Toss to coat.

Place the wings on the wire baking rack. Bake on the bottom 1/3 of the oven for 30 minutes.

Increase the temperature to 425°F and bake for another 20-25 minutes, until the wings are golden brown and crispy.
Buffalo Wing Sauce
Melt the butter in a sauce pan or in the microwave. Mix the hot wing sauce and the butter together.

Remove the wings from the oven and put them in a large bowl or in a baking dish. Pour the buffalo wing sauce over the baked wings. Use tongs to toss.

Serve with blue cheese dip and celery.
Laura's Tips + Notes
How to make extra crispy baked chicken wings
Pat the wings dry. Getting as much moisture as you can off of the skin is the key to crispy wings. That and tossing them in baking powder, which is the secret ingredient in this recipe.
Season the wings well with salt and pepper. Make sure to use a generous amount of salt and black pepper to season your wings.
Use an oven-safe wire rack over your baking sheet. The wire rack allows the hot air in the oven to circulate all around the wings ensuring that they will be crispy on every side.
Bake on a low temp for 30 minutes. Baking the wings at 250℉ on the lower rack of your oven removes even more moisture from the skin on the chicken wings. Trust me, don't skip this step.
Finish baking at a higher temperature. You'll finish baking these wings at 425℉. The higher temperature allows them to get really crispy and a nice golden brown.
Storing Tips
Store leftover wings in the fridge in an airtight container for up to a week.
How To Reheat
Preheat your oven to 350℉. Spread your wings on a baking sheet in a single layer. Put the wings in the oven and reheat for 10-20 minutes, or until a meat thermometer stuck in the meatiest wing reads 165 degrees.
Serving Recommendations
These chicken wings are tasty enough to be eaten without any dipping sauce. But if you're all about dipping sauce, serve these with a side of blue cheese dressing.
Nutrition Info
The nutrition info is calculated by dividing this recipe into 8 approximately equal servings. Since wings and drumettes vary in size this is the most accurate way to approximate the nutrition information.
YOUR OWN NOTES
Sign In to add your own private notes
Nutrition
Calories:
209
kcal
Carbohydrates:
1
g
Protein:
17
g
Fat:
15
g
Saturated Fat:
4
g
Trans Fat:
1
g
Cholesterol:
71
mg
Sodium:
362
mg
Fiber:
1
g
Sugar:
1
g
Calcium:
207
mg
Iron:
1
mg