This savory fruit salad isn't your typical watermelon and feta salad. Fresh greens, juicy sweet watermelon, fresh tomatoes, avocado, and salty pecorino cheese come together for a savory-sweet tomato watermelon salad that's irresistibly delicious.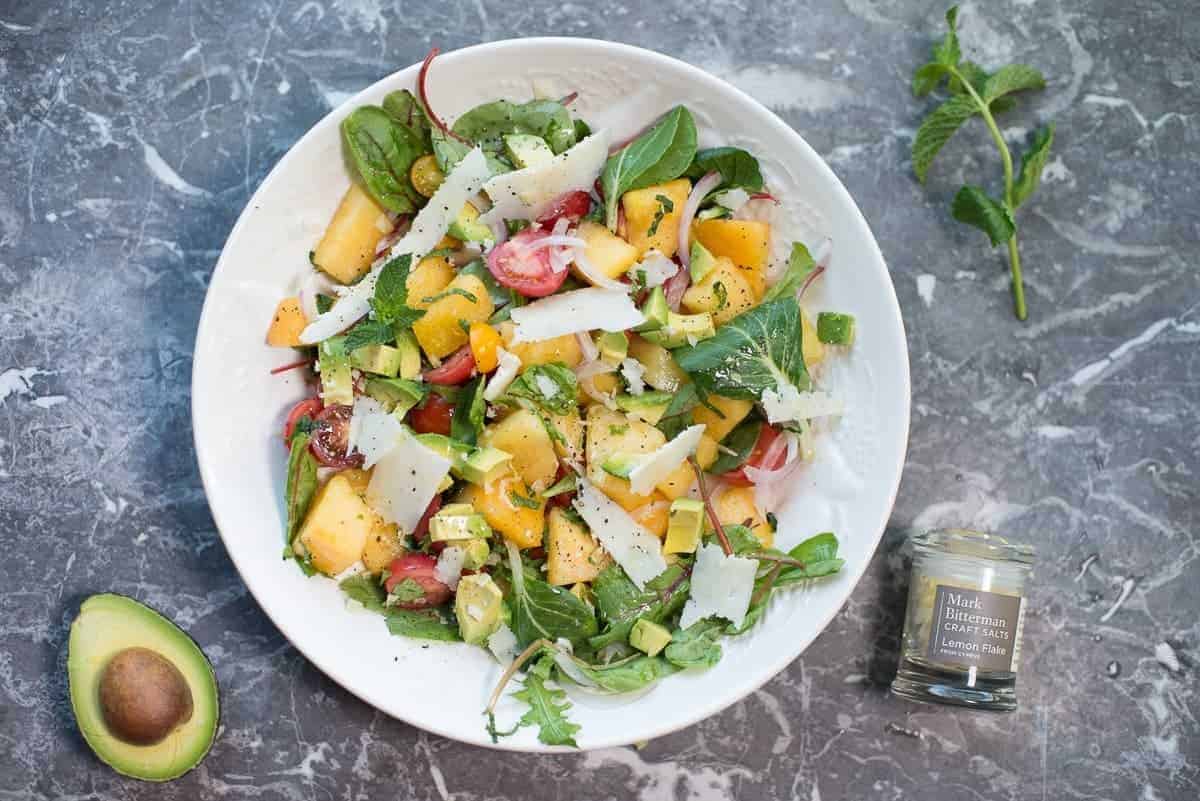 This post does contain affiliate links. Please see my Affiliate Link Policy.
I grow fresh tomatoes in my garden during the summer months. I've been trying to use them any way I can.
This is watermelon arugula salad recipe taken to the next level with pecorino romano cheese.
Pecorino romano is a salty, nutty hard cheese that pairs so well with the sweet watermelon and the bite of spicy arugula.
When I told my mom about this salad, she said: "that just doesn't look right." It might not look right, but it's absolutely beautiful, and it tastes as good as it looks. I hope my mom will give it a try.
Funny story – I didn't realize that my watermelon was a yellow watermelon until I cut it open.
I was a little shocked at first. To tell you the truth, I've never eaten a yellow watermelon, until now. I had planned on using yellow pear tomatoes and a traditional red watermelon for this salad. Thankfully, I still had some red heirloom cherry tomatoes in that my neighbor had given me.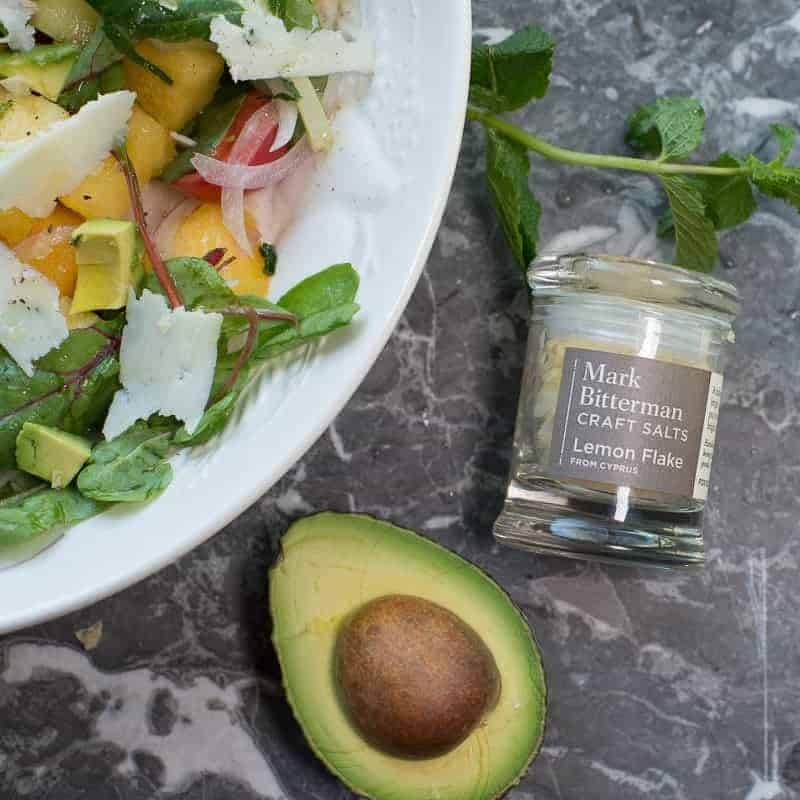 What you'll love about this watermelon salad recipe
Beautiful: First of all this salad is gorgeous. Whether you are looking for a special 4th of July watermelon salad or just a make any day of the week watermelon tomato salad, this recipe fits the bill.
Healthy: This salad is brimming with healthy phytonutrients. Plus, avocado adds a hint of healthy Omega-3s. We all need more of those.
Simple: This salad is simply dressed with a white balsamic vinaigrette- just enough to bring out the flavors. I chose to kick things up a notch by using a honey white balsamic and a lemon flake finishing salt. The lemon salt is next level it's worth it if you can get your hands on some.
Foodology Geek Recipe Notes
Ingredients for the BEST watermelon salad
Watermelon: See below for advice on how to pick out the best watermelon.
Tomatoes: As you've seen, any kind of tomatoes will do. I like using small cherry or trap tomatoes because they are usually sweet, and all you have to do is slice them in half.
Cheese: The pecorino cheese finishes everything with a salty, savory flavor that brings everything together beautifully.
Red onion: is perfect in this salad, adding a little bit of sweet spiciness.
Fresh mint leaves: Fresh mint gives this salad a herbal and summery spin.
How to Make a Watermelon Salad
You will want to make this salad close to the time that you will serve it. However, if you do need to make it ahead store the watermelon, tomatoes, and red onions in a separate container. Add these to the greens right before serving.
PRO-TIP: I like to serve this salad in a flat bowl or on a platter. The presentation is gorgeous!
Slice: Slice the watermelon, tomatoes, and the red onion.
Greens: Add the arugula and baby kale to a large bowl: Make sure you enough room for tossing.
Top: Top the greens with the watermelon, tomatoes, sliced red onion.
Shave: Use a vegetable peeler to shave large shavings of pecorino on top of the salad.
Finish: Finish with diced avocado, a splash of vinaigrette, and a sprinkle of craft salt and pepper.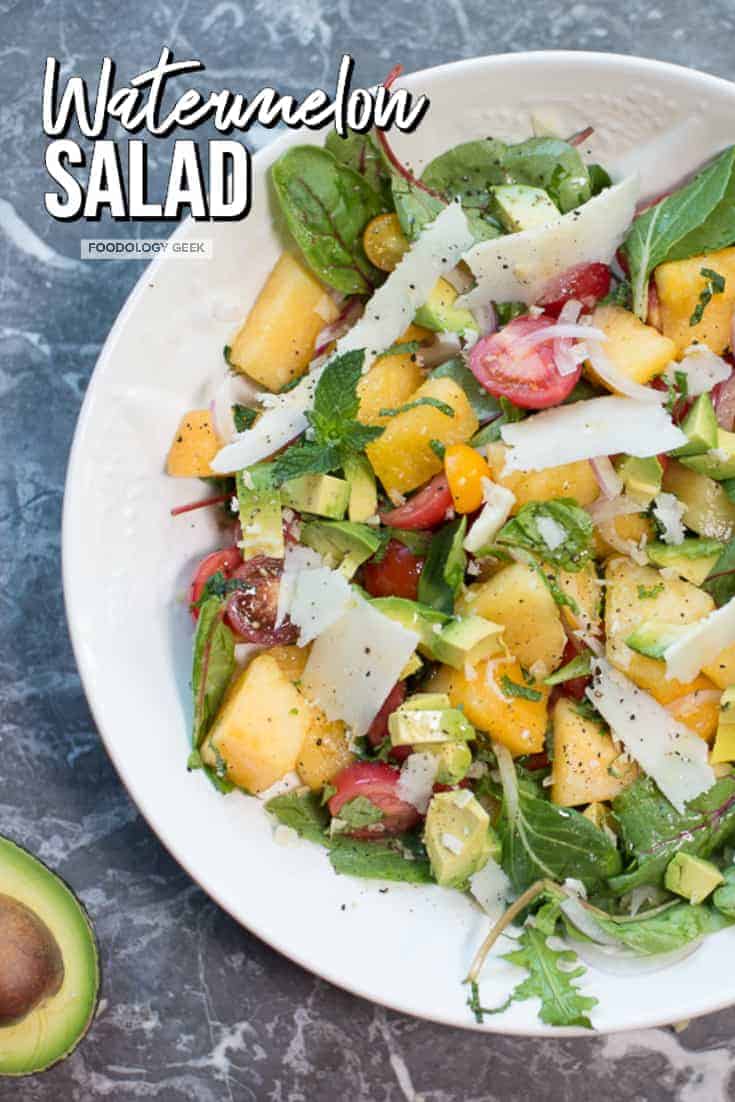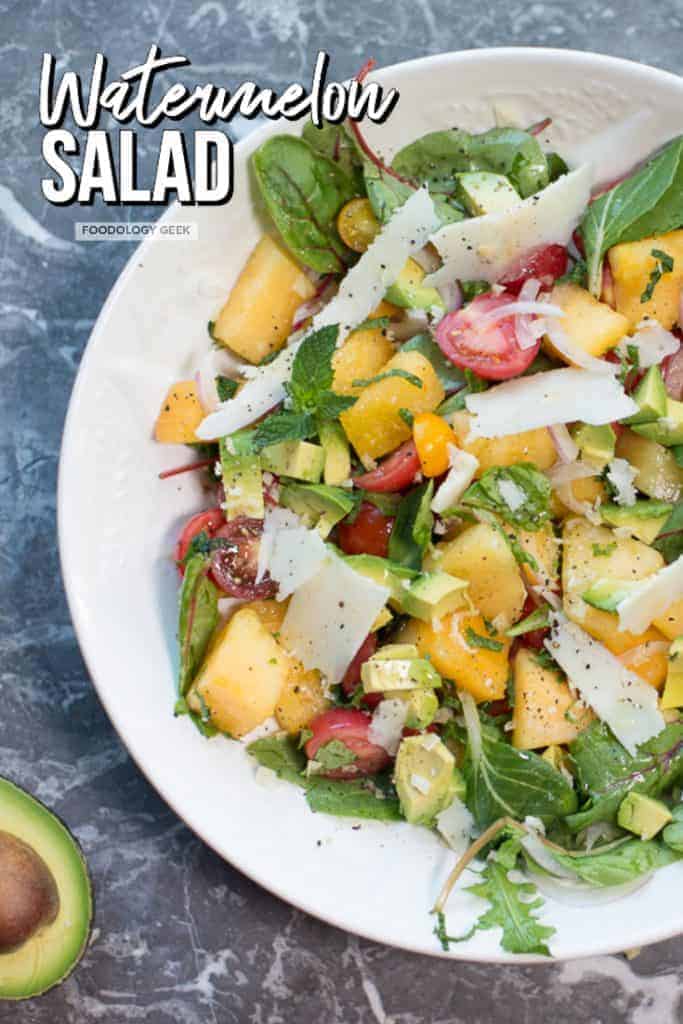 FAQs and Variations
How to pick a watermelon
Getting a hold of the best ingredients for this recipe means picking out a great watermelon.

The way I choose a watermelon is by knocking on it.

I hold it one hand and then knock on it with my other hand. It should have a hollow sound. It seems to work for me. It doesn't always guarantee that your watermelon will be super sweet, but this technique does seem to work for making sure your watermelon is crisp and juicy and not dry and mealy.
How to cut a watermelon
I need to do a video on this!

But until then. I cut a watermelon by cutting off the ends. Then setting it on one of the flat sides and carving the rind off. Then you can slice it and then cut it easily into cubes.
This video is similar to how I cut a watermelon. Check it out HERE.

More Summer recipes that you might like.
Mango Lassi Popsicles
Just like the Mango Lassi drink in a frozen treat. This popsicle has zero added sugar and only 2 points per serving. Made with fresh or frozen mangoes, coconut milk, and greek yogurt. Healthy and Delicious.
See The Recipe
Pin For Later
Traditional Potato Salad Recipe
This classic potato salad recipe is chunky and creamy. For an extra special treat you can make this potato salad with bacon.
See The Recipe
Pin For Later
Fresh Berry Pavlova
Pavlova is fluffy meringue, baked to have a crispy outside and a fluffy chewy marshmallow inside. Top it with fresh whipped cream and seasonal fruit.
See The Recipe
Pin For Later
Spam Fried Rice
Spam Fried Rice – Delicious fried rice recipe reminiscent of my days in Hawaii. Don't knock it 'til you try it.
See The Recipe
Pin For Later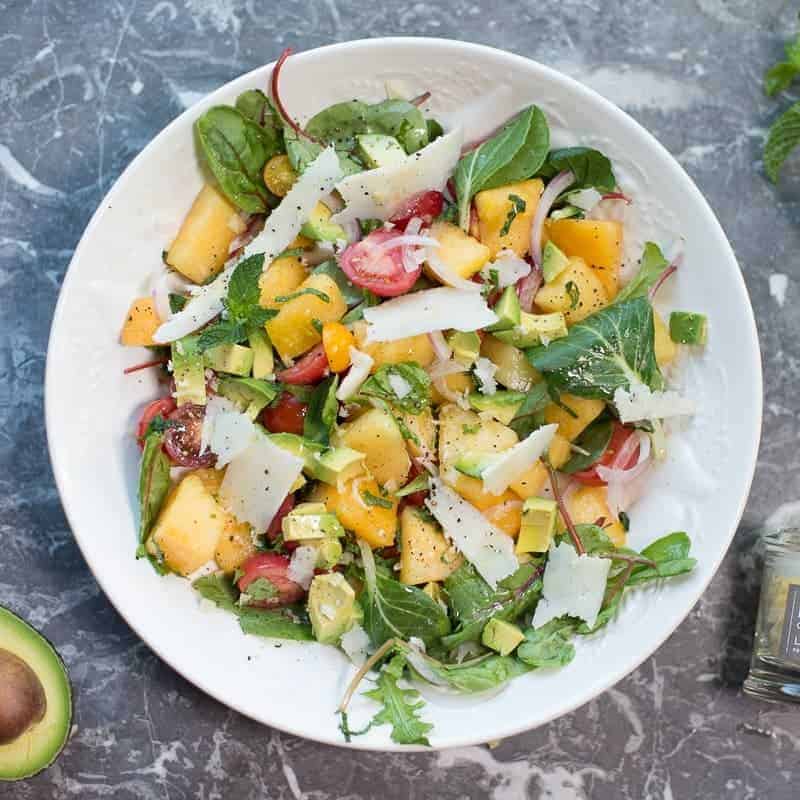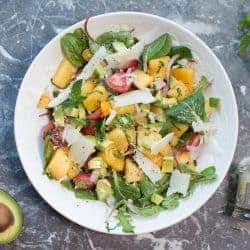 Watermelon Arugula Salad
This watermelon salad recipe is a beautiful tomato and watermelon salad with spicy arugula and salty pecorino cheese. A little bit different than the all too common watermelon and feta salad.
Instructions
Add tomatoes, watermelon, mixed greens, red onion, and avocado to a large glass or plastic (non reactive) bowl.

Add vinegar and olive oil, gently toss.

Serve and top with freshly ground pepper, lemon flake salt, and shaved pecorino romano cheese.
Notes
You can substitute white balsamic, champagne vinegar, or another sweet light-colored vinegar for the O brand vinegar. You may also use any good quality salt in place of the Mark Bitterman salt.
Points come from the avocado (7), olive oil (4), white balsamic (2) and pecorino romano cheese (2). The flavor is wow but you can leave some of all of these out if you are budgeting.
Nutrition
Calories:
135
kcal
Carbohydrates:
15
g
Protein:
2
g
Fat:
8
g
Saturated Fat:
1
g
Cholesterol:
2
mg
Sodium:
43
mg
Fiber:
3
g
Sugar:
9
g
Calcium:
45
mg
Iron:
1
mg
SaveSave
(Visited 154 times, 1 visits today)