This fruit salad isn't your typical watermelon and feta salad. This tomato and watermelon salad has a different twist. Still savory and sweet, always absolutely delicious.
A Fresh and Savory Watermelon Salad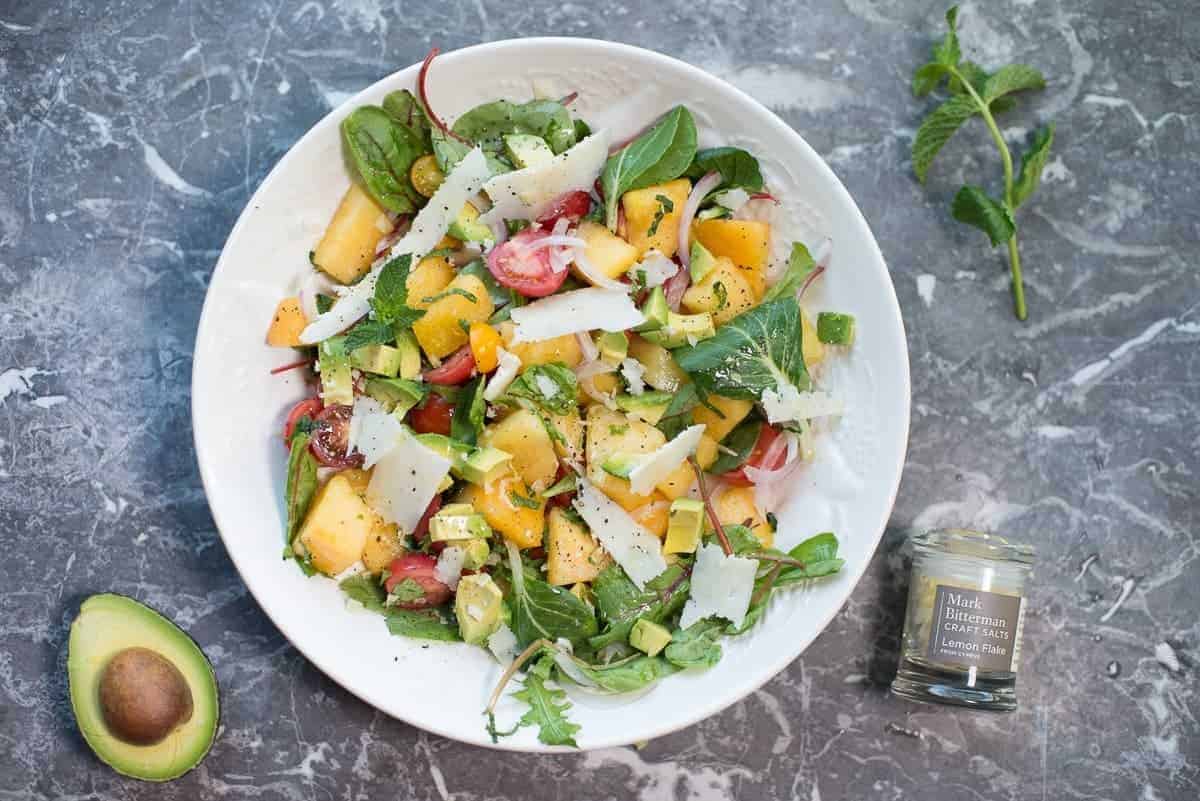 When Tomatoes Are Ripe, There's Nothing Tastier Than a Tomato Salad
I grow fresh tomatoes in my garden during the summer months.
I've been trying to use them any way I can. This delicious savory watermelon salad recipe is another excuse to eat some super sweet garden tomatoes. This recipe takes watermelon salad to the next level with pecorino romano cheese. Pecorino romano is a salty, nutty hard cheese that pairs so well with the sweet watermelon and the bite of spicy arugula.
When I told my mom about this salad, she said: "that just doesn't look right." It might not look right, but it's absolutely beautiful, and it tastes as good as it looks. I hope my mom will give it a try.
Funny story – I didn't realize that my watermelon was a yellow watermelon until I cut it open.
I was a little shocked at first. To tell you the truth, I've never eaten a yellow watermelon, until now. I had planned on using yellow pear tomatoes and a traditional red watermelon for this salad. Thankfully, I still had some red heirloom cherry tomatoes in the that my neighbor had given me.
The fresh watermelon and the tomatoes in this salad make a winning flavor combination.
The baby greens and arugula add a bitter, spicy bite.
Avocado adds a hint of healthy Omega-3s. We all need more of those.
The pecorino cheese finishes everything with a salty, savory flavor that brings everything together beautifully.
Red onion is perfect in this salad, adding a little bit of sweet spiciness.
This salad is simply dressed with a white balsamic vinaigrette- just enough to bring out the flavors. I chose to kick things up a notch by using a honey white balsamic and a lemon flake finishing salt. The lemon salt is next level it's worth it if you can get your hands on some.
Chopped fresh mint leaves also give this salad a herbal and summery spin.
Making delicious food that has that something extra come from using ingredients that stand out.
It's not magic; it's just taking the time to pay attention to the flavors and put things together with a lot of love.
How to pick a watermelon
Getting a hold of the best ingredients for this recipe means picking out a great watermelon. The way I choose a watermelon is by knocking on it.
I hold it one hand and then knock on it with my other hand. It should have a hollow sound. It seems to work for me. It doesn't always guarantee that your watermelon will be super sweet, but this technique does seem to work for making sure your watermelon is crisp and juicy and not dry and mealy.
How to cut a watermelon
I need to do a video on this!
But until then. I cut a watermelon by cutting off the ends. Then setting it on one of the flat sides and carving the rind off. Then you can slice it and then cut it easily into cubes.
This video is similar to how I cut a watermelon. Check it out HERE.
More Summer recipes that you might like.
SaveSave
(Visited 52 times, 1 visits today)