This banana cake is so light and fluffy. A lot of banana cake recipes seem more like banana bread with frosting. NOT this cake! After you make this recipe, I promise it'll be your go-to banana cake batter recipe for cake or even banana cupcakes.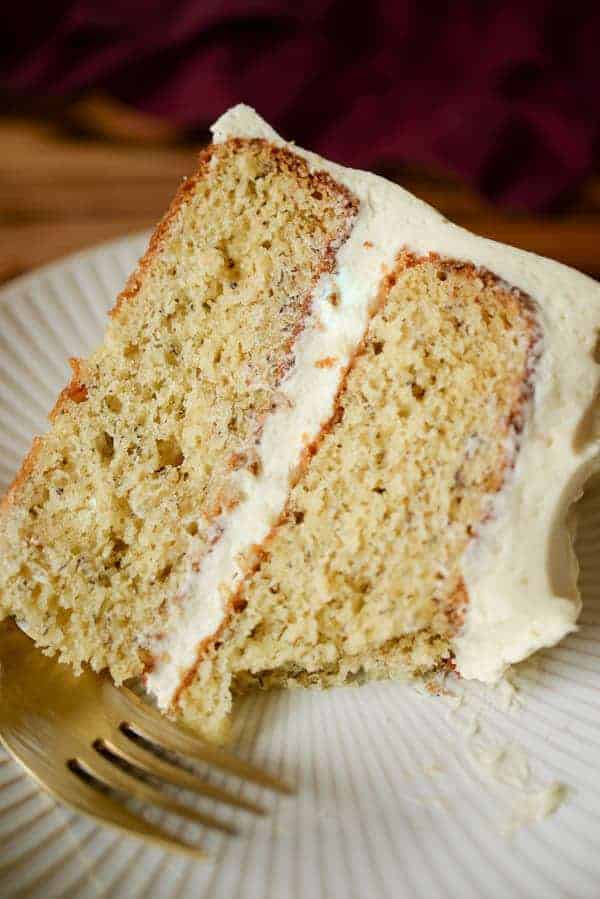 There is a bakery that we frequent in our area called Icing on the Cake. This bakery is one of the bakeries that, on the weekend, you can find a line out the door. Cookies and cupcakes are flying off the racks.
One of my favorite things at Icing on the Cake is there banana cake recipe. Their cake is light and fluffy. If you've ever tried making banana cake before, you probably know that it can be really heavy. It sometimes seems more like a quick bread.
This recipe is perfect for making not only cakes but banana cupcakes. And the cream cheese frosting is soo good with the sweet cake.
Lucky for me, my friend Kit had worked hard to recreate their recipe. It turns out that Icing On The Cake's Banana Cake was her family's favorite too!
Kit brought over this cake one afternoon and showed me how to make it. Since then, I've made it several times. It 's a hit every time!
Why This Is the Best Banana Cake Recipe
This banana cake is moist and fluffy.
The Cream Cheese Frosting is AMAZING!
Whenever I serve this cake, it makes people happy, and I get a million requests for the recipe.
My Latest Videos!
---
Foodology Geek Recipe Notes
Not only is this banana cake easy to make, but it's also super easy to eat. Here are a few tips before you get started!
Ingredients Needed to Make Banana Cake
Dry Ingredients: Flour, baking powder, baking soda, and kosher salt. I've used both all-purpose flour and cake flour in this recipe. I didn't notice a significant difference either way. The cake is moist and fluffy, using either type of flour.
Sugar: I use granulated white sugar in this cake recipe.
Butter and Eggs: Make sure the butter and eggs are room temperature. I always use unsalted butter when baking.
Bananas: 3 very ripe banana. The blacker, the better. Overripe bananas have a lot of sugar and give this cake it's sweet banana flavor. You will want to peel and mash the bananas with a fork or a potato masher. Add the vanilla to the banana and mix.
Sour Cream: Sour cream is the key to getting a light, fluffy crumb in this cake. Sour cream has a perfect balance of acidity and fat. The acidity helps to bolster the performance of the baking soda. The fat and acid help to inhibit the formation of gluten in flour, so the cake crumb remains tender and moist.
Other: Vanilla and Salt
How to Make Banana Cake
Get Ready to Bake: Preheat your oven to 350℉. Then grease and flour two round cake pans. Alternatively, you can bake this cake as a sheet cake in a 9 by 13-inch cake pan. Make sure all of your ingredients are at room temperature.
Sift together the dry ingredients: If you don't have a sifter, you can add the dry ingredients to a bowl and whisk them together.
Cream the butter and sugar: After the butter and sugar are light and fluffy, add the eggs, and then continue to mix until blended.
Alternately add the bananas and flour: Add half of the bananas and then half of the flour mix until everything is just incorporated. Then add the remaining banana and then flour. Mix again. Do not overmix.
Bake: Add the batter to the cake pans and then bake 25 to 30 minutes, until a toothpick comes out clean from the center of the cake.
Cool: Before frosting, allow the cake to cool for several hours.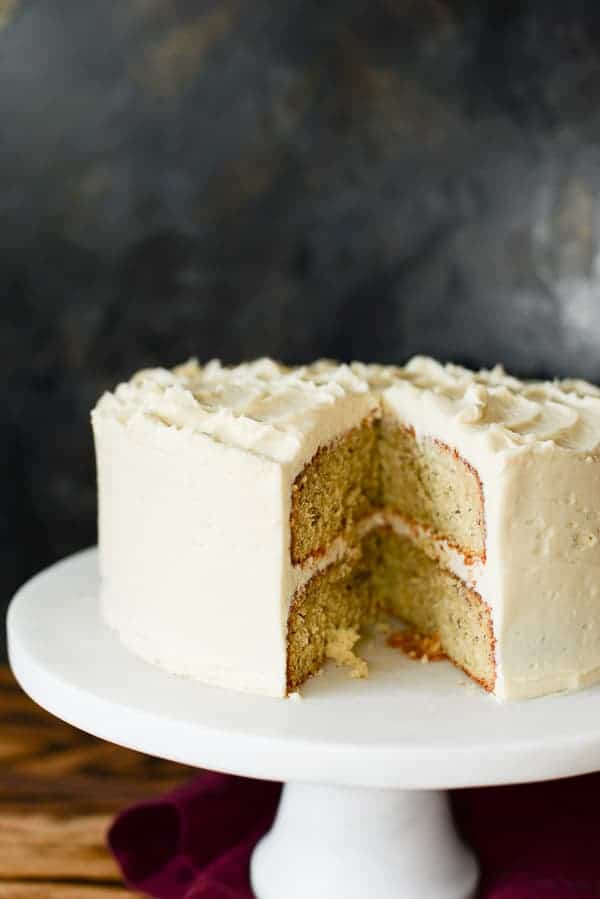 Variations and FAQs
Can I use gluten-free flour?
I haven't tested baking this cake with gluten-free flour. I would love to hear about it if you do try it, though. I have swapped out King Arthurs Gluten Free flour for many recipes and not had an issue.
Piña-Colada Filling for This Cake
I have made several times a pineapple and coconut filling for this cake. To do this, beat heavy cream and coconut cream together with a little bit of coconut extract. Drain crushed pineapple and fold it into the mixture. Fill the middle layer with this piña-colada whipped cream filling.
Other recipes you might like
If you like this cake recipe, here are a few more of my favorite cake recipes. Give one or two a try!
Banana Cake with Cream Cheese Frosting
A wonderful change of pace from traditional Chocolate, Yellow, or White cakes. This delicious banana cake is great for any occasion from picnics to birthday parties!
Equipment
Cake Lifter

Icing Spatula

Icing Comb

Sifter

Potato Masher

9-inch Round Cake Pans
Ingredients
Banana Cake
2 ½

cups

cake flour

3

teaspoon

baking powder

1

teaspoon

baking soda

½

teaspoon

kosher salt

3

medium

bananas

very ripe, peeled, and mashed

1

cup

sour cream

room temperature

3

tsp

vanilla

1 ½

cup

sugar

1

cup

butter

(2 sticks) room temperature

2

large

eggs

room temperature

2

large

egg yolks

room temperature
Instructions
Banana Cake
Position the oven rack in the center of the oven. Preheat to 350°F degrees.

Grease and flour two cake pans (9" diameter)

Whisk the dry ingredients together in a medium bowl (flour, baking powder, baking soda, and salt). Set aside.

Mash the bananas in another bowl. [I use a flat bottomed bowl and a potato masher.] Add the sour cream and the vanilla to mashed bananas. Mix well. Set aside.

Beat the sugar and butter together in a large bowl using an electric mixer. Beat for at least 3 minutes. Add the eggs and egg yolks. Continue beating until well blended.

Add the dry ingredients and the banana mixture into the sugar, butter and egg mixture. ALTERNATE the addition of the dry and wet ingredients, starting with the dry and ending with the dry. Stir after each addition until the added ingredients are just combined.

Divide the batter between the two prepared cake pans.

PRO-TIP: If you have a kitchen scale, weigh each of the pans to ensure that the batter is divided evenly.

Bake for 25-30 minutes until a toothpick inserted into the center comes out clean. All the cake to cool completely on a rack before icing.
Cream Cheese Frosting
Beat the cream cheese, butter and vanilla together using an electric mixer.

Add the salt, and then the sifted powdered sugar, one cup at a time.

Beat until smooth after each addition.
Laura's Tips + Notes
Note about the cream cheese frosting:
This makes a ton of frosting.
I used probably only 75% of it for the cake in the photos.
There is extra in case you want to do any piping or decoration which many of my readers have done.
If you do make this cake as a sheet cake, definitely only one half of the frosting.
Nutritional Info:
Assumes 75% of the frosting was used.
PRO-TIP:
Are your bananas too green? Ripen them in the oven. Five minutes at 350℉ degrees blackens them right up.
Piña Colada Filling (optional)
2 cups of heavy whipping cream
optional: a few tablespoons of coconut cream (I like karas brand)
1 small can of crushed pineapple, drained (you'll use ⅓ to ½ cup of crushed pineapple.)
⅓ to ½ cup of shredded coconut
½ teaspoon of coconut extract. I usually use the coconut extract paste. You can adjust this to taste.
Whip the heaving cream until it is nice and fluffy. You want it to be a little bit on the stiff side.
Fold in the remaining ingredients.
I don't ever add extra sweetener. But if you wanted the filling a little bit sweeter you could add a few teaspoons of brown sugar.
Nutrition
Serving:
1
g
Calories:
521
kcal
Carbohydrates:
55
g
Protein:
5
g
Fat:
32
g
Saturated Fat:
19
g
Cholesterol:
131
mg
Sodium:
483
mg
Fiber:
1
g
Sugar:
37
g
Calcium:
93
mg
Iron:
1
mg