If you love a soft warm, right out of the oven bread, then this focaccia bread recipe is a definite must-try. Not only is the focaccia itself amazingly delicious, but the fresh rosemary, garlic, and tomatoes also give it a ton of flavor. The combination is fabulous.
EVERYBODY LOVES GOOD BREAD. Am I right?
When it comes out of the oven finish it with an extra drizzle of fragrant olive oil and a sprinkle of sea salt. The olive oil gives the top of the bread a beautiful sheen, and the finishing sprinkle of salt adds that extra touch of crunch and saltiness on your palette.
For the most part, in my day-to-day diet, I generally try to avoid grains, especially the gluten-y kind. I don't have a gluten allergy, but I feel better when the majority of my food is more about lean protein and veggies. I do notice that if I eat wheat flour regularly, my joints tend to feel a little less flexible.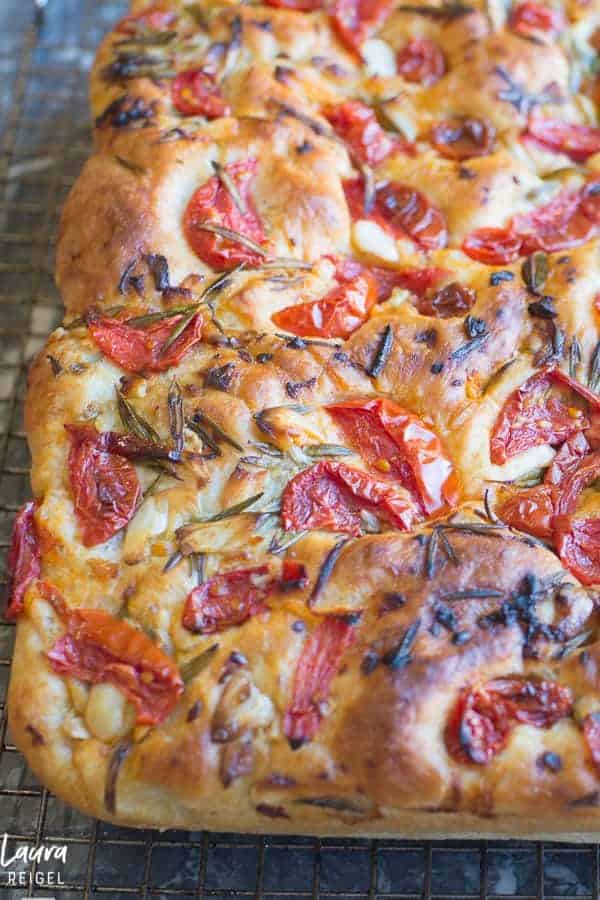 Some bread is worth it! You know what I mean, right?
I have no problem having some bread if it's so good that I feel like the splurge is well worth it.
This focaccia is one of those times. But be warned, it's one of those recipes that if you make it it's going to disappear. So make sure you aren't the only one home.
The focaccia bread is especially addictive if you're dipping it in a lovely olive oil. This bread makes a perfect appetizer to bring to a party. Not only is it gorgeous, everyone loves it! And you will seem like a five-star artisan baker.
Savory focaccia bread is a true treat.
Sweets are something that I can take or leave, but a salty, savory cracker is my kryptonite. I love an excellent rustic bread with all the right flavors.
This focaccia bread hits the mark. This particular recipe came to Foodology Geek by way of Kit. The recipe is one that she has used by Jamie Oliver. I love that guy!
We made this Rosemary, Garlic, and Tomato Foccacia Bread on one of our marathon cooking days. Not to be rivaled by our famous cake and whiskey cocktails day. But it was still pretty epic.
If you have wanted to try your hand at making homemade bread, but the task sounds way too daunting, this focaccia bread recipe is a perfect get-started-with-making-bread recipe.
Focaccia bread is a pretty forgiving bread recipe. The most important thing to get right about bread making is picking the correct flour. Have you ever seen a recipe that calls for flour, but doesn't tell you what kind it is?
When I see this, I'm like okay people, is it all-purpose? Bread flour? Cake flour? What are we talking about here? Bread making requires bread flour because bread flours contain more gluten than other flours.
All flours are not created equal in this department. High gluten flour is needed to get that chewy, yummy bread texture.
During the kneading process gluten develops a protein network. Gluten is what is responsible for those fantastic air pockets in bread. Those are the best.
My go-to brand of bread flour is King Arthur Brand. You can read a little more about the science of gluten and flour here if you are as geeky as I am. I will spare you the details if you want to get to the recipe so that you can make this fantastic focaccia bread.
The next thing that makes bread-making super easy is a stand mixer.
I have to say that baking with my Kitchen Aid stand mixer is an actual pleasure.
It is definitely true that if you have the right tools for the job, the job is so much easier. If you do have a stand mixer, yay, if you don't but can fit one into your budget I highly recommend it. For Holiday cookie baking alone it is worth the investment.
Keep in mind that the basic recipe for the bread can be made plain without all of the toppings.
Foccacia bread makes a great sandwich bread. You can make it and then cut it into sandwich-sized squares before you slit it in half bun style. If you would like to make sandwiches, you may not want all the flavor on top.
Other topping combos that I love:
Everything Bagel Seasoning
Rosemary, for a classic rosemary focaccia bread
Caramelized onions and ricotta
Kalamata olives and fresh oregano
The possibilities are endless here. Use your imagination and get the kids involved. Teaching kids to cook is not only a life skill that they will thank you for later, and it's a fun project to bond over. You get to teach math and science and have fun. Plus, you get a delicious reward in the end.
This recipe makes enough dough to make two sheet pans worth of focaccia bread.
You can always cut the recipe in half if you don't need that much.
You can always freeze leftover focaccia.
But who are we kidding fresh bread tastes way better than reheated, thawed out frozen bread?
You can freeze half of the focaccia dough and bake another whole focaccia bread later.
This dough keeps quite well in the freezer.
The great thing about making a focaccia bread, besides the fact that it is so easy is that you can make it however you want it.
You can make it on the thicker side if you like a nice soft and fluffy chunk of bread or you can roll the dough out a little bit thinner, which is usually my preference.
How to make perfect focaccia.
Set up your stand mixer with the dough hook attachment.
Add all of the bread ingredients to your stand mixer bowl. (If you have a scale, weigh the ingredients directly into the bowl.)
Make sure your water is warm, but not too hot. If you have a thermometer, your water should be no hotter than 110℉.
Turn on the mixers slowly and mix until the ingredients are incorporated.
Continue to mix until your dough forms a tight shiny ball and the sides of the mixing bowl are nice and clean.
Add a little flour to your work surface and turn out your bread.
Oil a large bowl.
Add your dough to the oiled bowl and cover with plastic wrap or a large damp towel.
Proof the bread in a warm area until it has doubled in size. I usually put my bread on top of the stove and turn the stove light on, especially if I'm making this bread in the winter.
Once your dough has doubled in size, dump it out onto a floured surface and cut it in half.
Preheat your oven to 425F/220C
Lightly oil two 9×13 baking pans. Alternatively, you have line the pans with parchment paper.
Gently roll and press the dough into rectangle shapes.
After you roll your dough out, use your fingertips to poke it all over the place, so it has that crater-like texture.
Then you add your toppings.
For this recipe, you add the garlic, fresh rosemary, and fresh grape tomatoes to the top of the rolled out dough.
Then add a little drizzle of olive oil before you bake the bread.
Bake for 25 minutes.
Bake the focaccia bread until it is golden brown. It will rise in the oven quite a bit.
This focaccia bread recipe also makes a fantastic pizza dough for the grandma-style pizza that you make on a sheet pan. Yum!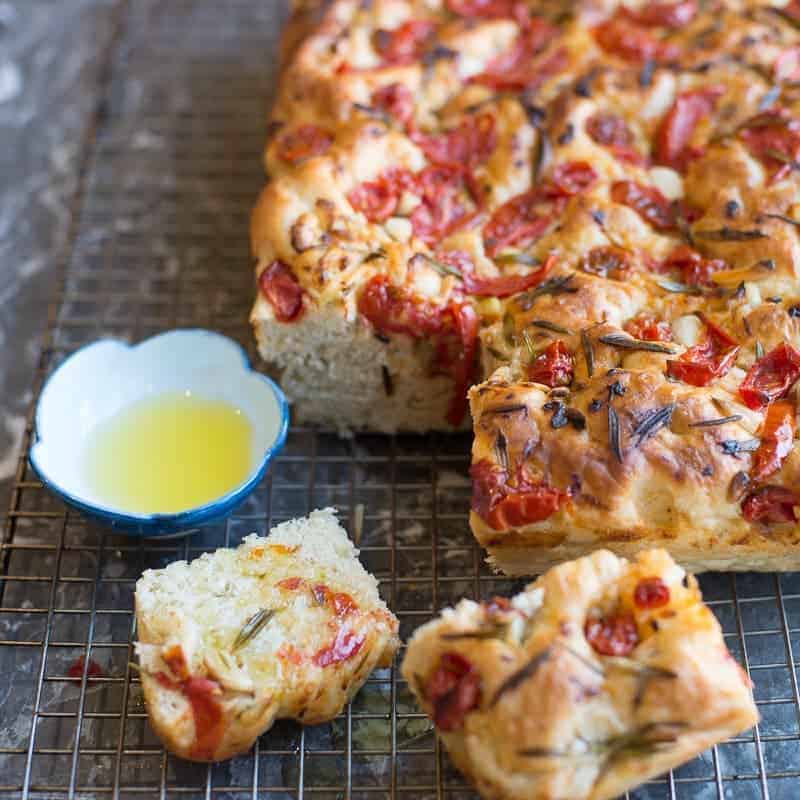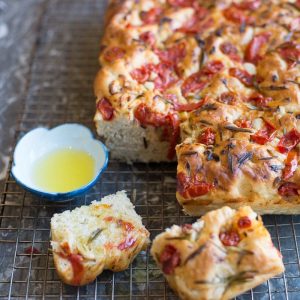 Tomato, Garlic & Rosemary Focaccia
Total Time:
2
hours
25
minutes
This focaccia is delicious! It can be served with soup, as an appetizer or a snack. I love to dip hunks of this bread into some good olive oil.
Print Recipe
Pin Recipe
Ingredients
8

cups

strong bread flour

1 kg

2

envelopes

dry yeast

1

tsp

honey

2 1/5

cups

water (tepid)

600 ml

1

bulb

garlic

broken into gloves, skin on.

5

sprigs

rosemary

leaves picked off

Extra virgin olive oil

11

ounces

cherry tomatoes

300 g - washed

sea salt
Instructions
Put your flour in a large mixing bowl. Use your hands to make a hole in the middle. Add the yeast, honey, and two large pinches of sea salt. Then, pour in nearly all the water. Using a spoon, mix the water into the flour until it starts to form a sticky ball. (If it looks dry, add the remaining water.)

Lightly oil a large bowl and set it aside. Turn the dough out onto a lightly floured surface. Dust your hands with the flour and start kneading. (Pull the dough towards you with one hand while pushing it away with the other hand.) Keep kneading until you have a smooth, soft, elastic dough. Shape this into a ball and place it into your oiled bowl. Cover the bowl with a clean, damp cloth. Leave it somewhere warm to rise. This will take about an hour.

Meanwhile...place the garlic, rosemary and a small pinch of salt in a mortar (or sturdy bowl) and crush it all together with a pestle (or blunt object) to release the flavors. Add 3 tbsp olive oil and mix together.

Drizzle a 13 x 9 pan with olive oil. (For thinner bread use a larger than 13 x 9 jelly roll pan or roasting pan.)

Once the dough has doubled in size, press it gently. It should feel wobbly. Tip it out onto a floured surface and knead/punch it for a few moments to knock out the air. Place it into your prepared tray. Stretch it to fit.

Smear your flavored oil - including all the garlic and rosemary - over the dough. Push your fingers into the dough to make lots of dents. Gently press the cherry tomatoes into some of the dents. Leave it for 40 minutes to rise. Preheat your oven to 425 degrees (220 degree Celsius/Gas).

Bake for about 25 minutes. Once out of the oven, drizzle with some more olive oil and enjoy! (NOTE: If you have made your loaf in a larger pan it will cook faster.)
Nutrition
Calories:
233
kcal
|
Carbohydrates:
46
g
|
Protein:
8
g
|
Fat:
1
g
|
Sodium:
5
mg
|
Fiber:
1
g
|
Sugar:
1
g
|
Calcium:
13
mg
|
Iron:
0.7
mg
(Visited 1,539 times, 36 visits today)