I LOVE BREAD. There, I said it.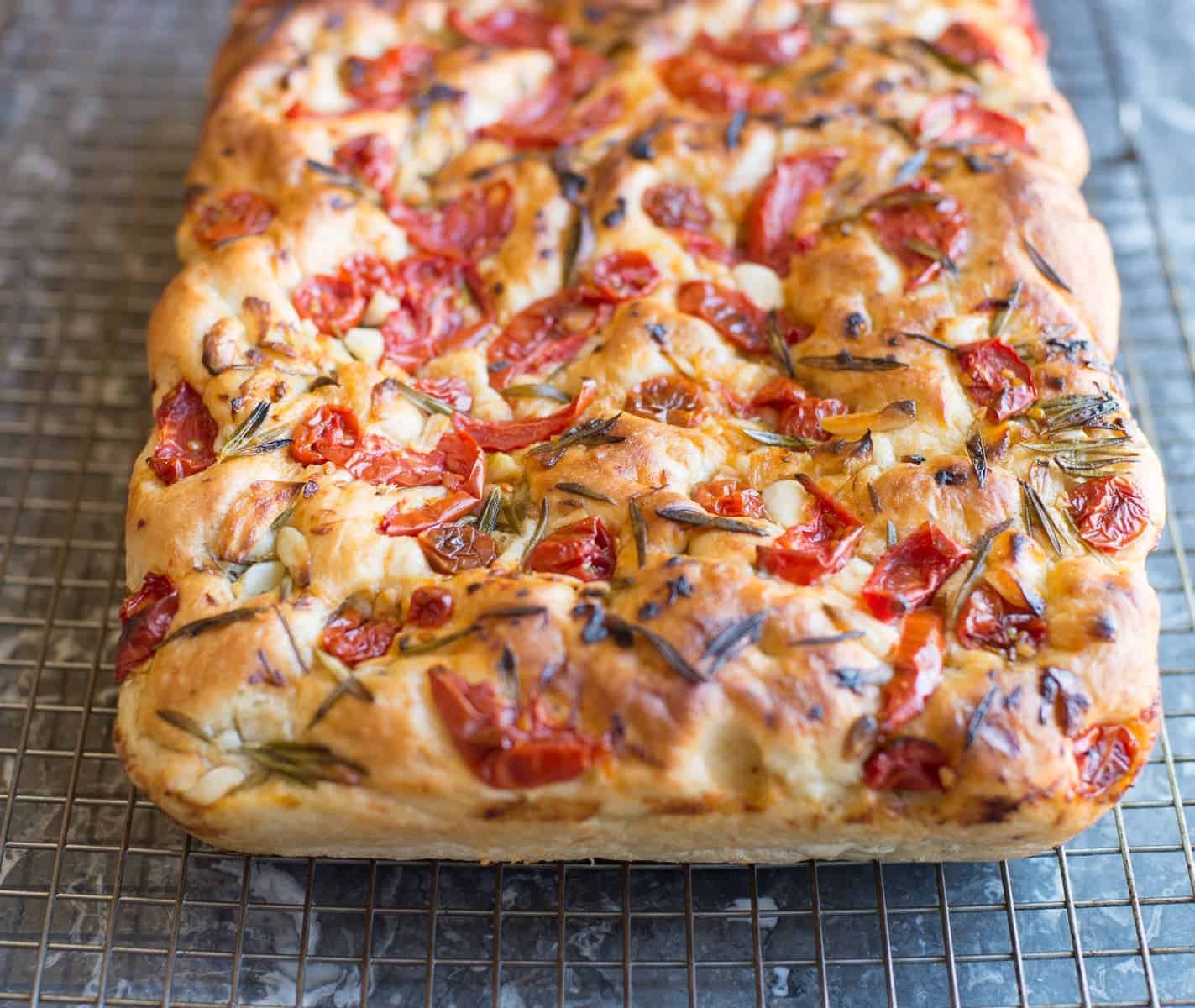 I generally try to avoid grains, as I feel better when my diet is more about lean protein and veggies… but the one thing that would DEFINITELY be on my 'death-row-last-meal' plate would be bread. (Specifically, really good fresh sourdough with really good butter… but that is another post.)
As you also know if you've been around FG a while…
I ALSO LOVE SCIENCE AND BAKING.
If science + baking doesn't = bread, I don't know what does. I'm still learning how to make bread, I like to think of it as a life-long effort at mastery. (Approaching it this way takes the pressure off the failures along the way! HA!) Making good bread is an art.
Focaccia was one of the first bread recipes I ever tried.
Focaccia is a pretty forgiving bread to make. It is an un-fussy dough, it doesn't require being made into a specific shape, AND it doesn't have a particular crust vs interior balance that needs to be achieved. This bread is BA-SIC.
If you want to give making bread a try, Focaccia is a good bread to start with.
For this post I've included a recipe by Jamie Oliver. This recipe is not only straight forward, it's also DELICIOUS! I love his style – it honors the natural beauty of the ingredients themselves. The most flavorful combinations are often ones that accentuate the natural flavors of fresh ingredients, rather than 'bending' them into some fussy concoction.
Try this one and let me know what you think! If you want more from Jamie, I've put a link to his recipe collection in the notes section of the recipe itself.
ENJOY!
Have you heard? We have a cookbook coming out soon! Beast Bowl Nutrition!
Think of it as meal prep for foodies! Sign up so that you don't miss the release announcement.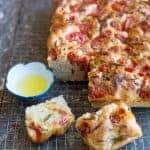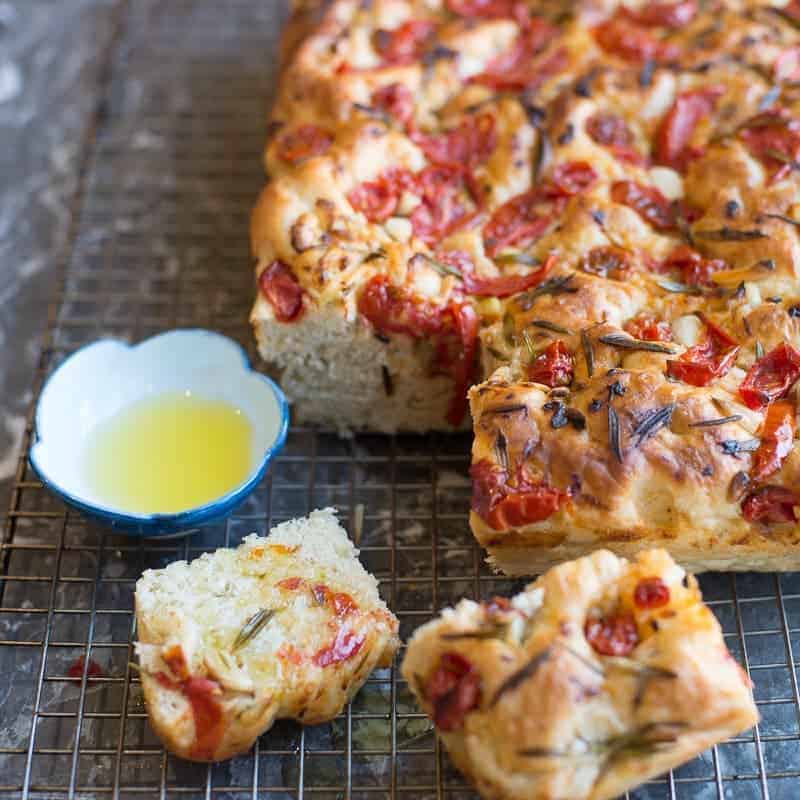 Tomato, Garlic & Rosemary Focaccia
This focaccia is delicious! It can be served with soup, as an appetizer or a snack. I love to dip hunks of this bread into some good olive oil.
Total Time
2
hours
25
minutes
Ingredients
8

cups

strong bread flour

1 kg

2

envelopes

dry yeast

1

tsp

honey

2 1/5

cups

water (tepid)

600 ml

1

bulb

garlic

broken into gloves, skin on.

5

sprigs

rosemary

leaves picked off

Extra virgin olive oil

11

ounces

cherry tomatoes

300 g - washed

sea salt
Instructions
Put your flour in a large mixing bowl. Use your hands to make a hole in the middle. Add the yeast, honey, and two large pinches of sea salt. Then, pour in nearly all the water. Using a spoon, mix the water into the flour until it starts to form a sticky ball. (If it looks dry, add the remaining water.)

Lightly oil a large bowl and set it aside. Turn the dough out onto a lightly floured surface. Dust your hands with the flour and start kneading. (Pull the dough towards you with one hand while pushing it away with the other hand.) Keep kneading until you have a smooth, soft, elastic dough. Shape this into a ball and place it into your oiled bowl. Cover the bowl with a clean, damp cloth. Leave it somewhere warm to rise. This will take about an hour.

Meanwhile...place the garlic, rosemary and a small pinch of salt in a mortar (or sturdy bowl) and crush it all together with a pestle (or blunt object) to release the flavors. Add 3 tbsp olive oil and mix together.

Drizzle a 13 x 9 pan with olive oil. (For thinner bread use a larger than 13 x 9 jelly roll pan or roasting pan.)

Once the dough has doubled in size, press it gently. It should feel wobbly. Tip it out onto a floured surface and knead/punch it for a few moments to knock out the air. Place it into your prepared tray. Stretch it to fit.

Smear your flavored oil - including all the garlic and rosemary - over the dough. Push your fingers into the dough to make lots of dents. Gently press the cherry tomatoes into some of the dents. Leave it for 40 minutes to rise. Preheat your oven to 425 degrees (220 degree Celsius/Gas).

Bake for about 25 minutes. Once out of the oven, drizzle with some more olive oil and enjoy! (NOTE: If you have made your loaf in a larger pan it will cook faster.)