Chicken Satay with Peanut Sauce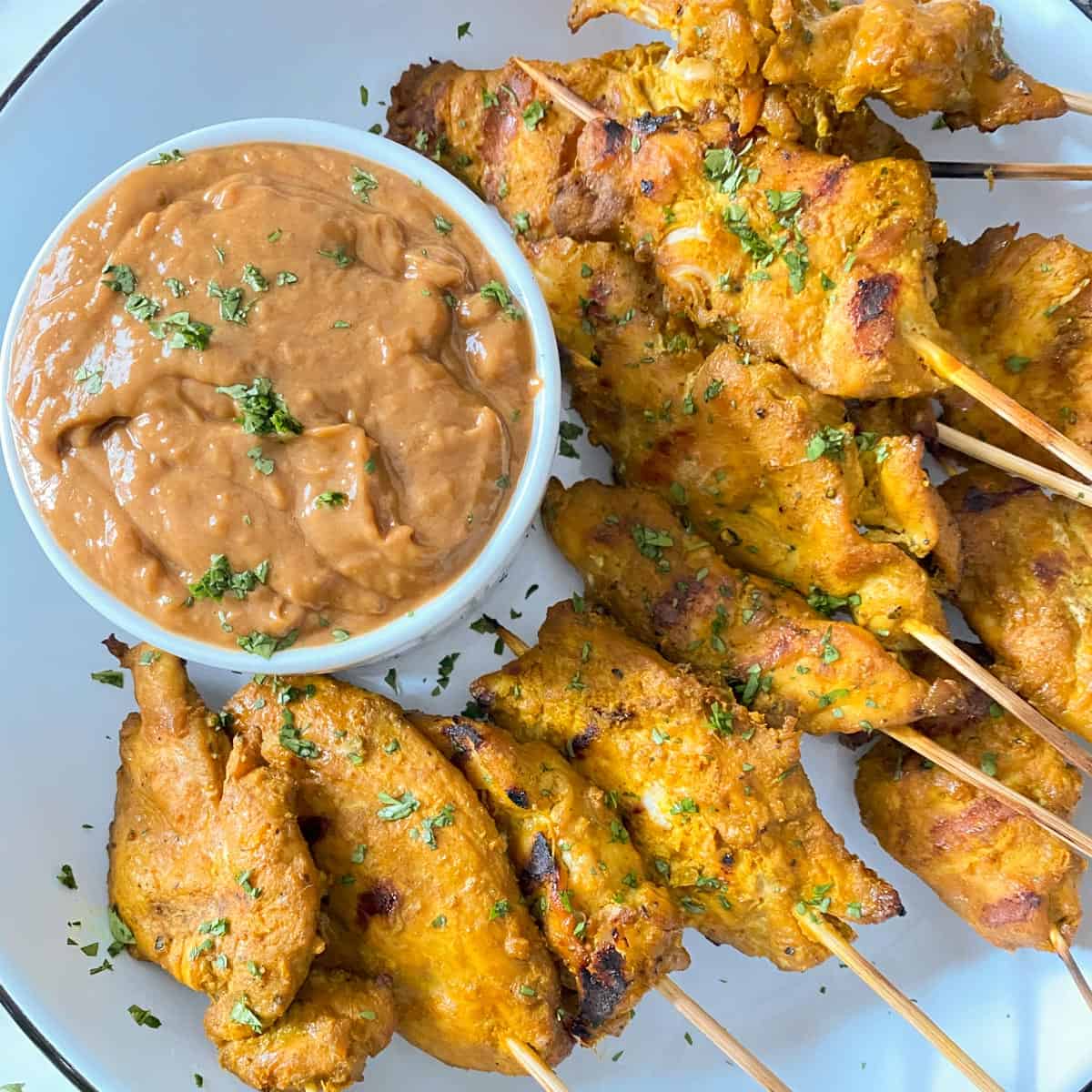 Recipe
Comments
Save
Go to Collections
This post may contain affiliate links. Please read my
disclosure policy.
Chicken Satay is a famous grilled meat dish that originated in Indonesia. The marinade is made with ginger, garlic, and turmeric. You can find chicken satay in many Asian Food restaurants, usually served as an appetizer.
But let's be honest, this recipe is all about the peanut sauce. Grilled Chicken Satay is served with a spicy, creamy peanut sauce that is so fantastic that you can now see it incorporated into binge-worthy dishes like Peanut Noodles.
This recipe will make you look like a culinary rockstar even if you think you struggle in the kitchen. I promise this recipe is so easy!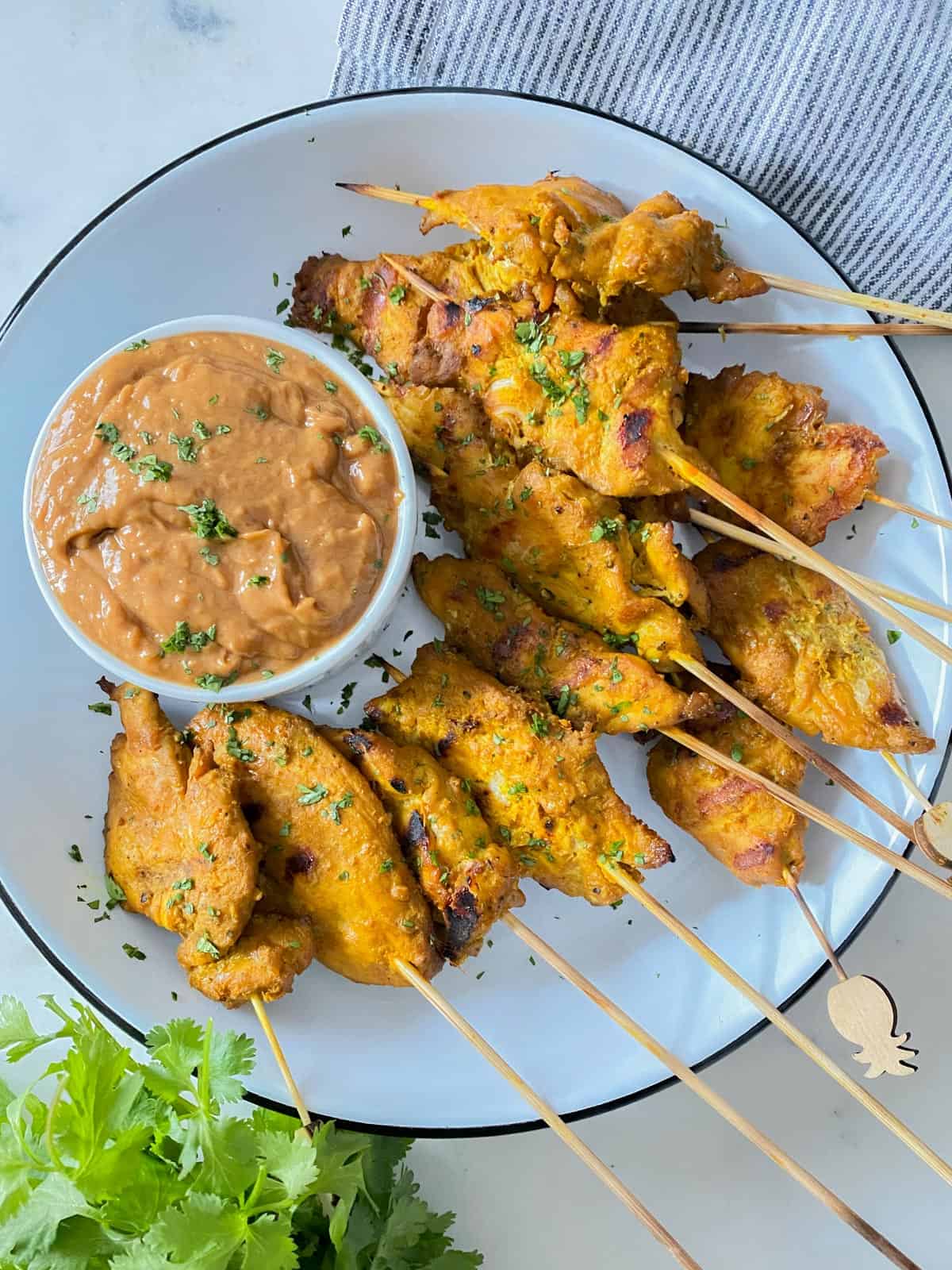 Don't forget to pin this post to save it for later!
Peanut Sauce For Chicken Satay
The peanut sauce recipe might be one of my most requested recipes. Every time I serve this chicken satay, I get a million requests for the Thai peanut sauce recipe.
I must warn you this sauce is mouthwateringly addictive.
Chicken Satay Recipe Variations
Chicken satay starts by first marinating chicken breast of thighs in a delicious satay marinade. There are a few options when it comes to cooking chicken satay.
Skewered. Traditionally, chicken satay is marinated and skewered, and then cooked over a grill. This is my favorite way to make chicken satay.
Baked. Bake the marinated chicken at 450℉ for 12 minutes.
Stovetop. Cook this chicken right on your stovetop. Quickly browning the chicken in a pan is perfect for busy nights when you don't have time to preheat the oven.
Grilled Chicken Satay
PRO-TIP: Soak bamboo skewers in water for an hour or so before using them on the grill. This helps to prevent them from burning up OR us metal reusable skewers.
How to Grill Chicken Satay
Prepare the chicken by cutting the meat into chicken tenders and marinating it for a few hours, up to overnight.
Skewer one chicken tender onto the end of a skewer. If you prefer, you can skewer five to seven bite-sized pieces per skewer.
Optional: Grill the marinated chicken tenders with no skewers at all.
Heat a gas grill to high. Use an indirect fire if you are using a charcoal grill.
Once the grill is hot, place the chicken skewers on the grill and sear.
Once the skewers are seared, turn the heat down to medium, or move the skewers off to the side, cover and cook for approximately 6 minutes on each side.
The internal temperature of your chicken should be 145℉.
Remove the chicken satay skewers from the grill, place onto a platter an cover tightly with foil. Rest for 10 minutes before serving.
Baked Chicken Satay
PRO-TIP: Line your baking sheets with parchment paper to make clean up super easy.
How to Bake Chicken Satay
Preheat your oven to 450℉. (425℉ for convection)
Line your baking sheets with parchment paper.
Place the marinated chicken satay on the parchment, giving the pieces of chicken a good amount of room so that they can brown nicely.
Bake for 12 to 20 minutes. Oven temperatures vary so watch closely.
Use a thermometer to check the doneness. The internal temperature should be 145℉.
Remove the chicken from the oven, cover tightly with foil and rest 10 minutes before serving.
Stovetop Chicken Satay
PRO-TIP: Using a well-seasoned cast-iron pan or a wok will give you the best flavor and browning.
Heat you pan or wok to medium-high heat.
Add the marinated chicken satay in batches, making sure not to overcrowd the pan.
Cook on medium-high heat until the chicken is golden brown and firm to the touch.
The internal temperature should be 145℉.
Remove each batch as the chicken is done and set aside on a platter.
Cover with foil for about 10 minutes before serving. (Because a lot of the chicken has been resting already as you brown each batch, this last resting step is optional.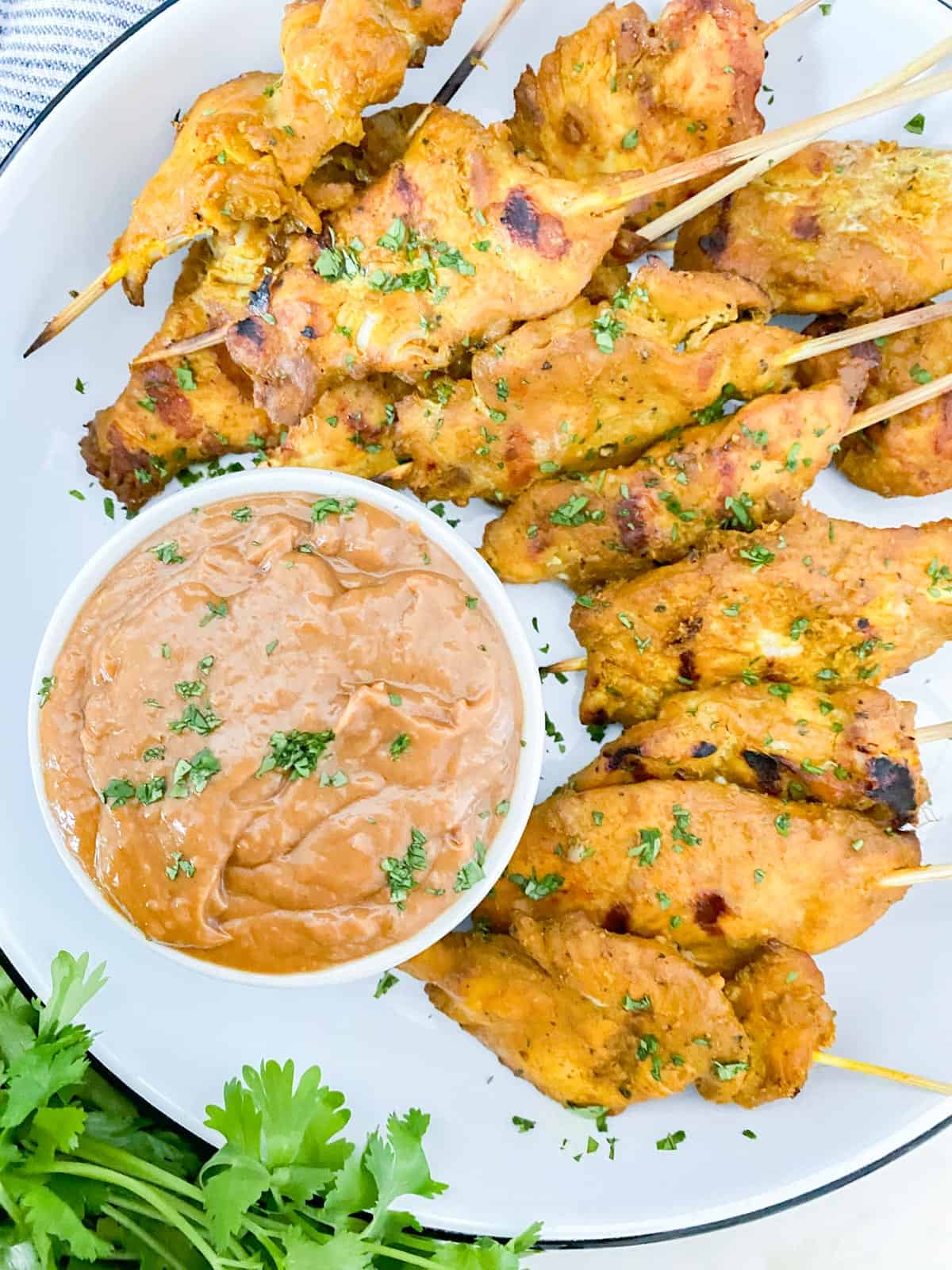 Chicken Satay Marinade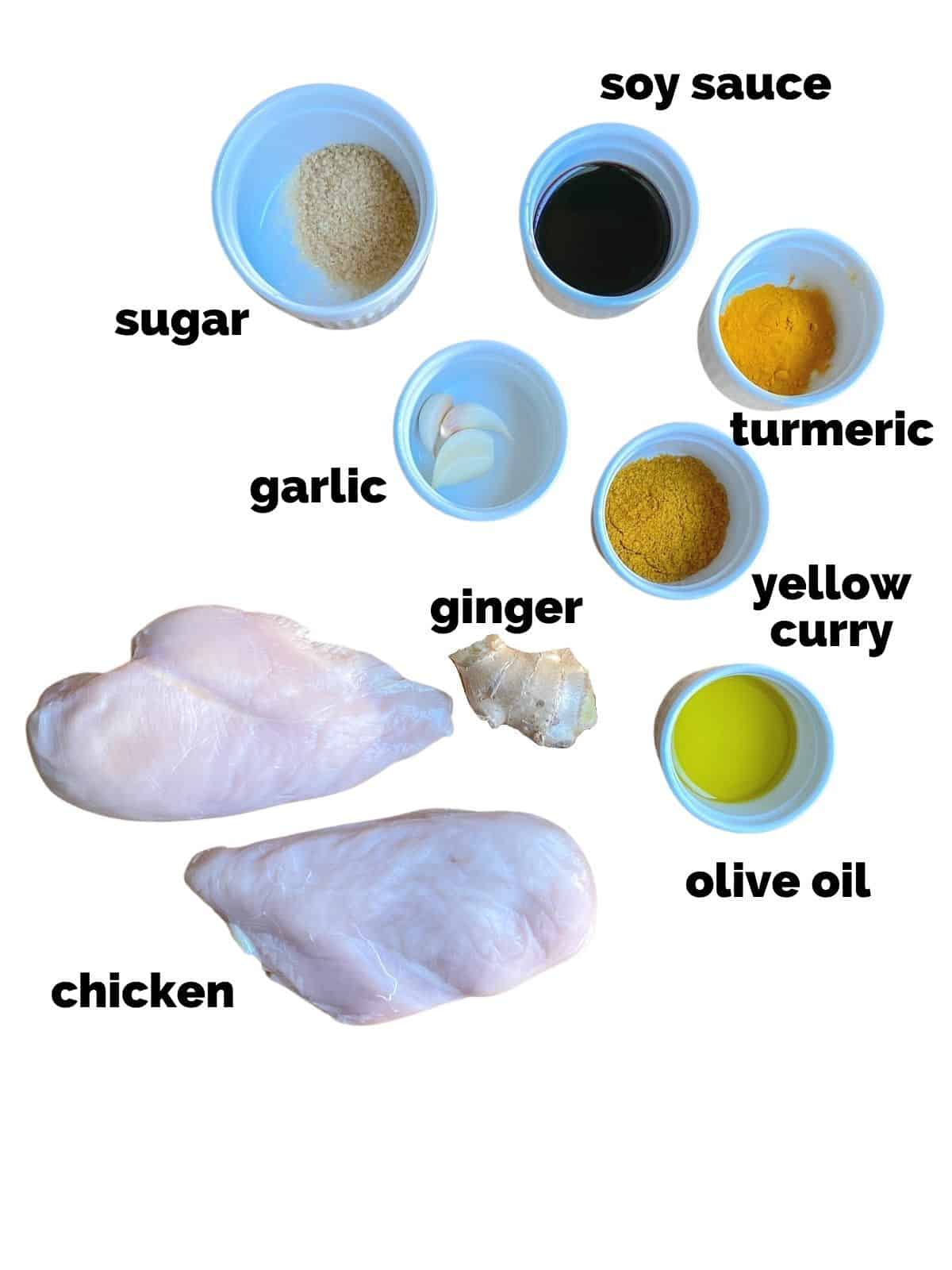 Decide if you will be marinating your chicken in a large freezer bag or in a bowl or shallow dish.
Prepare the chicken: Use chicken breasts or thighs. Either cut the chicken in too long chicken fingers or cut it into bite-sized pieces.
Add the chicken to your bag, bowl, or dish. Add the ingredients for the marinade to the chicken. Mix thoroughly.
Marinate the chicken for two hours at room temperature. The chicken can be marinated overnight in the refrigerator.
Make sure to bring your chicken to room temperature for at least an hour before cooking. If the chicken is cold in the center it may not be completely done all the way through.
Peanut Sauce Recipe
Have I mentioned that this is the best peanut sauce that you will ever make? Seriously you can eat this satay sauce right out of the bowl.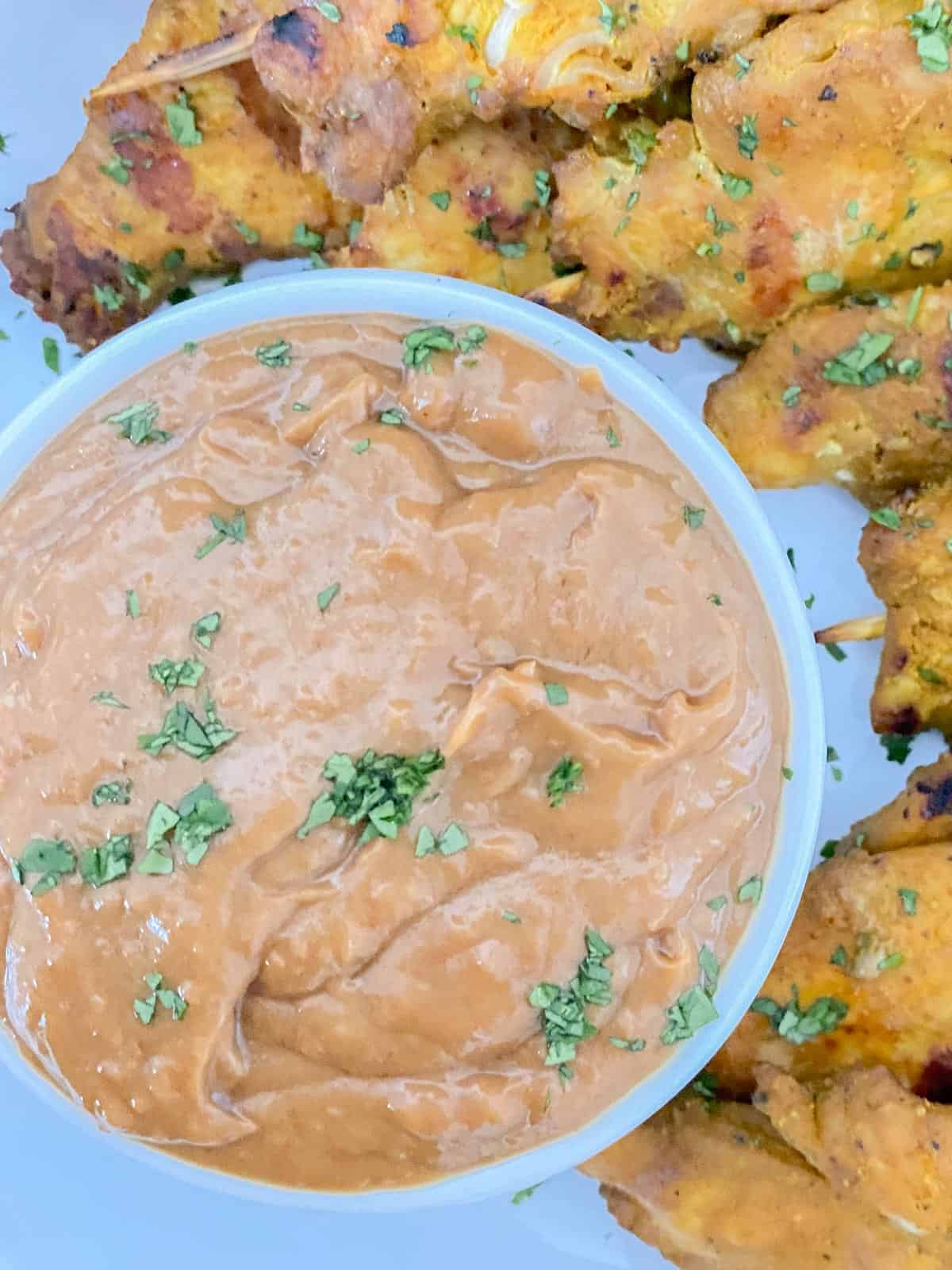 What Goes Into Peanut Sauce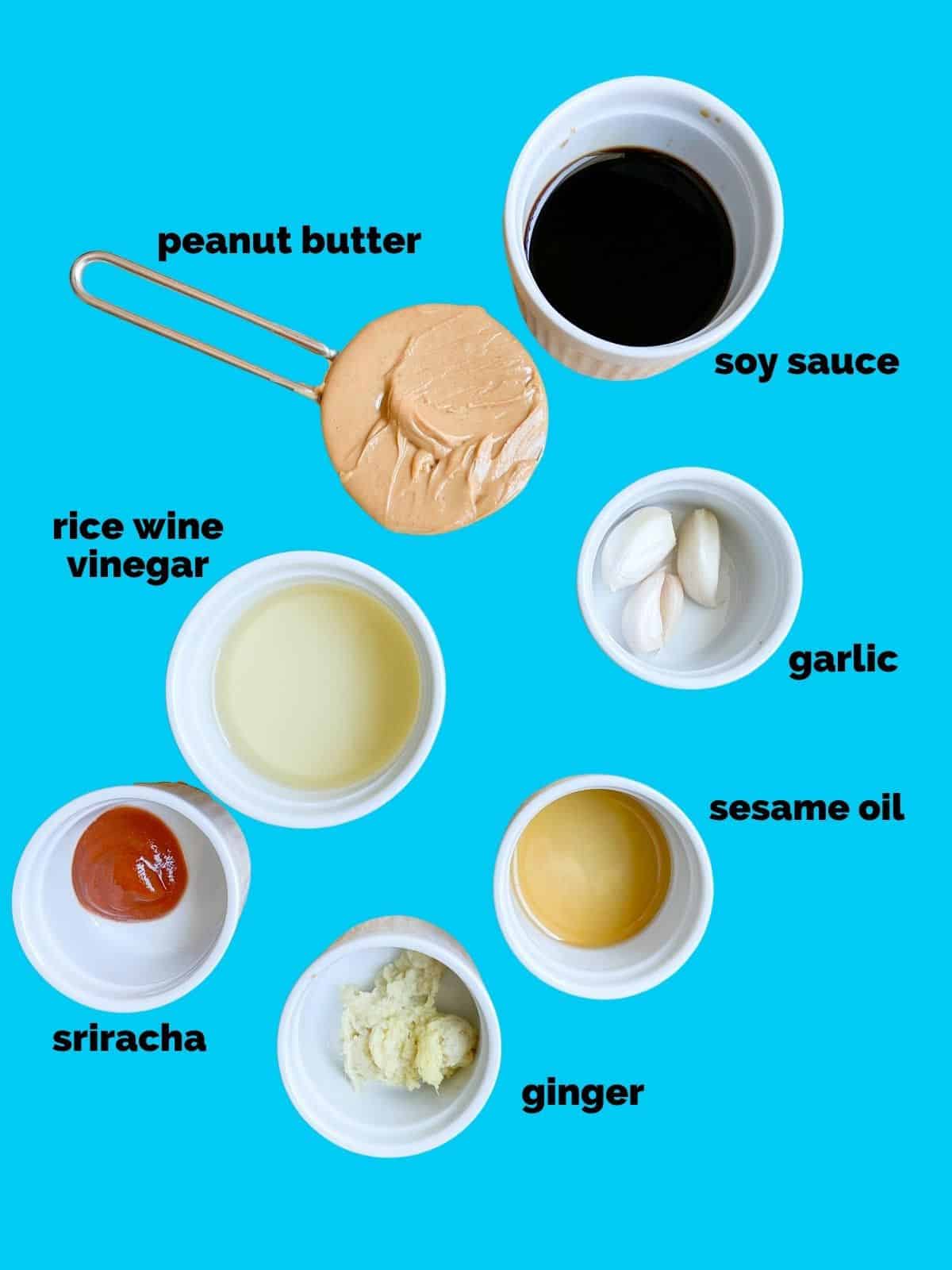 peanut butter — stabilized peanut butter is best in this recipe.
garlic
ginger
sriracha
rice vinegar
soy sauce
sesame oil
What to Serve With Chicken Satay
Serve Chicken Satay With Peanut Sauce as an appetizer or as a light main dish recipe.
I've made this chicken satay menu for countless parties because it's so easy! This is a party food menu that I know everyone loves and it's kid-approved.
My Asian Cucumber Salad is the perfect side dish for Chicken Satay. It's crunchy, sweet, and just a little bit spicy.
Asian Cucumber Salad
This easy Asian cucumber salad is marinated in a spicy-sweet sesame ginger dressing. The result is a crunchy, refreshing, umami-packed marinated salad that is delicious with grilled meat or all on its own.
SEE THE RECIPE
PIN FOR LATER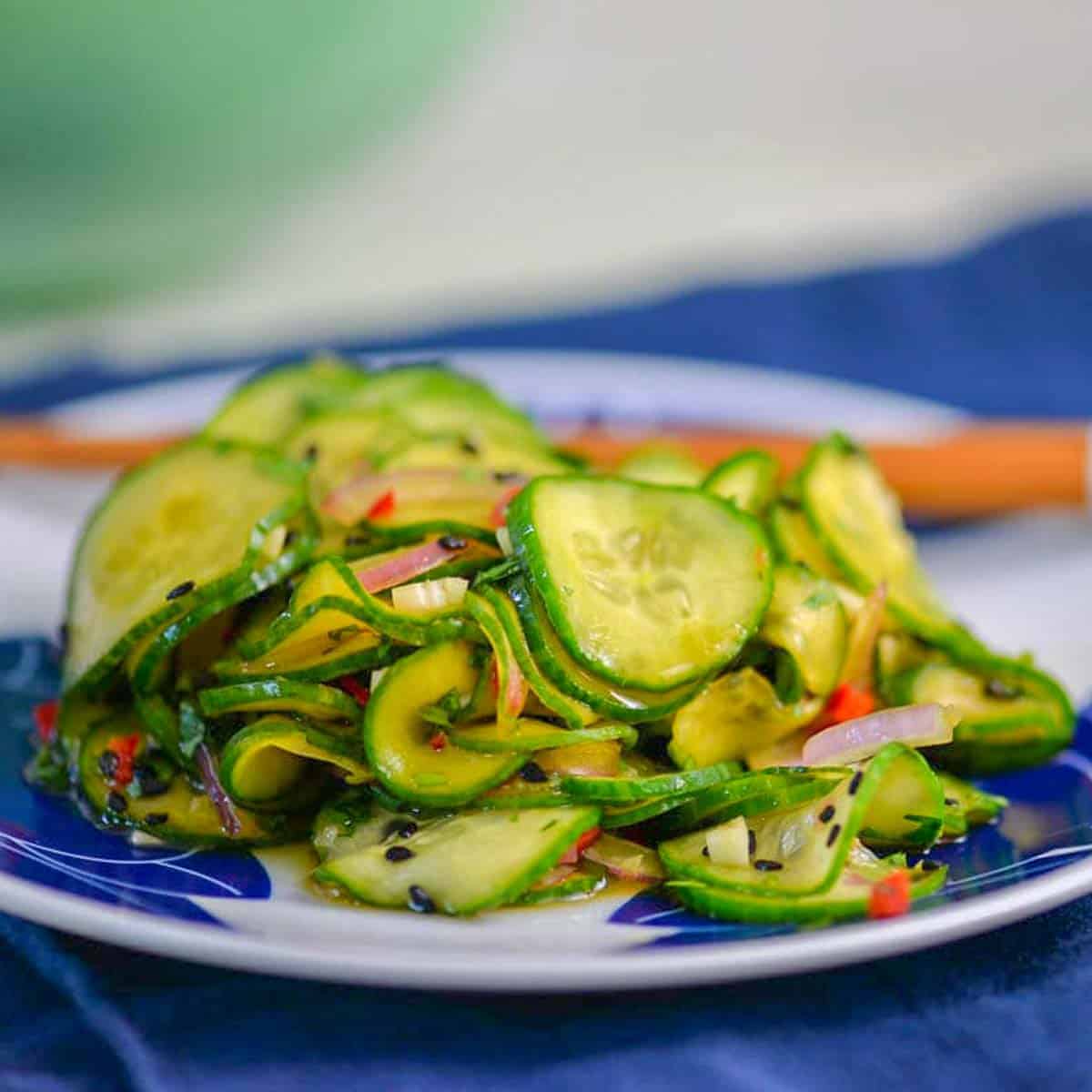 Coconut Rice with Fresh Mangoes
Coconut Rice with Mangoes
Sticky Rice With Mangoes is made of fragrant sticky rice cooked in coconut milk, served with freshly chopped mangoes and minced mint. This recipe is easy and delicious.
SEE THE RECIPE
PIN FOR LATER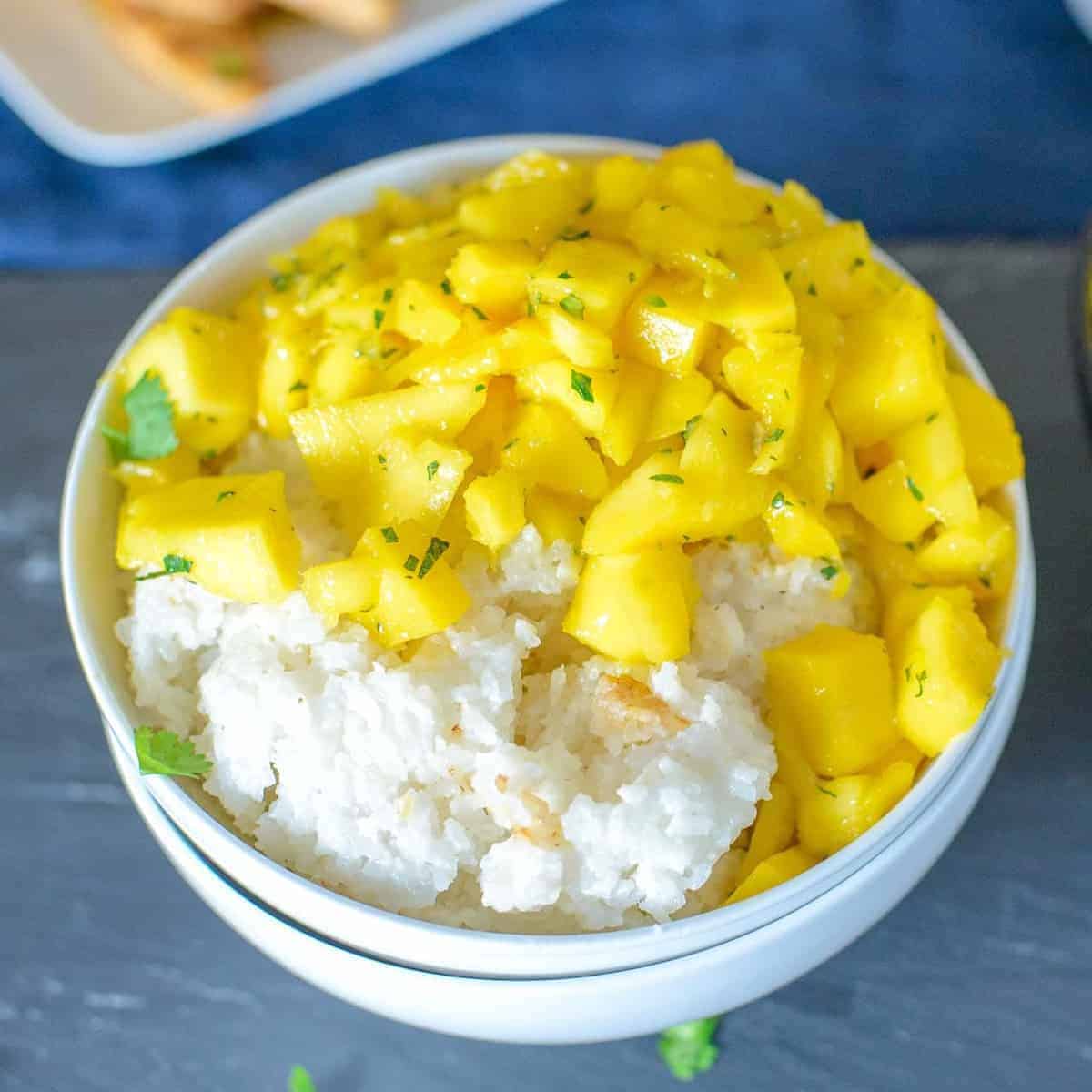 If you just want to eat spoonfuls of the Peanut Dipping Sauce…
Thai Peanut Sauce
Thai peanut sauce is a garlicky, peanut-y, and sometimes spicy sauce that's seen in Asian dishes like Peanut Noodles or as a dipping sauce for spring rolls.
SEE THE RECIPE
PIN FOR LATER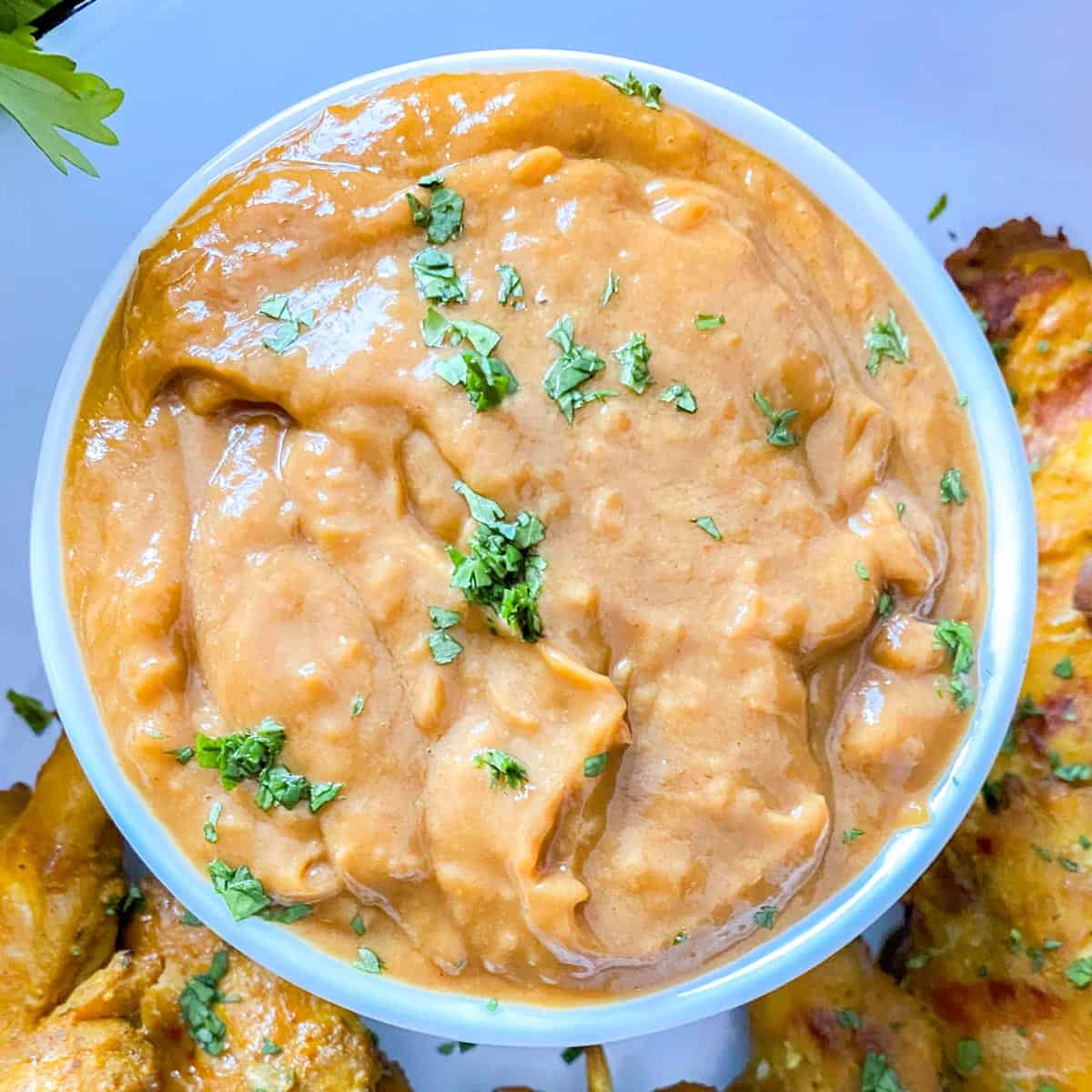 Meal Prep: Chicken Satay Bowl Recipe
Meal prep can be healthy and delicious! Make a double batch of grilled chicken satay. Because chicken satay tastes just as good cold I recommend using this as one of your core proteins for weekly meal prep.
Get more meal prep recipes HERE!
Chicken Satay Beast Bowl
Juicy marinated chicken with peanut sauce. A bowl of veggies and an Asian cucumber salad. All the protein and veggies in a Chicken Satay flavored bowl or yummy!
SEE THE RECIPE
PIN FOR LATER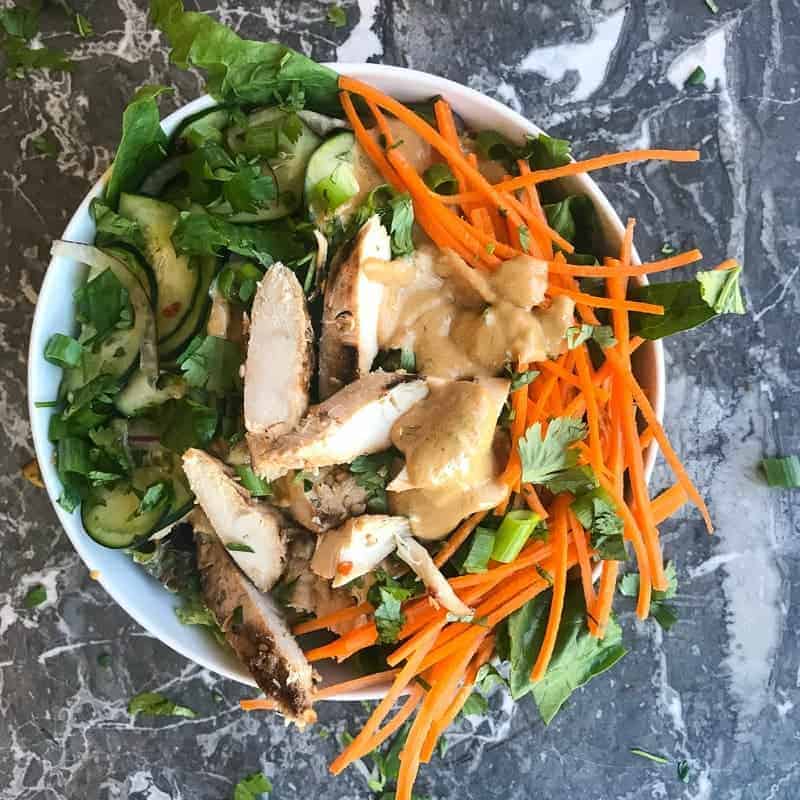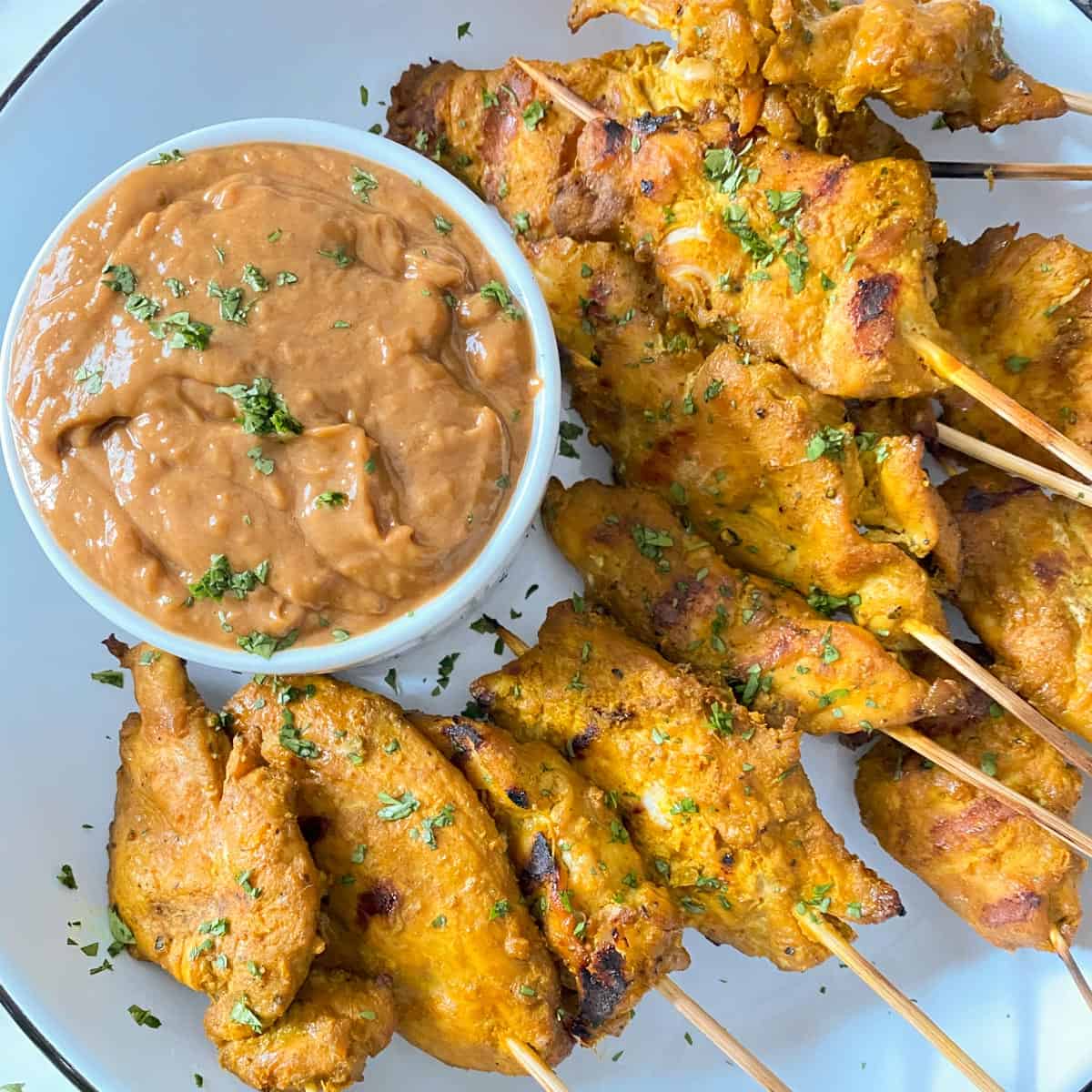 Chicken Satay with Peanut Sauce
Chicken Satay is a famous grilled meat dish that originated in Indonesia. The marinade is made with ginger, garlic, and turmeric. You can find satay in many Asain Food restaurants, usually served as an appetizer with a side of peanut sauce.
Ingredients
32

ounces

boneless chicken breasts

,

cut into tenderloins
Peanut Sauce
½

cup

Peanut butter

(affiliate link)

,

Stabilized peanut butter works best for this recipe.

¼

cup

Soy sauce,

or soy sauce

¼

cup

Seasoned rice vinegar

3

cloves

Garlic

,

pressed

1

teaspoon

Ginger

,

freshly grated

2

teaspoon

Sriracha

fresh-squeezed lime juice

,

optional

water

,

to thin, if needed.
Garnishes
fresh limes

,

cut into wedges

fresh cilantro

,

rough chopped
Instructions
Chicken Satay Marinade
Add the marinade ingredients to large bowl or freezer bag and mix.

Add the chicken that has been cut into either tenders or bite-sized pieces.

Marinade the chicken for at least 2 hours. Up to overnight.

Remove the chicken from the marinade and place on skewers.

Chicken should be at room temperature before cooking to ensure that inside gets cooked to the propper temperature.
Grilling Chicken Satay
Grill on medium-high, for 3 minutes each side.

Alternately: Bake at 450℉, for 10-12 minutes or until done.
Baking Chicken Satay
Preheat the oven to 450℉. (425℉ for convection)

Bake on parchment-lined baking sheets for 10-12 minutes.
Stovetop Directions for Chicken Satay
Heat a large cast iron skillet or a wok to medium-high.
Thai Peanut Dipping Sauce
Add all of the ingredients to a medium bowl and whisk until smooth and creamy.

Add a squeeze of lime juice if desired.

Water: You may need to add a little water to thin the peanut dipping sauce to the desired consistency. Different brands of peanut butter differ in thickness.

PRO-TIP: To make a Thai peanut dressing* simply thin the dipping sauce a little bit more. For the dressing, I usually add a few more tablespoons of the rice vinegar and then if it still needs to be thinner I will add some water until I am happy with the consistency.
YOUR OWN NOTES
Nutrition
Calories:
419
kcal
Carbohydrates:
16
g
Protein:
34
g
Fat:
25
g
Saturated Fat:
7
g
Cholesterol:
73
mg
Sodium:
949
mg
Fiber:
2
g
Sugar:
4
g
Calcium:
51
mg
Iron:
2
mg