Next Level Chicken Satay, and all of the fixings
This is one of my go-to meals when I am having company or a party, it is so easy! You can scale it up rather effortlessly, and it still tastes absolutely wonderful at room temperature.
When my friends come over, of course I am going to feed them. My best friend and her husband were in town this weekend to be part of launch night for Foodology Geek Cooking School (it was a great night and a huge success!). Later in the weekend, they came over for a celebratory dinner – my favorite way of saying "thank you" is to cook you a delicious meal!
Asian food is a favorite of mine, and Thai food is on the top of that list – I love the strong, bright flavors of the fresh herbs used in Thai cooking, like mint, cilantro, and basil. These herbs paired with the spiciness of red chili and the saltiness of tamari sauce is so delicious.
Let's start with the Asian Cucumber Salad
This Asian Cucumber Salad is pickled in a salty, gingery, spicy soy dressing – it is crispy and spicy and cold. It's flavors and cold texture pair perfectly with the richness of the Thai Peanut Sauce that is served with the chicken satay.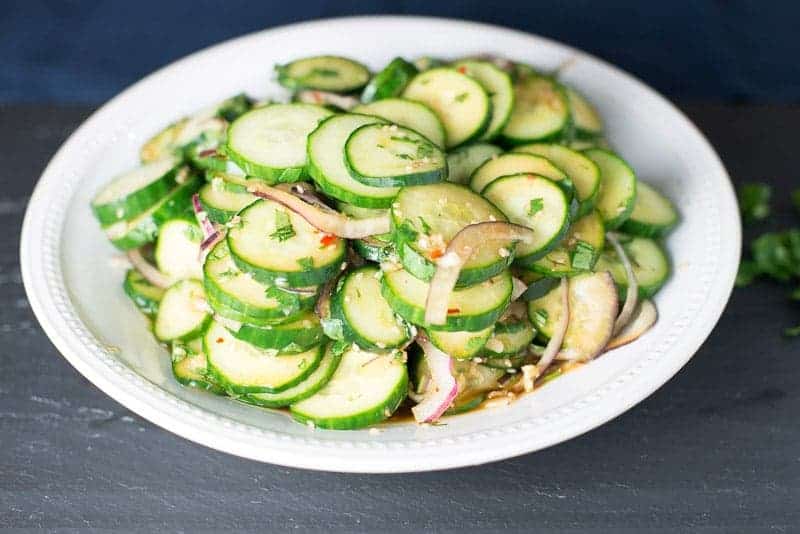 Next: Chicken Satay with Thai Peanut Sauce
My Chicken Satay is marinated in a light soy-ginger marinade, and then grilled or baked. Serve it with the Thai peanut sauce for maximum eating pleasure. My normal peanut sauce to chicken ratio is about 2:1 – you will have to find your own perfect sauce to chicken ratio!
Lastly: Coconut Rice with Mangoes
The Coconut Rice is steamed with coconut creme, then a little more is stirred in after it is cooked. The fresh mangoes are seasoned with a little bit of fresh mint and a squeeze of lime. Such a simple preparation, but a wonderfully complex flavor profile. It is fresh and comforting all at the same time!
(Visited 150 times, 1 visits today)