If you're looking for a whole new way to make deviled eggs for your Easter brunch this year, this post is for you.
These are deviled eggs with creme fraiche and caviar. I'm calling this one my I Wanna Be A Billionaire Deviled Eggs because they are super fancy deviled eggs. Have you ever had deviled eggs with caviar on them? They are fancy but are also unpretentiously topped with a crispy potato chip as well.
Not only is this the perfect Easter appetizer it is also a low carb Easter recipe. The filling of these deviled eggs is made with creme fraiche and a little bit of heavy cream. A hint of smoke paprika gives you just the right amount of smokiness.
If you can even believe it, I made three kinds of deviled eggs today.
Yep, that's a lotta eggs. I started feeling like I might be slightly obsessed with deviled eggs. Check out the others, my BTA (Bacon, Tomato, and Avocado Deviled Eggs), Smoked Salmon Deviled Eggs, Classic Church Style Deviled Eggs (this one is a family recipe).
As with most of my recipes, there is a story behind them.
And who doesn't love a good food story? These eggs are based on something that I heard last year at Food and Wine. Caviar and potato chips. I guess this concept caused quite a stir. Ever since I heard about this story, I have been jonesing to bring this flavor profile into something.
Here's the Story: Apparently there was a massive controversy in the Food and Wine world. I'm not sure who started it – maybe Chef Casey Thompson. I heard about the whole thing at Food and Wine 2018 during Justin Chapple's stage demo. It seems that there was an outrage by a caviar company when someone posted a photo on Instagram that showed several chefs eating caviar with creme fraiche on Pringles. Of course, Pringles was super excited for the shout out. But the caviar company felt disrespected.
I feel like we should all take ourselves a little less seriously and have a little more fun. Let people eat what makes them smile, without judgment. Bring on all the flavors!!
All I could think of when I heard this story was how was it possible that I did not get an invite to this party. Nevermind that I'm not a celebrity chef, yet.
It was my biggest disappointment in attending Food and Wine. I wanted to be more of an insider.  I am not just a person that cooks for fun or a hobby. I hardcore live and breathe recipes. I wanted to be hobnobbing with my favorite chefs like Tyler Florence, who I seriously have a crush on. Don't worry my husband knows. Ann Burrell and Andrew Zimmerman – I know we could totally hang out. I've been watching them on the Food Network for so long that I feel like I know them already. And Justin Chapple was hilarious and insanely talented.
#bigdreams One day, I'm going to meet them and be part of the insiders club.
I did make an effort to get into the insiders club. If you want a huge laugh, here is the pitch that I did for Guy Fieri at Food Network a few years ago. Sadly, I didn't get the gig. I'm sure Guy is regretting it, right?
The most important thing to get right when making deviled eggs is to get your eggs cooked properly and to cook your eggs so that they peel relatively easily.
Making the perfect hard-boiled eggs is all about timing. You can check out my Paleo Deviled Eggs Post to get in-depth directions. The gist is to 1. Heat your water to a slow boil. 2. Add eggs for ten minutes. 3. Chill in an ice bath for 5 minutes. Then peel!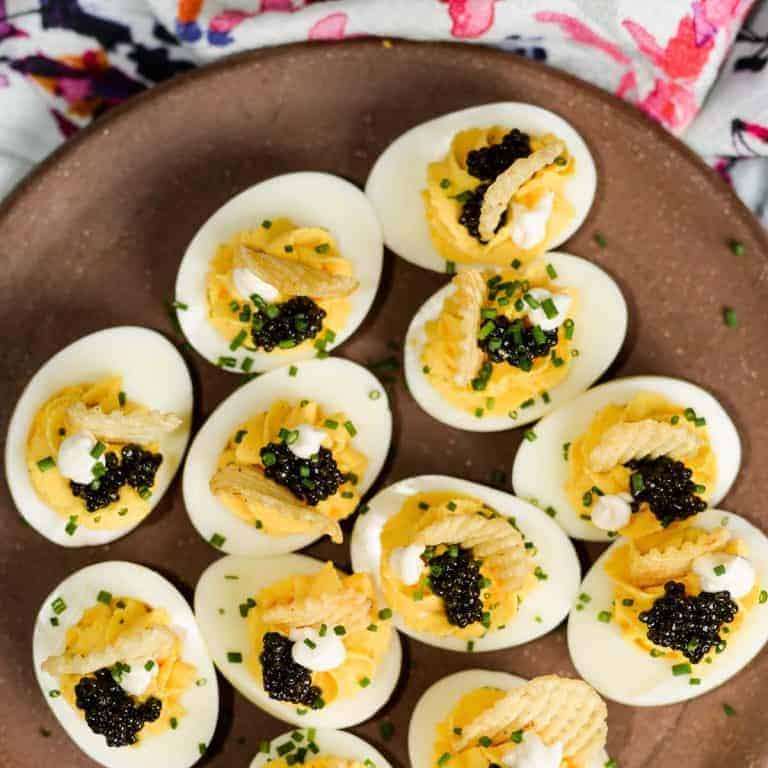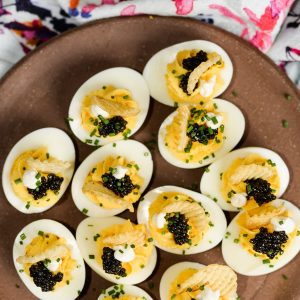 Deviled Eggs with Caviar and Potato Chips
Servings:
24
deviled eggs
Caviar and potato chips make these deviled eggs a stand out at parties. Definitely, serve them with a glass of dry champagne.
Print Recipe
Pin Recipe
Ingredients
12

Hard-boiled Eggs

halved
Toppings
1 to 2

tbsp

Caviar

1 to 2

tbsp

Chives

24

Waffle cut potato chips

1 to 2

tbsp

Creme fraiche
Special Equipment
Instructions
Perfect Hard Boiled Eggs
Bring a pot of water to a soft boil. (For my super nerds, water temp should be about 170℉).

Add eggs to the water, gently, using a slotted spoon.

Remove the eggs and place in an ice bath for 5 minutes.
Make the Filling
Slice the hard-boiled eggs in half and add the yolks to a bowl. Set the whites aside for filling later.

Add the creme fraiche, heavy cream, salt, pepper, and smoked paprika.

Mix using a hand mixer until the mixture is smooth and creamy.

Add the mixture to a piping bag fitted with a large tip

NOTE: If you don't have a piping bag set up you can use a freezer bag. Just fill the freezer bag and cut one corner off. The opening should be approximately the size of the diameter of a pencil.

Pipe the filling into the halved egg whites.
Topping
Add about a ½ teaspoon of caviar to the top of each egg.

Add the creme fraiche to a small piping bag with a small round tip. OR a small sandwich bag with the very tip cut off. This opening should be the size of about ¼ of the size of a pencil.

Add a small dot of creme fraiche to the top of each egg.

Place one potato chip into each deviled egg so that it is standing vertically.

Sprinkle the deviled eggs with finely chopped chives.
Nutrition
Serving:
1
deviled egg
|
Calories:
57
kcal
|
Carbohydrates:
1
g
|
Protein:
3
g
|
Fat:
4
g
|
Saturated Fat:
1
g
|
Cholesterol:
103
mg
|
Sodium:
107
mg
|
Calcium:
19
mg
|
Iron:
0.5
mg
(Visited 36 times, 1 visits today)