Deviled Eggs with Caviar and Potato Chips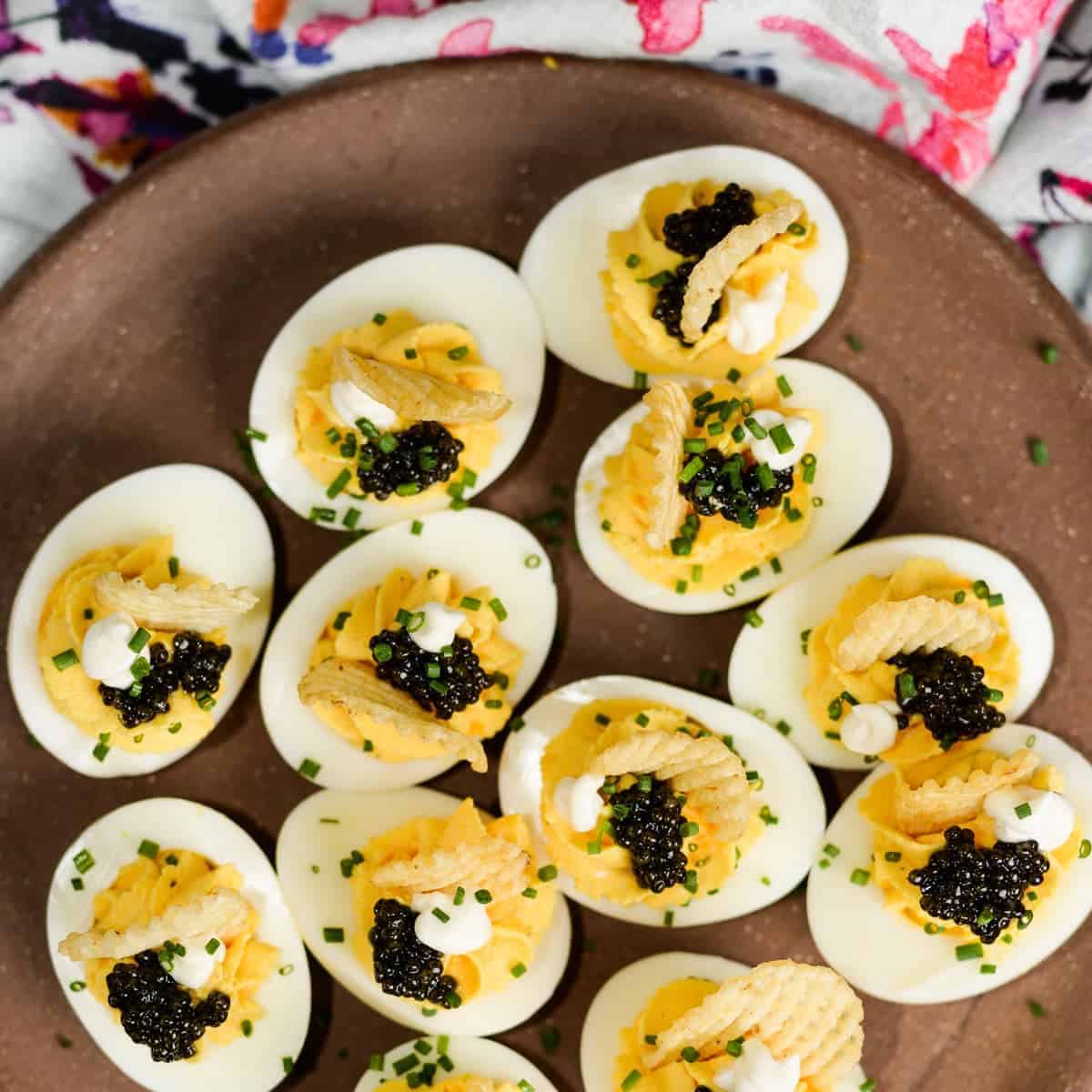 Recipe
Comments
Save
Go to Collections
This post may contain affiliate links. Please read my
disclosure policy.
If you're looking for a whole new way to make deviled eggs, this post is for you. These are deviled eggs with creme fraiche and caviar. I call these my I Wanna Be A Billionaire Deviled Eggs because they are super fancy deviled eggs.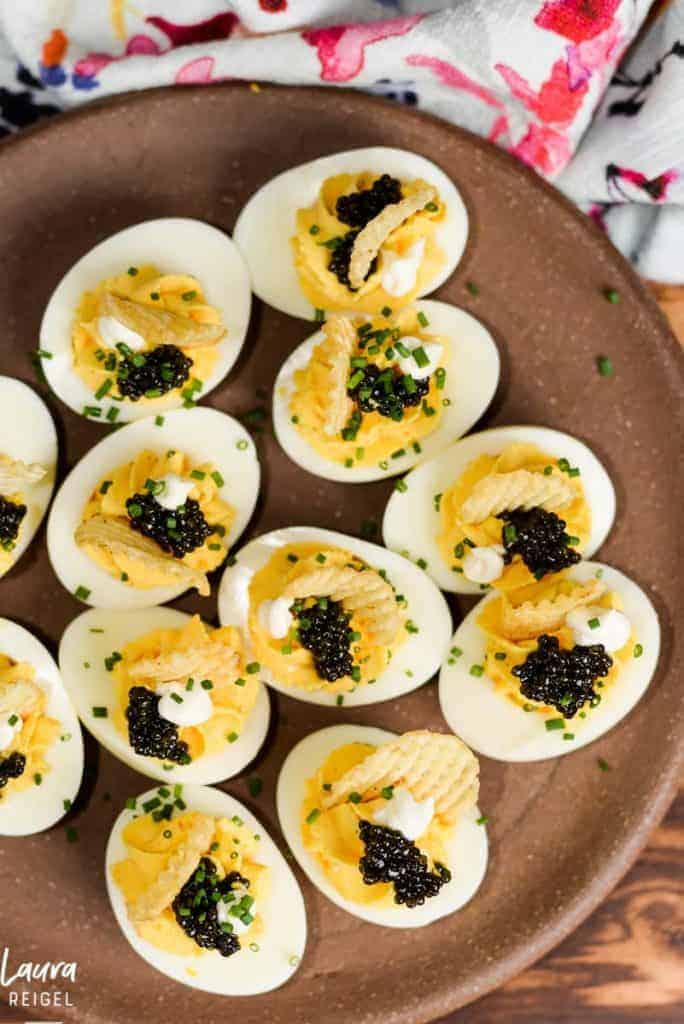 This recipe was inspired by potato chips and caviar.
As with most of my recipes, there is a story behind them.
And who doesn't love a good food story? These eggs are based on something that I heard last year at Food and Wine.
Caviar and potato chips.
I guess this concept caused quite a stir. Ever since I heard about this story, I have been jonesing to bring this flavor profile into something.
Here's the Story: Apparently there was a massive controversy in the Food and Wine world. I'm not sure who started it – maybe Chef Casey Thompson.
I heard about the whole thing at Food and Wine 2018 during Justin Chapple's stage demo.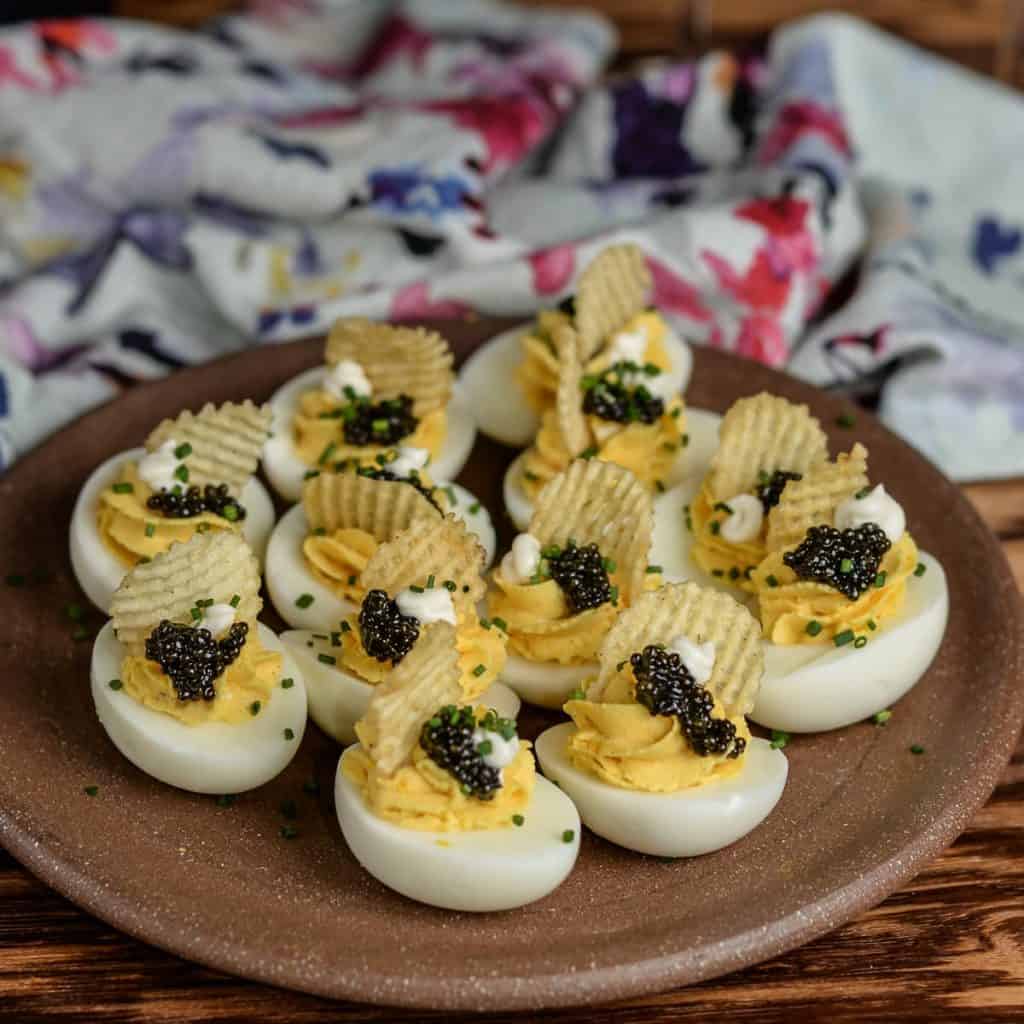 Apparently a certain caviar company was a little upset when a group of chefs posted a photo on Instagram that showed themselves eating Pringles topped with creme fraiche and caviar.
Of course, Pringles was super excited for the shout out. But the caviar company felt disrespected.
I feel like we should all take ourselves a little less seriously and have a little more fun. Let people eat what makes them smile, without judgment. Bring on all the flavors!!
These deviled eggs with caviar are fancy but are also unpretentiously topped with a crispy potato chip as well.
The filling of these eggs is made with creme fraiche and a little bit of heavy cream. A hint of smoked paprika gives you just the right amount of smokiness.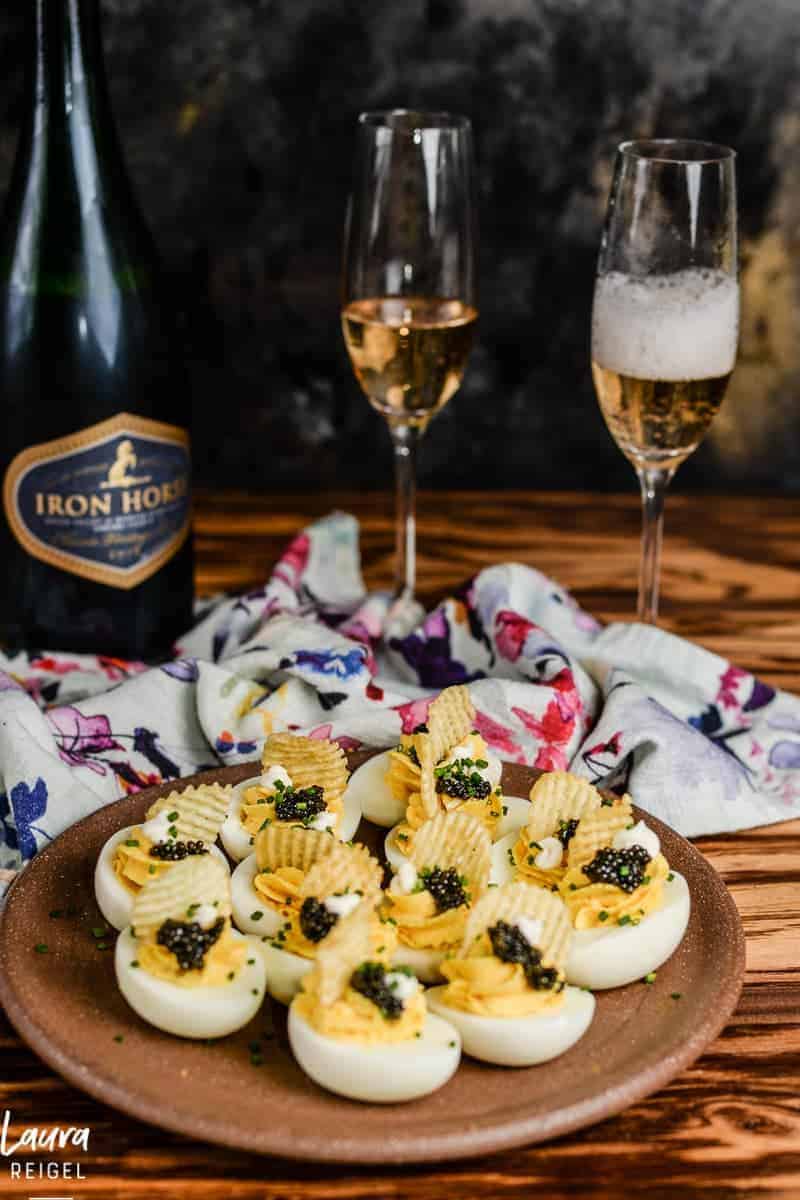 I made three kinds of deviled eggs today.
Yep, that's a lotta egg. I started feeling like I might be slightly obsessed with deviled eggs.
Check out the others, my BTA (Bacon, Tomato, and Avocado Deviled Eggs), Smoked Salmon Deviled Eggs, Classic Church Style Deviled Eggs (this one is a family recipe).
I always think of deviled eggs as an Easter brunch appetizer. My Grandma Sisson's recipe is one my standard go-to on my list of Easter appetizer recipes.
I like making this version as low carb easter recipe. My Grandma's deviled eggs are sweet and have sugar in them.
How to hard boil eggs.
The most important thing to get right when making deviled eggs is to get your hard-boiled eggs cooked properly. And to make easy to peel hard-boiled eggs.
It's all about timing.
A perfect hard-boiled egg will have the white cooked through but not have any hint of that greenish-grey ring.
The yellows should be bright and mostly solid. I like my yellow just slightly jammy in the middle when I am making deviled eggs.
You can check out my Paleo Deviled Eggs Post to get in-depth directions.
If you want to know everything about making the perfect hard-boiled eggs you can check out this article.
Step by Step instructions for easy to peel hard-boiled eggs
Heat your water to a slow boil.
Add eggs for eight minutes.
Chill in an ice bath for 5 minutes. Then peel!
Where to buy caviar
You can usually find caviar in the fancy cheese and wine section of your local, upscale grocery store.
There are a few different kinds of caviar ranging from moderately priced to very expensive. Do a little research before you buy caviar. Check out this article from Serious Eats on caviar.
If you can't find caviar locally you can order caviar online. Here are a few recourses.
D'Artagnan

(affiliate link)

– Supplier of high-quality specialty meat. This is where I like to buy my duck from when I do Duck Hash. They have wonderful unpasteurized caviar.
Russ and Daughters

(affiliate link)

– A New York deli and supplier of premium smoked fish and caviar.
Petrossian – Supplier of smoked fish and caviar.
Amazon – Amazon sells everything. Just make sure to do a little research.
More Brunch Recipes
These deviled eggs are fancy enough for Easter brunch; but, are a deliciously fun spin on classic deviled eggs for any occasion.
Crispy Gluten-Free Latke Recipe
Dip Recipes
Other Deviled Egg Recipes: Because I'm Obsessed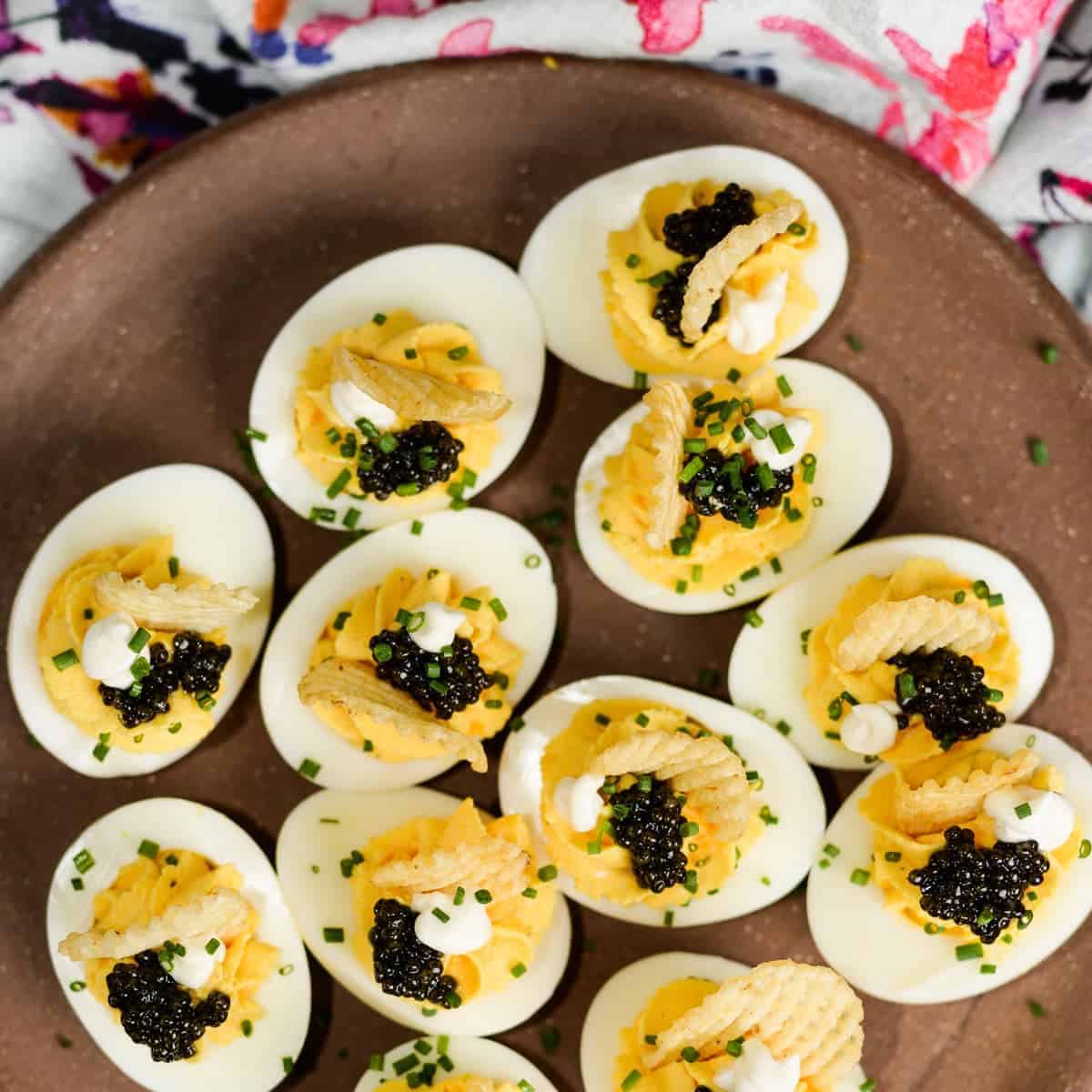 Deviled Eggs with Caviar and Potato Chips
Caviar and potato chips make these deviled eggs a stand out at parties. Definitely, serve them with a glass of dry champagne.
Ingredients
12

Hard-boiled Eggs

,

halved
Toppings
1 to 2

tbsp

Caviar

1 to 2

tbsp

Chives

24

waffle cut potato chips

1 to 2

tbsp

Creme fraiche
Special Equipment
Instructions
Perfect Hard Boiled Eggs
Bring a pot of water to a soft boil. (For my super nerds, water temp should be about 170℉).

Add eggs to the water, gently, using a slotted spoon.

Remove the eggs and place in an ice bath for 5 minutes.
Make the Filling
Slice the hard-boiled eggs in half and add the yolks to a bowl. Set the whites aside for filling later.

Add the creme fraiche, heavy cream, salt, pepper, and smoked paprika.

Mix using a hand mixer until the mixture is smooth and creamy.

Add the mixture to a piping bag fitted with a large tip

NOTE: If you don't have a piping bag set up you can use a freezer bag. Just fill the freezer bag and cut one corner off. The opening should be approximately the size of the diameter of a pencil.

Pipe the filling into the halved egg whites.
Topping
Add about a ½ teaspoon of caviar to the top of each egg.

Add the creme fraiche to a small piping bag with a small round tip. OR a small sandwich bag with the very tip cut off. This opening should be the size of about ¼ of the size of a pencil.

Add a small dot of creme fraiche to the top of each egg.

Place one potato chip into each deviled egg so that it is standing vertically.

Sprinkle the deviled eggs with finely chopped chives.
YOUR OWN NOTES
Sign In to add your own private notes
Nutrition
Serving:
1
deviled egg
Calories:
57
kcal
Carbohydrates:
1
g
Protein:
3
g
Fat:
4
g
Saturated Fat:
1
g
Cholesterol:
103
mg
Sodium:
107
mg
Calcium:
19
mg
Iron:
0.5
mg