Lumpia is a Filipino egg roll filled with meat and veggies. These crispy, golden brown spring rolls make a tasty appetizer. Serve these crispy rolls with a sweet and sour lumpia sauce.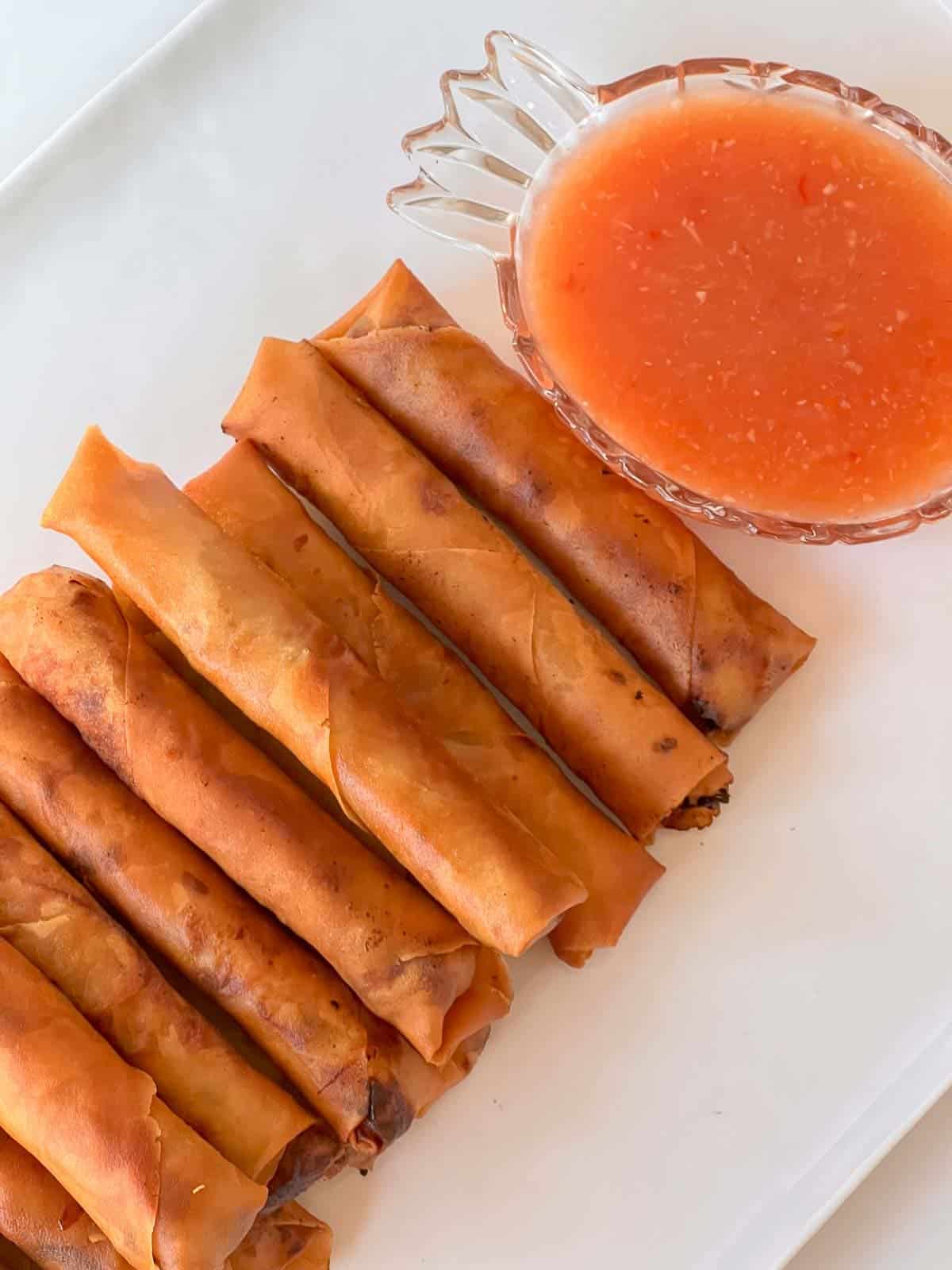 Lumpia was a staple at nearly every get-together growing up in Hawaii. Our neighbor Zinny taught my mom to make lumpia and pancit; we loved them both so much that we adopted the recipes. Both Filipino recipes have become a staple in my kitchen.
The flavor of these crispy spring rolls takes me back every time I make a batch. I remember my mom making them when we were kids; we would eat them almost as fast as she made them.
So be warned, you might want to make a double batch. You can freeze them so that you'll always have them on hand!
Lumpia Ingredients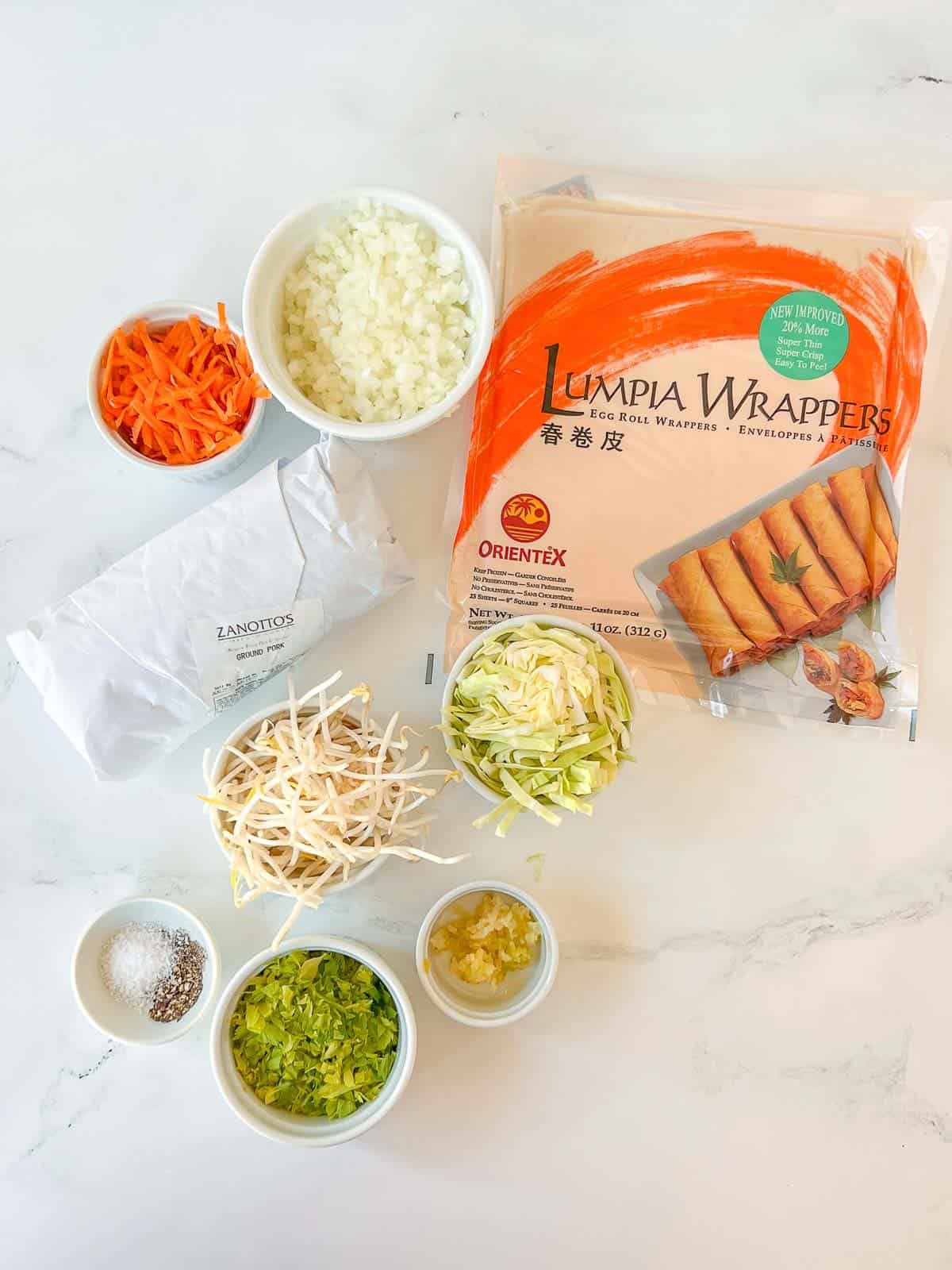 Lumpia wrappers. I usually buy lumpia wrappers from the grocery store. They are sometimes in the produce section with the egg roll and won ton wrappers. If you can't find them there, look in the freezer section.
Ground pork. Ground pork is traditionally used, but you can also use ground beef, ground chicken, or minced seafood.
Onion. Use white or yellow onion that is very finely minced.
Garlic. Garlic adds pungency. finely mince or press the garlic. You can use garlic powder if you don't have fresh garlic on hand.
Cabbage. Use finely shredded green cabbage.
Carrots. Add just a little shredded carrot for color and sweetness.
Bean sprouts. My mom always used bean sprouts in her recipe, and I've kept this tradition. You can also leave them out.
Celery leaves. Finely chopped celery leaves add a subtle flavor to the filling.
Salt and pepper. Salt and pepper to taste.
Oil for frying. Most Asian recipes call for peanut or grape seed oil for frying. You can also use canola oil or any other neutral flavored oil.
Lumpia Wrappers
Lumpia wrappers are different than egg roll wrappers. They are ultra-thin, and they fry up super crispy. If you can't find store-bought lumpia wraps, you can make them from scratch.
See the full instructions on how to make homemade spring roll wrappers.
Making the Filling
Lumpia filling is made with meat, usually ground pork and veggies. You can also use ground beef, chicken, or seafood.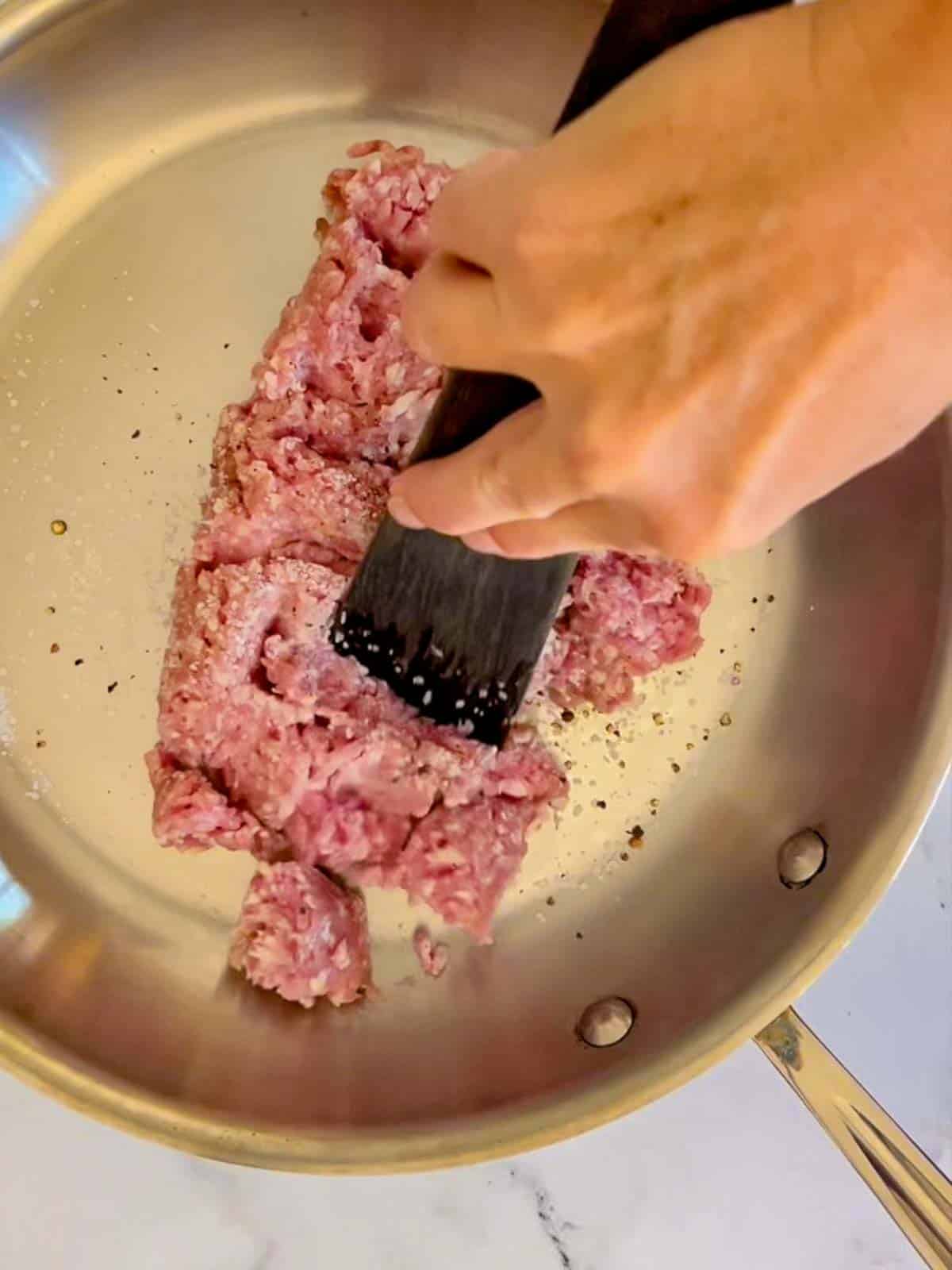 Traditionally, the filling is mixed in a large bowl and then stuffed raw into the lumpia wrappers before frying. However, my mom always cooked the filling and then let it cool. After the filling was cool, she would recruit me to roll the lumpia.
If you decide to use the raw filling, just make sure to deep fry the lumpia over medium heat, so it has time to cook thoroughly.
Start by sautéing the ground pork with a little salt and pepper.
Add the onion and cook until the onion is thoroughly cooked.
Add the garlic and the remaining vegetables. Sauté for another 3 to 4 minutes.
Season the filling with salt and pepper. Add a little bit of ketchup to bind the mixture.
Set the filling aside to cool.
How To Roll Lumpia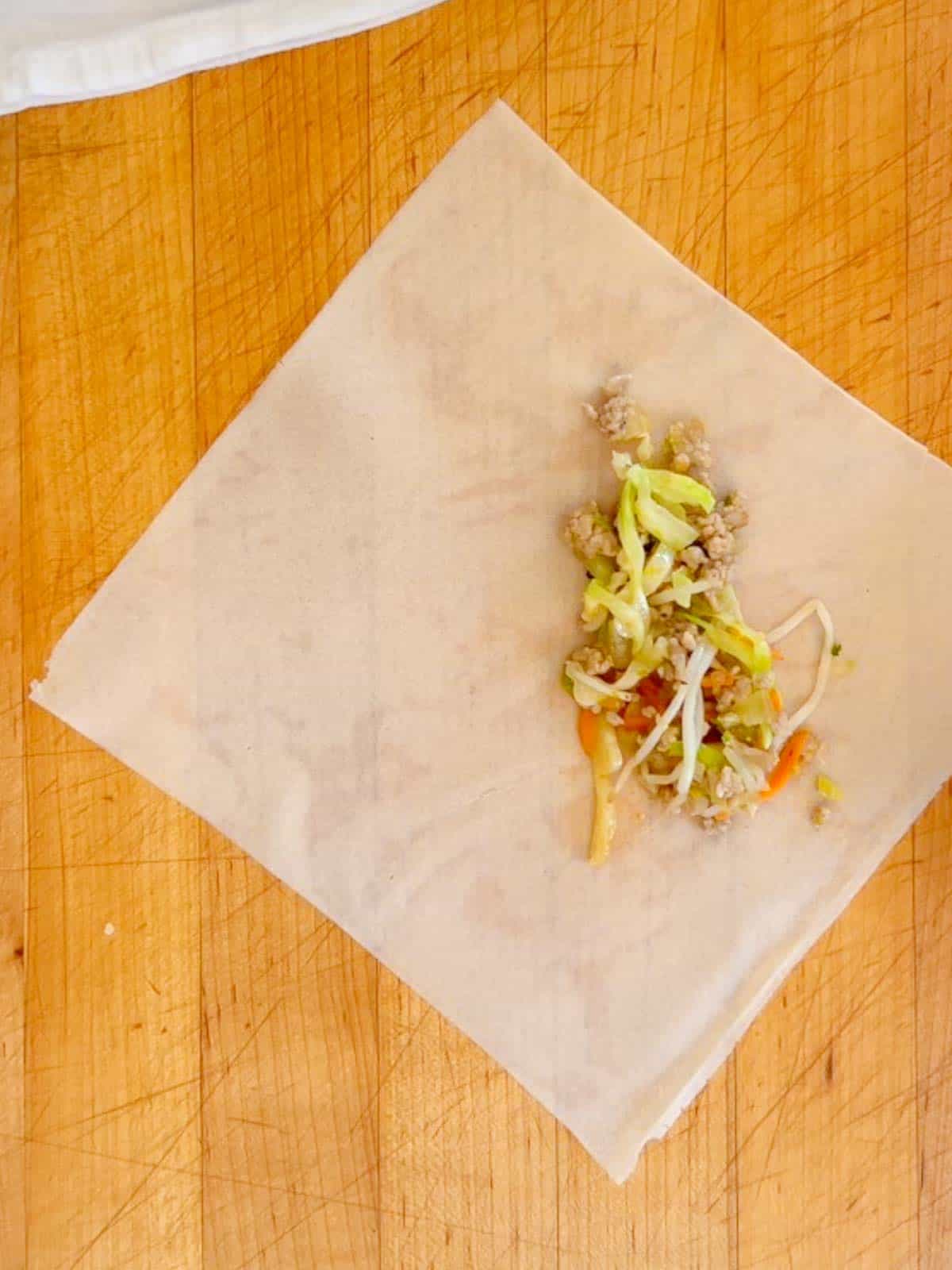 How To Cook Lumpia
Deep fry the lumpia over medium to medium-high heat. You want to cook them until they are a nice medium golden brown. When they are done, transfer them to a baking rack to cool.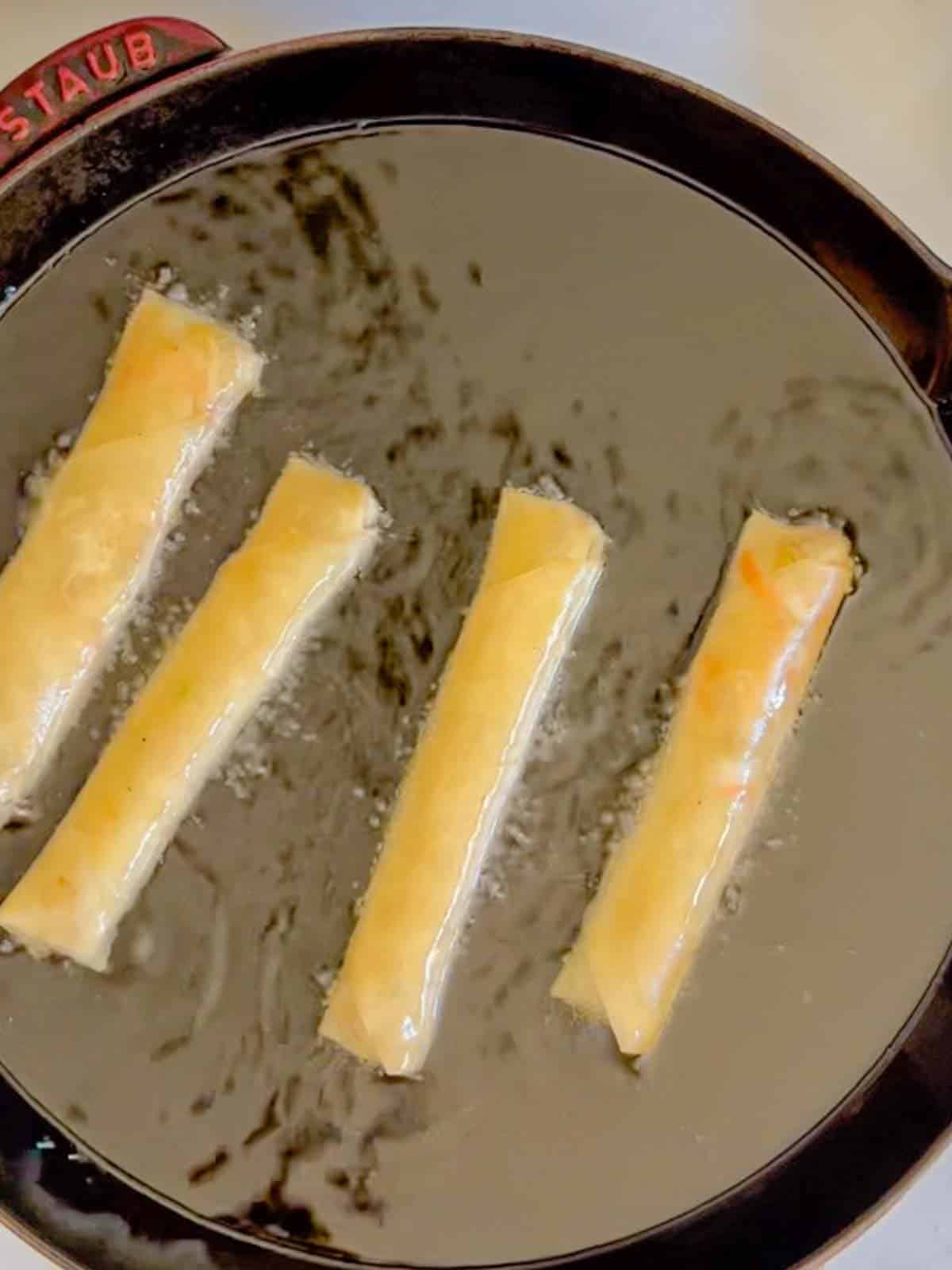 Lumpia Dipping Sauce
Serve these crispy spring rolls with a sweet and sour sauce dipping sauce. If you don't have any on hand, you can whip up a quick dipping sauce with a few common kitchen staples.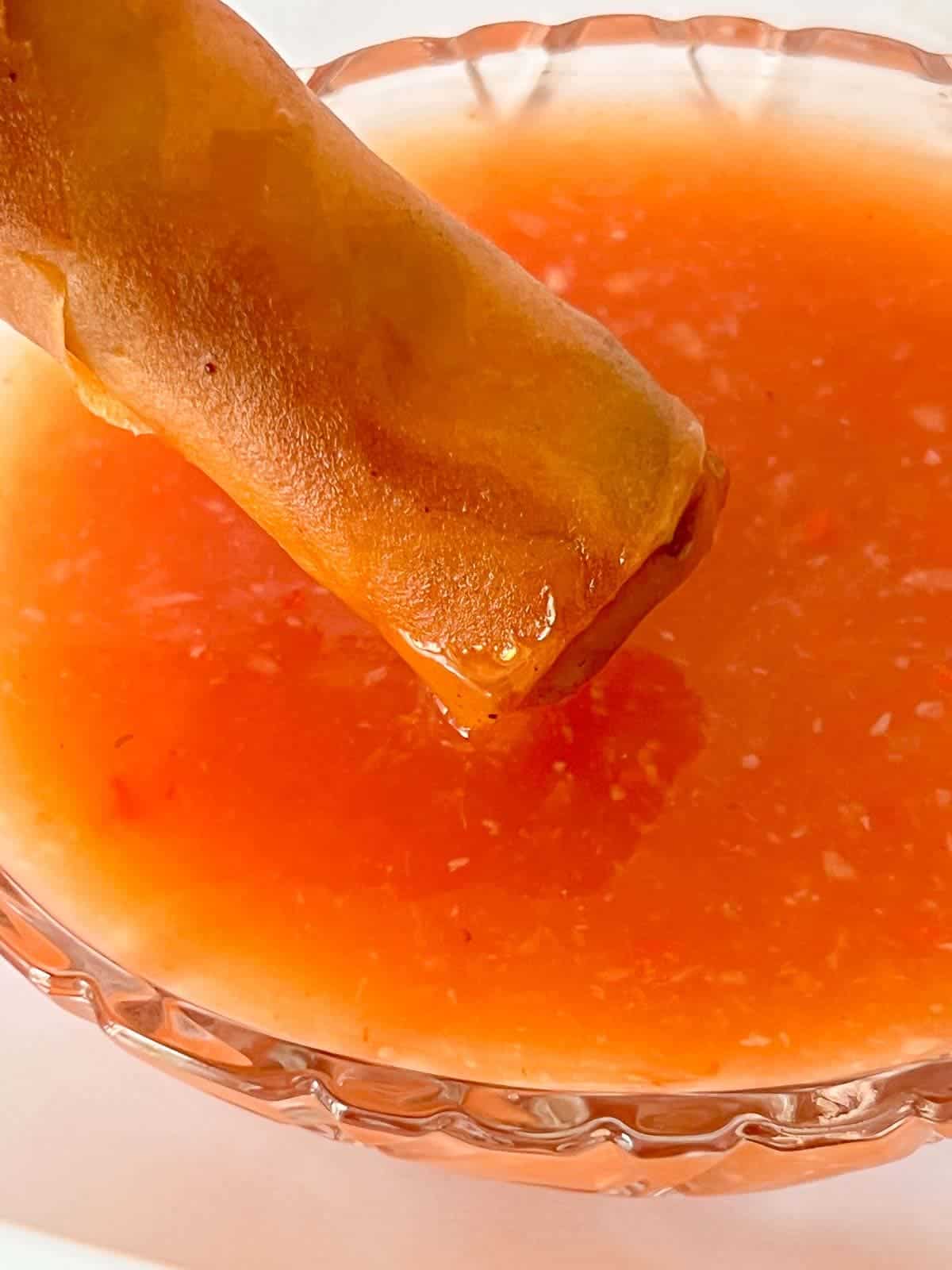 Lumpia Sauce Ingredients
Water.
Vinegar. White or apple cider vinegar adds tartness to the sweet and sour sauce.
Ketchup. Ketchup adds sweetness and color.
Sugar. Sweeten to taste. You can add more or less sugar depending on your desired sweetness level.
Chilis. A few fresh Thai chilies add a kick of heat to this sweet and spicy dipping sauce. If you don't have Thai chilis, Sriracha or chili oil will also work to add heat.
Garlic. Garlic adds a little pungency.
Cornstarch. Mix the cornstarch with a little bit of water to create a cornstarch slurry. Cornstarch will thicken the sauce.
Combine all of the ingredients in a medium saucepan.
Bring the sauce mixture to a boil, and then add the cornstarch slurry to the sauce.
Continue to boil the sauce until it begins to thicken.
Allow the spicy chili sauce to cool before serving.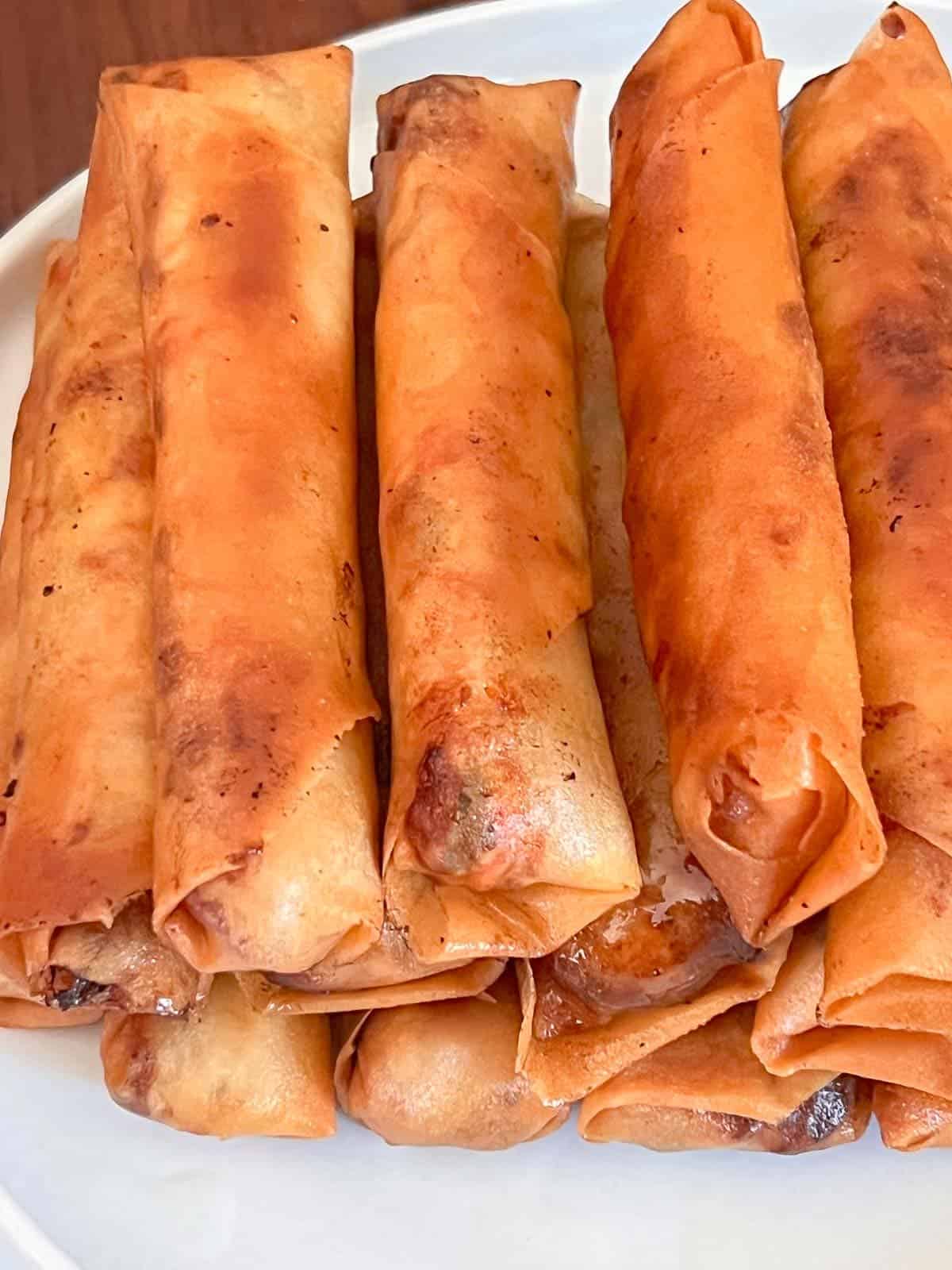 Recipe Variations – Banana Lumpia
If you're in the mood for something sweet, banana lumpia is so good and easy to make. Serve it with ice cream and caramel sauce.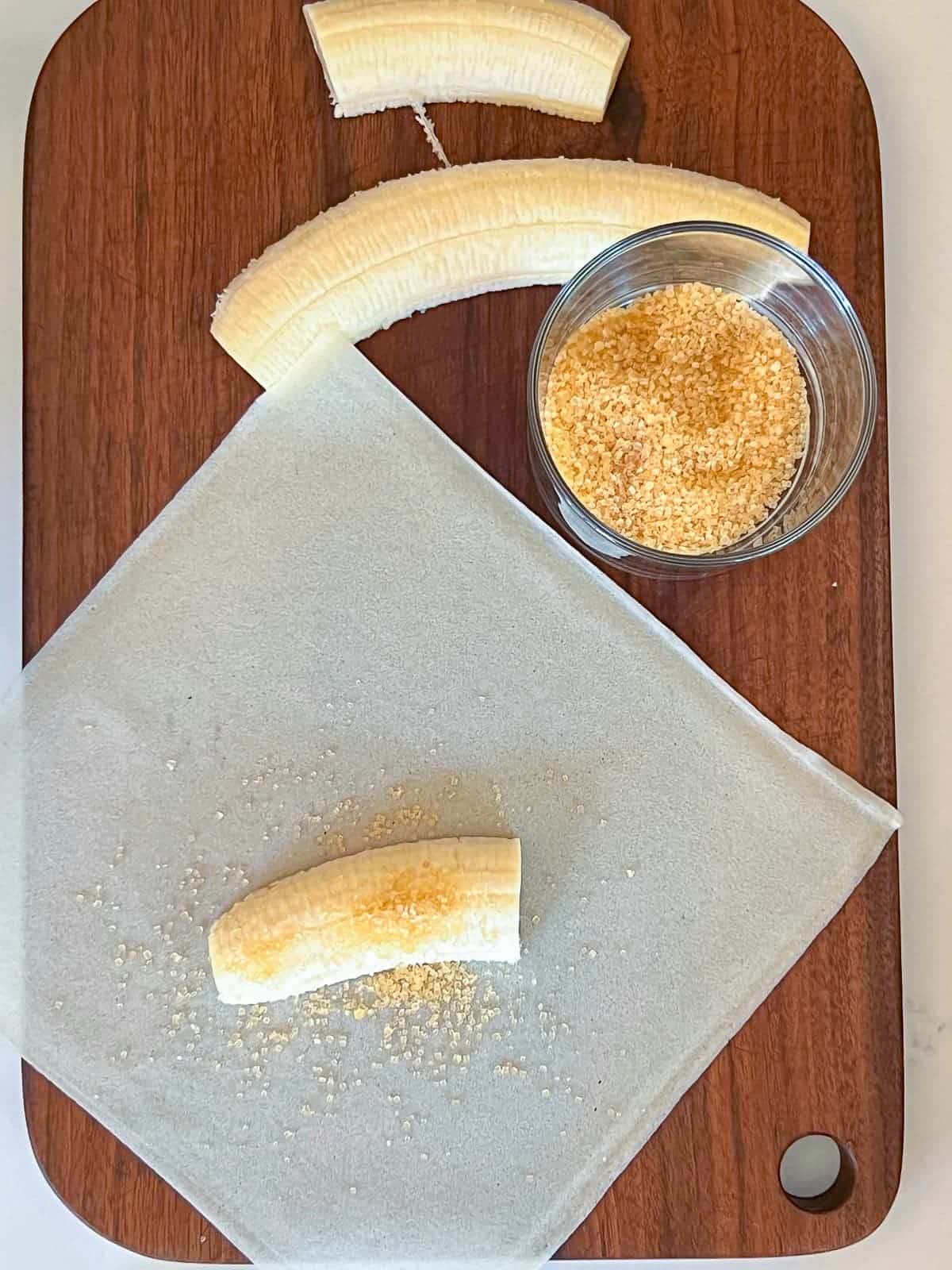 What To Serve With Lumpia
➽ Did you make this recipe? I love to see what's going on in your kitchen. Show me what you're cooking. 🍳 Tag me @foodologygeek on your favorite social channel! Facebook, Instagram & Pinterest. If you loved ❤︎ this recipe, please leave a five ★ review and a comment!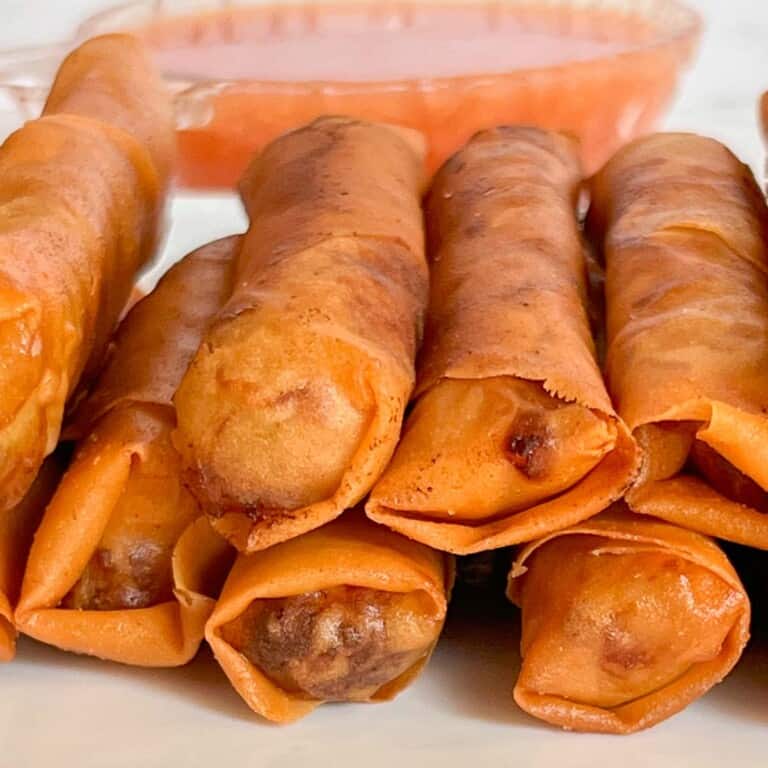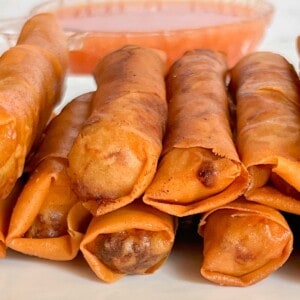 Lumpia Recipe
Lumpia is a Filipino spring roll filled with meat and veggies and deep fried until it is crispy and golden brown. Serve this tasty appetizer with a sweet and sour lumpia sauce. [Pronouced loom·pee·uh.]
Ingredients
Instructions
Lumpia Filling
Add the onion and the garlic. Sauté until the onion is soft and translucent.

1 cup onion,

2 cloves garlic

Add the remaining vegetables and sauté for antohter3-4 minutes. The should be just wilted.

¼ cup carrots,

¼ cup bean sprouts,

½ cup cabbage,

¼ cup celery leaves

Season with salt and pepper and add the ketchup to bind the mixture.

½ teaspoon sea salt,

¼ teaspoon black pepper,

1 tablespoon ketchup

Allow the mixture to cool completely before rolling the lumpia.

OPTIONAL: Raw filling. Mix the ingredients and fill the lumpia with raw filling before frying them.
Assemble and Fry
Roll the lumpia and place them on a cookie sheet. Make sure they aren't touching.

Fry the lumpia in peanut oil until they are a deep golden brown. Work in batches of 4 or 5 so they aren't too crowded.

Transfer the fried lumpia to a baking rack set over a heavy rimmed baking sheet. Allow them to cool slightly before servint.
Lumpia Dipping Sauce
Add all of the ingredients, except the cornstarch to a medium saucepan and bring it to a boil.

1 cups water,

2 tablespoons ketchup,

2 cloves garlic,

2 teaspoons sugar,

2 to 4 thai chilis

Make a cornstarch slurry by mixing 1 teaspoon of cornstarch with 1 tablespoon of water. Allow the sauce to thicken.
YOUR OWN NOTES
Nutrition
Serving:
1
lumpia
Calories:
129
kcal
Carbohydrates:
12
g
Protein:
7
g
Fat:
6
g
Saturated Fat:
2
g
Cholesterol:
21
mg
Sodium:
172
mg
Fiber:
1
g
Sugar:
1
g
Calcium:
16
mg
Iron:
1
mg