Slurpy Noodles are one of my favorite things in life! These Spicy Shrimp Noodle Bowls are colorful and packed with all the veggies, plus aromatic herbs. They're also 🌱 vegan adaptable.
My favorite thing about these spicy shrimp noodle bowls is the forbidden rice noodles. When cooked, these forbidden rice noodles are a dark purple color. They're both tasty and gorgeous.
Forbidden Rice is a super-cool variety of black rice that was once reserved only for royalty. The forbidden rice has a higher protein content and higher amounts of antioxidants than your run of the mill white rice noodles.
While this IS an Asian style noodle bowl – I'm not entirely sure what to call it.
This recipe isn't authentically anything.
The flavors tend towards Vietnamese vermicelli bowls.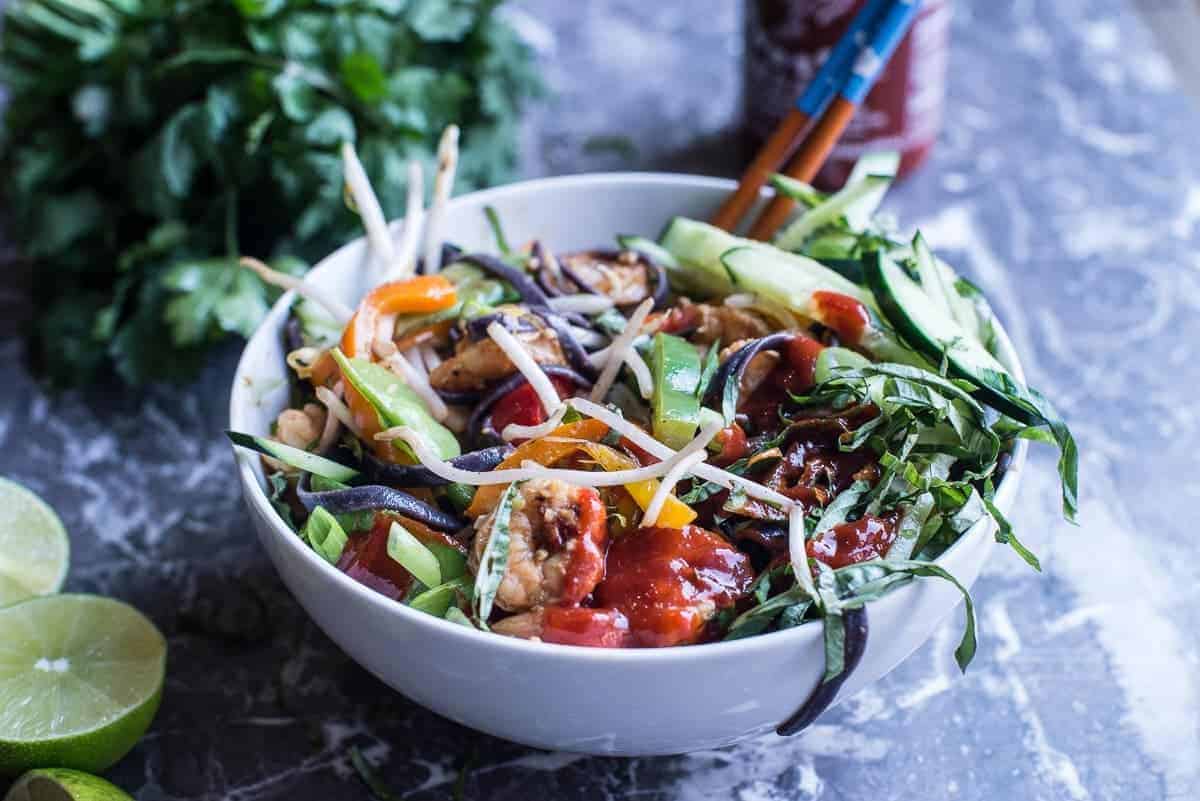 Protein-packed and full of healthy fresh vegetables. This bowl of noodles is the perfect packable lunch.
Vietnamese food is one of my absolute favorites.
The robust flavors in Vietnamese cooking and the way warm and cold foods are often paired together make it special.
There's always a balance of flavors. Spicy is paired with crisp aromatics. Hot pho broth paired with cold bean sprouts and fresh basil and lime. It's SO good.
This bowl has some of these elements. No matter how you decide to categorize it for yourself, I guaranteed this spicy shrimp noodle bowl tastes fantastic.
This might seem like a lot of cooking at first, but - don't be dissuaded - the cooking is quick.
If you have a wok for cooking this dish, it makes the experience even better.
The key to a good stir fry is not to overcook the vegetables.
They should be cooked hot and fast and pulled out of the pan while they still have some crunch. Immediately remove the vegetables out of the pan and set them aside.
Then the shrimp can go right into the steaming hot wok. The shrimp also cooks in a few short minutes.
These Spicy Noodle Bowls are super fun to make and to eat.
I usually serve all the components on the table and let everyone build their bowl. This way, everyone gets to have a creative bowl-building experience - not to mention, they get exactly what they want!
More of my favorite Noodle Recipe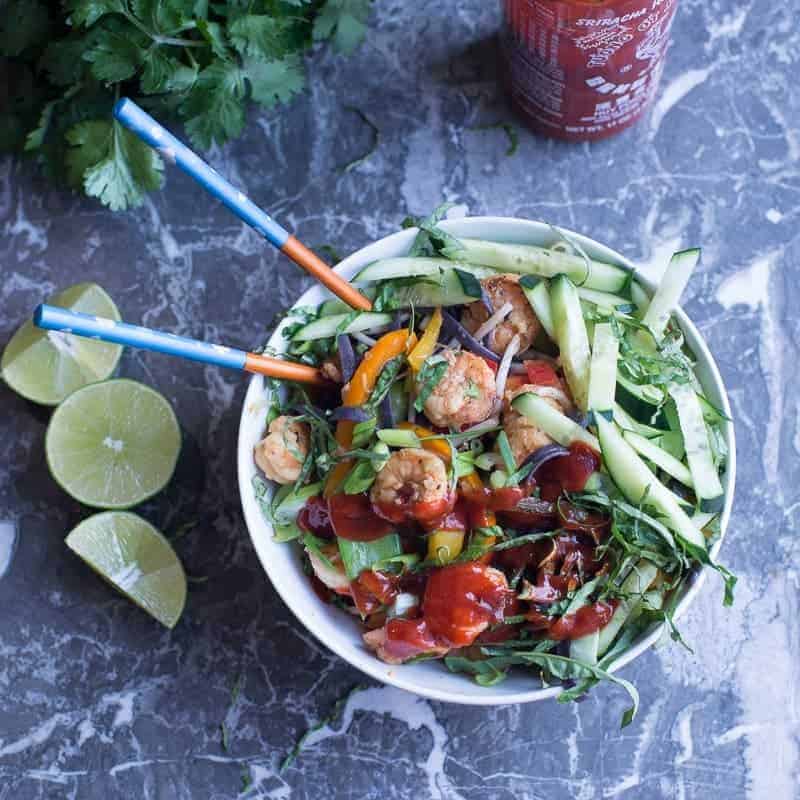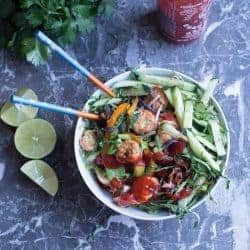 Spicy Shrimp Noodle Bowls
Spicy shrimp with rice noodles and a ton of fresh veggies! This healthy noodle bowl has so much flavor.
Ingredients
1

pkg

Forbidden Rice Noodles

2

tsp

sesame oil

divided

½

onion

sliced thin

4

tsp

garlic

minced (divided)

4

tsp

ginger

grated (divided)

2

bell peppers

whatever colors you like

2

tbsp

soy sauce

or tamari (divided)
Fresh Veggies
bean sprouts

cucumbers

julienned

fresh limes
Aromatics
fresh basil

torn or chopped

fresh mint

chopped

green onions

sliced
Instructions
Noodles
Bring a large pot or water to boil. Cook noodles according to the directions and set aside.

You can add a small amount of oil to noodles to keep them from sticking as they sit in the colander.
Next Sauté Vegetables
Add 1 tsp of sesame oil to a hot pan or wok.

Add onions, and 1 tsp of garlic, and 1 tsp of ginger.

Add bell peppers. Sauté until slightly cooked.

Remove veggies from pan and set aside.
Make The Protein
Add another tsp of oil to hot pan.

Add the remainder of garlic and ginger.

Add the shrimp (or tofu). Sauté until cooked through.

Add soy sauce or tamari and bring to a boil.
Assembly
Add veggies back to the pan.

Toss everything together.

Serve with fresh veggies and aromatics.
Laura's Tips + Notes
I usually make the shrimp version and the vegan version side by side. I double the amount of veggies and noodles and then sauté the proteins in 2 separate pans.
This recipe is great for leftovers.
Nutrition
Calories:
433
kcal
Carbohydrates:
40
g
Protein:
51
g
Fat:
6
g
Saturated Fat:
1
g
Cholesterol:
571
mg
Sodium:
2276
mg
Fiber:
4
g
Sugar:
4
g
Calcium:
341
mg
Iron:
5.3
mg