This Hawaiian Fried Rice Recipe is a classic Spam recipe. Everyone that tries this recipe says it is truly an authentic Hawaiian recipe! You definitely need to give it a try.
This post does contain affiliate links. Please see my Affiliate Link Policy.
Spam Fried Rice is frickin' delicious.
Fun fact: I grew up as a Navy brat, which means I lived all over the place. There are certain things that you learn when you grow up moving around every few years:
Home is truly where your heart is – When people ask me where I'm from my answer is usually something like...uh, It's complicated.
You learn to make friends anywhere – Stranger? What? I've never met one.
Always be adaptable – 'Life moves pretty fast. If you don't stop and look around once in a while, you could miss it.' – Ferris Bueller
Try anything – Never be afraid of new experiences. Things usually work out just fine.
When I moved to Hawaii my first experience with Spam (the wonder ham in a can) involved eating it on toasted white bread with ketchup and mustard.
We were staying in the military commons waiting for our housing assignment and furniture delivery from California. I was a kid, and my palate was maybe less developed than it is now. But, I liked Spam.
How to cook spam.
My mom made slices of spam and fried them in a skillet until they were browned on each side. Then she served the fired spam on toasted Wonder bread with ketchup and mustard — kind of like a hamburger, but way more low budget!
I still remember how it tasted with the overly sweet ketchup, and the yellow mustard all nestled between the oh-so-soft and fluffy, fortified, and aggressively processed slices of white bread. Now that I am older I have learned how to cook spam and make it delicious.
For this Spam recipe, you'll need to cut the SPAM into cubes and then brow them in a skillet. I like my spam to have a nice toasty brown color.
While living in Hawaii Spam became a common food group
My absolute favorite Spam treat was – and still is – Spam Musubi. Spam Musubi is a thick slice of fried spam, sometimes in a teriyaki sauce. It's perched on a brick of rice and wrapped in a sheet of Nori. There are a lot of different versions, but all basically follow this formula. It's magic!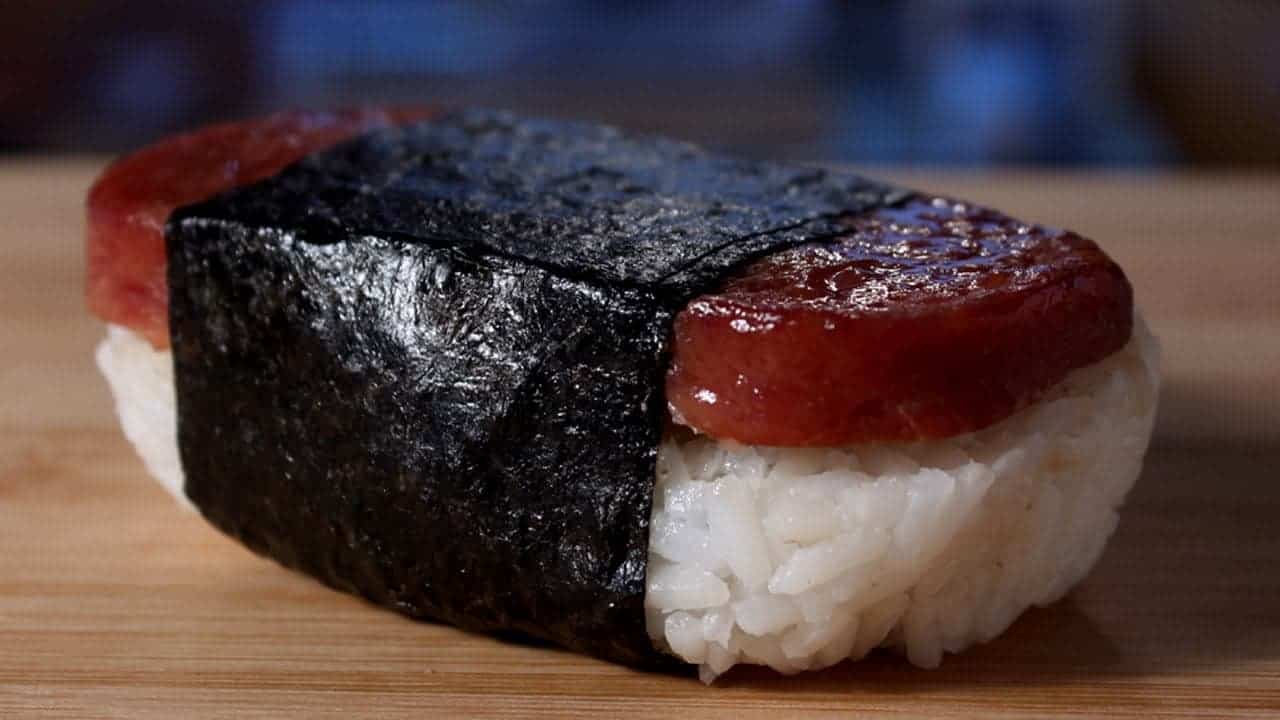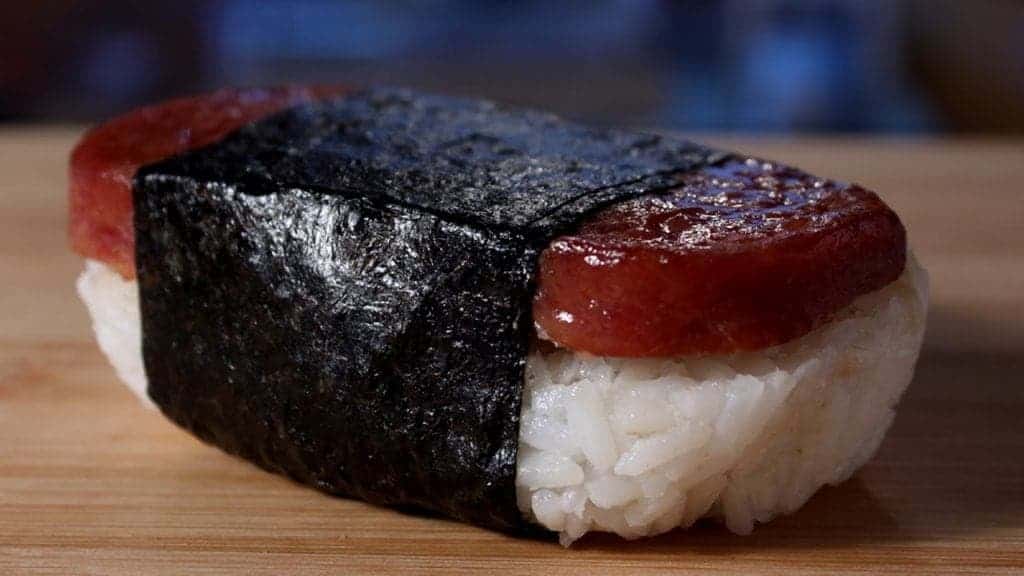 The Evolution of Spam Fried Rice – Definitely a Journey of Love.
I started making this tasty dish in my twenties, during my college days. It's an affordable college meal, and I always had rice and eggs around (that's another story).
Fried rice always starts with leftover rice. You can use any type of rice that you like and have leftover. I like Nishiki Sushi Rice or Calrose Botan rice. Both are short-grain white rice.
Over the years I've pretty much perfected this Hawaiian style fried rice recipe. So many people that have lived in Hawaii and have had Spam Fried Rice tell me that this recipe is the most authentic one they have found.
This Hawaiian recipe reminds me of the time I spent growing up on Oahu.
This is one of my favorite pot luck recipes.
It's always gone in no time.
While working at the Crime Lab in San Diego, I brought this to an office potluck. One of my friends there, who happens to be Hawaiian, loved it! I think it was comfort food for him, too.
Something about food brings people together. We bonded over food, and now we are Ohana. If only everything in life were this uncomplicated.
I've talked about this before but, the connection and commonality we can get through food are what fuels my passion for cooking.
Food and the entire cooking experience takes me back to moments in my life that make me feel rooted. All of my recipes tie me to my history and transport me through the tangled web of my life, and all the places I've been and all the people that I've met.
This spam and rice recipe always takes me back to Hawaii!
I relive these moments any time I cook my beloved Spam fried rice.
It's authentic food from my roots. Every now and then we all need a little of the soul–fueling that you get from staying connected to your own roots.
I hope you enjoy this recipe as much as I do. If you love it, please share it.
Other Recipes That You Might Like
When you visit Hawaii there are a few must-eats:
Shave Ice
Spam Musubi aka Spam Sushi
Spam and eggs with furikake
Not necessarily in that order.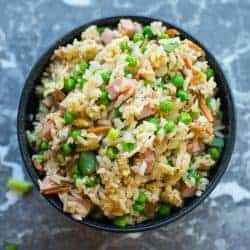 Spam Fried Rice
Spam Fried Rice – Delicious fried rice recipe reminiscent of my days in Hawaii. Don't knock it 'til you try it.
Ingredients
Hawaiian Mirepoix
2

carrots

shredded or finely diced

½

sweet onion

finely diced

1

tbsp

fresh ginger

finely grated

2

cloves

garlic

minced

vegetable oil
Da Flava:
1

can

SPAM

diced

2

tbsp

mirin

1

tsp

sesame oil

2

tbsp

soy sauce

1

tbsp

rice wine vinegar

1

16 oz bag

frozen peas

1

bunch

green onions

sliced
Optional Equipment
Instructions
Make the rice according to directions.

Lightly beat eggs with 1 tsp sugar and 2 tsp of soy sauce. I usually cook this like an omelet and then dice it.

Dice Spam. Brown in a little oil. Remove from the pan and set aside.

Add Hawaiian mirepoix to the pan, saute until tender and fragrant.

Add sesame oil and rice to the pan. Mix well.

Add frozen peas (and/other frozen vegetables if desired). Mix in and make sure they are sufficiently warmed through.

Remove from heat.

Add mirin, rice wine, and soy sauce to the pan. Mix well.

Add in the Spam and diced egg. Stir to incorporate.

Serve immediately.
Notes
***Siracha makes it delicious. If you are Hawaiian add ketchup.
Nutrition
Calories:
297
kcal
Carbohydrates:
42
g
Protein:
9
g
Fat:
9
g
Saturated Fat:
3
g
Cholesterol:
61
mg
Sodium:
677
mg
Fiber:
1
g
Sugar:
2
g
Calcium:
32
mg
Iron:
1
mg