The Best Homemade Dumpling Noodle Recipe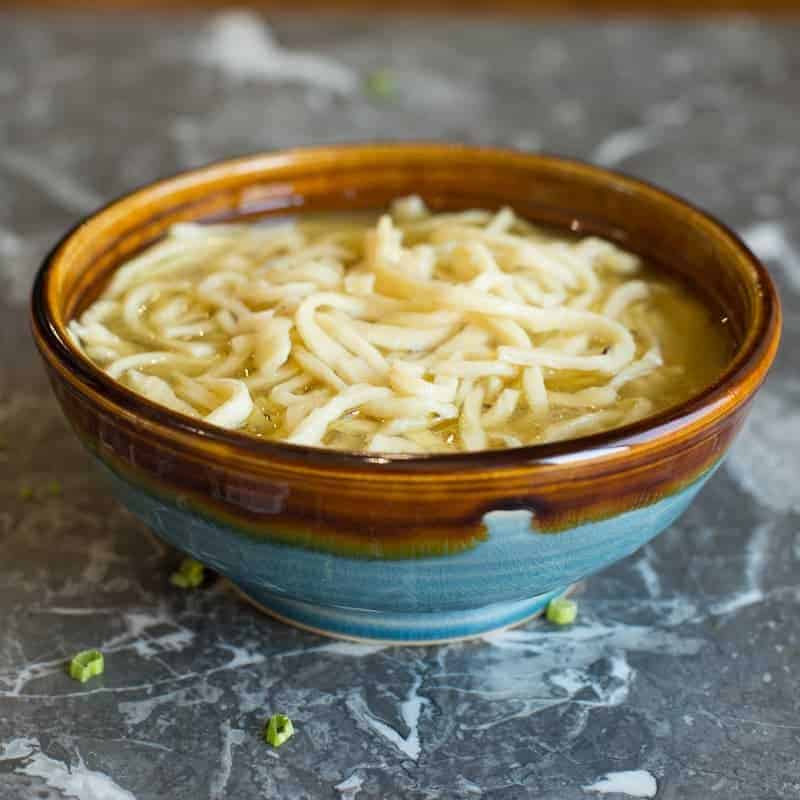 Recipe
Comments
Save
Go to Collections
This post may contain affiliate links. Please read my
disclosure policy.
This homemade noodle recipe might be the ultimate comfort food. In my family these are the must-have every single year Thanksgiving noodles. I've been making these easy homemade dumpling noodles ever since I was a little kid.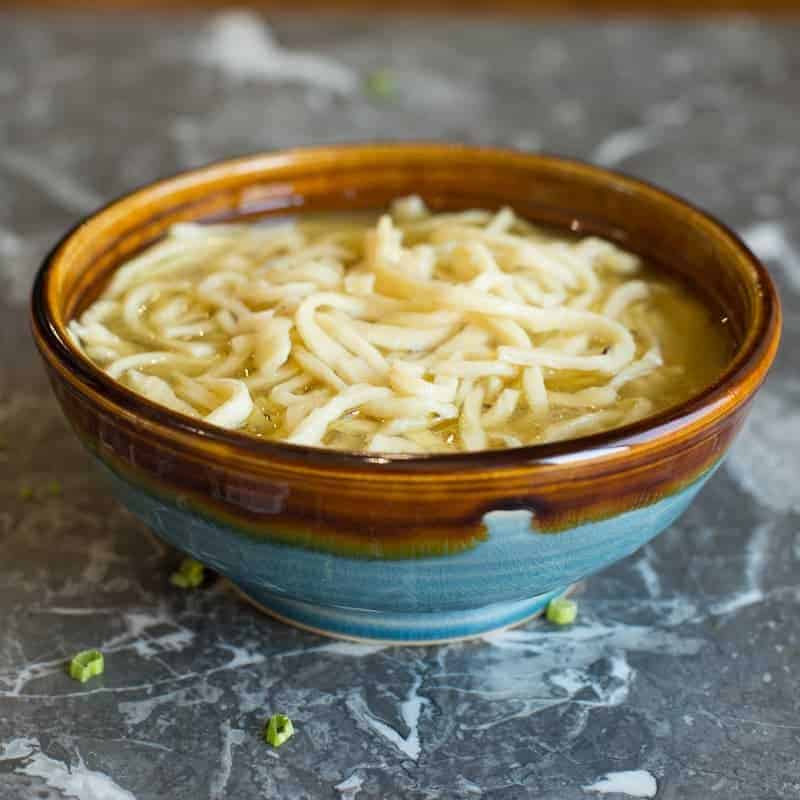 The recipe is my Great, Great, Aunt Jayne's recipe for egg noodle dumplings. It's been in our family forever.
Every year at Thanksgiving, my mom makes batches of these dumpling noodles from scratch and then drops them into fresh homemade turkey stock. This simple noodle recipe is a family favorite. Our guests always demand the secret recipe.
Doesn't it seem like it's always the simplest recipes that seem to be the most beloved? Well, at least in my experience that's true.
Plus, there are never enough carbs served at Thanksgiving, am I right?
Dumpling noodles are my favorite Thanksgiving leftover. After they have sat in the refrigerator all night, they soak up all the flavorful turkey stock, and you end up with a fatter noodle in more gravy than a broth. So yum!
Don't forget to pin this recipe to save it for later!
What You'll Love About this recipe
Simple:

These old-fashioned drop noodles are reminiscent of simpler times – they only have a few ingredients, they're mixed up by hand, and then rolled out on the counter.

Budget-Friendly: These noodles take minutes to make and cost hardly anything.
Homemade chicken and noodles: One of my favorite ways to use this homemade noodle recipe is in homemade chicken noodle soup.
Recipe Notes
Technically, this is an egg noodle recipe. It's so easy to make. I usually don't even use a bowl. I make it pasta-style by just dumping the flour onto the counter and making a well.
What You'll Need
All-purpose flour
Salt
Eggs
Milk
How to make homemade noodles
Mix the flour, salt, and eggs. Either use a bowl or mix everything right on the counter. Having a pastry mat makes clean-up a breeze.
Make a well in the flour, add the salt, crack the eggs, and mix together.
Add milk a little at a time.
Knead the dough until it comes together in a smooth ball.
Roll the dough out to about 1/8-inch thickness (or whatever thickness you like)
FAQs and Expert Tips
You can make these flat dumpling noodles as thick or as thin as you like.
When I make my Thanksgiving noodles recipe, I like to keep the noodles on the thick side. That way, they are more like dumplings.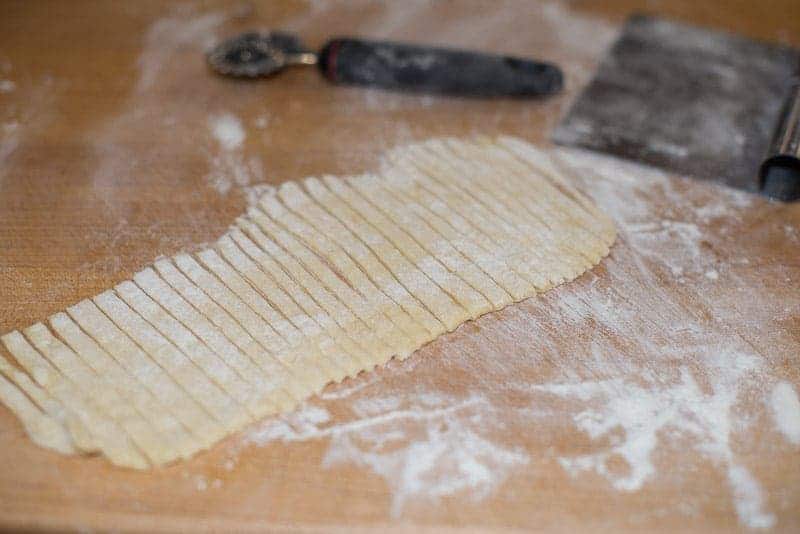 I like to make thinner noodles when boiling these in a clear filtered broth. The texture of these homemade noodles, when you slice them into thin strands, reminds me of the slurpy bowls of ramen noodles.
I love serving them with a rich chicken broth and chopped green onions! So easy!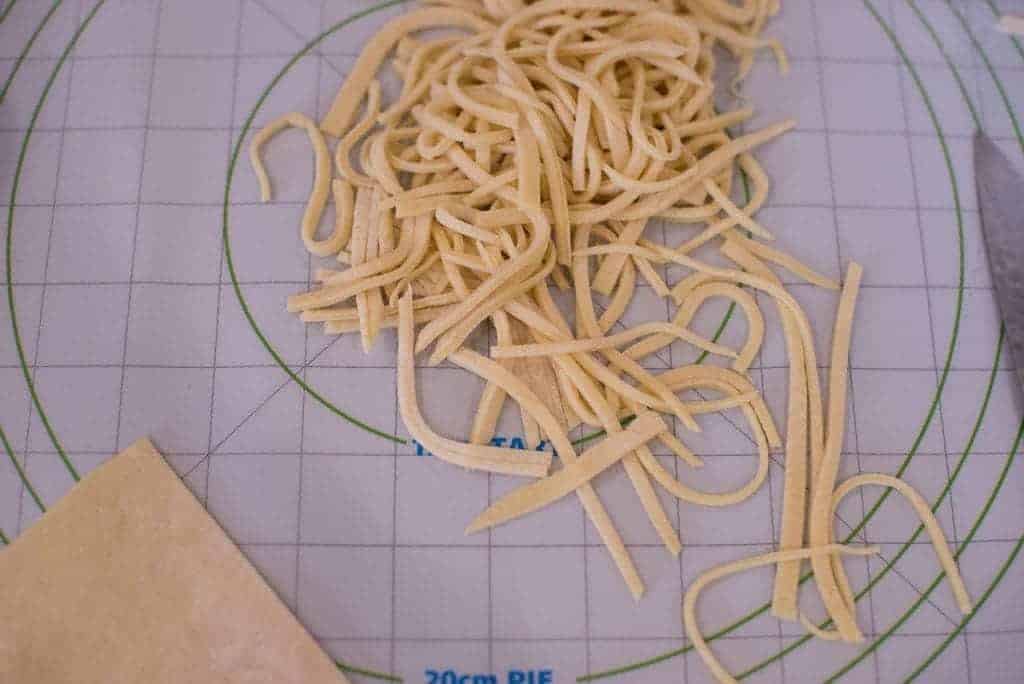 The Broth
These noodles require a delicious broth. You can always use a canned stock or broth. But I highly recommend making homemade bone broth. The flavor is much better, and you'll have the added benefit of bone and gut-healing collagen.
You can find my fail-proof Bone Broth Recipe Here. I also have a super simple Turkey Soup Recipe that works just as well as making chicken soup.
Noodle Recipe Variations
Everyday Old Fashioned Chicken and Noodles
These homemade dumpling noodles are too delicious to save for the holidays. I only make turkey once a year, and of course, I will make a huge batch of turkey and noodles.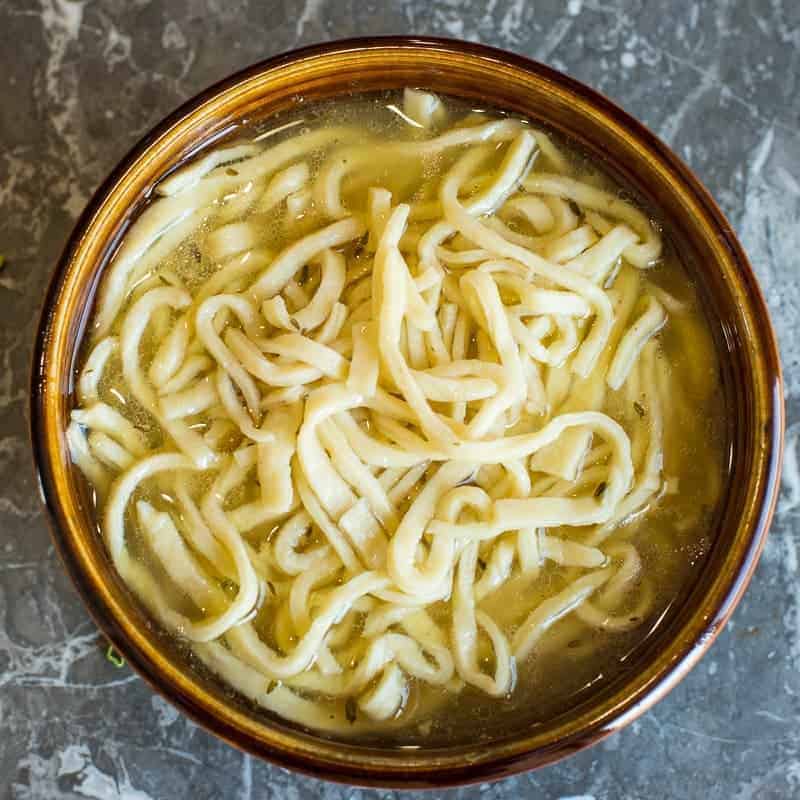 Turkey and Noodles Recipe
At Thanksgiving, I thicken my turkey broth with a roux, which gives it more of a gravy consistency.
I cut my dumpling noodles into fat ribbons and 2- to 3-inch long rectangles. You'll have thicker, flat dumplings in rich, creamy gravy-like broth. Who's complaining?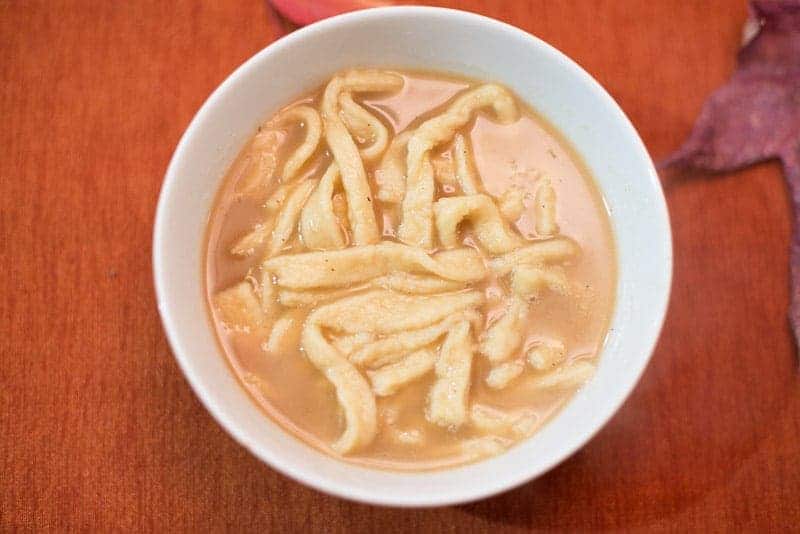 Dumpling Noodle FAQ
What is a dumpling noodle?
Dumpling noodles are old-fashioned noodles made with simple ingredients, rolled out, and then hand-cut. Typically, they are dropped into boiling broth or soup.
Why did my dumplings fall apart?
Traditional dumplings are dropped into boiling soup. Be careful not to stir the soup too much, or your dumplings may fall apart.
Can you make drop noodles the night before?
Yes, you can make dumpling or dumpling noodles a day ahead of time. Store in the refrigerator until you are ready to cook. You can store dumplings in the freezer for a few months.

Store them between layers of parchment paper if you are refrigerating them.
Recipes The Use Leftover Chicken
For More Thanksgiving sides, check them out here.
My favorite thing to make with Thanksgiving leftovers is Classic Turkey Pot Pie. This delicious pot pie has a creamy sauce and a flaky crust. Pot pie…
Leave A Review
Did you make this recipe? Leave a comment and a 5 ★ review. Your feedback helps other readers and helps me continue to offer recipes at no cost. Happy Cooking!!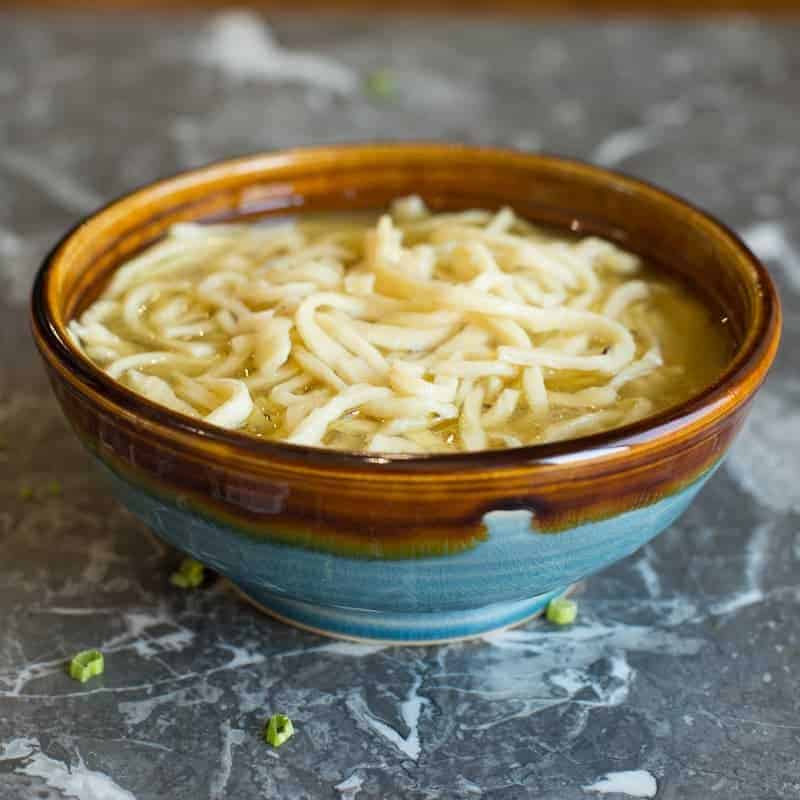 Homemade Noodle Recipe
Homemade dumpling noodles are easy to make. This simple old fashioned noodle recipe is perfect for making chicken noodle soup and even ramen.
Ingredients
1 ⅓

cups

all purpose flour,

plus more for rolling

2

eggs

,

beaten

2

teaspoons

sea salt

2

tablespoons

milk

,

add a bit if mixture is too dry
Instructions
Create a well in the middle, add eggs and blend with a fork.

Mix together until combined. (Add a small amount of milk if the mixture is dry.)

Knead until dough is smooth.

Roll out dough on a floured surface, until approximately ⅛ inch thick.

Slice into ¼ to ½ inch wide strips.

Drop into boiling broth or soup, and cook for 4-6 minutes.
Chicken Noodle Soup
To make a simple chicken noodle soup. Sauté a few diced carrots and stalks of celery in a little butter or avocado oil. (5 min). Then add broth or stock and chopped chicken.

Bring to a boil and drop noodles into the soup. Boil gently for 4 to 5 minutes.
Thanksgiving Noodles
Make a turkey stock using the giblets and turkey neck of your Thanksgiving bird. You will want 4 to 5 cups of broth for this recipe.

ROUX: Add three tablespoons of butter and three tablespoons of flour to a large sauce pan. Heat on medium high. As the butter melts whisk the flour into the butter until you have a thick paste.

Add the turkey stock in slowly. Add a quarter cup or broth and whisk with the roux, make sure it is smooth. You will want to bring the broth to a slow boil. Continue to add the broth one cup at a time. Make sure each addition is fully whisked in before you add the next.

Bring everything to a low boil and adjust the thickness of the broth if needed by adding water or additional broth. I like mine to be a thin gravy consistency

Drop in the noodles: Drop in the noodles a handful at a time. stir the broth gently to make sure that they don't stick together.

After all the noodles have been added bring the noodle soup to a boil one more time. Then reduce the noodles to a simmer. Simmer for about 4 to 5 minutes. You can simmer the soup longer if you want the broth to be thicker.
YOUR OWN NOTES
Sign In to add your own private notes
Nutrition
Calories:
91
kcal
Carbohydrates:
15
g
Protein:
3
g
Fat:
1
g
Cholesterol:
40
mg
Sodium:
597
mg
Calcium:
9
mg
Iron:
1.2
mg