Chicken and Dumpling Noodles might be the ultimate comfort food. These Homemade Dumpling Noodles are a family tradition! Every year at Thanksgiving, I make a big batch of Turkey and Noodles. These homemade noodles are too good to save for only once a year.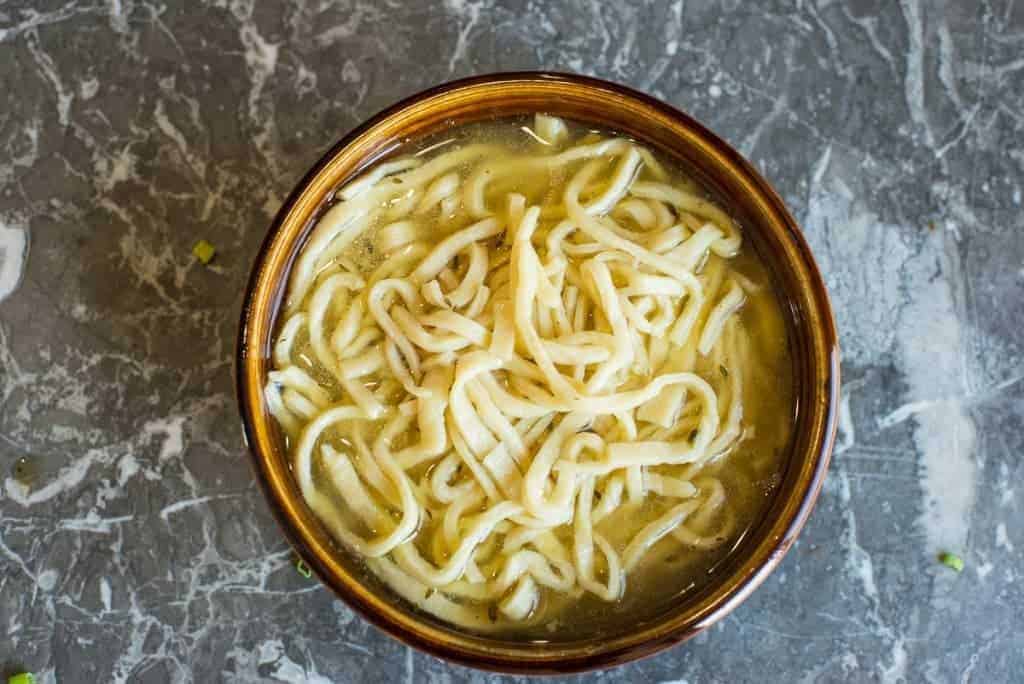 My Aunt Jayne's homemade dumpling noodles are a family tradition in out house.
My mom makes a batch of these easy dumpling noodles every year at Thanksgiving because she always makes turkey stock.
Plus, there are never enough carbs served at Thanksgiving, am I right? Dumpling noodles are my favorite Thanksgiving leftover.
After they have sat in the refrigerator all night, they soak up all the flavorful turkey stock, and you end up with a fatter noodle that is in more of a gravy than a broth. So yum!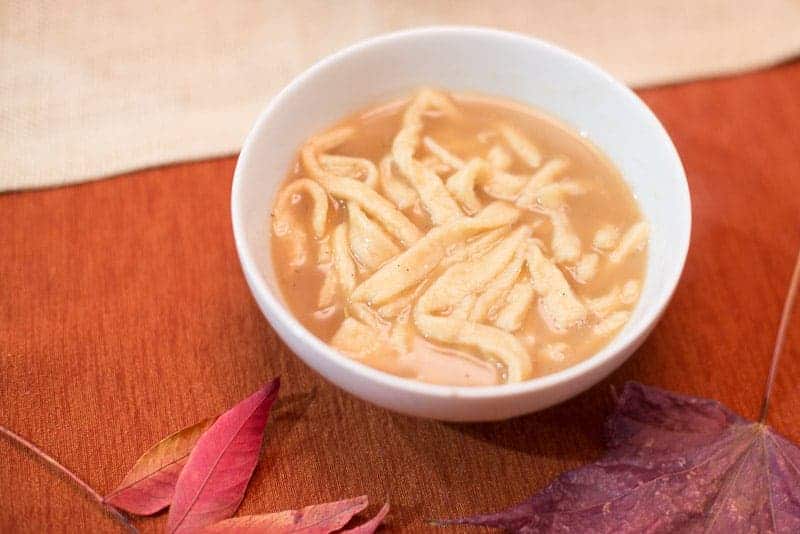 This dumpling noodle recipe was passed down from my Grandma Sisson who got it from my Great-Aunt Jayne Sisson.
These old fashioned drop noodles are reminiscent of simpler times – they only have a few ingredients, they're mixed up by hand, and then rolled out on the counter.
I usually use a pizza cutter to cut mine, but my mom always used just a regular old knife.
Hand-cut drop noodles ready to drop into boiling broth.
Everyday Old Fashioned Chicken and Noodles
These homemade dumpling noodles are too delicious to save for the holidays. I only make turkey once and year and of course I am going to make a huge batch of turkey and noodles.
But what about the rest of the year?
I make a lot of roasted chicken in my house which leads to having what I need to make chicken bone broth. If you need a how-to guide for making bone broth. Check out my recipe HERE!
Having a stock of rich and flavorful chicken stock in the freezer means you can have chicken noodle soup with dumplings any time.
These Dumpling Noodles are So Easy
Technically this is an egg noodle recipe. You only need 4 ingredients:
All-purpose flour
Salt
Eggs
Milk
Making homemade egg noodles is as easy as mixing up the ingredients with a fork and then rolling them out.
You can make these flat dumpling noodles as thick or as think as you like. They are homemade dumpling noodles people - they are damn delicious no matter how you slice them.
I tend to make thinner noodles when I am boiling these in a clear filtered broth. The texture of these homemade noodles, when you slice them into thin strands reminds me of the slurpy bowls of ramen noodles.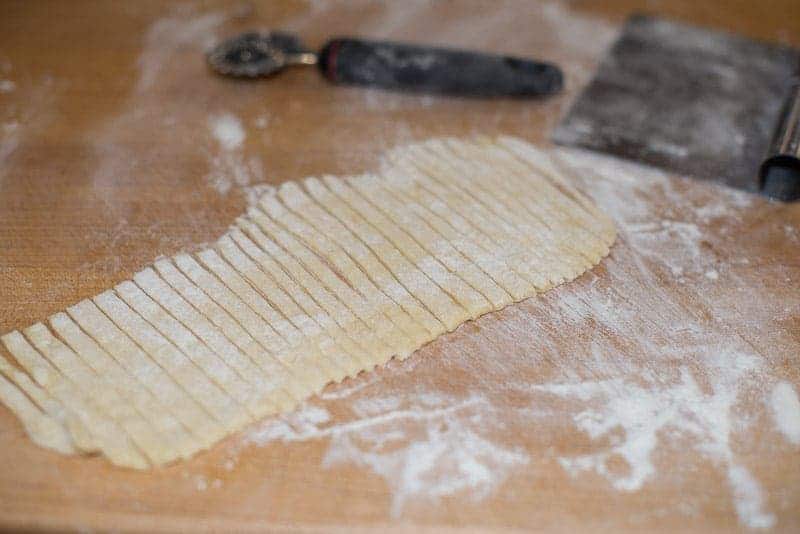 Cooking Drop Noodles
This drop noodle recipe is as easy as it sounds. You simply drop them into boiling broth or homemade chicken soup.
If you are making a chicken noodle soup or a turkey noodle soup you'll want to add the drop noodles at the end. Simply bring the soup to boil and drop them in batches.
Stir gently and make sure that you don't overcrowd the noodles as you are dropping them, they might stick together. Then reduce the heat and cook for about 20 minutes.
PRO-TIP: The flour that is leftover on the noodles from rolling them out and hand cutting them acts as a thickener and makes your soup a little bit thicker.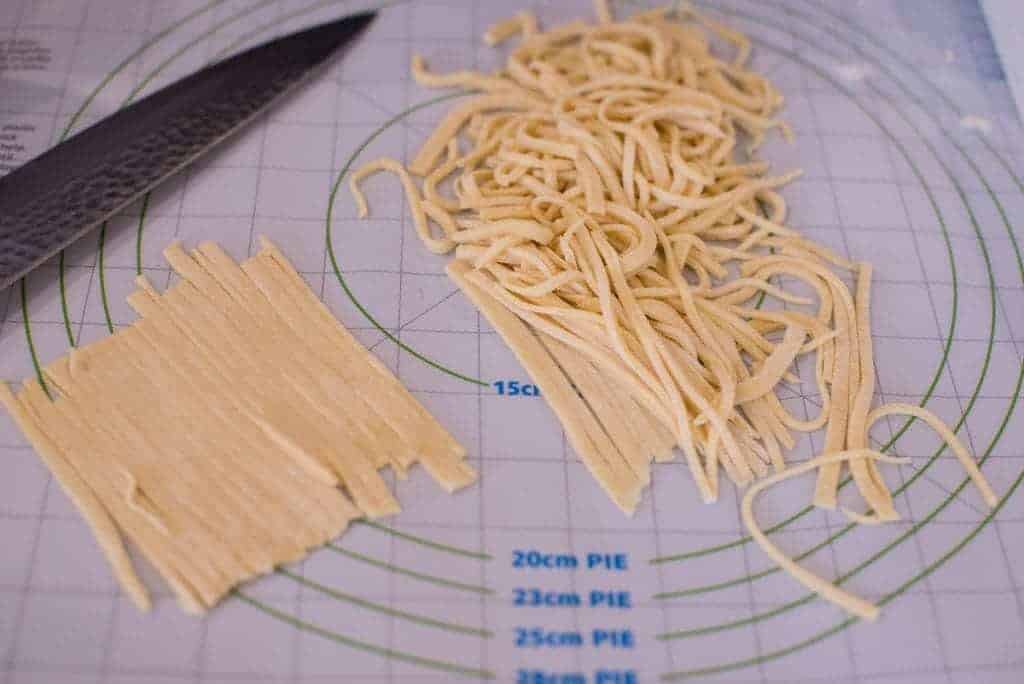 Dumpling noodle soup - drop noodles are fantastic when they're cooked in a rich bone broth.
Because I always have extra bone broth in my freezer, whipping up a simple noodle soup takes no time at all. Sometimes I add some carrots, celery, and parsley to make a heartier chicken noodle soup. If I have leftover shredded chicken from doing some meal prep, I will add that in too!
Making Turkey and Noodles
At Thanksgiving, I thicken my turkey broth with a roux which gives it more of a gravy consistency.
I cut my dumpling noodles into fat ribbons and then cut them into 2 to 3 inch long rectangles. You'll end up with thicker flat dumplings in rich and creamy gravy-like broth. Who's complaining?
When I am making these homemade dumpling noodles for the holidays, I double the original recipe.
[I have done this for you with the amounts below.]
The original recipe is only half of what I've noted here. Come on Aunt Jayne, who are you kidding?
The initial quantities make just enough homemade noodles for about 2 people. Well maybe two sumo wrestlers, but still....only two sumo wrestlers!
Making homemade drop noodles is a great way to get kids into the kitchen to start learning some basic cooking skills.
Noodles are a fun kid project because there is really no wrong way to make the dumpling noodles. Kids love cutting up the noodles and dropping them into the boiling broth, with supervision, of course.
Eating made from scratch noodles is super special when you're a kid. Homemade noodles are like magic. You turn flour into a delicious, slurpy, noodle soup.
I know that once you make these, you will have to make them every year, too. Homemade dumpling noodles are a warm and comforting tradition around our family table. I hope it will become your tradition as well.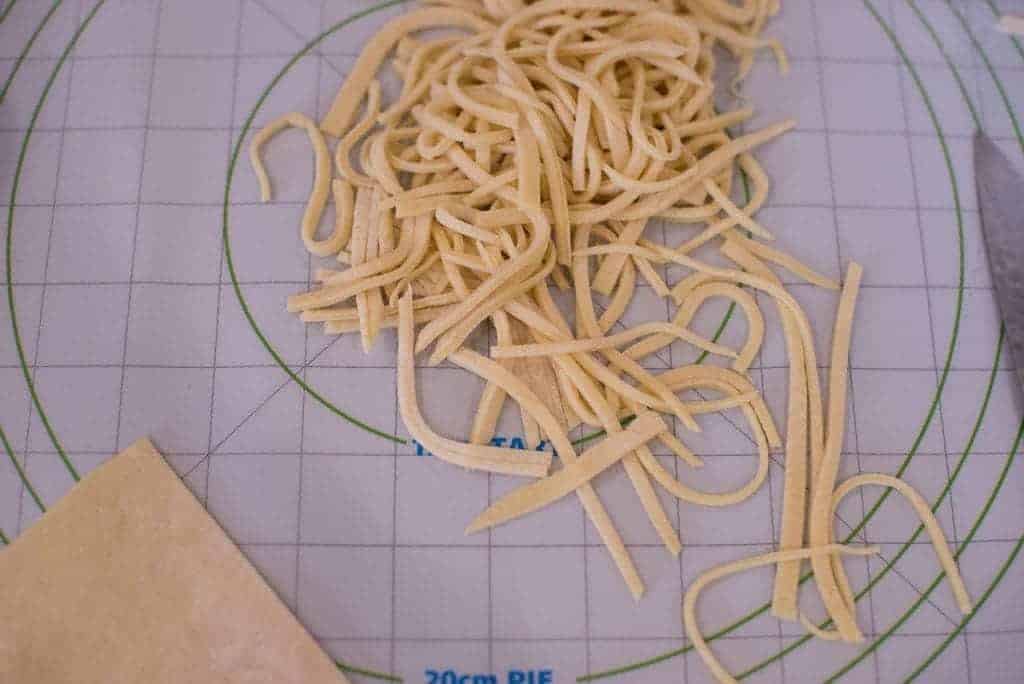 Imagine a warm bowl of fresh Homemade noodles on a blustery day!
Delicious tender homemade dumpling noodles in a simple chicken broth.
While living on homemade noodle soup sounds fantastic, I'm not trying to be a sumo wrestler anytime soon.
Roasted chicken and bone broth are two staples for me. I love sipping on a cup of warm gut-healing bone broth with a little parsley and just a squeeze of lemon. These two things can serve as the foundation for countless versions of soups, salads, or tacos.
If you're a true fan, you already know that food in bowls and food on tortillas make up the majority of my meals.
Why do we have plates...? I guess for when company comes over.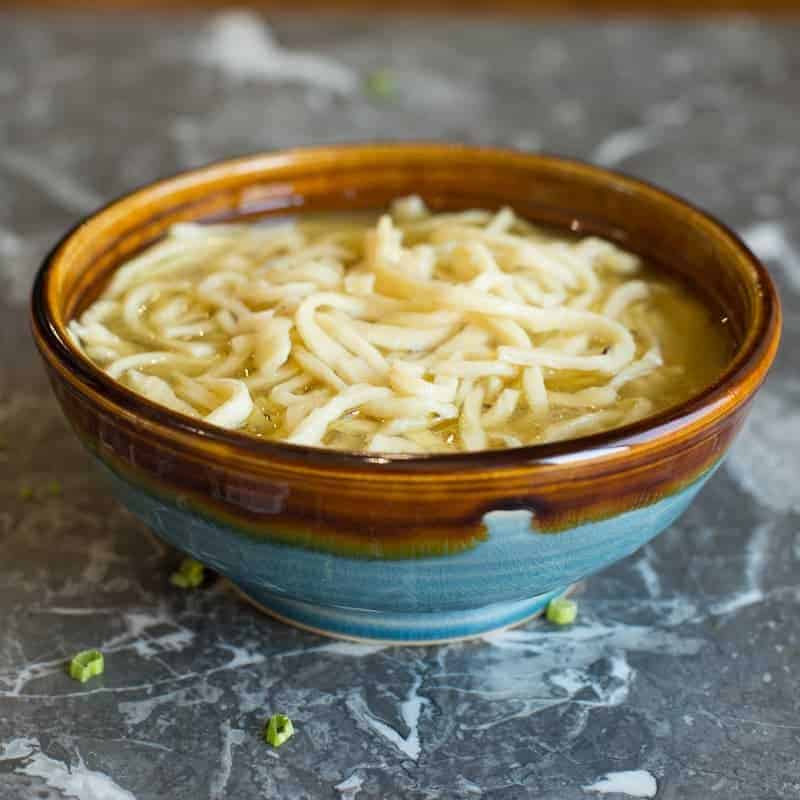 Here are just a few other recipes that I use when I have some leftover chicken.
If you want some more ideas on how to get started with meal prep make sure to grab my FREE Download. This meal prep planner walks you through step-by-step how to build a weekly meal plan.
If you need some other Thanksgiving sides, check them out here.
Dumpling Noodle FAQ
What is a dumpling noodle?
Dumpling noodles are old fashioned noodles that are made with simple ingredients, rolled out, and then hand cut. Typically they are dropped into boil broth or soup.
Why did my dumplings fall apart?
Traditional dumplings are dropped into boiling soup. Be careful not to stir the soup too much or your dumplings may fall apart.
Can you make drop noodles the night before?
Yes, you can make dumpling or dumpling noodles a day ahead of time. Store in the refrigerator until you are ready to cook. You can store dumplings in the freezer for a few months.
If you love this recipe don't forget to leave a five-★ review. And leave me a comment. What is your favorite way to eat noodles?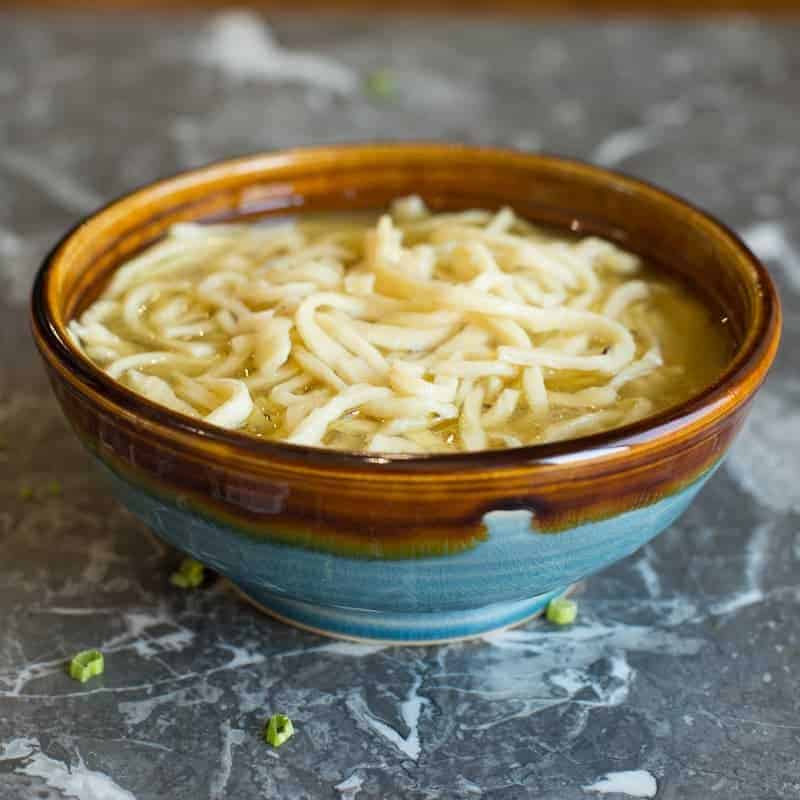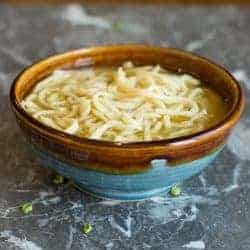 Aunt Jayne's Dumpling Noodles
Homemade dumpling noodles are easy to make. This simple old fashioned noodle recipe is perfect for making chicken noodle soup and even ramen.
Ingredients
1 ⅓

cups

all purpose flour

plus more for rolling

2

eggs

beaten

2

tsp

salt

milk

add a bit if mixture is too dry
Instructions
Create a well in the middle, add eggs and blend with a fork.

Mix together until combined. (Add a small amount of milk if the mixture is dry.)

Knead until dough is smooth.

Roll out dough on a floured surface, until approximately ⅛ inch thick.

Slice into ¼ to ½ inch wide strips.

Drop into boiling broth or soup, and cook for 4-6 minutes.
Chicken Noodle Soup
To make a simple chicken noodle soup. Sauté a few diced carrots and stalks of celery in a little butter or avocado oil. (5 min). Then add broth or stock and chopped chicken.

Bring to a boil and drop noodles into the soup. Boil gently for 4 to 5 minutes.
Notes
Any type of broth can be used to make these noodles.
Get the bone broth recipe here.
Nutrition
Calories:
91
kcal
Carbohydrates:
15
g
Protein:
3
g
Fat:
1
g
Cholesterol:
40
mg
Sodium:
597
mg
Calcium:
9
mg
Iron:
1.2
mg
(Visited 7,523 times, 26 visits today)