Fall Harvest Salad Recipe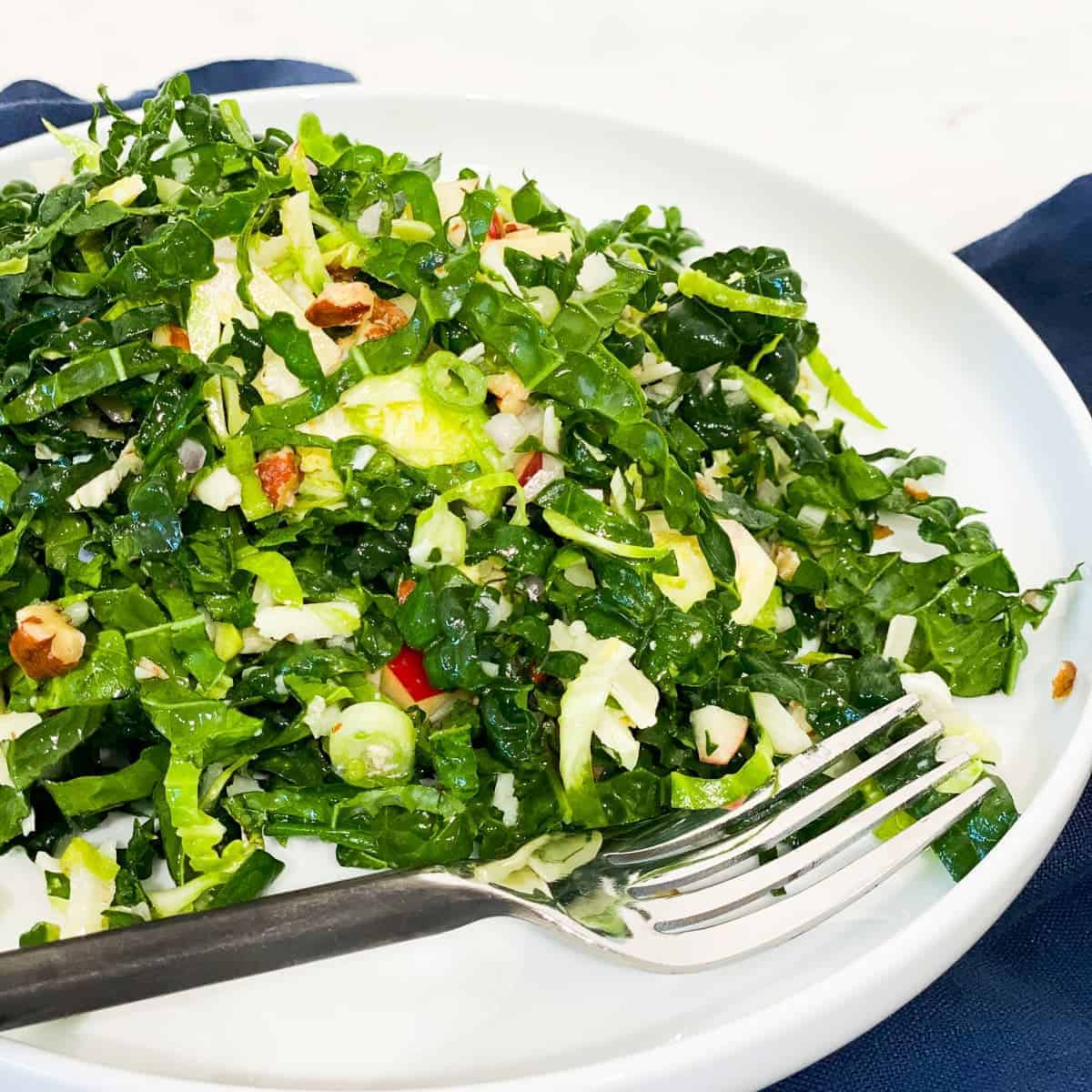 Recipe
Comments
Save
Go to Collections
This post may contain affiliate links. Please read my
disclosure policy.
Move over, Waldorf salad! This superfood kale salad is the perfect Fall Harvest salad recipe.
Seasonal ingredients shine in this hearty and healthy green salad. Lacinato kale + shaved Brussels sprouts, toasted pecans, crisp apples, and a salty bite of pecorino cheese give this Thanksgiving salad an unforgettable flavor combination.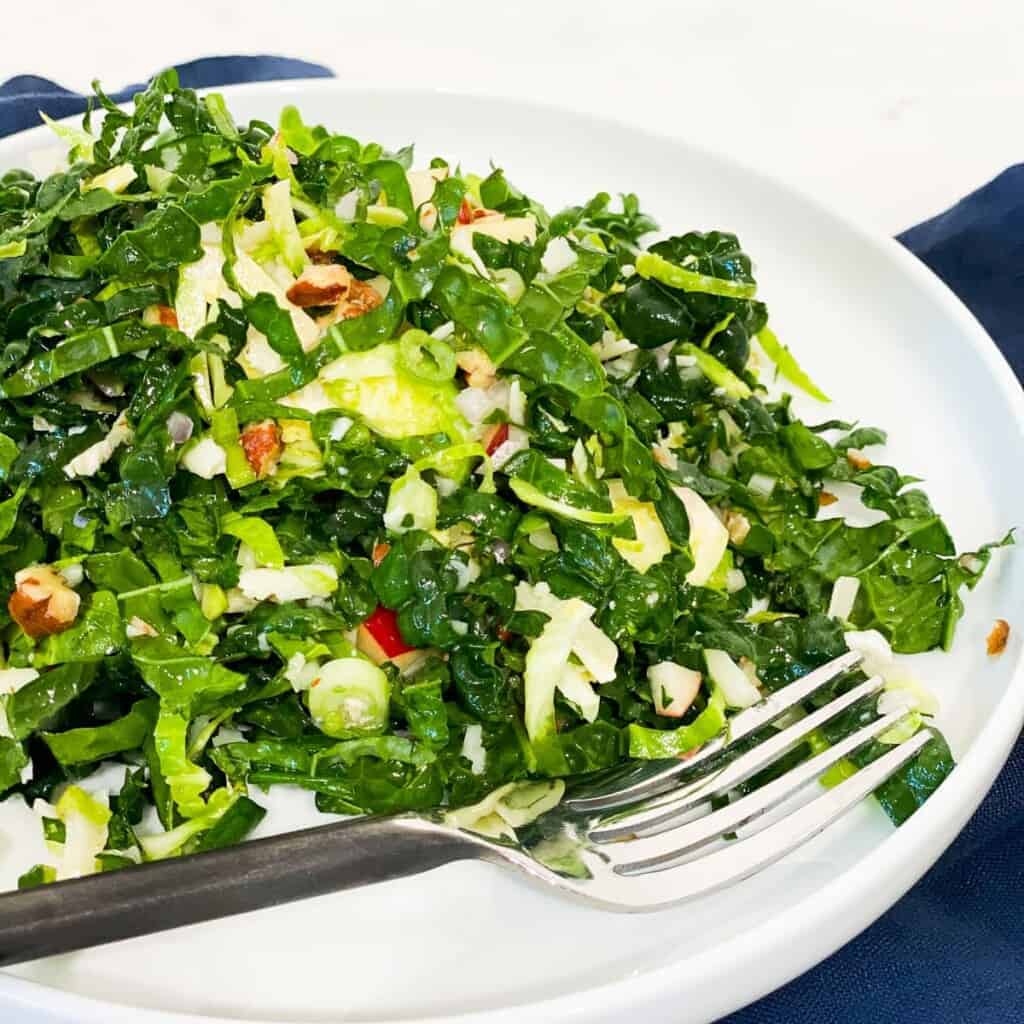 I love using seasonal ingredients whenever I cook. This salad makes the most wonderful Thanksgiving kale salad. And when winter comes around, kale is always on the menu. Check out my Kale Pesto Recipe for another easy fall recipe.
The recipe for this kale and Brussels sprout salad started as a way to prove to my mom that kale is delicious. On two separate occasions, I've made a kale dish that Mom couldn't believe actually tasted good. One was a roasted kale vegetable medley, and the other is this absolutely delicious kale salad.
While of course, I love a juicy Thanksgiving turkey. I am all about the side dishes. Orange-Scented Mashed Sweet Potatoes, Sausage, and Apple Sourdough Stuffing, and my Aunt Donna's Fluffy Dinner Rolls. Top it all off with pecan pie, a pumpkin pie, or this Vegan Pumpkin Tart, and it's basically Heaven.
Mmmm. But with all that decadence, I also love having a crunchy and healthy side dish that isn't so carb-heavy.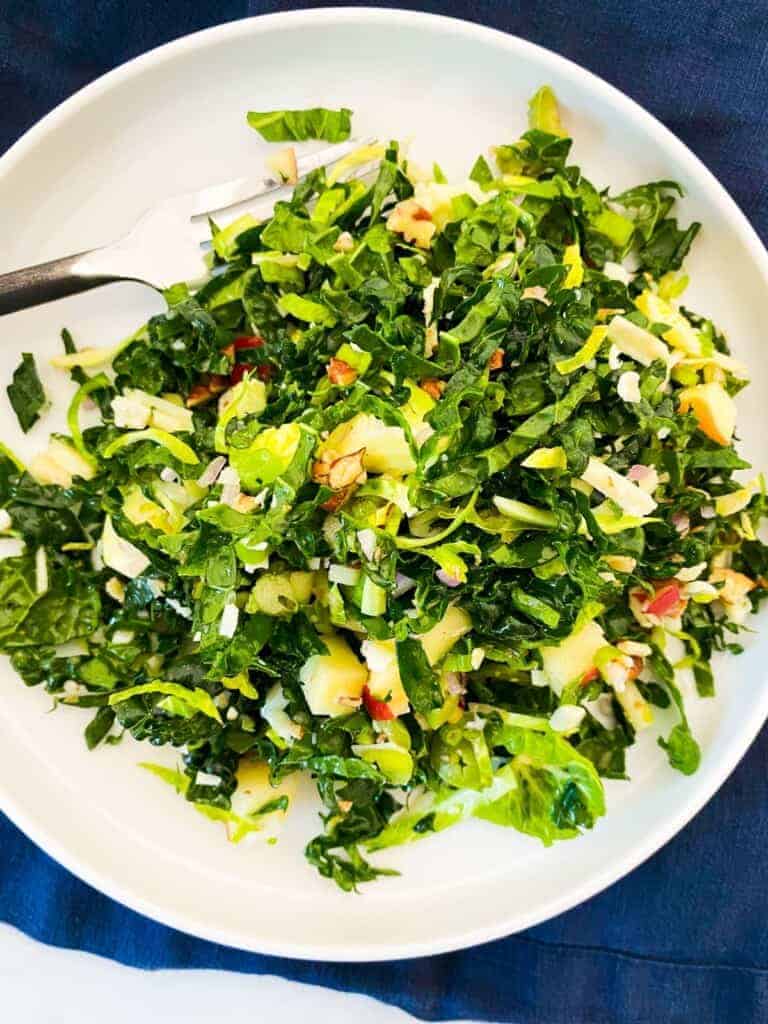 What You'll Love About This Recipe
Ultra healthy. This easy fall salad recipe only has a few ingredients in it. The basics are kale, Brussels sprouts, pecorino, and pecans.
So many variations. This salad recipe is perfect in its simplest form, but I love to change up the add-ins. Sometimes I use apples, or cranberries, or both. Roasted sweet potatoes are also super yummy in this salad.
The dressing. The easy homemade salad dressing in this recipe is so good. It is really flavorful and versatile, so I honestly use it on other salads as well.
Recipe Notes
If you're afraid of kale, don't be. This fall kale salad will change your mind about all things kale. I'm going to talk a little bit about the different varieties of kale and how to properly prepare fresh kale in a salad so that it is super delicious.
Ingredients for the Salad
Kale. You can use any variety of kale in this salad, but I love lacinato kale. You will also see it called dinosaur kale.
Brussels sprouts. Find 12 to 14 large Brussels sprouts. You want the outer leaves to look fresh.
Pecans. Toasted pecans add a lovely flavor to this salad. Feel free to skip the toasting in a pinch.
Apples. I like to use a tart apple in this salad. My favorite apple is Honeycrisp, because they are both tart and sweet. Plus, they are super crisp and juicy.
Pecorino Romano cheese. Pecorino is a salty Italian cheese, and it adds a delicious salty bite to this salad. You can usually find this in the fancy cheese section at the grocery store. If you can't find it, feel free to substitute parmigiano reggiano or shredded parmesan cheese.
Green olives. Spanish green olives are what I use for this salad.
Green onions. Fresh scallions add the perfect flavor bite to this salad recipe.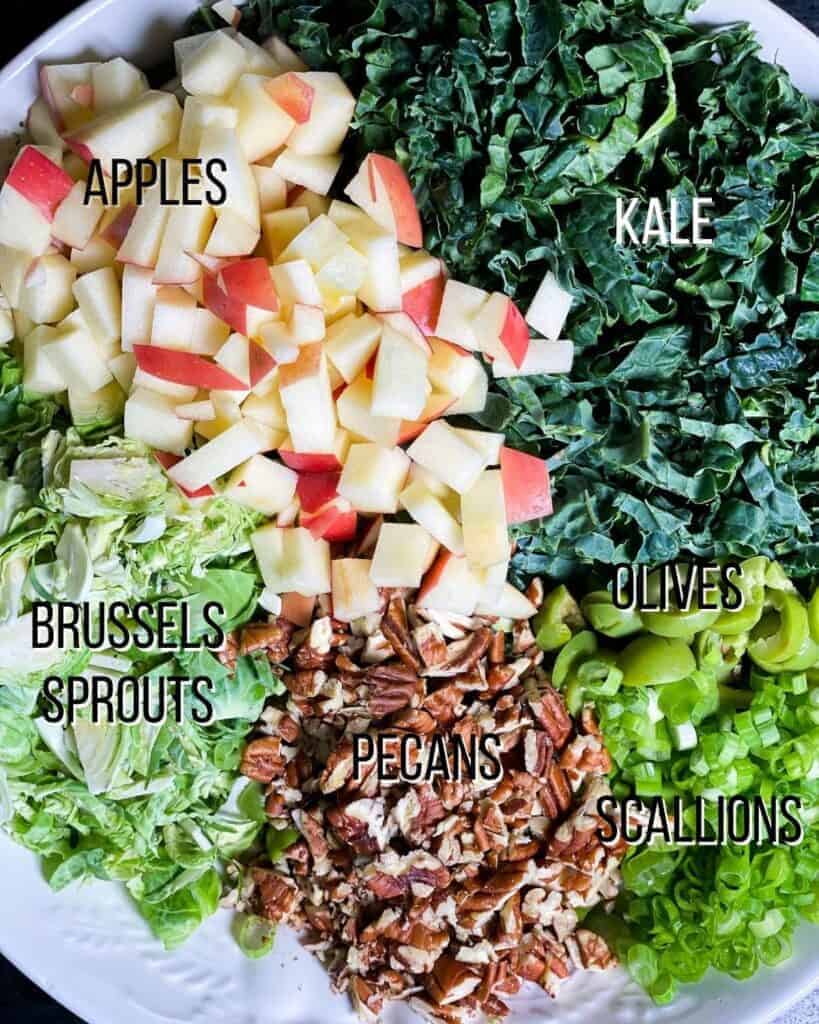 Ingredients For The Harvest Salad Dressing
Shallot. Shallots are a mildly flavored onion variety. Shallots are commonly used in sauces and dressing because of their mild flavor and tender flesh.
Salt. I recommend fine sea salt or Kosher salt when cooking.
Lemon juice. Use fresh squeezed lemon juice if you have it.
Olive oil. I like to use fragrant olive oil in salad dressing. You might find this labeled as "first press" olive oil.
Dijon mustard. Dijon mustard adds flavor to this salad dressing, and it also adds emulsion to give the salad dressing a more creamy consistency.
Black pepper. Season with freshly ground black pepper.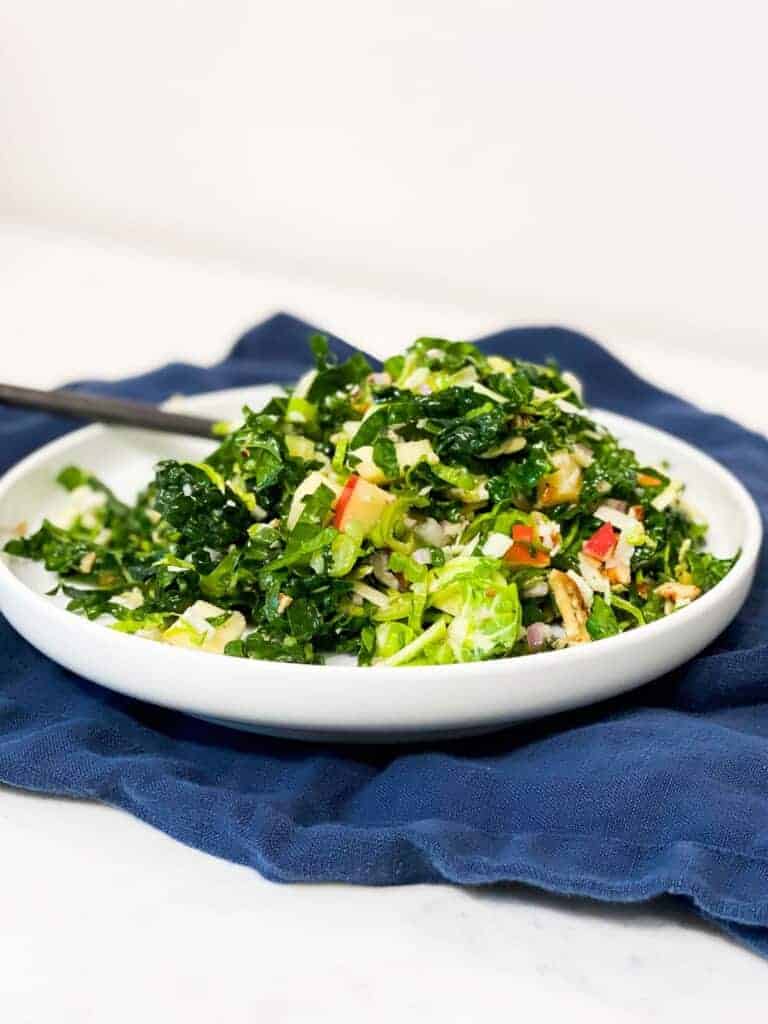 Step-by-Step Instructions
Step 1: Toast the pecans.
Toasting the pecans is totally optional. It only takes a few minutes, though, and toasted nuts always add a special touch to this fall salad recipe.
To toast the nuts, add them to a dry skillet and heat them over medium heat for a few minutes. Be sure to watch them closely so that they don't burn.
Step 2: Start the salad dressing.
I like to mix the minced shallot with the salt and lemon juice and set it aside for about 20 minutes to extract the flavor before mixing in the olive oil.
Step 3: Prepare the kale and Brussels sprouts.
For this salad, I like to keep the kale finely sliced and the Brussels sprouts shaved. Cutting the brussels sprouts is super easy if you use a mandoline slicer (affiliate link). Just make sure you keep your fingers away from the blade! You can also use the mandoline slicer for the apples.
An alternative way to shred the Brussels sprouts is to pulse them lightly in a food processor. Just be sure not to over-process them, unless you want sprouts pesto…
Step 4: Cheese, olives, and green onions
Grate the cheese using a box grater. Slice the olives and the green onions.
Step 5: Finish the salad dressing and toss.
Whisk in the olive oil and the dijon mustard. Add the dressing to the salad and toss.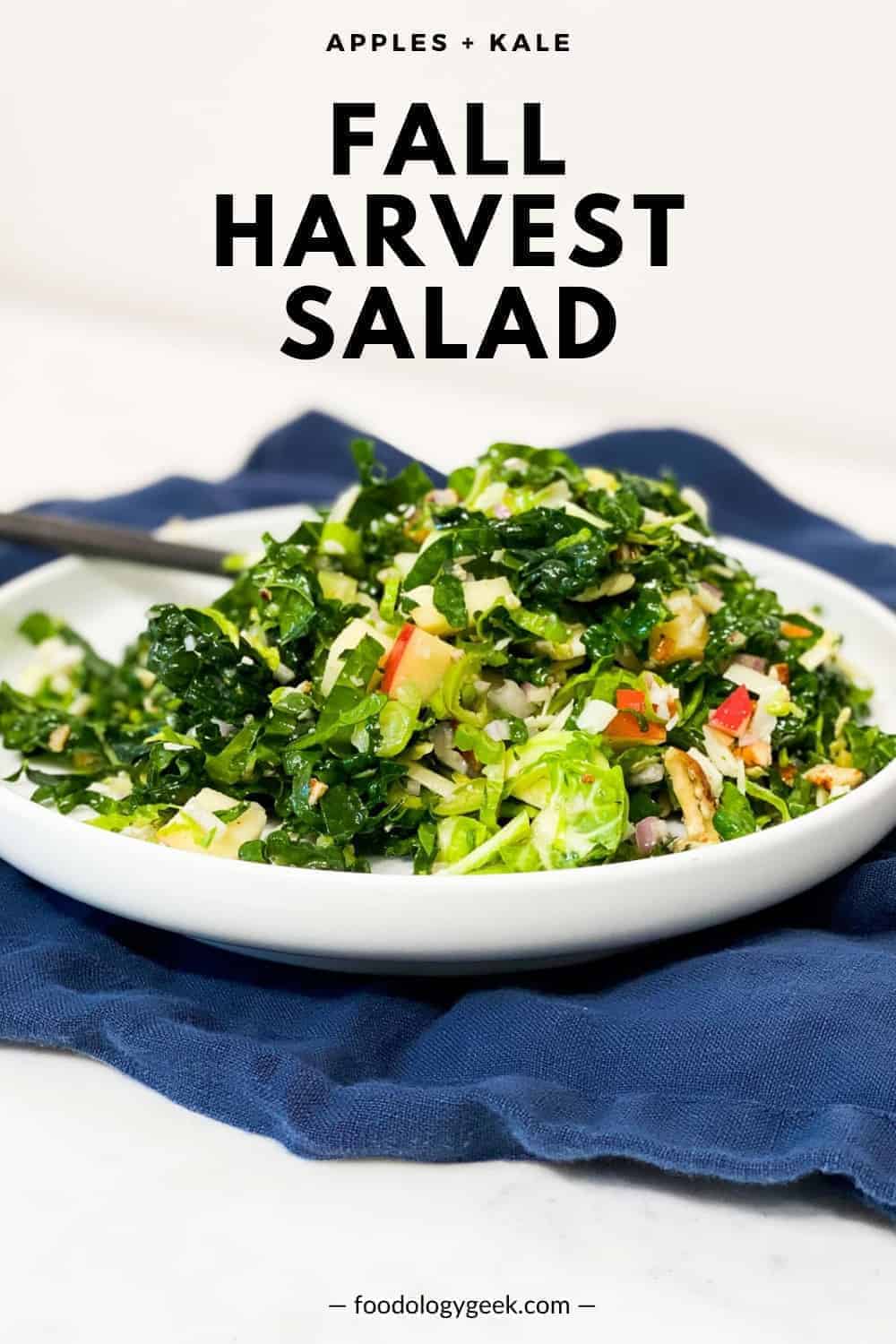 Variations for the Autumn Kale Salad Recipe
You can add so many different seasonal ingredients to this salad. A few of my favorites are:
A handful of roasted sweet potatoes. If you're like me, you might have some roasted sweet potatoes, or some roasted butternut squash, already in the fridge.
A handful of dried cranberries or chopped dried figs. A chewy bit of dried fruit is always tasty in an autumn salad recipe.
Swap out the nuts. Or leave them out entirely for guests with nut allergies. Pepitas (pumpkin seeds) or sunflower seeds are great in this salad.
Swap out the apple for pear. Crisp apples are one of my favorite fall ingredients, but a thinly sliced pear would also be really delicious in this salad.
Swap out the cheese. This salad is also really delicious with parmesan, goat cheese, or even feta or blue cheese.
Add a teaspoon of maple syrup. This adds depth to the salad dressing without making it too sweet.
FAQs and Expert Tips
Can I make kale salad ahead of time?
Make-Ahead Instructions:

The Dressing: You can make the dressing two days in advance. Place it in an airtight container and store it in the fridge until you are ready to use.

The Greens: The kale and brussels sprouts can also be prepped a few days in advance. Wash, blot dry, and de-stem. You can chop the kale and slice the Brussels sprouts. They both are relatively hearty and keep well in the fridge.

The Rest: The cheese, nuts, olives, and green onions can all be prepped in advance. Store them in separate containers and toss the salad together right before serving.

Last minute: Wait to chop the apples until right before you are serving the salad so they don't get brown.
How to store leftovers:
This salad keeps really well in the fridge. Store in an airtight container in the fridge.
Other Salad Recipes That You'll Love
Other Fall Side Dishes That You May Like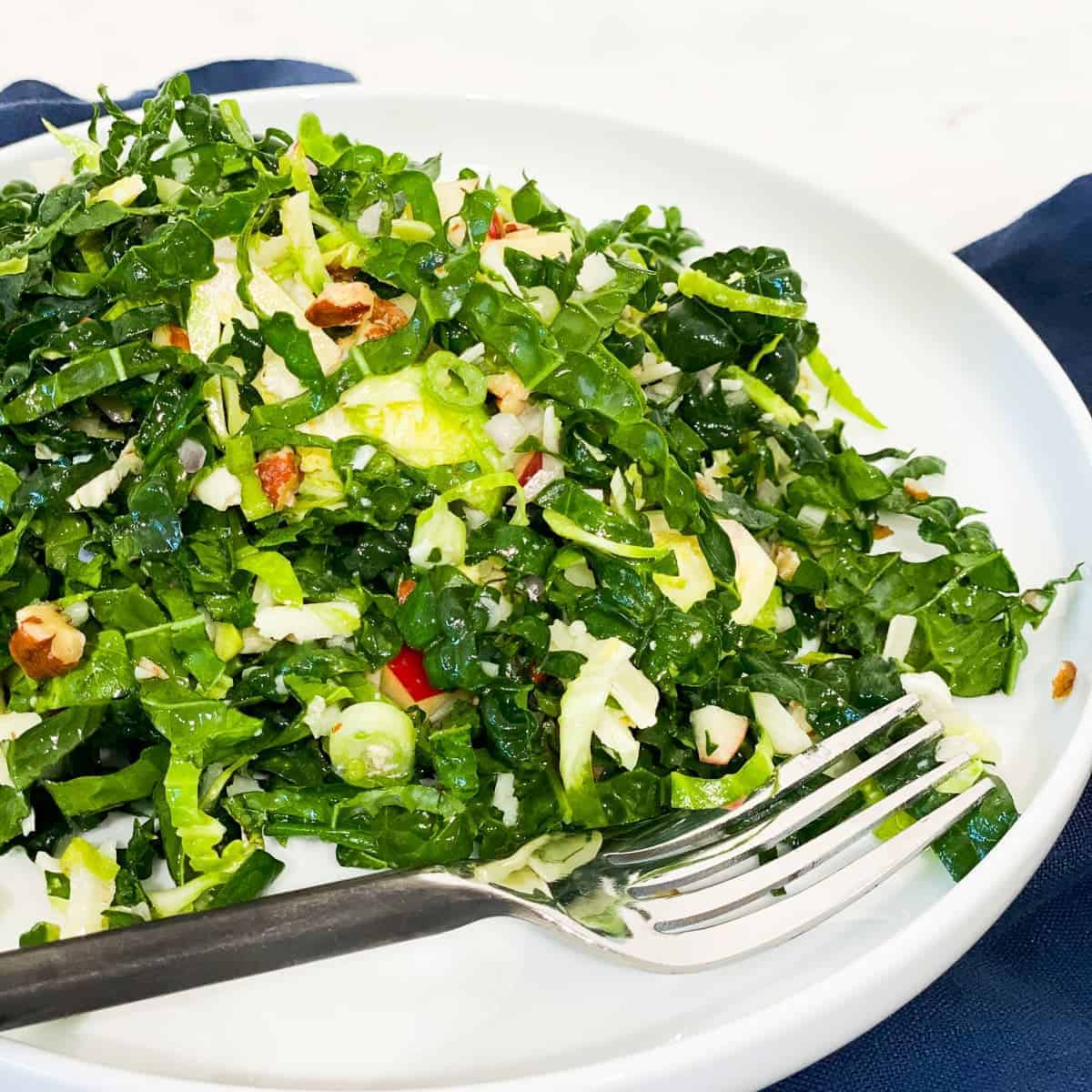 Fall Harvest Salad Recipe
This salad is the perfect alternative to heavy holiday side dishes. Bright green flavors and a light lemony mustard dressing is the perfect base for this favorite fall or winter salad. I love having this as a Thanksgiving kale salad.
Ingredients
Salad Dressing Ingredients
Salad Ingredients
1

bunch

lacinato kale

,

approx. 4 cups, removed from stems and finely chopped

12

large

Brussels sprouts

,

approx. 2 cups, shaved

green onions

1

medium

apple

,

Granny Smith or honeycrisp

½

cup

pecans,

OR use almonds or pepitas

½

cup

pecorino romano cheese

,

grated

⅓

cup

green olives
Optional Add-Ins
roasted sweet potato

dried cranberries
Instructions
How to make the salad dressing
Peel and dice the shallot. Add to a small or medium-sized bowl.

Add the salt and the lemon juice to the shallot. Let this mixture sit while you assemble the salad, and then finish the dressing right before adding it to the salad.

Once you are ready to assemble the salad, add in the olive oil. Whisk in the olive oil a little at a time.

Season with fresh ground black pepper and then add the dressing to the salad.
How to make the kale salad
Toast the pecans. (Optional) Place the pecans in a skillet over medium heat. Warm them until they are just toasted. Set them aside to cool.

Chop the kale. Remove the stems from the kale. Slice the kale into fine ribbons. Add to a large bowl.

Shave the Brussels sprouts. Start by removing any outer leaves that are brown or unsightly. Using a mandoline or sharp knife, slice the Brussels sprouts as thin as you can get them. Add the shaved Brussels sprouts to the kale.

Grate the cheese. Using a box grater, grate the pecorino romano cheese. Add the cheese to the veggies.

Dice the apple. You can dice, slice, or cut the apple into matchsticks.

Dress the salad. Finish the salad dressing using the instructions above and then add the dressing to the salad. Toss and serve.
Laura's Tips + Notes
Variations
This delicious fall salad can be varied to include different seasonal vegetables as well.
A few add-ins that I love are:
A handful of leftover roasted sweet potatoes.
A handful of dried cranberries.
Pepitas or sunflower seeds.
YOUR OWN NOTES
Nutrition
Calories:
188
kcal
Carbohydrates:
11
g
Protein:
5
g
Fat:
15
g
Saturated Fat:
3
g
Cholesterol:
7
mg
Sodium:
517
mg
Fiber:
3
g
Sugar:
4
g
Calcium:
142
mg
Iron:
1
mg