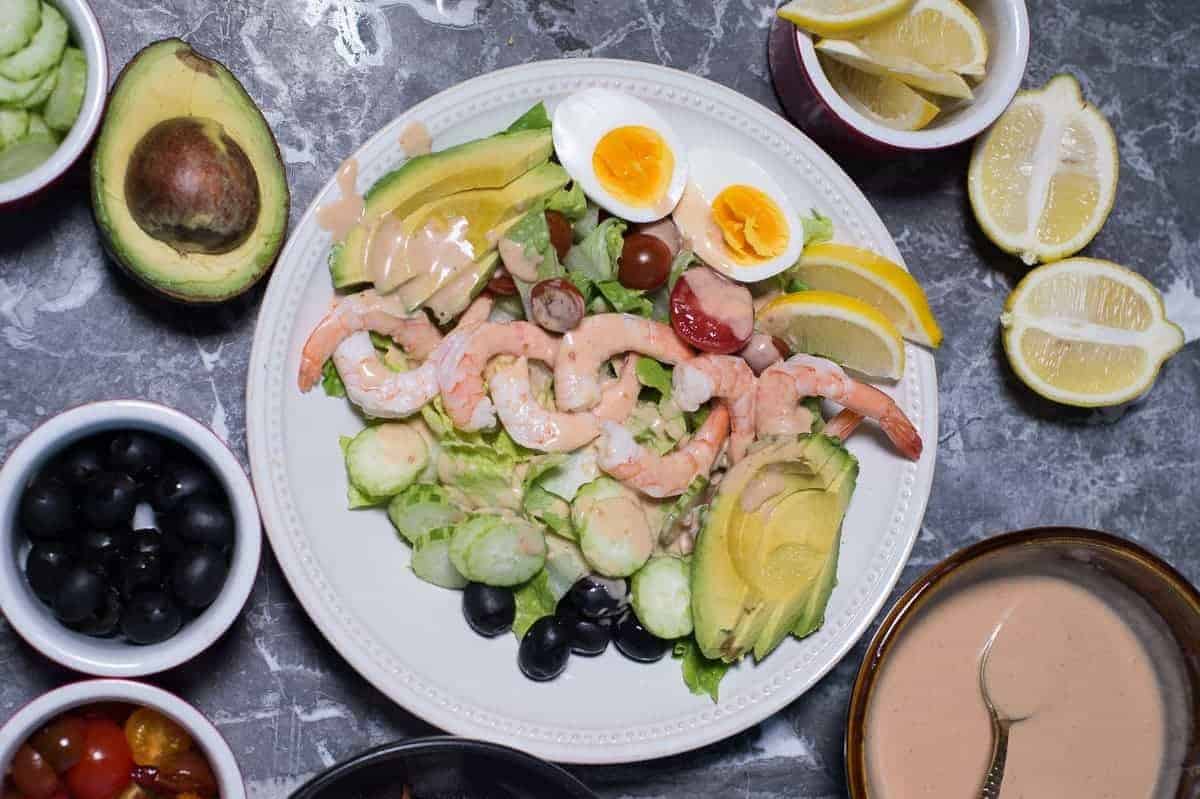 Recipe
Comments
Save
Go to Collections
This post may contain affiliate links. Please read my
disclosure policy.
I can remember being a kid and seeing Shrimp Louie salad on the menu at a fancy restaurant. The name always sounded like something really special and elegant to me. The name 'Shrimp Louie' brought up visions of royal shrimp. Literally, a little tiny shrimp king wearing a crown and maybe a purple robe, kickin' it in his undersea kingdom.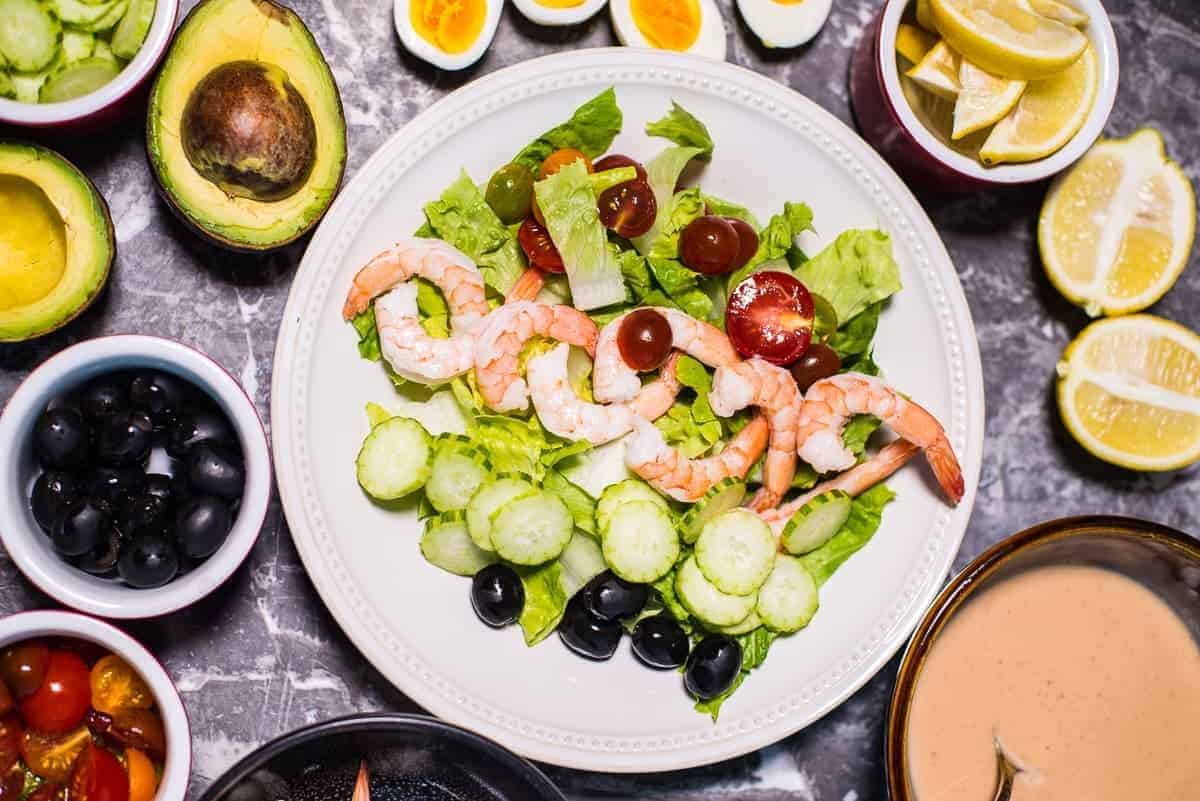 I actually had this salad for the first time about 9 years ago at a restaurant in Pismo Beach.
It was a hot summer afternoon with friends. We were road-tripping our way down to Santa Barbara for a weekend girls trip and it seemed like the perfect time to order such a fancy salad.
The salad I got that day had both shrimp and crab on it – which I highly recommend.
For this meal prep bowl creation, I stuck with only shrimp for ease of prep. However, feel free to add crab and/or even lobster to this salad.
Treat yourself to a little old-school elegance of shellfish with a creamy dressing.
Heck, put on some Sinatra, and celebrate the tiny shrimp king!
Back to seriousness for a minute…remember that the idea behind the beast bowl is to allow you to enjoy an easy one-bowl meal that is customizable to your specific macro intake requirements. Huh? Remind me. What does that mean again?
In short, you can adjust the protein content for you needs.
To calculate the protein contained in the shrimp in this beast bowl, know that shrimp has 20g of protein in a 3 ounce serving. I aim for around 25-35g of protein per meal.* For me this is about 5 ounces of shrimp. For most people 5-7 ounces of shrimp should be about right, depending on your own body weight and goals.*
Does weighing your food sound like way to much work? Don't worry you don't have to do it forever. You will quickly learn to get pretty close to the right amount per serving once you had some practice.
Women should have a palm size of protein, men should eat 2 palms worth of protein.
*Nerd Alert: Quick Protein Macro-nutrient Lesson
Protein should be the cornerstone of your nutrition. Protein is the main macro-nutrient to focus on if you want to build muscle, or preserve lean muscle when cutting body fat. A good rule of thumb is to eat 1g of protein per pound of lean body mass. Typically, this will fall somewhere in the range of 100-180g per day. Your intake of protein should be spread out evenly throughout the day.
Everybody knows that sugar and carbs will drive up insulin levels. But did you know that too much protein in one sitting will also do the same?
We have all heard of insulin. Insulin is a hormone that when activated, tells your body to store excess nutrients. In general, our goal should be to keep our insulin levels nice and even throughout the day. [There are exceptions. For example if you are a power lifter, you can use insulin to drive fast digesting proteins into depleted muscle tissue.] In general, for the bulk of us that work out and do basic strength training, we want to prevent our insulin levels from spiking.
Women should typically eat 3-4 ounces of protein at each meal. Men can typically eat 4-6 ounces of protein per meal. Here is a handy protein chart. Again, for women that is about a palm-size portion. For men, it is two palms worth of protein.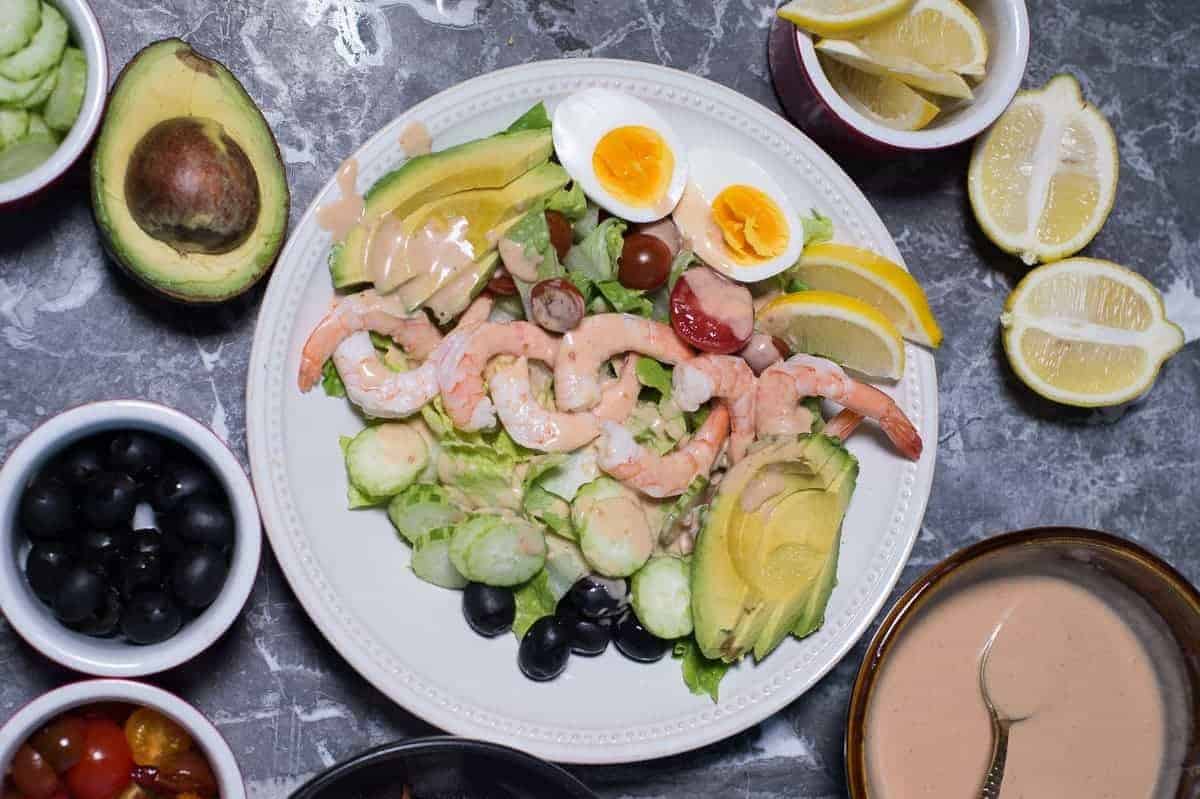 Shrimp Louie Beast Bowl
Super fancy shellfish beast bowl. Packed with protein and snobbery!
Ingredients
Louie Dressing
¼

cup

mayonnaise,

homemade if you have it

1

tbsp

chili sauce

½

lemon

,

juiced
Shrimp Louie Beast Bowl
romaine lettuce hearts

24

ounce

shrimp

,

tail on, cleaned, cooked and chilled

4

hard boiled eggs

,

halved

2

avocados

1

pint

cherry tomatoes

,

halved

32

black olives

lemon wedges

,

for garnish
Instructions
Dressing
Mix all ingredients for the dressing. Set aside in the refrigerator.
Beast Bowl
Add a few handfuls of romaine to each salad bowl.

Add the shrimp and the rest of the toppings.

Top with a few tablespoons of dressing and a squeeze of lemon.
Laura's Tips + Notes
Nutrition information is for 6 ounces of shrimp/bowl and does not include dressing. Add 100 calories for 2 tbsp of dressing.
YOUR OWN NOTES
Sign In to add your own private notes
Nutrition
Calories:
476
kcal
Carbohydrates:
15
g
Protein:
44
g
Fat:
27
g
Saturated Fat:
4
g
Cholesterol:
615
mg
Sodium:
1901
mg
Fiber:
8
g
Sugar:
4
g
Calcium:
313
mg
Iron:
5.7
mg