Soft and Fluffy Dinner Rolls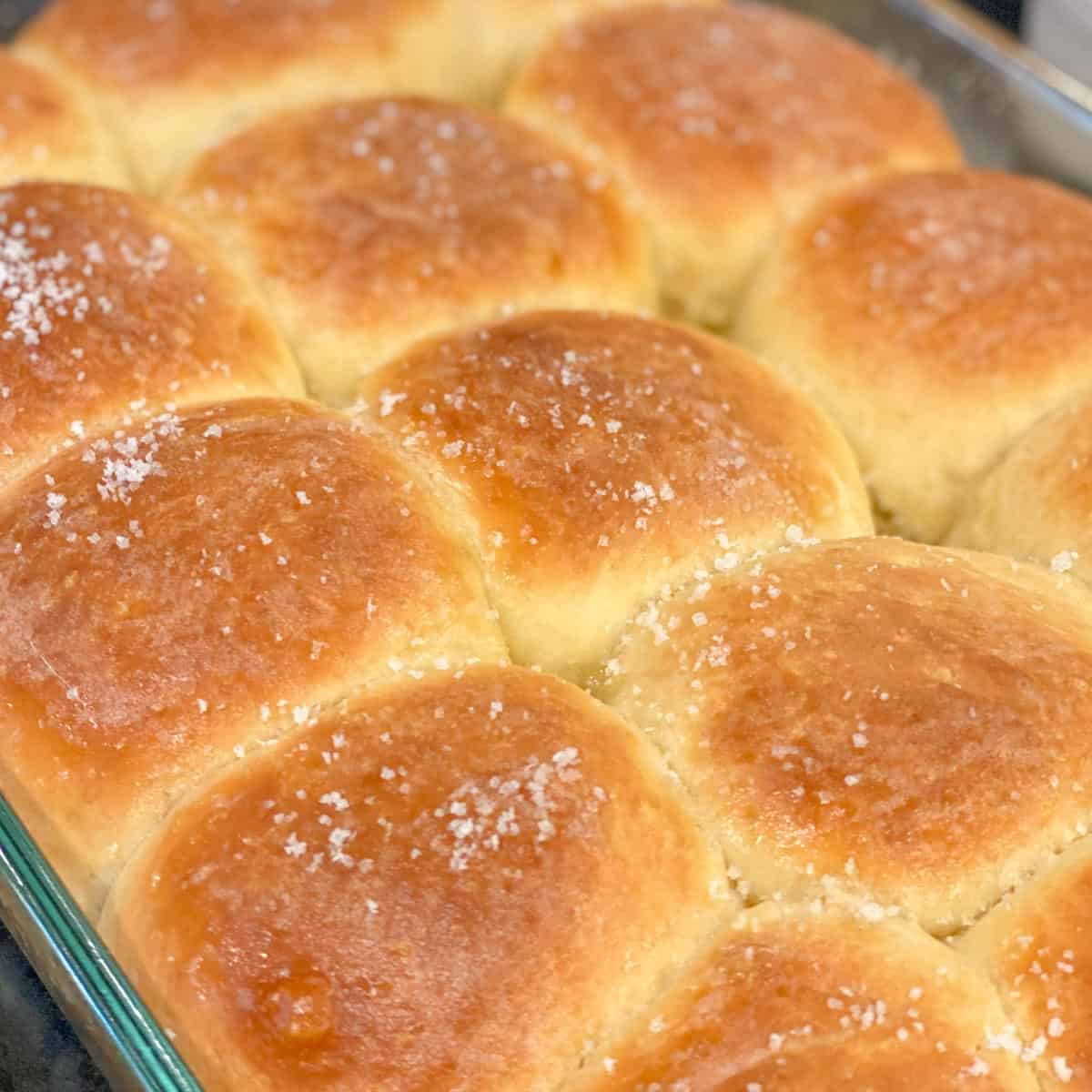 Recipe
Comments
Save
Go to Collections
This post may contain affiliate links. Please read my
disclosure policy.
These magnificent fluffy dinner rolls are soft, warm, and beautiful. This bread dough is a super versatile dough that you can use to make these dinner rolls, sandwich rolls, and my famous Cinnamon Rolls.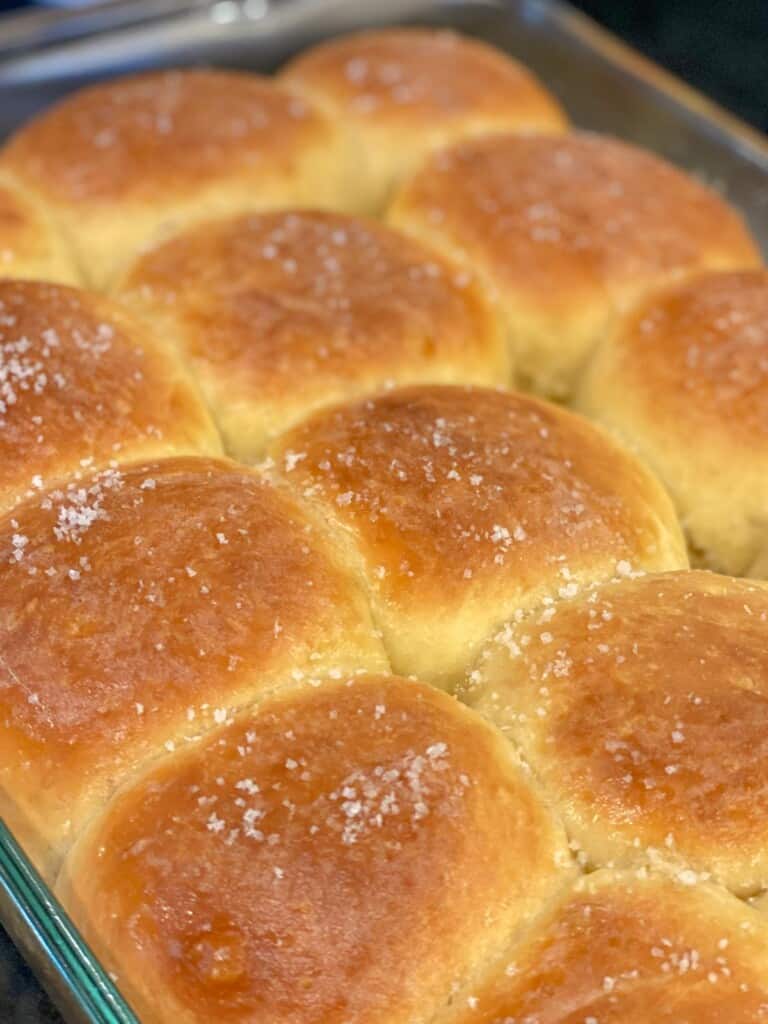 I've been eating these fluffy dinner rolls ever since I can remember. I have been making these rolls ever since I was in elementary school.
This roll recipe is a family recipe that we make every holiday. It's very close to my heart!
My mom always made these rolls for Christmas dinner. We were a family of four, so an entire batch of rolls was a lot for one dinner.
Luckily, the bread dough in this recipe is also the same dough that she used to make Cinnamon Rolls.
The leftover dough would get rolled with cinnamon and sugar and then baked the next morning. Then the sweet cinnamon rolls would either be drizzled with a milk and confectioners sugar glaze or slathered with a cream cheese frosting on top.
I've found that this bread dough is versatile, and I've made all kinds of rolls with it.
I make these rolls whenever I do a BBQ pork shoulder because they make the best sandwich rolls.
The soft fluffy, brioche-style, rolls are amazing topped with juicy Pulled Pork, don't forget to top it with BBQ Sauce and my Sweet and Tangy Southern Slaw.
My mom always made these roll dinner size and baked them on a sheet pan.
I have since experimented with baking them in a 9 x 13 cake pan. (affiliate link) they came out fantastic.
When I serve these for dinner, I serve them warm with softened butter sprinkled with a little coarse salt. I put the butter in a ramekin and sprinkle a little salt right on top. So fancy!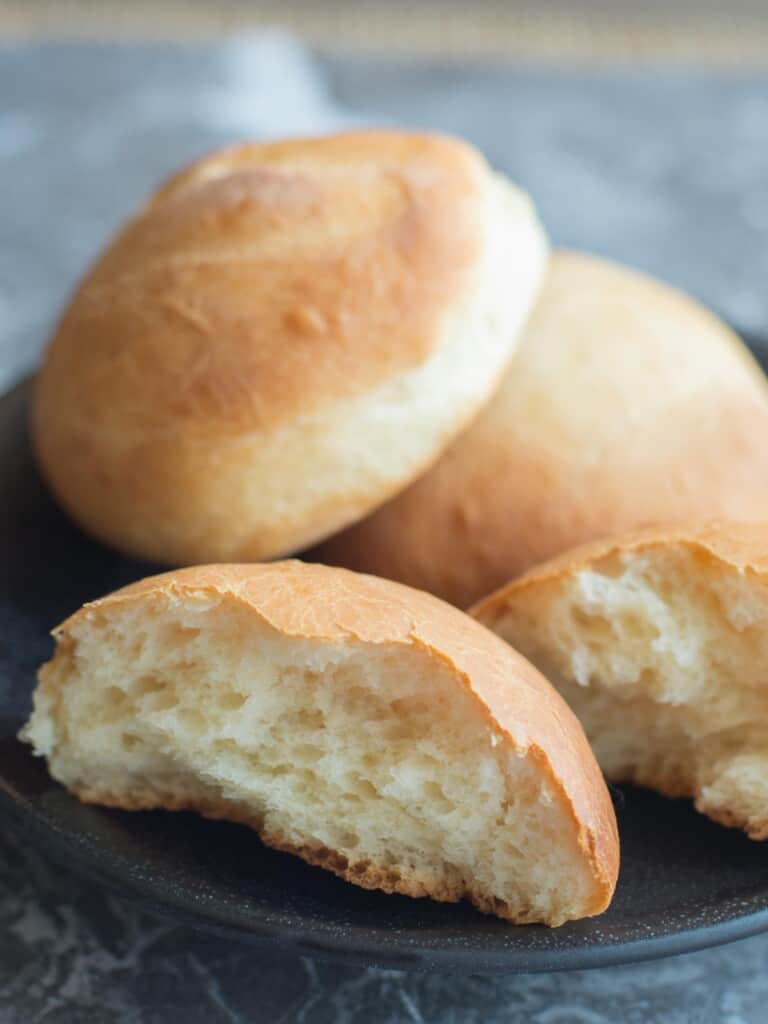 What I love about this Dinner Roll Recipe
This recipe is straightforward to make; I make mine in a stand mixer

(affiliate link)

with a dough hook.
This dough is so versatile and easy to work with.
You can make this dough the night before or even a few nights before you bake it.
The dough makes the BEST Cinnamon Rolls.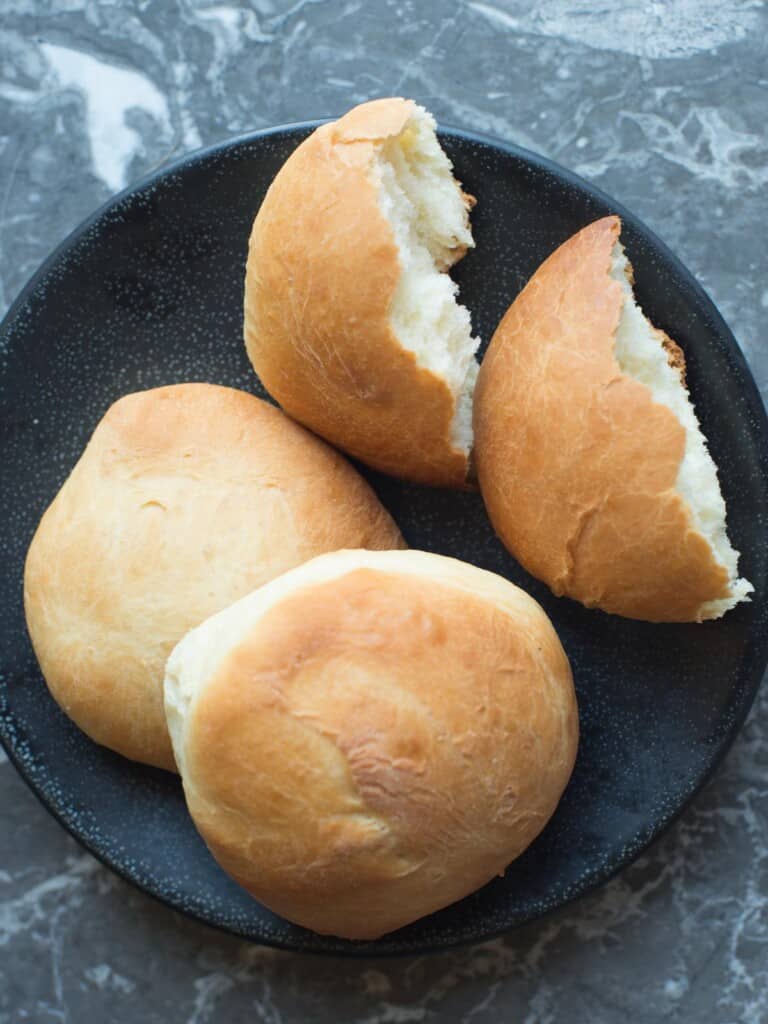 Recipe Notes
Ingredients to Make Perfect Dinner Rolls
Flour
My mom always used all-purpose flour in this recipe. King Arthur is my favorite brand. It has a higher level of protein than a lot of other American flour brands. This higher protein level gives the bread a better rise and a more beautiful structure.
I have also used bread flour in this recipe. Bread flour has even more protein than all-purpose flour. Both flours give you a nice, soft, and fluffy dinner roll.
The recipe calls for 4 cups of flour and more if needed.
The way I do this is I add the 4 cups and get it incorporated. The thing that I'm looking for is that when I turn the dough hook on my mixer, the dough should come off the sides cleanly. If it doesn't, I add some more flour. Spin it again, and continue to add flour a little bit at a time until the mixture comes off the sides cleanly.
The dough tends to be a little bit on the sticky side, and that is totally fine. I have sometimes added an extra quarter cup of flour and sometimes up to a half cup.
Yeast
This dough is a yeast dough, so it does require proofing time.
I have a jar of yeast that I keep in the fridge. I use 2 ¼ teaspoons of yeast, which is equivalent to one packet of dried yeast.
You can dissolve the yeast in the water before you add it to the egg mixture. I don't usually bother with this step.
Butter
I always have unsalted European butter in the fridge. It's what I have on hand and what I always use anytime that I need butter.
The notable thing about European butter is that it has higher butterfat and more flavor than most American butter.
My Aunt Donna's original recipe for these rolls called for margarine (actually Oleo).
I've never made these rolls with margarine.
The salt
I keep kosher salt on hand and use it in most of my baking and cooking. You can also use Himalayan salt or sea salt.
I like to stay away from iodized salt. I'm not sure why it's even still sold!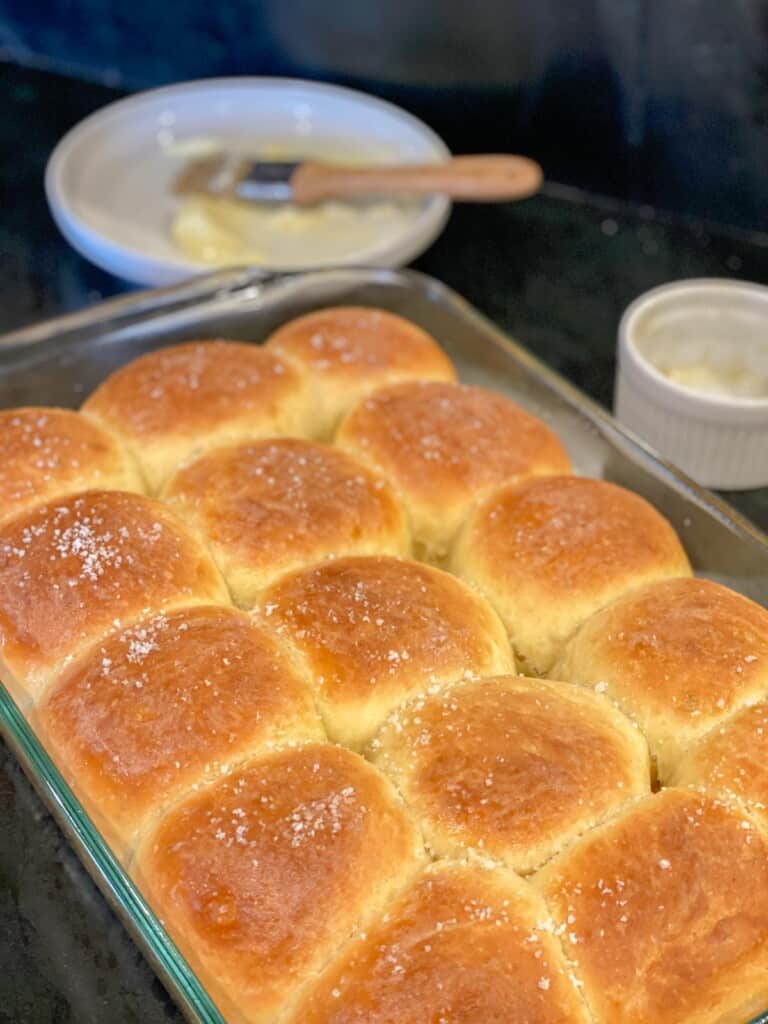 Perfect Dinner Rolls for any occasion![/caption]
Instructions for Making The Dough
Combine The Wet Ingredients: Use a stand mixer for this step and start by adding the eggs and whipping them until fluffy, then add the following ingredients one at a time, mixing between each addition. Add the sugar, then the melted butter.
Add The Yeast: You can dissolve the yeast in the water, but honestly, I don't always do that with this recipe. I usually just add the water, salt, and yeast right to the egg mixture.
Add The Flour: Start by adding half of the flour and then mix it in. Then add the remaining flour. You should beat the dough until the dough is coming off of the sides cleanly. The dough will be sticky.
If the dough is still sticking to sides of the mixer add more flour, a few tablespoons at a time until the dough pulls off the sides of the mixer. Depending on where you live and time of year, your flour can have more water content in it.
How to Proof Rolls
First Rise
It's crucial not to over-proof the dough. Make sure you turn the dough out when it is doubled in size. Depending on the temperature in your home, the rising times can vary.
Put the dough in an oiled bowl.
Cover the dough with either plastic wrap or a damp kitchen towel.
Proof the dough until it is doubled in size.
PRO-TIP: There a few way to speed up proofing. One is to turn your oven on to 200℉ and bring it to emperature. Then turn it OFF and place the covered dough in it. Check the proof in about 30 minutes. Another way is to place it on top of the oven and turn the overhead light on. Sometimes that is enogh warmth to speed up the rising. I have a Breville Toaster Oven that has a proof setting. I use that sometimes as well.
Second Rise
Once the dough has doubled in size, you will shape it into rolls and get it ready for its second proof. If you want to bake these easy dinner rolls the next day, then you can refrigerate them before you do the second proof.
Shape the dough into 16 pieces.
Place on a parchment-lined baking sheet OR in a 9 by 13- inch cake pan. (refrigerate HERE, if cooking later)
Cover and rise one more time.
Preheat the oven while the dough is doing its second rise.
Bake for 12 to 15 minutes at 425℉. (internal temp of 205℉)
PRO-TIP: This batch of rolls makes 16 dinner-sized rolls or 8 large buns for sandwiches or burgers. In addition, the absolute best thing about this recipe is that you can use the same dough to make the most amazing cinnamon rolls.
Other Holiday Recipes You Might Like
Easy Holiday Appetizer Ideas
Easy Recipes For A Crowd
3 Last Minutes Side Dish Recipes
Leave A Review
Did you make this recipe? Leave a comment and a 5 ★ review. Your feedback helps other readers and helps me continue to offer recipes at no cost. Happy Cooking!!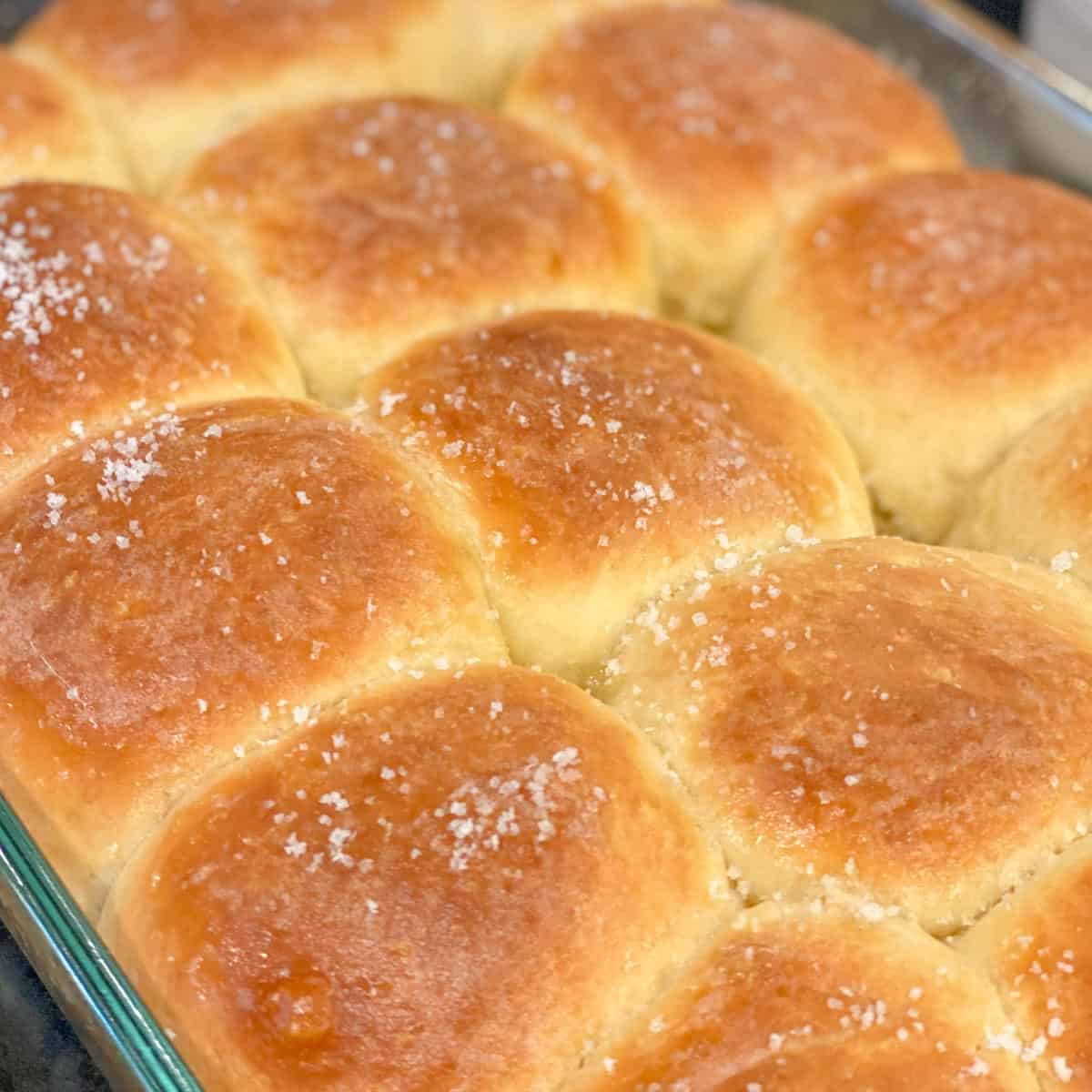 Dinner Rolls
These magnificent dinner rolls are soft, fluffy and plain wonderful. They are the hands-down favorite at our family dinners. Trust me, it's worth making this dough for the cinnamon rolls that you can make in the morning.
Instructions
Using a stand mixer with the paddle attachment, beat the eggs until light a fluffy

Add the sugar and beat again until light a fluffy.

Add the melted butter, beat again.

Add the salt, water and yeast beat again.

Add half of the flour and mix until the flour is just incorporated

Add the remainder of the flour, beat until the dough comes together. (If the dough is too sticky add a little extra flour.)

Transfer the dough to a clean, oiled bowl, cover with plastic wrap and let it rise until the dough doubles in size. Between 45 minutes and an hour.

Punch the dough down and make it into 16 balls, place on a parchment-lined baking sheet OR in a 9×13 cake pan. Cover with plastic wrap and let rise again. Between 45 minutes and an hour.

Bake at 425°F for 10-15 minutes
Laura's Tips + Notes
Note: You can bake these on a greased cookie sheet or in a greased 9 x 13 inch cake pan. Then they will pull apart.
When I make these as pull apart rolls I like to wash them with an egg wash and then sprinkle with salt. I use butcher salt in my salt grinder.
YOUR OWN NOTES
Sign In to add your own private notes
Nutrition
Serving:
1
roll
Calories:
192
kcal
Carbohydrates:
28
g
Protein:
4
g
Fat:
6
g
Saturated Fat:
3
g
Cholesterol:
45
mg
Sodium:
209
mg
Sugar:
4
g
Calcium:
11
mg
Iron:
1.6
mg