These Holiday Dinner Rolls Are Sooo Good
My Aunt Donna's Dinner Rolls should be sitting right next to your turkey this holiday!
The Troubleshoot:
We got a lot of comments on these rolls and it seems people were having a difficult time getting these to come out properly.  The biggest complaints were that the rolls were really flat and the flavor was bland. I've never had a problem and mine always come out just fantastic. But it got me thinking – I've made these so many times that I kind of make them on auto-pilot. I know what the dough should look like and adjust flour as needed. After all the complaints about consistency (including by my faithful partner in crime here at the blog) I decided that it was time to re-examine the recipe a little more closely. I sincerely apologize if you made these rolls and had some of the same issues.
Here's what I came up with.
The biggest issue here was the flour. The recipe calls for 4 cups of flour and more if needed. The more part needs to be more clearly defined. The way I do this is I add the 4 cups and get it incorporated. The thing that I'm looking for is that when I turn the dough hook on my mixer, the dough should come of the sides cleanly. If it doesn't I add some more flour. Spin it again, and continue to add flour a little bit at a time until the mixture comes of the sides cleanly. I made these rolls yesterday and paid extra careful attention to how much more flour is actually needed. I used 1 cup more. 
Other things to note.
I always have unsalted European butter in the fridge. It's what I have on hand and what I always use anytime that I need butter. The notable thing about European butter is that it has higher butterfat and more flavor than most American butter. My Aunt Donna's original recipe for these rolls called for margarine (actually Oleo). I will never use margarine for any reason in cooking or eating so I've never made these rolls with margarine.
The salt.
I keep kosher salt on hand and use it in most of my baking and cooking. This is what I used in this recipe as well. Kit complained that when she made the rolls they were a little on the bland side. Again, when remaking these, I paid careful attention to my salt and measured out the amount of salt – I used 2 tsp.
I've re-adjusted the recipe card to reflect these specifics. I hope you will try them again! Trust me, it's worth making these for the cinnamon rolls alone.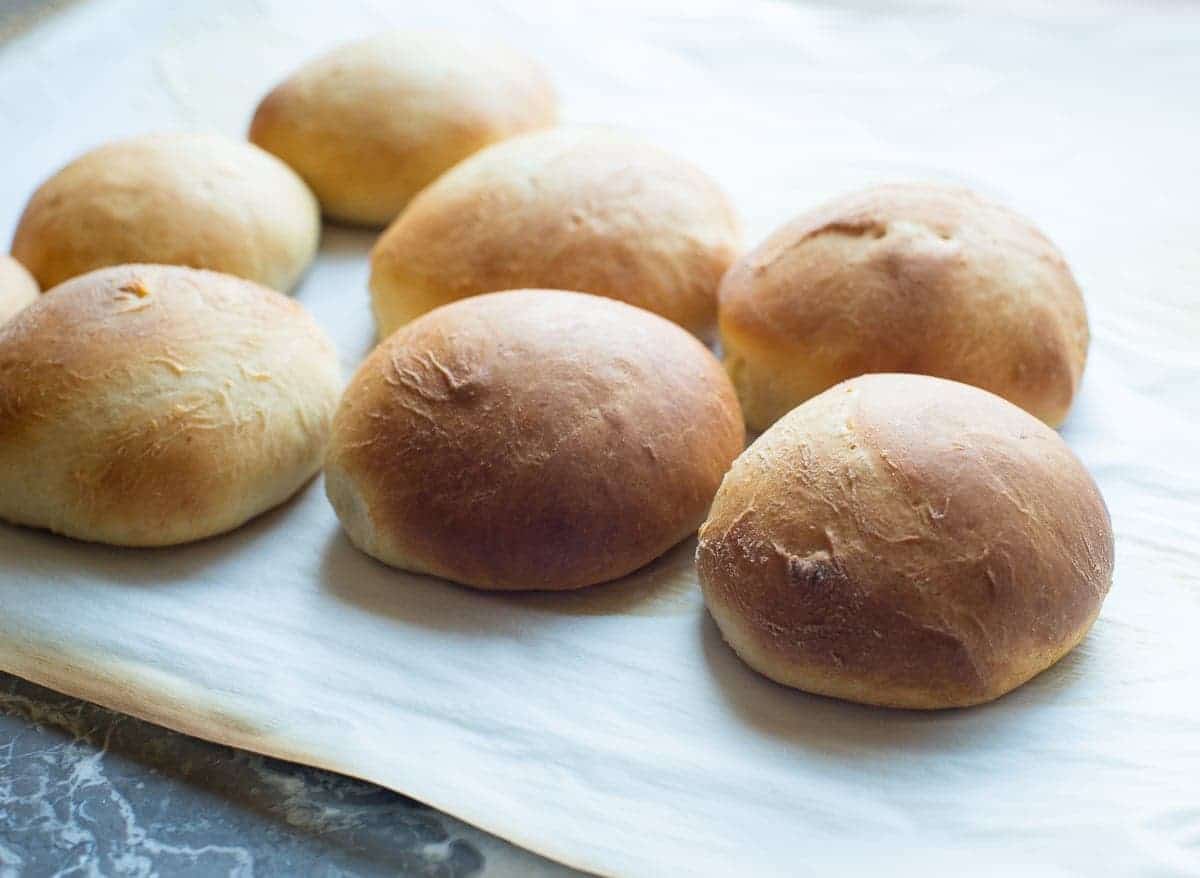 And…they're not just for dinner!
These magnificent holiday dinner rolls are soft, fluffy and plain wonderful. They are the hands-down favorite at our family dinners.
I also make these rolls whenever I do a BBQ pork shoulder because they make the best sandwich rolls. The soft fluffy, brioche style, rolls are absolutely amazing topped with juicy pulled pork and delicious Southern-style coleslaw. My mouth is watering just thinking about it!
When I serve these for dinner, I serve them with soft butter sprinkled with a little coarse salt. I put the butter in a ramekin and sprinkle a little salt right on top. So fancy!
Make a sandwich! Eat them with butter! Add your favorite topping – or use none at all. These versatile rolls are up for the job.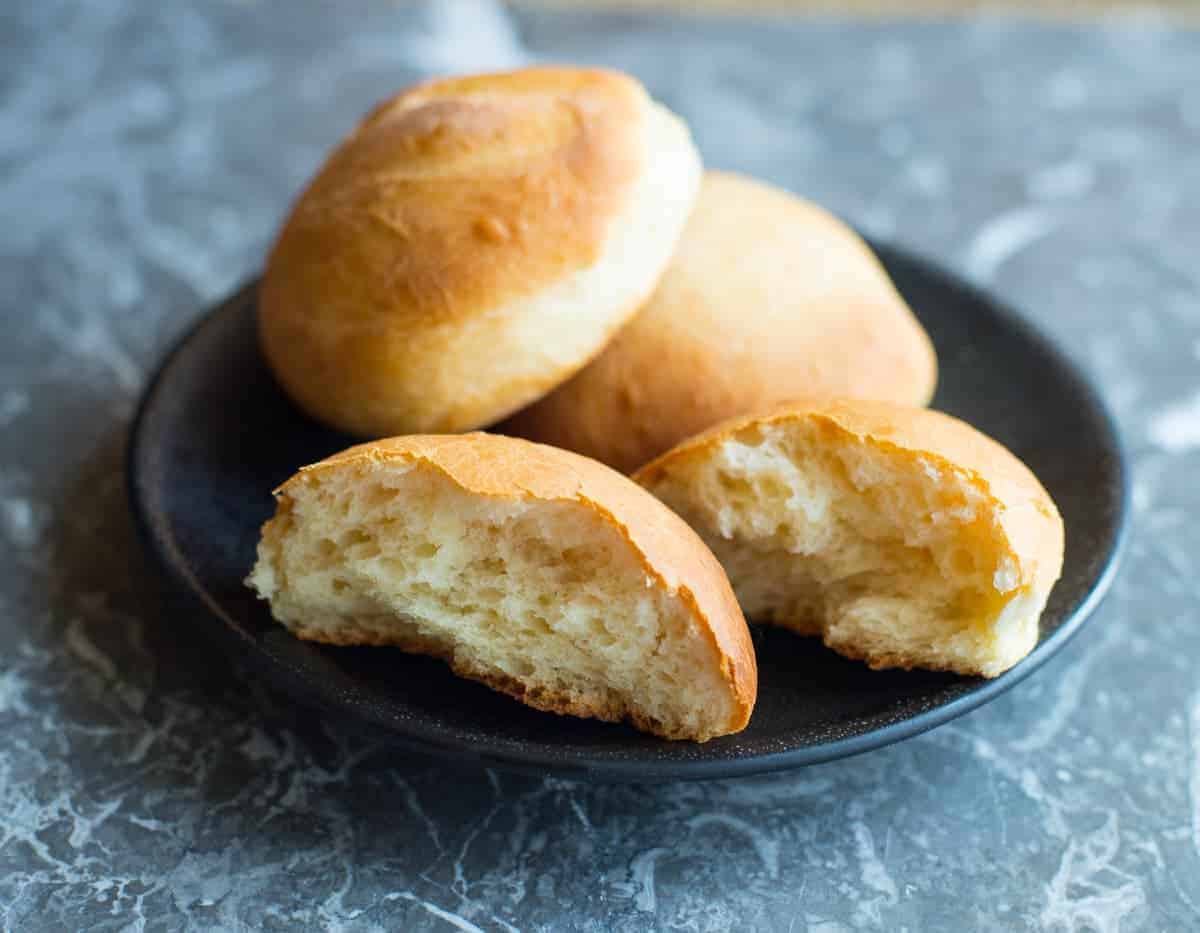 I know that I've said it before but I am OBSESSED with family recipes.
Being able to bake something that I know has been being baked in our family for generations brings me a special kind of comfort. I cannot wait to hand all of these recipes down to my own kids. With any luck, the traditions will carry on. Food can hold so much history, not to mention bring back fond memories.
This batch of rolls makes 16 dinner-sized rolls or 8 large buns for sandwiches or burgers. In addition, the absolute best thing about this recipe is that you can use the same dough to make the most amazing cinnamon rolls.
Aunt Donna's Holiday Dinner Rolls
Total Time:
4
hours
30
minutes
Servings:
16
dinner rolls
This basic bread recipe make 16 dinner size rolls, 8 sandwich buns, or 16 cinnamon rolls.
Print Recipe
Pin Recipe
Instructions
Using a stand mixer with the paddle attachement, beat eggs until light a fluffy

Add melted butter, beat again

Add salt, water and yeast, beat again

Add half of flour and mix until just incorporated

Add the remainder of flour, beat until the dough comes together. (If dough is too sticky add a little extra flour.)

Transfer the dough to a clean, oiled bowl, cover and let rise. (Assume about 2 hours, or until the dough doubles in size.)

Punch down, make into 16 balls, place on a parchment lined baking sheet. Cover and let rise again. (Assume about 2 hours, or until the dough doubles in size.)

Bake at 425F for 10-15 minutes
Notes
Note: You can bake these on a greased cookie sheet or in a greased 9 x 13 inch cake pan. Then they will pull apart.
When I make these as pull apart rolls I like to wash them with an egg wash and then sprinkle with salt. I use butcher salt in my salt grinder. 
Nutrition
Calories:
192
kcal
|
Carbohydrates:
28
g
|
Protein:
4
g
|
Fat:
6
g
|
Saturated Fat:
3
g
|
Cholesterol:
45
mg
|
Sodium:
209
mg
|
Sugar:
4
g
|
Calcium:
11
mg
|
Iron:
1.6
mg