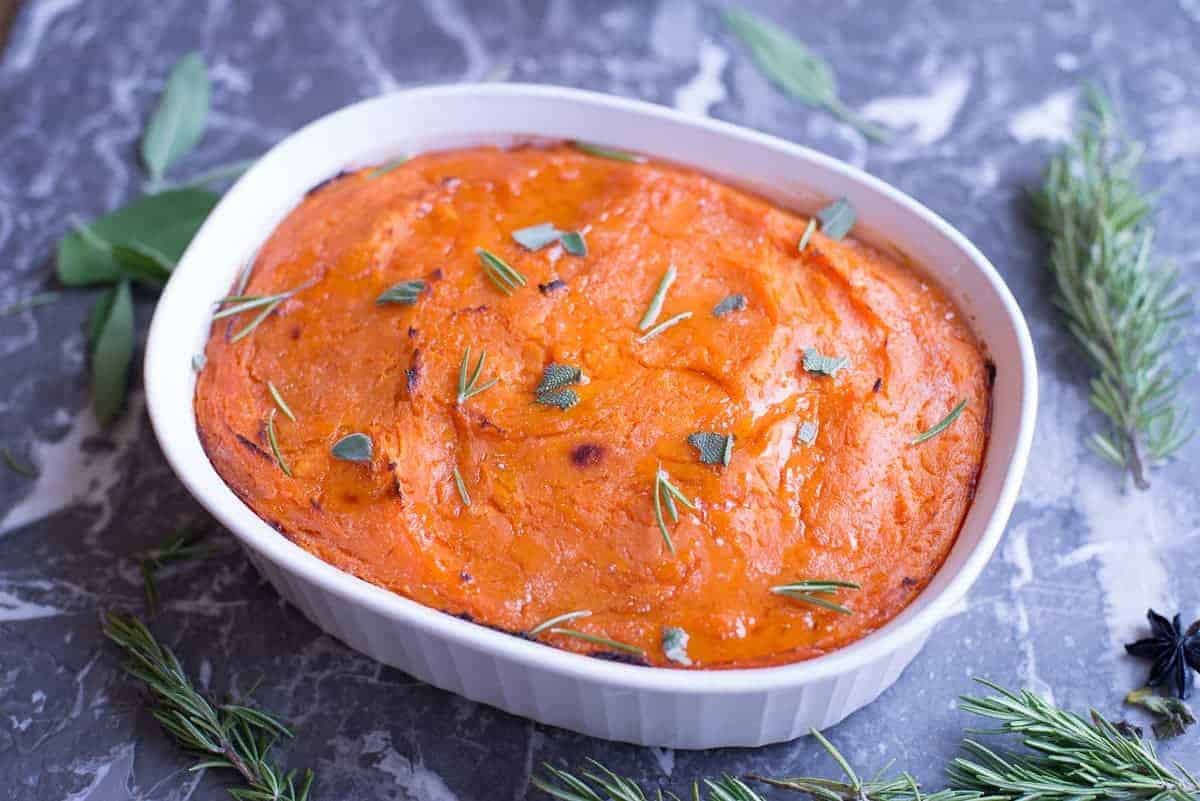 Mashed Sweet Potatoes – A nice change from the typical heavy buttery mashed potatoes.[/caption]
Even a well-prepared Thanksgiving dinner generally offers a somewhat monotone palate of flavors - highlighted by butter, salt and starch.
Don't get me wrong, these are all wonderful ingredients. I'm the first person to chow down on dinner rolls with butter. However there are limits - yes, even on Thanksgiving. After a while it can feel like one creamy buttery bite after the next.
One thing I really like about this dish is that is stands out from other 'traditional holiday dinner' flavors by breaking that butter, salt and starch monotony.
The orange provides a welcome contrast to the flavors in most of the other holiday dishes. Like really good sausage or crunchy nuts hiding in stuffing, this dish brings a balance to the rest of the deliciousness on your plate.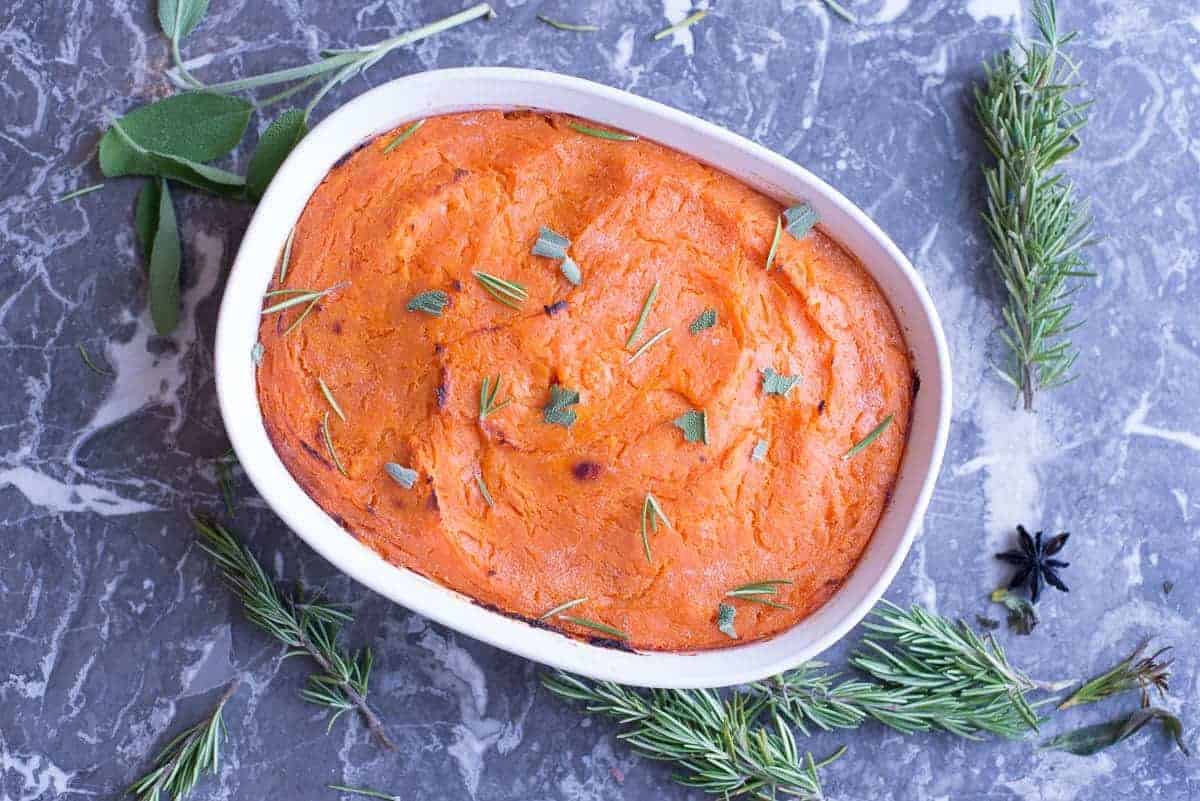 The silky texture of the mashed sweet potatoes, highlighted by the crisp sweetness of the fresh orange, makes for a delicious complement to turkey. The citrus works a bit like cranberry sauce. The sweet, slightly acidic, orange flavor cuts through all that fat and salt...leaving you ready to better appreciate - yet another - bite of mashed potatoes and turkey!
You can prepare this dish up to two days ahead! Take the pressure off yourself!
I encourage you to try this recipe. I trust you will agree - even if you aren't a huge fan of sweet potatoes! Just think of it as dessert. It is essentially a sweet potato pie without crust!
➽ Did you make this recipe? I love to see what's going on in your kitchen. Please show me what you're cooking. 🍳 Tag me @foodologygeek on your favorite social channel! Facebook, Instagram & Pinterest. If you loved ❤︎ this recipe, please leave a five ★ review and a comment!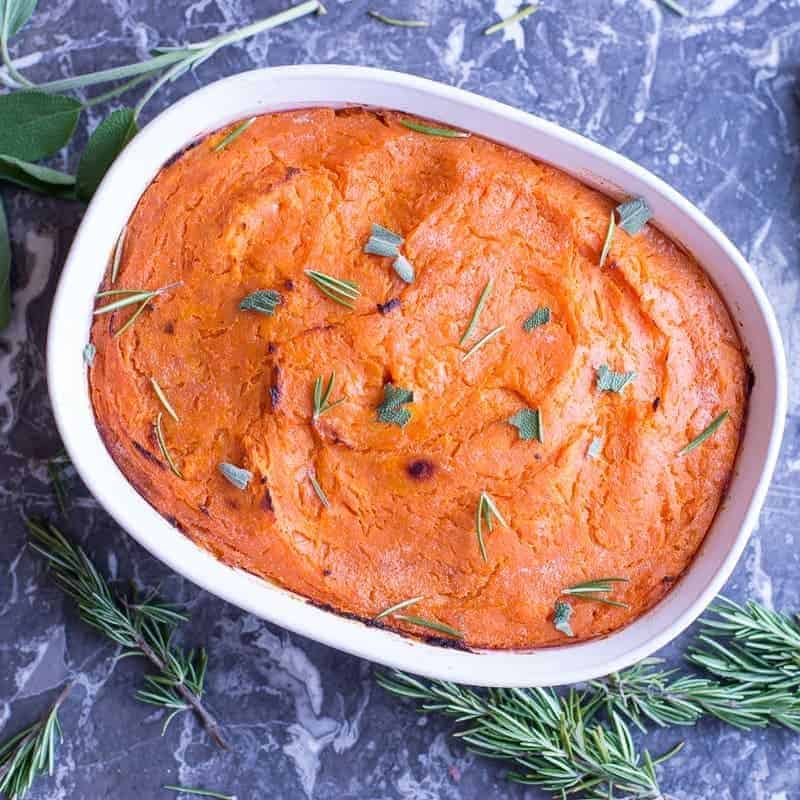 Mashed Sweet Potatoes with Orange
This sweet-but-not-too-sweet side dish is the perfect compliment to a Fall or Winter dinner - especially during the holidays. It can be made up to two days ahead!
Ingredients
4

pounds

sweet potatoes (or yams)

about 8 medium sized

½

cup

brown sugar

firmly packed

3

tablespoon

butter

melted

2

teaspoon

orange zest

grated

2

teaspoon

lemon zest

grated

¼

cup

orange juice

fresh, if possible

2

tablespoon

lemon juice

½

tsp

salt
Instructions
Preheat oven to 350 ℉. [No need to pre-heat the oven if you are making the sweet potatoes ahead of time.]

Bring 3 quarts of water to boil in a 6-8 quart pan.

Add sweet potatoes, reduce heat. Simmer until sweet potatoes are tender when pierced with a fork. (About 20 minutes.) Drain and cool.

When cool, peel the sweet potatoes and cut into large chunks. Mash until smooth.

Add brown sugar, 2 tablespoon of the butter, orange and lemon zest, orange and lemon juice, and salt. Use an electric mixer to beat until light and fluffy.

Transfer mixture into a buttered 2-2½ quart (or 8x10) baking dish. [NOTE: IF MAKING AHEAD - STOP at this point. Cover and refrigerate up to 2 days.]

Bake sweet potatoes until warm and the peaks are tinged brown. (About 25 minutes.) NOTE: If chilled, allow approximately 15 more minutes.

Drizzle with remaining 1 tablespoon melted butter. Serve.
Laura's Tips + Notes
VEGAN ADAPTATION: Substitute vegan butter or coconut butter for conventional butter.
PALEO ADAPTATION: Substitute vegan butter or coconut butter for conventional butter. Omit sugar or substitute maple syrup to taste.
PRO TIP: Use the edge of a spoon or the back of a table knife to peel the cooked sweet potatoes.
YOUR OWN NOTES
Nutrition
Calories:
232
kcal
Carbohydrates:
48
g
Protein:
2
g
Fat:
3
g
Saturated Fat:
2
g
Cholesterol:
9
mg
Sodium:
249
mg
Fiber:
5
g
Sugar:
18
g
Calcium:
65
mg
Iron:
1.2
mg