Cucumber Salad Recipe (Spicy Asian Style)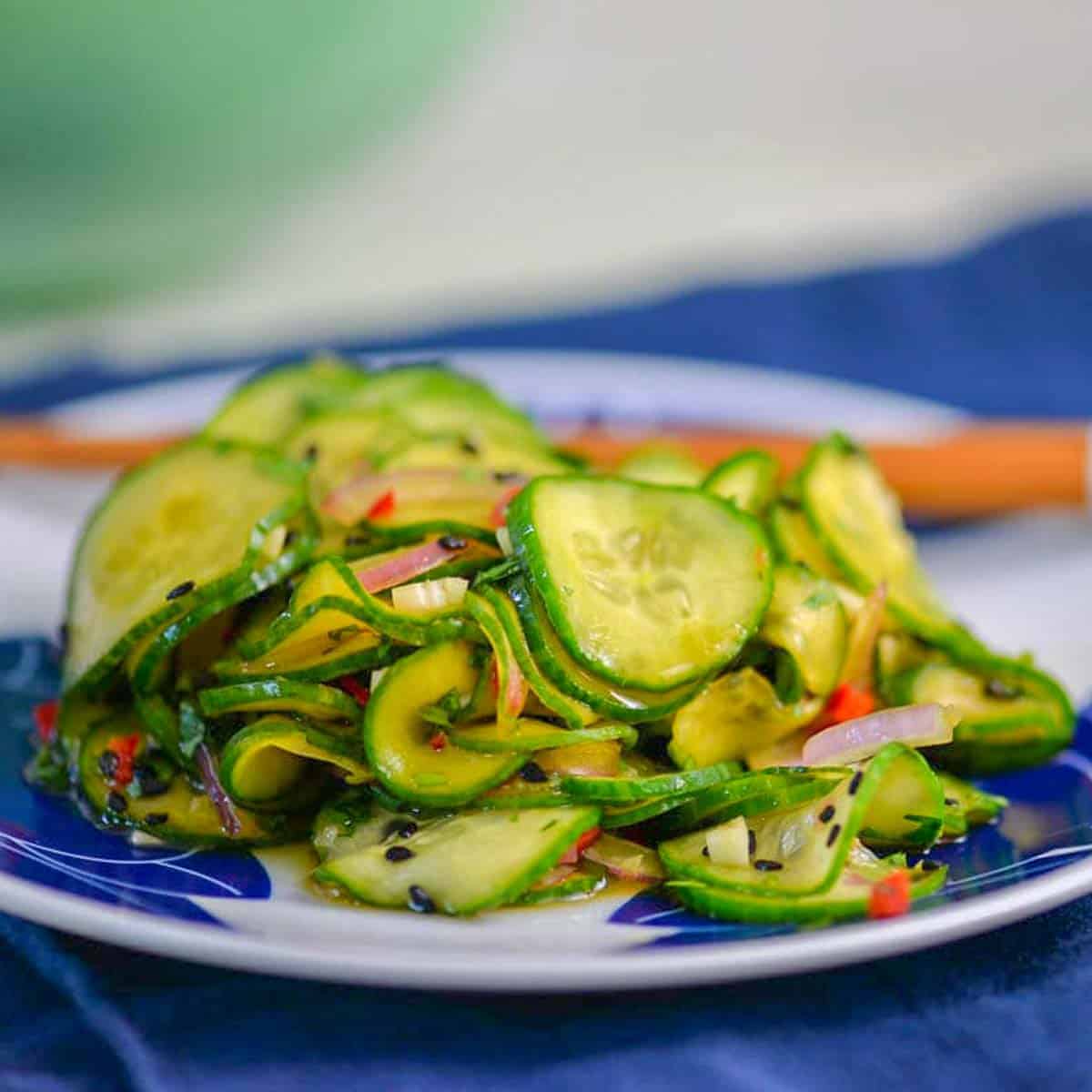 Recipe
Comments
Save
Go to Collections
This post may contain affiliate links. Please read my
disclosure policy.
This easy Asian cucumber salad is marinated in a spicy-sweet sesame ginger dressing. The result is a crunchy, refreshing, umami-packed salad that's a delicious side dish. It's the perfect summer side dish to serve with grilled meat.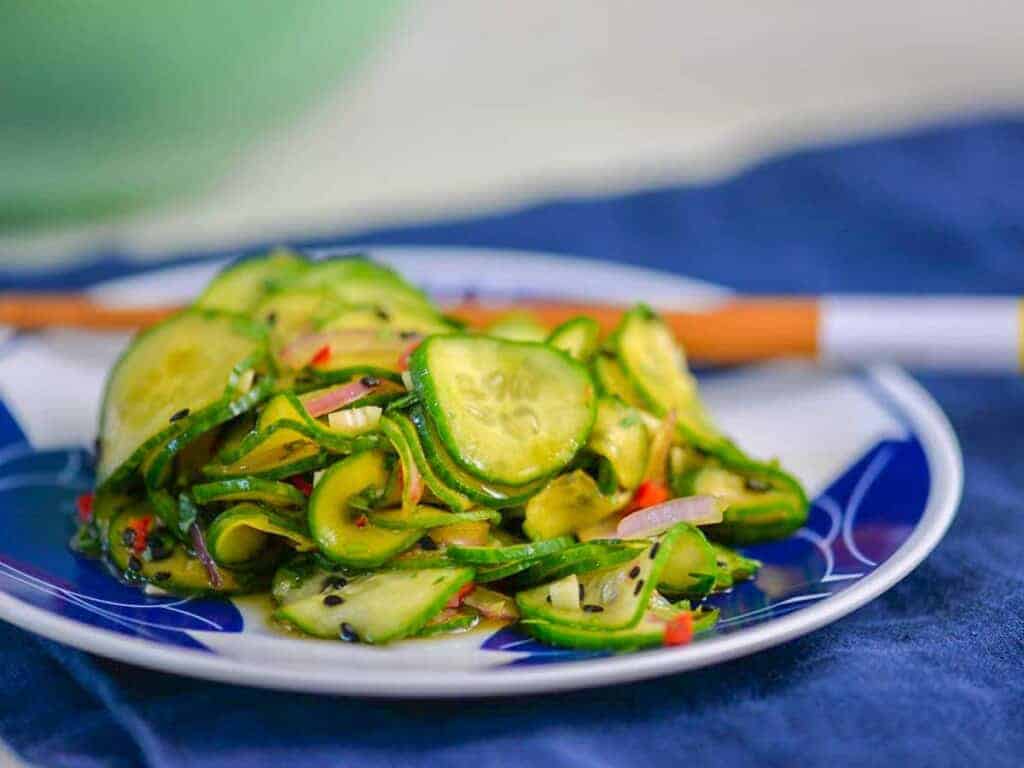 When I was in high school, one of my all-time favorite after school snacks was a cucumber salad. I would slice up a bunch of cucumbers and then completely drown them in a salty concoction of soy sauce and Kraft Italian dressing. True story!
Needless to say, my palate is a tad bit more refined these days. Plus, I'm a lot more interested in clean eating than I was back then. One thing hasn't changed… I still love a good cucumber salad.
This cool and crunchy salad is inspired by Asian flavors, ginger, garlic, sesame, and soy. I like to add a spicy kick with a pinch of red chili.
What you're going to love about this recipe
No stove needed: This easy salad recipe means no cooking is needed for this recipe. Just a grab a sharp knife or a mandoline, chop chop chop, and you're done.
Super fast & easy: This recipe is so easy to make. Two ingredients, a super simple simple salad dressing, and you're ready to munch.
Fresh and crispy: Cucumber salad is crunchy and packed with umami.
Perfect for meal prep: Marinated cucumbers just get better as they sit in the fridge. This recipe is one of my go-to meal prep recipes.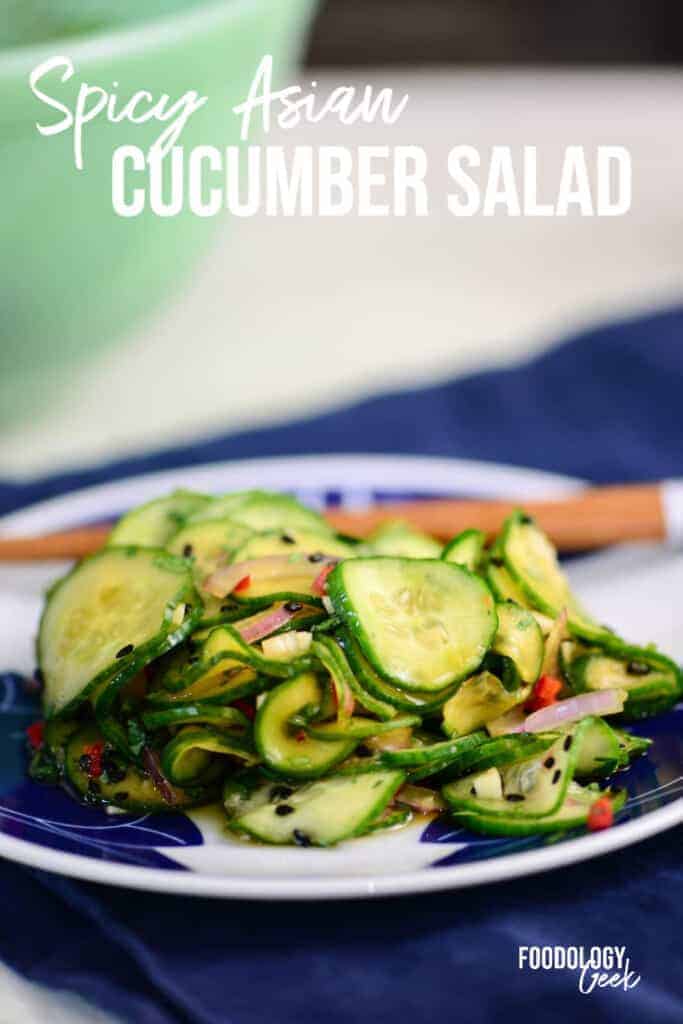 Recipe Notes
This easy cucumber salad recipe is super simple. All you need is a few veggies and a salad dressing that just couldn't be easier. Every ingredient in this recipe is available year-round in most grocery stores.
What you'll need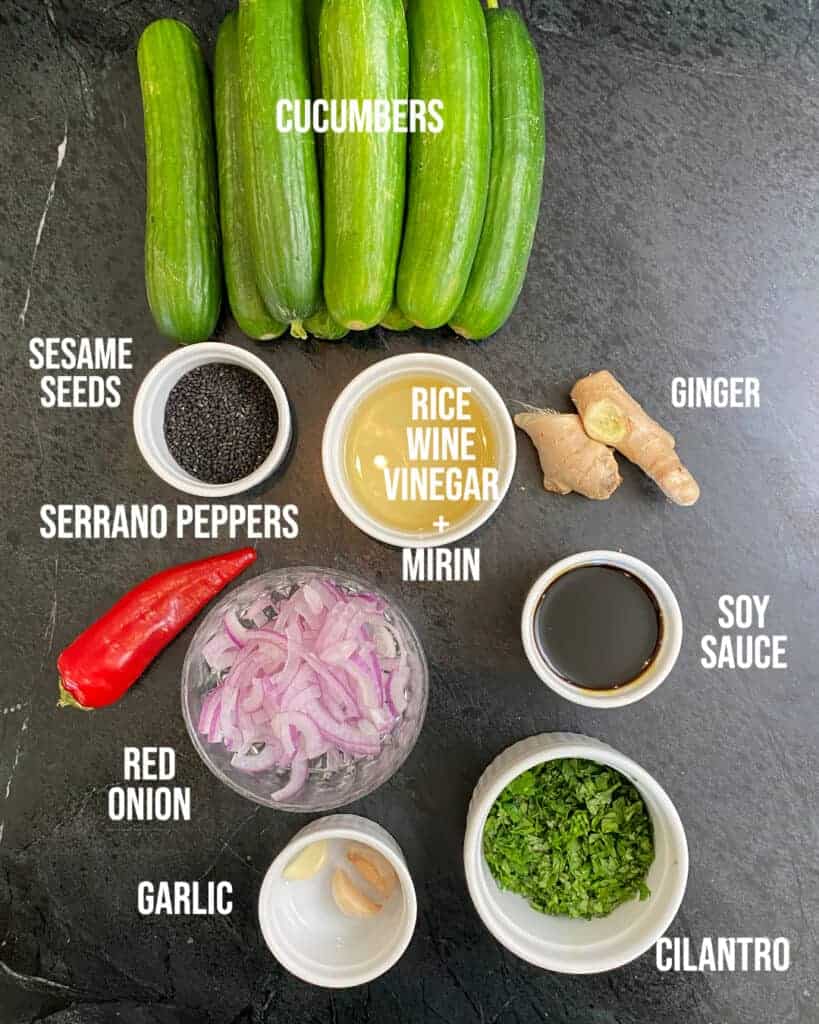 Cucumbers: I like to use Persian or English cucumbers for this recipe. Both of these have tender skin. If you are going to use the more common cucumbers, peel them and remove the seeds.
Aromatics: Red onions, ginger, garlic, and cilantro. I like to use a red Serrano pepper for color and heat.
Dressing: Soy sauce, rice wine vinegar, and mirin. White vinegar will work fine, but rice vinegar takes this dressing to the next level.
Extras: Chili flakes and sesame seeds. These are both optional but highly recommended.
Get Ready To Slice
Step 1: The fastest and easiest way to slice cucumbers is to use a mandoline slicer. I like to make mine pretty thin. If you don't have a mandoline slicer, you can also use a food processor or a knife.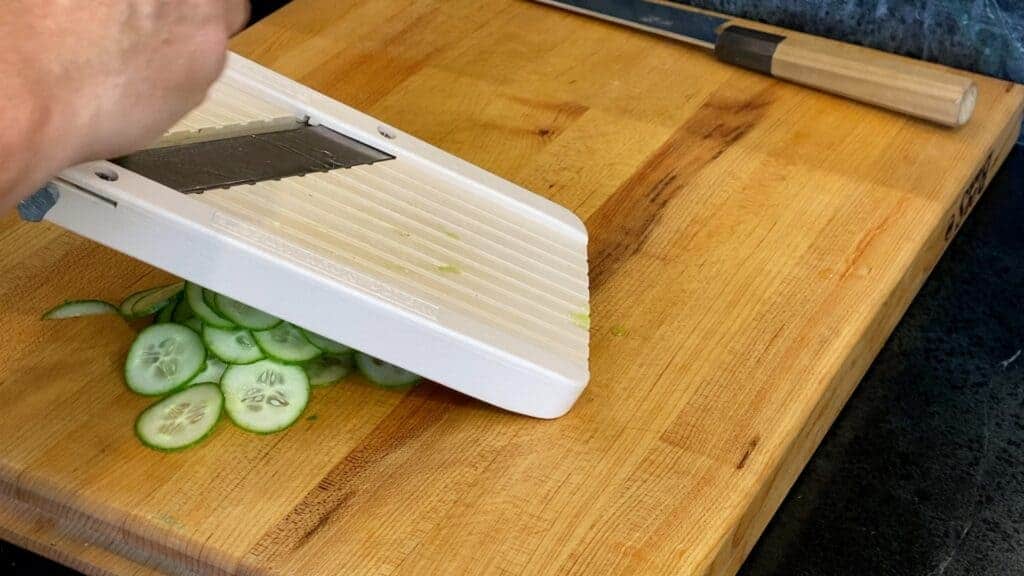 Step 2: Place the cucumber slices in a large bowl.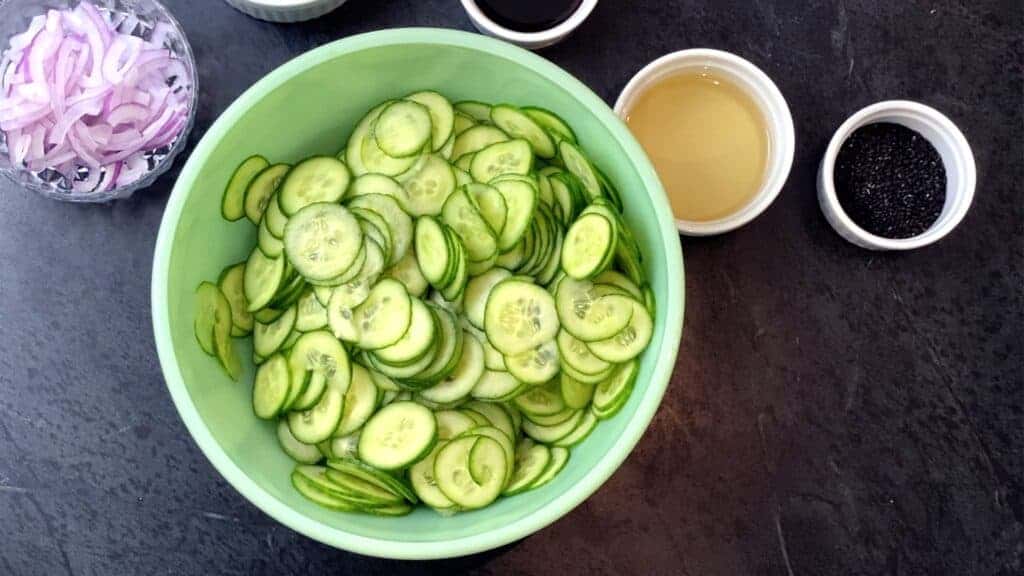 Step 3: Add the red onions, garlic, ginger, and diced red pepper. If you need a shortcut, you can also use jarred minced garlic and ginger. These are both usually available in the produce section.
If you can't find a red Serrano pepper, it's perfectly acceptable to use red pepper flakes. If you like things extra spicy, like me, you can use both.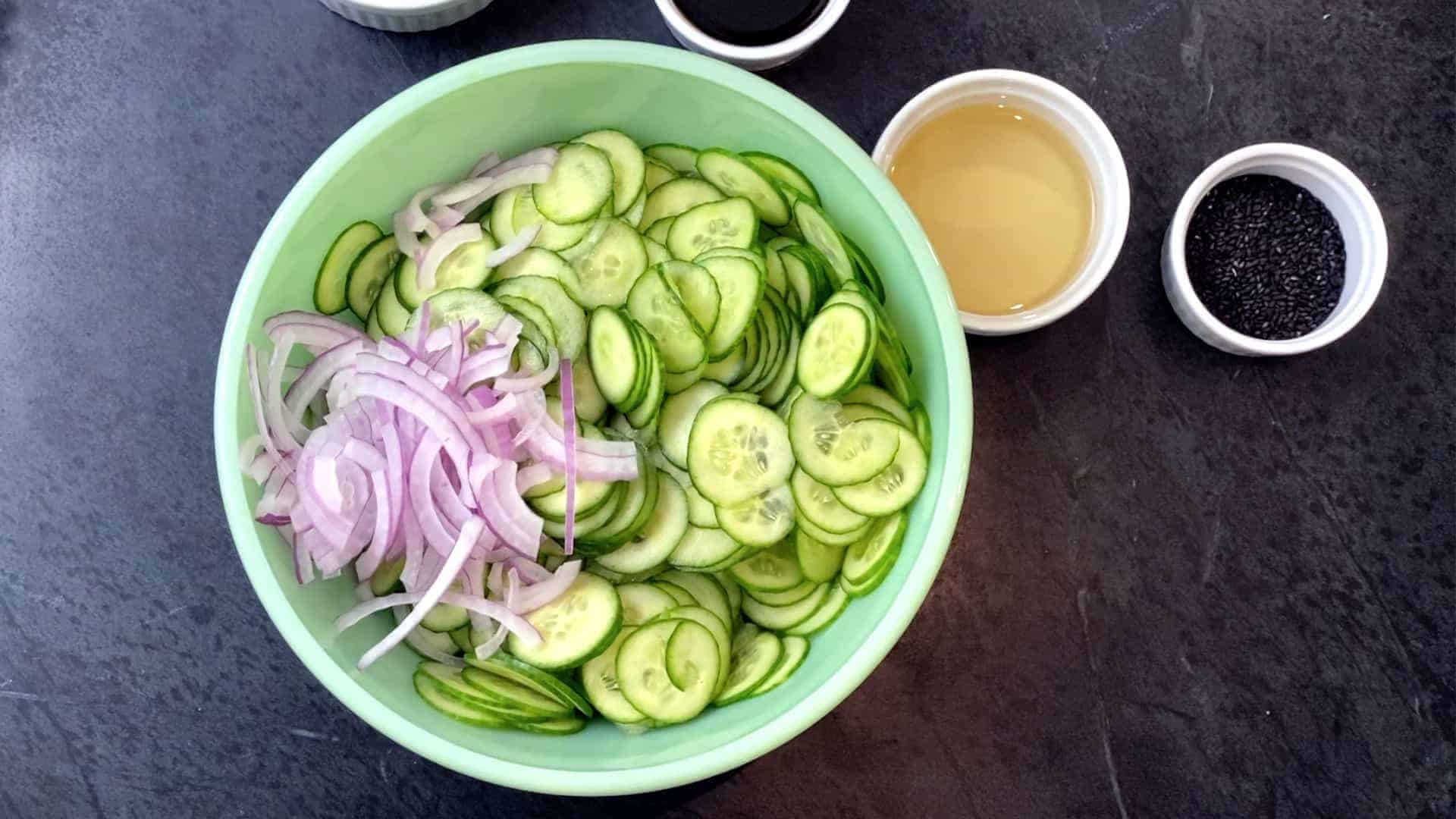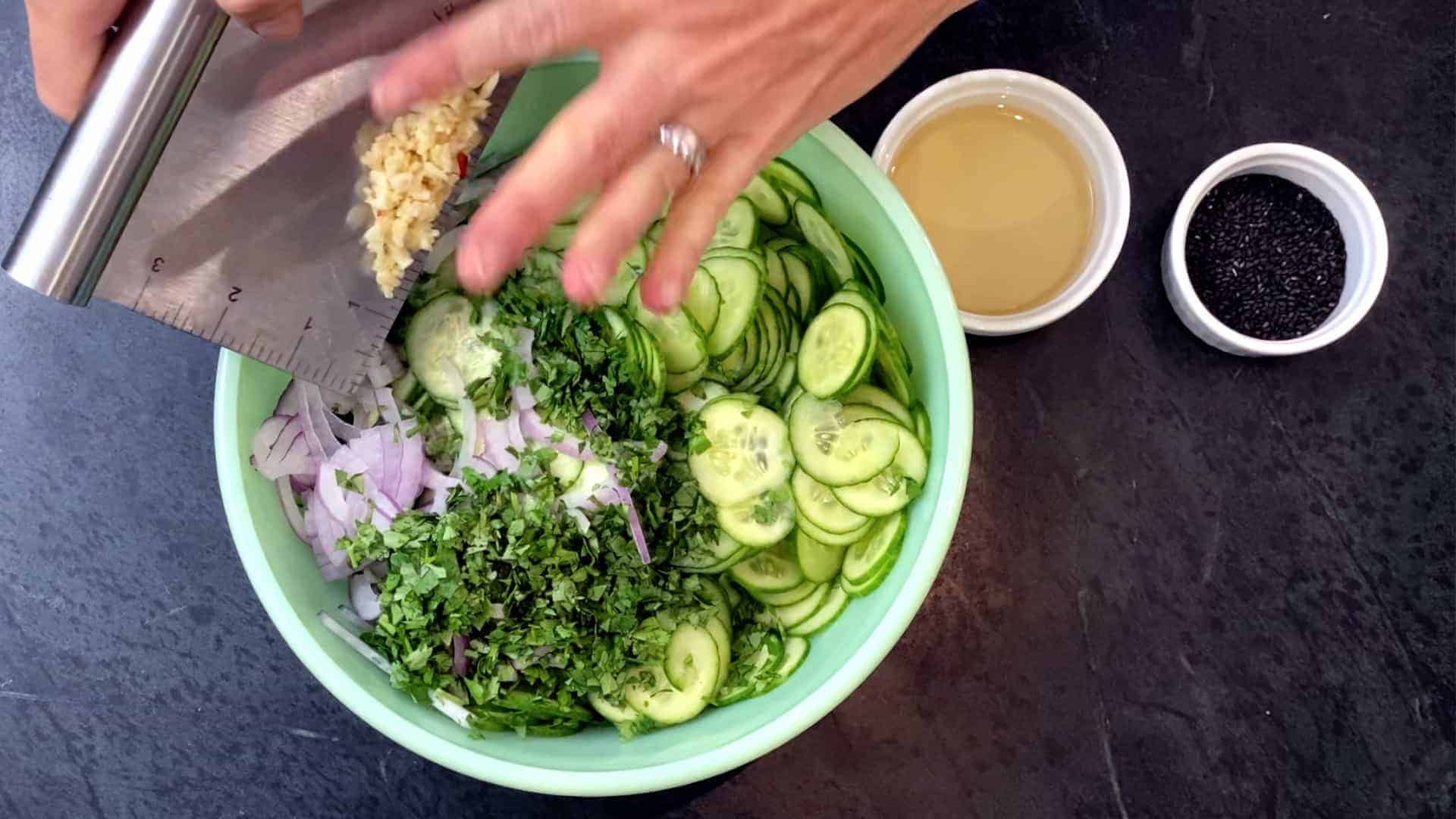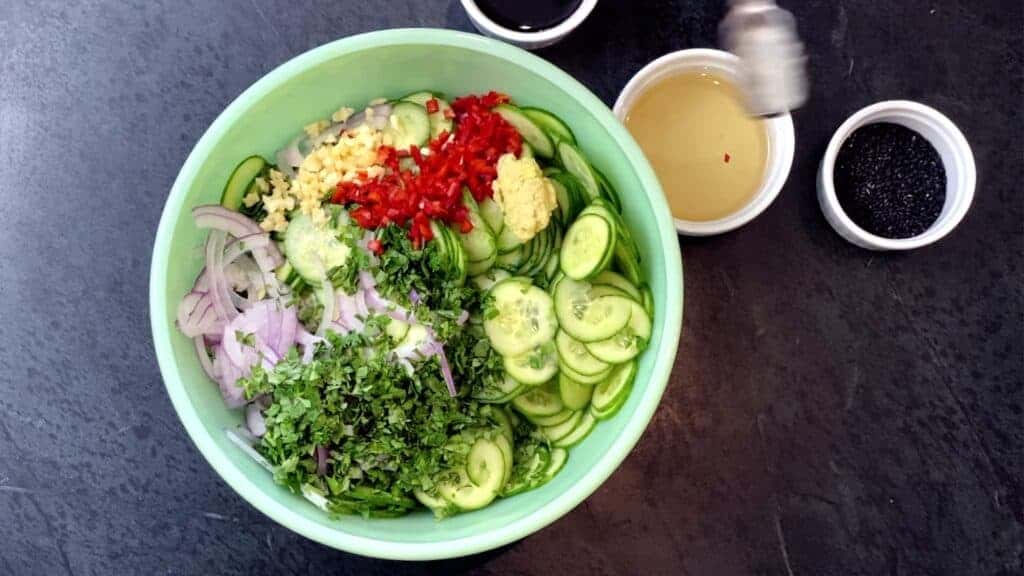 Step 4: Add the ingredients for the dressing recipe: rice wine vinegar, mirin, and soy sauce.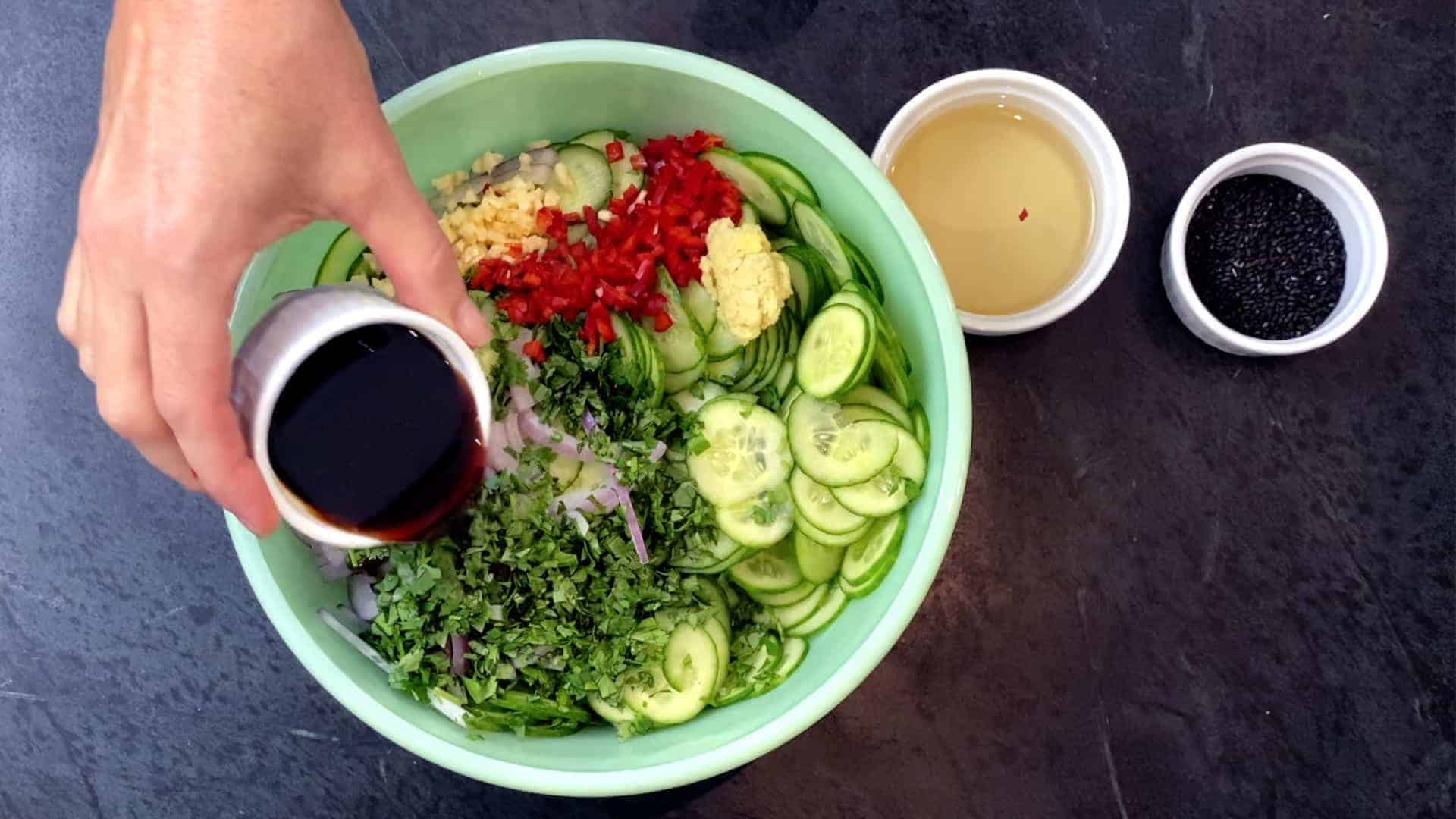 Step 5: After adding all of the ingredients for the Asian cucumber salad dressing, toss to combine the ingredients.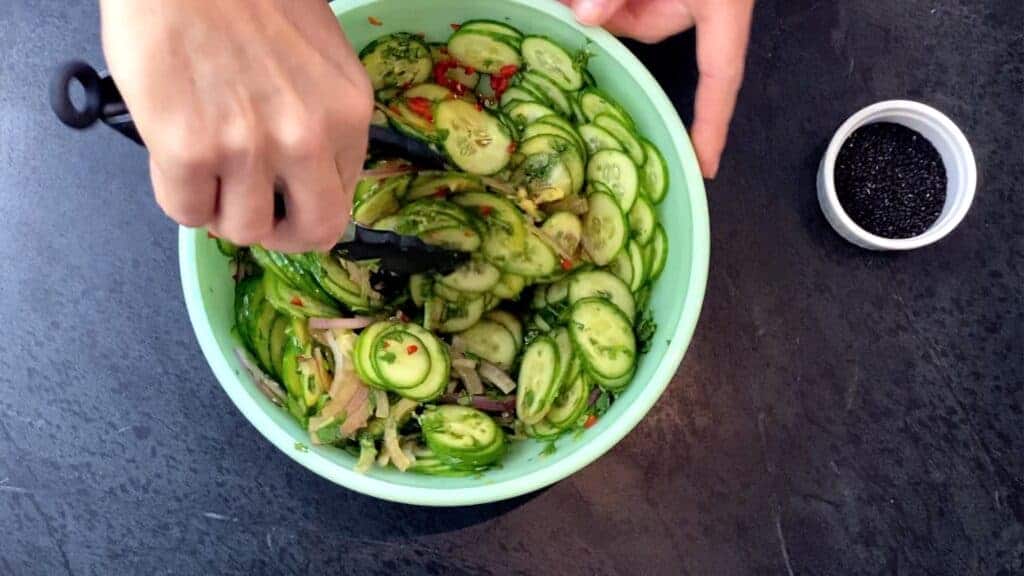 Step 6: Sprinkle the cucumber salad with black sesame seeds for a little extra crunch.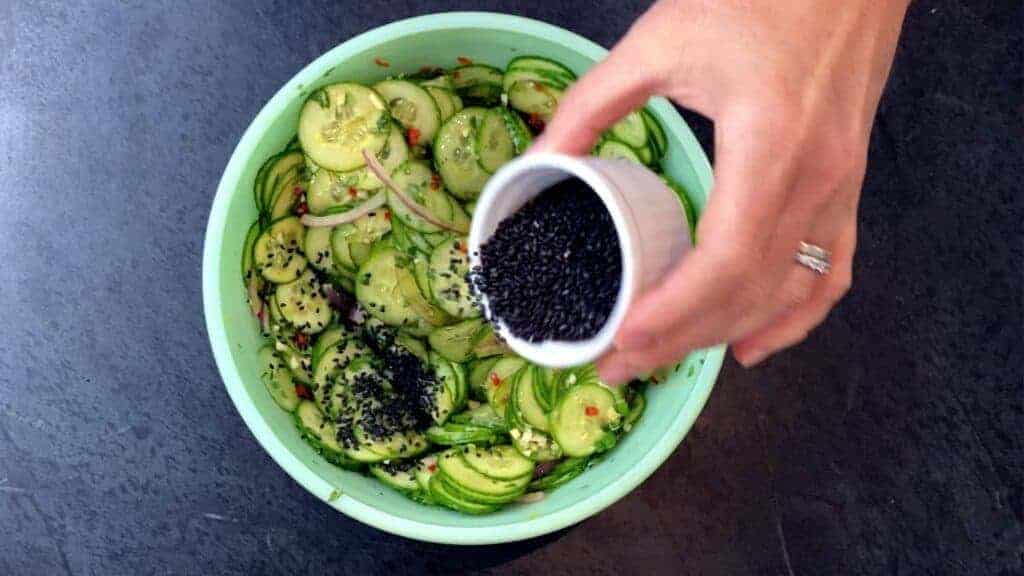 Step 7: Toss one more time. Refrigerate for at least 30 minutes for maximum flavor wow.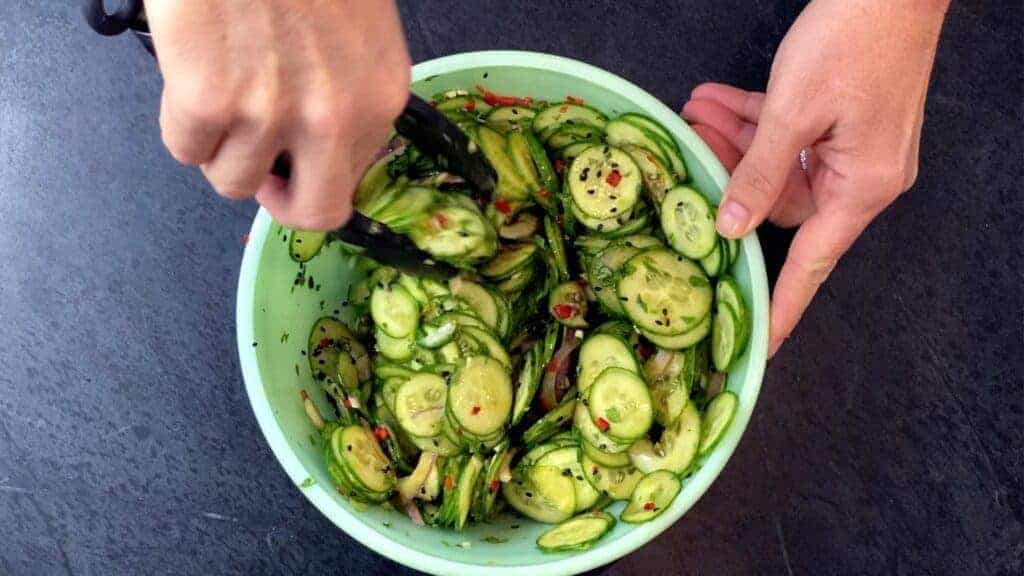 Finally: Serve this easy side dish with your favorite Asian-inspired meal. Even better, just grab a big fork full and eat it right out of the bowl.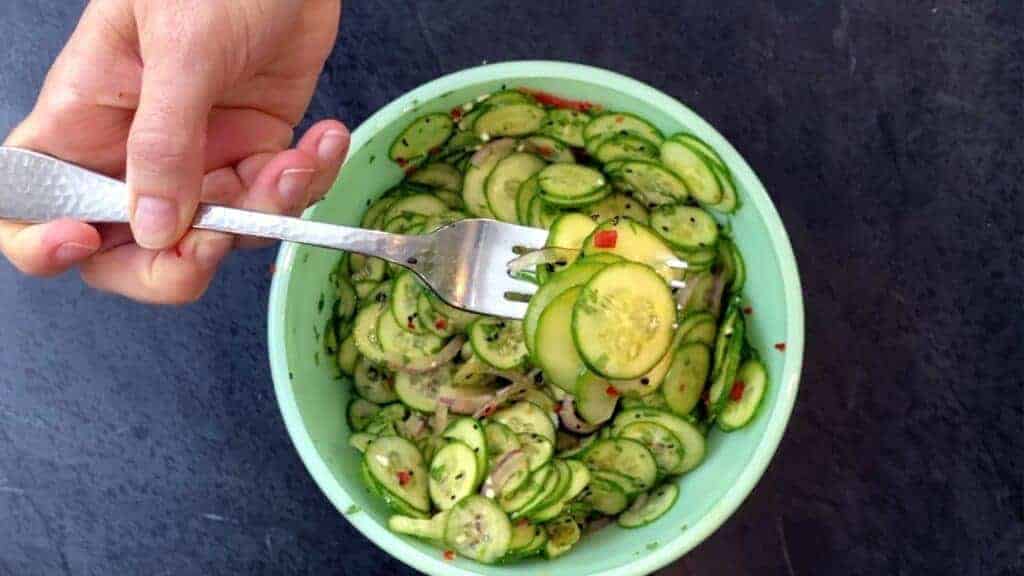 FAQs and Expert Tips
What is cucumber salad?

This cucumber salad is a Japanese salad that is often seen in sushi restaurants. The salad is made of thinly sliced cucumbers and a light sesame ginger dressing.

This is just one version of Asian style cucumber salad. I've made this one a little bit spicy! Try sprinkling the cucumbers with sesame oil and a pinch of salt and pepper.
How long can you keep cucumbers in vinegar?

I have kept these in the the fridge for at least week at a time. Honestly, they never stick around in the fridge too long at our house because everyone loves them so much!
How do you cut cucumbers for cucumber salad?
Cutting cucumbers is super easy if you use a food processor or a mandoline slicer.

However, if you don't have either of these, you can easily slice them up with a sharp knife.
How do you peel a cucumber?
Simply cut off the ends with a knife and then use a vegetable peeler to peel off the skin.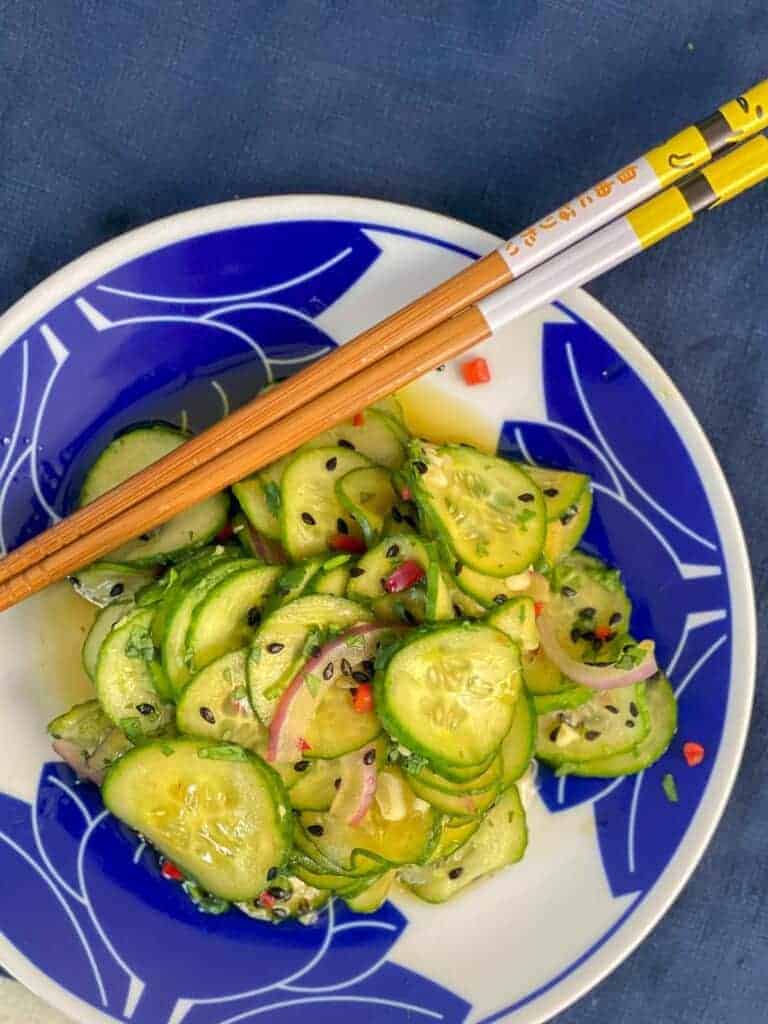 What to serve with Spicy Cucumber Salad
A lot of times teriyaki chicken and rice bowls are loaded with sugary sauce. Not this recipe. This healthy meal prep recipe bowl is packed…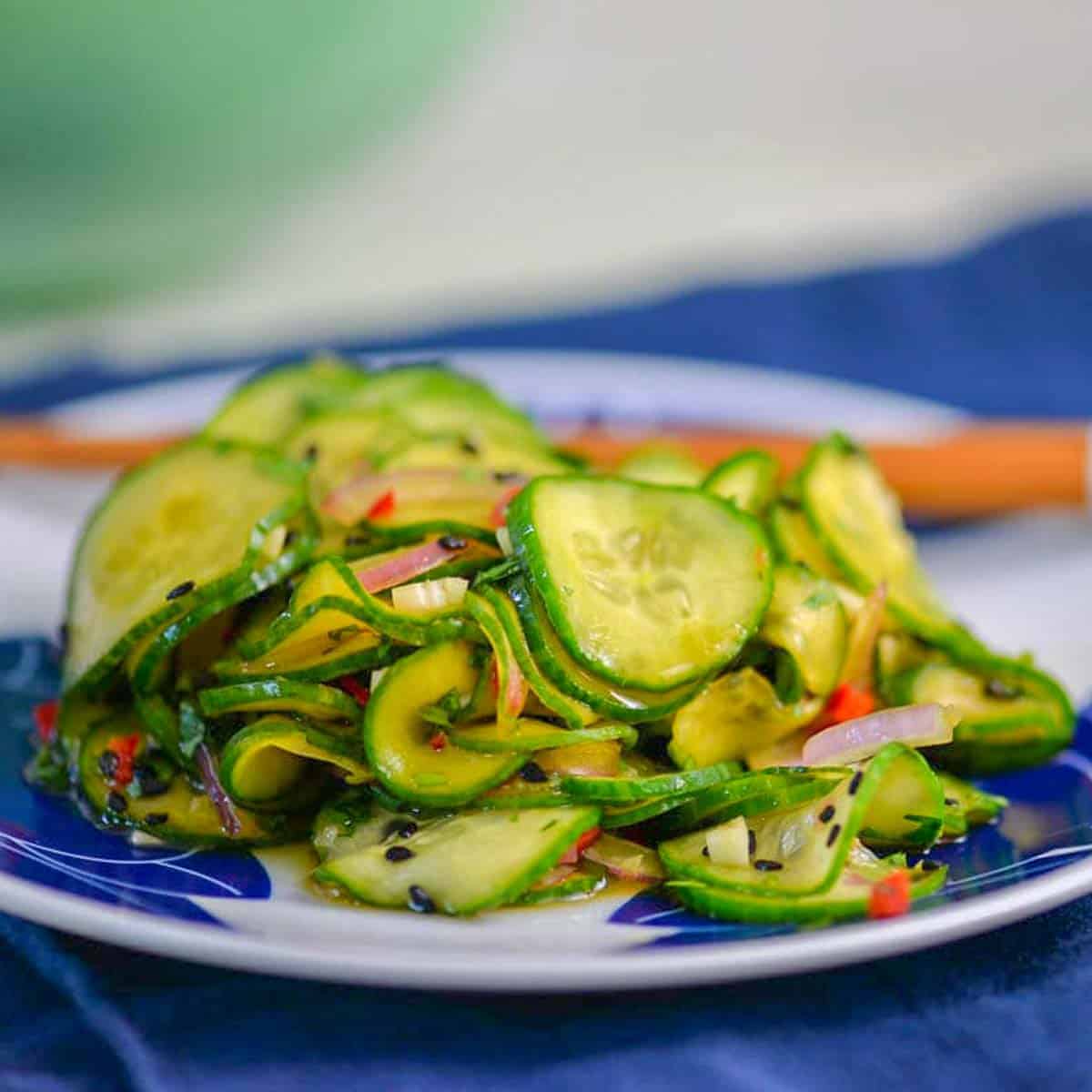 Asian Cucumber Salad
This easy Asian cucumber salad is marinated in a spicy-sweet sesame ginger dressing. The result is a crunchy, refreshing, umami-packed marinated salad that is delicious with grilled meat or all on its own.
Ingredients
The Veggies
3

cucumbers

,

about 4 cups thinly sliced. I like to use English or Persian cumbers when I can find them.

1

red Serrano pepper

,

deseeded and finely diced

½

red onion

,

thinly sliced, approximately ⅓ to ½ cup

½

bunch cilantro

,

finely chopped, approximately ¼ cup

1 tsp

fresh ginger

,

grated, about a one-inch piece

1 tsp

garlic

,

crushed, approximately 2 cloves
Spicy Sesame Ginger Dressing
Instructions
Veggies
Slice cucumbers into thin slices. *Using a mandoline or food processor makes it really easy.

You'll want about 4-5 cups of cucumbers. Usually 3 large cucumbers is sufficient.

Add the sliced red onions, the diced red pepper, cilantro, garlic, and ginger.

Add the ingredients for the dressing and then toss the cucumber salad.

Sprinkle the cucumbers with black sesame seeds and toss again.

Chill for a few hours before serving.

Store in an air-tight container for up to a week.
Laura's Tips + Notes
Shortcut: You can use jarred garlic and ginger for a shortcut here. Gluten Free: Make sure to use tamari or coconut aminos.
YOUR OWN NOTES
Sign In to add your own private notes
Nutrition
Calories:
28
kcal
Carbohydrates:
5.6
g
Protein:
1.8
g
Fat:
0.2
g
Fiber:
0.8
g
Sugar:
2.4
g