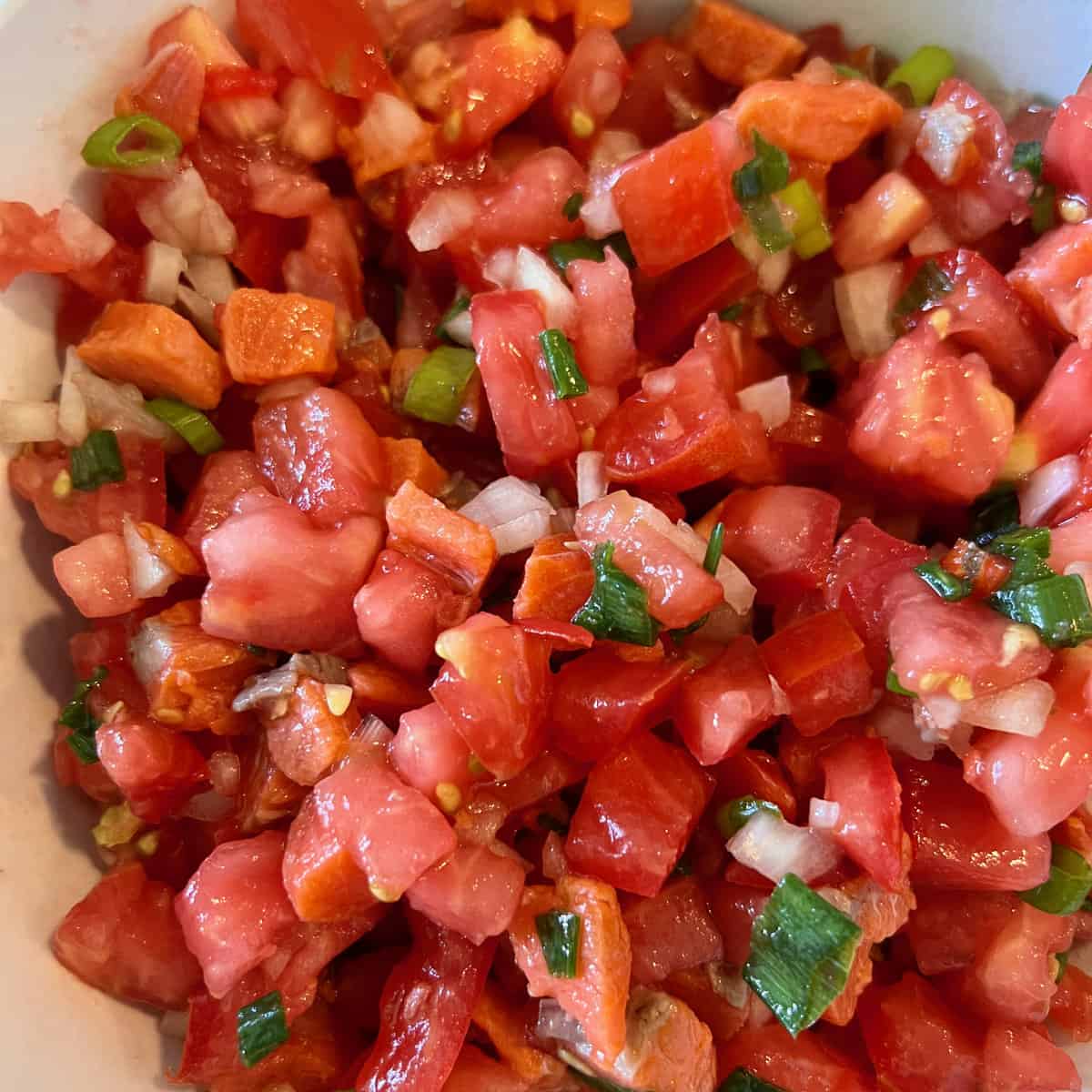 Recipe
Comments
Save
Go to Collections
This post may contain affiliate links. Please read my
disclosure policy.
Lomi-Lomi Salmon is a popular Hawaiian dish made with ripe, juicy tomatoes, sweet Maui onion, green onions, and shredded or diced salted salmon.
This simple Hawaiian dish is somewhere between a ceviche and a salsa. It's juicy, and salty, and is the perfect side to your favorite Hawaiian recipes.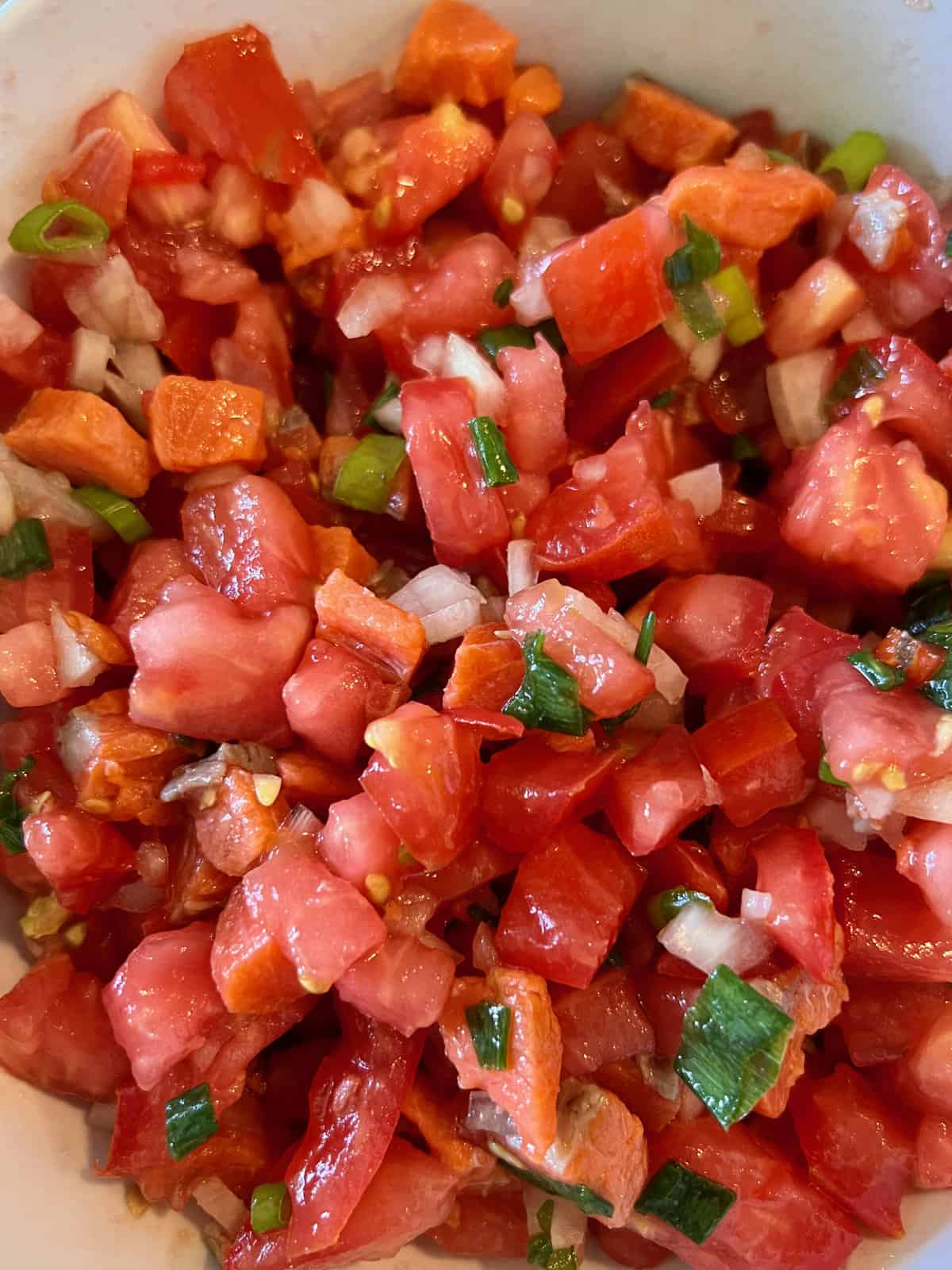 Like many local Hawaiian dishes, the origin of this recipe is credited to foreigners. Sailors from British Columbia brought salted salmon to the islands. Now you can find a scoop of Lomi Lomi Salmon on almost every plate lunch.
If you've ever visited Hawaii, you may have seen this juicy, tasty condiment sitting next to your Mac salad.
This recipe is excellent with your favorite Hawaiian dishes like; Furikake Fried Chicken, Shoyu Chicken, Huli Huli Chicken, or Ribs.
What you'll need
Salt-cured salmon filet. I'll talk you through this.
Sea salt or Kosher salt. Do not use iodized table salt.
Fresh tomatoes.
Sweet Maui onions. You can also use white onion in this recipe.
Green onions.
Lemon or lime juice.
Optional add-ins
Sometimes I like to add a few extra ingredients to the traditional recipe. Feel free to experiment with the options.
Jalepeño or serrano peppers. A few diced pepper add a little heat to this recipe.
Sesame oil. Sesame oil adds a luxurious umami to this simple tomato salad recipe.
Chopped macadamia nuts. Chopped nuts add texture and crunch.
How To Make Lomi Lomi Salmon
Start with salt-cured salmon
You'll want to start the curing process for the salmon 1 to 3 days in advance. The salt preserves the salmon and gives this recipe its signature flavor.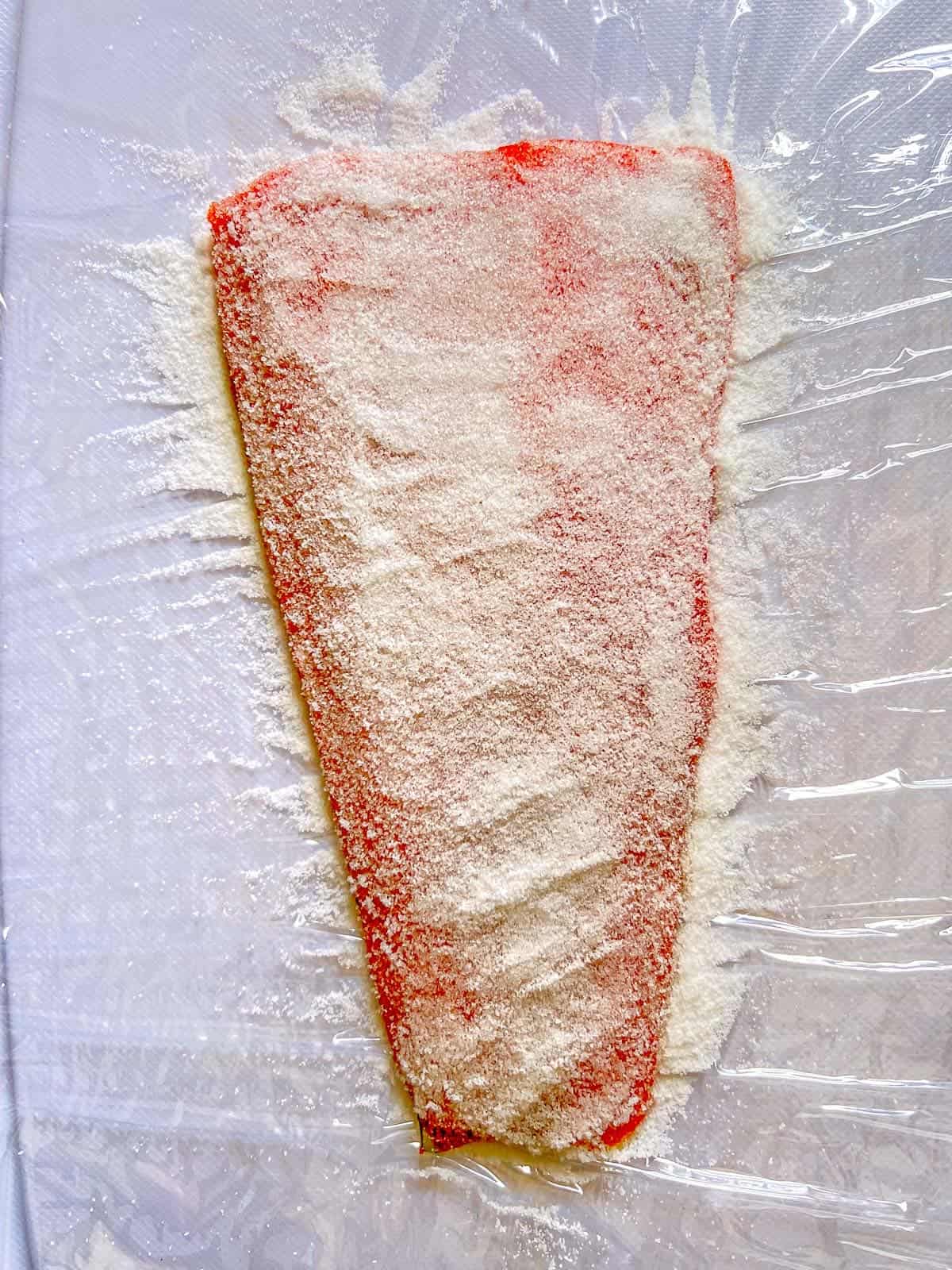 Remove the skin from the fresh salmon filet.
Coat the raw salmon in a thick layer of sea salt. Some recipes also call for sugar.
Wrap the salmon fillet in plastic wrap and place it in the refrigerator to salt cure for at least 24 hours.
Rinse the salmon in cold water and pat it dry with paper towels.
Marinate The Salmon
The salted salmon is marinated in lemon or lime juice. Much like a ceviche recipe, the citrus juice cooks the fish.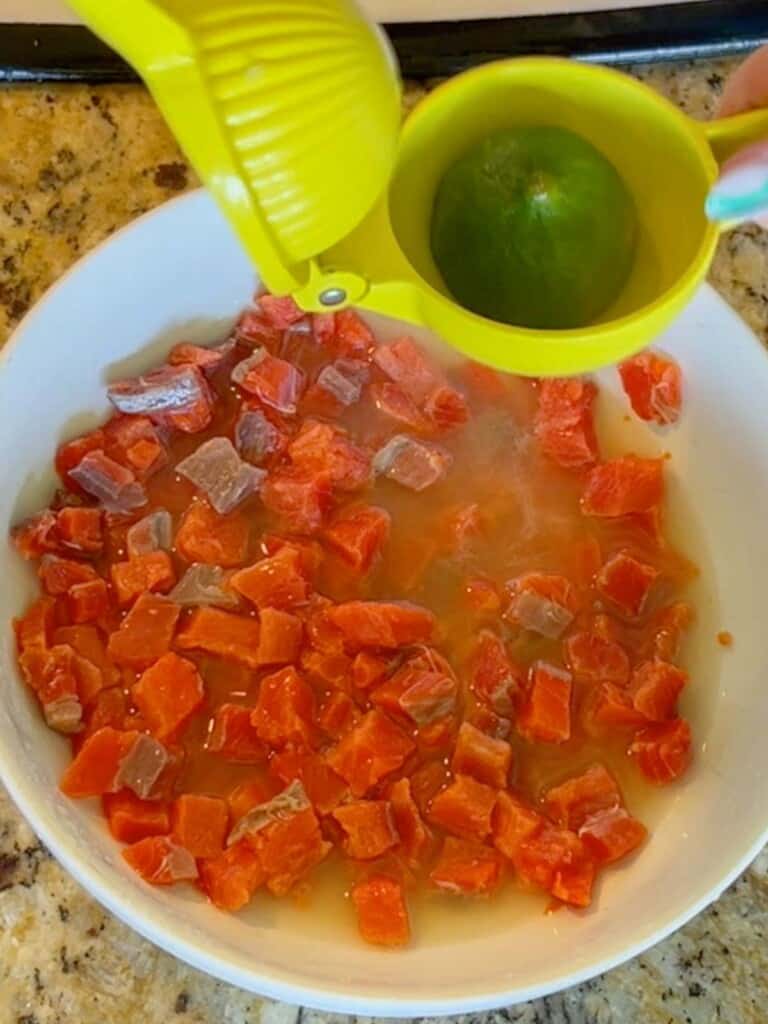 Dice the salmon into small cubes and add it to a big bowl.
Add the lemon juice and toss the mixture together.
Marinate for about an hour.
Make the tomato mixture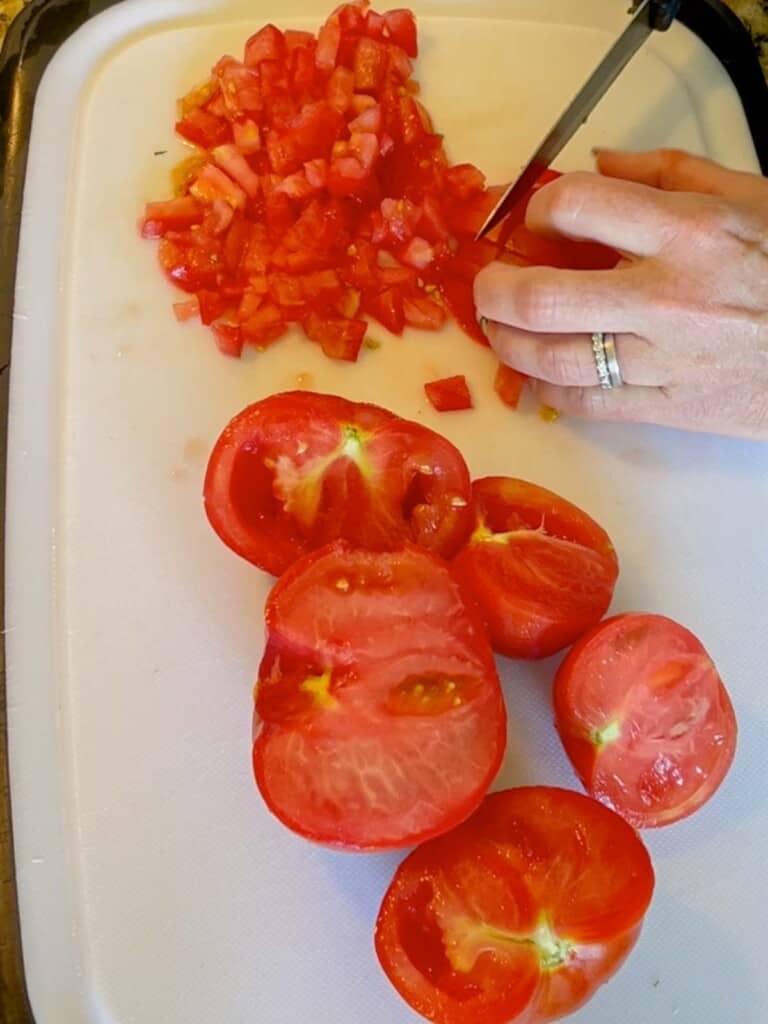 Dice the tomatoes into bite-sized pieces. Add them to the bowl.
Dice the sweet onion and add it to the bowl.
Strain the citrus juice of the salmon and add it to the tomato mixture with the diced salmon.
Add sliced green onion.
Optional Add-Ins
Diced chili peppers for heat.
Sesame oil adds a luxurious flavor to the salad.
Chopped macadamia nuts add a little crunch if you are into that.
How To Serve Lomi Lomi
This dish can be served at room temperature. However, if it is hot out, you can serve this salad in a bowl over ice or add crushed ice directly to the lomi-lomi.
Frequently Asked Questions
What is lomi in Hawaiian?
Lomi-Lomi in Hawaiian means to massage.
Why is it called lomi lomi salmon?
Lomi-Lomi salmon gets its name because it is rubbed and cured with salt.
Can Lomi salmon be frozen?
You can freeze Lomi salmon. However, when thawed, the tomatoes may have a less-than-ideal texture.
Who invented Lomi Lomi salmon?
Lomi Lomi Salmon was brought to Hawaii by western sailors. This native Hawaiian dish is made up of ingredients that are entirely non-native to the Island. Like much Hawaiian cuisine, the food on the islands is a reflection of the diverse culture in the Hawaiian Islands.
What To Serve With Lomi-Lomi Salmon
This classic Hawaiian side dish perfectly accompanies your favorite Hawaiian recipes.
Leave A Review
Did you make this recipe? I'd love to hear about it. Leave a comment, and don't forget to leave a 5 ★ review.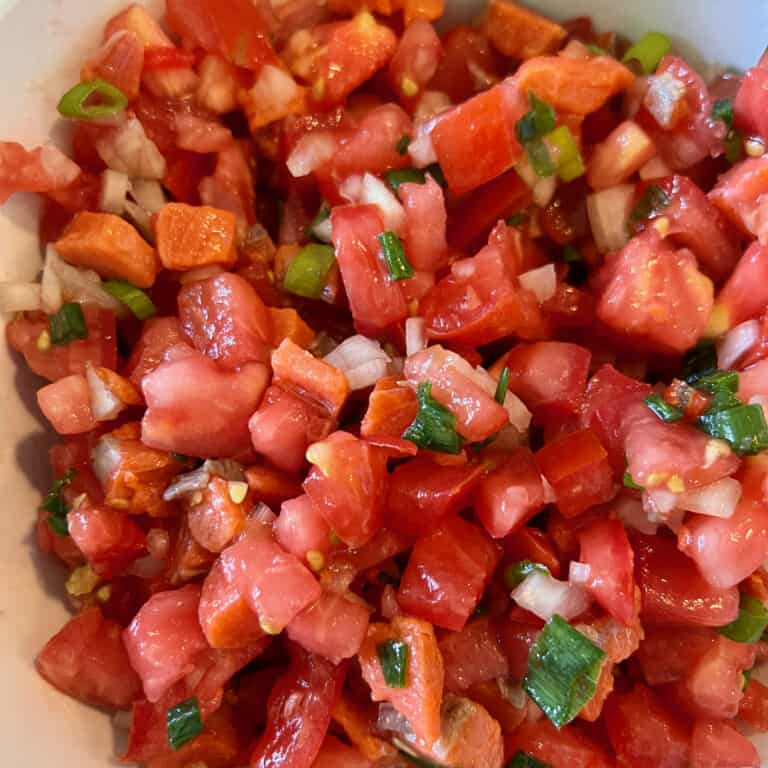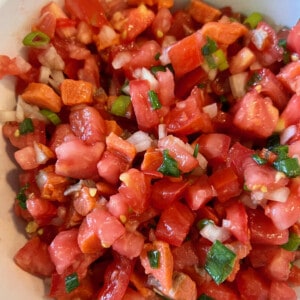 Lomi Lomi Salmon Recipe
Authentic Lomi Lomi Salmon recipe. This simple Hawaiian dish is somewhere between a ceviche and a salsa. Lomi Lomi is often served on plate lunch in Hawaii. This tomato-based salad is juicy with crisp, sweet onions, and a salty bite from the salmon.
Ingredients
6

ounces

salmon filet

2

tablespoons

sea salt

⅓

cup

lime juice

,

enough to cover the salmon

1

large

fresh tomatoes

,

diced, about 2 cups

1

medium

sweet onion

,

diced, about 1 cup

6

stalks

green onions

,

sliced
Optional Ingredients
2 to 3

tablespoons

jalapeño or serrano peppers

,

to add a spicy kick

2

teaspoons

sesame oil,

to add extra umami

2 to 3

tablespoons

macadamia nuts

,

crushed or chopped
Instructions
Salt Cured Salmon
Rinse your salmon filet in cool water and pat dry.

Spread out plastic wrap on your counter or cutting board, place the salmon on top of it, and sprinkle salt onto the salmon filet.

Place the salmon in the fridge overnight to salt cure.
How To Make Lomi Lomi Salmon
Rinse the salted salmon in cool water. You can pat the salmon dry but you don't really have to.

Dice the salmon and place it in a medium, non-reactive bowl (glass or plastic).

Add the lime juice to the salmon and let it steep in the acidic marinade while you chop the veggies.

Dice the tomatoes and the sweet onion. Add it to a medium non reactive bowl.

Strain the citrus juice off of the salmon and add it to the tomatoes.

Thinly slice the green onions and add them to the bowl. Toss gently and sotore covered in the fridge until you are ready to serve the lomi lomi salmon.
Laura's Tips + Notes
How to Serve lomi lomi salmon: Serve as a side dish. In Hawaii, a small scoop of lomi lomi is served with a plate lunch. The salty acidity pairs well with recipes like kalua pork and lau lau.
YOUR OWN NOTES
Nutrition
Serving:
0.25
cup
Calories:
95
kcal
Carbohydrates:
8
g
Protein:
10
g
Fat:
3
g
Saturated Fat:
0.4
g
Cholesterol:
23
mg
Sodium:
3517
mg
Fiber:
1
g
Sugar:
5
g
Calcium:
38
mg
Iron:
1
mg