It's just not the holidays until the pumpkin pie is served, am I right? Is there anything better than this thick, custardy, pumpkin-spiced filling in a flaky, buttery pie crust? Bring on sweater season!!!
I don't know about you, but my slice always includes an obscene amount of fresh whipped cream. Did I say "obscene"? I believe I meant "appropriate." Look at all this orange expanse of goodness just waiting for a fluffy white cloud to come rest on it!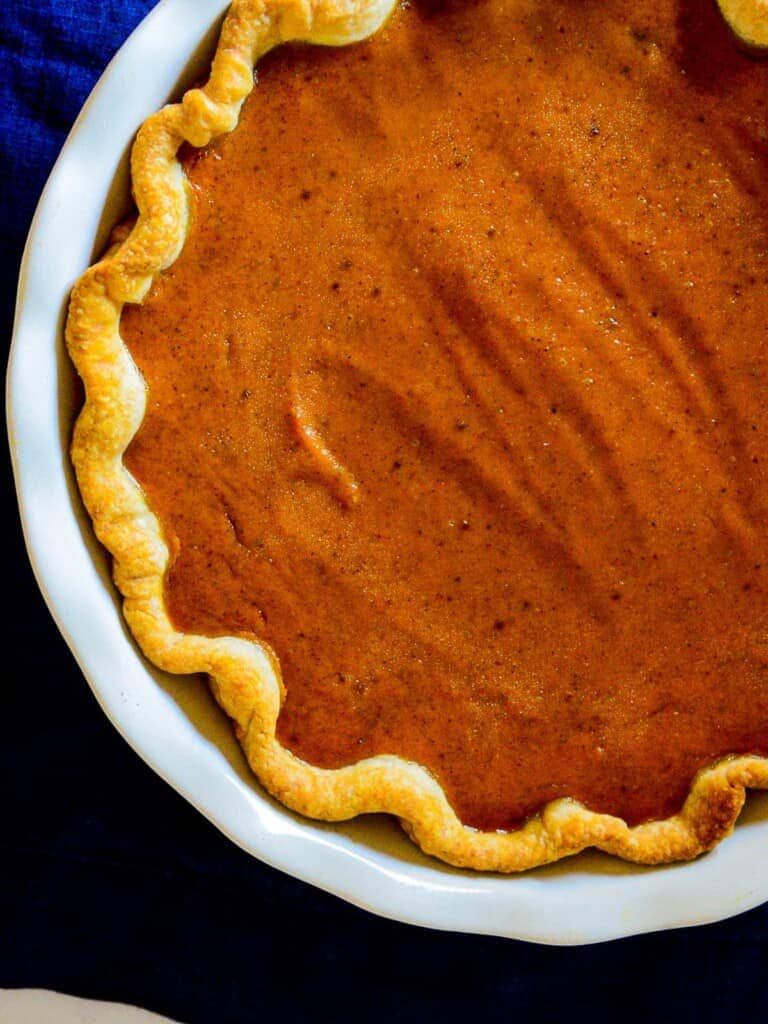 Want to know something funny? When I was a kid, I hated all pie. Weird, right? What can I say? I thought pie crust was disgusting.
Well, actually, I hated all pie EXCEPT my Grandma Sisson's pumpkin pie, which I would top with about half of a can of Reddi-Whip and then eat by scraping the pumpkin pie filling out of the pie crust. Yep, I just left the crust behind, right there on the plate.
Needless to say, my tastes have changed, and I've grown to like a good pie crust. I've even spent years perfecting my own pie crust recipes, and now I have two that are my go-to's.
Give them a try! Here's my All-Butter Pie Crust and my personal favorite, Buttermilk Pie Dough.
Now, back to the issue at hand: how to make pumpkin pie from scratch. You might be tempted to hop in the car and brave the holiday lines to make that Costco connection. Resist! After you try this recipe, no grocery store pie, not even Costco pumpkin pie, will be able to measure up.
Don't be afraid; this recipe is ultra-easy! It's THE BEST pumpkin pie recipe, and I'm going to take you through it step-by-step.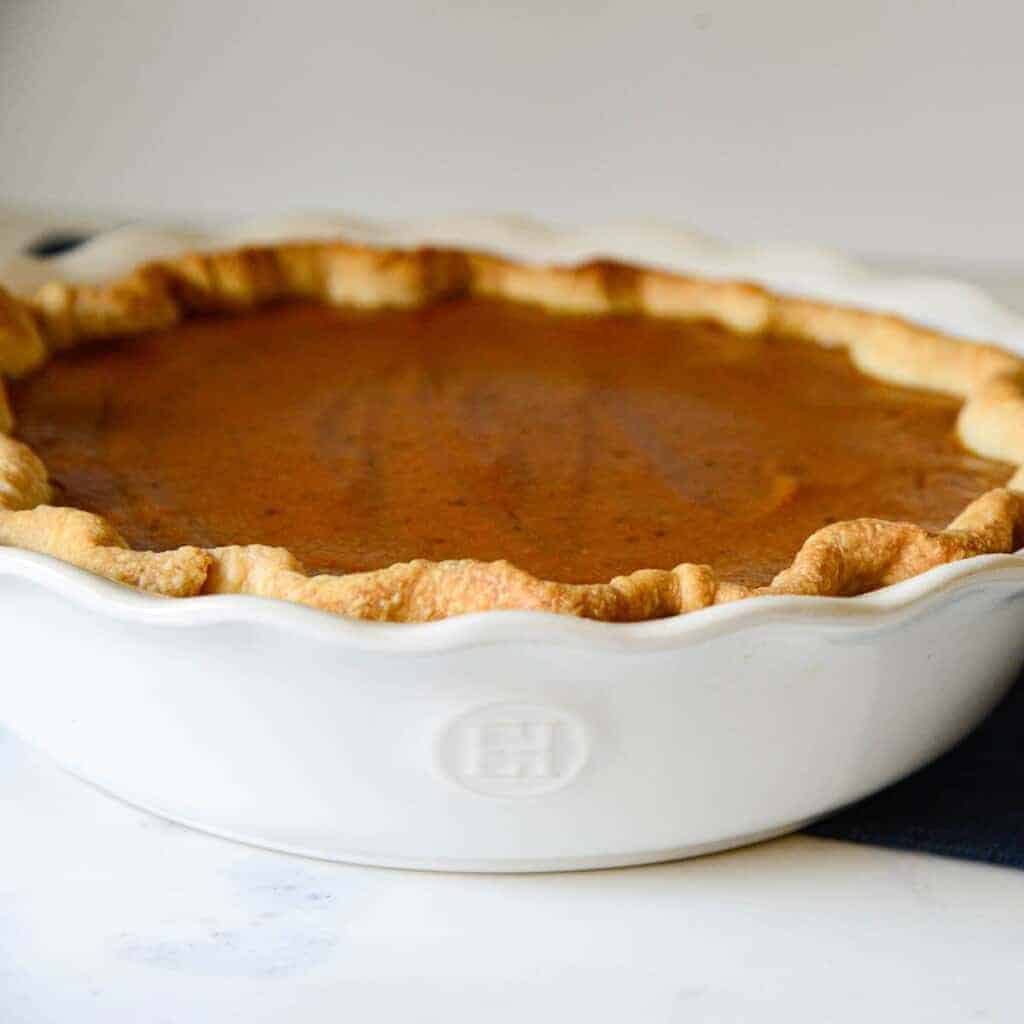 What You'll Love About This Recipe
This is an EASY pumpkin pie recipe. Now, who doesn't love that?
This pumpkin pie isn't too sweet. It's full of the perfect amount of pumpkin spice flavor without being cloyingly sweet.
Classic pumpkin pie flavor. This pumpkin pie recipe is the perfect holiday classic.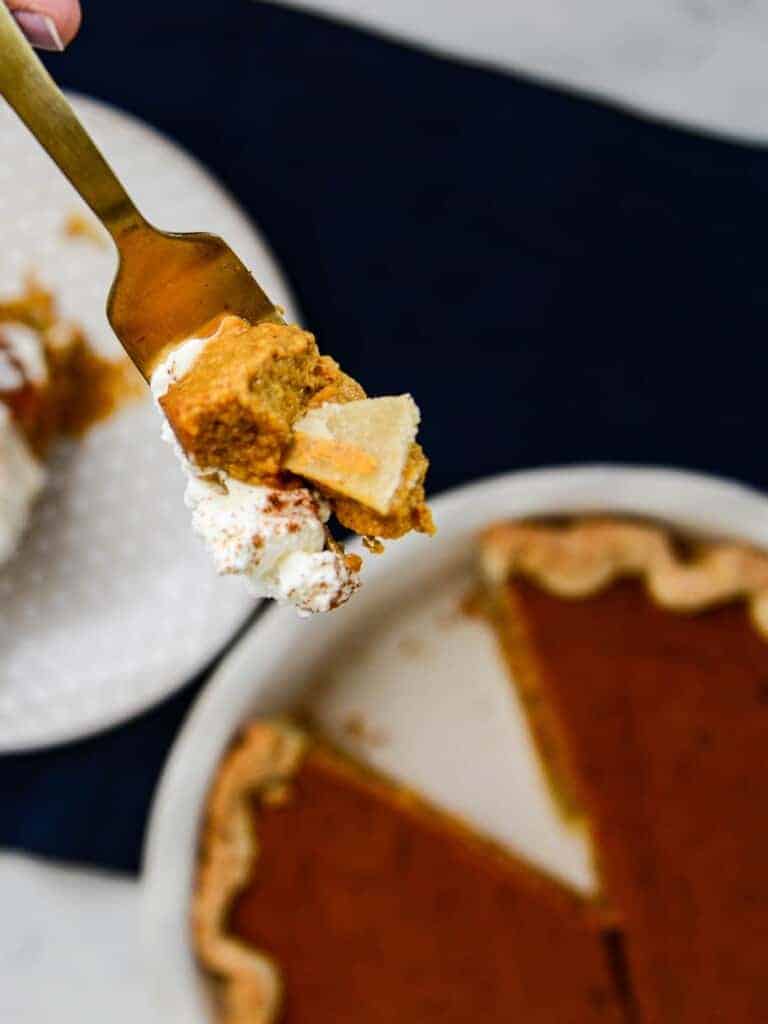 Recipe Notes
This pumpkin pie recipe is a family recipe. I've been making this recipe for as long as I can remember. Show your friends some love and share it with them, too!
What You'll Need
Canned pumpkin puree: Make sure that you don't buy pumpkin pie filling! You can also use your Halloween pumpkin decorations to make fresh pumpkin puree.
Evaporated milk: I've always used evaporated milk, but you can substitute any other milk here.
Eggs: 2 large eggs
Brown sugar
Honey: This was my Grandma Sisson's secret ingredient. It gives the pumpkin pie a rich sweetness that you're going to love. ♡
Pumpkin Pie Spice: Of course I have a pumpkin pie spice blend recipe! Grab the recipe for my homemade pumpkin pie spice. It goes with so much more than pie, believe me.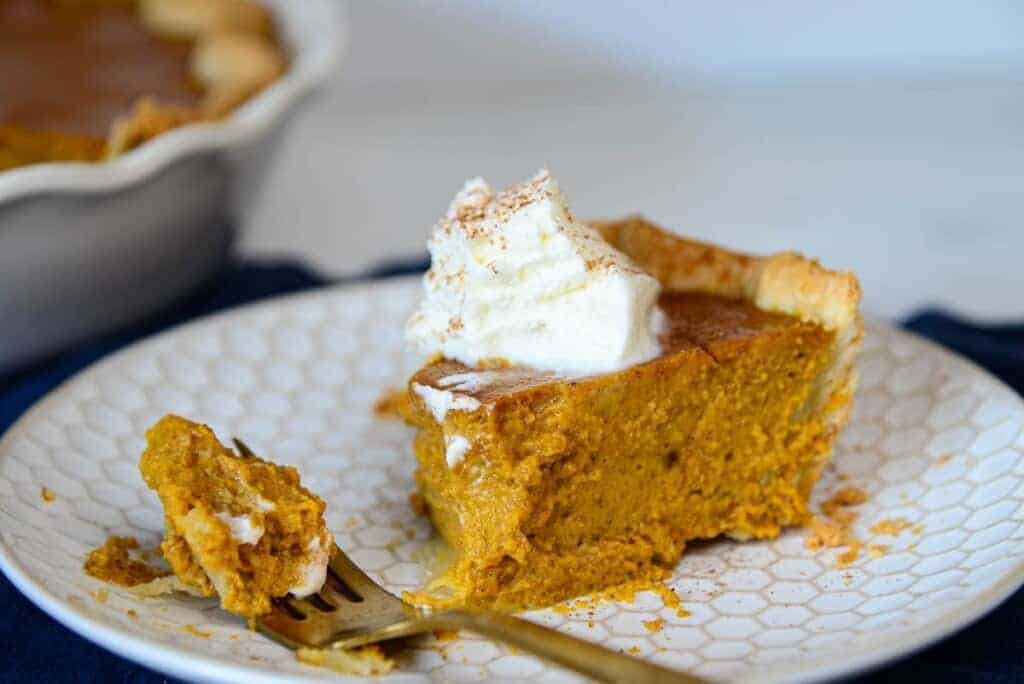 Step-by-Step Instructions
Step 1: Make homemade pie crust.
You can buy a pre-made crust, but why? Homemade pie dough is so easy to make in your food processor. If I can do it, so can you!!!
A homemade pumpkin pie deserves a homemade pumpkin pie crust! Look how pretty this is. Bust out the pretty pie plates. You're so fancy.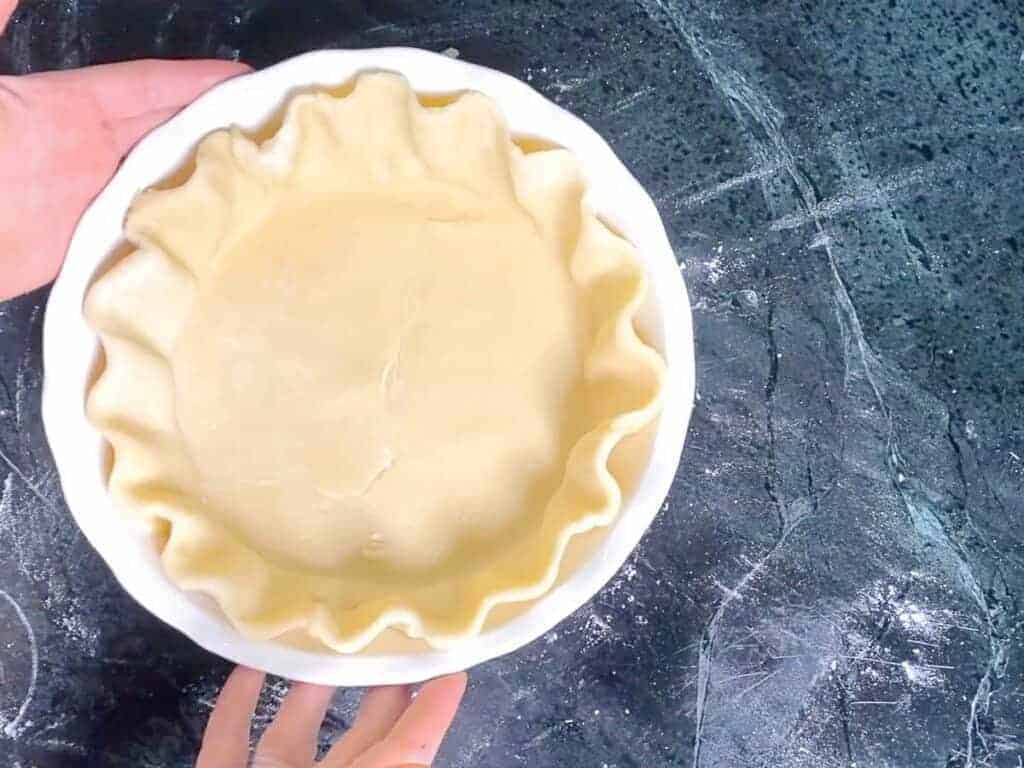 Step 2: Make the pumpkin pie filling.
Start by mixing together the pumpkin puree with the sugar, salt, and pumpkin pie spice. You will need one 15-ounce can of pumpkin puree.
If you are feeling extra ambitious: To make pumpkin puree from scratch, cut the pumpkin in half and roast it, flat side down, at 400℉ until it sags in the middle. Let it cool.
Scoop out the pumpkin and blend it in a blender or Vitamix. Strain the puree for several hours to get rid of the excess moisture. This step takes a bit of time, for sure, but the flavor is unbelievable.
Next, you'll mix in the honey, and then the eggs. I've found that if you warm up the honey a little bit, it pours more easily.
Step 3: Add the warm milk to the pumpkin pie filling.
Make sure to warm the milk, and then add it to the pumpkin mixture.
My mom always added the pumpkin mixture right into the saucepan, but I usually use a large bowl. I've found it doesn't matter as long as you get the milk nice and warm, and make sure that everything is well combined.
Step 4 — Pour the pumpkin pie filing into the pie dough.
There's no need to pre-bake this pie crust. Simply pour the pumpkin pie filling into the homemade or store-bought pie dough.
Step 5: Bake the pumpkin pie!
Preheat the oven to 450℉. The pie will go in for 10 minutes at this higher temperature.
After 10 minutes, reduce the heat to 350℉. Continue baking for an additional 35-40 minutes. If you notice the edges are browning too quickly, cover them up with aluminum foil.
Top with whipped cream (just a little more... and a little more... perfect!), some powdered sugar, and a sprinkle of my pumpkin pie spice recipe. Happy eating!
FAQs and Expert Tips
Can you make a dairy-free pumpkin pie?
Yes, check out my vegan pumpkin pie recipe. The filling is dairy-free. You can substitute coconut milk for evaporated milk.
What can I do with leftover pumpkin pie filling?
My favorite thing to do with leftover pumpkin pie puree is my No-Bake Pumpkin Protein Bites or a Healthy Pumpkin Pie Smoothie. You can also make pumpkin muffins and stuff them with cream cheese filling.
Is it OK to freeze pumpkin pie?
You can freeze a fully baked pumpkin pie by wrapping it in plastic wrap. Make sure the whole pie is well-covered with several layers of plastic wrap to prevent freezer burn.
Freeze for up to 3 months. Reheat the pie on prepared baking sheets.
What can you substitute for evaporated milk in a pumpkin pie?
You can substitute cream or half and half (or any combination of the two) for evaporated milk.
You can also use any kind of milk (dairy or dairy-free). Almond milk and coconut milk are both fine substitutes. It helps to add 1 tablespoon of cornstarch to the sugar mixture to make sure that the pumpkin pie filling thickens enough.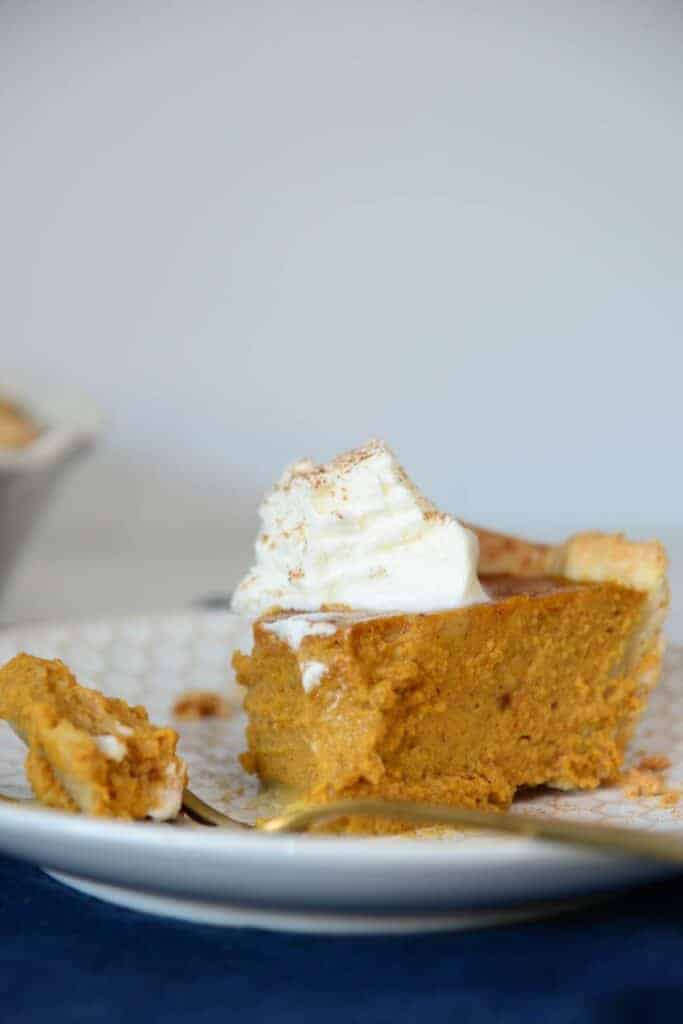 Other Fall Dessert Recipes That You'll Love
➽ Did you make this recipe? I love to see what's going on in your kitchen. Please show me what you're cooking. 🍳 Tag me @foodologygeek on your favorite social channel! Facebook, Instagram & Pinterest. If you loved ❤︎ this recipe, please leave a five ★ review and a comment!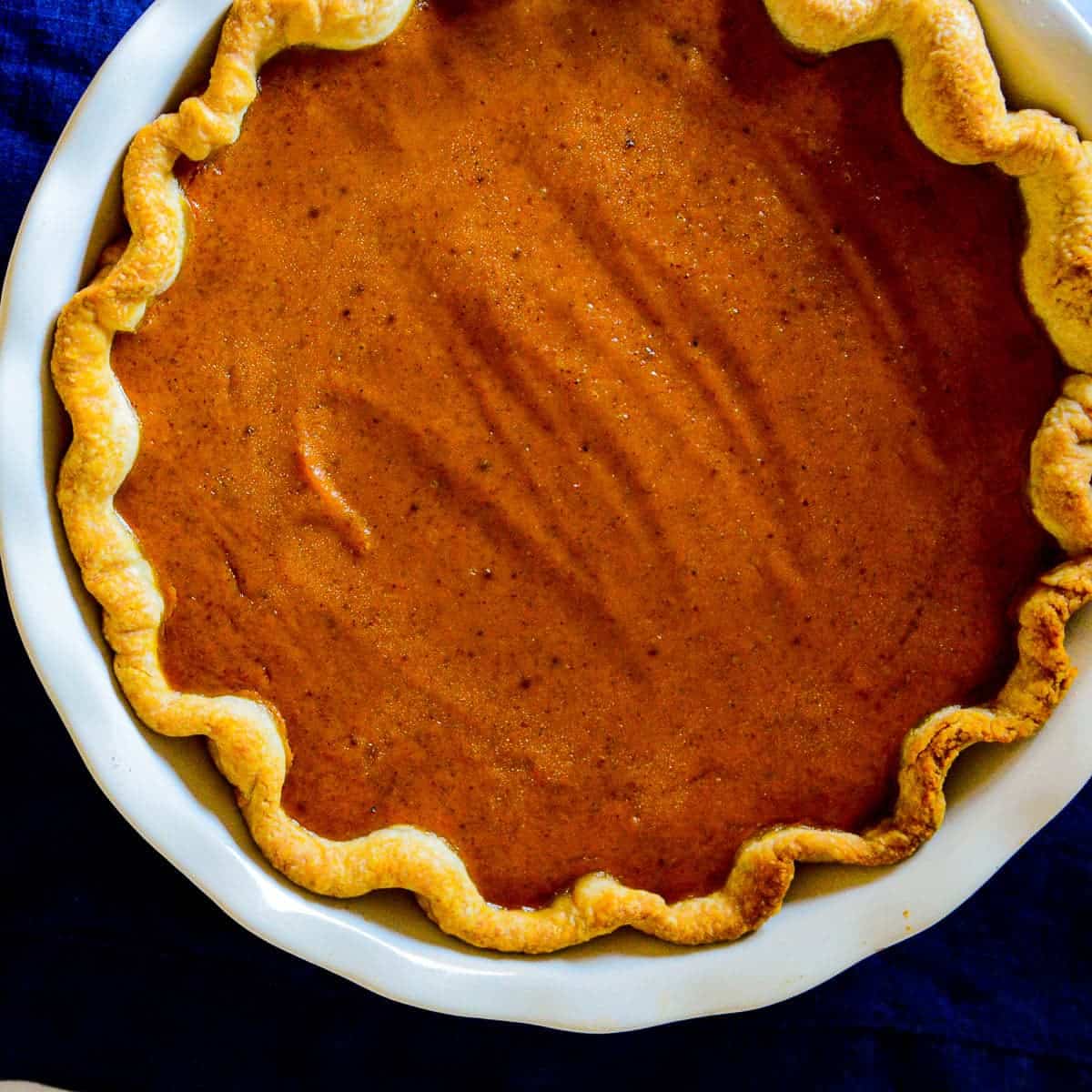 Classic Pumpkin Pie
It's just not the holidays until the pumpkin pie is served! Am I right? I don't know about you, but my slice always includes an obscene amount of fresh whipped cream. Thick custardy pumpkin spiced filling in a flaky, buttery pie crust. Bring on sweater season!!!
Instructions
Buttermilk Pie Crust
Add the flour, sugar, and salt to a food processor fitted with the metal blade. Pulse a few times.

Add the cold, diced butter to bowl. Pulse until the mixture just starts to come together.

Turn the machine on and add the buttermilk while it is running. Process until the mixture comes together in a ball.

Dump out and press together any stray bits.

Roll in plastic wrap and then refrigerate overnight (or at least a few hours).

Roll out your pie dough, get it into your pie dish, and then put the formed pie crust into the refrigerator while you make the pumpkin pie filling.
Pumpkin Pie Filling
Combine the sugar, salt and spices in a medium bowl.

Stir in the pumpkin puree and the honey.

In a large saucepan heat the evaporated milk over medium heat, bring the milk to a simmer.

Remove the warm milk from the heat and add in the pumpkin mixture, whisk to combine.

Add the eggs in one at a time to the pumpkin filling. Whisk until well combined.

Pour the filling into a pie crust.

Bake for pumpkin pie for 10 minutes at 450°F.

Reduce the heat to 325℉ and bake for another 35 to 40 minutes.

Remove the pie from the oven and cool for about 10 minutes.

Place the pumpkin pie into the refrigerator.
Laura's Tips + Notes
This recipe can also be baked as a single large pie in one 9 inch pie crust.
You will have some extra dough left over after you trim the edges of your tartlets or pie. You can use this extra dough to make decorations for your tartlets, or to create a few pie crust cookies. I like cinnamon and sugar on mine!
YOUR OWN NOTES
Nutrition
Calories:
493
kcal
Carbohydrates:
39
g
Protein:
6
g
Fat:
36
g
Saturated Fat:
22
g
Cholesterol:
150
mg
Sodium:
1040
mg
Fiber:
2
g
Sugar:
34
g
Calcium:
177
mg
Iron:
1.6
mg