This recipe is healthy and fast, and it tastes just as good or even better right out of the fridge.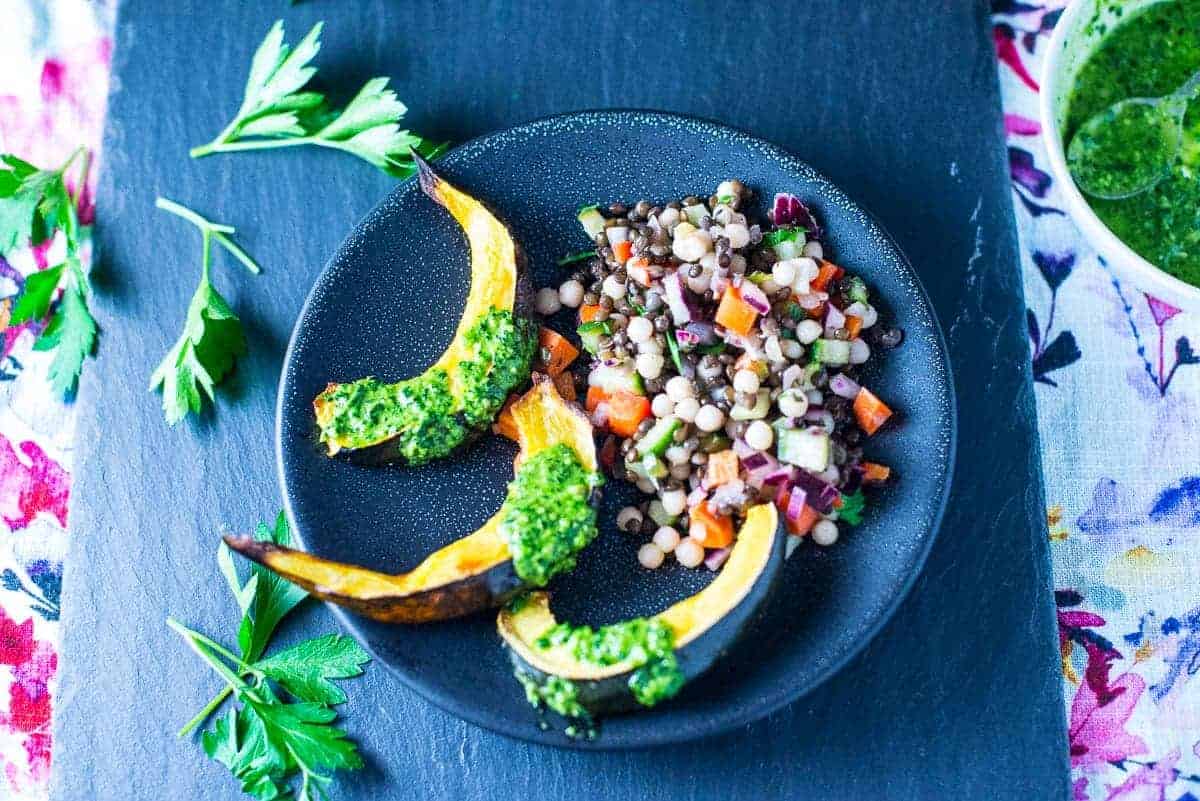 This post does contain affiliate links. Please see my Affiliate Link Policy.
I use the larger Lebanese couscous for this salad.
But you can just as easily make this salad with smaller Moroccan couscous.
The black beluga lentils are awesome because they stay nice and firm and keep well in the fridge without getting smooshy.
I also love the way that the black lentils look in this salad.
The larger couscous and the black lentils along with the small diced veggies give this salad a hearty texture.
If you can't find beluga lentils you can order them here or just substitute your other favorite lentil.
This easy pasta salad has a great flavor that gets even better in the fridge overnight.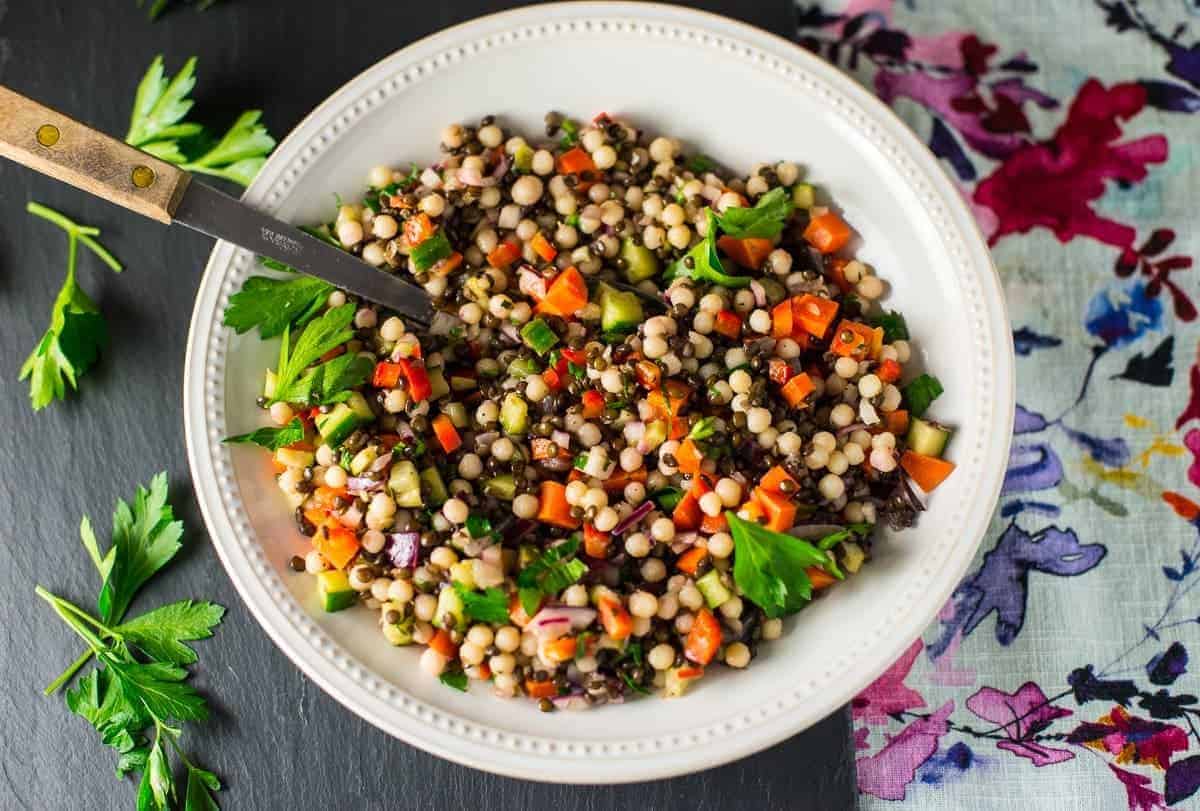 This salad is gorgeous and super tasty! It's definitely company-worthy.
Couscous salad is a recipe that is great for storing in the fridge.
I like to serve it on our all-veggie nights with roasted acorn squash and kale pesto.
Not doing veggie night? This pasta salad is also a fantastic side dish with broiled or grilled chicken or fish.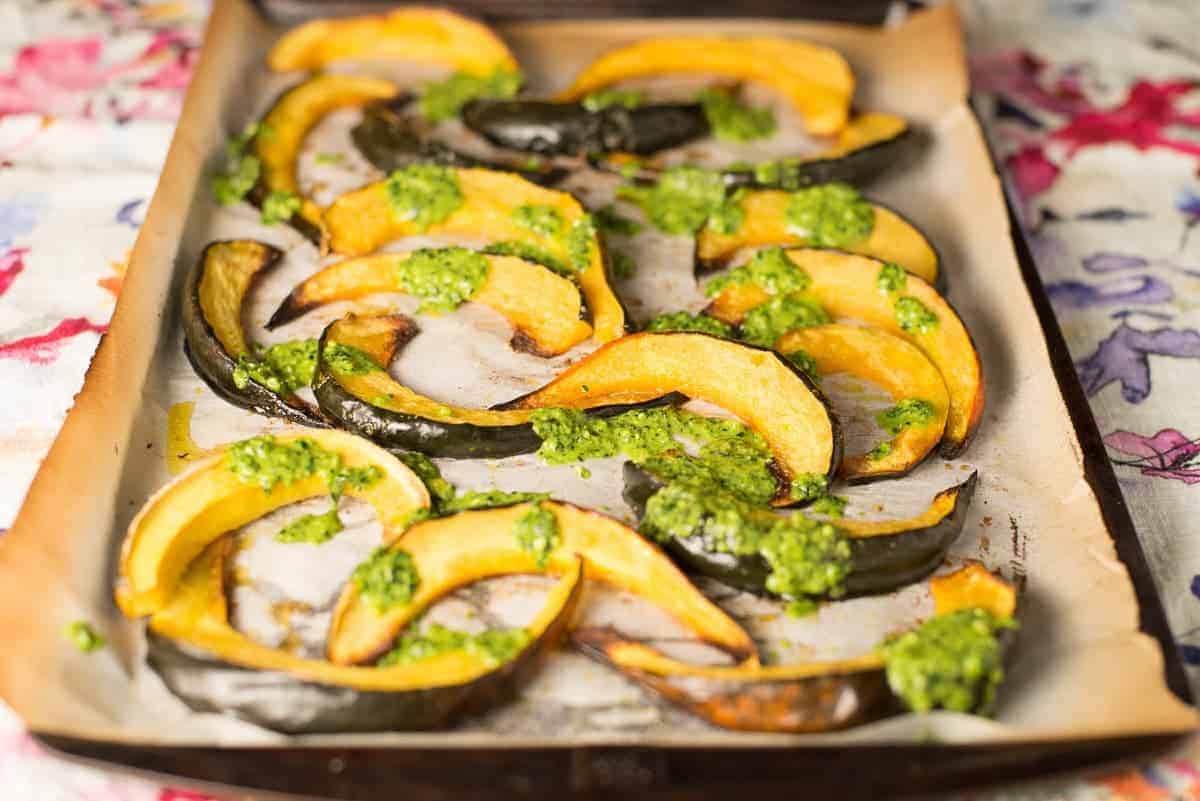 Easy and super impressive. Roasted acorn squash and kale pesto is a gorgeous and healthy dish.[/caption]
Other recipes that you might that you like:
Fresh and Easy Traditional Shrimp Ceviche
Ceviche is fresh and light. It's packed with protein and yummy baja flavor. Perfect for summer snacking.
Pin For Later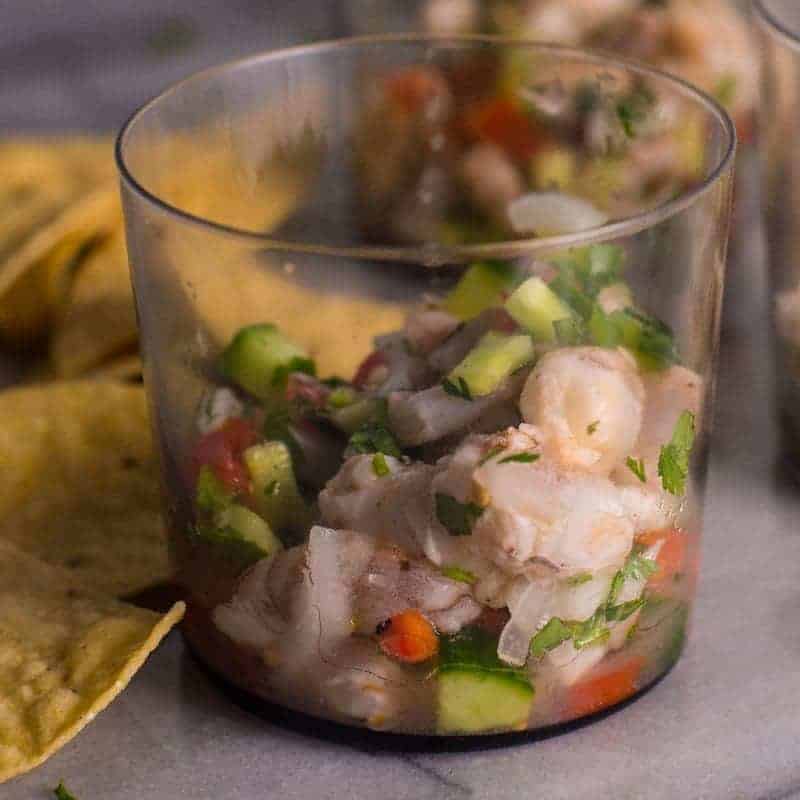 Vegan Lettuce Wraps (P.F. Changs copycat recipe)
This 🥬 Asian lettuce wraps recipe is made with mushrooms, These might be a copycat PF Changs lettuce wraps and they are super delicious. These vegan lettuce wraps are sure to satisfy carnivores and vegetarians alike, and they can also be made as chicken lettuce wraps.
See The Recipe
Pin For Later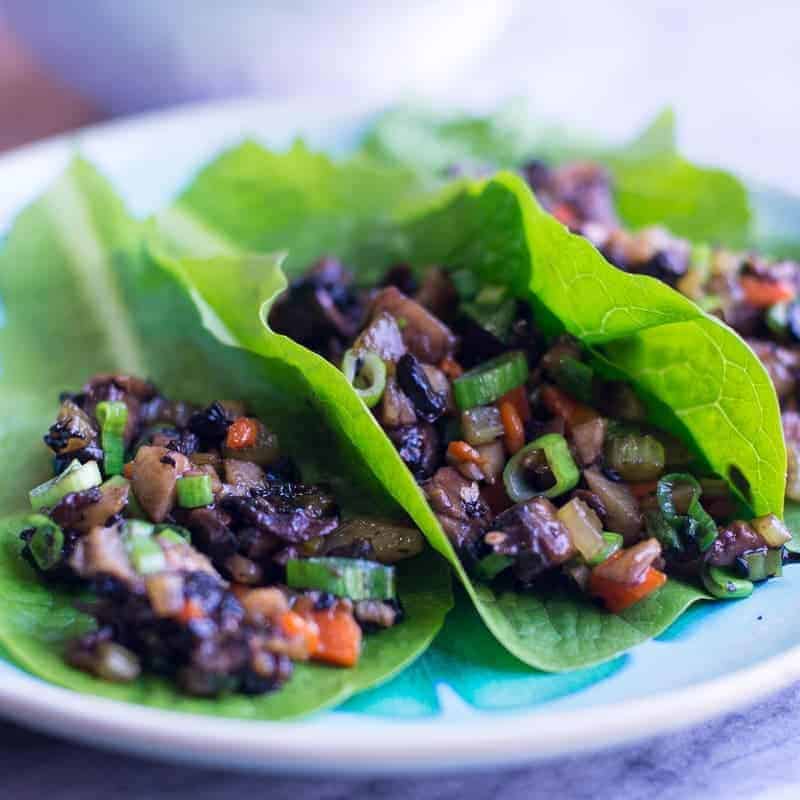 Carrot & Apple Matchstick Salad
Crisp and refreshing, this salad make the perfect addition to a lettuce wrap.
See The Recipe
Pin For Later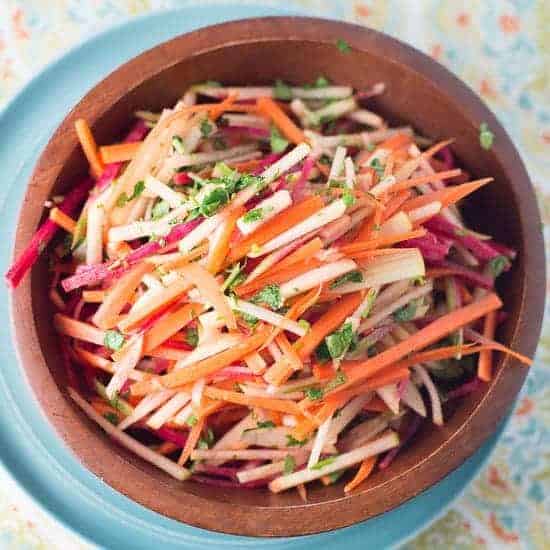 Asian Cucumber Salad
This easy Asian cucumber salad is marinated in a spicy-sweet sesame ginger dressing. The result is a crunchy, refreshing, umami-packed marinated salad that is delicious with grilled meat or all on its own.
See The Recipe
Pin For Later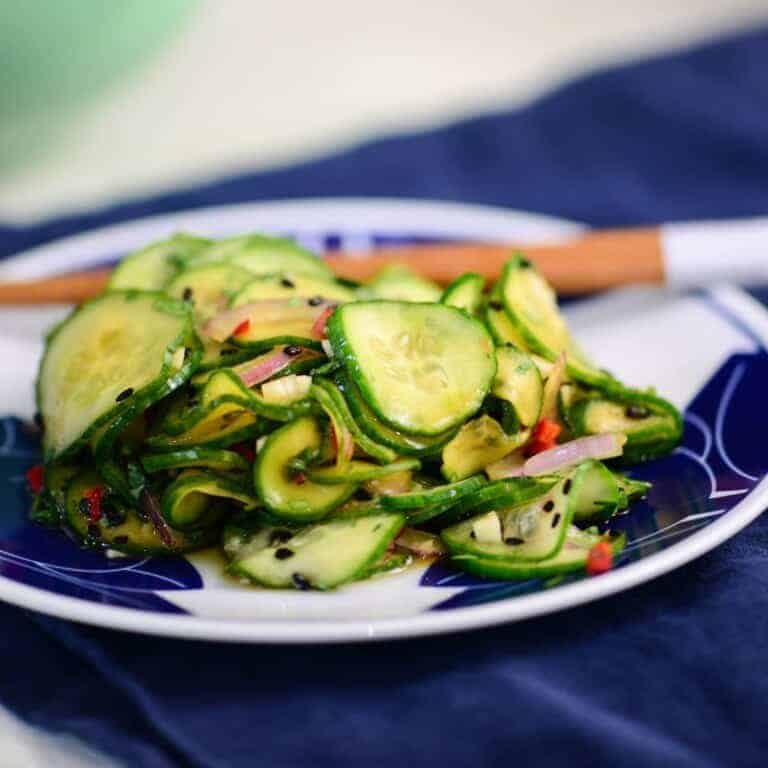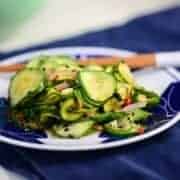 What to serve with couscous salad
Grilled BBQ Pork Skewers
This makes great kabobs. For this camping recipe, I threw it all into a campfire dutch oven, added some quartered baby potatoes and cooked it on the fire.
Pin For Later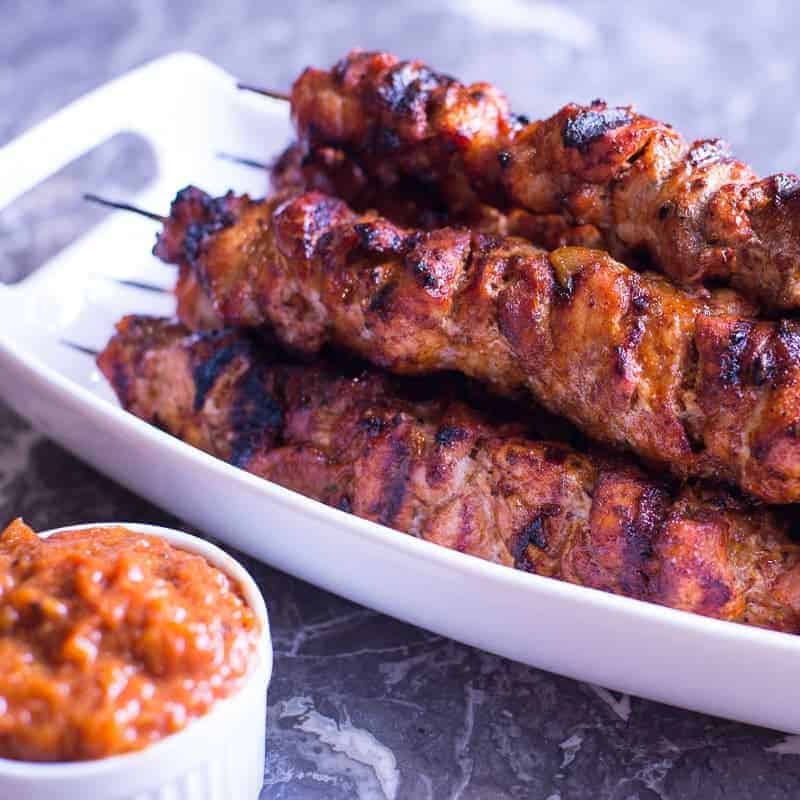 Kale Pesto with Roasted Squash
Kale Pesto
This deep green, garlicky magic sauce is great on roasted vegetables or serve it with burrata and crostini.
See The Recipe
Pin For Later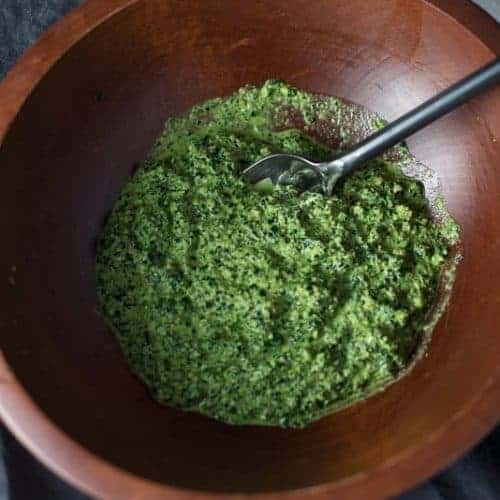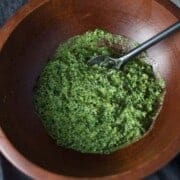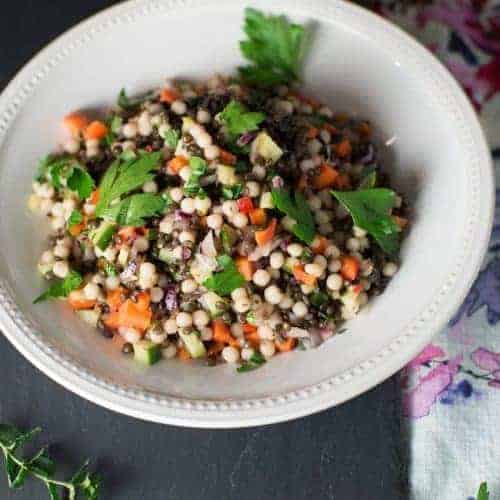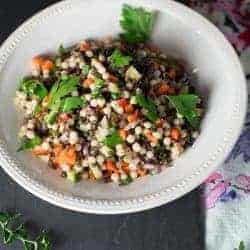 Easy Couscous Salad with Black Lentils
Colorful and delicious – this couscous salad is gorgeous and full of flavor. A beautiful side when guests are coming. This couscous salad also makes killer leftovers.
Ingredients
2

cups

Lebanese couscous

cooked according to directions
Salad
2

Carrots

peeled and diced

1

Red Bell Pepper

diced finely

1

stalk

Celery

diced finely

½

cup

Cucumber

finely diced

½

Red Onion

diced finely

¼

cup

Red Wine Vinegar

¼

cup

Olive Oil

1

tsp

Fresh Thyme

chopped finely

½

bunch

Fresh Parsley

chopped finely

Salt and Pepper

to taste
Instructions
Beluga Lentils
Add diced onion and thyme to lentils. Pro tip: Adding the onion and a few sprigs of thyme gives the lentils extra flavor.

Cook according to directions. Drain and set aside. Remove the thyme stems when draining.
Veggies
Dice the cucumber, onion, celery, carrots and red pepper, set aside.
Couscous
Cook the couscous according to directions, drain and put in a large bowl.

Immediately add the vinegar, olive oil, salt, pepper, and thyme. Pro tip: Adding the vinegar to the warm pasta helps to give the pasta a more robust flavor.
Assemble the Salad
Add the lentils and the veggies to the couscous.
Nutrition
Calories:
316
kcal
Carbohydrates:
49
g
Protein:
12
g
Fat:
7
g
Saturated Fat:
1
g
Sodium:
22
mg
Fiber:
8
g
Sugar:
2
g
Calcium:
35
mg
Iron:
2.6
mg
SaveSave
SaveSave
SaveSave
SaveSave
(Visited 424 times, 1 visits today)