Spatchcock Turkey is arguably the juiciest, most flavorful Thanksgiving turkey recipe that you will ever make. It cooks in half the time and cooks more evenly than a traditional whole roasted Thanksgiving Turkey. The skin is crispy and the meat is ultra flavorful and juicy.
This turkey recipe calls for a dry brine. Dry brining requires that you let the turkey sit in the refrigerator for several days before you are ready to roast it.
I first tried this dry brine method after reading a butterflied turkey recipe from Alton Brown.
Alton is kind of one of my cooking idols. I've always had a thing for geeky guys. But a geeky guy that cooks – now that's impressive!
Alton's cooking show, 'Good Eats', is one that I used to watch all the time. And now it's back!
Roasting a spatchcock (or butterflied) turkey will change your life!
When you use this method you end up with a delicious bird that has a ton of flavor and is still really juicy.
Pan drippings are captured on a baking sheet that you put under the wire baking rack.
You can roast diced root vegetables and onions on the baking sheet during the roasting. My favorites are sweet potato, parsnips, and red onions. I also dice up a few carrots and a few stalks of celery. This combination is delicious as if you want a gluten-free alternative to stuffing.
How to make and easy roasted vegetable stuffing.
The pan dripping will flavor the vegetables while the turkey is roasting. If you want a more traditional dressing to serve as a side dish you can toss the vegetables with four to six cups of cubed and toasted sourdough bread.
Add a little turkey broth, mix it all together and place the mixture in a casserole dish. Bake at 425F for about 20 minutes, until the top is golden brown and everything is warm throughout. You end up with a lovely roasted vegetable dressing.
I often save the pan drippings for making gravy. My family is a slather gravy on everything kind of family. Especially mashed potatoes and my Sausage and Apple Stuffing.
The juiciest turkey that you ever make.
It's now my go-to method for Thanksgiving turkey!
Heck, this is my go-to method anytime I am roasting a whole bird. I use this method with chicken all the time. Like in my Jerk Chicken Recipe and my Provençal Chicken.
A good spice rub and roasting rack are all you need to make a delicious and flavorful roasted chicken or turkey.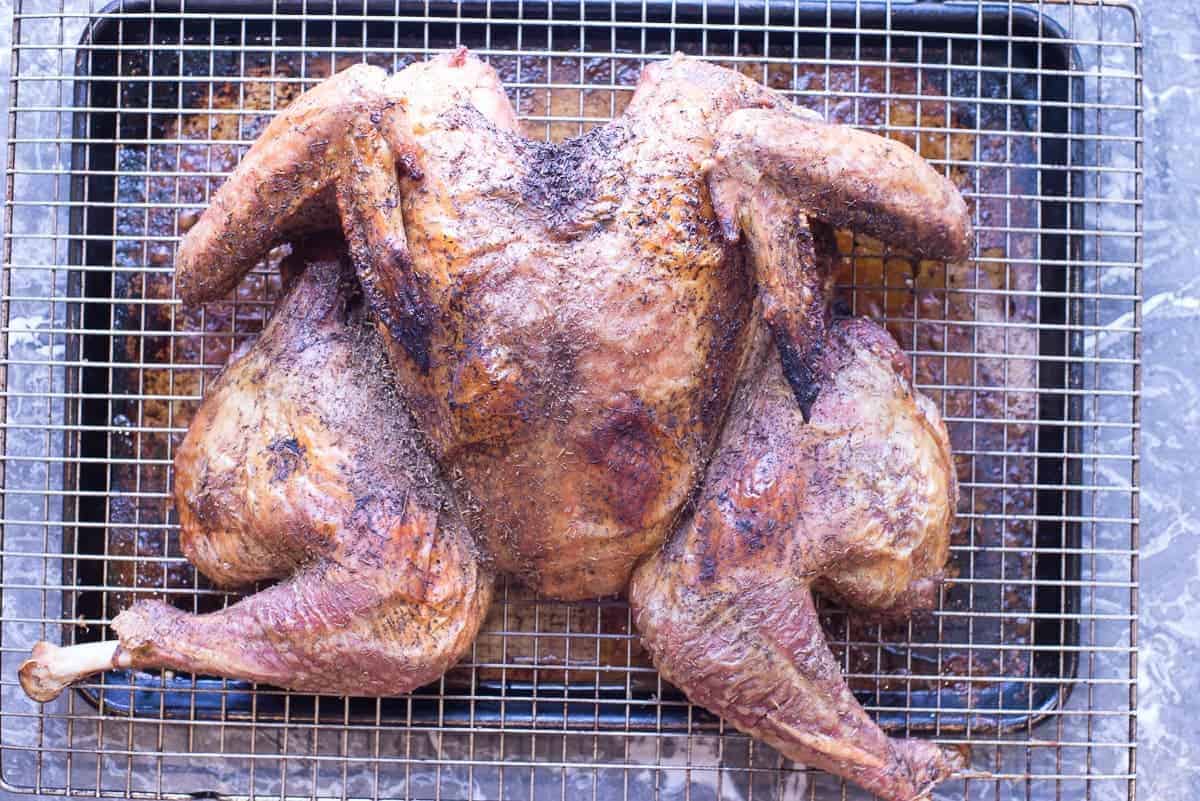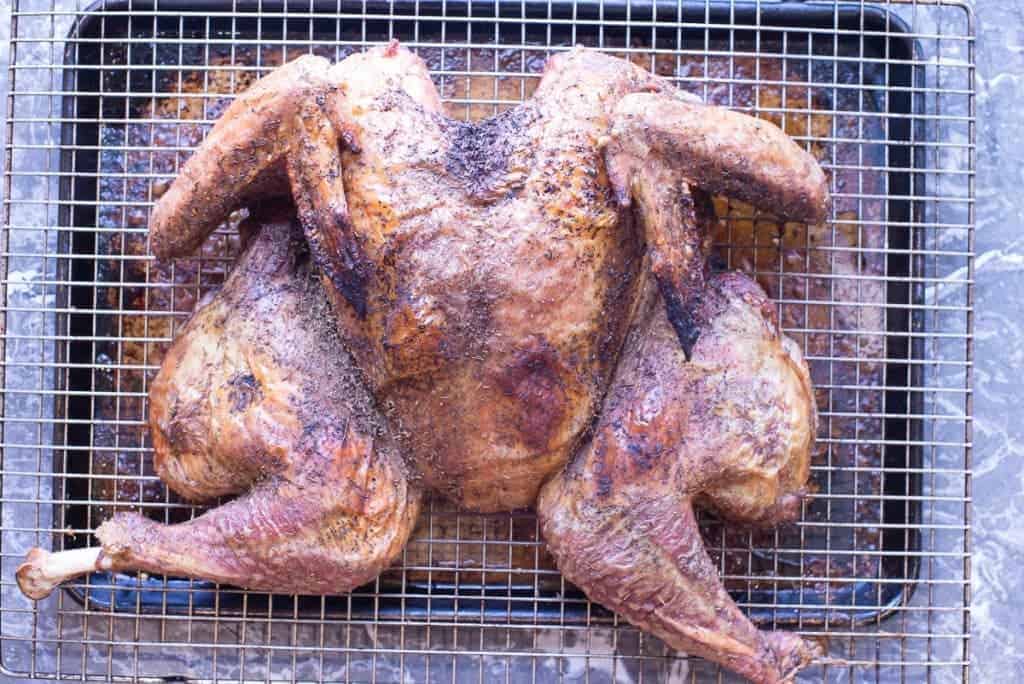 What is spatchcock?
Super fun to say and even better to eat. But what the heck is a spatchcock?
Spatchcocking involves removing the backbone of a bird and then laying it out flat. This method of cooking a turkey or chicken yields a more evenly cooked bird. The result is a flavorful juicy bird with ultra crispy skin.
How to Spatchcock a Turkey.
Remove the backbone of the bird using sharp poultry shears.
Using a sharp knife score the cartilage that runs down the middle of the back. This makes it easier to lay flat.
Turn the bird over and press her flat.
Here is a quick video if you need the visual.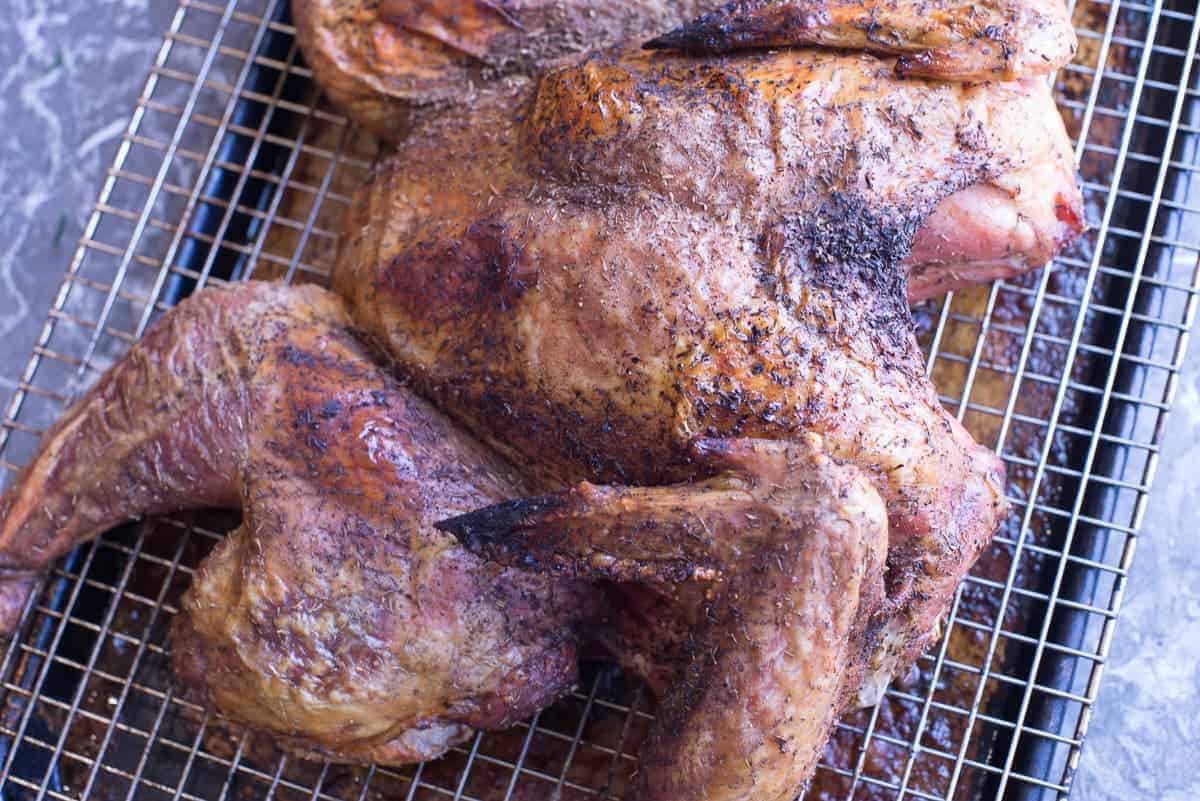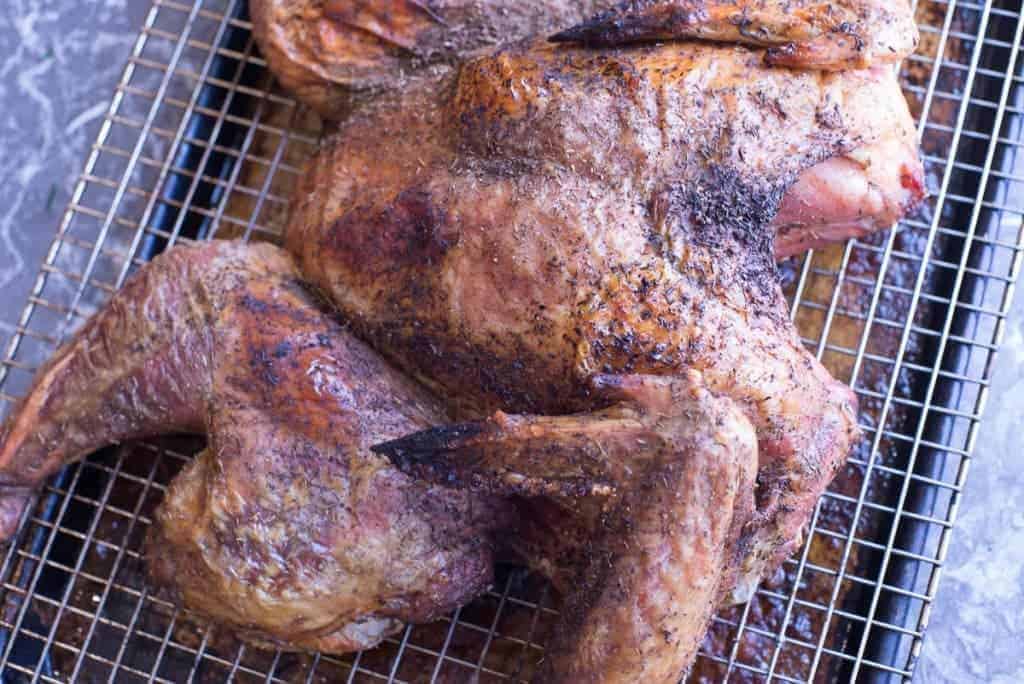 This spatchcock technique can be used for any whole bird.
Not only can you spatchcock any bird you can also roast or grill any spatchcocked bird.
Whole roasted poultry is a perfect dinner staple. And you should never let the leftover bones go to waste. Use them to make super nutritious bone broth. This broth can be frozen as used later as soup bases and to add flavor to stir-frys.
Check out this recipe for perfect bone broth here and then head over to get my Aunt Jayne's Dumpling Noodle Recipe. These noodles are a Thanksgiving family tradition — every single year. I gotta have them.
Benefits of cooking a dry brined spatchcock turkey.
Your cooking time is almost cut in half.
Handling the spatchcocked turkey is much easier than dealing with a fully intact bird.
The dry brine is also much easier than wet brining your turkey. Plus the dry brine gives you a turkey with better texture and flavor.
How to dry brine a turkey.
Brining is a technique that makes turkey really juicy and flavorful. There are two ways to brine a turkey.
Brining adds flavor to the meat by salt and water in the meat so that you get a lovely, tender and juicy turkey with a ton of flavor.
I highly recommend brining poultry and pork. The flavor difference is notably better.
Wet Brining a Turkey
Wet brining is done by soaking your turkey a solution of spices, salt, sugar, and liquid (usually water or juice). You will usually need 6 to 8 quarts of liquid for this process.
A wet brine tenderizes the meat because the salt solution acts on the proteins to denature them. Also, the salt solution draws water into the meat and impart more moisture to the meat.
Dry Brining a Turkey
A salt and spice dry rub is rubbed all over the turkey and then the turkey is set uncovered in the refrigerator for several days.
Dry brining also acts to tenderizes the meat in the same way but has the added benefit of adding a lot more aromatic flavor to the meat because the spices are in direct contact with the meat.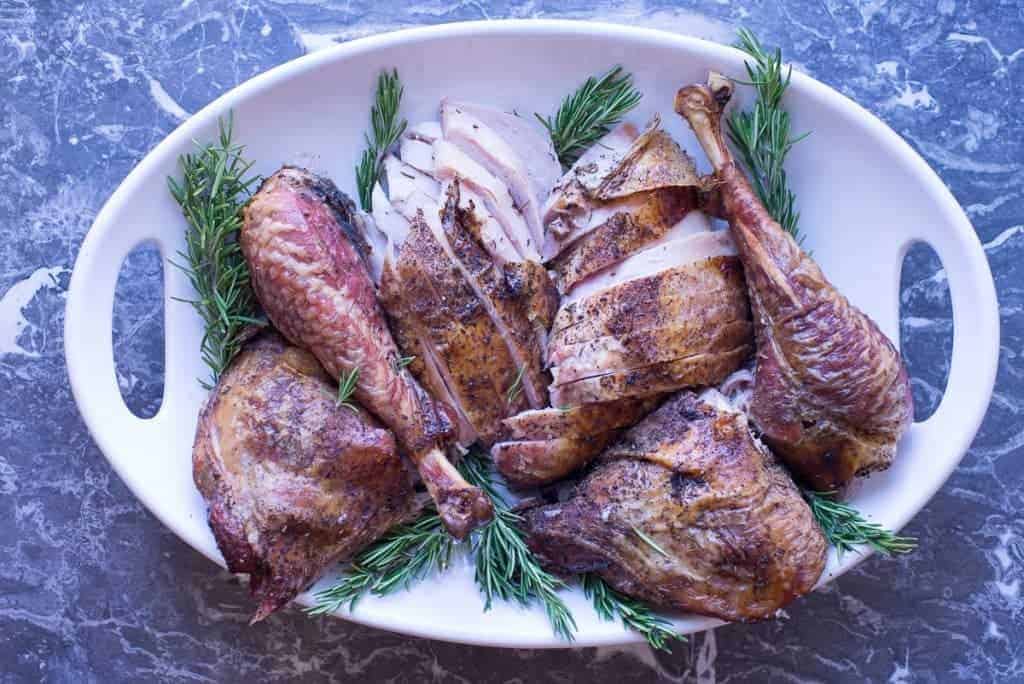 What temperature to roast a turkey.
Roasting a turkey requires a few easy to follow best practices.
Preheat your oven to 450F. Roast the turkey for about 30 minutes at this temperature. Then reduce the temperature to 350F and continue to roast until your bird reaches the appropriate internal temperature.
It doesn't matter what size your turkey is as long as you can remember these two temperatures you can make a perfectly roasted Thanksgiving turkey.
175F at the thickest part of the thigh.
155F at the thickest part of the breast.
Always use a probe temperature to make sure your Thanksgiving turkey is perfectly cooked.
Always rest your turkey for at least 10 minutes after you have taken it out of the oven, before carving.
How long to cook a turkey.
Having an accurate probe thermometer is the best way to make sure that your turkey is cooked to the proper temperature. This is my favorite thermometer.


Because oven temperatures and turkey sizes vary, using the internal temperature as your guide is the best way to ensure that your Thanksgiving turkey is juicy and never dry.
Get my handy dandy turkey cooking chart.
I put together this handy dandy downloadable chart to help give you a guideline for how long you will need to thaw and roast your turkey.
How long to cook a spatchcocked turkey.
Cooking time will vary depending on the size of your spatchcock turkey. Use your thermometer as a guide. For perfectly cooked poultry proper temperature is king!
Other Thanksgiving Recipes
Other Poultry Recipes
➽ Did you make this recipe? I love to see what's going in your kitchen. Show me what you're cooking. 🍳 Tag me @foodologygeek on your favorite social channel! Facebook, Instagram & Pinterest. If you loved ❤︎ this recipe, please leave a 5 ★ review and a comment!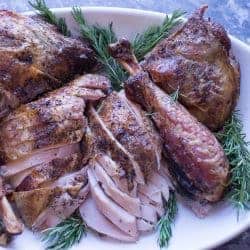 Spatchcocked Thanksgiving Turkey
Dry-brining makes this turkey extra moist and delicious; not to mention, faster and easier to cook.
Ingredients
1

13 to 14 pound

whole turkey

neck and giblets removed and reserved for Giblet Stock
Instructions
Preparing Turkey with Dry Brine
Four days before serving, prepare the spice blend in a spice grinder or mortar and pestle. Set aside.

Spatchcock the turkey: set the turkey, breast-side down, on a large cutting board with the tail closest to you. Use heavy-duty kitchen shears to cut up one side of the backbone.

Turn the bird around and cut back down the other side of the spine.

Remove the backbone and reserve the backbone along with any giblets for turkey stock.

Turn the turkey breast-side up and pull sides outward. Then use the heel of your hands to press down on both breasts, until you hear a cracking sound and the bird has flattened slightly.

Rub the seasoned salt on both sides of the turkey.

Place the turkey on a parchment paper-lined half sheet pan, breast-side up with legs running with the long side of the pan.

Store, uncovered, in the refrigerator up to 4 days.

Remove the turkey from the refrigerator and leave at room temperature for 1 hour before cooking.
Roasting the Turkey
Place the turkey on a baking rack over a half sheet pan (to catch the drippings).

Reduce the temperature to 350℉

Continue to roast until the thickest part of the breast is 155℉, approximately 40-50 minutes.

Remove the turkey and let rest for 30 minutes before carving.
Laura's Tips + Notes
Hands-On Prep Time is only 30 minutes but be prepared to let this turkey set in the refrigerator for up to 4 days.
Nutrition
Calories:
278.59
kcal
Carbohydrates:
1.26
g
Protein:
41.99
g
Fat:
11.06
g
Saturated Fat:
2.85
g
Cholesterol:
139.13
mg
Sodium:
2658.59
mg
Fiber:
0.41
g
Sugar:
0.12
g
Calcium:
31.3
mg
Iron:
2.01
mg