Growing up, Jimmy Dean Sausage was a breakfast staple—my brother and I could eat sausage for days. This sausage and apple stuffing recipe uses Jimmy Dean Sage Sausage as well as fresh sage to give it lots of flavor! With this sourdough stuffing, your friends and family will be more thankful for fresh stuffing than anyone thought was possible.
This homemade stuffing recipe with sausage, sage, apples, and sourdough bread is sure to knock your holiday socks off.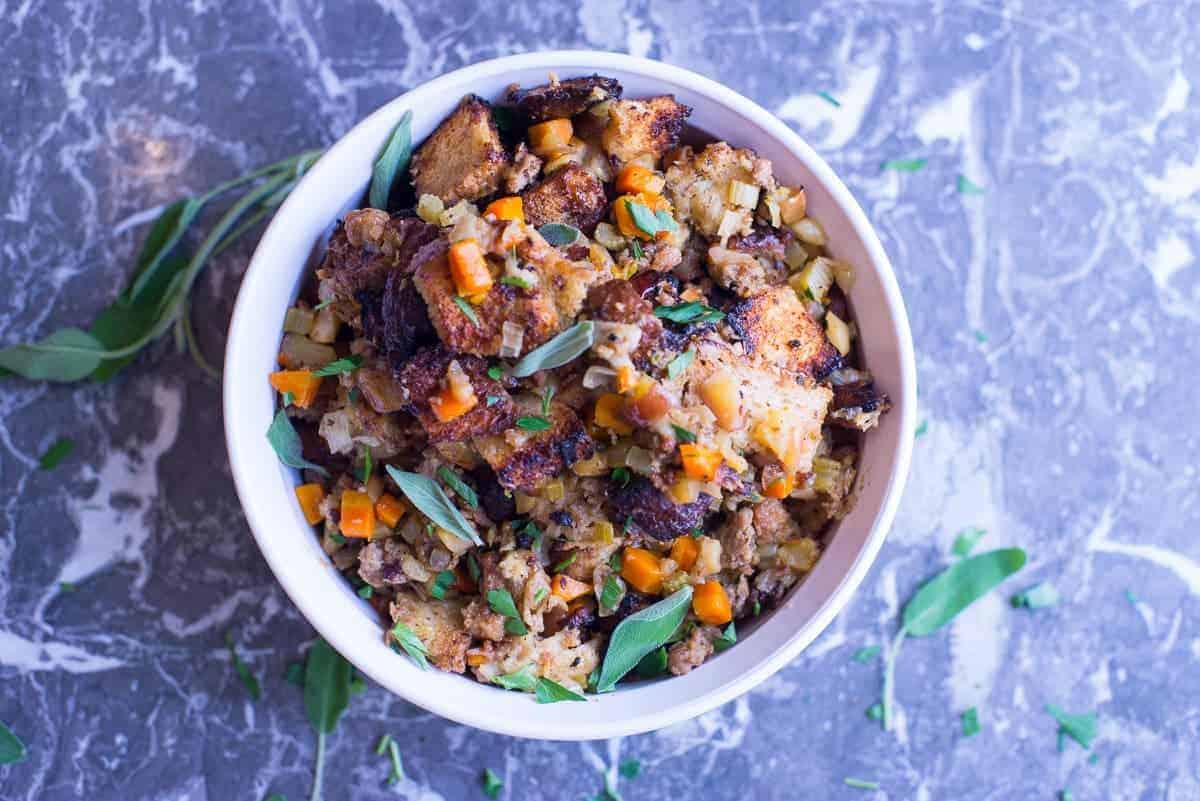 Why you need to make this recipe
Foolproof: This sausage, apple, and sage stuffing is just a few steps and features ingredients that you can find at any supermarket! Get ready for an instant favorite that won't have you dreading the preparation.
Delicious: Sage sausage and sourdough lend lots of comfort to this dish, but apples and fresh turkey stock give this dish the edge it needs.
Comforting: This Jimmy Dean sausage stuffing warm and scoopable

—everything you need in a holiday dish.
Foodology Geek recipe notes
Most people, myself included, are familiar with our stuffing being cooked inside of our Thanksgiving turkey. However, if you want to avoid the sog-fest, cook your stuffing in a casserole dish and make sure to add some moisture with a rich turkey stock to preserve the flavor you know and love. This is definitely my favorite sausage stuffing recipe—best sausage stuffing ever!
This recipe also uses a classic French mirepoix—a mixture of diced celery, onions, and carrots. I usually use half of one small onion, two medium carrots, and three stalks of celery. This will add lots of flavor to your homemade stuffing! Because you'll be cooking the mirepoix in the pan containing grease from your sausage, the water from the vegetables will allow the flavors to combine beautifully. Sage sausage stuffing for the win!
Ingredient notes
Bread: I like using a rustic sourdough, and I cut or tear the bread apart and toast in the oven. For an easy and quick substitution, use your favorite brand of packaged pre-cut bread cubes.
Veggies: Celery, carrot, onion, and apples!
Sausage: I use Jimmy Dean's Sage Sausage. However, you can use sweet Italian sausage or any other sausage that you prefer!
Stock: To make my own turkey stock, I always use the giblets, neck, and backbone of my turkey. The backbone is especially easy to use if you spatchcock your turkey. If you don't want to make turkey stock and can't find it in your local grocery store, chicken stock can be used in its place.
Step by step instructions
Bread: Make sure you have dry or stale sourdough bread on hand. Toast on a baking sheet in the oven in order to prepare the bread for its final baking.
Sausage: Brown your sausage on medium/high heat until the sausage is thoroughly cooked and set aside in a large bowl.
Veggies: Using the same pan, sauté your veggies and apples. Set these aside with your sausage.
Combine: In a buttered casserole dish, mix your bread, sausage, and veggies. Pour your stock over the mix and cook in the oven at 350ºF until golden brown!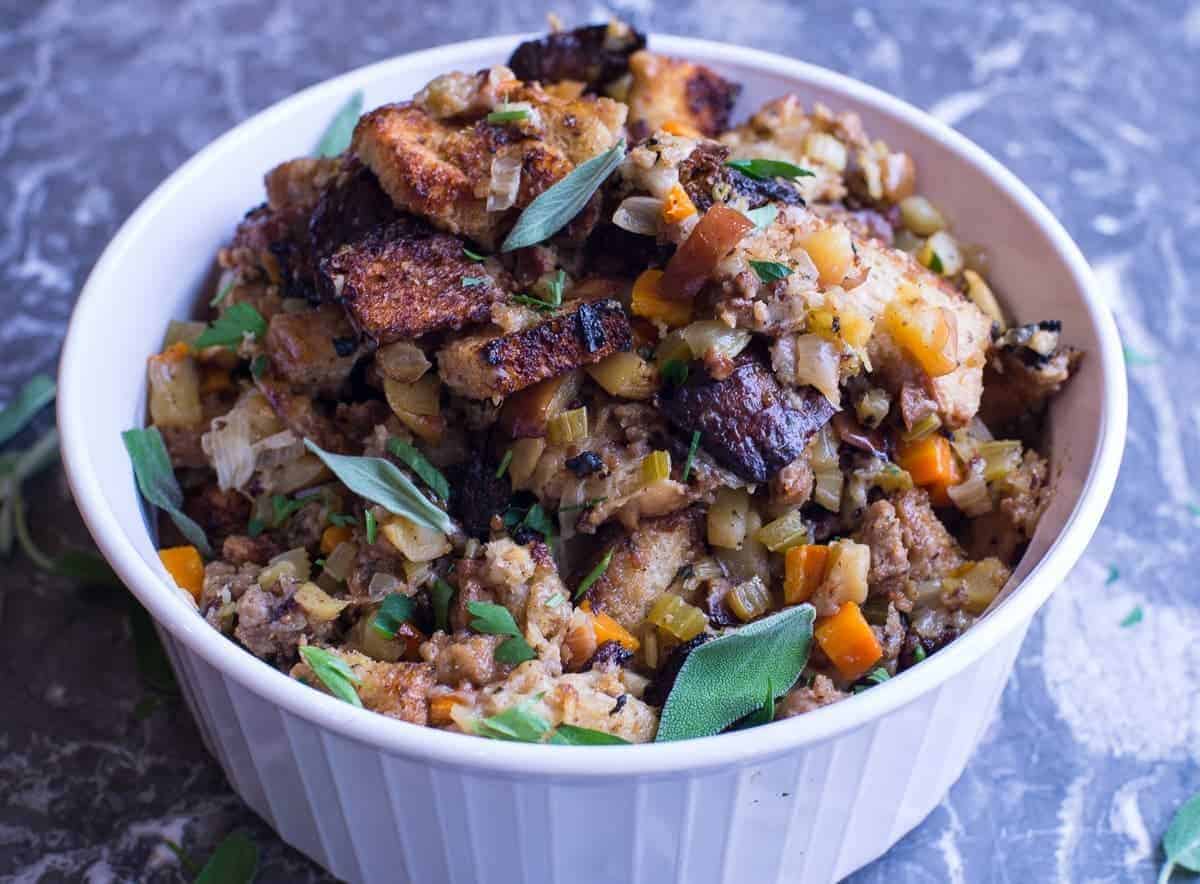 FAQs and helpful tips
Are eggs necessary in a stuffing recipe?
While most recipes you might come across feature eggs as a binder, I've been making my stuffing without eggs for as long as I can remember. This lends to its crispy texture and allows the ingredients to shine on their own, but be sure to cover with aluminum foil while your dish cooks in the oven in order to ensure that your stuffing retains its moisture. Upon the last 10/15 minutes of cooking, I usually remove the foil.
Can you make stuffing the night before?
Feel free to prep your ingredients beforehand! Wait to mix your bread and cooked ingredients with the broth until you're ready to get cooking, so that your stuffing doesn't get too soggy.
What kind of bread should I use for stuffing?
While this stuffing recipe calls for sourdough bread, you can really use any bread that you have on hand so long as its dry enough. However, if using cornbread, fresh will do just fine.
Other Thanksgiving recipes that you might like
➽ Did you make this recipe? I love to see what's going in your kitchen. Show me what you're cooking. 🍳 Tag me @foodologygeek on your favorite social channel! Facebook, Instagram & Pinterest. If you loved ❤︎ this recipe, please leave a 5 ★ review and a comment!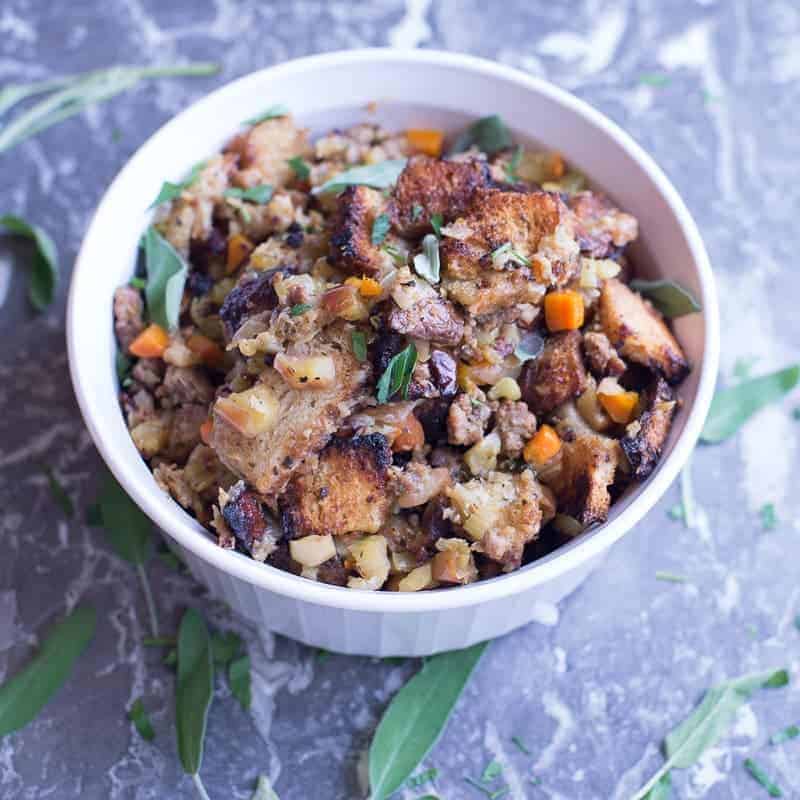 Sage Sausage and Bread Stuffing with Apples
Complete with gluten-free and vegan adaptions. Perfectly baked seeded sourdough bread stuffing with sage sausage.
Ingredients
1

lb

sage seasoned sausage

3

stalks

celery

finely diced

2

carrots

peeled and finely diced

½

onion

finely diced

2

apples

diced

1

loaf

sourdough bread

cubed, I like the seeded variety

1

tablespoon

fresh sage

4

cups

turkey broth

substitute veggie or chicken broth
Instructions
Spread diced bread on a large sheet pan and bake until dried out. Timing will depend on how old your bread is. When crunchy, remove from oven and set aside.

While bread is drying out in the oven, brown the sausage in a large heavy-bottomed pan.

When browned, remove sausage from pan and add to a large bowl.

Drain off most of the oil in the pan. Leave a small amount of oil and all of the brown bits for sautéing the mirepoix.

Add the mirepoix (diced celery, onions, and carrots), sauté until tender and fragrant.

Add the diced apples to the mirepoix and saute for a few more minutes.

Add the sage to the pan with the mirepoix.

Add the mirepoix mixture, and diced apples the sausage.

Add the bread to the sausage and apple mixture and toss well.

Add the broth. Add enough broth to ensure that mixture is moist. You may not need to use the entire 4 cups of broth. Moisture can be adjusted to preference.

Salt and pepper to taste.

Cover with foil and bake for about 25 minutes.

Remove the foil and bake for another 5-10 minutes, until the top is nice and golden brown.

Let rest 15 minutes before serving.
Laura's Tips + Notes
Gluten-Free: If you are gluten intolerant, you can still have all the flavors of stuffing. Make the recipe with wild rice instead. Follow the directions for browning the sausage and mirepoix then add the desired amount of rice to this mixture, add your apples and then add the recommended amount of liquid (water or broth) to match the amount of rice that you used. Vegan Adaptable: Omit the sausage. You can double the amounts used for carrots, celery and onions. Then use a vegetable broth for your liquid.
Nutrition
Calories:
236
kcal
Carbohydrates:
23
g
Protein:
10
g
Fat:
10
g
Saturated Fat:
3
g
Cholesterol:
27
mg
Sodium:
735
mg
Fiber:
1
g
Sugar:
1
g
Calcium:
36
mg
Iron:
2.1
mg