There's a lot of controversy associated with Holiday Stuffing.
What kind of bread is best? Are you a cornbread or sourdough stuffing maker? Should you cook it in the bird or not? Are you a hater? Or, the one that cannot have Thanksgiving without the stuffing?
This stuffing recipe has evolved over the years. I have tried a lot of different varieties.
I always come back to the flavor of sage. Sage is usually prolific in my herb garden during this time of year and, because it is getting ready to frost, I usually hack it all back. This leaves me with a ton of sage for cooking. This stuffing is just one of the many places that I use it.
I've concluded that I'm a seeded sourdough with sage sausage kind of stuffing person. This year I added apples too!
I try to find a large day-or-two-old loaf of rustic seeded sourdough. The tanginess of the sourdough bread, combined with the rich flavor of the sage sausage is simply spot on. The bread is either torn or cut into large chunks and baked in the oven until it basically a huge pan of croutons. This step ensures that it will absorb every possible morsel of flavor from the turkey broth.
[Sage not your thing? Cornbread and a spicy sausage is another favorite combination. Cornbread has a little bit of sweetness that, when paired with a spicy sausage, creates a balance that is just so good! Stuffing is very forgiving so feel free to swap out different breads, or use wild rice instead.]
I like to bake my stuffing in a casserole dish, completely separate from the bird.
If you saw my post on Spatchcocked and Dry Brined Turkey, you can clearly understand why stuffing my holiday turkey isn't even a remote option. However, there are other reasons for this as well. Poultry in today's grocery stores contains a significant amount of a water and salt solution that helps to keep the bird fresh and juicy. When you cook the bird, this water is forced out of the meat. If you have stuffed your bird with a bread stuffing, this can result in a pile of mushy soggy bread. (Maybe that's your thing…if so, then by all means stuff away!)
Make it Easy! And Make it Your Way!
Confession: I use a roll of Jimmy Dean Sage Sausage in this recipe. It's easy and has great flavor. (Maybe next year I will brave making my own sage sausage. That sounds like a challenge I can get on board with.) You can use any sausage that you like. Spicy Italian and sweet Italian are also really good. If you do use a different type of sausage, you can easily leave out the sage in this recipe. I promise it will still be delicious with all the other flavors that you build in (by making a mirepoix and adding crisp tart apples).
In the end the important thing is that you discover your own favorite formula for holiday stuffing. Or if you are like my mother-in-law, you just stand firm in the 'No thanks, I'll totally pass on the stuffing' camp. It's okay, we love you either way.
Don't miss our Gluten Free and Vegan adaptations of this recipe. They are in the recipe notes.
At Foodology Geek we are committed to helping you accommodate any special dietary needs. Being the mom of a vegan and the wife of a carnivore, cooking for everyone gets dicey. I have to find ways to make it easy. As a result, most of our recipes are adaptable. I am always thinking of how to make a recipe work for everyone!
In the mean time, have a happy holiday season. Don't forget to be grateful for all the people in your life! And my biggest piece of advice…shop less and hug more!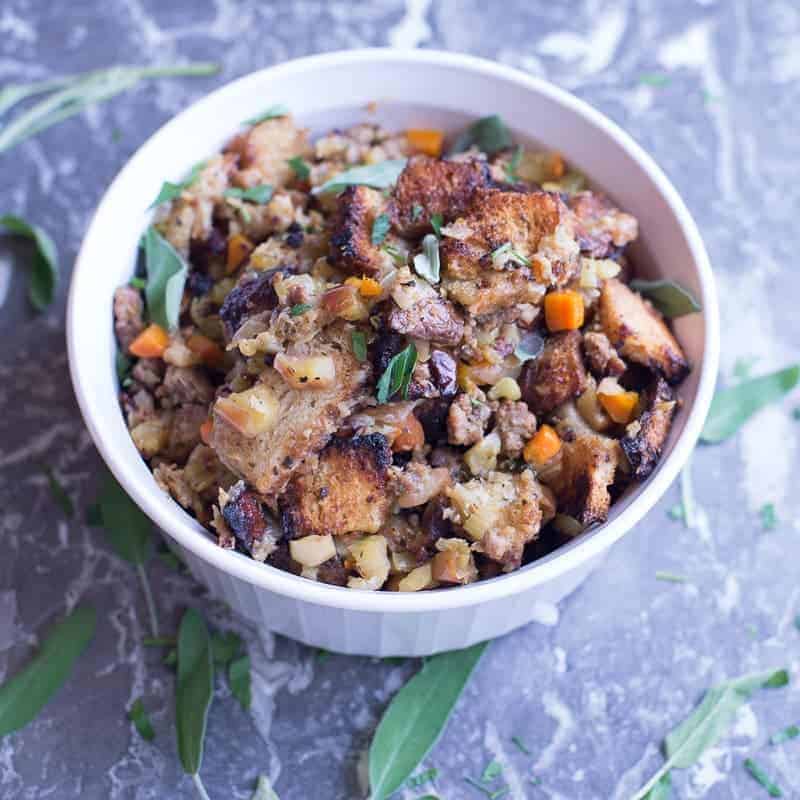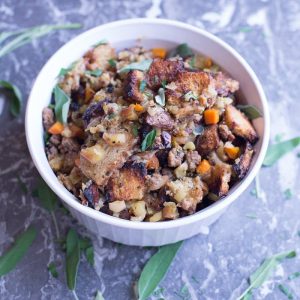 Sage Sausage Stuffing
Complete with gluten free and vegan adaptions. Perfectly baked seeded sourdough bread stuffing with sage sausage.
Print Recipe
Pin Recipe
Ingredients
1

loaf

sourdough bread

cubed, I like the seeded variety

1

lb

sage seasoned sausage

3

stalks

celery

finely diced

2

carrots

peeled and finely diced

½

onion

finely diced

1

tbsp

fresh sage

4

cups

turkey broth

substitute veggie or chicken broth

2

apples

diced
Instructions
Spread diced bread on a large sheet pan and bake until dried out. Timing will depend on how old your bread is. When crunchy, remove from oven and set aside.

While bread is drying out in the oven, brown the sausage in a large heavy bottomed pan.

When browned, remove sausage from pan and set aside.

Drain of most of the oil in the pan. Leave a small amount for sautéing mirepoix.

Add the mirepoix (diced celery, onions, and carrots), sauté until tender and fragrant.

Add sage to pan with the mirepoix.

Add bread to a casserole dish.

Add browned sausage, mirepoix mixture, and diced apples to the bread. Toss to mix together.

Add broth. Add enough broth to ensure that mixture is moist. You may not need to use the entire 4 cups of broth. Moisture can be adjusted to preference.

Salt and pepper to taste.

Cover with foil and bake for about 25 minutes.

Remove foil and bake for another 5-10 minutes.

Let rest 15 minutes before serving.
Notes
Gluten Free: If you are gluten intolerant, you can still have all the flavors of stuffing. Make the recipe with wild rice instead. Follow the directions for browning the sausage and mirepoix then add the desired amount of rice to this mixture, add your apples and then add the recommended amount of liquid (water or broth) to match the amount of rice that you used.  Vegan Adaptable: Omit the sausage. You can double the amounts used for carrots, celery and onions. Then use a vegetable broth for your liquid. 
Nutrition
Calories:
236
kcal
|
Carbohydrates:
23
g
|
Protein:
10
g
|
Fat:
10
g
|
Saturated Fat:
3
g
|
Cholesterol:
27
mg
|
Sodium:
735
mg
|
Potassium:
269
mg
|
Fiber:
1
g
|
Sugar:
1
g
|
Vitamin A:
1780
IU
|
Vitamin C:
7.1
mg
|
Calcium:
36
mg
|
Iron:
2.1
mg
(Visited 42 times, 1 visits today)