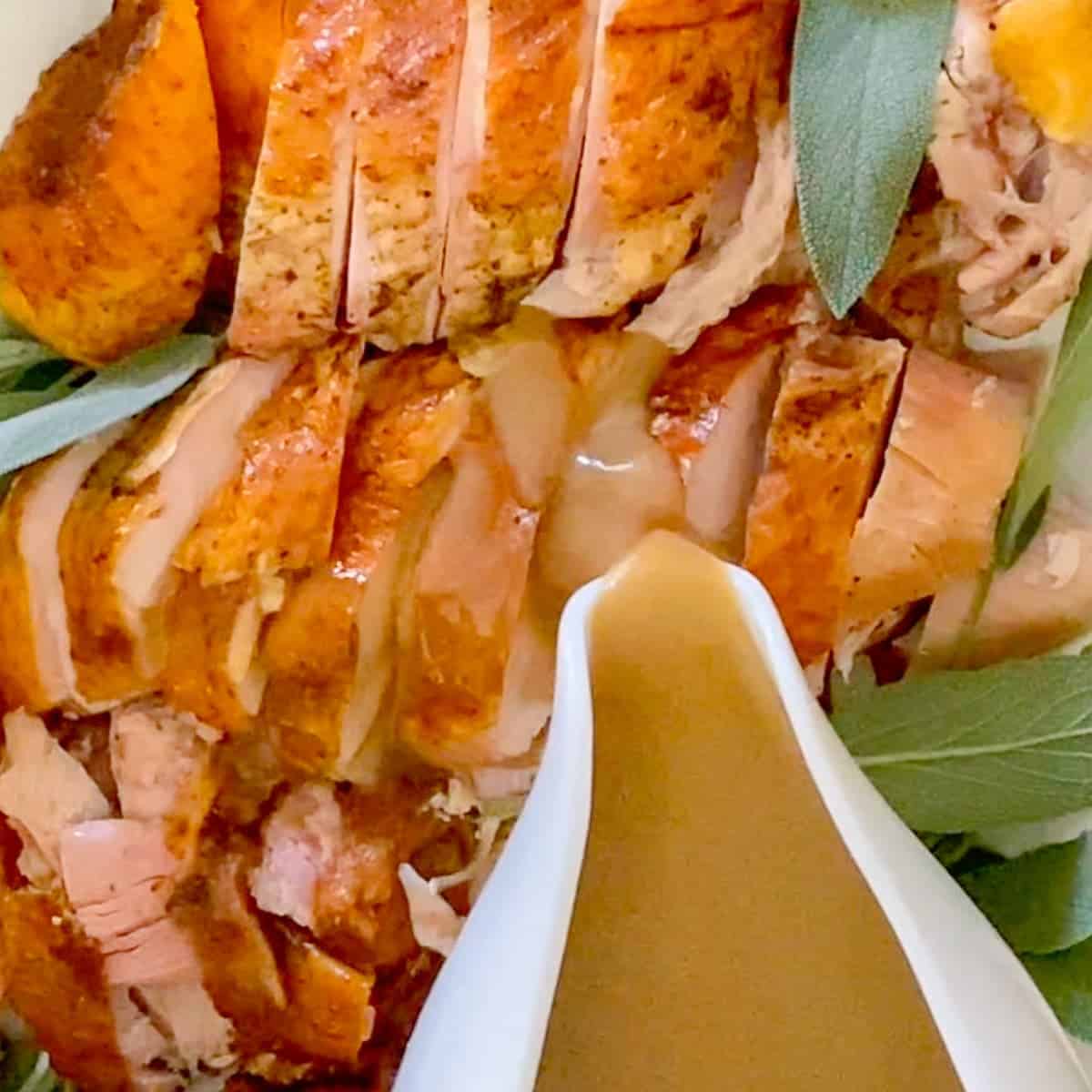 Recipe
Comments
Save
Go to Collections
This post may contain affiliate links. Please read my
disclosure policy.
Mastering the Art of Turkey Gravy: A Perfect Recipe for Thanksgiving
Turkey gravy is the crowning jewel of any Thanksgiving feast, and getting it right is essential to elevate your holiday meal. This comprehensive guide will show you how to make turkey gravy that's rich, flavorful, and irresistibly delicious.
Whether you're a seasoned cook or a novice in the kitchen, our step-by-step homemade turkey gravy recipe will ensure your gravy is a hit at the table.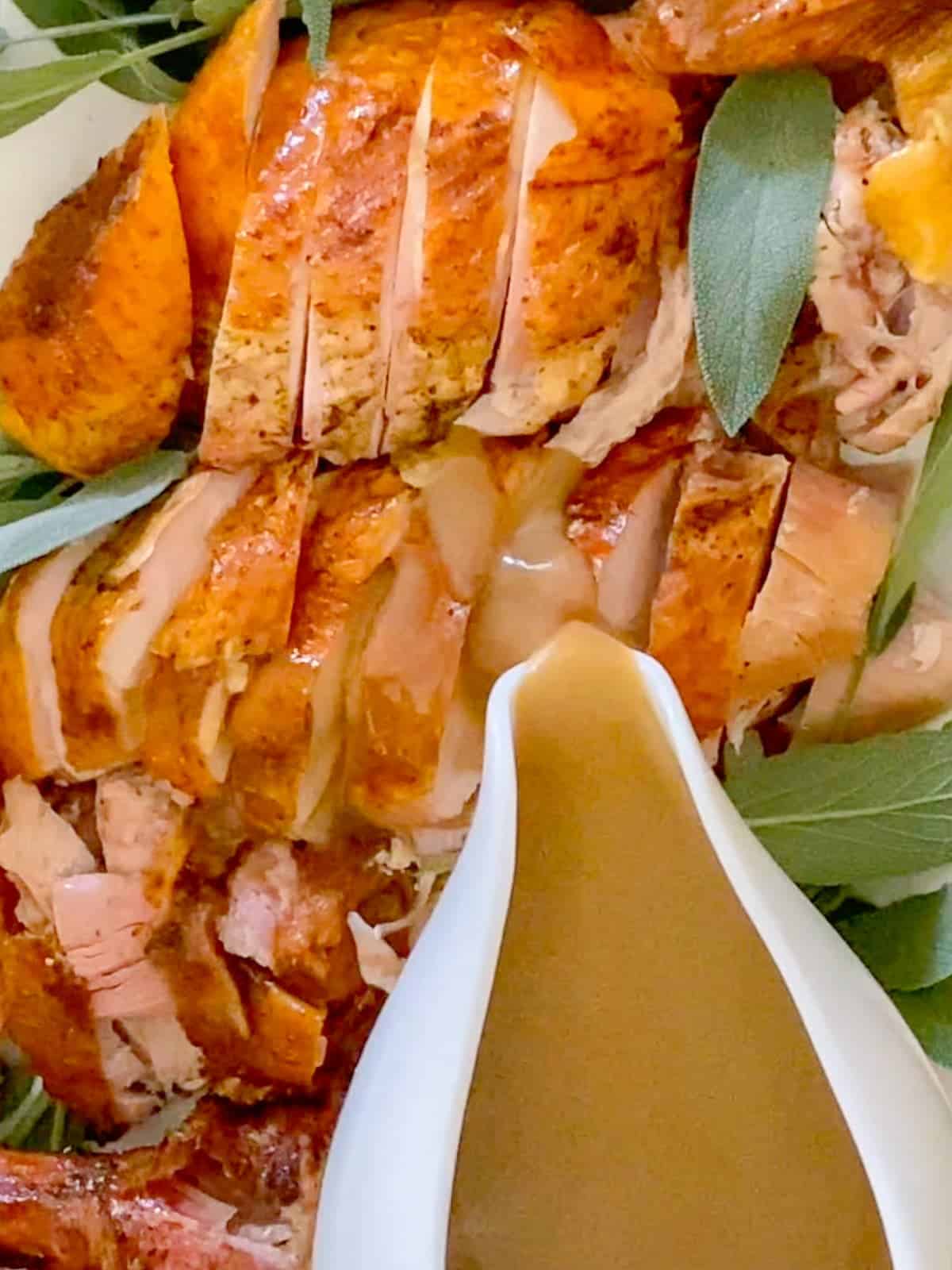 Get ready for the BEST turkey gravy recipe. You've made the perfect Thanksgiving dinner; it's time to make turkey gravy.
Making homemade gravy is easier than you think. You can make this turkey gravy from scratch with turkey drippings or stock. It is always smooth, never lumpy, and full of fantastic turkey flavor.
Ingredients You'll Need
Turkey gravy is traditionally made with turkey drippings and thickened with a roux.
To make the best turkey gravy, gather your ingredients:
turkey drippings
unsalted butter
all-purpose flour
turkey broth or chicken broth
seasonings like salt and pepper, poultry seasoning, and sage
We'll also discuss optional ingredients like wine or fresh herbs for added flavor.
Making the Best Turkey Gravy
Follow our step-by-step guide for combining the roux with the prepared turkey drippings to create a flavorful base. Learn how to gradually add broth, whisking to prevent lumps, and adjust the thickness to your liking.
Start by preparing your turkey drippings. You'll want a few cups of drippings.
Make a roux. Brown the roux to a golden brown color.
Add a small amount of turkey dripping to the roux and whisk to incorporate. Make sure the mixture is smooth with no lumps.
Add a small amount of drippings at a time, whisking between each addition until you have added all the turkey drippings.
Adjust the thickness of the gravy by adding more turkey broth.
Preparing the Turkey Drippings
The foundation of delicious gravy is turkey drippings.
Turkey drippings are made up of browned bits that have caramelized during the roasting process, fat drippings, and some moisture. All of these parts are essential ingredients in perfect turkey gravy.
The first step to making turkey gravy is to deglaze the roasting pan.
Deglazing is the process of redissolving the brown bits back into the liquid. This step adds flavor to the gravy.
I recommend deglazing the pan with broth or wine. Water can also be used, but it's best to use a deglazing liquid that enhances the flavor of the gravy.
Start by placing the roasting pan over the heat on your stove. Bring any liquid to a simmer and about one cup to the pan. Scrape the sides and bottom of the roasting pan with a wooden spoon.
As the liquid steams and simmers, it will redissolve any browned bits into the liquid. Now you've deglazed the pan.
Once the pan is deglazed, you'll move on to separating off the fat layer.
The easiest way to do this is by using a fat separator. This handy dandy tool separates the liquid dripping and fat layers using viscosity. Pour the contents of the drippings into the fat separator and allow the fat layer to rise to the top. If you don't have a fat separator, pour the liquid into a large measuring cup, let the fat rise to the surface, and then skim off the fat layer.
Pour the liquid layer through a fine mesh sieve and reserve it for use in the gravy.
Crafting the Perfect Roux
This gravy recipe is roux-based. Roux is made by combining equal parts of fat and flour. It's commonly used to thicken classic sauces. Learning to make a roux properly is a game changer when making gravies, bechamel, and cheese sauces.
Melt the butter in a large saucepan over medium heat.
Add the flour by sprinkling it over the melted butter. Whisk to combine.
Allow the butter and flour mixture to cook until thick and bubbling.
The goal of making roux is to cook the flour in the butter and achieve a smooth paste. For lighter sauces, the roux should be a warm, toasty brown. The roux can be cooked longer for darker sauces to achieve a darker color and more depth of flavor.
How To Make Turkey Stock
Making turkey stock is super easy. Stock is made by simmering bones with herbs and the components of mirepoix (onions, celery, and carrots.) Check out my comprehensive guide on making stock.
To make a rich stock for Thanksgiving gravy, you have a few options.
Stock from giblets: When you buy a turkey, you will find inside a bag of giblets and a turkey neck bone, both of which are great for adding rich turkey flavor to homemade turkey stock.
Stock from leftover bones: If you are going to spatchcock your Turkey, you will also have the backbone to use in the stock. I also recommend freezing the carcass from your Thanksgiving turkey. This carcass can be used to make turkey stock AKA turkey bone broth that can be used for making turkey soup, turkey pot pie, and of course, turkey gravy.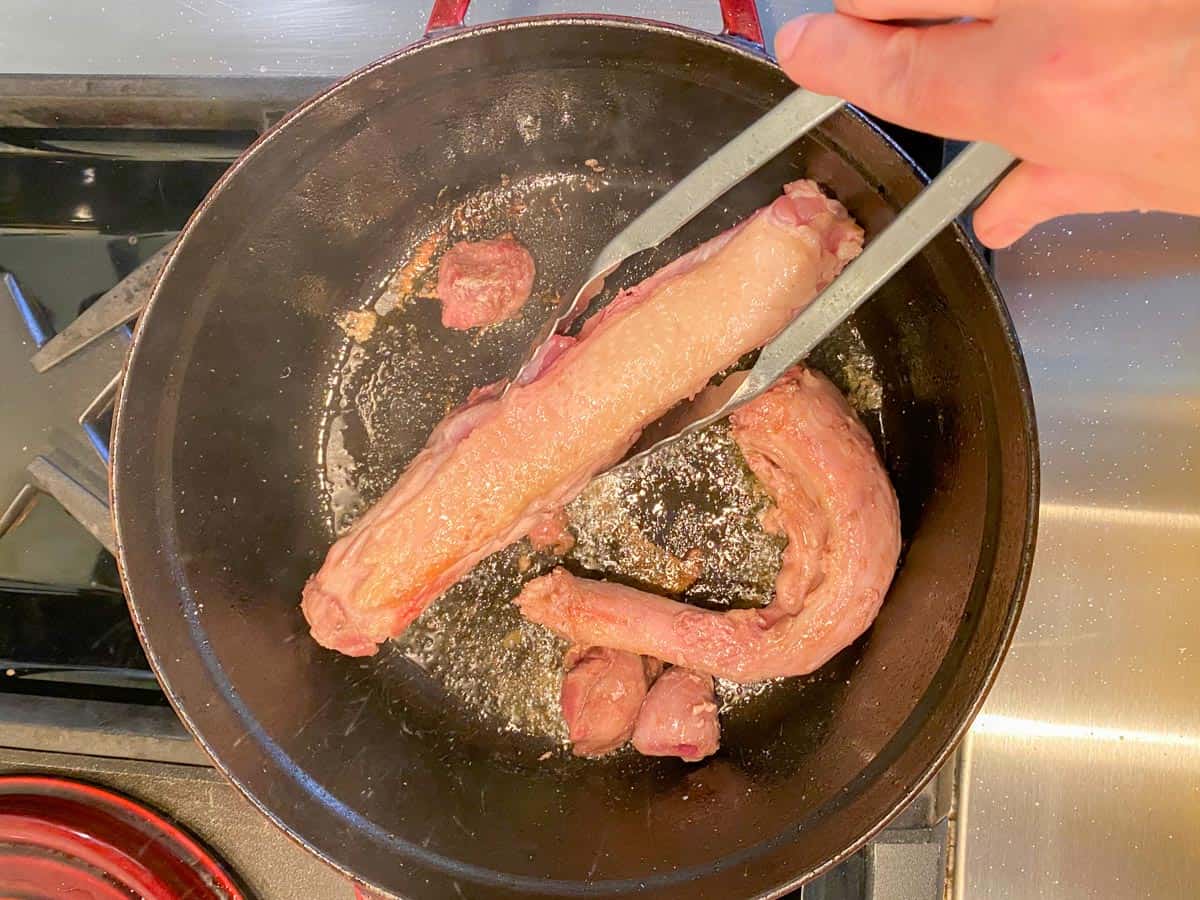 Expert Tips for Perfect Gravy
Make homemade turkey stock. Homemade turkey stock will have the richest and freshest flavor.
Cook the roux thoroughly. Make sure to cook the roux until you have a deep golden brown color. Uncooked flour imparts an unbecoming flavor to gravy.
Add liquid a little at a time. Whisking in a small amount of liquid to the gravy at a time allows you to achieve a smooth consistency with zero lumps.
Adjust the thickness of the gravy. Bring the gravy to a boil to properly thicken it. If the gravy is too thick, you can add more turkey broth to thin it to your desired consistency.
Taste and adjust the seasoning.
How To Season Gravy
There are many opinions on how to season gravy. There are a multitude of answers. I'm going to break down a few common additions that add flavor to gravy.
A flavorful turkey stock. Starting with a well-flavored turkey stock is key. Simmer turkey bones and giblets with thyme, bay leaf, salt, peppercorns, diced onion, celery, and carrots. This is a winning combo for flavorful stock.
Wine. Deglazing your pan with about a half cup of dry white wine can add an extra layer of flavor to your turkey gravy. If you're the type of cook who loves cooking with wine, give it a try.
Poultry seasoning. Poultry seasoning is a combination of sage, thyme, rosemary, marjoram, and nutmeg. This combo adds a well-rounded flavor profile to dishes with poultry, such as gravy, pot pie, and soups.
Fresh sage. Fresh sage is an excellent addition to homemade turkey gravy. It adds a fresh herbal note that is a little bit brighter than the dried variety or using poultry seasoning alone.
Salt. Salt is crucial. Because gravy has a high fat concentration, salt helps balance the flavor profile. I recommend always steering clear of table salt and choosing a fine sea salt or Himalayan salt variety. These salts are gentler on the palate.
Pepper. Black pepper is fine, but I recommend experimenting with a white peppercorn or, my favorite, the pink peppercorn when making gravy.
Giblets. Giblet gravy is extremely popular in the South and the Midwest. Add chopped cooked giblets and meat from the turkey neck to the gravy for a rich, meaty treat. The liver is often left out because it has a strong flavor that some people don't like. But you do you.
Turkey Gravy Variations
Here are a few populare variations of turkey gravy.
Thanksgiving Gravy From Turkey Stock
If you don't have pan drippings or need a make-ahead turkey gravy recipe, making an easy turkey gravy with turkey stock is the answer.
See above for options on how to make turkey stock from scratch.
If you're desperate or have a time constraint a boxed turkey stock is also an option for making a simple and flavorful turkey gravy.
Look for an unsalted turkey stock. Stock is readily available in the soup aisle of every grocery store. I like to keep some on hand just in case things go awry on the big day.
Turkey Giblet Gravy
You might wonder what are giblets? Giblets are the bits of the turkey that come in that white bag. They usually include the neck, gizzard, kidneys, liver, and heart.
I recommend boiling the giblets in water to obtain a flavorful stock that can be used in addition to turkey dripping to add flavor and also thin the gravy if needed.
Simmer the giblets in water alone or add onion, carrot, celery, and a bay leaf for flavor. Don't forget to season the stock with salt and pepper.
To make a giblet gravy, chop the giblets and cook them in butter. Some people find that the liver has a strong flavor. I recommend leaving that out.
Finely chop the giblets and brown them in a pan with ¼ cup of butter.
Sprinkle ¼ cup of flour. Brown the flour. This step is essentially making a roux that will thicken the gravy.
Add the turkey stock and boil to thicken—season with sage, thyme, and, of course, salt and pepper.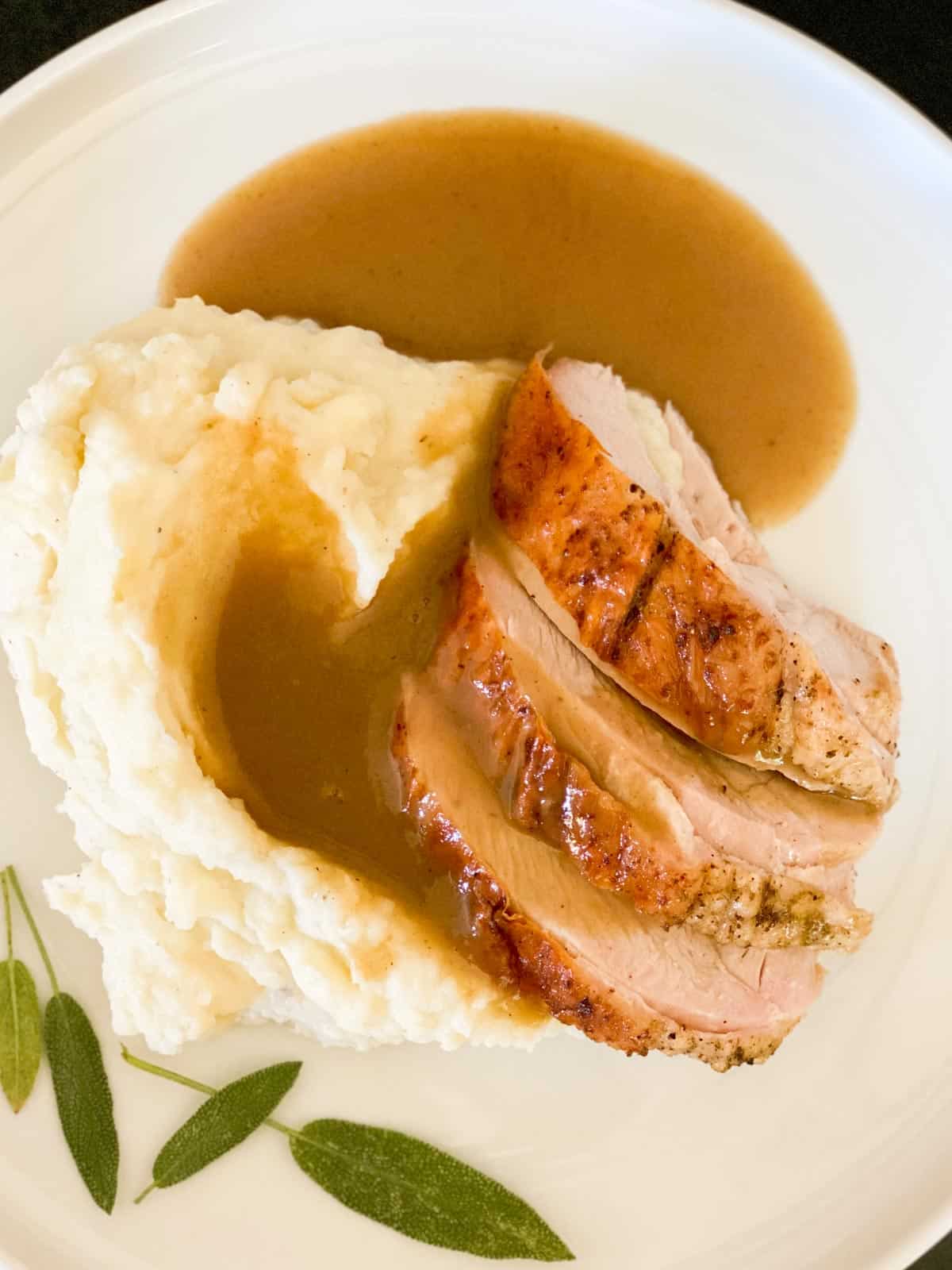 To Make Turkey Gravy That's Gluten-Free
If you need to make gluten-free gravy, leave out the roux, typically made with butter and flour.
Thicken the gravy with a cornstarch slurry instead.
Make a slurry using ¼ cup of cornstarch and ¼ cup of water or broth.
Bring the pan drippings (or turkey stock) to a boil.
Add the slurry and simmer in a saucepan over medium heat until the gravy has thickened.
Season to taste.
Serving and Storing Your Gravy
Discover how to serve your homemade turkey gravy, including creative presentation ideas. We'll also guide you in storing and reheating any leftover turkey gravy for later use.
Store leftover gravy in an airtight container in the refrigerator for up to a week. For best results, lay a layer of plastic wrap over the surface of the gravy to prevent it from forming a skin.
Frequently Asked Questions
How is gravy made from turkey?
Gravy is made from the turkey drippings, thickened with a roux.
What is the best turkey gravy to buy?
Trader Joe's has a premade turkey gravy that is one of the highest rated and most loved turkey gravies. If you don't have time to make gravy or you just want to have a rpemade gravy on hand, Trader Joe's comes to the rescue yet again.
What is the secret to good gravy?
The secret to good gravy is proper seasoning. Each component of the gravy should be tasty. Starting with flavorful turkey drippings, rich turkey stock, a perfectly browned roux and the right amount of salt, pepper, and herbs.
What's the difference between brown gravy and turkey gravy?
Turkey gravy is a brown gravy. A brown gravy is made with meat dripping and a roux.
How can I make my turkey gravy taste better?
Season turkey gravy with poultry seasoning, or fresh herbs such as thyme and sage. Make sure to use enough fine salt (not iodized salt), and pepper.
More Thanksgiving Side Dishes that You'll Love
If homemade turkey gravy and mashed potatoes aren't enough, here are more Thanksgiving side dishes. These are my most popular Thanksgiving recipes.
Unleash your inner culinary maverick with the spatchcock turkey technique! Picture this: a succulent, evenly roasted turkey with irresistibly crispy skin and juicy meat. It's…
Leave A Review
Did you make this recipe? Leave a comment and a 5 ★ review. Your feedback helps other readers and helps me continue to offer recipes at no cost. Happy Cooking!!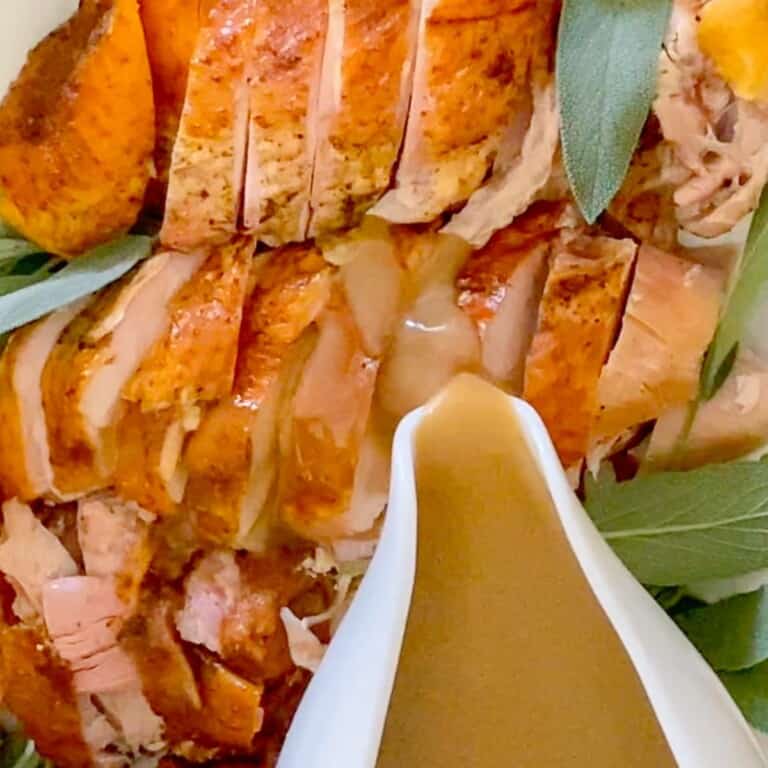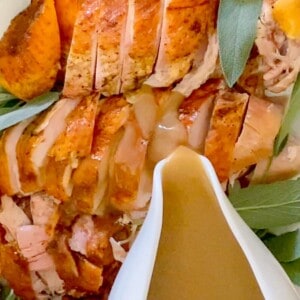 Turkey Gravy Recipe
Discover the secret to creating velvety-smooth turkey gravy that will steal the show at your next holiday gathering. Our step-by-step recipe card guides you through each flavorful detail, from the perfect pan drippings to the ideal consistency. Elevate your culinary skills and delight your guests with this essential Thanksgiving recipe.
Instructions
Make the roux by melting ¼ cup of unsalted butter in a medium saucepan. Add the ¼ cup of flour and whisk together until the mixture is thick and a nice golden brown.

¼ cup unsalted butter,

¼ cup flour

Add the turkey drippings (or stock). Bring the gravy to a boil and then reduce it to a simmer. Simmer for 5 to 7 minutes until the gravy begins to thicken.

Season the gravy with sage, thyme, salt, a pepper.
Laura's Tips + Notes
Gluten-free gravy
Omit the butter and flour that is used to make a roux.
Use ¼ cup of cornstarch and ¼ cup of water or broth to make a slurry.
Add the slurry to the turkey broth or reserved pan drippings.
Bring to a boil and simmer until the gravy thickens.
YOUR OWN NOTES
Sign In to add your own private notes
Nutrition
Serving:
0.25
cup
Calories:
52
kcal
Carbohydrates:
2
g
Protein:
1
g
Fat:
5
g
Saturated Fat:
3
g
Trans Fat:
1
g
Cholesterol:
12
mg
Sodium:
234
mg
Fiber:
1
g
Sugar:
1
g
Calcium:
3
mg
Iron:
1
mg