Summer Berries are Everywhere!
It's the perfect time to enjoy fresh raspberries with coconut cream.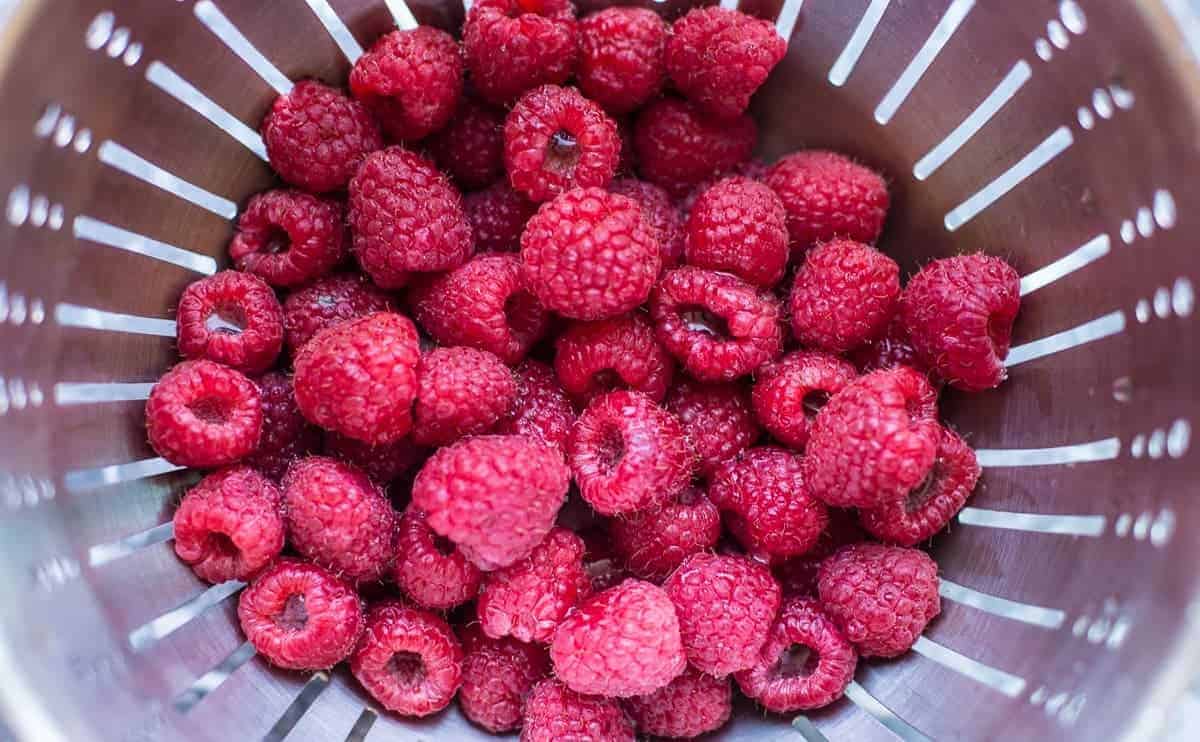 I kind of feel like smothering any fruit in coconut cream is a good idea.
You can really use and kind of fruit here. Mangoes are an especially delicious choice with this lightly sweetened coconut cream.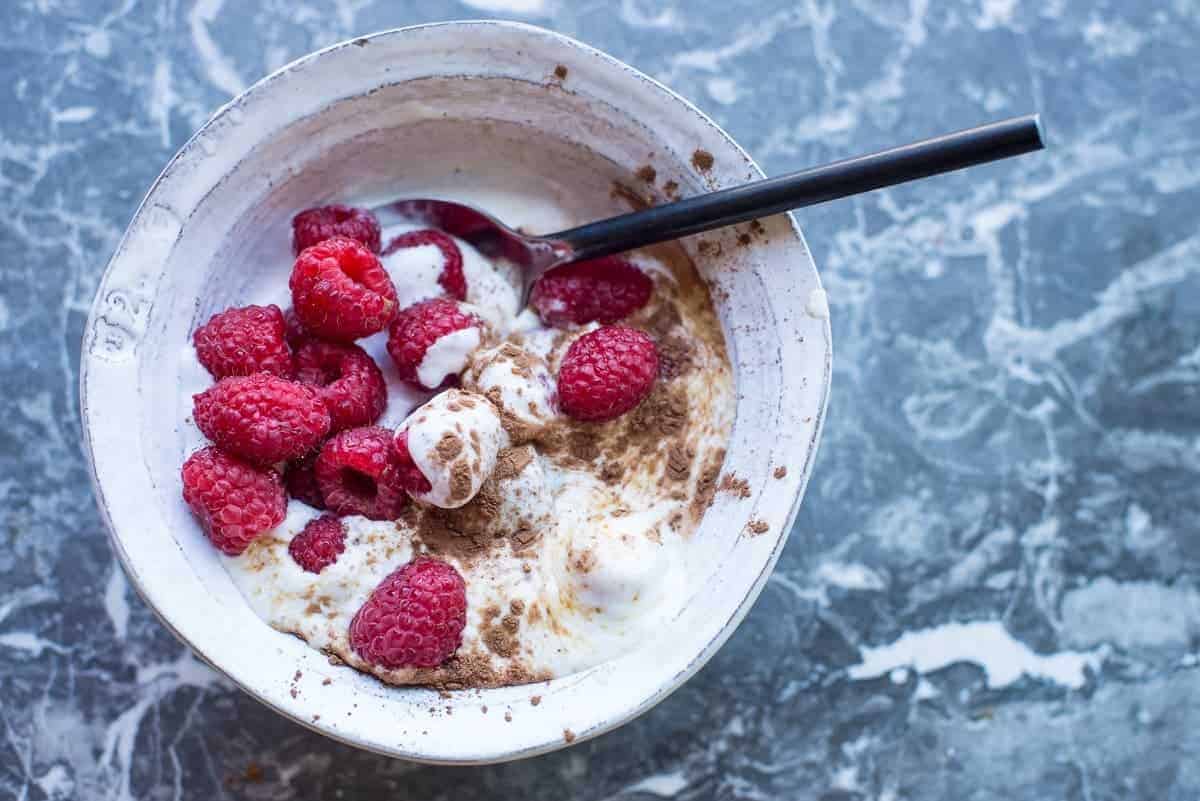 The coconut cream is sweetened with just a tiny bit of maple syrup. I like to sprinkle just a little bit on panela sugar on top. Panela sugar is a less refined sugar that is not only tasty but has has some actual nutrition in it.
The Panela sugar is a little bit crunchy so it adds a nice texture to cream. Give it a try. I love using panela sugar as a substitute for regular sugar. It's rich and earthy. It gives baked goods a really distinctive flavor profile. I almost can't describe it. You really need to try it.
I finish everything off with a dusting of unsweetened cocoa powder.
We hope you enjoy this super easy dessert.
Make sure to get every recipe delivered to your inbox. Subscribe to our email list and get recipes and other freebies delivered right to your inbox.
Don't forget to follow Foodology Geek on Instagram, Facebook, Pinterest, and Twitter. And if you love it…give us a share or a shout out!
We are just getting started and hope to bring you so much Food Love 💞!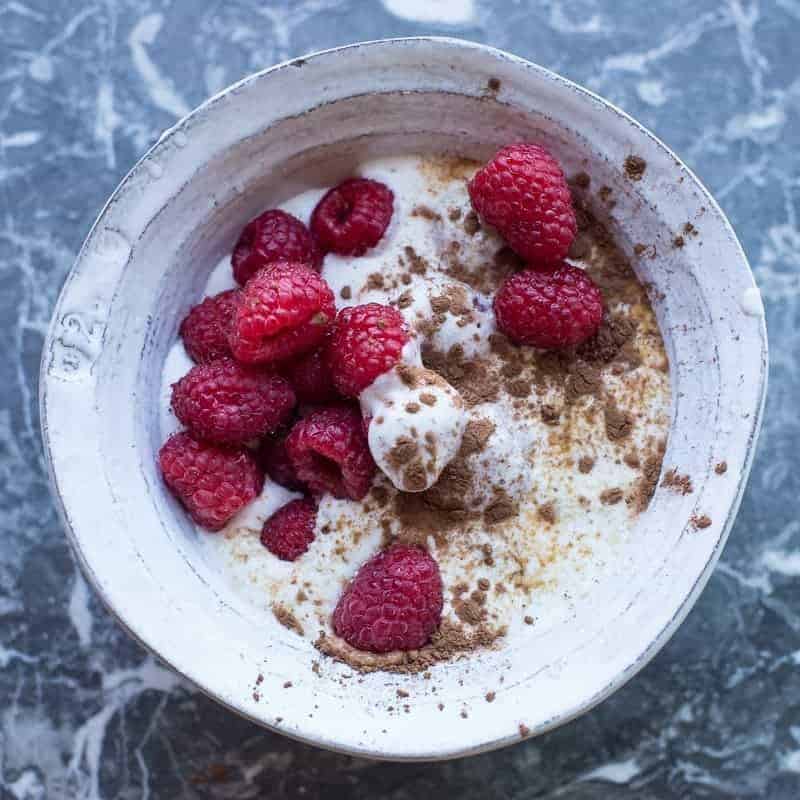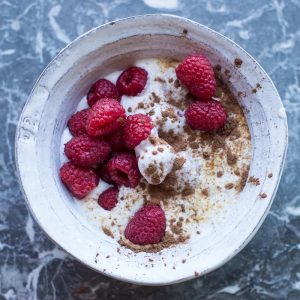 Raspberries and Coconut Cream
Super easy berry filled dessert, packed with healthy fats. This recipe is Vegan and Paleo friendly. It is also fresh and delicious.
Print Recipe
Pin Recipe
Instructions
Whip cold coconut cream and maple syrup together until slightly fluffy. (cream will still be loose)

Add ¼ of the berries to each of 4 bowls.

Add ¼ of the coconut cream to each of the 4 bowls.

Dust with panela sugar and cocoa powder.
Notes
Panela sugar is a type of unrefined sugar. It's flavor is raw and rich. It adds a wonderful flavor element here. If you cannot find it some turbinado sugar would also work. Or just leave the sugar out all together.
Nutrition
Calories:
199
kcal
|
Carbohydrates:
16
g
|
Protein:
2
g
|
Fat:
15
g
|
Saturated Fat:
13
g
|
Sodium:
2
mg
|
Fiber:
6
g
|
Sugar:
7
g
|
Calcium:
26
mg
|
Iron:
1.5
mg
(Visited 72 times, 1 visits today)