If you're craving authentic Carne Asada tacos, look no further! This carne asada recipe is legit. You'll get flavorful, tender, grilled beef that makes the most amazing tacos, burritos, and tortas. I've tried hundreds of recipes so you don't have to.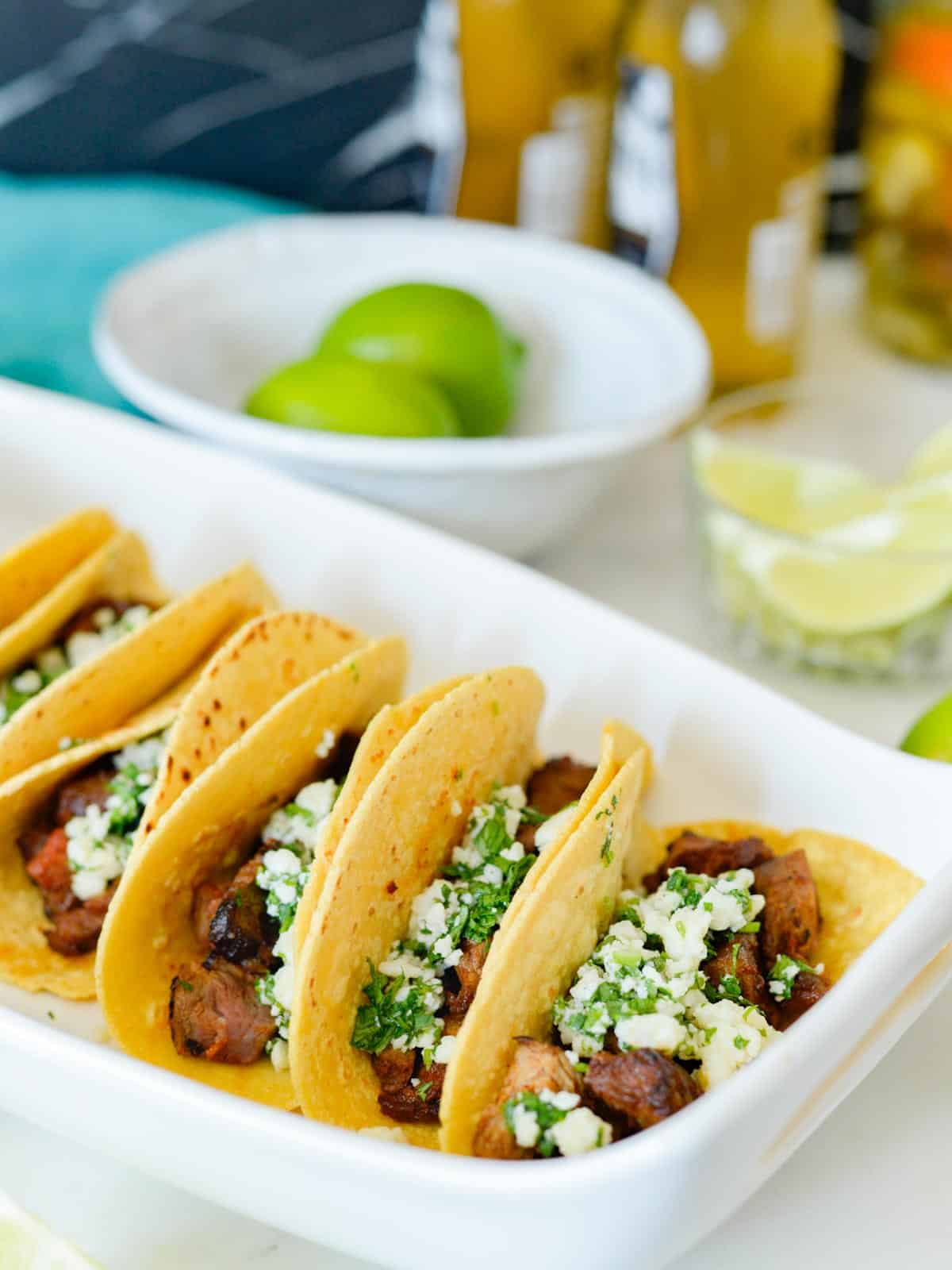 If you've been hanging out with me for a while you already know that tacos are my jam. I could eat tacos every single day. Seriously!!
Growing up in San Diego, I had a front-row seat to what are arguably the best tacos on the planet. San Diego's Mexican food scene is heavily influenced by Baja California and the fresh flavor that come with it.
My daughter actually cut her teeth on carne asada meat when she was a baby. Not joking!
I've lived in the Bay Area now for about 12 years and I still haven't been able to find a carne asada taco that comes close to the ones that I've had in Chula Vista.
Places like Tacos El Gordo, I mean you haven't lived if you haven't had tacos from Tacos El Gordo.
Anyway....out of sheer desperation, I've had to learn how to make carne asada the way I know carne asada should taste. And now I'm going to share it with you.
The Elements of a Perfect Taco
To find the ultimate taco experience you need the perfect combination of fresh ingredients.
The perfect taco must have a fresh corn tortilla with the perfect chew.
The meat needs to be tender and seasoned to perfection.
Its toppings should be simple; pico de gallo, cilantro and onions, and some guacamole. DONE!
What You'll Love About This Carne Asada Recipe
Easy to make. With just a few ingredients you can toss together the marinade, pop it in the fridge and get ready to have the tastiest tacos that you've ever had.
Freezes beautifully. Carne Asada meat freezes beautifully. I highly recommend doubling this recipe. Trust me you're gonna want more tomorrow OR next week.
No kitchen clean-up. Because you grill this recipe, you'll have virtually no kitchen clean-up. No pots and pans to scrub!? Bonus!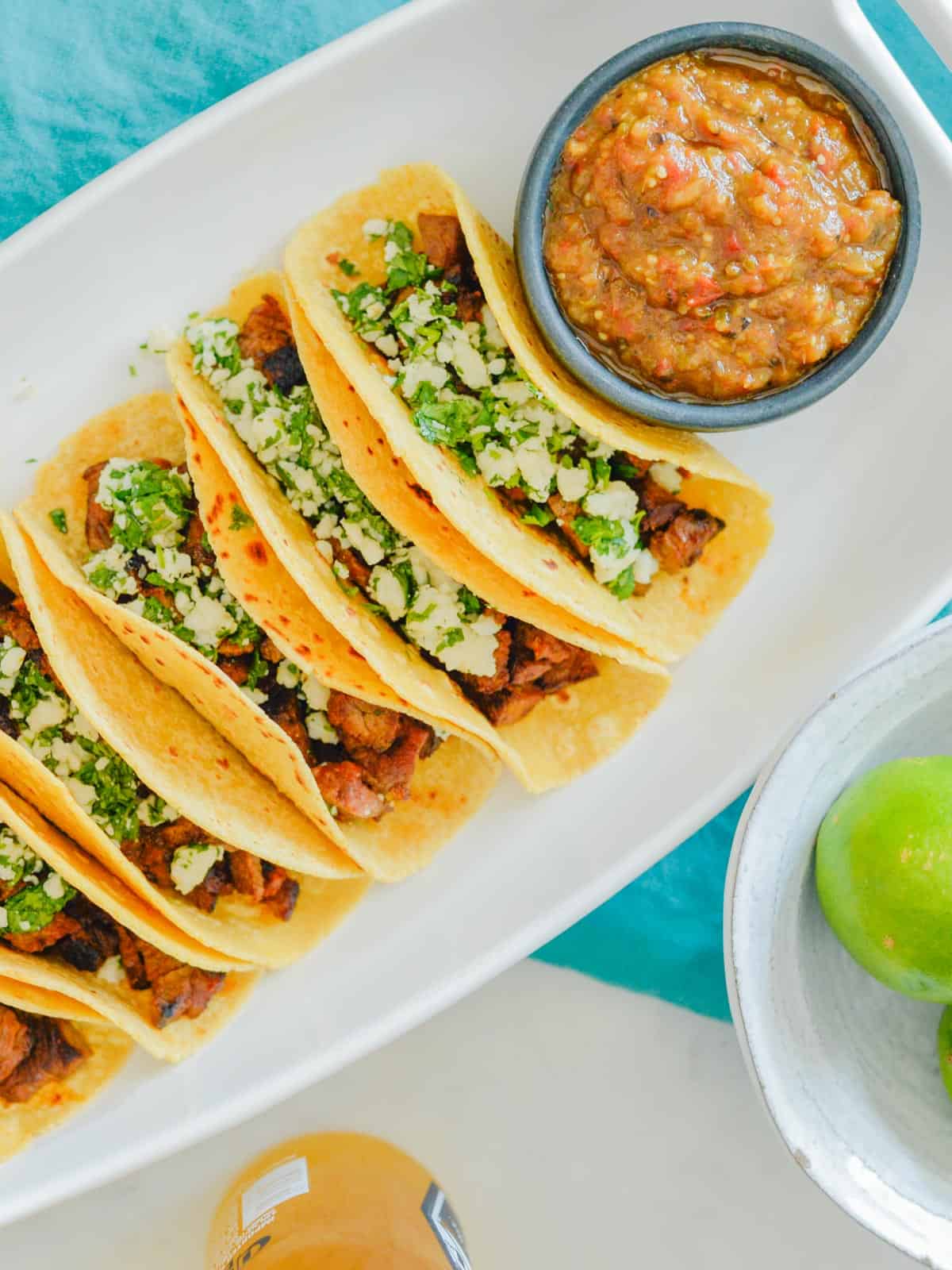 Carne Asada Recipe Notes
Meat Selection
Most carne asada recipes call for flank steak. Which is fine. However, you can also use Sirloin, tenderloin, flat iron, or chateaubriand steak to make this recipe. I most often make this recipe with thin-sliced sirloin or chateaubriand.
I'm not going to argue with the millions of carne asada recipes on the internet that call for flank steak. I'm just going to say that I like to use a more tender cut of beef when I'm making carne asada.
What is Carne Asada?
Carne asada is simply marinated beef that is grilled and served sliced. I think flank and skirt steak have been used traditionally because they are cheap and easy to find.
In the case of carne asada tacos and burritos, the carne asada meat is typically chopped after grilling and then reheated on a griddle before it's added to tacos or burritos.
I think this last step is imperative because it gives the meat slight crispiness on the outside but it's still incredibly tender and flavorful on the outside.
Whatever cut of beef you decide to use you'll want two to three pounds.
🤓 Geek Wisdom: Ask your butcher to cut your steak thin. They have the sharpest knives and then you won't have to worry about it later.
Step-by-Step Instructions
Make the carne asada marinade.
Marinate the steak.
Grill the steak.
Slice the steak against the grain. This is super important.
Carne Asada Marinade Recipe Ingredients
Marinating the steak before grilling has two functions. It helps to tenderize the meat and it adds a delicious flavor to the meat. It's the best way to season carne asada.
Fresh limes. You'll need about a quarter cup of lime juice. Usually 2 to 3 limes depending on how juicy they are.
Oranges. Use a half cup of orange juice. Sour oranges are best.
Mexican beer. I like a light-dark Mexican beer for this recipe.
Onion. One-half of a white or red onion is fine.
Cilantro. Fresh cilantro. You'll want to use half of the bunch for the marinade and half to chop with the remainder of the white onion.
Serrano peppers. I usually add one or two chopped serrano peppers.
Spices. Oregano, cumin, salt, and pepper.
Olive oil.
How To Cook Carne Asada
Traditionally, carne asada is grilled. But, what if you don't have a grill? Luckily you can still cook carne asada in a skillet on your stovetop.
Cooking Carne Asada On The Grill
Heat up the grill to high heat. I like to get my grill for about 500℉.
Add the marinated carne asada to the grill.
If your meat is cut thin, you'll only need to cook it for about a minute. (30 seconds on each side, tops)
If you have a thicker cut of beef it may take a little longer. I like to get the internal temp to about 135℉ on a thicker steak cut.
Cooking Carne Asada On The Stove
Slice the marinated meat into bite-sizewd pieces.
Heat up a large heavy bottomed skilet over medium-high heat.
Add the chopped meat to the skillet. use tongs or a metal spatula to sauté the meat for a about a minute.
If the meat you are using is a thin cut, you'll only need to cook it for a few minutes.
If you have a thicker cut of beef it may take a little longer. I like to get the internal temp to about 135℉ on a thicker steak cut.
Slicing Meat For Tacos
To slice carne asada, use a sharp knife and slice against the grain.
Carne Asada Tacos
In my opinion, tacos should be simple. All you need a really good tortilla, perfectly seasoned meat, a little cilantro and onion, and some simple guacamole.
Storing + Freezing Tips
Leftover carne asada freezes really well so don't be afraid to make a big batch and have more tacos next week.
How to store leftover carne asada
Leftover meat can be stored in the fridge in an airtight container for up to a week.
How to freeze leftover carne asada
I like to freeze carne asada using a freezer bag. Add up to 3 cups into the zip-top freezer bag and press as much air out as you can. Seal and freeze for up to 4 months.
How to reheat carne asada
The best way to reheat carne asada is in a skillet.
Heat the skillet over medium-high heat and add about 1 cup to the hot skillet. Toss in the skillet until the meat is fully reheated. The safe temperature for meat is 165℉.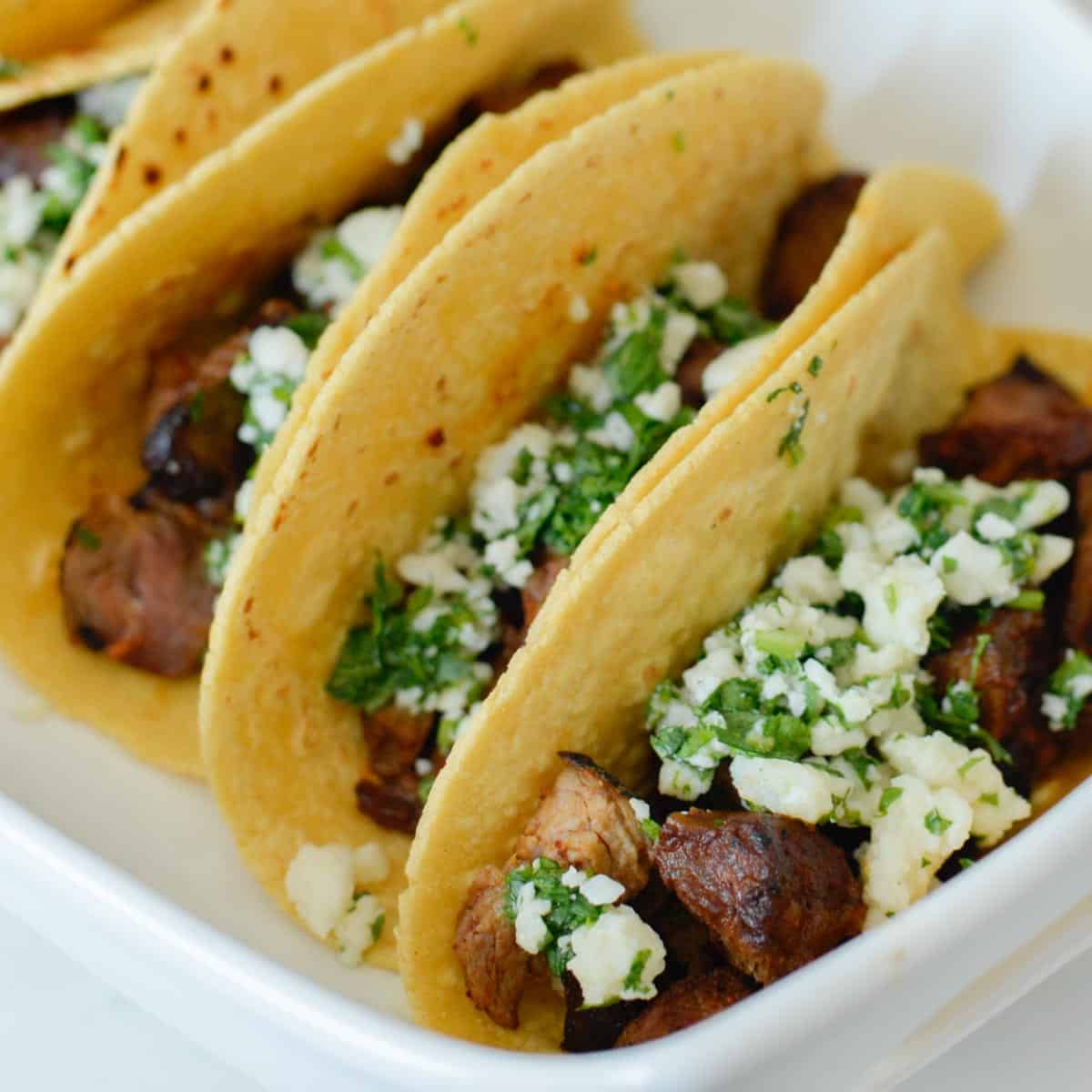 What To Serve With Carne Asada Tacos
Of course, tacos need all of the usual suspects like pico de gallo, guacamole, and corn tortillas.
I also love having fresh limes, taco slaw, and diced cilantro and onions. And don't forget the Mexican Street Corn, it's so good and the perfect side dish to serve with tacos.
Hungry for more Mexican Food?
➽ Did you make this recipe? I love to see what's going in your kitchen. Show me what you're cooking. 🍳 Tag me @foodologygeek on your favorite social channel! Facebook, Instagram & Pinterest. If you loved ❤︎ this recipe, please leave a 5 ★ review and a comment!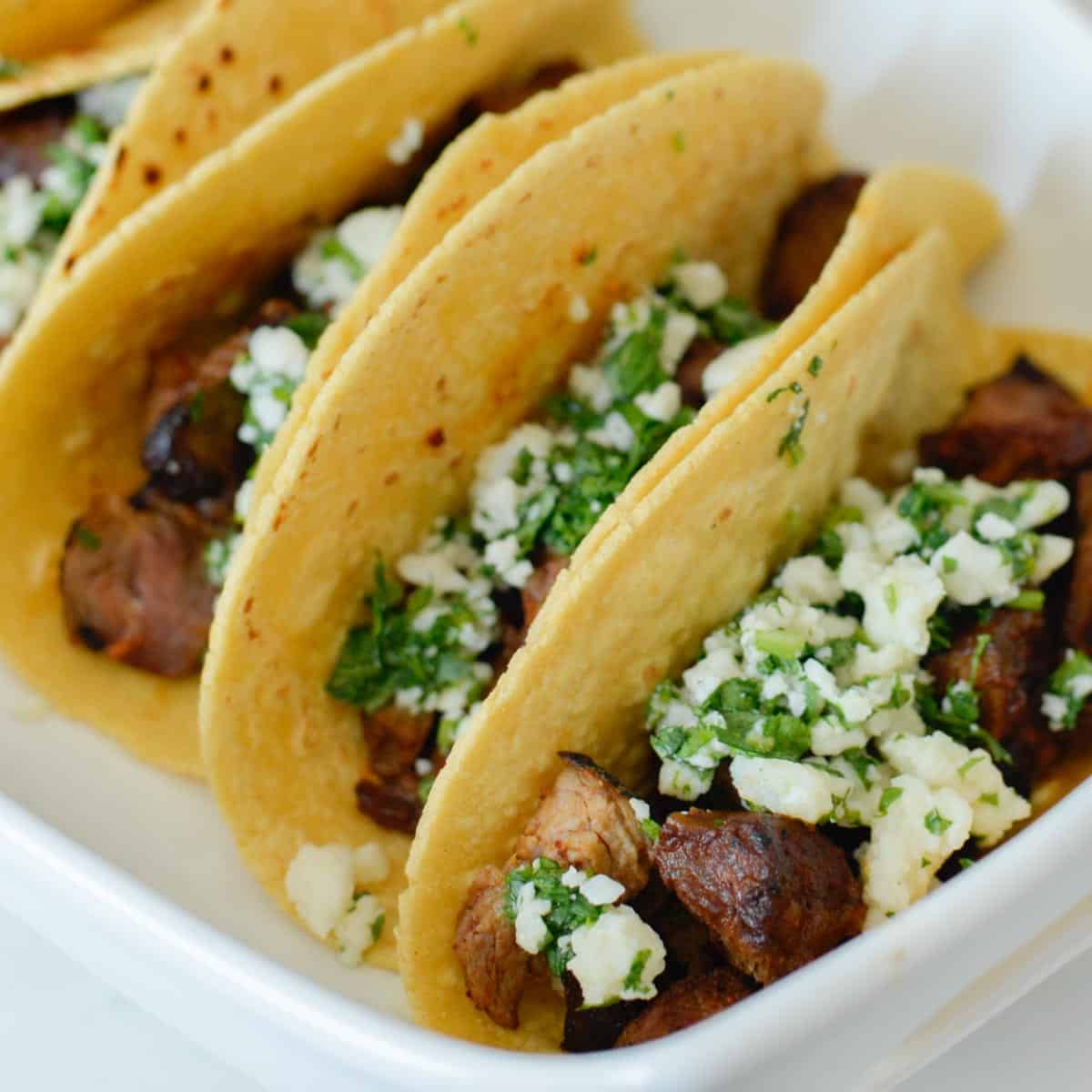 Carne Asada Tacos
Marinated and grilled carne asada steak recipe. This meat is super flavorful and tender. It makes the best carnea asada tacos, burritos, and tortas.
Ingredients
2 to 3

lbs

steak

flank steak, flat iron, sirloin, filet, or chateaubriand steak
Marinade
¼

cup

lime juice

2 to 3 limes

½

cup

orange juice

sour oranges are best

1

cup

Mexican beer

2

teaspoons

olive oil

2

serrano peppers

or jalapeños sliced

½

white onion

sliced

½

bunch

fresh cilantro

chopped

1

tablespoon

dried oregano

chopped

2

teaspoons

dried cumin

1

teaspoon

kosher salt

¼

teaspoon

black pepper
Chipotle Crema
½

cup

creme fraiche

for vegan version substitute vegan sour cream

2-3

whole chipotle peppers
Avocado Cilantro Lime Crema
½

cup

creme fraiche

for vegan version substitute vegan sour cream

½

avocado

½

bunch

fresh cilantro

½

lime

juiced
Other Toppings and Stuff
diced avocado

guacamole

taco slaw

finely shredded

diced white onion

fresh cilantro

cotija cheese

hard mexican cheese

corn tortillas
Instructions
How to Marinade Carne Asada
Marinade for 2 hours minimum (I usually marinade overnight).

Place ingredients in a high powered blender and blend until smooth. Add a little water if you like your crema on the thinner side.
How To Grill Carne Asada
Grill on High. Usually, 2 minutes each side for medium rare (140°F).

*grill temperatures may vary

Cover with foil and allow meat to rest for 10 minutes before slicing.
Nutrition
Calories:
339
kcal
Carbohydrates:
3
g
Protein:
31
g
Fat:
23
g
Saturated Fat:
10
g
Cholesterol:
92
mg
Sodium:
469
mg
Fiber:
1
g
Sugar:
1
g
Calcium:
35
mg
Iron:
3
mg
FAQs and Expert Tips
What cut of meat is carne asada?
Most carne asada recipes call for flank or skirt steak.

However, carne asada translates into grilled meat. I typically use thinly sliced sirloin when I make carne asada.
How much carne asada per person?
Usually, a half-pound of meat per person is a good estimate. You will usually have a few people that eat more and some that eat less.

Planning for a half-pound per person is usually a pretty good target. Always estimate on the high side so you don't run out.
How to marinate carne asada.
Marinate carne asada in a nonreactive container like glass or plastic.

The easiest way to marinate carne asada is to add the marinade to a gallon-sized freezer bag and then add your meat to it. Seal it and let is sit in the fridge for up to 48 hours before grilling it.
What else can you make with carne asada meat?