Can I be perfectly honest? This carne asada taco recipe is a desperate attempt to hold on to the last days of summer. I know everybody loves Fall. It's cool and crisp and laced with spiced pumpkin treats. But for me...I love the summer. The sun – the grilling – the being outside every day. So, in honor of summer and as a great farewell, I am posting one last hoorah of summer food.
I need to preface this post with a confession –I'm a taco snob.
Spending the better part of my formative years in San Diego I've had access to the best tacos and carne asada burritos, might I dare say, on the planet, it's been pretty hard to find anything that compares.
I've been to Mexico. I have been to Baja. I've lived on the East Coast. I've lived in the Mid West, in NorCal, and in So Cal. Over the years I've tried to find a taco shop that compares to my ideal San Diego taco shops; trust me, I'm still on the hunt.
In the meantime, I have to make my own.
A perfect taco isn't as easy as it seems!
The struggle is real!
Trying to find the ultimate taco experience that's the perfect combination of fresh ingredients and hole in the wall taco shop ambiance.
The Elements of a Perfect Taco
It must have a fresh corn tortilla with the perfect chew.
The meat needs to be tender and seasoned to perfection.
Its toppings should be simple; pico de gallo, cilantro and onions, and some guacamole. DONE!
My summer lovin' taco creation is not exactly a completely traditional taco shop taco – but it's fantastically delicious.
I try to cook with whatever we have in the fridge.
I like to think of it as being on an episode of Chopped in my own kitchen.
What are my mystery ingredients tonight?
On this particular night, I had some flat iron steak in the fridge, some cabbage, and a few ears of corn.
So, of course, I would make a carne asada marinade and some roasted corn salsa. Right? Who wouldn't?
Amazing Roasted Corn Salsa
Another reason for the corn salsa, besides the fact that it is delicious, is that my daughter is vegan.
I am constantly inspired to fill her plate with some delicious healthy food.
While she hasn't yet completely converted her carnivorous mom, her decision to be vegan has ramped up our veggie game for sure and forced me to think of meals that are Vegan Adaptable.
For my daughter (we call her Bean), she had some roasted sweet potatoes with my taco seasoning blend and some roasted corn salsa.
I also made her a version of the avocado cilantro lime crema and chipotle crema with some vegan sour cream.
She warmed up some vegan refried beans and — bam! — a vegan-friendly taco night.
The corn salsa is great on tacos but I also eat with grilled meat or any kind.
And don't forget the cremas. I did an Avocado Cilantro Lime Crema and a Chipotle Crema.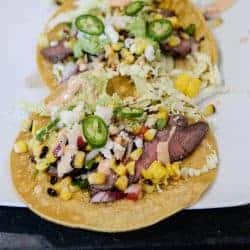 Carne Asada Tacos with Roasted Corn Salsa and Chipotle Crema
Recipes and ingredients for both the steak and vegan versions of taco night at our house.
Ingredients
Marinade
Roasted Corn Salsa
Chipotle Crema
½

cup

creme fraiche

for vegan version substitute vegan sour cream

2-3

whole chipotle peppers
Avocado Cilantro Lime Crema
½

cup

creme fraiche

for vegan version substitute vegan sour cream

½

avocado

½

bunch

fresh cilantro

½

lime

juiced
Other Toppings and Stuff
diced avocado

guacamole

cabbage

finely shredded

diced white onion

fresh cilantro

cotija cheese

hard mexican cheese

corn tortillas
Vegan Substitute for Meat
refried beans

roasted sweet potatoes

toss with taco seasoning
Instructions
Meat
Marinade for 2 hours minimum (I usually marinade overnight).
Roasted Corn Salsa
Preheat oven to 425°F. Roast for 20-30 minutes until browned.

Alternatively you can grill the corn in the husk. Soak cobs in water for 10 minutes. Put on the grill at medium-high temperature, and grill until slightly charred.

Remove husks and cut corn off of the cob.

Add spices, salt, pepper and oil and a squeeze of lime juice. Toss well.
Roasted Sweet Potatoes
Can be roasted with corn.

Cut sweet potatoes into ½ inch pieces.

Toss with olive oil and taco seasoning. Roast at 425℉ for 20-30 minutes, until lightly browned.
The Cremas
Place ingredients in a high powered blender and blend until smooth. Add a little water if you like your crema on the thinner side.
Grill Meat
Grill on High. Usually, 2 minutes each side for medium rare (140°F).

*grill temperatures may vary

Cover with foil and allow meat to rest for 10 minutes before slicing.