Smoked Brisket Recipe: A BBQ Lover's Dream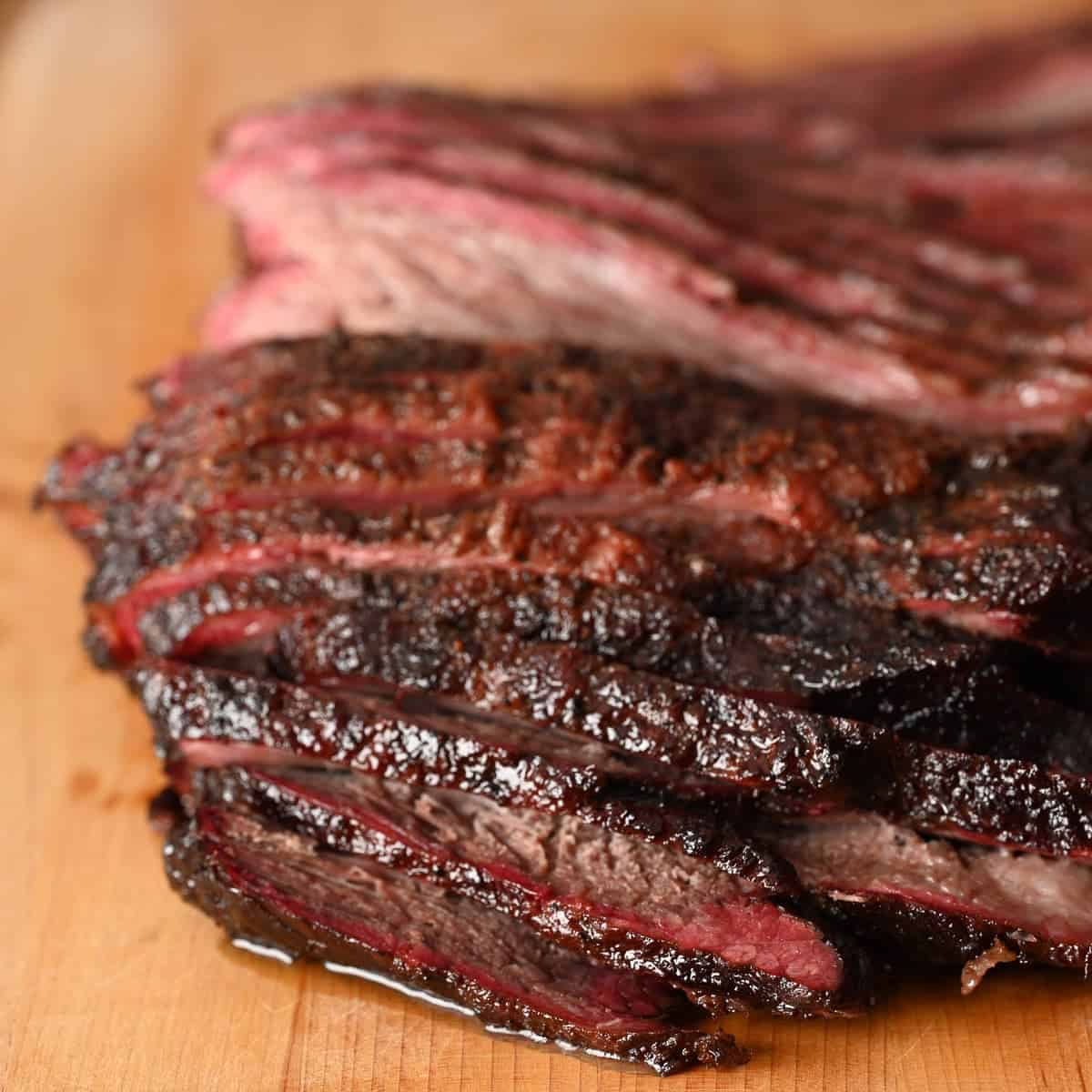 Recipe
Comments
Save
Go to Collections
This post may contain affiliate links. Please read my
disclosure policy.
Smoky, juicy, melt-in-your-mouth smoked brisket is a labor of love. Cooking brisket is a simple process, but it does take time. All you need is patience and the perfect cut of beef brisket.
It can be intimidating to tackle making a massive hunk of meat like a whole packer's cut brisket.
But don't fret; we will take you through the process step by step, and by the time we're done, you will feel confident enough to tackle this smoked brisket recipe.
Let's Start With The Basics…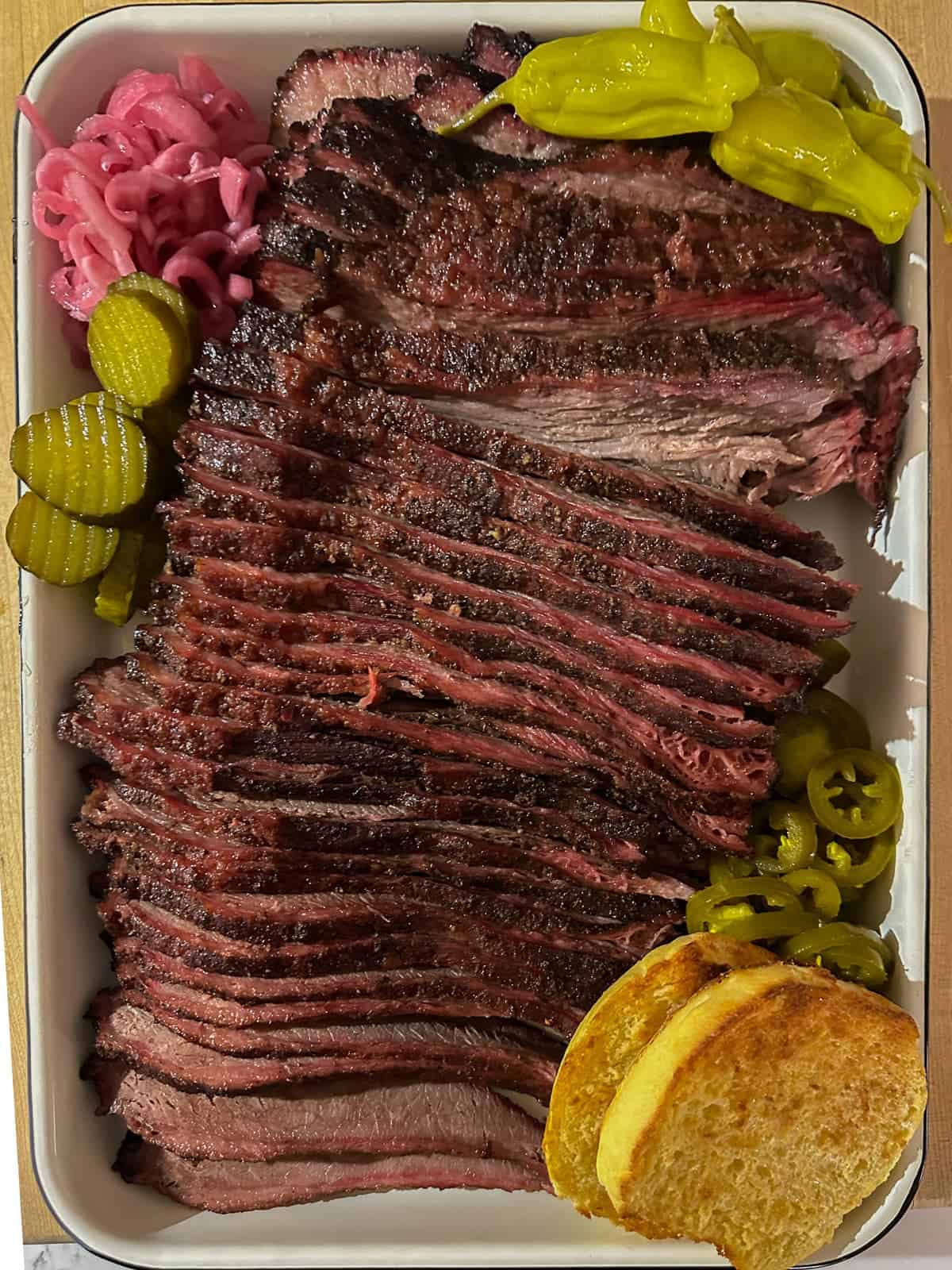 What is Brisket?
A brisket is essentially the pectoral muscle of the cow. It's made up of several parts. At the butcher's counter, you might see several different cuts of brisket. The most common brisket cuts are:
The Flat
The flat is the main part of the brisket; it is the deep pectoralis muscle and lies closest to the rib cage. This muscle is worked the most and is, therefore, the leanest part of the brisket.
The flat is used most commonly for corned beef and when making pastrami.
The Point
The point of the brisket is the outer portion of the muscle, known as the superficial pectoralis muscle. This part of the muscle does very little work and is, therefore, more marbled. This part of the brisket is commonly used to make brisket burnt ends.
Next time you are at your favorite BBQ joint, and they ask you if you want the leaner or fattier brisket cut, you'll know exactly what they are talking about.
The Full Packer
A full packer is when the brisket is untrimmed. This cut comprises both the flat and the point muscles and has a fat layer that runs between them and a substantial fat cap.
When you are smoking a brisket, this is the crown jewel. It's a large cut of meat, but you'll be spending 11 to 15 hours with this baby. If you want the whole experience, then the full packer it is.
How to Buy a Brisket
The best-smoked brisket is only as good as the cut of meat you start with. Make sure you are sourcing your meat from a reputable farm. There are several online sources for quality meat:
Snake River Farms
Costco is a good source
Your local butcher
How Many People Will a Brisket Feed?
I usually guesstimate that one pound of brisket will feed one person. A significant amount of fat is cooked off the initial weight of this cut of meat. So after it's been trimmed and smoked, one pound per person is a pretty good average. You may have leftover brisket. But that's nothing to complain about.
There is always a mixture of small and big eaters when feeding a crowd, and this estimate usually rounds out in the end.
What You Need (Tools)
Smoker: Any smoker will do.
Fuel: Use lump charcoal. Never use charcoal briquets for smoking.
Wood: Your choice of wood will vary depending on meat and preference.
Probe Thermometer: I use the Signals muli-channel thermometer from Thermoworks. It allows you to monitor the cook on your phone with an app.
Pink Butcher Paper: The best for wrapping meat while smoking it.
Deboning or trimming knife: The blade on this style of knife makes it easier to trim the fat without cutting into the meat.
Brisket slicing knife: The long, thin, even blade is fantastic for slicing brisket perfectly.
How to Prepare A Brisket For Smoking
The prep work for making a smoked beef brisket recipe is relatively simple. You'll need to start prepping the day before you plan on smoking the brisket.
After rinsing the meat in cool water (if needed) and drying well, you're ready to get started.
Trim it
There are various schools of thought when it comes to trimming a brisket. One is to keep it lean and trim a large part of the fat off.
The second is to do a minimal trim of the fat. This is the method that I use. The fat on a brisket renders during the smoking process, giving the brisket flavor and tenderness.
I approach the fat, looking at how thickly it's layered. The goal of trimming a brisket is to trim off any noticeably thick areas of fat and to leave a nice, even layer of fat on the fat side.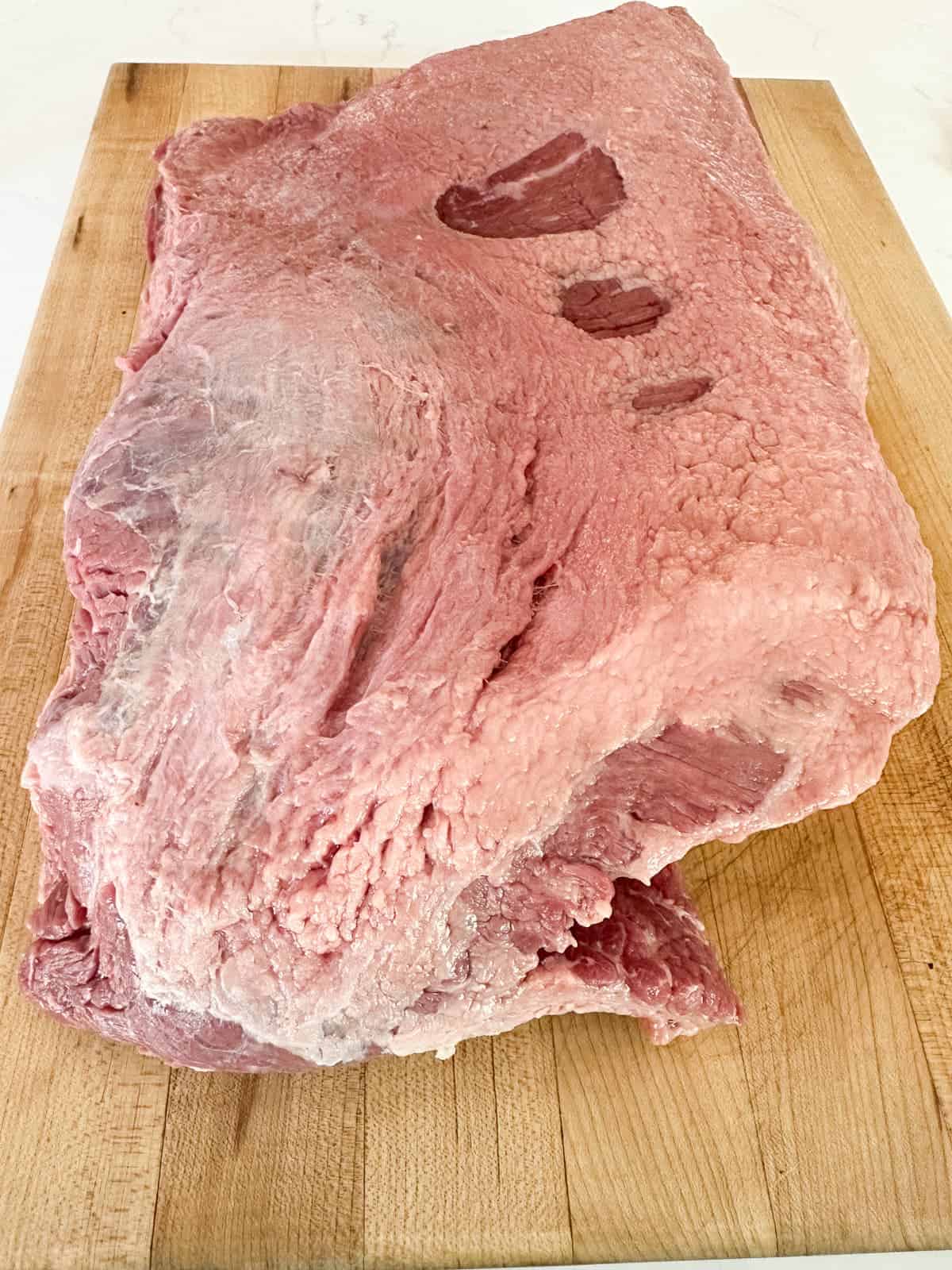 The Fat Layer
This layer of fat runs between the flat and the point. This layer of fat is left intact for smoking.
The Fat Cap
The fat cap is on the outside of the brisket and predominately covers the point. You never want to remove all the fat from the brisket. This layer of fat keeps the brisket moist and contributes to that beautiful bark.
Season It
Seasoning a brisket is also up to personal preference.
Texas-style smoked brisket is seasoned with nothing but salt and pepper. A brisket gets all of its flavor from the beef and the smoke. You can't get purer than that.
Kansas City-style brisket has a sweeter rub. Kansas City BBQ is characterized by its thick, sweet sauces and sweet and spicy dry rubs. My BBQ rub is similar to what you might see in Kansas City. It's made with brown sugar, salt, paprika, and other spices.
Memphis-style brisket is similar to the Kansas City style. Similarly, they both use a sugar-based dry rub for smoking. The main difference is that Memphis-style BBQ sauces are thin and vinegar-based, while Kansas-City barbecue lovers like a sticky, thick, sweet BBQ sauce.
Mustard. You've probably also seen mustard used as a binder when seasoning a brisket. The mustard adds flavor and enhances the bark's color during smoking. Experiment and find your favorite method of seasoning brisket.
You can keep it simple with salt and pepper, letting the flavor of your meat and hardwood be the star, or you can spice things up with a flavorful, sweet, spicy dry rub. Use your favorite BBQ rub to season a brisket.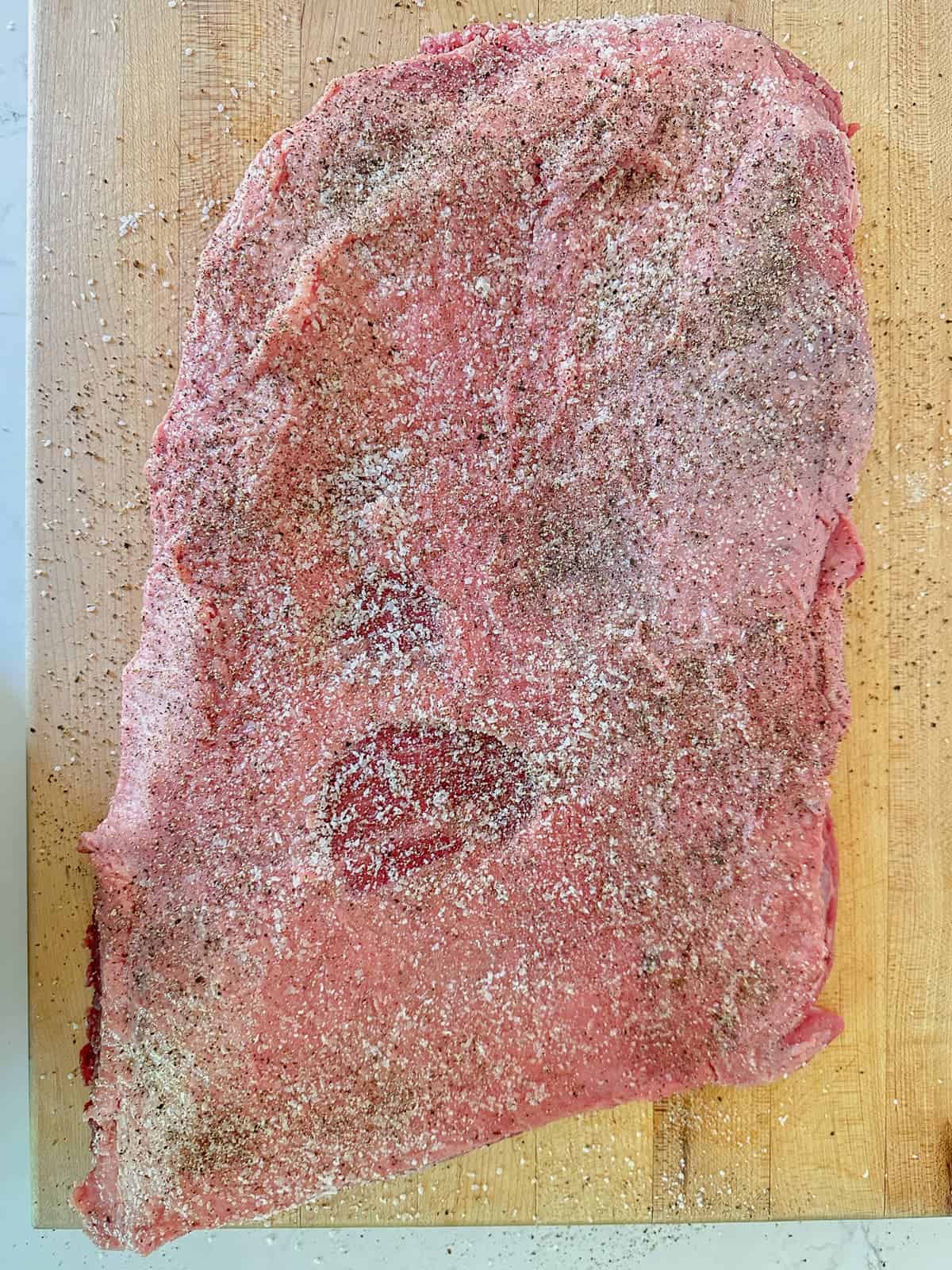 Setting up your smoker
Learning how to smoke meat takes trial and error. You need to get in there, try it, and find what works for you. Know your smoker, know how to read temperatures, and everything else will come together.
Smoking meat is about learning to control airflow to your fire and keep your pit temperature slow and steady at a relatively low temperature for a long time.
Learning to control the airflow that fuels your fire will allow you to master cool smoke. Cooling a smoker down is hard, so it's best to learn to control the heat before it gets too hot.
What Charcoal Is Used?
You want to use lump charcoal and wood when you're smoking meat. Never use briquets. Briquets contain chemicals you don't want in your smoker, especially if you're using a ceramic Kamado Joe grill smoker or a Green Egg.
The larger the lumps of charcoal are, the slower they will burn. I recommend…FOGO, Jealous Devil, or Green Egg Brand Premium Charcoal.
What wood is best?
Texas brisket is typically smoked with post oak, which is white oak. Oak imparts a sweet and smoky flavor to the brisket. Mesquite is another hardwood that is used in Texas BBQ.
Hickory is the most commonly used hardwood for smoking in Memphis and Kansas City.
Picking a wood to smoke with is a matter of preference. Each type of wood imparts a different flavor to the meat as it smokes.
For brisket, I like oak or cherry wood. I often use Kiawe wood. It's one of my favorites for smoking almost everything. It pairs beautifully with both pork and beef.
The Cook (aKA The Smoke)
Alrighty, it's time to get started.
What temperature to smoke at
You'll want to bring your smoker to temperature before adding your meat. After you build your fire, close the smoker and let the pit temperature come to 225℉. If it is a little hotter, that's okay too.
There are a lot of opinions about the perfect temperature for smoking BBQ. This is another area where you'll find your sweet spot after you've tried your hand a few times on the smoker.
225 to 275℉ are all within the acceptable range for smoking. The lower the temperature, the longer your meat is exposed to the smoke. This long exposure to smoke will give you a deep smoke ring.
A hotter temperature will cook the meat more quickly and give you a more pronounced bark.
I usually shoot for 230 to 240℉. This is my sweet spot. I like the results of most meats I have smoked at this temperature.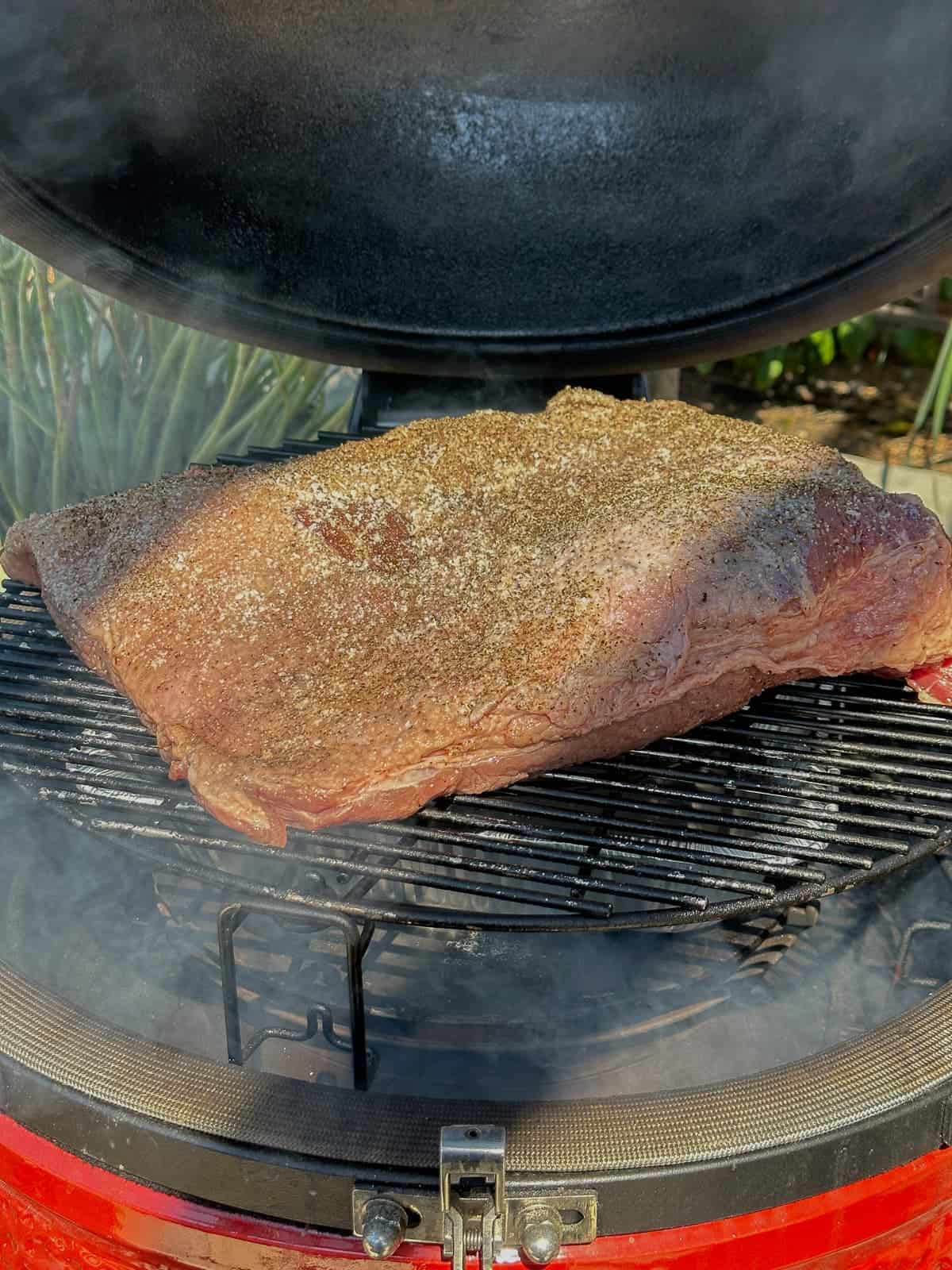 How long does it take
A general estimate for timing is to plan on 1 hour for every pound of brisket.
Outside temperatures, fluctuations in fire temperature, and even the leanness of the brisket will all play a factor in timing. A probe thermometer to measure internal temperature is crucial for smoking.
What temperature should the brisket be?
Smoke until the brisket reaches an internal temperature between 193 and 203℉.
At 193℉, the brisket will still be relatively firm but very tender.
At 203℉, the brisket will be very tender, nearly falling apart.
Either is acceptable, and you can also find a temperature that falls in between.
The stall
You will often hear references to "the stall" when you read recipes on smoking meat. So, what exactly is the stall?
The stall happens when the internal temperature stops climbing or even gets cooler by a few degrees.
This BBQ phenomenon is due to evaporative cooling. It's just the moisture getting pulled to the surface and evaporating off, which causes a cooling.
Don't worry; this is totally normal. You have nothing to worry about if your fire is held at the correct temperature (225 to 275℉). Ride it out; you will eventually see the internal temperature rise again.
The stall can hold for several hours if you cook at lower temperatures. It will move faster if your pit temperature is hotter.
Key Temps and Times
Smoker: 225° to 275° F. Lower is safer; higher will cook faster and develop better bark.
Brisket internal temp target #1: 165° F. It's time to wrap in butcher paper.
Brisket internal temp target #2: 193 to 205° F. The brisket is finished cooking, and it's time to rest.
Approximate cook times: 1 to 1 ½ hours per pound. **See note on timing below.
Resting time: 1 to 2 hours or until the internal temp drops between 140° F and 145° F.
| Cut | Weight | Smoker Temp | Approx Cook Time | Done at |
| --- | --- | --- | --- | --- |
| Whole Packer | 14 to 18 pounds | 250° – 275° F | 12 to 18 hours | 193° to 205° F |
| Flat | 6 to 8 pounds | 250° – 275° F | 6 to 10 hours | 193° to 205° F |
Wrap It
Wrapping helps prevent the meat from drying out further during cooking. Once the internal temperature reaches 165℉, it's wrapped in pink paper.
Once a nice bark is developed and the meat has been exposed to the smoke for a while, it's time to wrap it in pink butcher paper.
This paper is designed explicitly for BBQ. You can find it wherever you buy hardwood for smoking or order it online.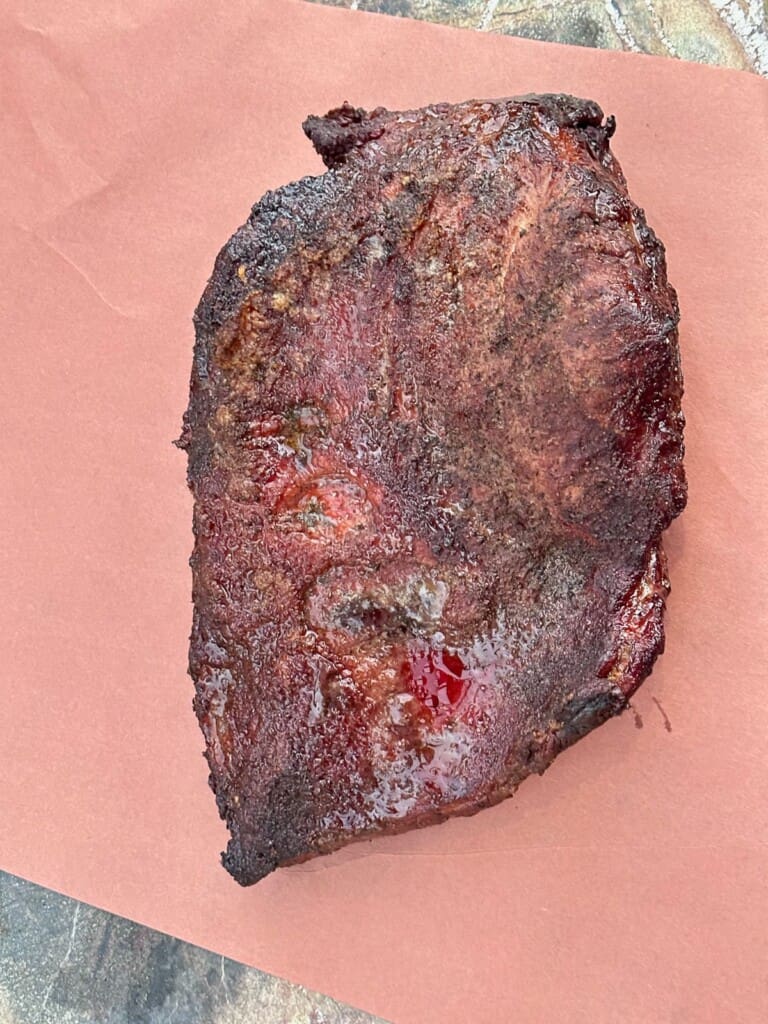 Rest It
Resting a smoked brisket is essential to ensure moisture is redistributed throughout the meat before slicing.
After removing the brisket from the smoker, rest for about 1 hour before slicing.
Slice It
Brisket should be sliced thin and then served. A brisket knife is a long knife with a blunt end that is perfect for carving through brisket effortlessly.
A well-sharpened large chef's knife will also work if you don't have a brisket knife.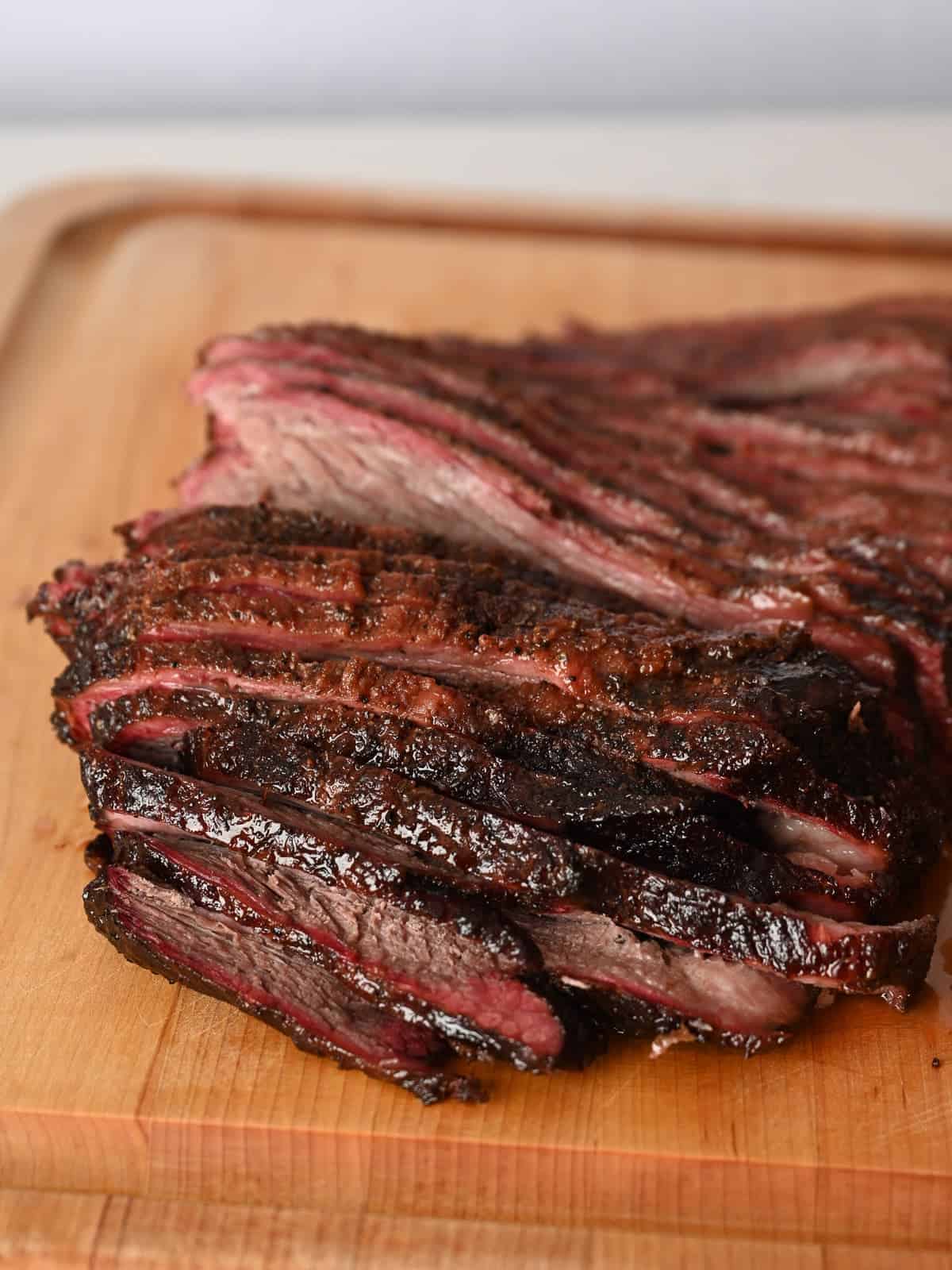 Leftover Brisket?
There are so many things that you can do with leftover brisket.
Brisket Sandwiches
Brisket Tacos
Mac & Cheese with Smoked Brisket
What to serve with smoked brisket
Here are a few must-make BBQ sauces and rubs.
This spicy, tangy BBQ sauce is easy and super delicious. Essential to any backyard cookout and perfect on bbq chicken, ribs, and pulled pork. Try…
More BBQ Recipes
Paella is a Spanish dish that's made with short-grain rice, aromatics, saffron-infused broth, and a mixture of seafood, chicken, and Spanish chorizo. This impressive main…
This tasty seafood marinade is one of my go-to summer grilling recipes. While I mostly use it to make fish or shrimp tacos, I also…
Unleash your inner culinary maverick with the spatchcock turkey technique! Picture this: a succulent, evenly roasted turkey with irresistibly crispy skin and juicy meat. It's…
You're going to love these bacon-wrapped hot dogs. You can cook them on the grill, in the oven, or in your air fryer. No matter…
Leave A Review
Did you make this recipe? Leave a comment and a 5 ★ review. Your feedback helps other readers and helps me continue to offer recipes at no cost. Happy Cooking!!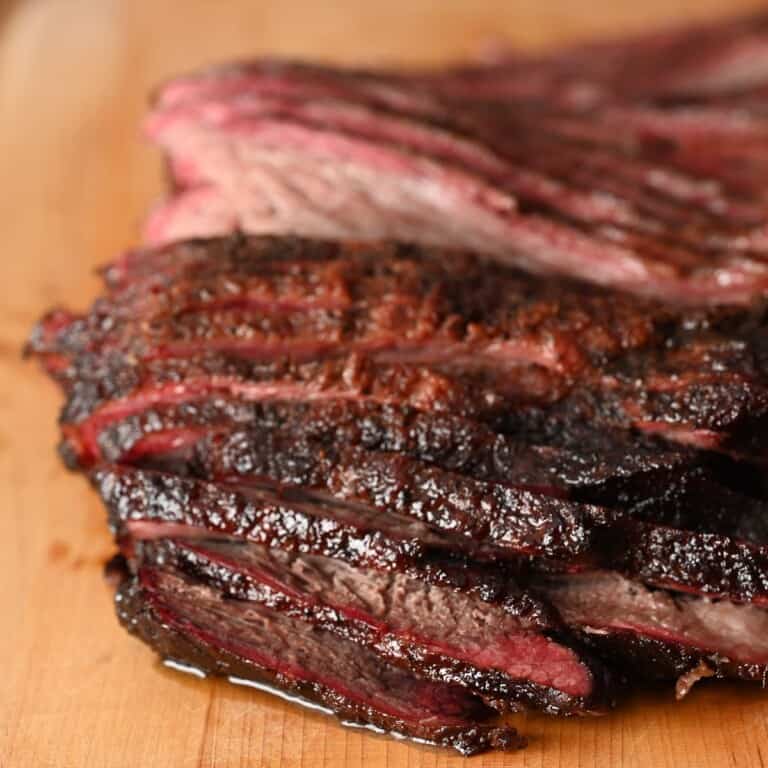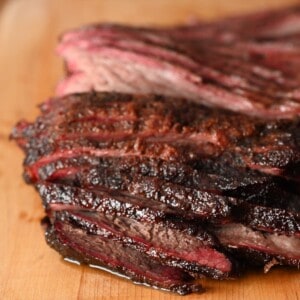 Smoked Brisket Recipe
Explore the secrets of creating mouthwatering smoked brisket, step by step. Learn to smoke it to perfection and serve it in a delectable sandwich.
Ingredients
10 to 14

pound

brisket

,

full packer [note 1]

kosher salt

(affiliate link)

,

or fine sea salt

black pepper,

freshly ground
Instructions
The day before smoking your brisket
Prepare the brisket: Start by rinsing the brisket in cool water and patting it dry.

Trim the brisket: Trim off any excess fat. Leave an even layer of fat on the fat side of the brisket. The fat layer can be as thick as a half an inch.

Season the brisket: Season the brisket generously with salt and pepper. Allow the brisket to sit in the fridge overnight. This resting period allowed the seasoning to penetrate the meat. This is an important step for flavor as well as bark development. [note 2]
The day of your smoke
Plan ahead: Allow about 1 hour per pound of brisket for smoking time. Usually 10 to 14 hours.

Prepare the smoker: Set up your smoker by adding enough lump charcoal for a long smoke. Fill the basket in your ceramic grill to the top. Light the fire. Once the fire has gotten started, close the lid of the ceramic grill and bring the temperature to 225 to 250℉. You want the dome of the ceramic grill to be relatively warm to the touch. Preheating the dome of your smoker will endure a stable, constant cooking temperature. [note 3]

Set the air gaps in the bottom vent and the chimney: The bottom should be open about 1 finger width. The top should be open halfway to the first tick mark. This is a little less than a finger width.

Add the hardwood: Once the smoker has come up to temperature, add 4 of 5 large lumps of hardwood. Close the dome again and let the grill come back to temperature. The dome thermometer should read between 225 to 250℉, and the smoke coming from the chimney should be clean.
Smoking The Brisket
Start smoking: Add the brisket to the smoker and insert a probe thermometer if you're using one. Close the lid. [note 4]

First Stop 165℉: Let the meat cook on the smoker until its internal temperature reaches 165℉.

Wrap the brisket: When the brisket reaches 165℉, it's time to pull it off, remove the probe thermometer, and wrap it tightly with pink butcher paper. [note 5]

Reinsert the probe thermometer through the paper. Place it back in the smoker.

** Make sure to close the smoker's lid while wrapping the meat. Too much air can cause the fire to get too hot.

Next Stop 193 to 203℉: Continue to smoke the brisket until the internal temperature reaches a temperature between 193 to 203℉.

At 193℉ the brisket will still be relatively firm but still very tender.

At 203℉ the brisket will be very tender, nearly falling apart.

Either is acceptable and you can also find a temperature that falls in between.

Rest the brisket: Rest the brisket for 30 minutes to an hour before slicing.
Laura's Tips + Notes
This recipe calls for a full-packer brisket. This includes the untrimmed point and flat. You can also choose a smaller cut and experiment with smoking either the pint of the flat.
This method of seasoning is known as dry brining. To learn more, check out this post on dry-brined smoked turkey. Check out my other recipes for seasoning blends and find a new favorite.
This recipe was smoked using a Kamado Joe ceramic grill. But you can use any smoker that you like. Just follow the setup instructions for your favorite smoker.
Probe thermometer

(affiliate link)

: I use a Thermoworks Signals electronic probe thermometer whenever I am smoking meat. I highly recommend it. Check out their line of products.
Butcher paper vs. Foil: A lot of recipes call for foil when you are doing smoked meat. I highly recommend butcher paper because it allows more steam to escape. Foil can leave your meat too mushy, in my opinion.
YOUR OWN NOTES
Sign In to add your own private notes
Nutrition
Serving:
0.5
lb
Calories:
352
kcal
Protein:
47
g
Fat:
17
g
Saturated Fat:
6
g
Cholesterol:
141
mg
Sodium:
179
mg
Calcium:
11
mg
Iron:
4
mg