This easy to make salted caramel is perfect on ice cream or served with apples. This easy homemade recipe tastes so much better than the store-bought stuff. Give it a try and you will never go back to buying caramel sauce in a jar again. Make perfect homemade caramel sauce in less than 15 minutes.
Caramel Sauce is a Fall dessert must have..
I've used this caramel sauce on my Grandma's Apple Dumplings and my Delicious Pumpkin Cheesecake Bars. But it might best on my Caramel Apple Pie
I also have a Brown Butter Caramel Sauce that is to die for!!
Recipe Notes
Making homemade caramel sauce is way easier than you may think. There are only a few ingredients and you can get this recipe done in less than 15 minutes.
You only need 4 Ingredients
Sugar
Water
Heavy Cream*
Bourbon (OR Vanilla)
I will also talk about a few modifications that you can make if you are vegan. And we will also talk about a few troubleshooting tips to keep in mind.
How to Make Caramel Sauce
Heat the sugar and water: Add the sugar and water to a saucepan and set it to medium-high. Bring the mixture to a boil. You can stir a little bit here. But mostly just let it sit.
Wait for the amber color: The caramel will start to darken, you are looking for a warm honey color. (No matter what you do DO NOT TOUCH or try to taste the hot sugar at this point. It is basically molten hot.)
Turn OFF the heat: Add the heavy cream. The mixture will bubble ferociously. It's okay! Whisk gently until the mixture calms down.
Add one half of a shot of bourbon: Stir to incorporate. You can add vanilla here if you don't want to add the bourbon.
This bourbon caramel recipe was born in Oregon.
One of my favorite things to do when traveling is to find local food places. This also includes searching out wineries and distilleries.
On a recent trip to Bend, Oregon we stopped in at Oregon Spirits Distillery.
Not only was the bourbon here amazing, but we also did a tour of the facility and had the opportunity to meet the head distiller Brandy Pieper who was smart as a whip and super passionate about her spirits. I highly recommend stopping in here if you are in Bend.
I loved this bourbon so much that I wanted to showcases it in my new fall recipe for this Salted Bourbon Caramel Sauce. If you don't love bourbon you can just substitute one tablespoon of vanilla extract for the shot of bourbon.
FAQs and Tips for Making Caramel Sauce
How to Make a Vegan Caramel Sauce.
For this recipe, you only need to make one modification: substitute Coconut Cream for the Heavy Cream.

I like to use Kara's brand. It's in a cardboard carton. I've found that it doesn't separate like some of the canned coconut creams. It's the perfect viscosity for this application. Enjoy!
How to store caramel sauce.
You can store caramel sauce in an airtight container in the fridge for at least a few weeks. It will technically keep longer, but the consistency will suffer after a while.

I like to store mine in a squeeze bottle. I put plastic wrap in between the bottle and lid before I store it in the fridge. Let it come to room temperature for about 20 minutes before drizzling on all of your favorite treats.
Can you reheat caramel sauce?
Yes, Absolutely! Reheat on the stovetop or in the microwave. There is nothing better than warm caramel sauce.
How to keep the caramel from crystallizing.
As the sugar heats, you will sometimes see little sugar crystals forming around the edges of the pan. To re-dissolve these simple use a little water and a pastry brush. Run the wet brush around the sides of the pan, and the crystals will dissolve back into the caramel.

Corn Syrup
Adding a little bit of corn syrup or golden syrup will also help protect your caramel from crystalizing. These types of sugar syrups are invert sugars and they discourage crystallization.

Lemon Juice
A few tablespoons of lemon juice will also help to prevent crystallization. The acids in the lemon juice help to combat against crystallization.
How to fix crystallized caramel
Sometimes you may end up getting a reaction, and your whole caramel sauce crystallizes.

So, now what? Do not toss the entire batch. Simply add about a quarter cup water and bring the mixture to a boil again. The crystals will re-dissolve, and all is right with the world.
More Caramel Dessert Recipes
Pumpkin Cheesecake Bars
These are incredibly decadent. Everything that a fall dessert recipe should be. Pumpkin spice and a sweet Bourbon Caramel Sauce take these Pumpkin Cheesecake Bars to the next level.
SEE THE RECIPE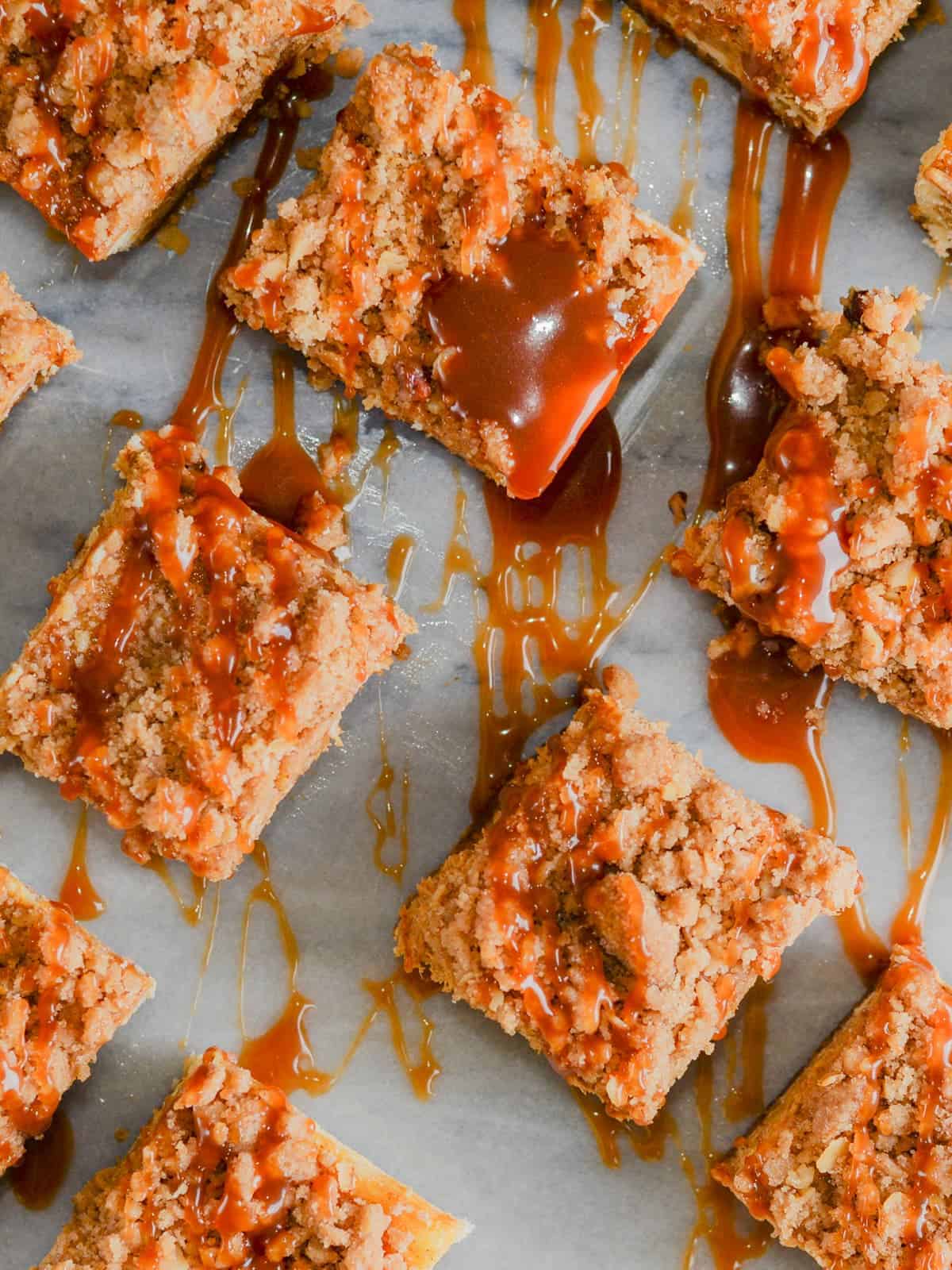 Grandma Sisson's Apple Dumplings
The best ever apple dumplings in a delicious caramel sauce. Perfect for fall.
SEE THE RECIPE
PIN FOR LATER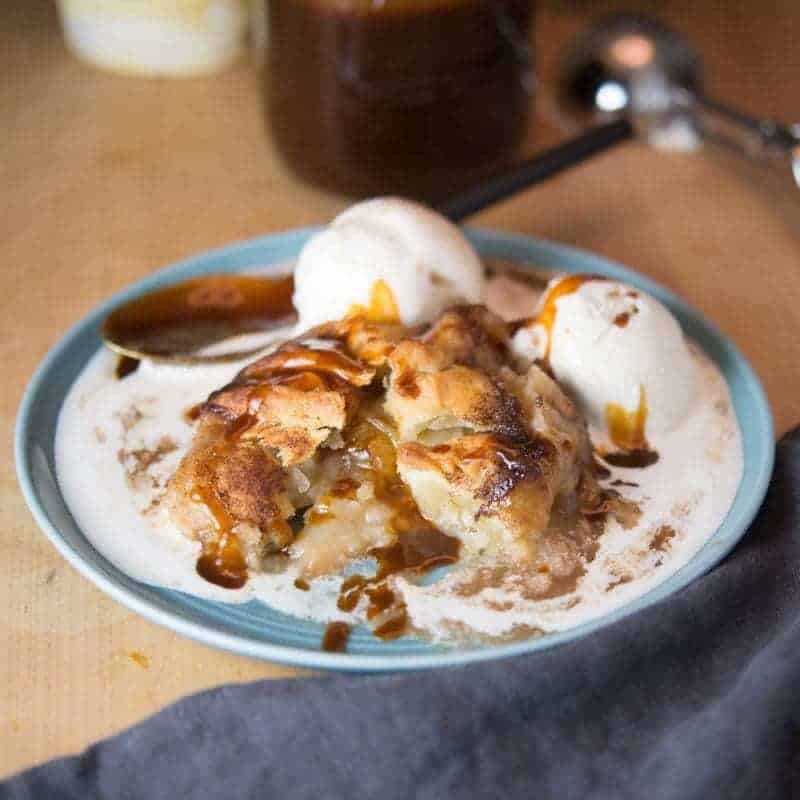 Homemade Salted Caramel Sauce Recipe
Rich, buttery caramel sauce. Easy to make. In just 10 minutes you can be pouring this caramel on. owl of ice cream.
PIN FOR LATER
Classic Apple Pie
This recipe is pretty similar to any two-crust fruit pie (although with berries you'll want to add a thickener, like roughly 4 tablespoon tapioca). The fruit pie formula: approx 6 cups fruit, ½-1 cup sugar (depending on tartness of fruit), seasoning to complement the fruit (cinnamon, lemon, allspice, orange zest, etc.).
PIN FOR LATER
➽ Did you make this recipe? I love to see what's going on in your kitchen. Please show me what you're cooking. 🍳 Tag me @foodologygeek on your favorite social channel! Facebook, Instagram & Pinterest. If you loved ❤︎ this recipe, please leave a five ★ review and a comment!
Caramel Sauce
Easy to make and easier to eat. This bourbon caramel sauce is the perfect addition to ice cream or apple pie. Sweet, bourbon-y, and just a pinch of salt. 10-minutes to the perfect caramelly goodness.
Instructions
Add the sugar to a small saucepan.

Heat until the mixture is bubbly and turns a lovely golden honey color.

PRO TIP: If crystal form around the edges, use water and a pastry brush to re-dissolve the sugar.

When the sugar is a golden honey color turn the heat off and immediately add the heavy cream.

The mixture will bubble violently. Whisk gently until the caramel sauce is fluid and the bubbling has stopped.

Add one shot of bourbon (or one tablespoon of vanilla) and a pinch of salt.

PRO TIP: You can kick the heat on for a 10-20 second to mellow the alcohol in the bourbon if desired.
YOUR OWN NOTES
Nutrition
Calories:
64
kcal
Carbohydrates:
10
g
Protein:
1
g
Fat:
2
g
Saturated Fat:
1
g
Cholesterol:
8
mg
Sodium:
3
mg
Sugar:
10
g
Calcium:
4
mg