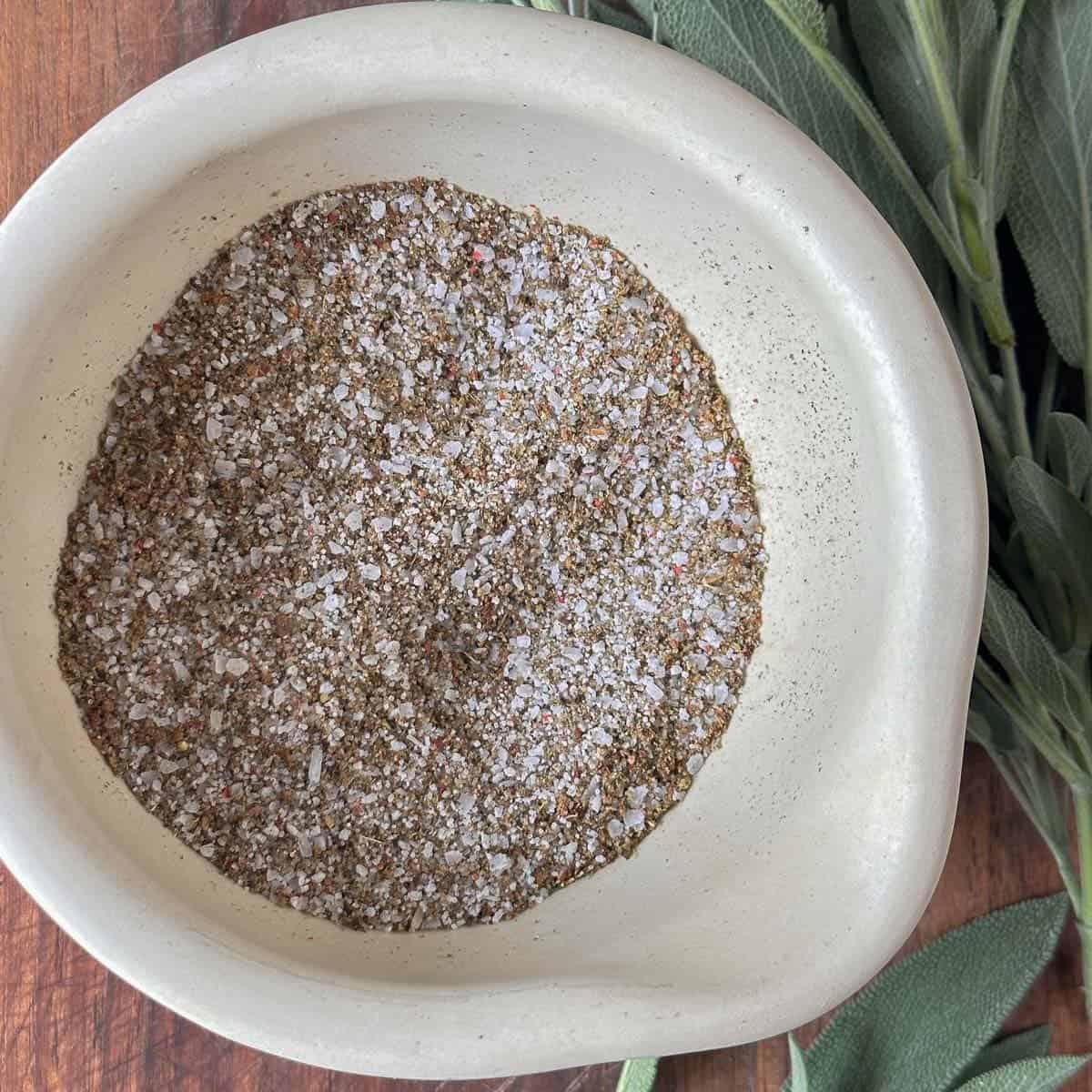 Recipe
Comments
Save
Go to Collections
This post may contain affiliate links. Please read my
disclosure policy.
This Dry Rub for Turkey is so flavorful. Use it to add flavor to your Thanksgiving Turkey, or keep things on a smaller scale and use it for a Smoked Turkey Breast or Smoked Turkey Legs.
For more info about adding flavor to turkey, check out my Ultimate Geek Guide to How To Brine Meat.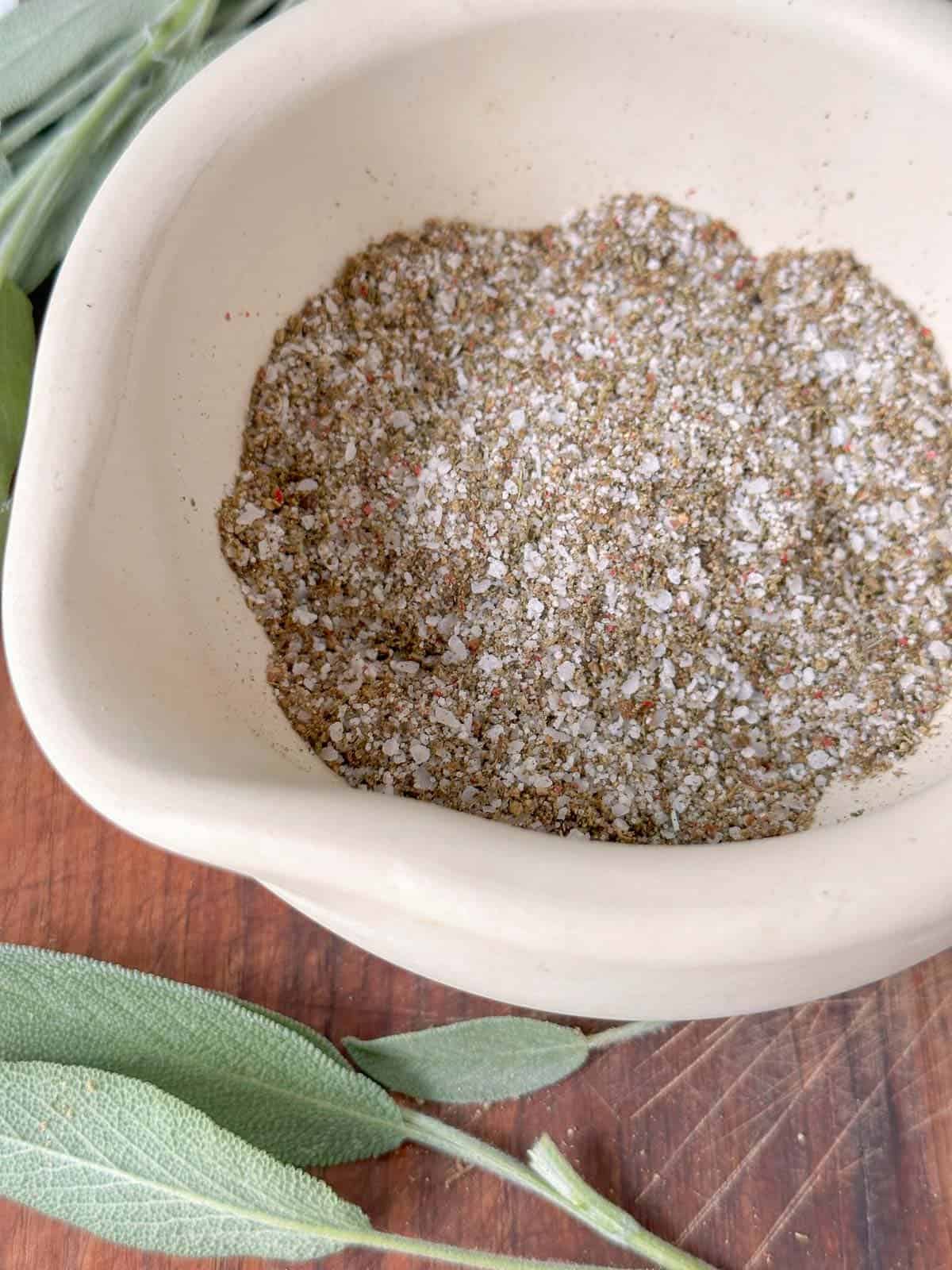 See how to use this poultry rub to season my Spatchcock Turkey. You won't find a more flavorful turkey recipe.
You can also use this dry rub recipe for Smoked Turkey Breasts and Smoked Turkey Legs.
Why You'll Love This Turkey Rub Recipe
Easy – Smoking a turkey breast is one of the easiest beginner-smoker recipes.
Tasty – You can experiment with this tasty dry rub that is great on turkey and chicken. Hello, Thanksgiving turkey.
Leftovers – A boneless smoked turkey breast will give you tons of turkey meat for dinner, and you can use the leftovers to make sandwiches all week long.
Recipe For Dry Rub For Turkey
With just a few simple spices, you can make the BEST dry rub for all your favorite turkey recipes. You can use this recipe on a whole turkey or if you want to make something smaller scale on a turkey breast or turkey legs.
Kosher salt
dried thyme
rubbed sage
allspice berries
juniper berries
pink peppercorn
black peppercorn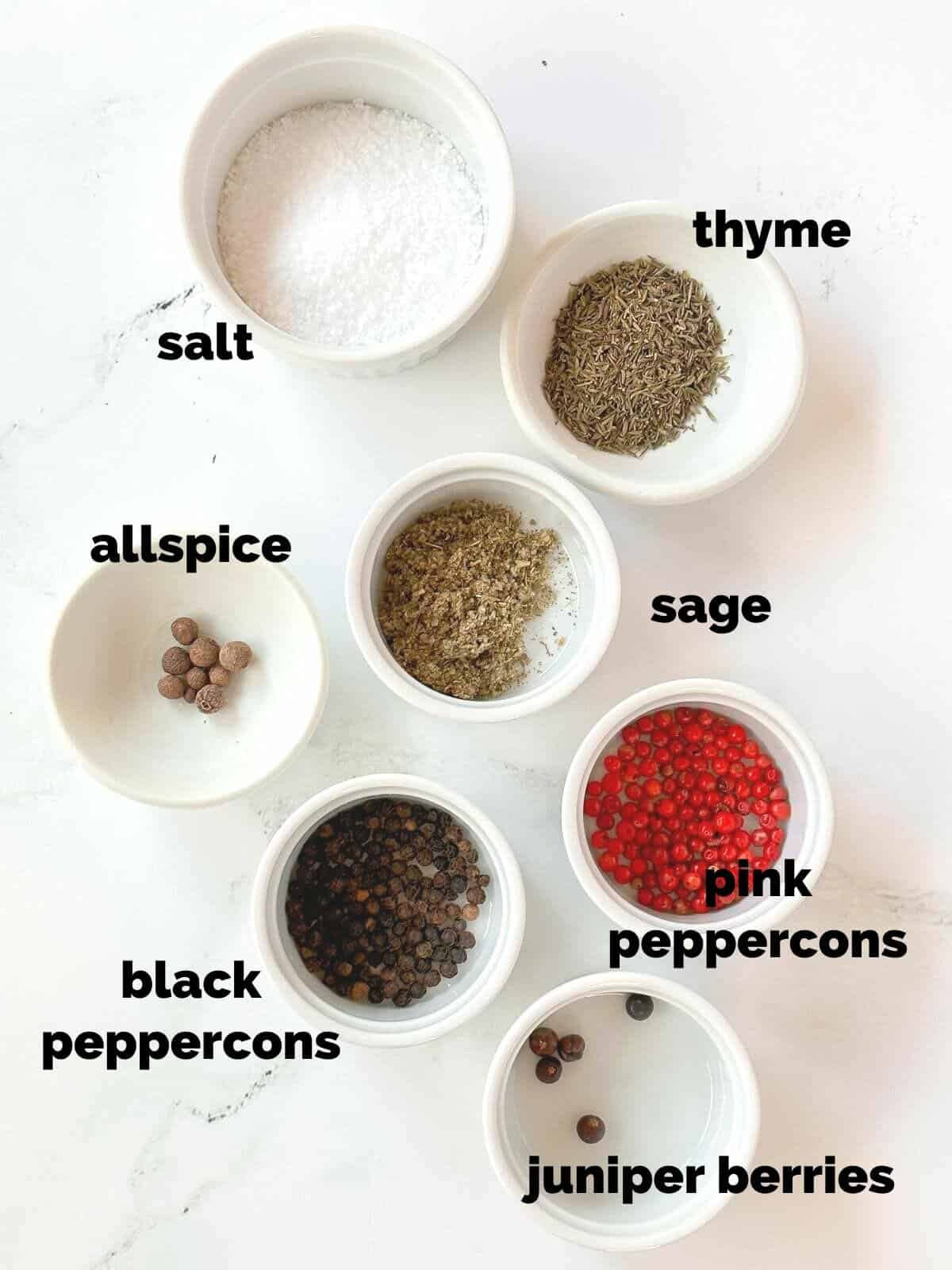 This poultry rub recipe differs from Poultry Seasoning because it has mixed salt. Poultry seasoning is usually a finely pulverized powder that contains no salt.
Homemade Turkey Rub
The easiest way to make a spice blend is with a spice grinder.
Set the salt aside.
Combine the dry spices in the spice grinder and pulse until they are finely ground.
Mix the pulverized spices with the kosher salt.
Store in an airtight container until you are ready to use.
Dry Brining
Using a dry rub on meat is a technique known as dry brining. Dry brining is my preferred method of adding seasoning to any meat.
Use this flavorful poultry rub when baking, roasting, or smoking chicken or turkey. And interestingly enough, the rub is also great on pork.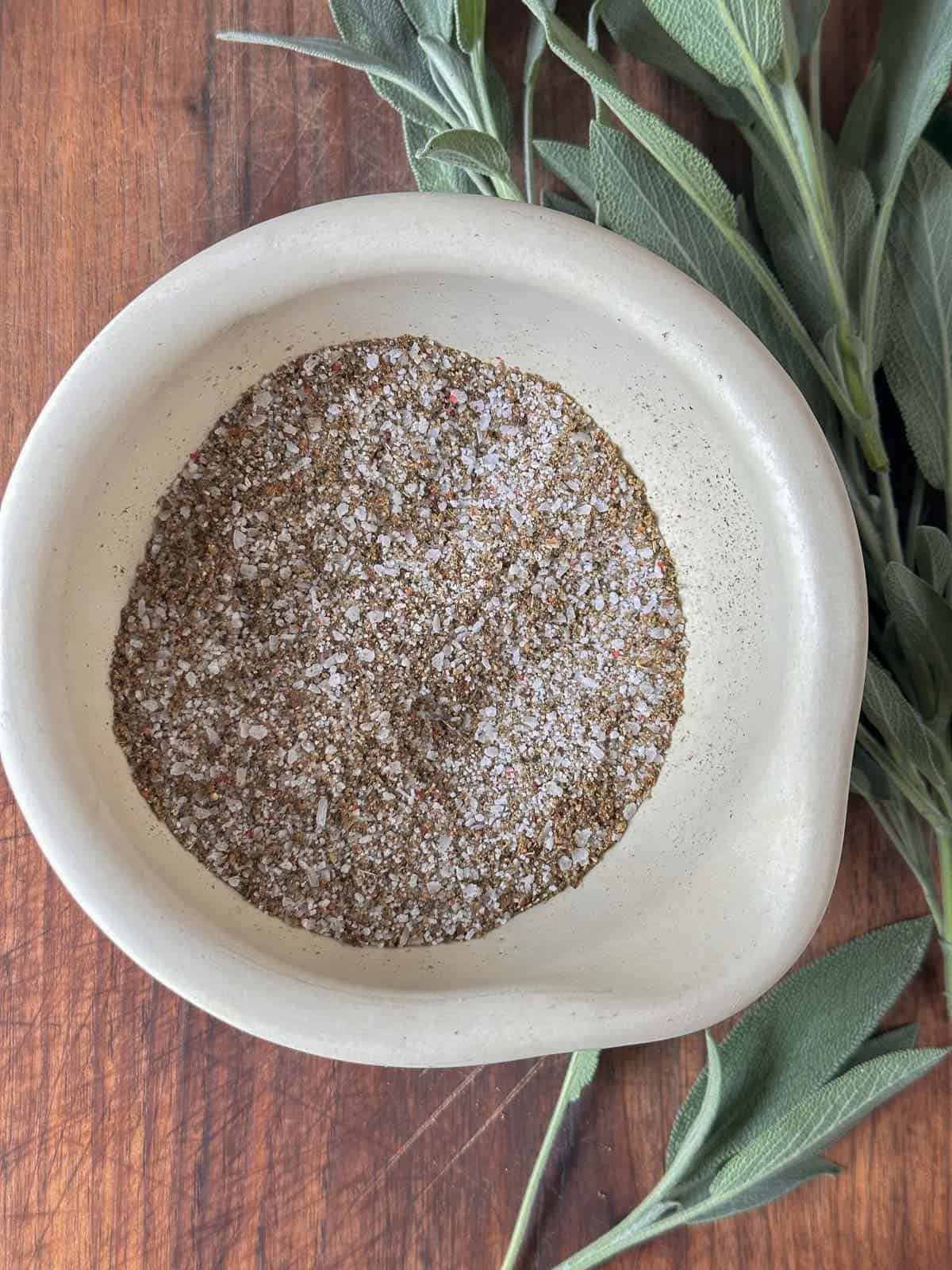 How To Use A Dry Rub For Turkey – The nerdy details
When using a dry rub, you are essentially dry brining the meat. A dry bine infuses flavor into the meat by osmosis. While this sounds like magic…it's more science than magic.
When a salt-containing spice rub is applied to the surface of the meat, the salt in the rub pulls out the moisture in the meat. As the moisture sits on the surface, it dissolves the salt in the rub.
Osmotic pressure works to return the cells to their proper moisture balance. The dehydrated cells in the meat pull back in the dissolved salt and moisture on the surface. Along with the salt, the flavors from spices are also pulled back into the meat. This is a win-win.
How To Dry Brine Turkey
Rinse the turkey in cool water and then pat it dry.
Set the turkey on a wire rack placed over a heavy baking sheet.
Use a few tablespoons of the dry rub to coat the turkey. Season all sides and add some to the inside of the turkey.
Place the turkey in the fridge, on the baking sheet, uncovered. Dry brine for 1 to 4 days before cooking.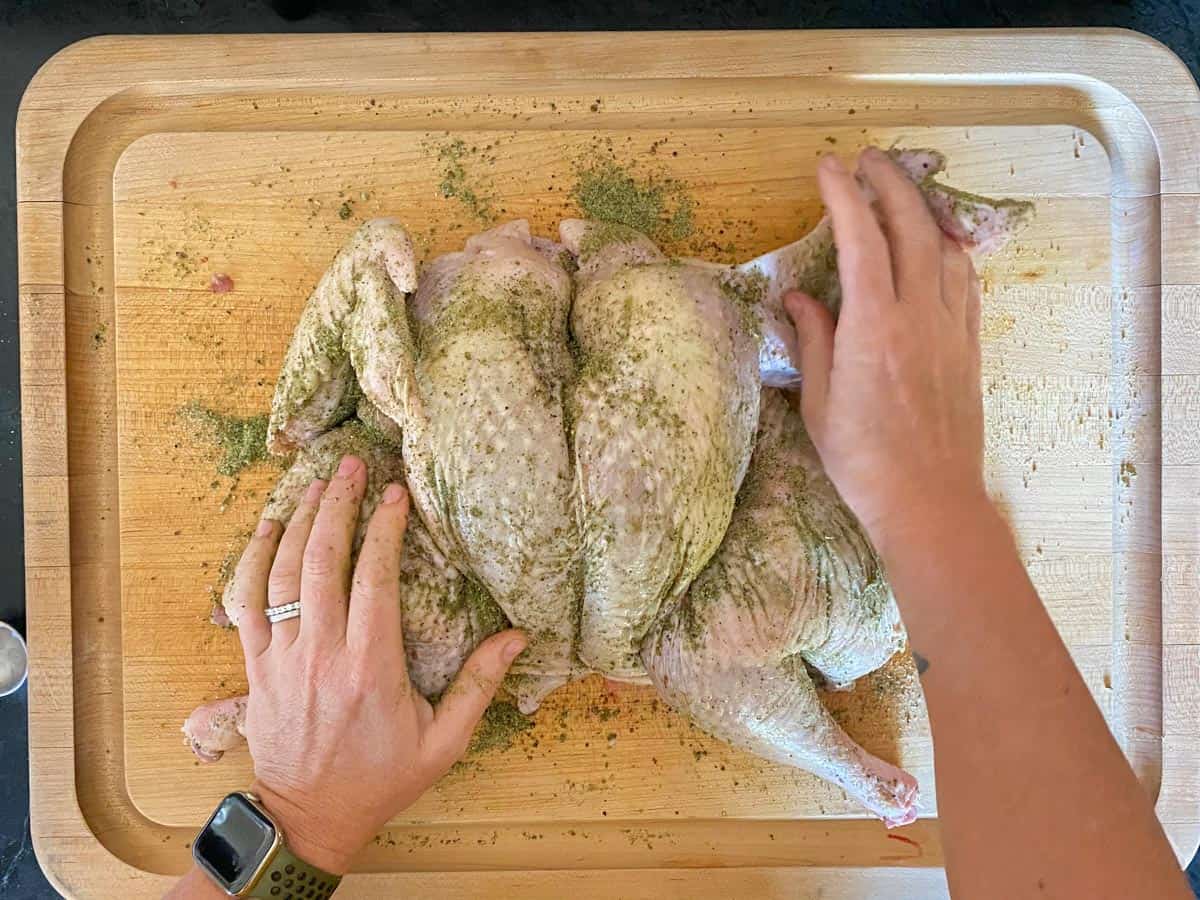 How To Cook A Dry Brined Turkey
You can use any turkey seasoning with any method of cooking. A few of my favorite turkey recipes are:
Smoked Thanksgiving Turkey
Smoked Turkey Breast – boneless or bone-in is fine.
Whole Roasted Thanksgiving Turkey
More Seasoning Blend Recipes
Making seasoning blends is kind of my jam. I love having a collection of go-to blends in the pantry that are always ready to go.
Check out this post on building a spice cabinet and start making your own Seasoning Blend Recipes.
It's that time of year! Pumpkin Season 🎃🍁🍂 Learn how to make your own DIY pumpkin pie spice blend. You only need…
Leave A Review
Did you make this recipe? I'd love to hear about it. Leave a comment, and don't forget to leave a 5 ★ review.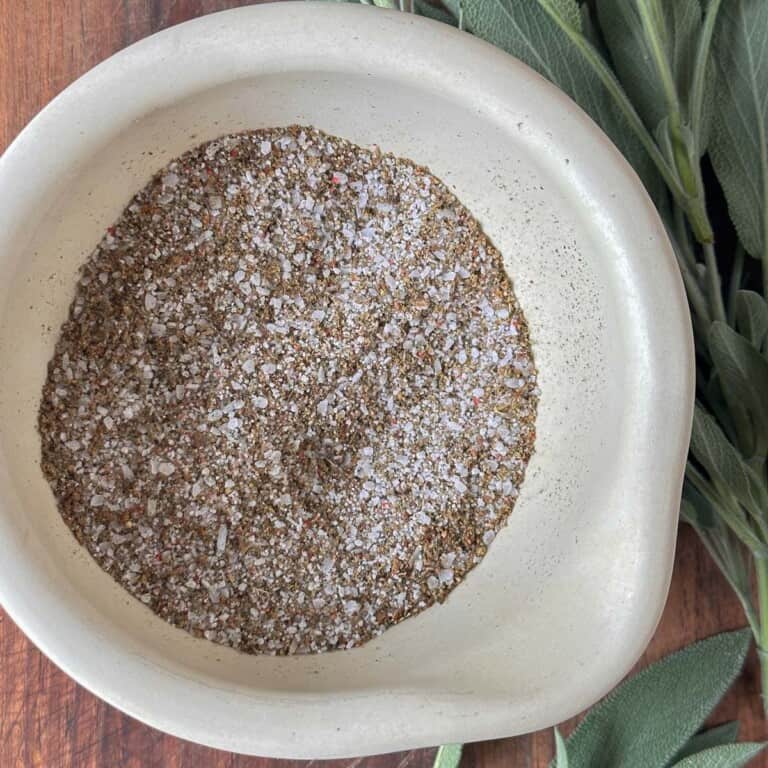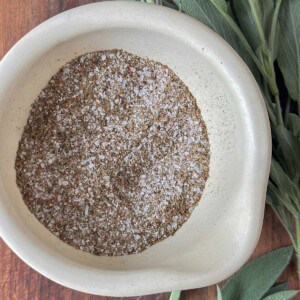 Dry Rub For Turkey
This Dry Rub for Turkey is so flavorful. Use it to add flavor to your Thanksgiving Turkey, or keep things on a smaller scale and use it for a Smoked Turkey Breast or Smoked Turkey Legs.
Instructions
3 ½ tablespoons kosher salt

Add all of the dry spices to a spice blender and pulse until the mixture is a fine rub.

1 ½ teaspoons rubbed sage,

1 ½ teaspoons dried thyme,

1 ¼ teaspoons whole black peppercorns,

1 ¼ teaspooons pink peppercorns,

¼ teaspoon dried juniper berries,

½ teaspoon whole allspice berries

Combine the salt this the pulverized spices.

Store in an airtight container.
YOUR OWN NOTES
Nutrition
Calories:
32
kcal
Carbohydrates:
8
g
Protein:
1
g
Fat:
1
g
Saturated Fat:
0.2
g
Sodium:
24421
mg
Fiber:
3
g
Sugar:
0.1
g
Calcium:
90
mg
Iron:
3
mg