The BEST Pumpkin Ravioli with brown butter sage sauce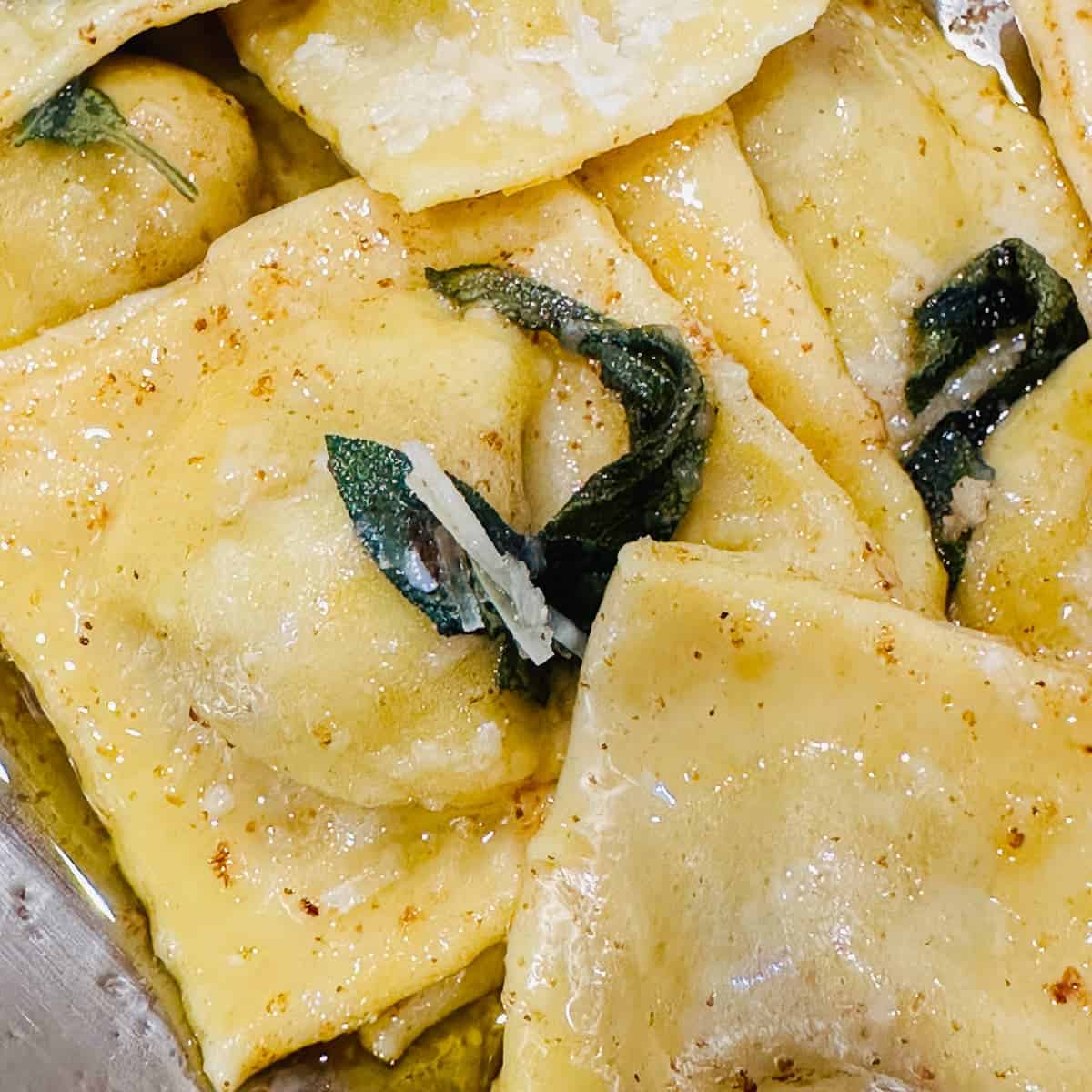 Recipe
Comments
Save
Go to Collections
This post may contain affiliate links. Please read my
disclosure policy.
A savory twist on a classic dish: How to make the perfect pumpkin ravioli
Love pumpkin? Looking for a new way to enjoy fall flavors? Look no further than this recipe for pumpkin ravioli. With its savory twist on a classic pasta dish, this recipe is sure to delight your taste buds and impress your dinner guests.
Made from scratch using simple ingredients, these pumpkin-filled pasta pockets are bursting with flavor. The tasty pumpkin filling is enhanced by a rich sage butter sauce and finished with a sprinkle of Parmesan cheese. This indulgent dish will leave you craving more.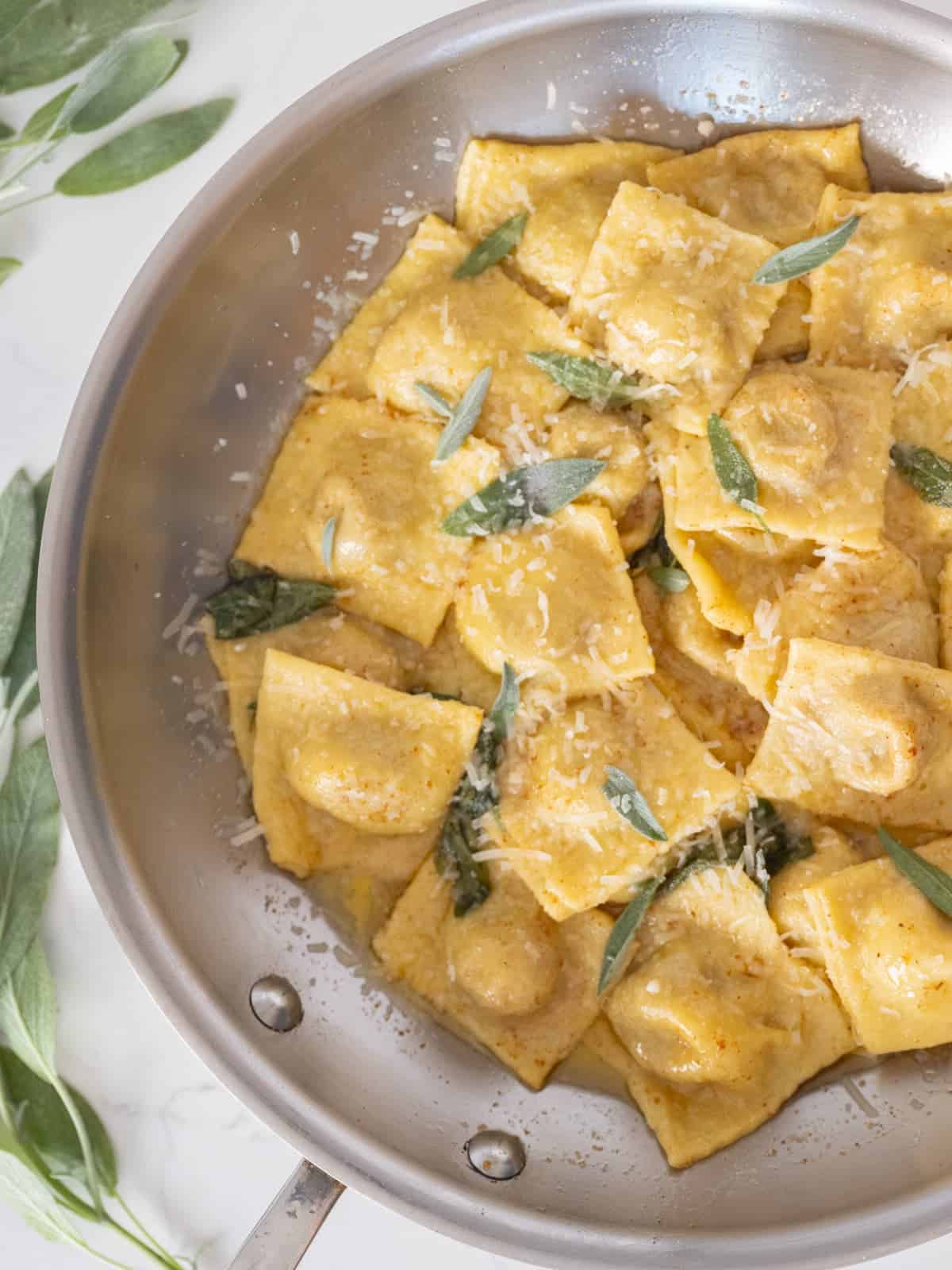 This pumpkin ravioli recipe is simple to follow, whether you're an experienced chef or new to cooking. With step-by-step instructions and helpful tips, you'll have homemade pumpkin ravioli on the table in no time. So grab your apron, gather your ingredients, and get ready to impress with this delectable twist on a classic dish.
Say goodbye to store-bought ravioli and hello to a homemade masterpiece. Enjoy the cozy taste of pumpkin in this simple yet impressive recipe for pumpkin ravioli.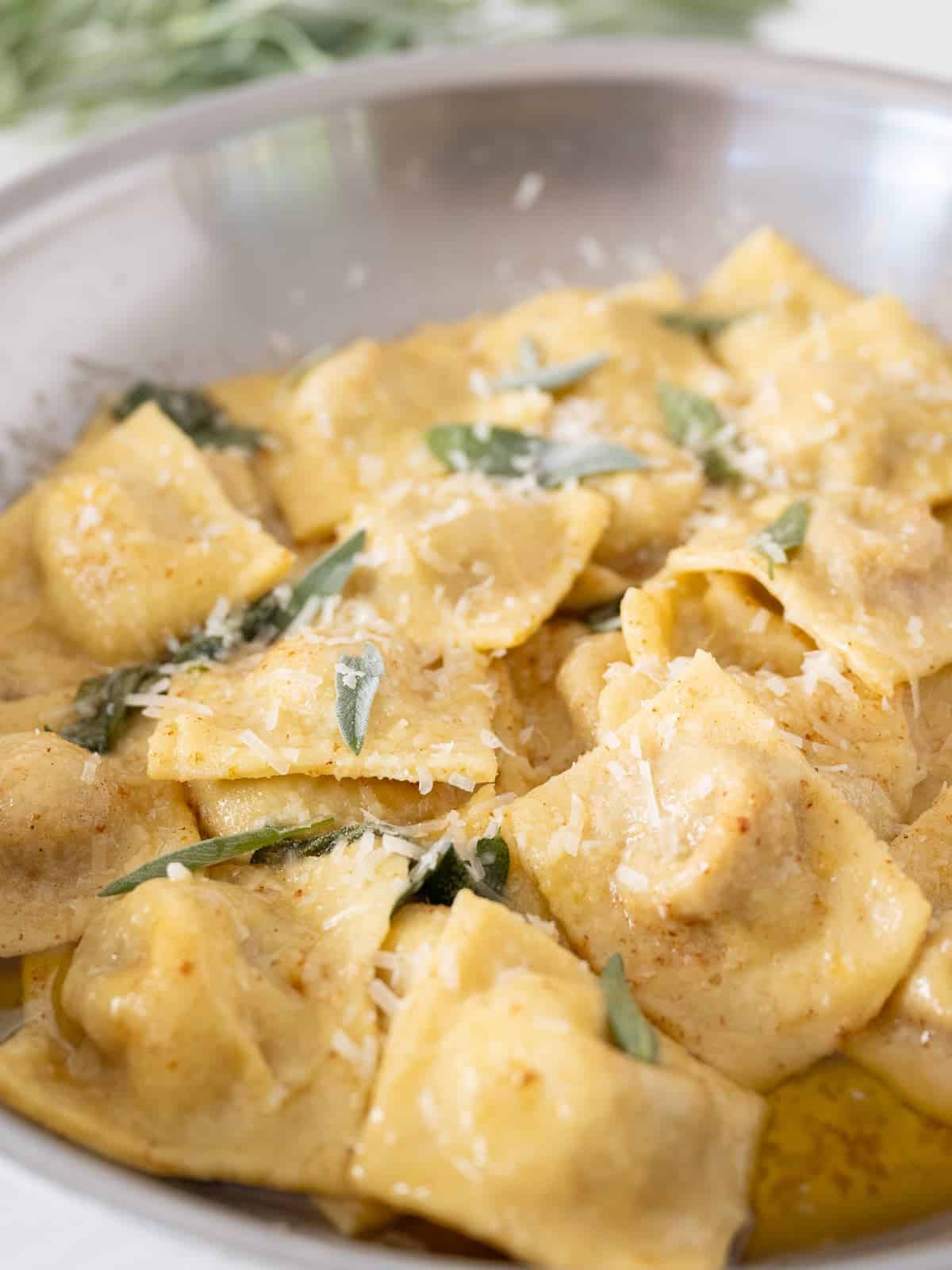 The history of pumpkin ravioli
The original Italian recipe for pumpkin ravioli is from the Lombardy region of Italy. The pumpkin filling is made with a base of pumpkin puree, parmesan cheese, and spices.
In Lombardy, people often put crushed amaretti cookies and a bit of Mostarda in the filling.
Mostarda is a spiced fruit condiment served with savory dishes and meats. If you'd like to try this combination, I will include the filling in the recipe card.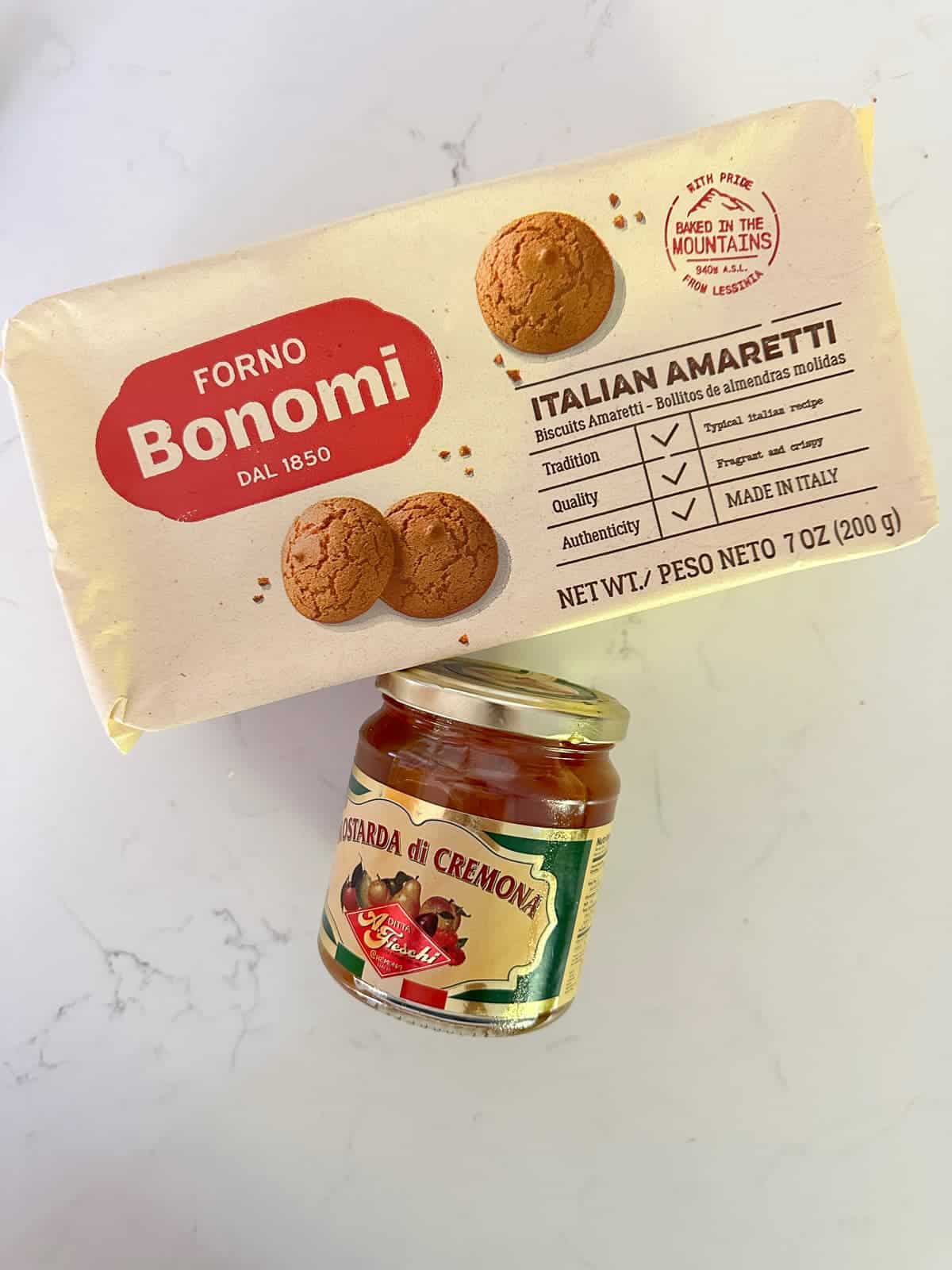 Why You Love homemade pumpkin ravioli
Homemade pumpkin ravioli is extremely easy to make. Make pumpkin ravioli in the fall using leftover pumpkin puree from your baking recipes. It's a great idea!
Homemade pasta has no additives, unlike processed pasta. It also tastes better than frozen ravioli from the store. Trader Joe's pumpkin ravioli is extremely popular, but this version is much better.
In addition, making ravioli at home allows you to experiment with different versions of fillings and ravioli recipes. Making fresh ravioli is a great recipe to make when hanging out with friends or on a date night.
Essential ingredients for pumpkin ravioli
Let's get our ingredients for pumpkin ravioli together.
For the pasta dough
Note: The recipe card includes the amounts to make a half batch of pasta dough. I recommend making a full batch and then freezing the extra.
Tipo 00 flour
Durum or Semolina wheat flour for dusting
Eggs. Use large eggs for this recipe
Olive oil
Kosher salt
Ground nutmeg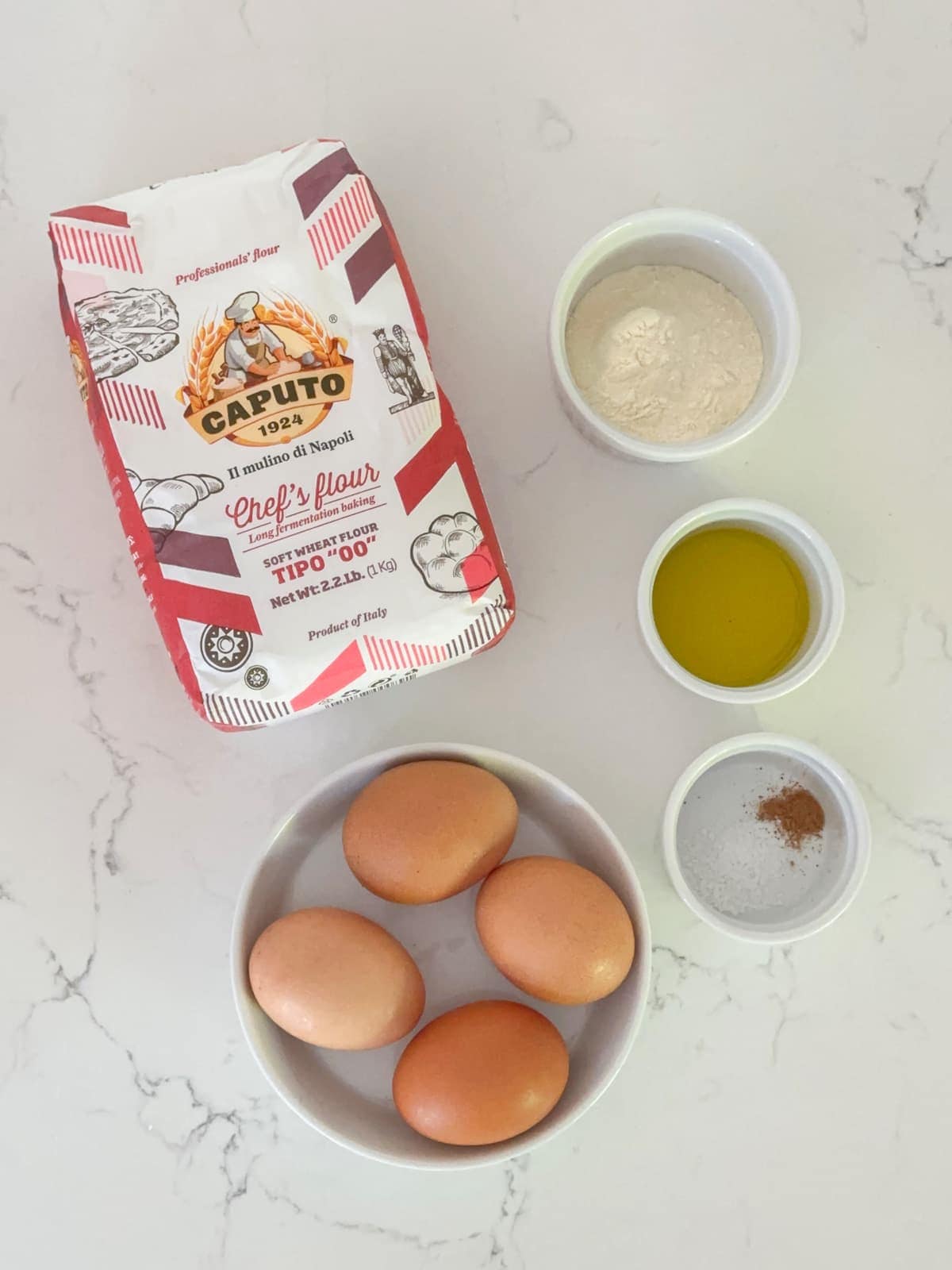 Ingredients for the Savory pumpkin ravioli filling
This pumpkin filling is a simplified version using ingredients that most people have in their pantries. It is adapted from a recipe I found from at King Arthur.
Pumpkin puree. Canned pumpkin puree is what I usually use. But you can always use fresh roasted pumpkin puree. Either will work beautifully in this recipe.
Onion. Finely minced onion.
Unsalted butter.
Poultry seasoning.
Ground turmeric.
Parmigiano reggiano cheese.
Salt and pepper to taste.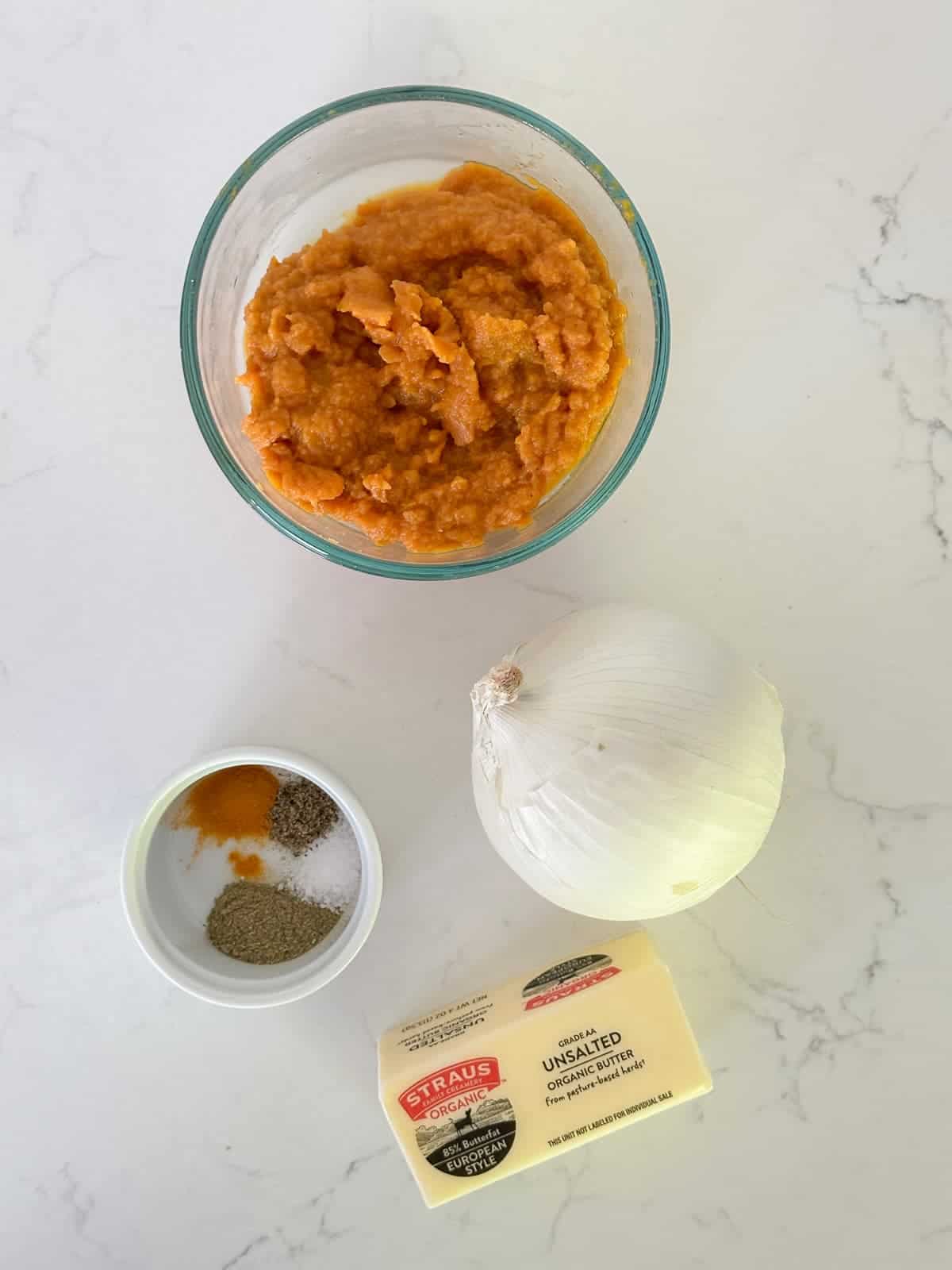 Ingredients for the brown butter sage sauce
This simple brown butter sauce is incredibly easy to make.
Unsalted butter. The brown butter is made by cooking over medium heat until the water evaporates. The milk solids in the butter are browned, resulting in a toasty, nutty flavor.
Fresh sage leaves.
Salt and pepper.
More grated parmigiano regianno.
Step-by-step guide to making pumpkin ravioli dough
Making fresh pasta dough might sound intimidating. However, let me reassure you that fresh pasta is easy and takes no time. Check out my post on Homemade Pasta for an in-depth tutorial on making fresh pasta.
In the meantime, Let's get started.
Making fresh pasta dough in a food processor
This is by far the easiest method for making pasta dough. There are only 2 steps.
Add all the pasta dough ingredients to the bowl of your food processor fitted with the dough blade.
Pulse the dough until it forms a tight, smooth ball.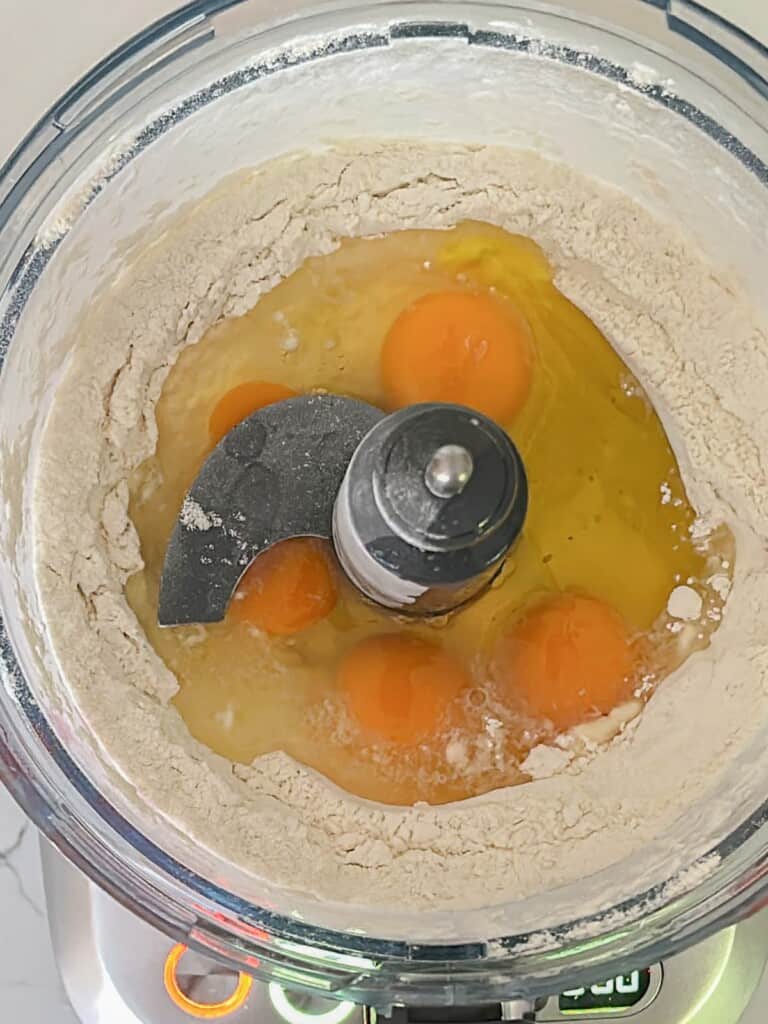 Making fresh pasta without a food processor
If you don't have a food processor, no problem. You can mix the pasta dough right on your countertop.
Form a pile with the flour on a clean surface, like your countertop. Create a well in the flour that is large enough to hold the eggs and olive oil.
Add the eggs, olive oil, salt, and nutmeg to the well of the pasta. Use a fork to whisk the eggs and then slowly begin to pull in the flour.
Once all the flour is incorporated, knead the dough by hand until you have a smooth ball.
Rest the fresh pasta dough
After mixing the dough, it needs to rest so the gluten proteins relax before rolling it into pasta sheets. Place a mixing bowl over the top of the dough and allow it to rest at room temperature—until you are ready to use it.
If you haven't made your filling, you can make it now while the dough is resting.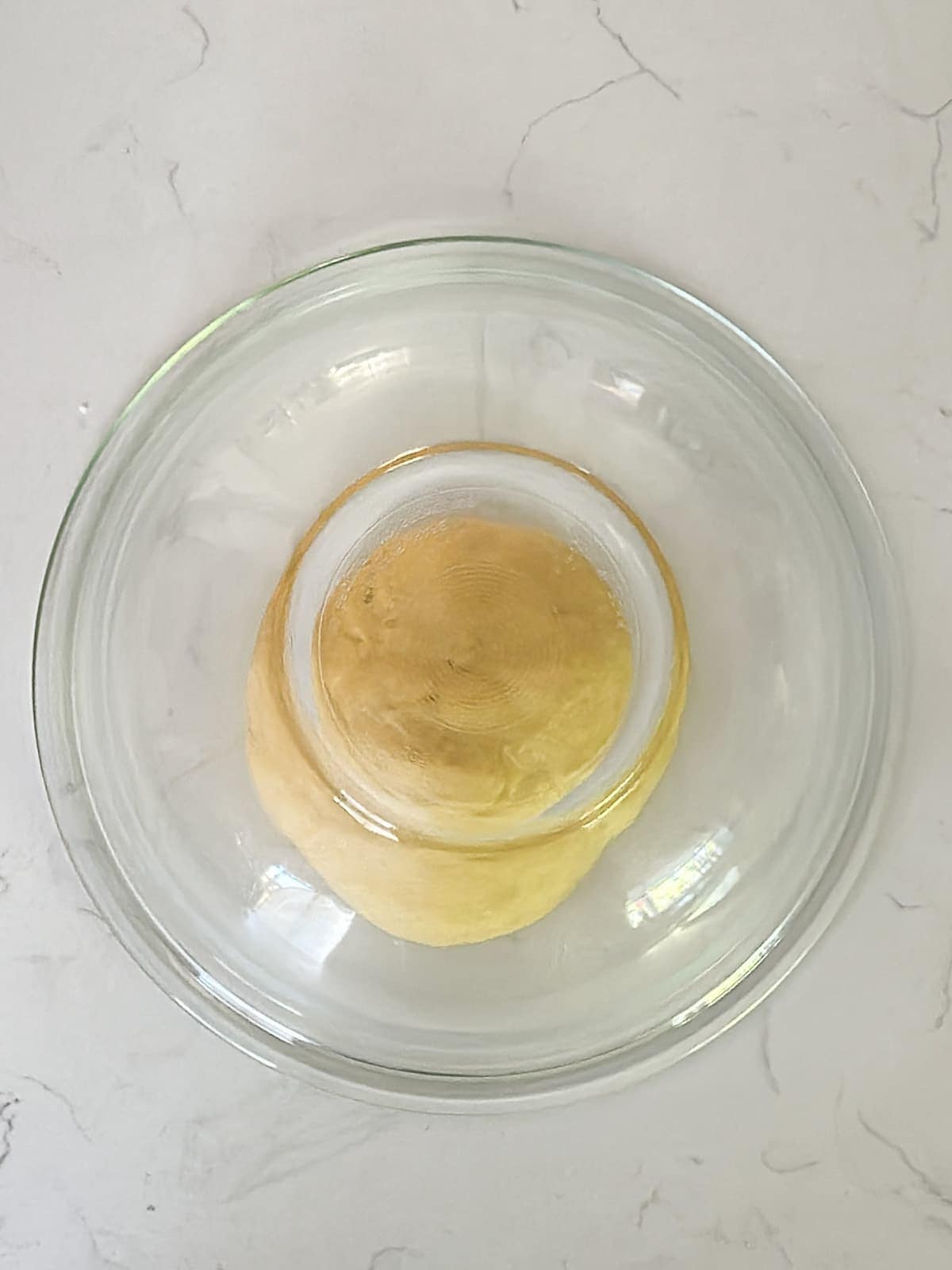 Roll out the pasta
The easiest way to roll homemade pasta is by using a pasta maker to roll out the dough.
No pasta machine? Roll homemade pasta dough with a rolling pin on a floured surface to make pasta sheets. I've made homemade ravioli as well as fettucine noodles this way many times.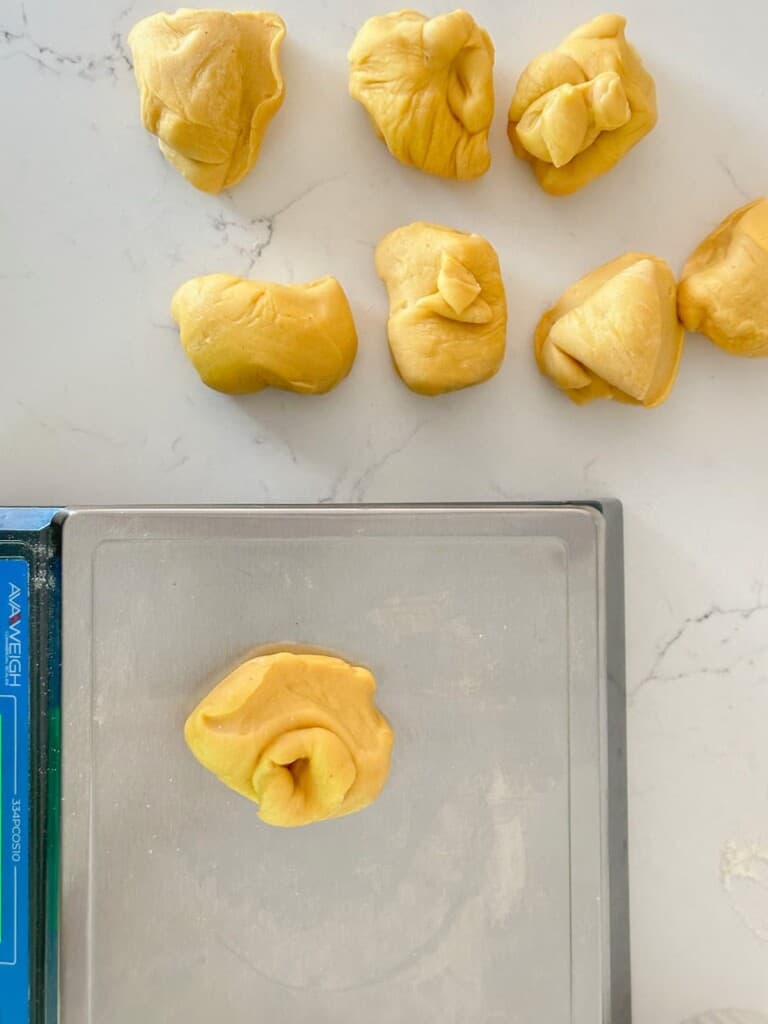 Creating the perfect pumpkin filling
The savory filling for these pumpkin ravioli is so good. This filling recipe is easy and simple to make. If you want to try the original pumpkin ravioli filling, you can make a few modifications we will discuss later.
Add the butter to a large skillet and sauté the finely minced onion for 3-4 minutes.
Add in the pumpkin puree and the spices. Simmer the pumpkin mixture for 5-8 minutes.
Remove the filling from the heat and stir in the cheese and flour. Set aside to cool.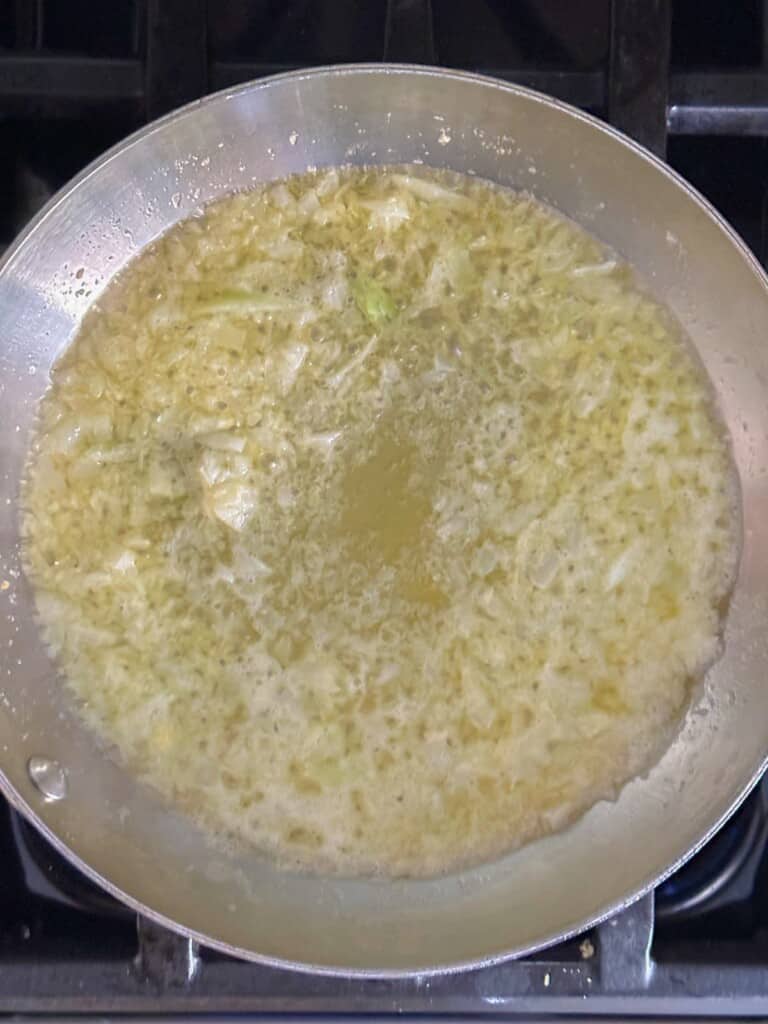 Assembling and cooking the pumpkin ravioli
Divide the dough into 4 equal pieces.
Roll each piece out into a long oval.
Run the dough through the pasta and make it according to the manufacturer's directions. The pasta sheets should be rolled to the #4 or #5 thickness. The #4 setting will give you a thicker ravioli, like what you might find in a frozen dough. The #5 setting is thinner and will give you pasta dough, similar to what you might find in a gourmet restaurant.
Fill the ravioli using a pasta tablet OR with a pasta cutting wheel. You can also find pasta cutters in many different shapes. You will use about a teaspoon of filling in each ravioli. Maybe more if your ravioli are larger.
After the ravioli are made, you can set them on a baking sheet in a single layer to rest while you bring a large pot of water to boil.
Add 8-10 cups of water and a generous tablespoon of salt in a large pot. Bring the water to a boil. You want the water to be gently boiling. Add the ravioli to the salted water and cook for 2-3 minutes.
Using a Ravioli tablet to make homemade ravioli
A ravioli tablet makes it easy to fill, seal, and cut the ravioli in one simple roll of the rolling pin.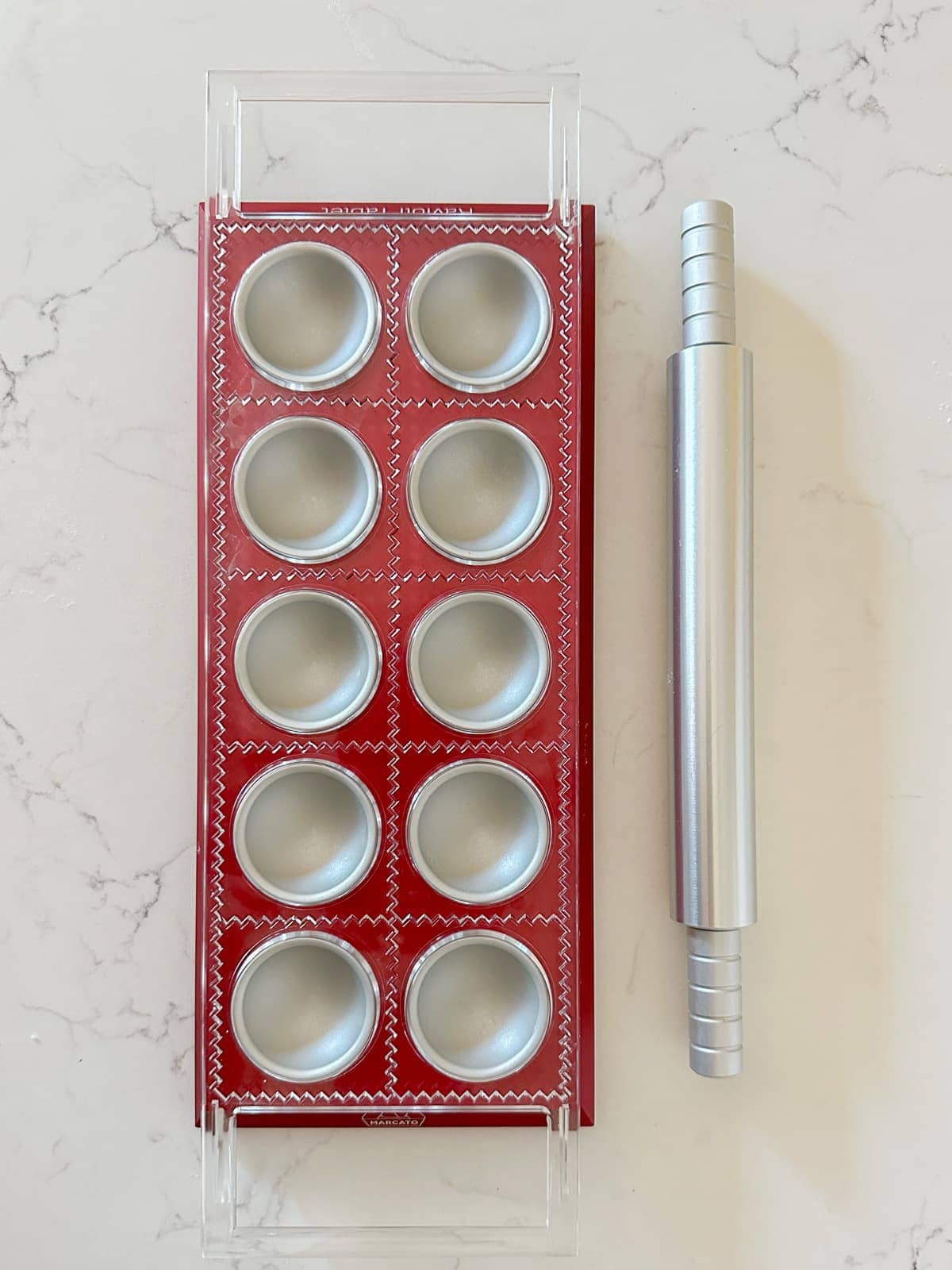 Using pasta or ravioli cutters
You can use a sharp knife to cut square ravioli if you don't have a pasta cutter. Any cookie cutter will work as well.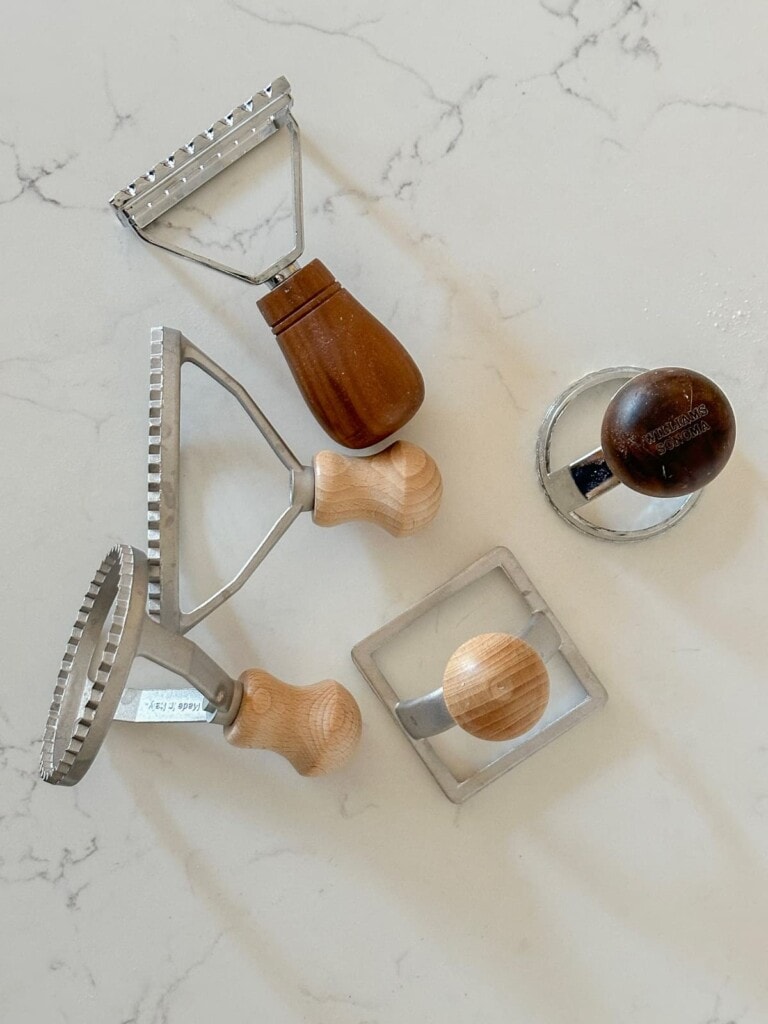 Making the simple brown butter sauce
Melt butter in a large saute pan over medium heat. Continue to heat the butter until it turns a light golden brown. Don't burn the butter, or it will taste bitter.
Add in the fresh sage leaves.
Season with salt and pepper.
Add the ravioli to the pan and spoon the brown butter over them.
Serve the ravioli on a plate. Spoon over extra brown butter sauce and sprinkle with finely grated parmesan Regianno. Serve 6 ravioli per person. Serving size may depend on how large each ravioli is.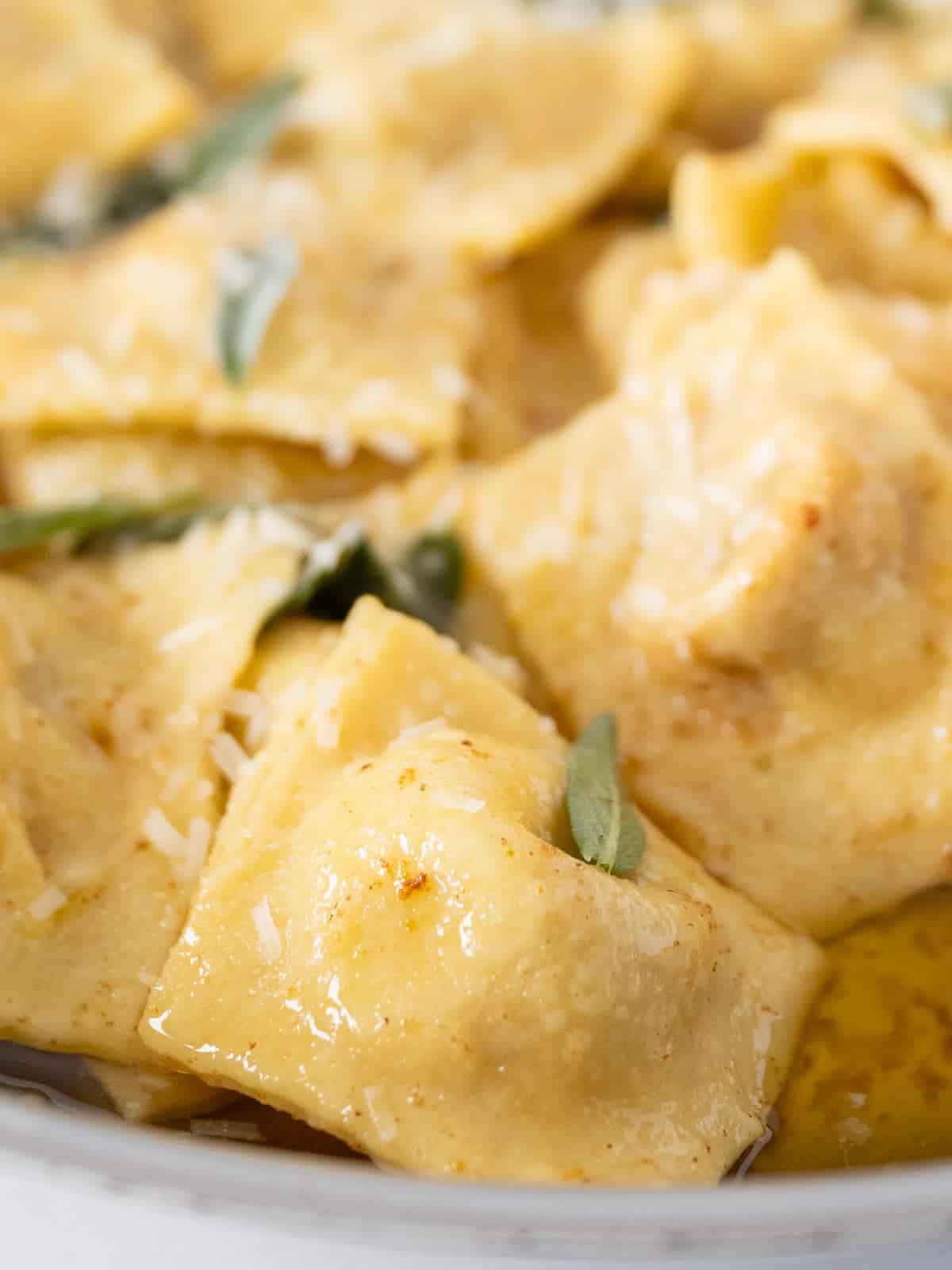 Tips and tricks for perfecting your pumpkin ravioli
Obviously, having the right tools for the job makes this homemade ravioli recipe easier than ever. While not required, here are some recommended tool
Food processor. Making the pasta dough in a food processor takes minutes. It can't get any easier than this.
Pasta maker. I like the Atlas 150 Pasta Maker. It's relatively inexpensive and has many attachments available, so you can make almost any pasta noodle imaginable. The Pasta Attachment from Kitchen Aid is also very well made if you already have a Kitchen Aid Stand Mixer in your kitchen.
Ravioli tablet. The ravioli tablet makes 10 evenly-sized raviolis. If you're looking for perfection, the ravioli tablet is the way to go.
Pasta cutter. A pasta cutter or pasta wheel is used to cut pasta and seal edges.
Ravioli cutters. Ravioli cutters come in all different shapes. They cut and seal the pasta at the same time.
Recipe Variations
Pumpkin ravioli recipes range from sweet to savory. You can adjust the ravioli filling to your taste. The original Lombardy region version incorporates amaretti biscuits and mostarda.
I highly recommend giving this filling a try.
​Lombardy Region pumpkin ravioli filling
This pumpkin filling recipe was adapted from Recipes From Italy.
350 g (12.4 oz) of baked Mantua pumpkin (or cheese pumpkin or calabaza squash)
80 g (2.8 oz ) of Amaretti biscuits
50 g (1.8 oz) of quince or pear Mustard
100 g ( 3.5 oz) of dried bread crumbs
100 g ( 3.5 oz ) of grated parmigiano cheese
1 egg
a teaspoon of grated nutmeg
a pinch of salt
Other filling variations to try
Butternut Squash Ravioli: This recipe would work beautifully with any other winter squash, such as butternut squash or acorn squash.
Cheese: Ricotta cheese or even goat cheese could be added to the pumpkin filling for variety.
FAQs
How many raviolis per person?
I recommend 6 raviolis per person.
Can you freeze pumpkin ravioli?
Yes, ravioli freeze extremely well. It's best to freeze the ravioli before cooking. Spread them on a baking sheet in a single layer and freeze for a few hours.

Wrap each portion tightly in plastic wrap and freeze for up to a few months.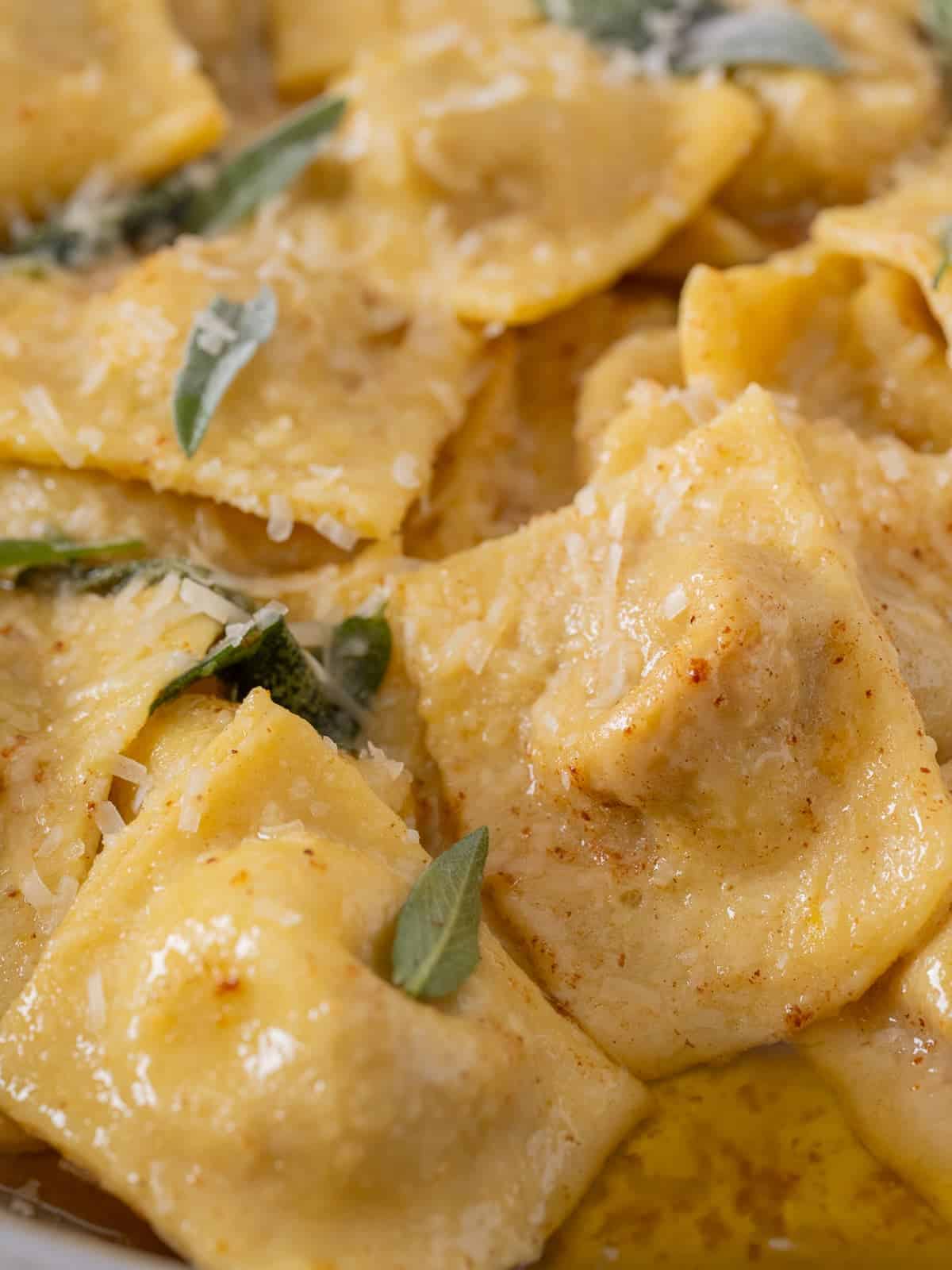 What To Serve With Pumpkin Ravioli
Pasta dishes are great with a fresh green Caesar Salad and a loaf of crusty bread, like my homemade focaccia.
This is an easy-to-make, no-knead focaccia bread. The result is a perfect focaccia, tender and moist on the inside inside with huge pillowy bubbles. The…
Other Pasta Recipes To Love
Leave A Review
Did you make this recipe? Leave a comment and a 5 ★ review. Your feedback helps other readers and helps me continue to offer recipes at no cost. Happy Cooking!!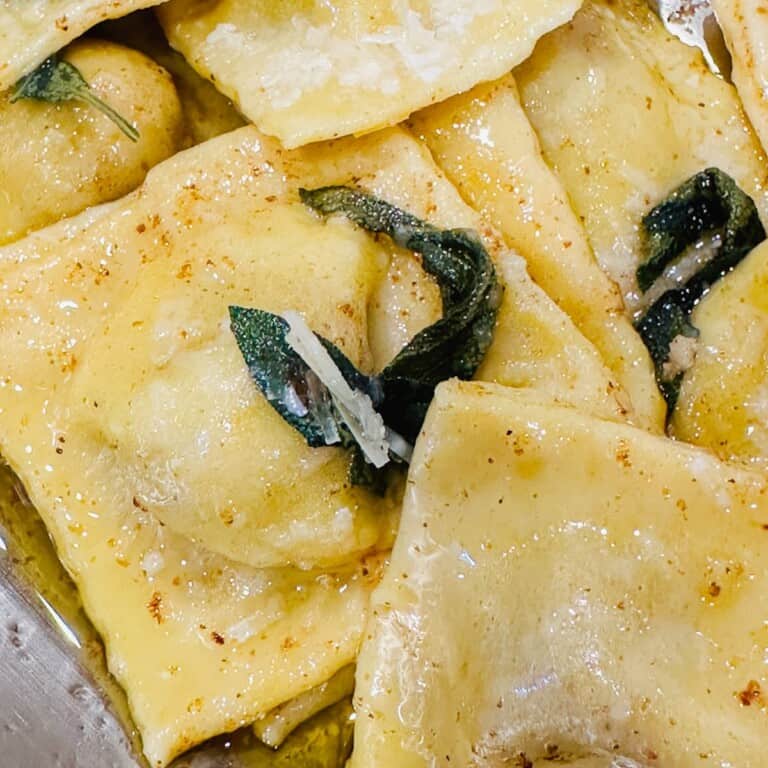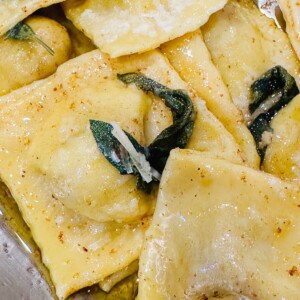 Pumpkin Ravioli Recipe
Enjoy the taste of fall with our mouthwatering Pumpkin Ravioli recipe. Creamy pumpkin filling wrapped in delicate pasta, drizzled with a savory sage brown butter sauce – it's a culinary masterpiece that'll impress your taste buds and dinner guests alike. Our easy-to-follow instructions will have you serving up restaurant-quality pumpkin ravioli in no time. Dive into this seasonal sensation and elevate your home cooking game today!
Ingredients
Pumpkin Ravioli Sauce
½

cup

unsalted butter

,

browned

15 to 20

fresh sage leaves
Instructions
Pumpkin Ravioli Filling
Melt the butter in a medium skillet. Add the onions and sauté until they are soft. About 3-4 mins.

Add the pumpkin and the spices. Bring the mixture to a simmer and let it thicken slightly. You want to cook the excess water out of the pumpkin—about 10 mins.

Remove the skillet from the heat and add the potato flour (or ground ameretti cookies) and shredded parmesan cheese. Stir to combine.

Set the pumpkin mixture aside to cool while you make the pasta dough.
Homemade Pasta Dough: Food Processor
Add the flour, the salt, and the nutmeg to the bowl of your food processor fitted with a dough hook. Pulse a few times to combine.

Add the eggs and the olive oil. Turn the machine on and let it process until the dough forms a smooth ball and the sides of the food processor bowl are clean.

If the dough seems too sticky. Add a teaspoon of semolina flour and start the machine again.
How To Shape Ravioli
Place the pasta dough on a clean surface and place a large bowl over the top. Rest the dough for 10 minutes before rolling it into sheets.

Cut the dough into 4 equally sized pieces. Press each piece into an oblong shape and start rolling through the pasta machine. Start on '0' and roll it through a few times.

After a few times, fold the edges into the center and then roll it one more time through on the '0' setting.

Then click the setting to '1' and roll the dough through again. Repeat this through each setting until you get to '5'.

Place the rolled dough on a clean surface and lightly dust it with semolina flour. Repeat the rolling for the other 3 pieces of dough.

Fill the ravioli. Use whichever method you prefer to form the ravioli. You can make the ravioli with a ravioli tablet or simply using the fold-over method. For larger ravioli, you can sandwich one sheet of pasta ontop of the other with filling in between. Use the ravioli cutters to cut and seal the ravioli.
Make The Sage and Brown Butter Sauce
Start heating a pot of salted water. Bring the water to a boil while making the brown butter pasta sauce.

Melt ½ cup of butter in a large skillet. Heat the butter until it starts to foam. Stir the butter gently as it is heating. Brown the butter until a light golden brown.

Turn off the heat and add in the sage leaves.
How To Cook Pumpkin Ravioli
Add 8-10 cups of water and a generous tablespoon of salt in a large pot. Bring the water to a boil. You want the water to be gently boiling. Add the ravioli to the salted water and cook for 2-3 minutes.

Use a spider skimmer to remove the cooked pasta from the water and put it directly into the brown butter sage sauce.

Toss the pasta with the sauce and serve immediately.
Laura's Tips + Notes
Pasta Dough: I usually make an entire batch of pasta dough. I either freeze the extra pasta dough to use later, OR I make noodles and then freeze them.

The #4 setting will give you a thicker ravioli, like what you might find in a frozen dough. The #5 setting is thinner and will give you pasta dough, similar to what you might find in a gourmet restaurant.

Make the ravioli using a pasta tablet OR with a pasta cutting wheel. You can also find pasta cutters in many different shapes.
YOUR OWN NOTES
Sign In to add your own private notes
Nutrition
Serving:
6
raviolis
Calories:
483
kcal
Carbohydrates:
39
g
Protein:
9
g
Fat:
33
g
Saturated Fat:
19
g
Trans Fat:
1
g
Cholesterol:
169
mg
Sodium:
335
mg
Fiber:
3
g
Sugar:
3
g
Calcium:
53
mg
Iron:
3
mg