Grilled Chimichurri Chicken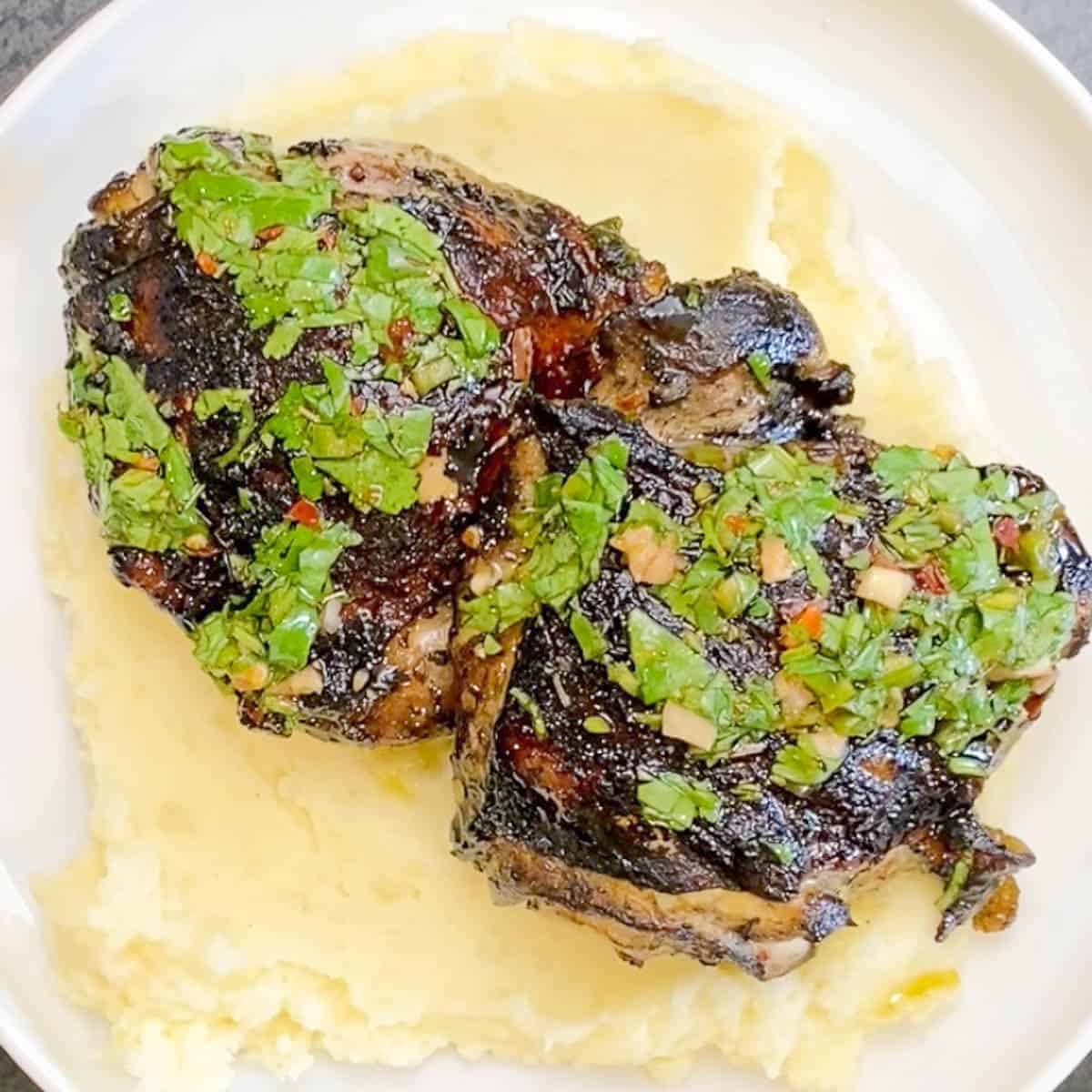 Recipe
Comments
Save
Go to Collections
This post may contain affiliate links. Please read my
disclosure policy.
Spicy grilled chicken smothered in authentic Chimichurri Sauce is the perfect match for these creamy, dreamy, goat cheese mashed potatoes. You can grill, bake, or pan-fry chicken for this recipe. OR you can even use steak or portobello mushrooms. Everybody say, "Yum!!"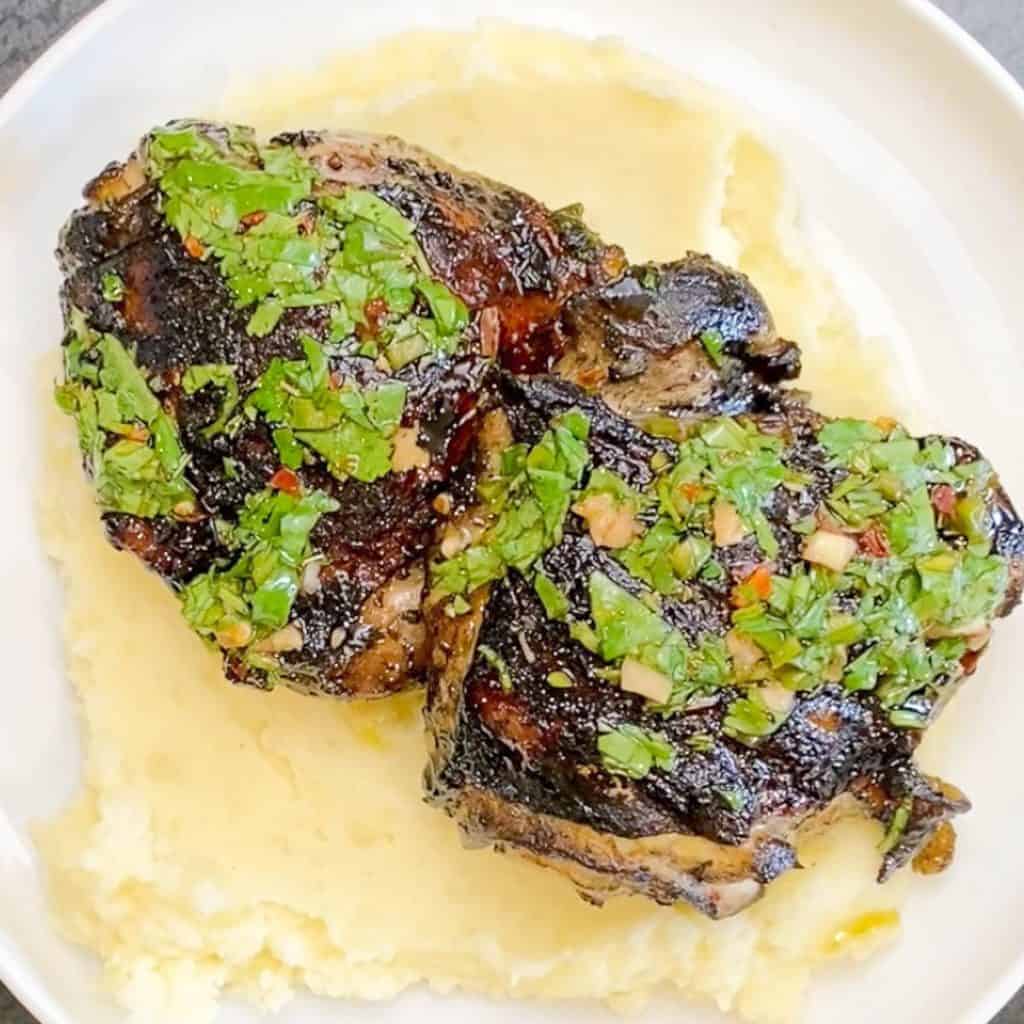 One of my most favorite things is collecting recipes from all around the world. I moved around so much while I was growing up that I never really had a food culture of my own. Because of this, I got to adopt a lot of other people's food cultures!
This Argentinian Chimichurri Sauce recipe is no exception. I haven't yet travelled to Argentina or Uruguay, the home of chimichurri, I've only experienced the amazing recipes I have found over the years that claim to be traditional.
There are so many varieties of chimichurri out there. I even use a different version in my Steak Chimichurri Meal Prep Bowl — definitely check out this recipe! 📌 PIN IT NOW so you can try it out later!
What you'll love about this recipe
First of all, what's not to love about this recipe?! I seriously ate this meal every day for like a week and half because it's that good.
Spicy, lip-smacking Chimichurri Sauce: I could eat this stuff on almost anything. Chimichurri is delicious on grilled meat and vegetables alike. Go crazy!
Creamy, tangy, mouthwatering: The goat cheese gives traditional mashed potatoes a tasty and slightly fancy twist.
Recipe Notes
I covered the Chimichurri Sauce recipe in its own post. Of course, I'll include it here in the recipe card as well. Chimichurri is made of fresh herbs, oil, vinegar and garlic.
PRO-TIP: I once marinated my chicken in the chimichurri sauce before grilling. I probably won't be doing that again! The oil in the chimichurri caused quite a flare-up on the grill.

It's totally fine to marinate the chicken first if you are going to be pan-searing or baking the chicken. Your eyebrows will be safe.
Ingredients you'll need
The Chimichurri Sauce and the mashed potatoes are the two main components of this recipe. The protein is totally up to you!
Chimichurri Chicken
Chicken: I just happened to have a bunch of chicken thighs in the freezer. Grilled chicken breasts are also fabulous. Alternatively, steak is amazing in this recipe. Roasted or grilled veggies are also a great option if you are doing a meatless Monday!
Chimichurri Sauce
Herbs, garlic, and peppers: Authentic chimichurri is made with parsley and dried oregano. But I love cilantro and green onions, too! Garlic is a definite must.
Chimichurri gets its heat from Serrano peppers, red if you can find them. If you can't, a green Serrano pepper will work. Add red pepper flakes for color and heat.
Olive oil: Make sure that you get good olive oil. You'll want to use extra virgin olive oil for this recipe because it has the most pronounced olive flavor, perfect for old-world cooking.
Vinegar: Red wine vinegar is traditionally used in this recipe. I have also used sherry vinegar, which is just a touch smoother.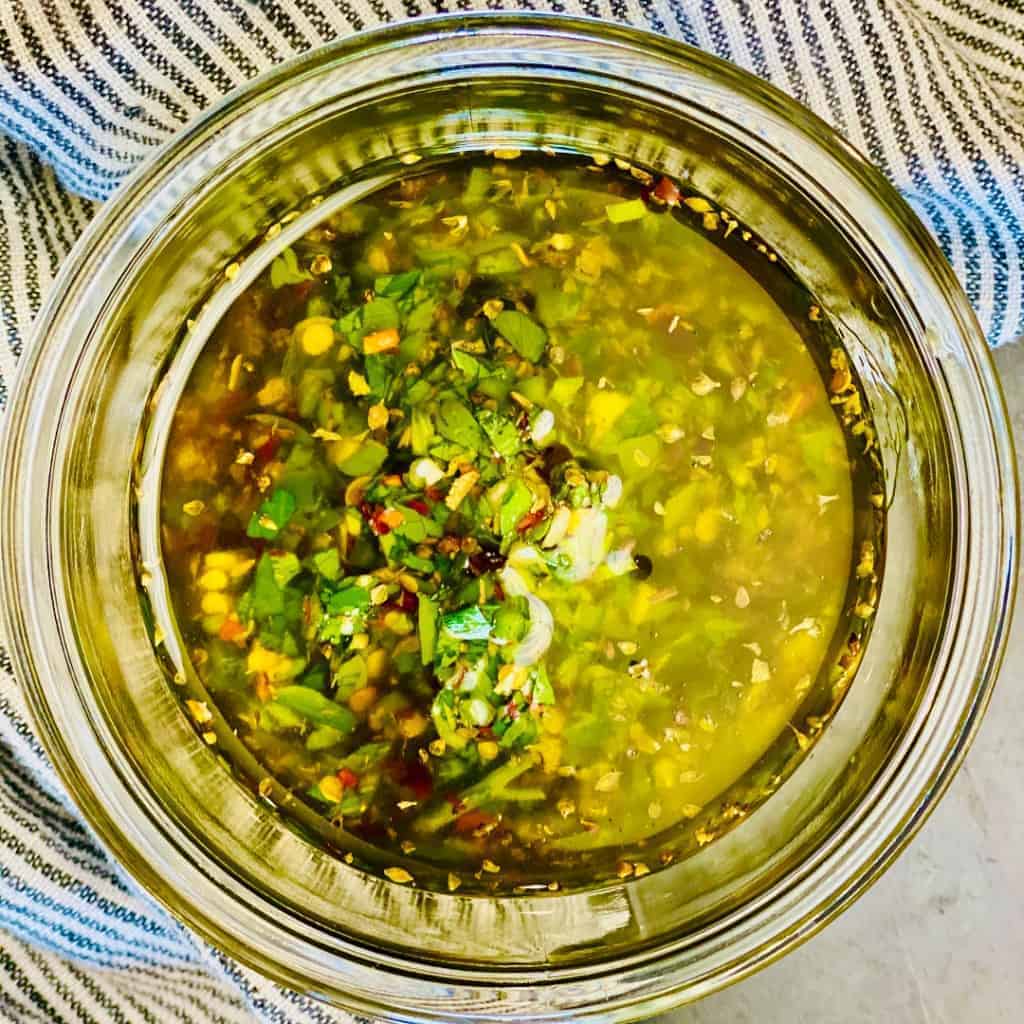 Mashed Potatoes
These goat cheese mashed potatoes are a super flavor spin on the traditional version. They are also amazing with lamb burgers.
Russet potatoes: I most often use russet potatoes for mashed potatoes. They have a low starch content and yield fluffier mashed potatoes than other varieties of potatoes. Red potatoes are also delicious.
Goat cheese (soft) and goat butter: I like to use goat dairy products in this recipe. If you can find goat butter, I highly recommend it. But if not, regular unsalted butter is just fine!!
Broth: Use vegetable or chicken broth.
Garlic: Just one clove of garlic.
PRO TIP: Raw garlic has quite a bite. If you want to mellow out the flavor a bit, sauté the garlic in butter in the cooking pot before you add the boiled potatoes back in.
Step By Step Instructions
Heat up the grill so it'll be ready to go when you are. Start by making the mashed potatoes. While the potatoes are boiling, whip up the Chimichurri Sauce. After you've made the Chimichurri Sauce, you can grill your chicken, and then dinner is served!
Mashed Potatoes
These mashed potatoes are a lot like garlic mashed potatoes, except the added goat cheese gives them a fantastic WOW flavor!
Step 1: Quarter the potatoes and place them in the water. Bring to a boil and then reduce the heat slightly. Boil until the potatoes are soft, about 15 minutes. Drain the water.
Peel the skins off the potatoes by giving the skins a little pinch, and return the peeled potatoes to the pot.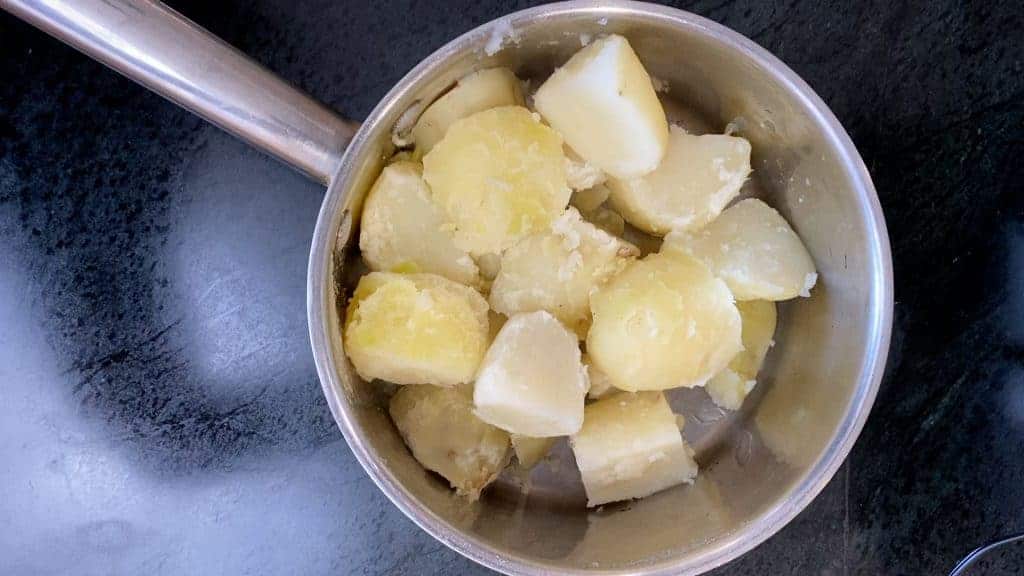 Step 2: Use a potato masher or a ricer to mash the cooked potatoes. (Food processors and blenders can make mashed potatoes super gluey, so I do this step by hand.)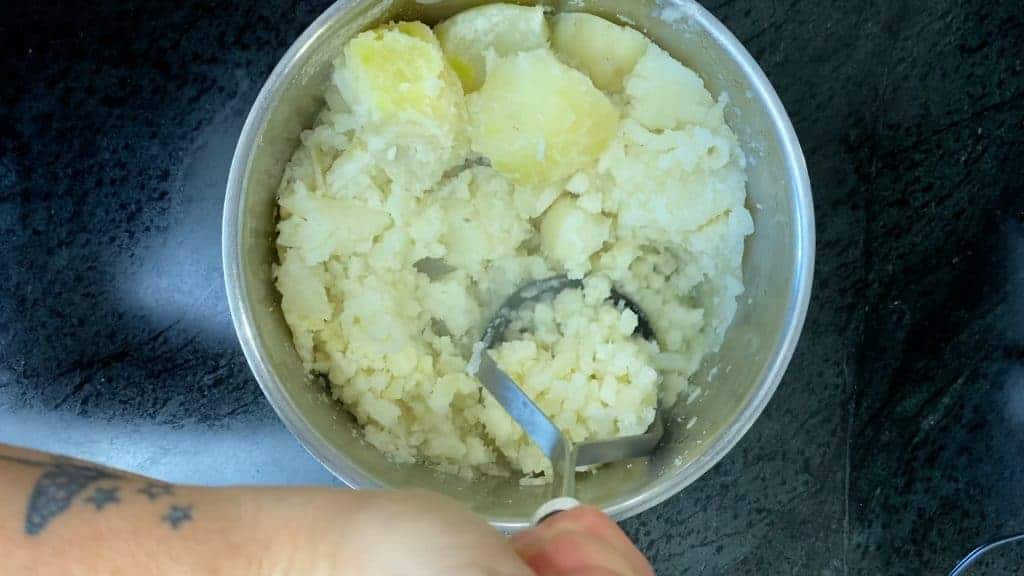 Step 3: Add the finely chopped garlic. Alternatively, you can add the butter and garlic to the pan while you are draining the potatoes. Sautéing the garlic in butter softens the garlic flavor.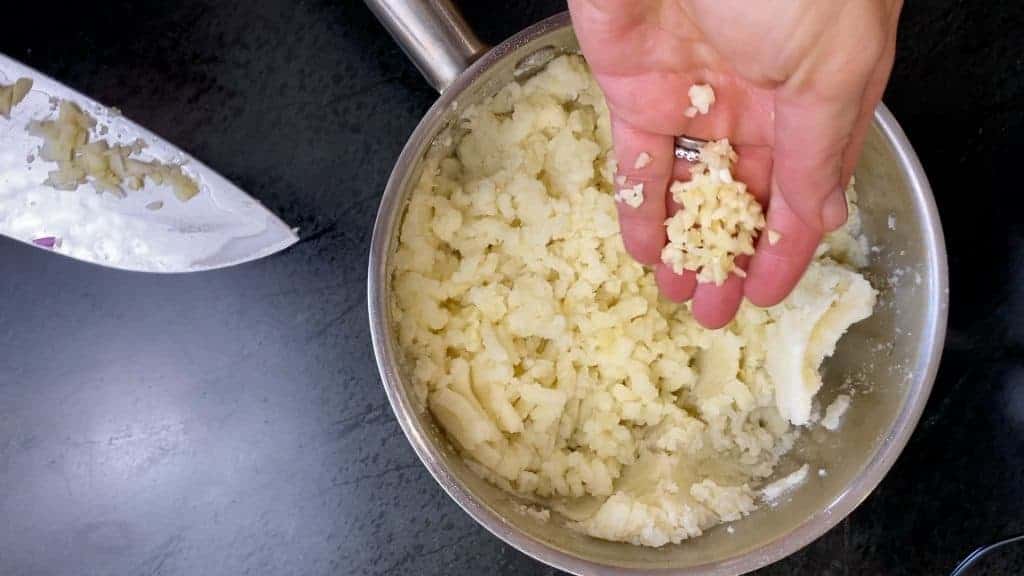 Step 4: Add the butter, salt, and goat cheese.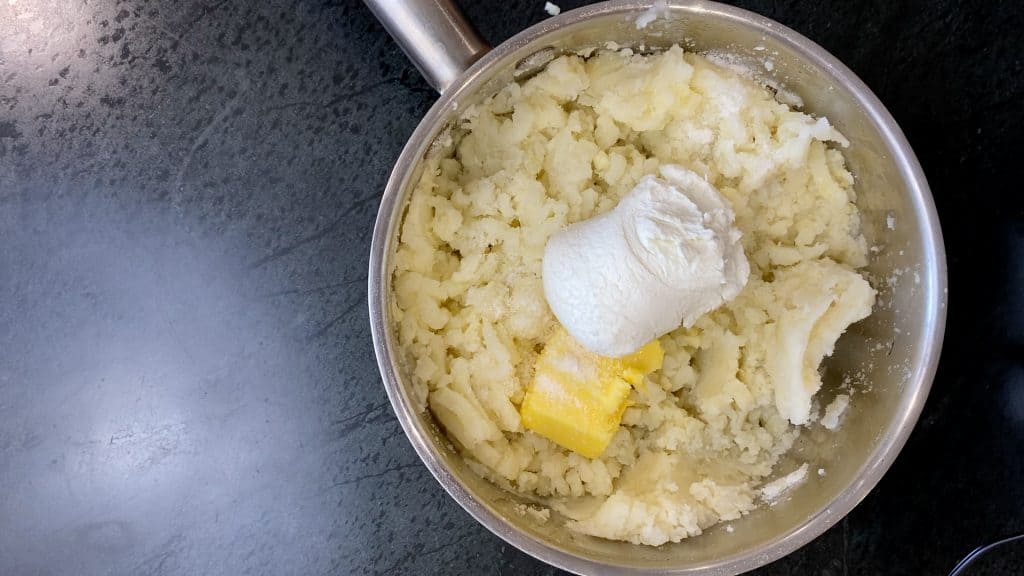 Step 5: Add the broth to the pot and then mix together to combine. These mashed potatoes do not require milk. While they do have goats' milk in them, many people are less reactive to goat and sheep dairy than they are to cow dairy.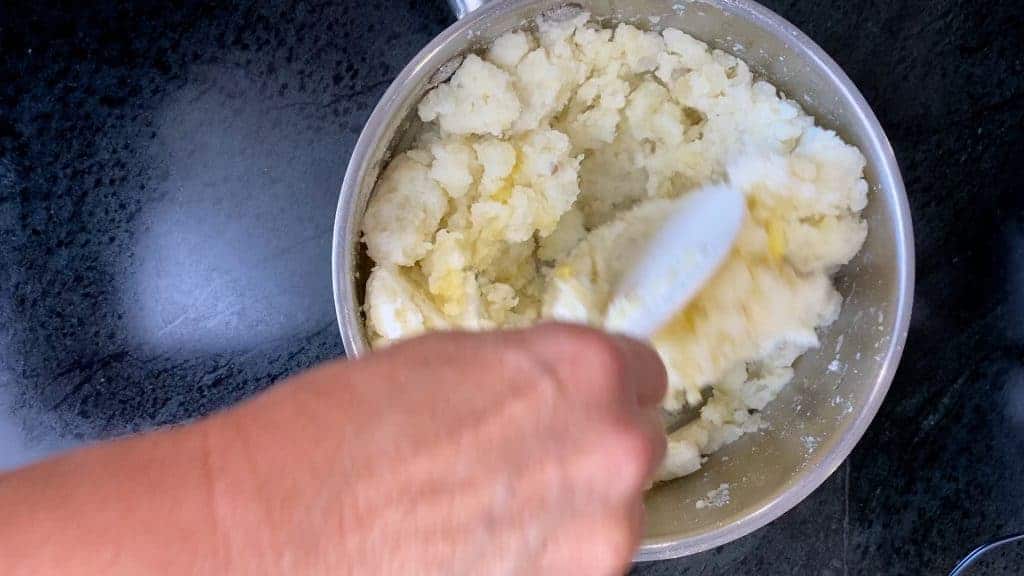 Step 6: Re-mash and reheat (if needed).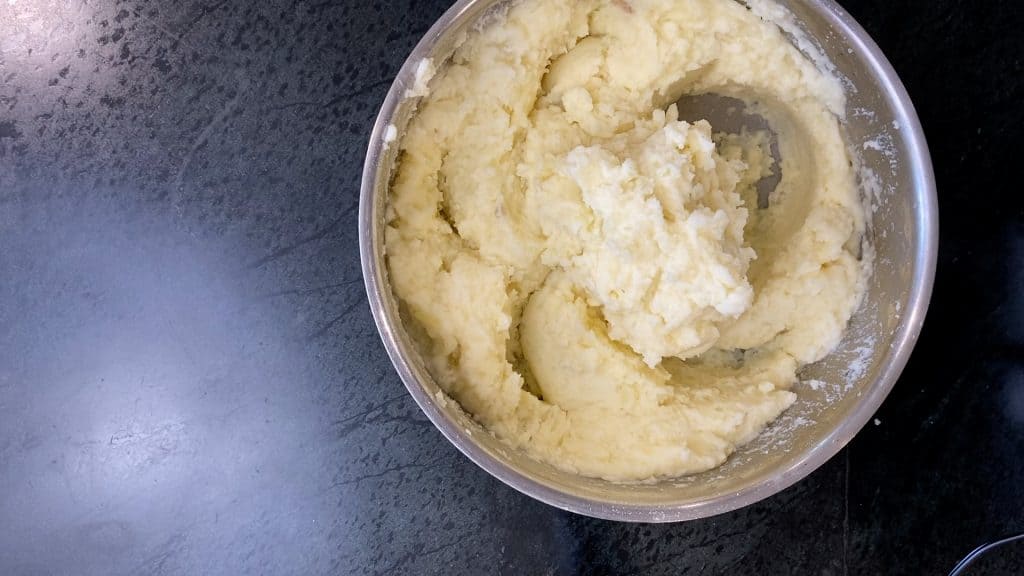 Chimichurri Sauce
Chimichurri Sauce is a spicy oil-based condiment that is amazing on grilled meat and veggies.
Step 1: Gather all of your ingredients, chop the parsley, dice the Serrano pepper, and mince the garlic.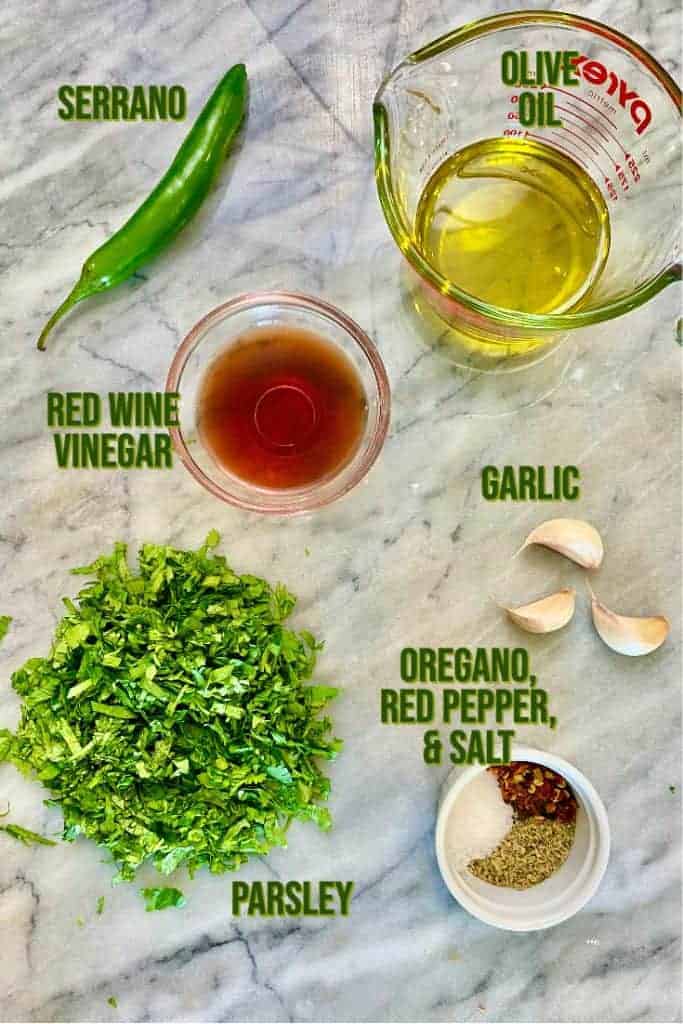 Step 2: Mix all of the ingredients together. If you want to make the Chimichurri Sauce ahead of time, you can omit the vinegar until right before you serve it. The vinegar will leach the color out of the herbs, so add the vinegar the same day you plan to serve the chimichurri.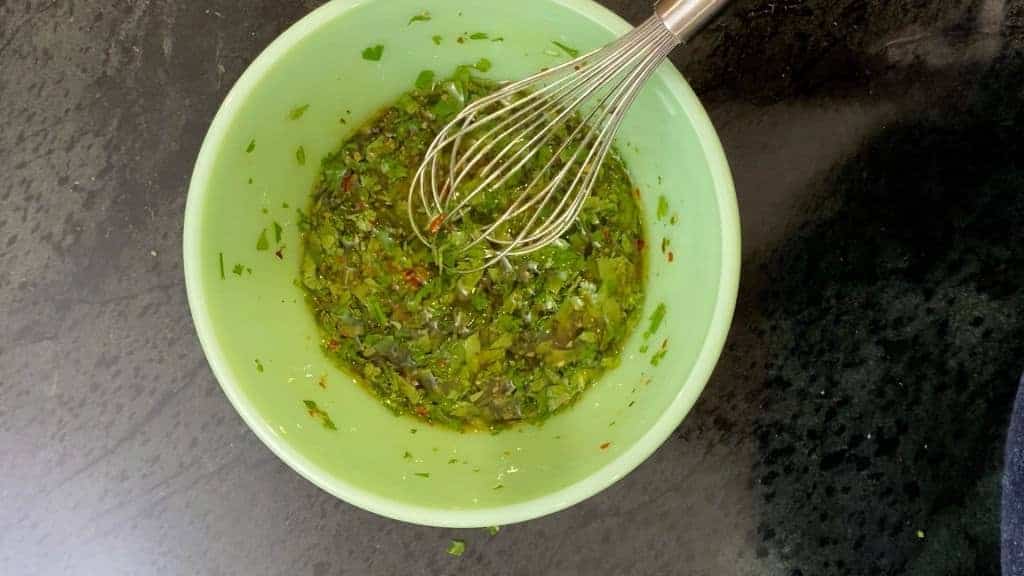 Grill the Chicken
As I said before, I do NOT recommend marinating the chicken in the Chimichurri Sauce if you are going to grill it. The high oil content can end up flaring up on the grill. Very startling! You could also cook these chicken thighs on a grill pan.
Step 1: Season the chicken with salt and pepper. Cook the chicken on medium-high heat for about 12 minutes (6 minutes per side), or until the internal temperature reaches 145℉.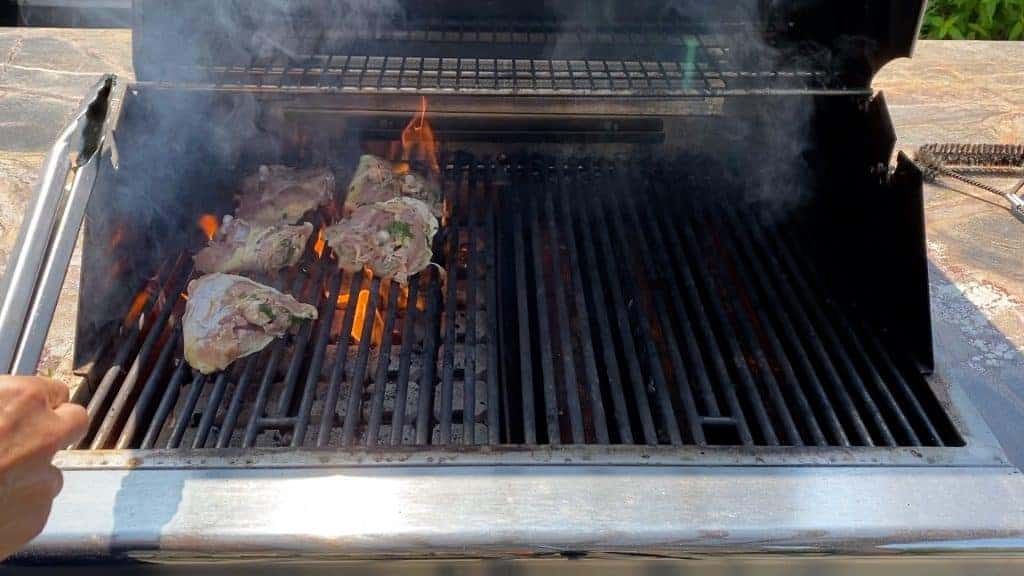 Step 2: Add the Chimichurri Sauce to the grilled chicken.
To Serve this Dish
Step 1: Scoop up a generous dollop of the goat cheese mashed potatoes and spread them out on the plate using the back of a spoon.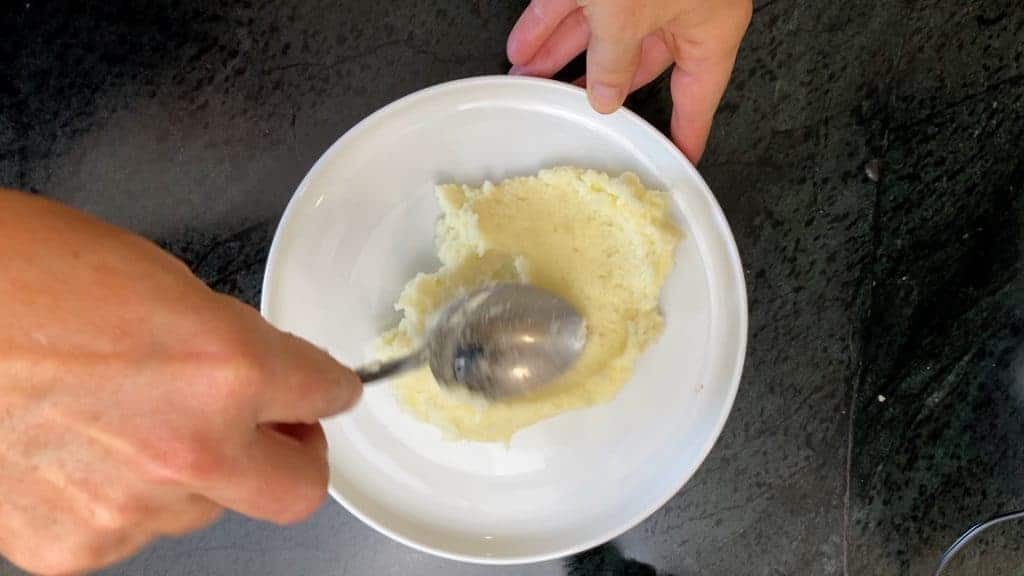 Step 2: Add a few of the grilled chicken thighs to the top of the potatoes.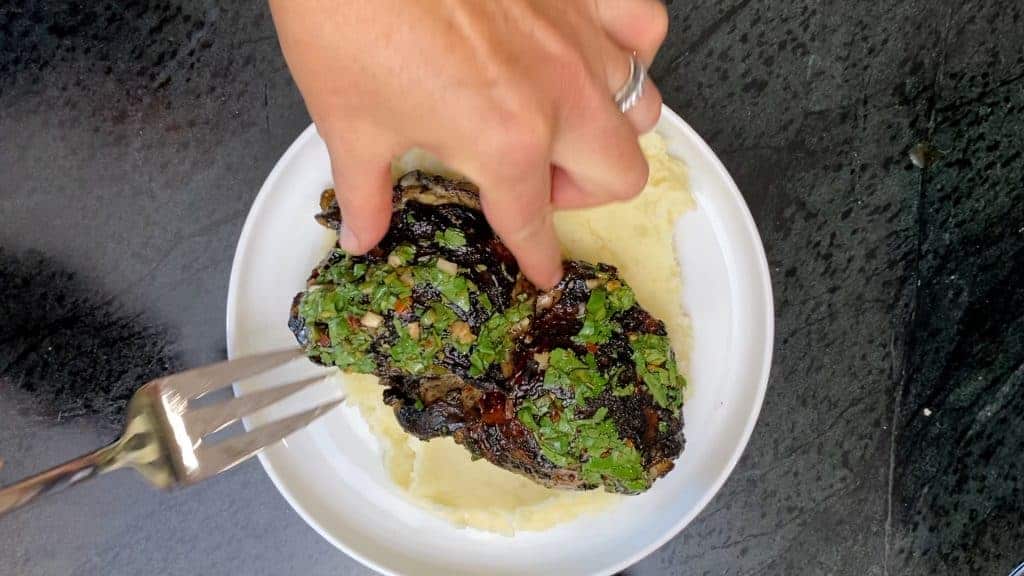 Step 3: Enjoy with a delicious Argentinian wine, such as a Malbec.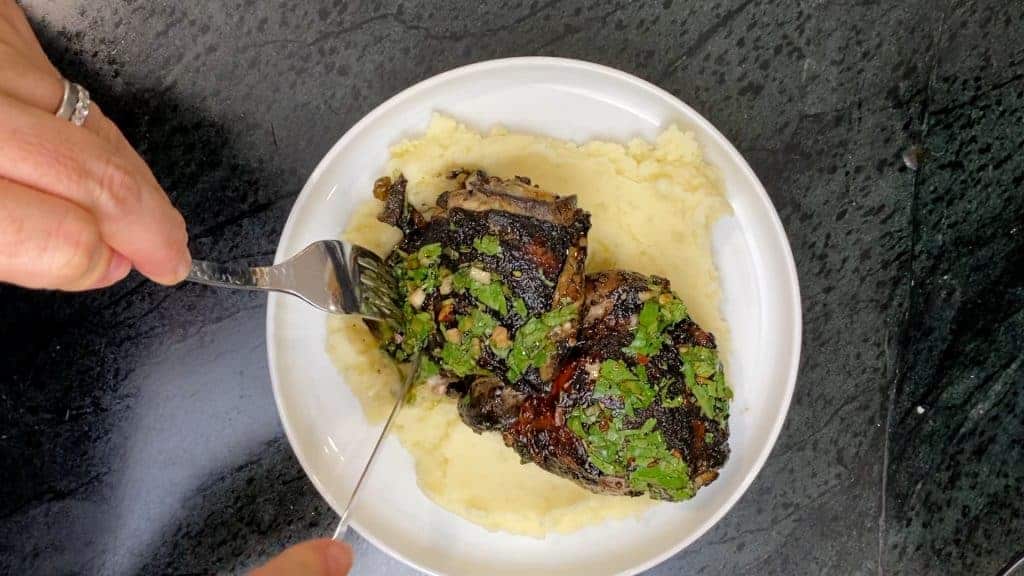 FAQs and Expert Tips
Is this Chimichurri recipe authentic?

I can't say that this chimichurri chicken recipe is completely authentic, but it is delicious. There are so many variations of chimichurri sauce out there, and they all claim to be THE authentic one!
Can you make mashed potatoes without milk?

Yes! In fact, these goat cheese mashed potatoes are made without milk. I use chicken broth to give these delicious mashed potatoes a light and fluffy texture. Goat cheese is easier to digest, even if you're sensitive to cows' milk.
This mashed potatoes recipe is great if you can't eat dairy.
Related Recipes
Chimichurri Sauce
Chimichurri sauce is a spicy, herbaceous sauce that adds a flavor bowl to grilled meats and vegetables. Use as a marinade, dipping sauce, or a condiment.
SEE THE RECIPE
PIN FOR LATER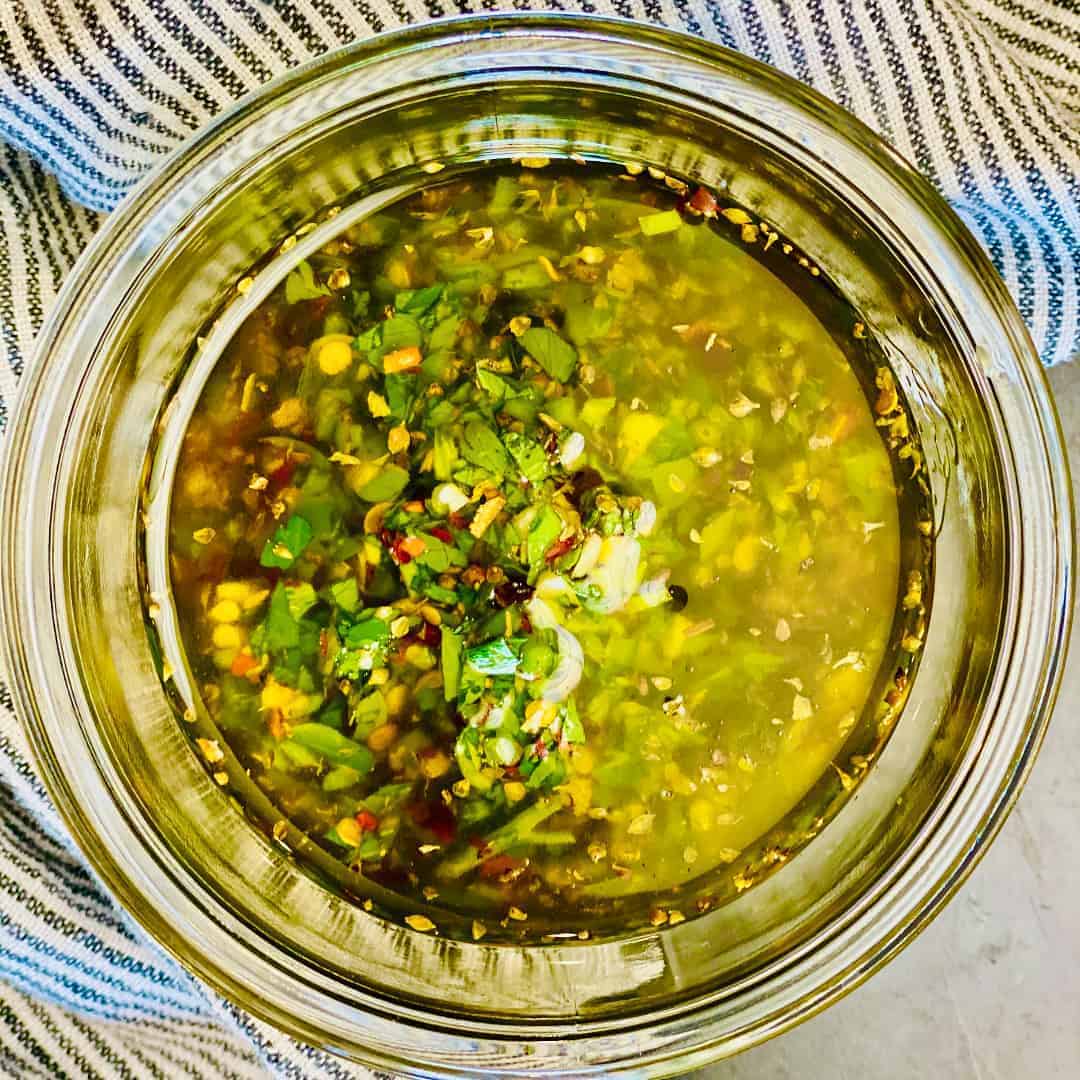 Grilled Chicken Marinade
This grilled chicken marinade not only adds a ton of flavor but, also tenderizes the chicken breasts. Say Hello to the Best Grilled Chicken! This flavorful chicken marinade gives you the best grilled chicken breast recipe because the chicken has so much flavor and stays juicy.
SEE THE RECIPE
PIN FOR LATER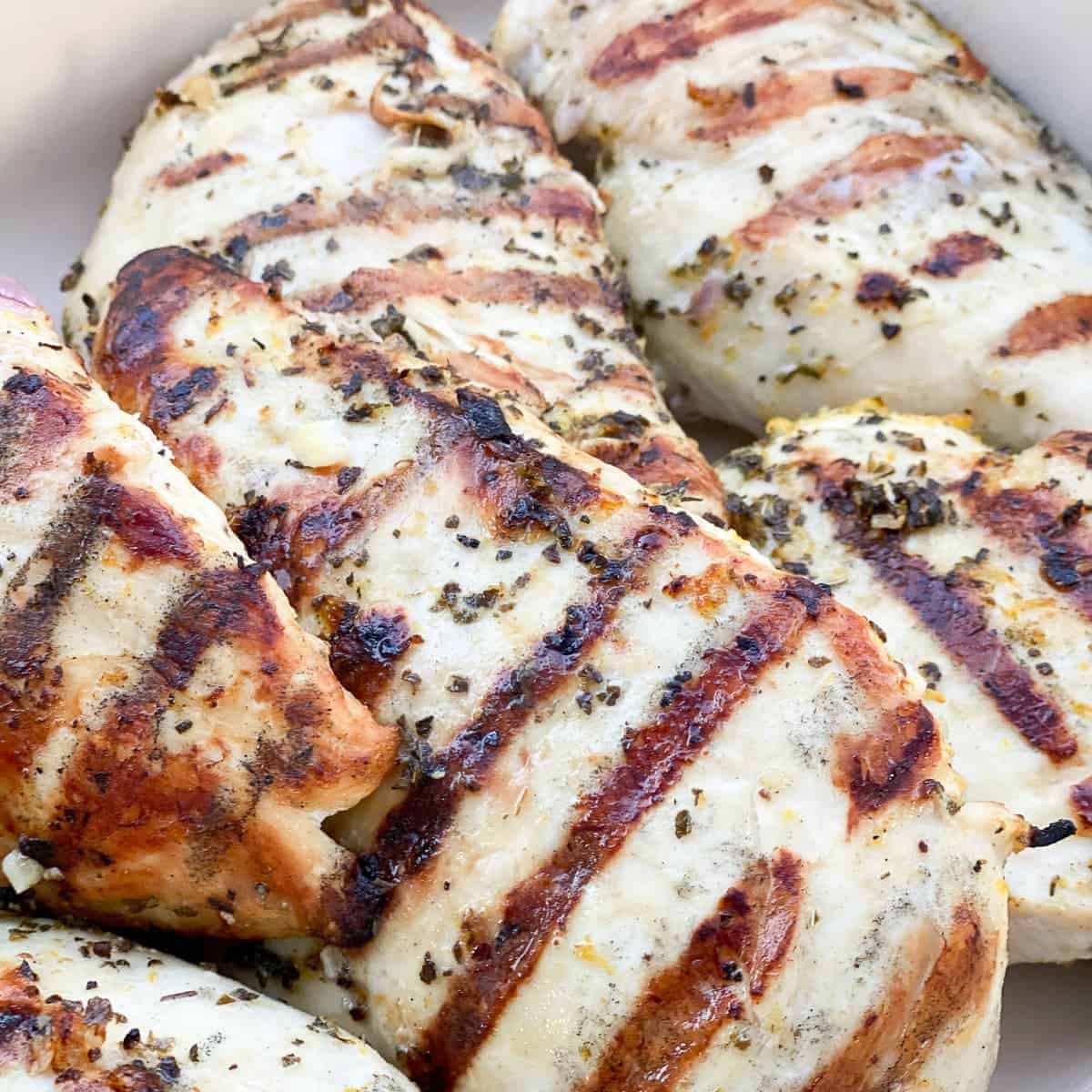 Other Recipes You Might Like
Leave A Review
Did you make this recipe? Leave a comment and a 5 ★ review. Your feedback helps other readers and helps me continue to offer recipes at no cost. Happy Cooking!!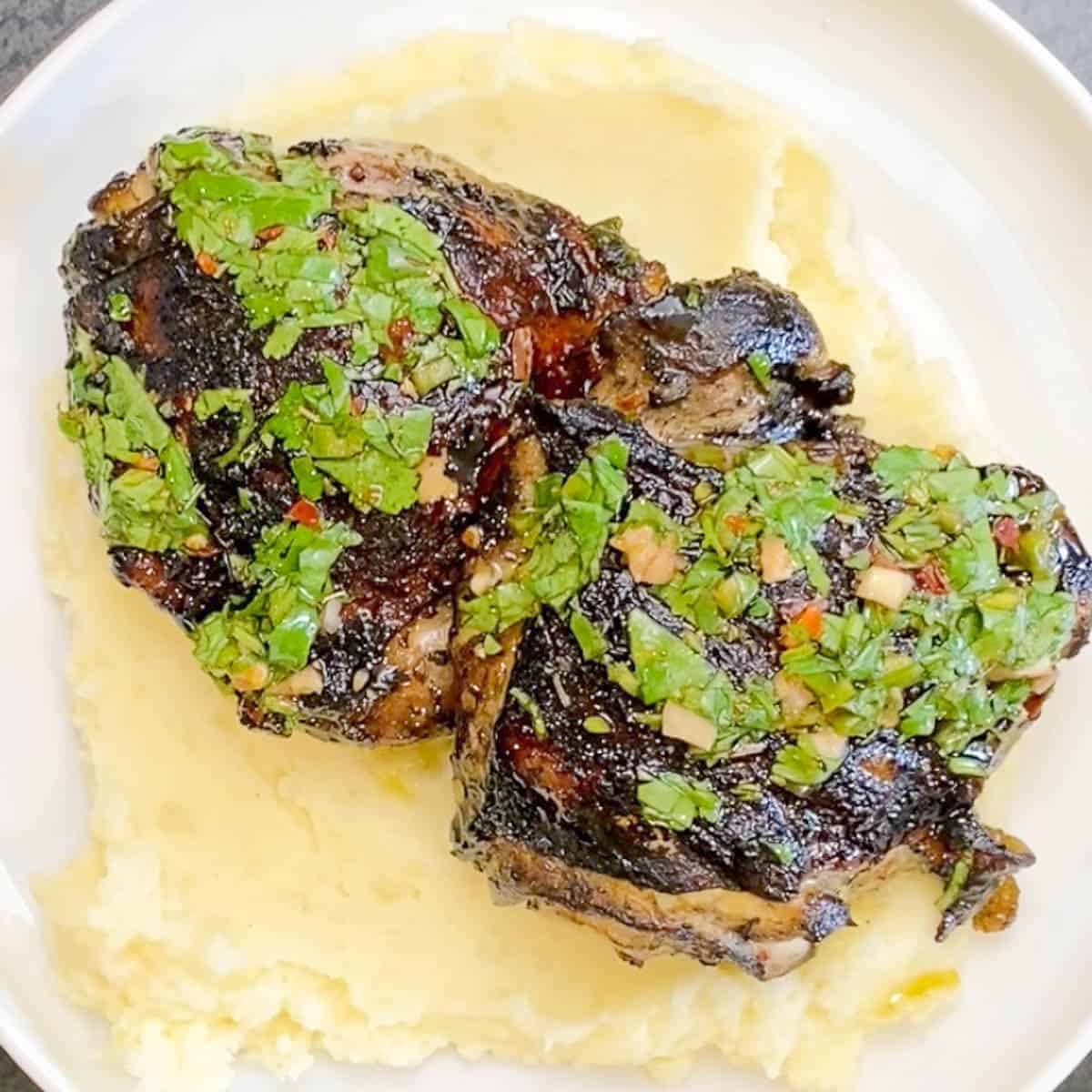 Chimichurri Chicken with Goat Cheese Mashed Potatoes
Chimichurri Sauce is a spicy, herbaceous sauce that adds a huge flavor boost to grilled meats and vegetables. Use as a marinade, dipping sauce, or condiment.
Ingredients
Chiminhurri Chicken
8

chicken thighs

,

I like bone-in, skin on

½

cup

olive oil

(affiliate link)

,

extra virgin

½

cup

fresh parsley

,

or cilantro (less traditional)

½

cup

red wine vinegar

(affiliate link)

,

or sherry vinegar

1

tablespoon

fresh oregano

,

or 1 teaspoon of dried oregano

3

cloves

garlic

,

finely minced or grated

1

teaspoons

kosher salt

(affiliate link)

1

teaspoon

red pepper flakes

1

Serrano pepper (red if you can find it)

,

seeded and finely diced
Mashed Potatoes
3

russet potatoes

,

boiled and peeled

1

garlic

,

pressed or finely minced

4

tablespoons

unsalted butter

5

ounces

goat cheese

½

cup

chicken or vegetable broth

,

you may need more or less broth
Instructions
Chimichurri Sauce
Herbs: Rinse and dry the parsley and the oregano, and remove the leaves from the stems. Chop the herbs into a fine texture.

Garlic: Remove the skin from the garlic. Chop finely, or I like to use a garlic press.

Serrano Pepper: Remove the seeds from the pepper and finely dice.

In a medium bowl or jar, combine the onion, parsley, oregano, garlic, salt, and red pepper. Add the oil and vinegar and mix well.

Store covered for a couple of days and use before the herbs start to turn brown.
Chicken Chimichurri
Salt and pepper the chicken thighs.
Mashed Potatoes
Cut the potatoes into quarters.

Place the potatoes into a pot of water, bring to a boil. Reduce the heat to a gentle boil and cook them until they are soft. (Test with a toothpick or fork for doneness.)

Drain in a collander. Let cool for about 10 minutes and then peel off the skins with your fingers.

Mash with a potato masher or press the potatoes through a ricer.

Add the butter and goat cheese. Mix together. You may have to reheat the potatoes if the butter and cheese aren't melting.

Add the broth a little at a time to thin the mashed potatoes to your desired thickness.
Laura's Tips + Notes
This recipe makes about 1 cup of Chimichurri Sauce.
Food Processor Instructions
Add all ingredients to the bowl of a food processor. Pulse until ingredients are finely minced.
Make Ahead
You can make Chimichurri Sauce up to 4 days ahead.
Mix all of the ingredients together in a Mason jar, but then do not add vinegar until the day that you will be serving the chimichurri.
YOUR OWN NOTES
Sign In to add your own private notes
Nutrition
Calories:
536
kcal
Carbohydrates:
16
g
Protein:
24
g
Fat:
42
g
Saturated Fat:
13
g
Cholesterol:
134
mg
Sodium:
456
mg
Fiber:
2
g
Sugar:
1
g
Calcium:
63
mg
Iron:
2
mg