Tender juicy steak and sweet potato meal prep recipe. A healthy meal prep bowl full of colorful vegetables, grilled steak, and baked sweet potato fries.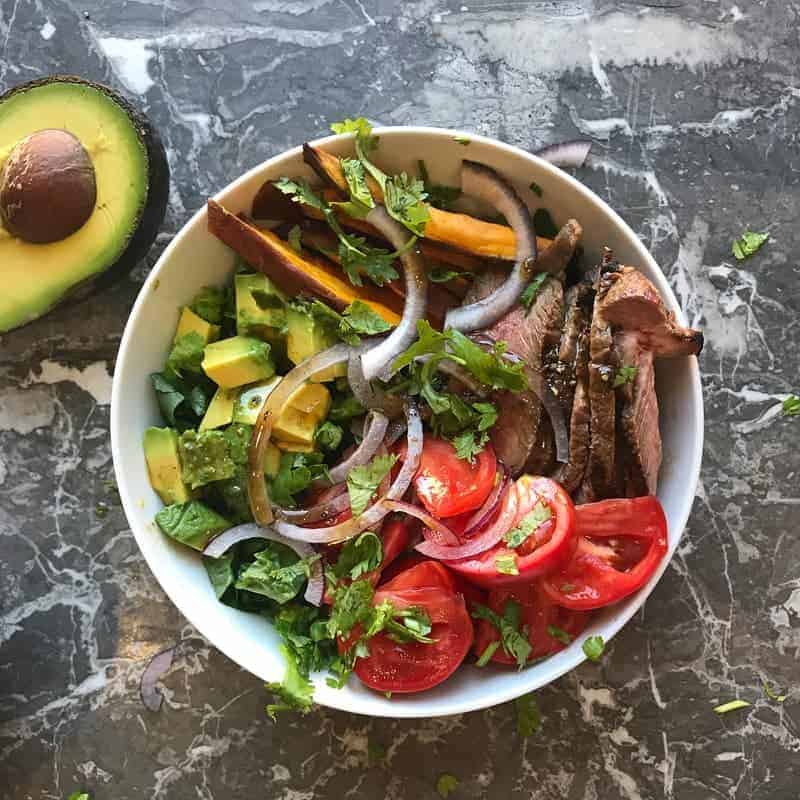 Grilled Steak and Sweet Potato Fries
The best thing about this power bowl recipe is you can first make the Grilled Steak and Sweet Potato Fries as an easy dinner meal one night, then you can use the leftover steak and sweet potatoes to make these delicious steak protein bowls.
These steak meal prep bowls are a recipe that I make often. The steak is marinated and then it can be cooked in a variety of ways.
What ingredients are needed to make this steak power bowl?
Steak
Sweet potatoes
Balsamic Vinaigrette
Greens
Tomatoes
Red Onions
Avocados
What cut of steak is best for meal prep?
When I am making meal prep recipes with steak I usually choose:
All of the cuts of steaks are perfect for serving sliced. In fact, Chateaubriand is and London Broil both refer to a type of steak preparation rather than a specific cut of meat. In the US you will see meat labeled with these names at the butcher counter.
I marinate the steak using a mushroom salt, black pepper, and a little bit of balsamic vinegar.
But honestly, you can just use salt and pepper as seasonings and still have a really good steak.
How to prepare a steak for meal prep.
Meal prep is all about planning ahead and making good use of leftovers. When I am making this recipe, I plan on making a Steak and Sweet Potato Dinner.
When I know that I am going to be using leftovers for meal prep I plan on making an extra-large amount for dinner. That way I can guarantee that I will have plenty of leftovers.
Then I use the leftover steak and sweet potatoes to build these steak power bowls. When you plan ahead like this. You save a ton of time.
My favorite way to cook a steak is on the grill.
I've recently started using a sous-vide method that makes it easy to prepare a steak that is flavorful and at the perfect temperature.
What does a sous-vide do?
Sous-vide is a method of cooking is a water bath and allows you to get the internal temperature or your steak perfect and then all you have to do is finish it off on the grill or with a pan sear.
If you haven't tried this method of cooking yet, I highly recommend you give it a try. It makes any protein that you cook tender, delicious and ultra flavorful.
An added benefit of the sous-vide method of cooking for busy working people is that you can leave your protein in the water bath for several hours without having to worry about it being overcooked.
Methods of cooking a steak
Sous-vide, finished on the grill (2 minutes each side)
Sous-vide, finished by pan-searing (2 minutes each side)
Grilling. (timing based on thickness)
Pan-searing, finishing in the oven. (timing based on thickness)
How to use a sous-vide
Don't feel like you have to use the sous-vide method. I just wanted to give you this option because I know once you use it you will wonder why it took you so long to try it.
Sous vide is a method of cooking that involves, seasoning your protein, sealing it in a plastic bag (I use a vacuum sealer), and then cooking it in a water bath to reach the proper internal temperature.
Once the meat has come to the temperature you can hold it in the water bath until you are ready to cook it.
To finish the steak you brown it by pan searing it OR grilling it.
I have a JOULE brand sous-vide that syncs with your smartphone. It is super easy to use.
Equipment you need to sous-vide
A large pan or a plastic container for water. I usually use my Staub Dutch Oven
Plastic Bags – you can use a freezer bag for this step. I use a vacuum sealer.
Sous-Vide Heating Wand
There are several different Brands of Sous Vide Wands. I've only used the Joule brand and have been happy with it.
Preparing A Steak for Sous Vide
Add the seasonings to your steak and put it in a plastic bag. If you have a vacuum sealer, seal your steaks in the bag.
Start your sous-vide and set it to the desired temperature.
Add the steak to the water bath and cook until the steak reaches the proper temperature.
Remove from the water bath and prepare a grill or pan on the stovetop.
Finish your steak off on the grill or by pan-searing it.
To grill or pan-sear a sous-vide steak, you will only need about 2 minutes on each side.
How To Grill A Steak
The absolute best way to make sure your steak is cooked to the correct internal temperature is to use a probe thermometer.
Remove the steak from the fridge for about 1 hour before grilling.
Heat the grill to high.
For a medium-rare temperature on a 1 ½ inch steak grill for 5 minutes on the first side and 4 to 5 minutes on the second side.
Remove the steak from the grill, set on a plate, cover with aluminum foil and rest for about 10 minutes.
To Pan Sear A Steak
Heat a heavy-bottomed skillet on high
Add a few tablespoons of butter and sear the steak for 2 minutes on each side.
There is no need to finish the steak off in the oven.
Making Sweet Potato Fries
Cut the sweet potatoes into fries. No need to peel them.
Toss with a little bit of oil and salt.
Bake in the oven at 425℉ for about 15 minutes.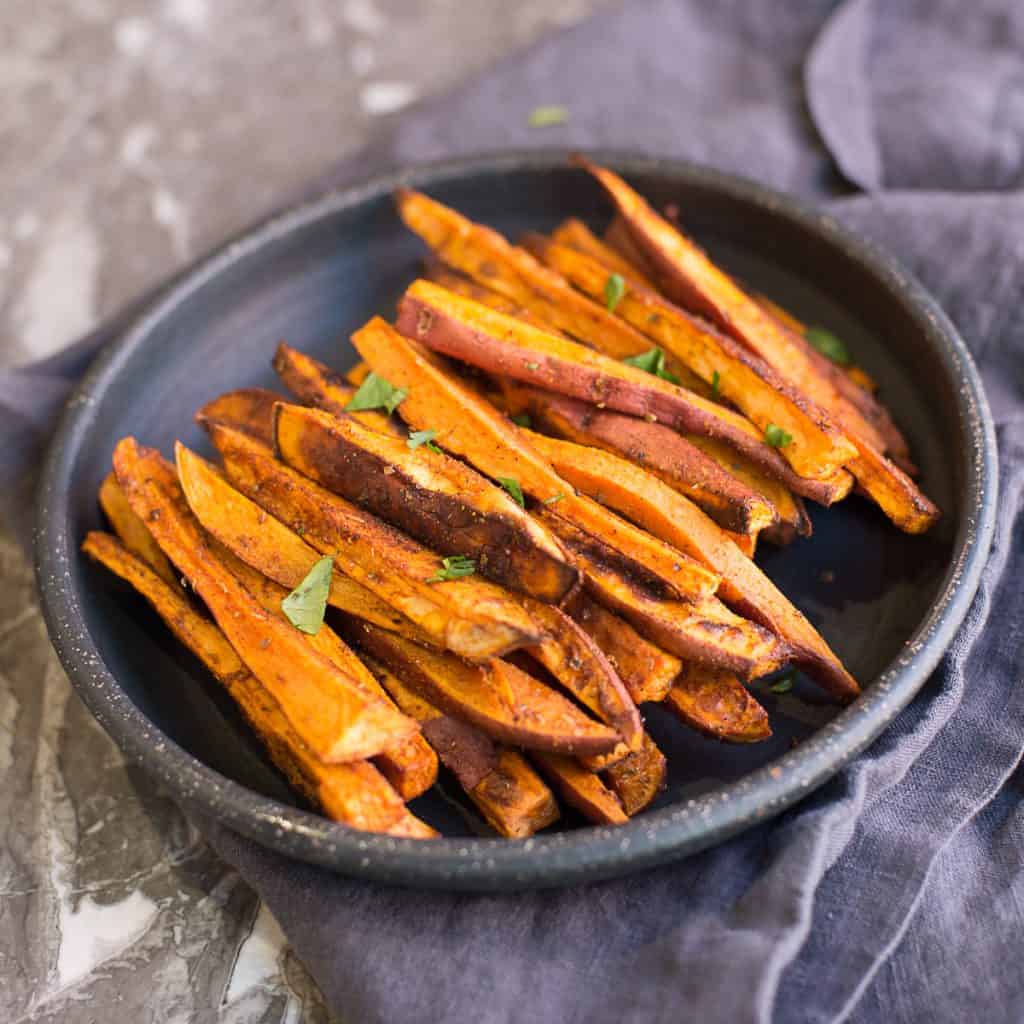 Balsamic Vinaigrette
Add the oil, vinegar, salt, and pepper to a bowl and whisk.
Alternatively, use a Ball Jar and just shake.
Putting Together Your Power Bowl
Add a few handfuls of greens to your bowl.
Add tomatoes, red onions, and avocado.
Add 3 to 4 ounces of sliced steak.
Add some sweet potato fries.
Top off with some Balsamic Vinaigrette.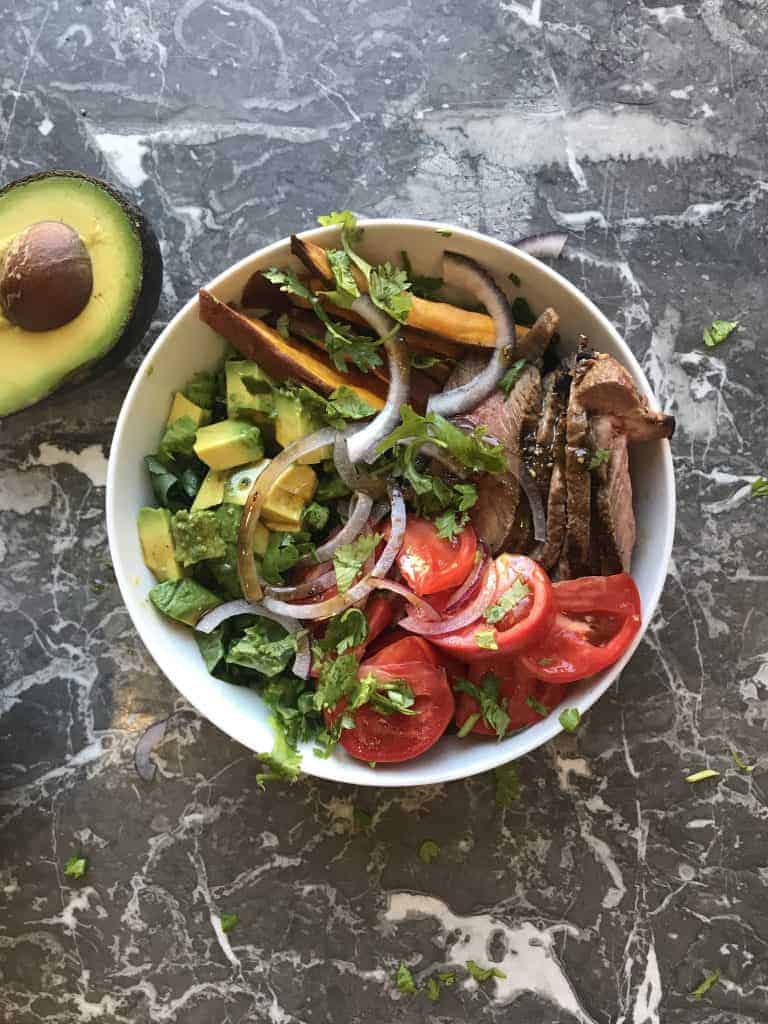 Other Power Bowl Recipes
Mediterranean Power Bowl with Lemon Tahini
Gluten-Free Fried Chicken Power Bowl
➽ Did you make this recipe? I love to see what's going on in your kitchen. Show me what you're cooking. 🍳 Tag me @foodologygeek on your favorite social channel! Facebook, Instagram & Pinterest. If you loved ❤︎ this recipe, please leave a five ★ review and a comment!