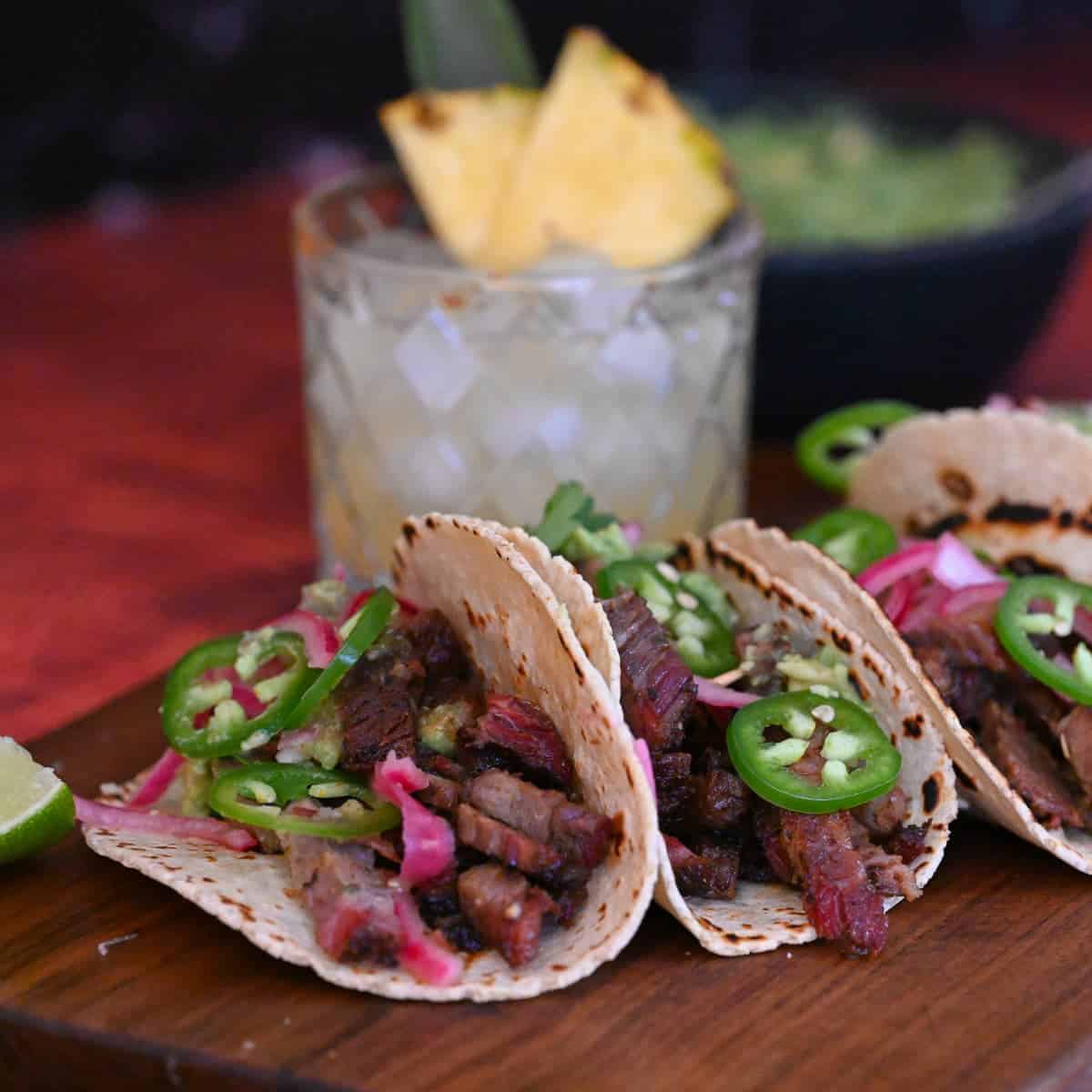 Recipe
Comments
Save
Go to Collections
This post may contain affiliate links. Please read my
disclosure policy.
The Ultimate Guide to Brisket Tacos: A Perfect Fusion of Smoky Beef and Mexican Flavors
Are you ready to embark on a culinary adventure that combines the smoky richness of beef brisket with the vibrant flavors of Mexican cuisine? Look no further than this ultimate guide to brisket tacos, where we will show you how to achieve the perfect fusion of flavors in every bite.
Brisket, the beloved cut of beef known for its tenderness and marbling, takes on a whole new level of deliciousness when paired with classic Mexican ingredients. From the tangy salsa verde to the fresh jalapeño slices, each component of these tacos enhances the natural flavors of the slow-cooked beef.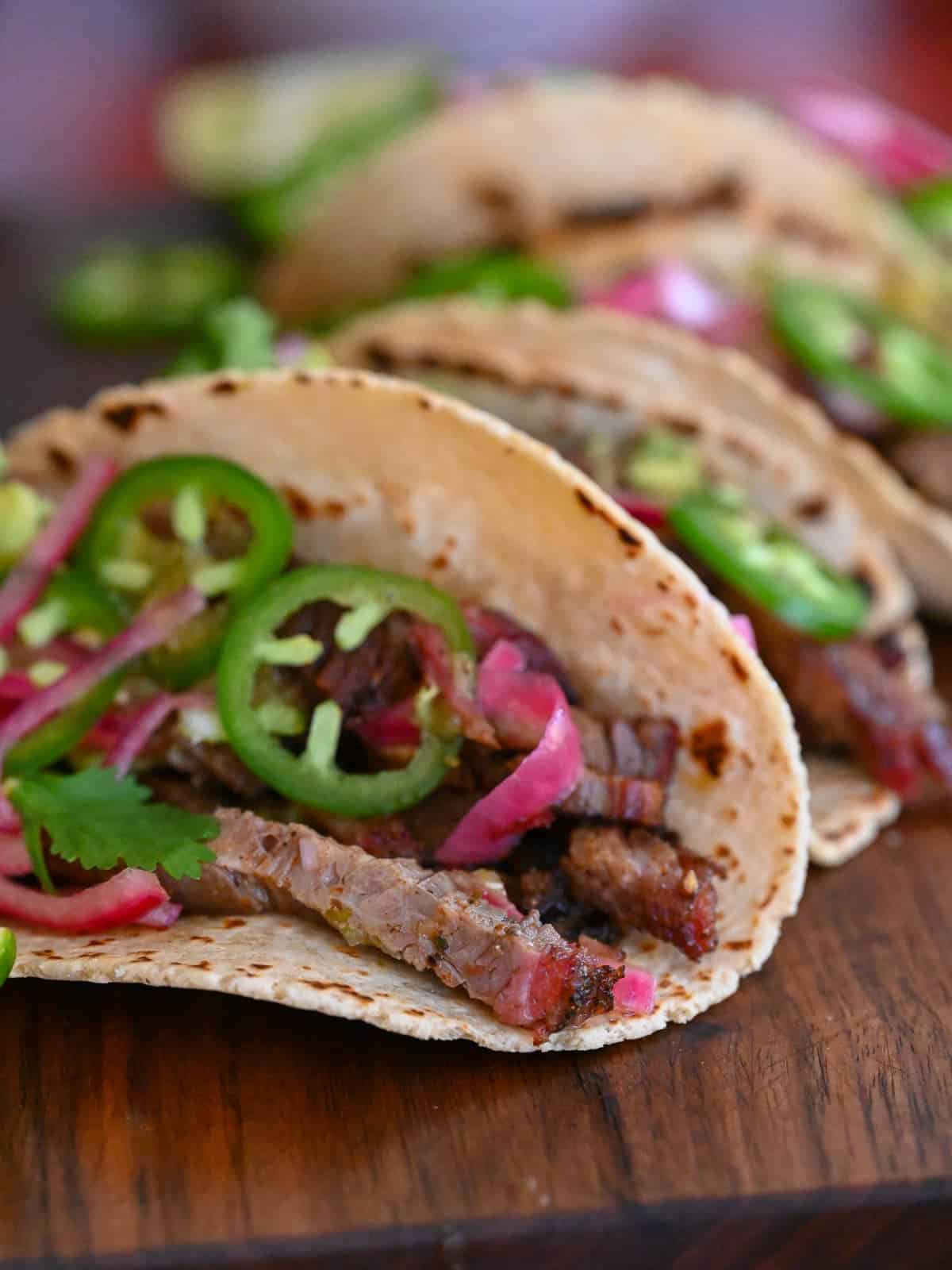 This recipe starts with leftover brisket. If you're starting from scratch, head over to my Smoked Brisket Recipe and learn how to smoke the brisket to perfection.
Make sure to have fresh tortillas and a variety of accompanying salsas and toppings. Whether you prefer a traditional approach or want to experiment with innovative flavor combinations, we've got you covered.
Get ready to tantalize your taste buds and wow your family and friends with these irresistible smoked brisket tacos. Let's dive into the world of smoky beef and Mexican flavors!
History of brisket tacos
The history of beef brisket tacos can be traced back to the Mexican state of Sonora, where beef is a staple ingredient in many dishes. However, it wasn't until the 20th century that brisket tacos gained popularity in Texas, where the cut of meat is abundant and has a long tradition of smoking.
The fusion of smoky beef and Mexican flavors quickly caught on, and brisket tacos can now be found in many Mexican and Tex-Mex restaurants across the United States. Today, brisket tacos have become a beloved street food, perfect for any occasion, from a casual lunch to a festive dinner party.
Choosing the right cut of brisket for tacos
Choosing the proper brisket cut is crucial for achieving your tacos' perfect texture and flavor. The ideal cut for brisket tacos is the point cut, which has more marbling and fat than the flat cut, making it more tender and flavorful.
When selecting a brisket, look for one that is well-marbled and has a good amount of fat. The fat will render during the smoking process, infusing the meat with rich flavors and keeping it moist and tender.
Trim any excess fat from the brisket before smoking, leaving only a thin layer to protect the meat from drying out. Rub the brisket with a blend of spices, such as chili powder, cumin, and garlic, to enhance its natural flavors.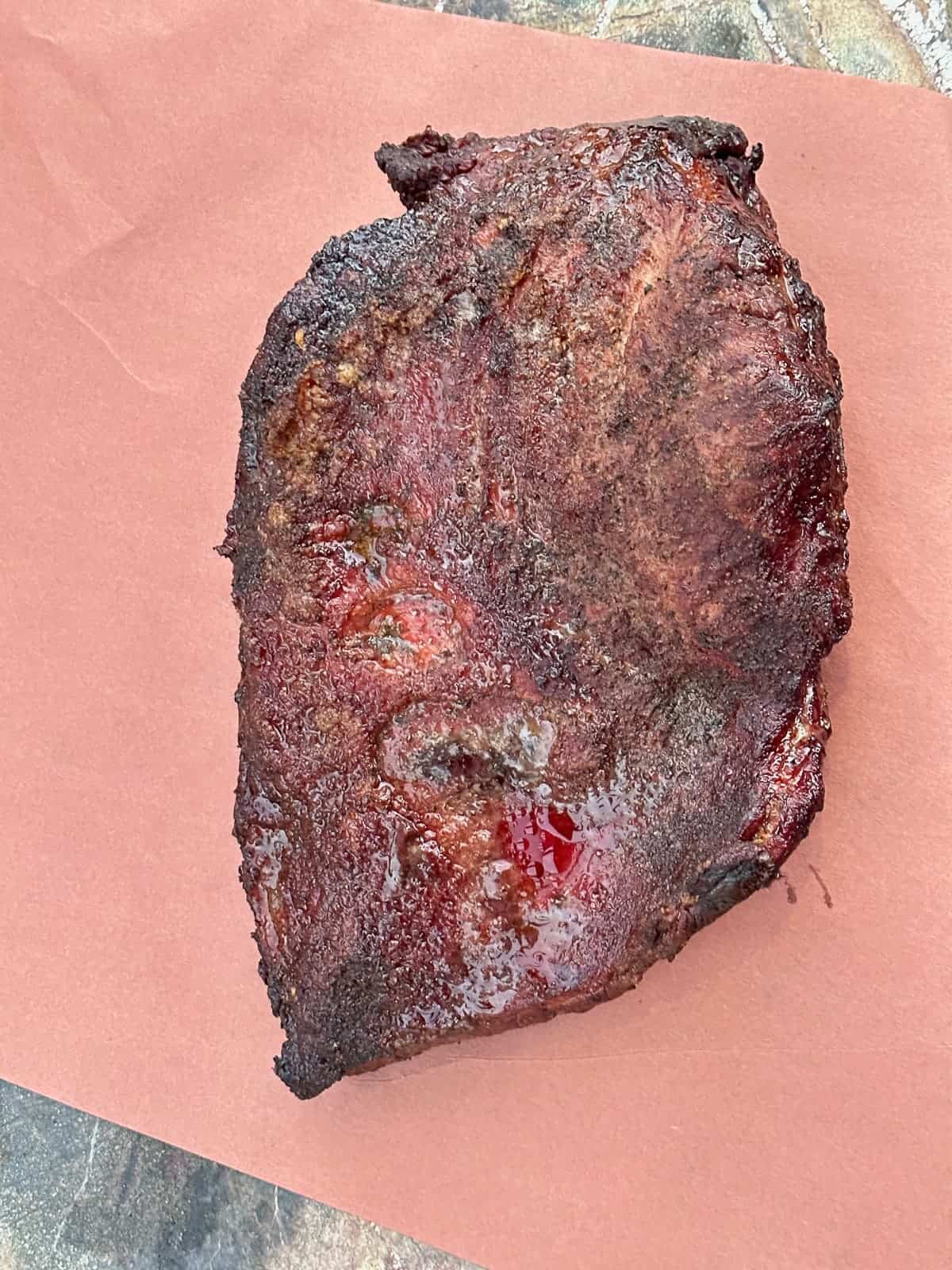 Smoking and seasoning the brisket
Smoking the brisket to perfection is the key to achieving the smoky flavor and tender texture that make brisket tacos so irresistible. The traditional method of smoking brisket involves using a wood-fired smoker, which infuses the meat with the flavors of the wood and creates a distinctive smoky aroma.
To smoke the brisket, prepare the smoker by filling the wood box with wood chips or chunks and heating it to the desired temperature, usually between 225°F and 250°F. Place the brisket on the smoker rack, fat side up, and smoke it for several hours until it reaches an internal temperature of 190°F to 200°F.
During the last hour of smoking, season the brisket with more spices and herbs, such as oregano, paprika, and thyme. Remove the brisket from the smoker and let it rest for at least 30 minutes before shredding it for the tacos.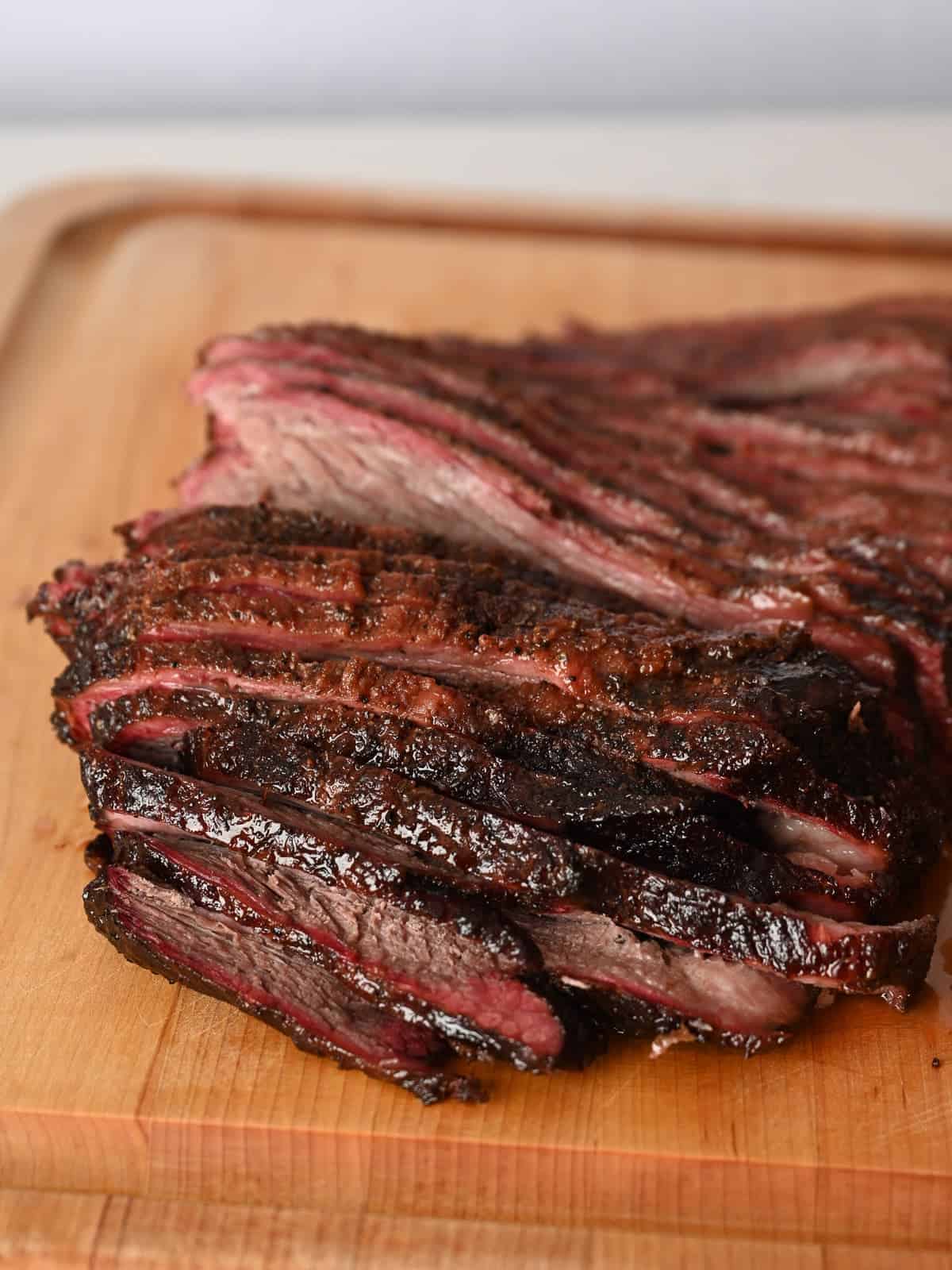 Shredding and preparing the brisket for tacos
Shredding the brisket is the final step before assembling the tacos. Use a sharp knife to slice the brisket against the grain, creating thin strips that are easy to chew and flavorful.
Reheat leftover brisket in a cast iron skillet over medium-high heat. Cook the brisket until it's crispy on the edges. Season with a taco seasoning, if desired.
To assemble the tacos, warm up the tortillas in a dry skillet or griddle until they are soft and pliable. Place a few brisket strips in each tortilla's center and add your favorite toppings and garnishes.
Traditional Mexican flavors complement the brisket
The beauty of brisket tacos is that they can be customized to suit any taste or preference. However, traditional Mexican flavors pair perfectly with the smoky richness of the beef.
Salsa verde, a tangy and spicy sauce made with tomatillos, jalapeño peppers, and cilantro, is a classic Mexican condiment that adds a refreshing kick to brisket tacos.
Pico de gallo, a fresh and chunky salsa made with tomatoes, onions, and cilantro, is a popular topping for brisket tacos.
Guacamole, a creamy and flavorful dip made with ripe avocados, lime juice, and salt, is another must-have topping for brisket tacos.
Other traditional Mexican flavors that complement brisket tacos include:
pickled red onions: to quickly pickle onions, slice a red onion and add a few teaspoons of sugar and a teaspoon of salt. Add white vinegar and let them sit. They will be pickled by the time you are ready to serve dinner.
cotija cheese
fresh cilantro
lime wedges
Experiment with different combinations of toppings and garnishes to create your own signature brisket tacos.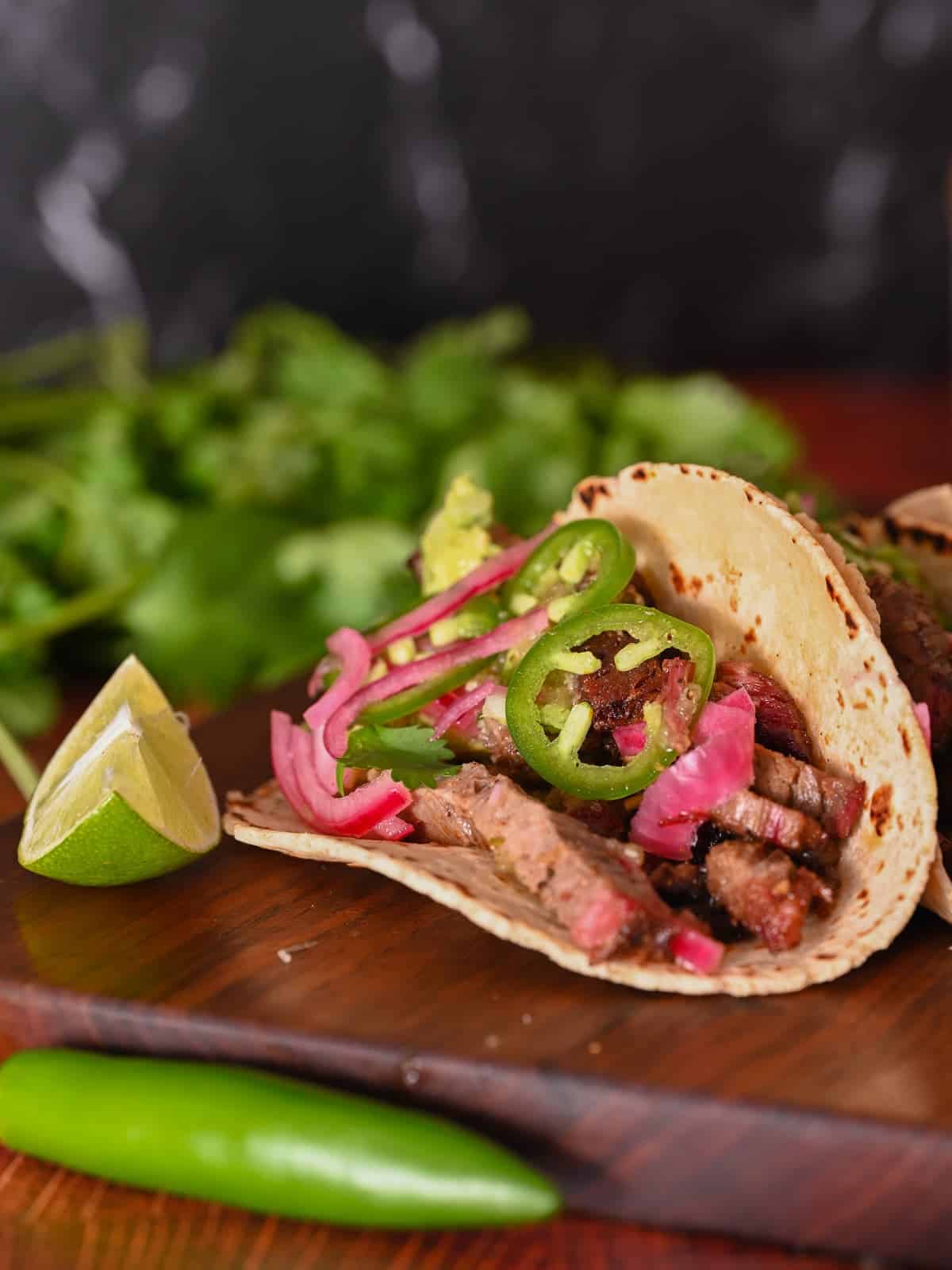 brisket taco Toppings and garnishes
Toppings and garnishes are the finishing touches that make brisket tacos a feast for the eyes and the taste buds. In addition to the traditional Mexican flavors mentioned above, there are many other toppings and garnishes that can add extra texture and flavor to the tacos.
For a more gourmet twist on brisket tacos, try adding:
pickled jalapeños
roasted corn salsa
caramelized onions
Other common toppings that add creaminess, crunch, and heat to the tacos are:
sour cream
shredded lettuce
sliced jalapeños
The possibilities are endless, so feel free to get creative and experiment with different combinations of toppings and garnishes.
Creating homemade tortillas for the tacos
While store-bought tortillas are convenient and readily available, making your own tortillas can take your brisket tacos to the next level. Homemade flour tortillas are easy to make and have a superior taste and texture compared to store-bought ones.
To make homemade corn tortillas, combine masa flour, salt, and baking powder in a mixing bowl. Add water and knead the dough until it forms a smooth, elastic ball. Let the dough rest for 10 minutes before dividing it into small balls.
Roll out each ball into a thin, round tortilla using a rolling pin or tortilla press. Cook the tortillas on a hot skillet or griddle for 30 seconds on each side until they are lightly browned and puffed up.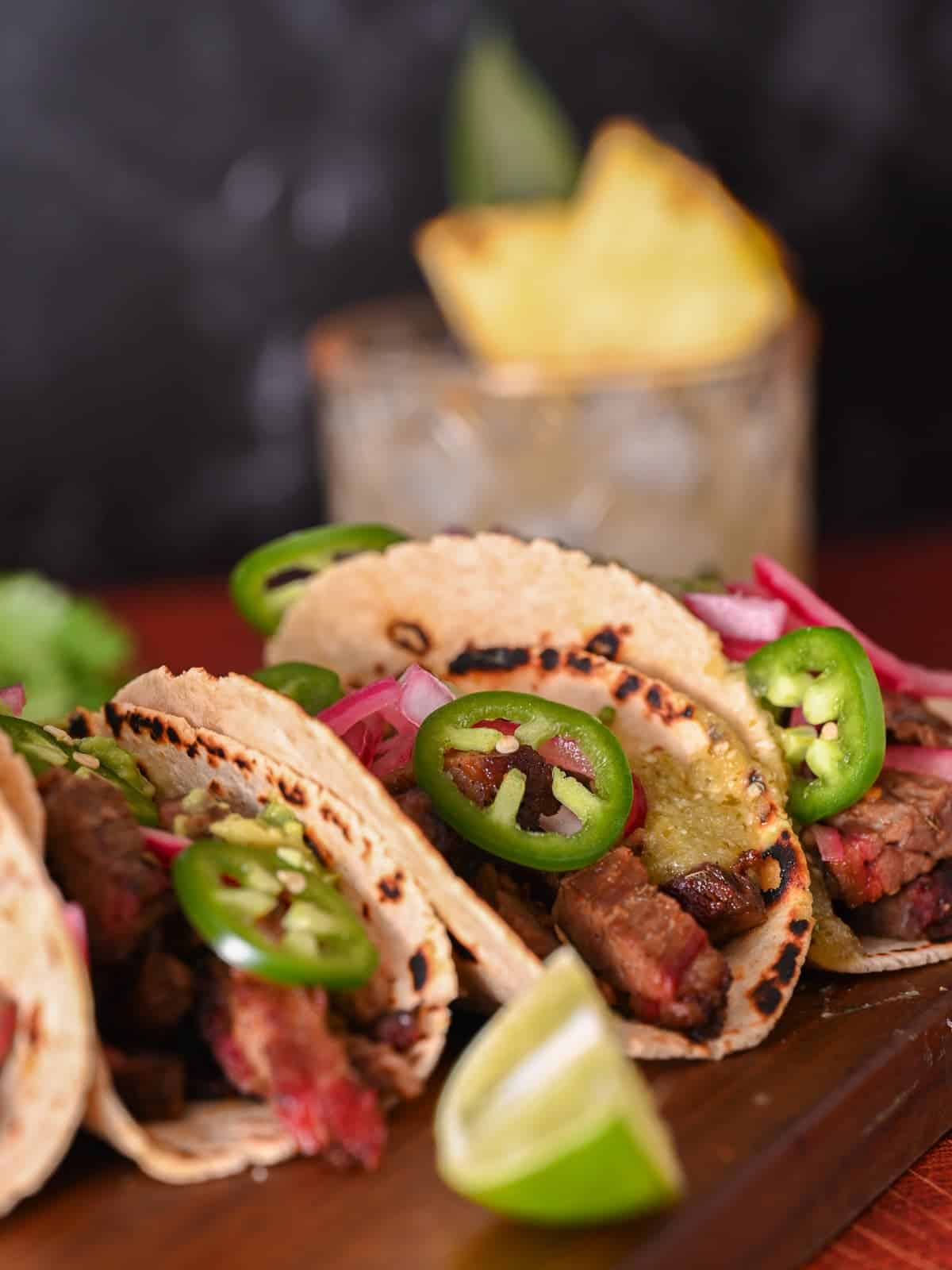 Serving and enjoying brisket tacos
Brisket tacos are best served hot and fresh from the grill or stove. Arrange the tacos on a platter and garnish them with fresh cilantro and lime wedges.
Serve the tacos with a side of Mexican rice, refried beans, or a simple salad for a complete and satisfying meal. Don't forget to stock up on your favorite hot sauce and salsa to add extra heat and flavor to the tacos.
Enjoy the tacos with friends and family, and savor every bite of the smoky beef and Mexican flavors. Brisket tacos are perfect for any occasion, from a casual dinner at home to a festive party with friends.
Other Mexican Sides To Try
Check out our full lineup of Mexican sides:
Mexican street corn is the perfect side dish for summer grilling. This Mexican recipe is also known as an Elotes recipe. You'll love the combination…
In this brisket taco recipe, we've shown you how to choose the right cut of brisket, smoke it to perfection, and create a variety of toppings and garnishes to complement the beef. We've also shared a recipe for homemade tortillas, which can take your brisket tacos to the next level.
So what are you waiting for? Gather your ingredients, fire up the smoker, and get ready to create the most mouthwatering brisket tacos you've ever tasted. Your taste buds will thank you!
Hungry For More Tacos?
We love tacos more than the average person. If you do then we have more taco recipes for you to try.
Are you craving a delicious and healthier version of crispy fish tacos? Look no further! Our air fryer fish tacos recipe combines crispy and flavorful…
Carne Asada is one of my favorite Mexican recipes. It's made with simple ingredients, easy to make, and it has the most delicious flavors. You…
This easy slow-cooked Mexican beef recipe makes the perfect pulled beef tacos, also known as brisket tacos. Every time I make this recipe for guests,…
Leave A Review
Did you make this recipe? Leave a comment and a 5 ★ review. Your feedback helps other readers and helps me continue to offer recipes at no cost. Happy Cooking!!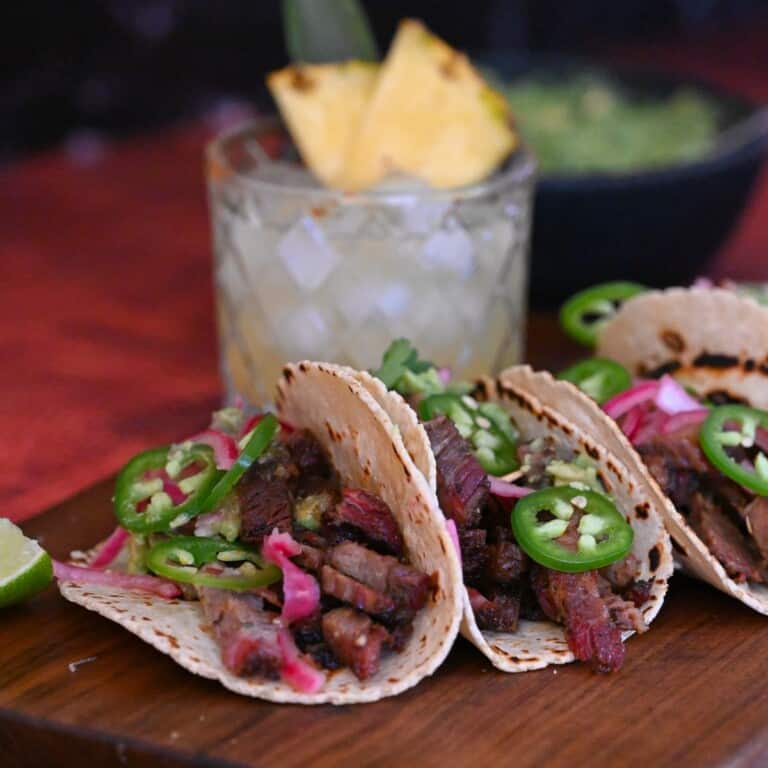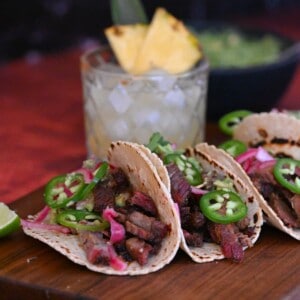 Brisket Tacos Recipe
Brisket tacos are a culinary masterpiece that combines the best of both worlds: the smoky richness of beef brisket and the vibrant flavors of Mexican cuisine. Whether you prefer a traditional approach or want to experiment with innovative flavor combinations, the possibilities are endless for brisket tacos.
Ingredients
Taco Toppings
pickled onions

cotija cheese

jalapeños

fresh cilantro
Instructions
Make Smoked Brisket: See my smoked brisket recipe to start from scratch. OR use leftover brisket from your last smoke.

1 to 2 lbs smoked brisket

Slice the brisket: Slice the brisket into bite-sized pieces.

Reheat the brisket: Add the brisket to a heavy cast iron pan on medium-high heat and reheat it. I like adding a little taco seasoning blend to the brisket as it's reheating. You want the brisket to be a little bit crispy on the edges for optimal flavor.

1 to 2 tablespoons taco seasoning

Prepare the toppings: You can add whatever you want to these brisket tacos. But a few of my favorites are pickled onions, salsa verde, and fresh sliced jalapeños.

pickled onions,

salsa verde,

cotija cheese,

jalapeños,

fresh cilantro

Serve with fresh tortillas: Warm them before serving and keep them warm in a tortilla warmer.
YOUR OWN NOTES
Sign In to add your own private notes
Nutrition
Serving:
1
taco
Calories:
151
kcal
Carbohydrates:
15
g
Protein:
10
g
Fat:
5
g
Saturated Fat:
2
g
Cholesterol:
23
mg
Sodium:
267
mg
Fiber:
1
g
Sugar:
1
g
Calcium:
46
mg
Iron:
2
mg