Mini blueberry hand pies are a few bites of fruity bliss. Imagine the best blueberry pie filling nestled in bite-sized in buttery, flakey pie crust. These beauties freeze well so you can get a few bites of blueberry pie all year round.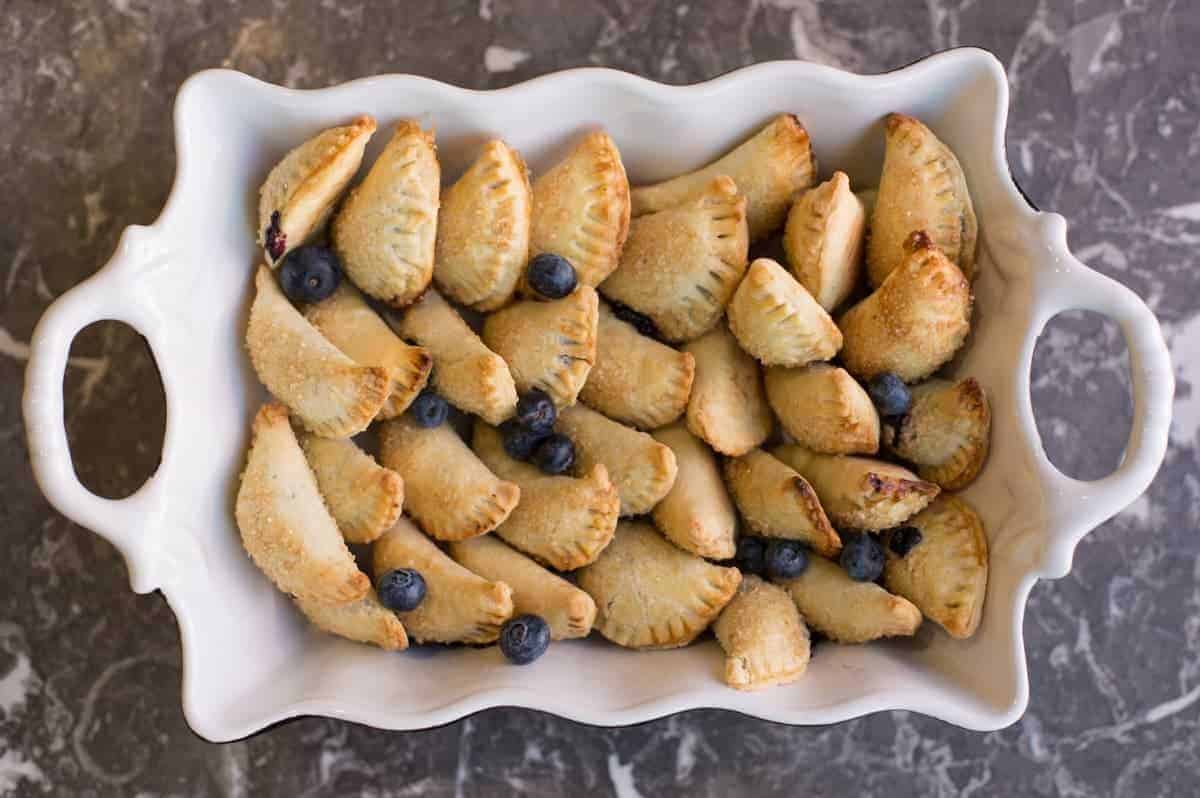 These mini fruit hand pies are like the cutest blueberry dessert empanadas.
Tiny pies are perfect for indulging in pie without taking a wild trip on the calorie train. Part blueberry empanadas and part blueberry Pop-Tart – these individual blueberry pies are filled with the best homemade blueberry pie filling.
Not only are these mini blueberry pies delicious, but this recipe is also a recipe for baked hand pies. Because this mini blueberry pie recipe isn't the typical fried version of hand pies, you can feel a little bit better about eating them.
Creating these mini berry pies started with making a homemade blueberry pie recipe.
I was flipping through one of my food magazines and came across a recipe for a double-crust huckleberry pie.
The homemade berry pie filling was cooked down into a vibrant and bright berry compote and then baked between two layers of flaky pie crust. I wanted to create this same thick, jammy berry pie filling in my Easy Blueberry Pie Recipe.
How to make the best blueberry pie filling.
I don't want to brag but this blueberry pie filling recipe is a keeper. I am definitely going to make it again and put it into a full-sized double-crusted pie.
PRO TIP: You can make a blueberry pie with frozen berries if fresh blueberries aren't in season.
STEP 1: Start with 6 cups of Berries: Use fresh or frozen berries. Add them to a large skillet.
STEP 2: Add the sugar to the skillet and cook on medium. Continue to cook the berries until the sugar is dissolved and all of the berries have broken down. You can cook the berries for a longer or shorter time depending on how "jammy" you want your filling to be. The longer you let them cook, the thicker the filling will be.
STEP 3: Add the cornstarch slurry to the berries and bring the berry filling to boil. You can also use arrowroot powder for this step.
STEP 4: Remove the berries from the heat. Then add the lemon, the lemon zest, and the cinnamon.
The first homemade blueberry pie recipe.
Don't get me wrong this was really good blueberry pie, but I still wanted the filling to be thick and jammy.
The huckleberry pie filling that I had seen in the magazine, was still stuck in my brain. I was determined to recreate it in blueberry form.
The sweet and juicy berry pie filling and the perfectly baked buttery pie crust was only more magical when it was topped off with some vanilla ice-cream — extra yum!
Next Stop: Mini Blueberry Hand Pies
I was still craving the jammy berry pie filling, but I didn't want to make an entire pie, so I decided to make these cute little dessert empanadas. OR my Mini Blueberry Hand Pies.
Making a perfect hand pie dough.
The pie dough that I used is my All-Butter Pie Crust recipe.
Buttery Flaky Pie Crust Recipe
This is a simple all-butter pie crust recipe. This recipe makes enough pie dough for a double crust. If you only need one crust you have half the recipe.
See The Recipe
Or my Buttermilk Pie Crust.
Basic Buttermilk Pie Crust
Flaky, tender, flavorful crust. This recipe makes two - 9 inch pie crusts. Or enough for a double crust pie.
See The Recipe
Pin For Later
Both of foolproof pie crusts are made in the food processor, and both are super easy.
Secrets to perfect buttery, flakey homemade pie crust.
Use fresh, high-quality flour.
European butter
Keep the butter really cold.
Do not overwork the dough.
Refrigerate the pie dough overnight before rolling it out.
Refrigerate the hand pies (or pie) before baking.
I usually make the crust the night before, letting it rest in the fridge overnight. I find that this technique yields a flakier crust. Making sure the pie dough is cold before it goes into the oven is one thing that helps to ensure that your pie crust will be super flakey.
Then it's time to put you blueberry mini pies together:
Roll the pie crust to about an eighth of an inch thick.
Use a circular cutter to cut each circle of pie crust. (3 inch round)
Fill each little hand pie with about a teaspoon of filling. Use a handy scoop.
Brush the edges with an egg wash and pastry brush to seal them closed.
Use a fork to crimp down the edges.
Once closed, each pie is brushed with an egg wash and then sprinkled with a little turbinado sugar before baking.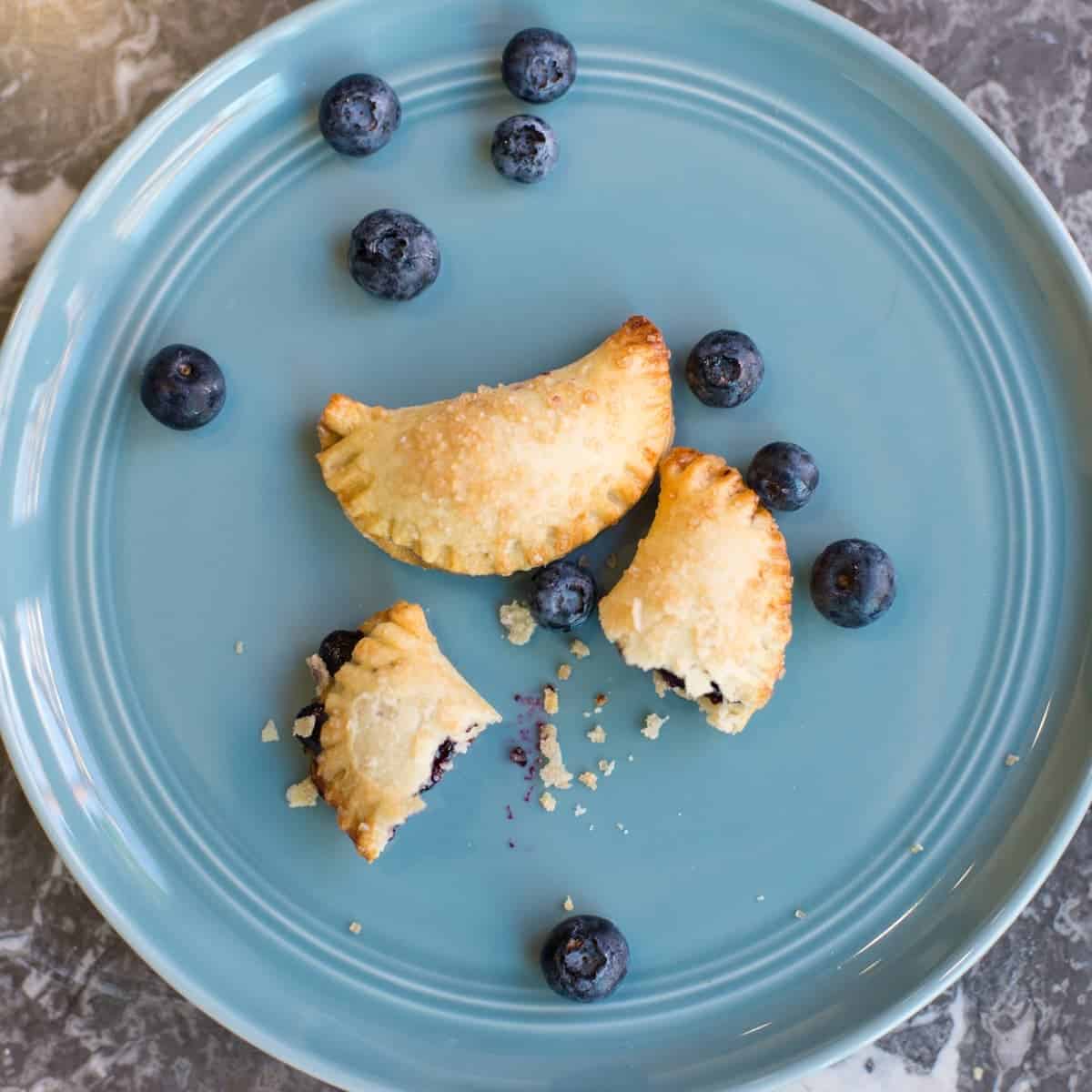 Can you use frozen blueberries to make blueberry pie filling?
Yes absolutely! Frozen berries are a great way to have berry pie all year round.
Can I take out cinnamon from a blueberry pie recipe?
Yes, if you do not like cinnamon. By all means, leave out the cinnamon.
Should I thaw frozen blueberries before baking a pie?
Yes, cook the frozen blueberries down with sugar before baking
Do blueberry pies need to be refrigerated?
Yes, I refrigerate my blueberry pie if I have leftovers. Refrigeration will stretch out the shelf life of your pie.
How do you thicken blueberry pie?
Blueberry pie filling is most often thickened with cornstarch. Arrowroot powder or tapioca starch are two other options.
FUN FACT: I used an heirloom family biscuit cutter. My dad made this biscuit cutter for my Grammy (his mom) in his metal shop class in high school. How cool is that? And now I got to use it to make these fantastic mini blueberry pies.
If you don't have one of these, you can pick up a set of round pastry cutters on Amazon.
For more sweet treats, check out some of my most popular pies and sweet rolls.
PRO TIP: The fillings used in the recipes below could also be used as fillings to make a different variety of hand pies. Just imagine warm apple hand pies.
If that isn't enough, check out my readers top favorite dessert recipes.
Don't forget to leave a★★★★★ star review!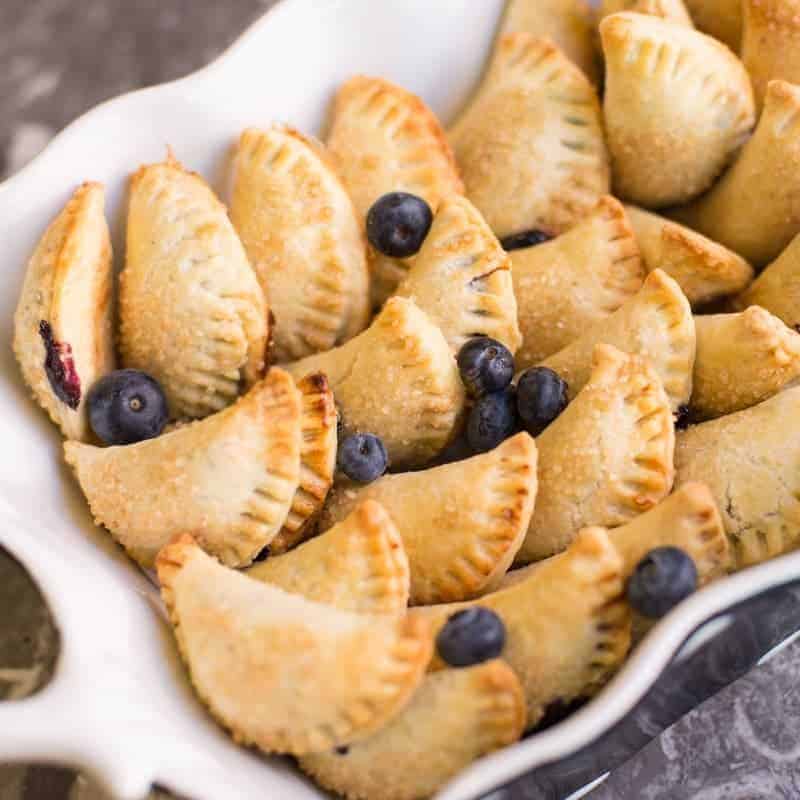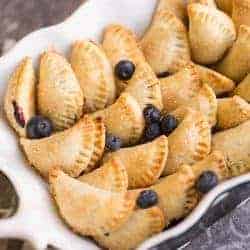 Mini Blueberry Hand Pies
The cutest little bite-sized blueberry pies. They're half empanada and half Pop-Tart..filled with a rich blueberry pie filling.
Ingredients
Blueberry Pie Filling
Final Touches
1

Egg

whisked to seal edges and wash tops of pastries.

Turbinado Sugar

for sprinkling
Instructions
Pie Crust
Make a batch of pie crust according to instructions. Refrigerate overnight.

Alternatively, this can be made with a store-bought pie crust.
Blueberry Pie Filling
Place the blueberries, sugar, lemon juice and zest into a large skillet.

Heat over medium-high heat until mixture comes to a boil.

Continue to heat until sugar is dissolved and berries are broken down. Reduce heat if necessary.

Once the mixture begins to thicken add the cornstarch slurry. (Make the slurry by adding water to the corn starch. Mix until it is a thin paste and has no lumps.

Bring the mixture to a boil. Increase heat if necessary.

Boil until the fruit mixture begins to thicken.

Remove from heat and let the fruit mixture cool.

Place in an airtight container and refrigerate overnight.
Assembly
Remove the pie dough from the refrigerator. Let is warm slightly for about 10 to 20 minutes before rolling out.

Prepare several baking sheets by lining them with parchment paper or a silpat.

Tear or cut the pie crust into four approximately equal pieces. Roll one section into a ball and then out to a thickness of about ⅛ of an inch.

Cut the dough into rounds using the round pastry cutter and place onto parchment paper.

Add about a teaspoon of filling to each mini pie.

Wash the edges with an egg wash using your finger or a small brush.

Fold over and seal with a fork.

Wash the entire surface of the pastry with egg wash and sprinkle with turbinado sugar.

Back for 12-15 minutes. Oven temperatures vary so watch your first batch closely
Notes
You can make these hand pies with absolutely any fruit.
Just a few that come to mind: apple, apricot, cherry, and pumpkin.
I can even see the pineapple caramel from my pineapple sweet rolls used in these.
Nutrition
Calories:
55
kcal
Carbohydrates:
9
g
Protein:
1
g
Fat:
2
g
Saturated Fat:
1
g
Cholesterol:
3
mg
Sodium:
31
mg
Fiber:
1
g
Sugar:
4
g
Calcium:
4
mg
Iron:
0.3
mg
SaveSave
(Visited 1,948 times, 7 visits today)