These mini blueberry filled hand pies are perfectly sized for just a few bites of sweetness. Imagine fresh blueberry pie in a bite-sized package.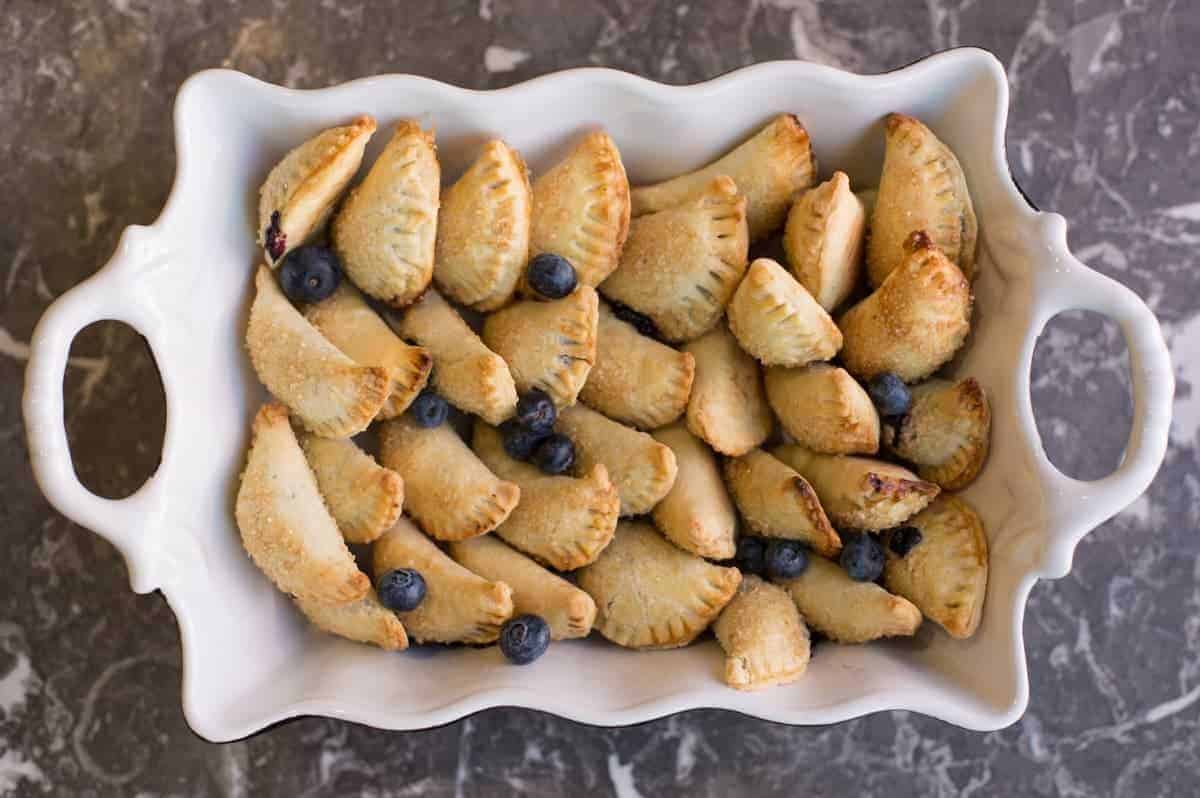 With all the ripe and juicy berries showing up in season, I decided that a blueberry pie recipe needed to be on the menu.
Recipe creation usually requires a bit of trial and error. Believe it or not, many of the recipes that I create for the blog are first-timers for me as well.
These pies, for instance. This is the first time I've ever made a little mini hand pie. Part empanada and part Pop Tart – these tasty bites of happiness turned out just perfect!
Creation of these little blueberry hand pies started with me making a homemade blueberry pie.
I was flipping through one of my food magazines and came across a recipe for a double crust huckleberry pie.
The huckleberry filling in the pie was cooked down into a vibrant and bright compote and then baked between two layers of flaky pie crust. I wanted to create this juicy fruity texture with my blueberry pie filling.
When I made my blueberry pie filling  I didn't cook the berries down before baking so I ended up with blueberry filling that was more like what I would make for a fruit, crumble
The blueberry pie was delicious. It was filled to the brim with plump, juicy berries. Topping it off with some vanilla ice-cream gave it some extras yum!
Don't get me wrong this was a really good blueberry pie, but I wanted the filling to be more of a thick and jammy blueberry pie filling.
Round 2 of Recipe Testing:
I couldn't get the texture of the fruit, from the huckleberry pie, that I had seen in the magazine, out of my brain. I was determined to recreate it in blueberry form.
Then it hit me.
I could make the blueberry pie filling again and then build my little bite-sized version of this berry-tastic pie. I decided to make a blueberry compote and nestle it in little tiny fruity hand pies.
I don't want to brag but this blueberry pie filling recipe is a keeper. I am definitely going to make it again and put it in a whole pie.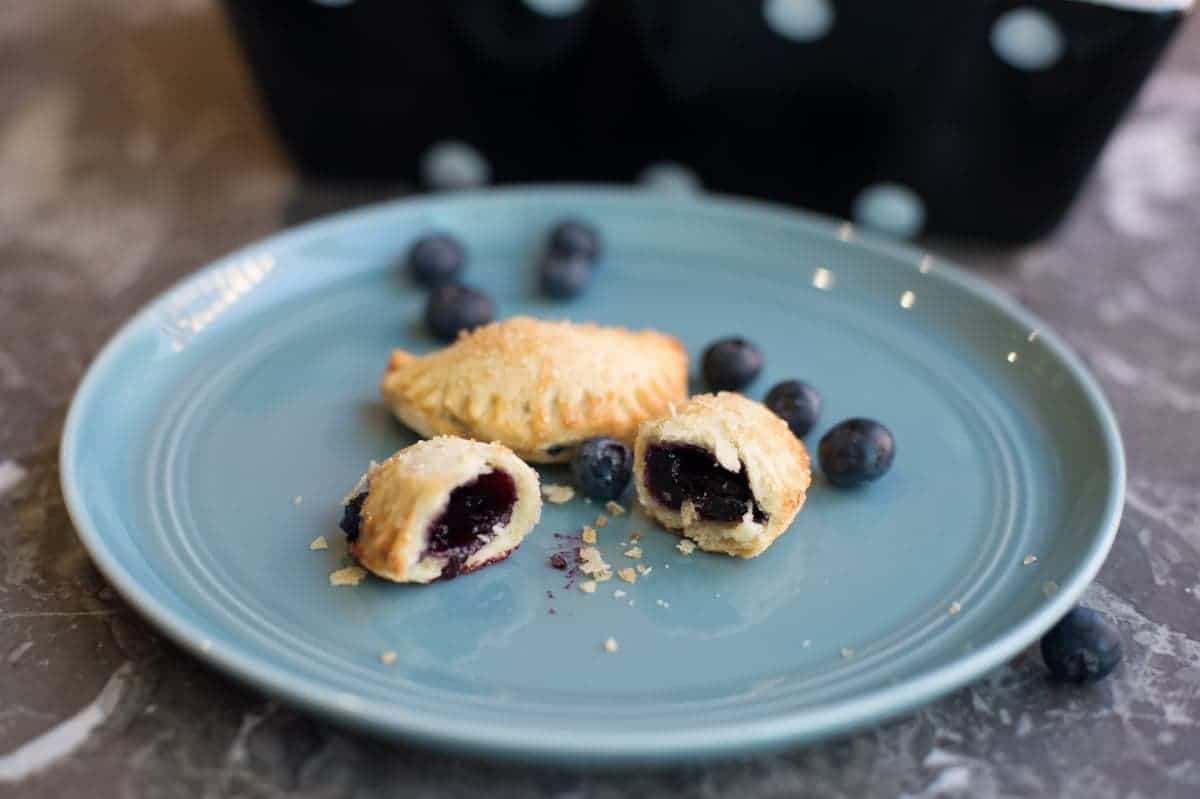 Making a perfect, flaky pie crust.
I used my basic butter pie crust recipe. I made the crust the night before, letting it rest in the fridge overnight. I find that this technique yields a flakier crust.
Then it's time to put you blueberry hand pies together:
Roll the pie crust to about an eighth of an inch thick.
Use a circular cutter to cut each circle of pie crust. (3 inch round)
Fill each little hand pie with about a teaspoon of filling.
Brush the edges with an egg wash to seal them closed.
Use a  fork to crimp down the edges.
Once closed, each pie is brushed with an egg wash and then sprinkled with a little turbinado sugar before baking.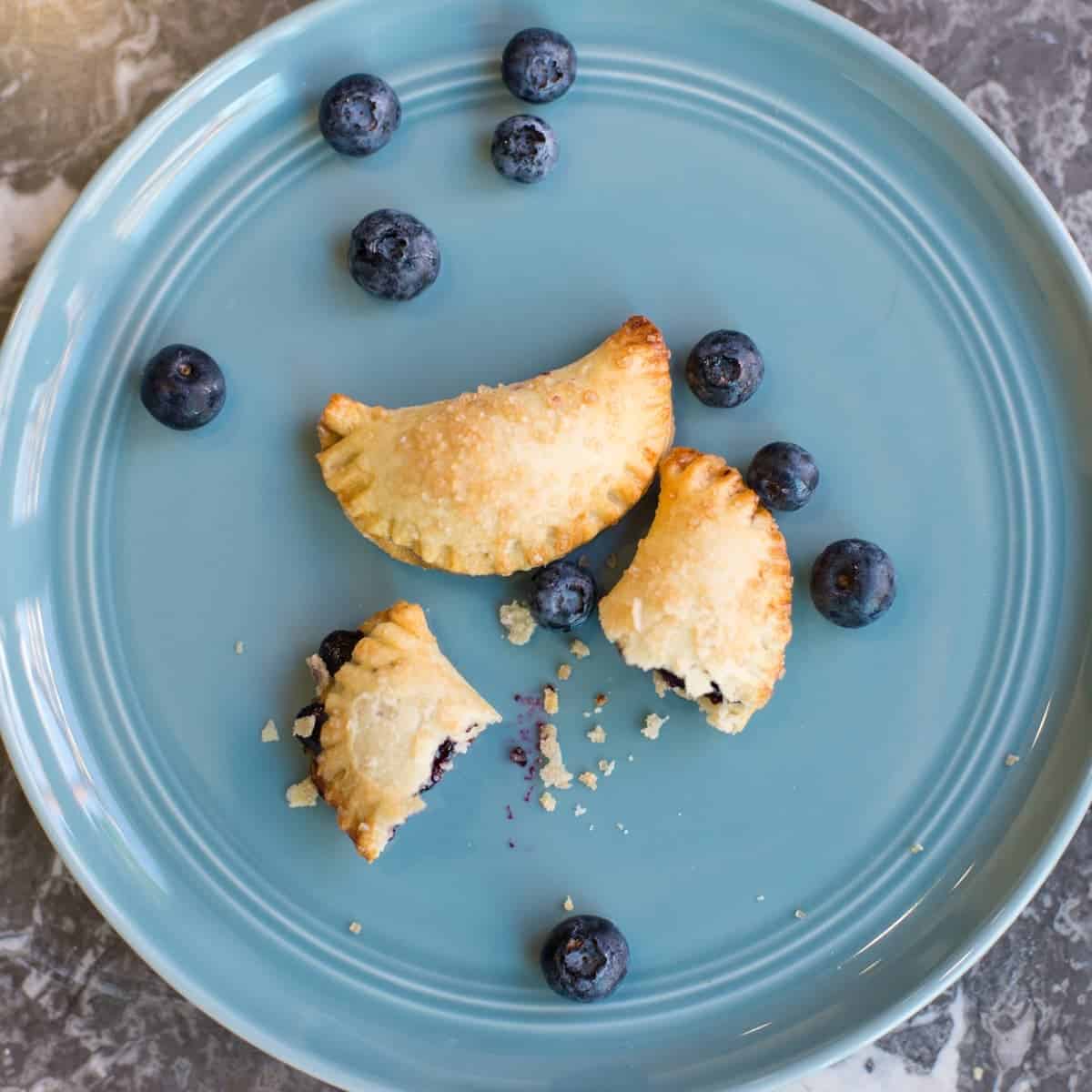 Can you use frozen blueberries to make blueberry pie filling?
Absolutely! Frozen berries make it easy to make fruit pie filling all year round.
Fun Fact:
I used an heirloom family biscuit cutter. My dad made a biscuit cutter for my Grammy (his mom) in his metal shop class in high school. How cool is that? And now I got to use it to make these fantastic mini blueberry pies.
For more sweet treats, check out some of our favorites. The fillings used in these recipes could also be used to make different flavors of hand pies.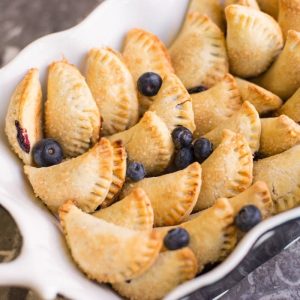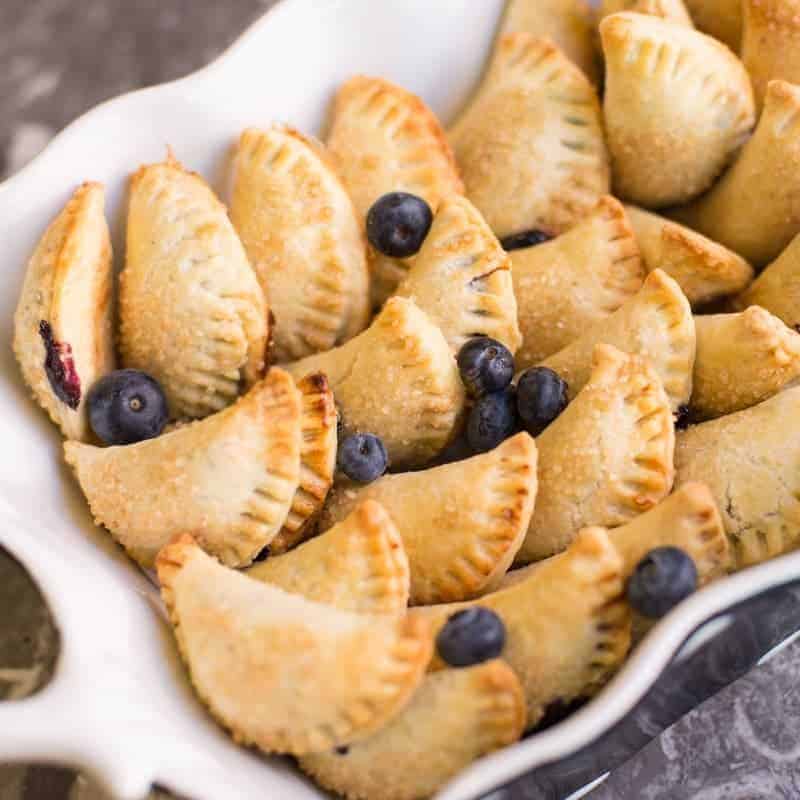 Mini Blueberry Hand Pies
Total Time:
1
hour
15
minutes
The cutest little bite sized blueberry pies. They're half empanada and half Pop Tart..filled with a rich blueberry compote.
Print Recipe
Pin Recipe
Ingredients
Pie Crust
Blueberry Pie Filling
Egg wash
1

Egg

whisked to seal edges and wash tops of pastries.

Turbinado Sugar

for sprinkling
Instructions
Pie Crust
Make a batch of pie crust according to instructions. Refrigerate overnight.

Alternatively this can be made with a store bought pie crust.
Blueberry Compote
Place the blueberries, sugar, lemon juice and zest into a large skillet.

Heat over medium-high heat until mixture comes to a boil. 

Continue to heat until sugar is dissolved and berries are broken down. Reduce heat if necessary. 

Once the mixture begins to thicken add the cornstarch slurry. (Make the slurry by adding water to the corn starch. Mix until it is a thin paste and has no lumps.

Bring the mixture to a boil. Increase heat if necessary.

Boil until the fruit mixture begins to thicken.

Remove from heat and let the fruit mixture cool.

Place in an air tight container and refrigerate overnight.
Assembly
Remove pie crust from the refrigerator. Let is warm slightly for about 10 to 20 minutes before rolling out.

Prepare several baking sheets by lining them with parchment paper.

Tear or cut the pie crust into four approximately equal pieces. Roll one section into a ball and then out to a thickness of about ⅛ of an inch.

Cut out rounds and place onto parchment paper. 

Add about a teaspoon of filling to each mini pie.

Wash the edges with an egg wash using you finger or a small brush.

Fold over and seal with a fork.

Wash entire surface of the pastry with egg wash and sprinkle with turbinado sugar.

Back for 12-15 minutes. Oven temperatures vary so watch your first batch closely
Notes
You can make these pies with absolutely any fruit. 
Just a few that come to mind: apple, apricot, cherry. I can even see the pineapple caramel from my pineapple sweet rolls used in these. 
Nutrition
Calories:
55
kcal
|
Carbohydrates:
9
g
|
Protein:
1
g
|
Fat:
2
g
|
Saturated Fat:
1
g
|
Cholesterol:
3
mg
|
Sodium:
31
mg
|
Potassium:
22
mg
|
Fiber:
1
g
|
Sugar:
4
g
|
Vitamin A:
15
IU
|
Vitamin C:
1.8
mg
|
Calcium:
4
mg
|
Iron:
0.3
mg
SaveSave
SaveSave
SaveSave
SaveSave
SaveSave
SaveSave
SaveSave
SaveSave
SaveSave
SaveSave
SaveSave
SaveSave
(Visited 190 times, 1 visits today)