Recipe
Comments
Save
Go to Collections
This post may contain affiliate links. Please read my
disclosure policy.
As far as apple desserts go, this might be the BEST apple cake recipe you'll ever have! Warm homemade apple cake is best shared with good friends and a great cup of coffee.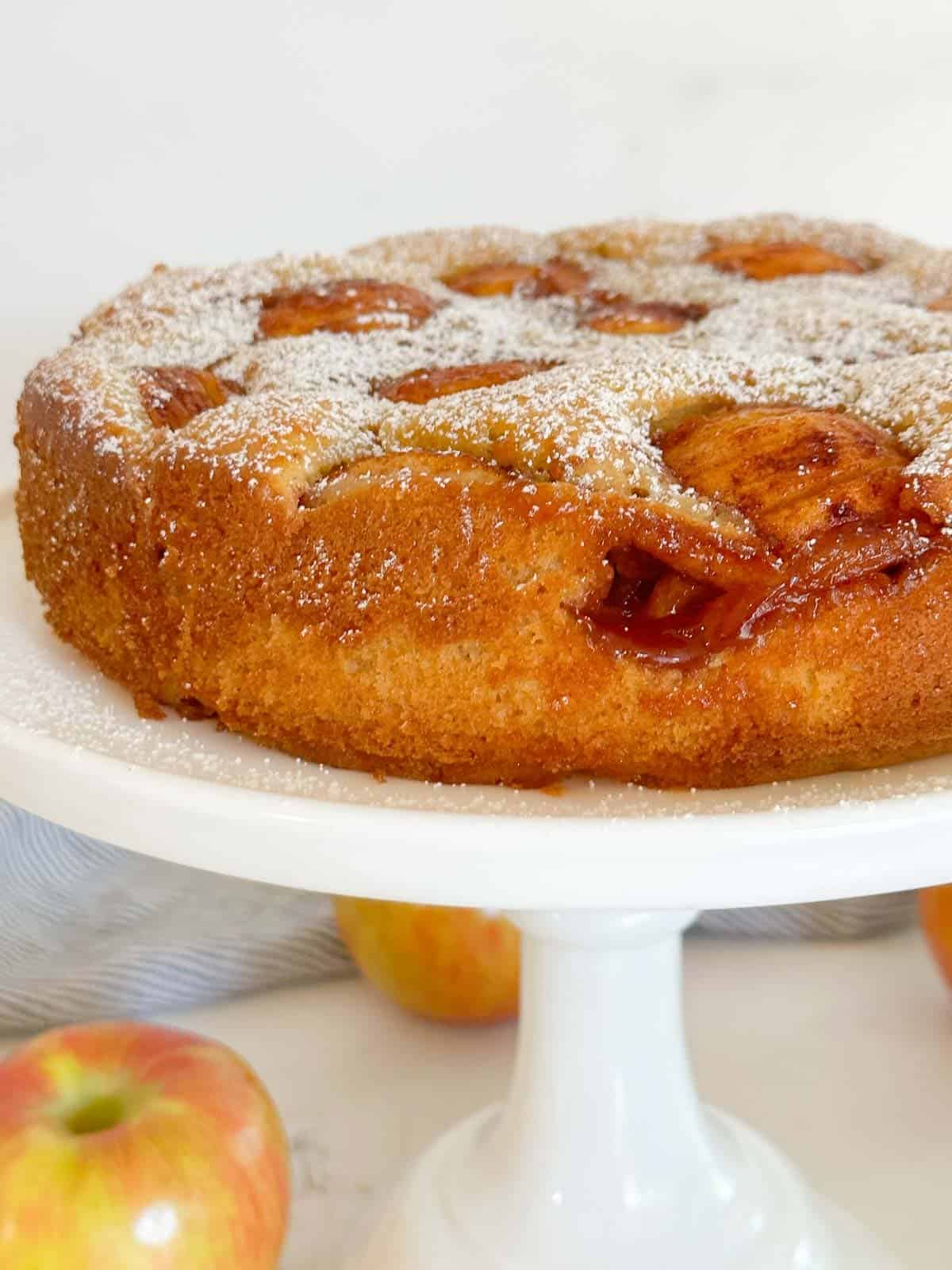 German apple cake is a moist, tender cake with loads of sunken apples. This easy fall cake makes a delicious coffee cake but can be equally impressive for special occasions.
Why you'll love this apple cake recipe
One bowl: This cake is a one-bowl cake. Just mix the batter up in one bowl.
Apple-y goodness: What could be better than freshly baked apples nestled in a moist vanilla cake?
Beautiful: This cake looks adorable in a non-pretentious way!
Where is apple cake from?
The two most common apple cakes are French Apple Cake and German Apple Cake. Both of these cakes use fresh apples. The most significant difference between these two cakes is that a French apple cake has diced apple mixed into the cake batter. The traditional German Apple Cake recipe calls for apple slices to be placed on top of the batter before baking.
Is apple cake German?
Traditional German Apple Cake is known as the apfelkuchen recipe.
What is German apple cake?
German apple cake is a light vanilla cake topped with apples and baked. It tastes like baked apples being hugged by a light vanilla cake.
What's In German Apple Cake?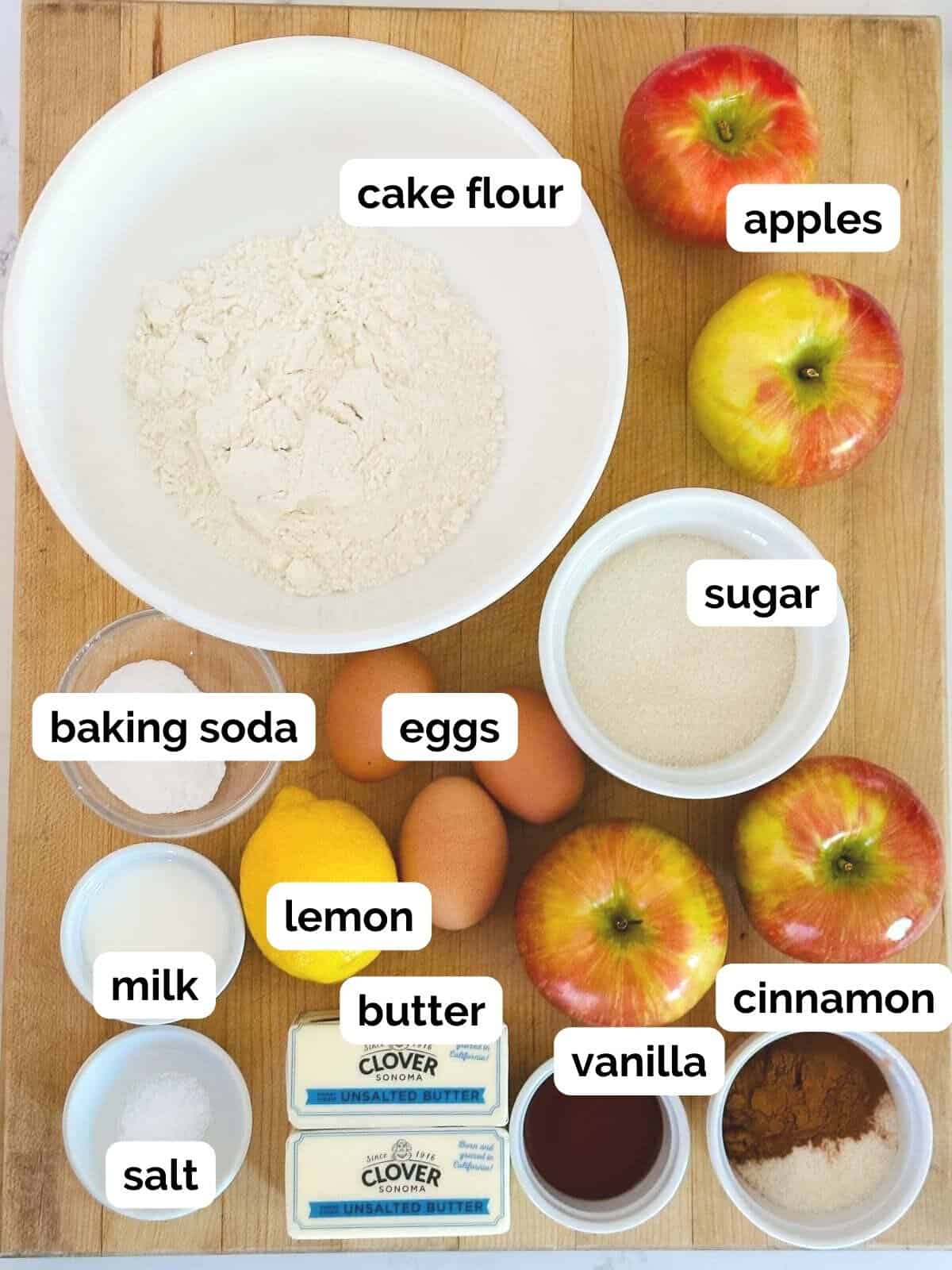 Flour: Cake flour should be used for best results. Using all-purpose flour will give you a denser cake.
Sugar, Vanilla, and Cinnamon: This recipe traditionally uses Vanilla sugar. If you don't have vanilla sugar, make it yourself or use vanilla extract in this recipe.
Other dry ingredients: baking soda, and salt.
Apples: I like a crisp red apple for this recipe, like fuji of Honeycrisp.
Eggs: Let the eggs come to room temperature before baking.
Butter: Unsalted butter, softened to room temperature.
Whole Milk: Milk adds tenderness to the cake crumb.
How is apple cake made?
Apple cake is one of the easiest cakes you can make. It's a great recipe to serve for a casual get-together and makes a great coffee cake.
Preheat the oven to 350℉ (175℃). Set up the oven to bake in the bottom one-third. Grease the bottom of a springform pan —line with parchment paper.
Wash, core, and peel apples. You can either quarter the apples and then use a knife to slice the apples without slicing all the way through, OR you can slice the apples into wedges. Toss the apple slices in a little lemon juice and the cinnamon/sugar mixture. Set aside.
Use a mixer to cream butter and 1 ¼ cup of sugar until it's light and fluffy—about 5 minutes. Take your time on this step.
Add the eggs to the butter/sugar mixture one at a time, mixing in each egg before adding the next—about 30 seconds.
Add the vanilla and the milk. Mix to Combine
Sift together baking powder, flour, and salt. Add the dry ingredients to the batter mixture. Mix until combined.
Pour the cake batter into the prepared pan (or a greased and floured cake pan if a spring-form pan is unavailable).
Place the apples into the cake batter.
Bake until the edges of the cake are golden brown—approximately 45 minutes. Test the doneness of the cake with a skewer or a probe thermometer (205℉/96℃)
Remove the cake from the oven, cool it on a wire rack for about 20 minutes, and then remove it from the springform pan. Continue to cool until the cake is at room temperature.
If desired, when the cake is still slightly warm, brush the top of the apples with warmed apricot jam. This step gives the cake a beautiful shine.
When the cake is completely cool, sprinkle the top of the cake with powdered sugar.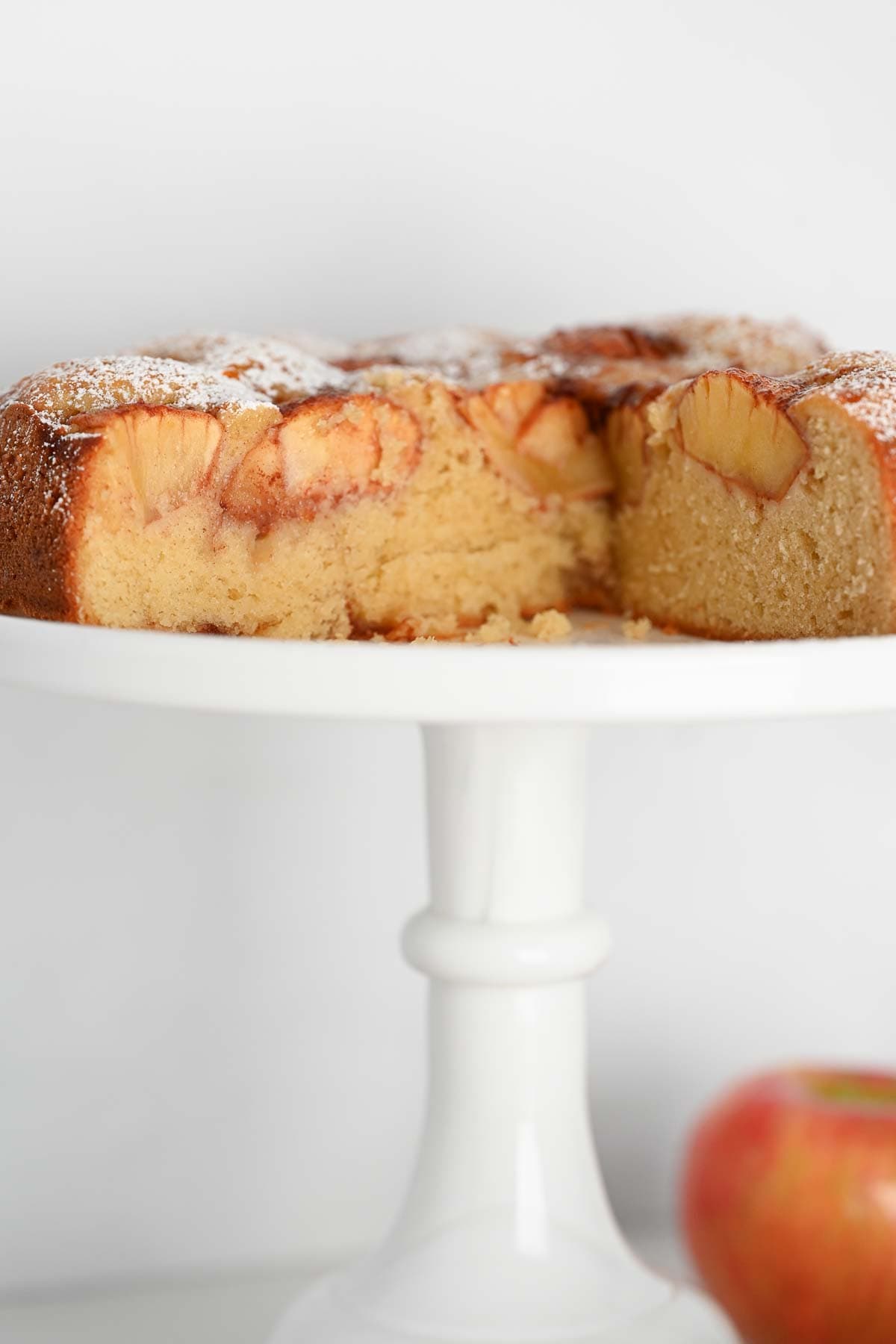 Apple Cake Tips And Variations
When is apple picking season?
Apples are usually at their peak between September and October.
How many apples for apple cake?
Use 3 to 4 apples for this cake.
What are the best apples for baking an apple cake?
Traditionally, apple cake is made with whatever apples are on hand. Feel free to use your favorite apple in this recipe.

That being said, when cooking with apples, choose a crisp, firm apple. Steer clear of apples like red and golden delicious. Here are just a few suitable varieties:

Granny Smith Apples: Granny Smith Apples are very tart, crisp, and have firm flesh. They are the traditional apple used in apple pie. Because of their firmness, Granny Smith Apple holds up well to baking. You can bake them for a long time without them becoming too mushy. This is important for recipes like Apple Pie. When you bite into Apple Pie, you want a firm, sweet bite of apple.

Pippin Apples: Pippin Apples are another tart and crisp apple. Pippin apples are sweeter than Granny Smith Apples, but they hold up to baking without getting too soft. The flavor of pippin apples reminds me of a crisp apple cider. Because of this, they are one of my favorite apples to use in baking.

Fuji Apples: Fuji apples are crisp and sweet. I like sometimes to mix fuji apples with another kind of apple when I am making a pie.I like the contrast of the super tart apples and the sweetness of a fuji apple.
Pink Lady Apples
What other can be used fruits in this cake recipe?
This cake base is perfect for adding different fruit. Stone fruit works exceptionally well in this cake. You can replace the apples with pears, plums, peaches, and nectarines. Any of these different versions would make a delicious cake.
Can I use gluten-free flour in this cake?
Yes, Gluten-free flour works very well in this cake recipe. One of my personal favorites is King Arthur One-to-One Flour. This gluten-free flour blend works well in most cake recipes I have tried.
How to serve German Apple Cake
Serve apple cake at room temperature or gently warmed.
​This cake can also be served with whipped cream or vanilla ice cream.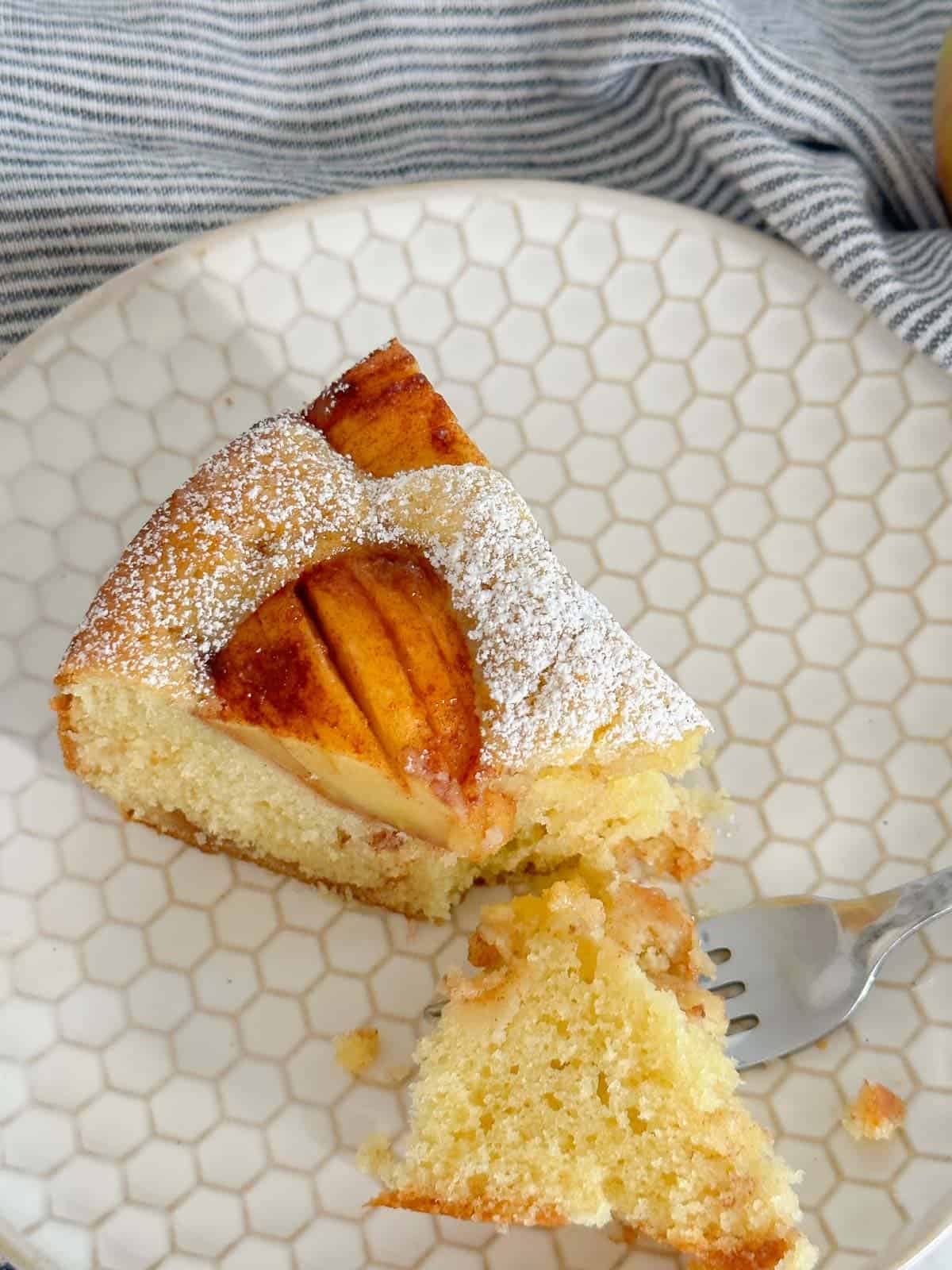 How long does apple cake last?
Store any leftover cake in an airtight container at room temperature. The cake will be good at room temperature for a few days. If you want to keep it longer, store it in the fridge.
Can you freeze German apple cake?
Yes, you can even freeze this cake. Then I found out that baked goods freeze pretty nicely. Because this cake has no frosting, you can wrap it tightly in plastic wrap and then in a layer of aluminum foil.
Hungry For More Cake Recipes
If you haven't had enough cake yet, here are a few more of my cake recipes.
This banana cake recipe is moist and has a ton of banana flavor but it's not heavy at all. It's frosted with a sweet and…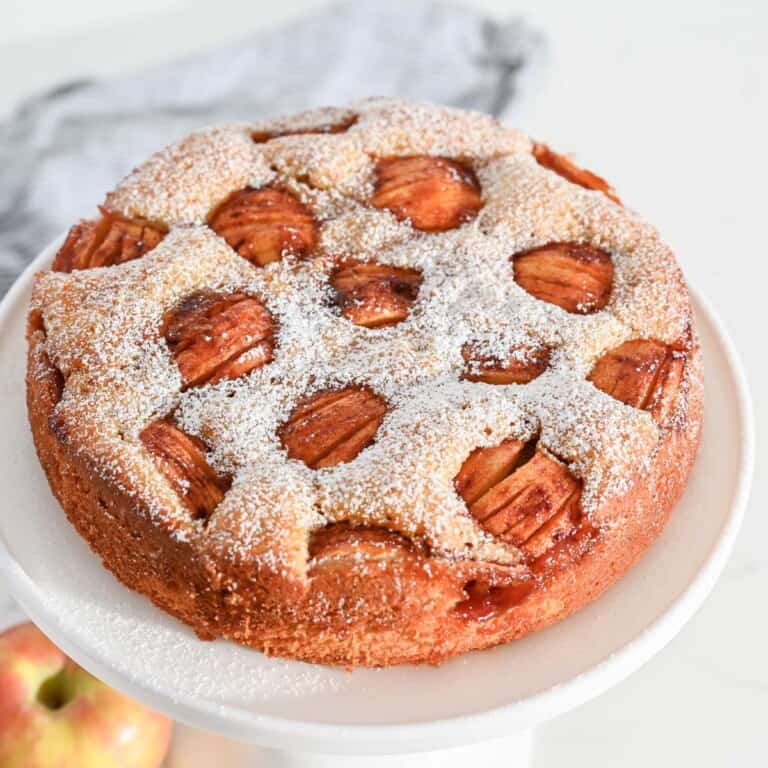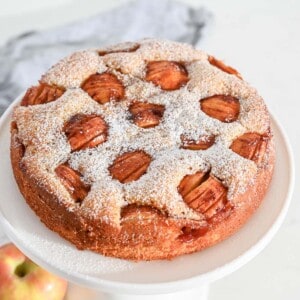 German Apple Cake Recipe
Looking for the perfect dessert that combines both tradition and irresistible flavors? Look no further than this authentic German Apple Cake recipe! This delectable treat is a staple in our house, loved for its moist and fluffy texture, rich taste, and delightful aroma. Whether it's for a family gathering, a festive occasion, or simply to satisfy your sweet tooth.
Ingredients
1 ½

cup

cake flour

2

teaspoons

baking powder

½

teaspoon

salt

(affiliate link)

1 ½

sticks

unsalted butter

,

room temperature

1 ¼

cup

granulated sugar

3

eggs

,

room temperature

2

teaspoon

vanilla,

or vanilla sugar

3

tablespoons

milk

3 to 4

apples

,

cored, peeled and sliced into wedges

2

teaspoons

lemon juice

5

teaspoons

sugar

(affiliate link)

,

for apples

2

teaspoons

cinnamon,

for apples

2

tablespoons

powdered sugar

apricot jam

,

optional
Instructions
Preheat the oven to 350℉ (175℃). Set up the oven to bake in the bottom one-third. Grease the bottom of a springform pan —line with parchment paper.

Wash, core, and peel apples. You can either quarter the apples and then use a knife to slice the apples without slicing all the way through, OR you can slice the apples into wedges. Toss the apple slices in a little lemon juice and the cinnamon/sugar mixture. Set aside.

3 to 4 apples,

2 teaspoons lemon juice,

5 teaspoons sugar,

2 teaspoons cinnamon

Use a mixer to cream butter and 1 ¼ cup of sugar until it's light and fluffy—about 5 minutes. Take your time on this step.

1 ½ sticks unsalted butter,

1 ¼ cup granulated sugar

Add the eggs to the butter/sugar mixture one at a time, mixing in each egg before adding the next—about 30 seconds.

Add the vanilla and the milk. Mix to Combine.

2 teaspoon vanilla,

3 tablespoons milk

Sift together baking powder, flour, and salt. Add the dry ingredients to the batter mixture. Mix until combined.

1 ½ cup cake flour,

2 teaspoons baking powder,

½ teaspoon salt

Pour the cake batter into the prepared pan (or a greased and floured cake pan if a spring-form pan is unavailable).

Place the apples into the cake batter.

Bake until the edges of the cake are golden brown—approximately 45 to 55 minutes. Test the cake's doneness with a skewer or a probe thermometer (205℉/96℃)

Remove the cake from the oven, cool it on a wire rack for about 20 minutes, and then remove it from the springform pan. Continue to cool until the cake is at room temperature.

Optional glaze: If desired, when the cake is still slightly warm, brush the top of the apples with warmed apricot jam. This step gives the cake a beautiful shine.

When the cake is completely cool, sprinkle the top of the cake with powdered sugar.

2 tablespoons powdered sugar
YOUR OWN NOTES
Sign In to add your own private notes
Nutrition
Serving:
1
slice
Calories:
361
kcal
Carbohydrates:
53
g
Protein:
4
g
Fat:
16
g
Saturated Fat:
9
g
Trans Fat:
1
g
Cholesterol:
86
mg
Sodium:
145
mg
Fiber:
2
g
Sugar:
36
g
Calcium:
63
mg
Iron:
1
mg