This perfectly moist apple cake recipe has a lovely apple flavor and the perfect amount of spices. Perfect for serving with Great Coffee to Good Friends. I also serve this recipe with a side of decadent vanilla pastry cream!
Moist and delicious Apple Cinnamon Cake made with fresh apples.[/caption]
This cake recipe was a recipe that was brought to me by my good friend Kit. Kit contributed many recipes to the pages of Foodology Geek.
This Easy Apple Cake Recipe is just one of the baking recipes that she's shared with me.
When Kit brought this cake recipe over she brought it with a side of her Vanilla Pastry Cream. This Apple Cake Recipe is really delicious all on its own. But this pastry cream is next level! I seriously could have just eaten it from the jar.
This Old Fashioned Apple Cake is a traditional Scandanavian cake that is made with fresh apples and nuts. It's typically served with coffee.
What I love about this Apple Cake Recipe
This cake is a one-bowl cake. Just mix the batter up in one bowl.
The fresh-baked apples in this cake add a warm apple cinnamon loveliness to the cake.
This cake looks adorable in a non-pretentious way!
Recipe Notes
Ingredients For Apple Cake
Dry Ingredients: all-purpose flour, sugar, baking soda.
Spices: cinnamon and sugar
Apples: I like a crisp red apple for this recipe, like fuji
Eggs: Let the eggs come to room temperature before baking.
Butter: Unsalted butter, softened to room temperature.
Almonds: Slivered almonds for decorating. You can use any nuts that you like. Pecans and walnuts are also a good choice.
How To Make Apple Cake
Prep the apples: Peel and core the apples. Slice the apples into wedges. Toss the apples with cinnamon and 5 tbsps of sugar. Set aside.
Cream the butter and sugar: Beat the butter and sugar until it is light and fluffy.
Add the eggs: Beat each egg in one at a time.
Add the dry ingredients: Sift in the flour, baking soda, and salt.
Prepare the cake for baking: Pour the batter into a parchment-lined springform pan. You can also use a greased and floured cake pan. Place the apple wedges into the top of the cake to form a spoke pattern.
Bake: Bake the cake for about 45 minutes at 375℉
What Apples To Use When Baking
There are so many apple varieties, am I right?
Which apples are best for baking?
Opinions vary greatly on this topic. And like everything creative, there isn't a completely right answer? But, I can tell you a few of the go-to apples that I use when baking.
My favorite apples for baking are:
You probably have a favorite apple that you use for baking. If not here are a few suggestions.
Granny Smith Apples: Granny Smith Apples are very tart, crisp, and have firm flesh. They are the traditional apple used in apple pie. Because of their firmness, Granny Smith Apple holds up well to baking.
You can bake them for a long time without them becoming too mushy. This is important for recipes like Apple Pie. When you bite into Apple Pie you want to have a firm, sweet, bite of apple.
Pippin Apples: Pippin Apples are another tart and crisp apple. Pippin apples are sweeter than Granny Smith Apples but they hold up to baking without getting too soft.
The flavor of pippin apples reminds me of a crisp apple cider. Because of this, they are one of my favorite apples to use in baking.
Fuji Apples: Fuji apples are crisp and sweet. I like to sometimes mix fuji apples with another kind of apple when I am making a pie.
I like the contrast of the super tart apples and the sweetness from a fuji apple.
This might be the BEST Apple Cake Recipe
This Homemade Apple Cake is best served with a group of good friends and a great cup of coffee.
There is nothing better than sharing a gorgeous cake with people that you love.
However, all bet's are off on the Vanilla Pastry Cream. This stuff is so good you may have to fight a family member off to get your fair share.
Apple Cake Variations and FAQs
Can I use gluten-free flour in this cake?
Yes, Gluten-free flour works very well in this cake recipe. One of my personal favorites is King Arthurs One-to One Flour. This gluten-free flour blend works well in most cake recipes that I have tried.
Storing Tips
Store any leftover cake in an airtight container. The cake will be good at room temperature for a few days. If you want to keep it longer, store it in the fridge.
Freezing
Yes, you can even freeze this cake. I used to not bake as much because I felt like my recipe would go to waste. Or I just didn't want all that delicious cake sitting around on the counter just calling my name. Then I found out that baked good freeze quite nicely. Because this cake has no frosting you can wrap it tightly in plastic wrap and then in a layer of aluminum foil.
Other fruits to try in this cake recipe
This cake is perfect for adding different fruit. Stone fruit works especially well in this cake. You can replace the apples with pears, plums, peaches, nectarines. All of these fruits would be absolutely delicious in this cake recipe.
Here are more cake recipes to try:
If you haven't had enough cake yet, here are a few more of my cake recipes.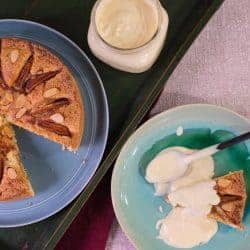 Homemade Apple Cake Recipe
This cake is an ideal 'any occasion' cake. It s great for breakfast, can be taken to a potluck, stands on its own as dessert...or is right at home for any coffee break.
Instructions
Wash, core, and peel apples. Slice into wedges.

Mix cinnamon and 5 tsp of sugar together. Toss the apple slices in the cinnamon/sugar mixture. Set aside.

Use a mixer to cream butter and 1 ¼ cup of sugar together until it's light and fluffy.

Add the eggs to the butter/sugar mixture one at a time, mixing in each egg before adding the next.

Sift together baking powder and flour. Add to the batter mixture. Mix until combined.

Pour the cake batter into a parchment-lined springform pan (or a greased and floured cake pan if a spring-form pan is not available).

Stick the apple wedges into the batter, putting them in vertically (thick edge up) in a spoke-like pattern. (The end result should look a bit like the fins in a jet engine.)

Decorate the top with a few slivered almonds.

Bake at 375 °F until golden brown - approximately 45 minutes.

Serve warm. Optional: top with vanilla sauce (recipe below).
Nutrition
Calories:
353
kcal
Carbohydrates:
52
g
Protein:
3
g
Fat:
15
g
Saturated Fat:
9
g
Cholesterol:
85
mg
Sodium:
141
mg
Fiber:
2
g
Sugar:
34
g
Calcium:
46
mg
Iron:
1.3
mg