Guinness Stout Cupcakes filled with Jameson's Whiskey Ganache. If that wasn't enough, then this cupcake is topped off with Bailey's Buttercream frosting.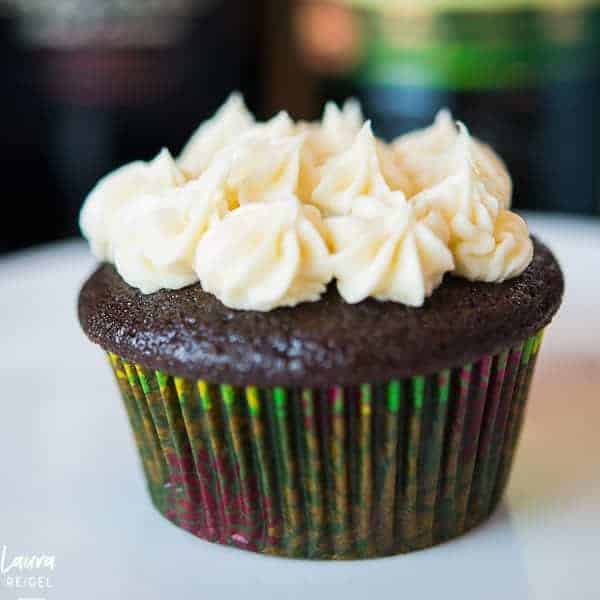 I'm not lying when I say that Car Bomb Cupcakes are the best Irish cupcake recipe.
I was on the search for St. Patrick's Day dessert ideas and came across the individual parts of this recipe in other forms but not altogether like this.
Dark Chocolate Guinness cupcake, which is super moist by the way.
Irish Whiskey Ganache made with dark chocolate and Irish whiskey.
Bailey's Buttercream fluffy, creamy and the perfect topper for these cupcakes.
The dark chocolate stout cupcake is everything that a cupcake should be
Moist, chocolatey, rich, but not overly sweet – simply magic!
There's a subtle hint of Irish stout flavor that adds that somethin' somethin' to the chocolate. You know what I mean, right?
Even if you don't fill these cupcakes with anything at all, you are going to want to pin this recipe just for chocolate Guinness batter alone.
This chocolate cupcake batter is extremely moist and incredibly chocolatey.
This chocolate Guinness cake batter recipe would also make a delicious chocolate cake. Rich and super moist, the Guinness chocolate cake recipe is a keeper! Make sure you pin it!
St. Patrick's Day is one of those holidays that I always celebrate, even though I'm not Irish at all!
Well actually after doing my DNA I found out that I am a little Irish! There are a few reasons why this holiday is a holiday that you should look forward to as well.
POTATOES - Who doesn't like potatoes?
BUILT-IN GOOD LUCK- Everyone needs a little extra good luck. Plus a chance and finding gold at the end of a rainbow. It seems like just a bonus, am I right?
CORNED BEEF - Since I don't have my Corned Beef Recipe here yet...This recipe from Delish, looks super delish.
GUINNESS BRAISED SHORT RIBS - my personal favorite.
IRISH CAR BOMB CUPCAKES - You're welcome!
How To Make Chocolate Ganache
If you have never made ganache you'll be surprised at how easy it easy.
Ganache sounds fancy so of course, you may assume it requires professional chocolatier skills.
I'm here to let you in on a few secrets and show you how easy it is to make a perfect chocolate ganache. If you don't even know what ganache is...imagine your favorite chocolate in a smooth, creamy, spoon eating consistency.
Ganache is thicker than hot fudge but creamier than a Chocolate Pot De Creme.
Ganache is typically used as a thick chocolate filling between cakes or as a cake frosting. You have probably seen a warm chocolate ganache poured over a cake, resulting in a perfectly rich, chocolate shiny coating.
Ganache used as a frosting makes a really beautiful finish for a cake.
Step number one
Making ganache requires picking your favorite chocolate and add it to a large bowl. You can buy chocolate in baking bars or I prefer to use chocolate chips. Using chocolate chips also prevents all the mess that is made when your recipe involves chopping chocolate bars. My favorite brands of chocolate are Guittard, Sharfenberger, and Valrhona. I usually pick an extra dark variety of chocolate. In my opinion, dark chocolate makes the best ganache.
Step number two
Warm heavy cream in a saucepan. How easy is that? Simply add the heavy cream into a saucepan and heat it up on medium-high. You'll want to watch this closely since you don't want to scald the cream by getting it too hot.
Step number three
Pour the heated cream over the chocolate and then let the chocolate melt into it.
Bonus step: Make it a Whiskey Ganache
The last step is to add a little bit of whiskey to the warm and creamy chocolate ganache. You can add any type of liquor that you want to spike a ganache. The flavor combinations are limited only by your imagination and waistline.
How to fill cupcakes
When I built this recipe it was the first time that I've ever made cupcakes filled with anything.
Adding filling to cupcakes always seemed like it would be way too much work.
I was surprised how easy is easy to was core out the cooled cupcakes with a small paring knife. I just angled the knife at a 45-degree angle and cut a little circle out of the middle, and those bad boys came out super easy – no problem.
If you are a gadget person, you can also use a fancy cupcake corer tool for this.
After you've tasted the results of biting into this perfectly moist cupcake filled with a rich dark whiskey ganache, you will take the time to core the cupcakes and fill them too.
The perfect finish to these Car Bomb Cupcakes is Bailey's buttercream.
The Baileys Buttercream is light, fluffy and full of Baileys Irish Cream flavor.
I have to confess that cake decorating is not my strongest skill in life so I usually try to keep it simple I have a small set of fancy piping tips that I pull out every once in a while and a silicon piping bag that I love.
If you don't have all those little tips and bags for piping frosting you can put the buttercream in a large freezer bag and then cut the corner off of the plastic bag.
This is the easiest hack I have ever seen for frosting cupcakes and you end up with a really nice fat round piping that I think looks super modern as far a cupcake styling goes.
More on the Irish car bomb...WTF is an Irish Car Bomb you ask?
Maybe I'm the only one asking this question but I have to admit that I've never actually had a real-life 'Car Bomb' cocktail.
To tell you the truth after reading the recipe for this festive St. Patrick's day cocktail it doesn't really sound like my jam at all.
It sounds more like a recipe for the worst hangover you've ever had in your entire life. If you aren't familiar, I'll enlighten you.
First, you take a shot glass and fill it with a ½ shot of Irish cream liquor and then you float a ½ shot of Irish Whiskey on top of that.
Then you take the whole shot glass and drop it into a ½ pint of Guinness.
Then Chug it as fast as you can! Like this. The recipe actually warns that if you do not chug it fast enough it will curdle and start to taste bad. 😐 Yeah, no thanks.
I will leave you with one helpful travel tip – if you do happen to be visiting Ireland, you should not order an Irish Car Bomb, as the Irish find this reference less than funny. As for me I'll be sticking to the cupcakes and using the rest of my Guinness to make some fantastic Guinness Braised Short Ribs.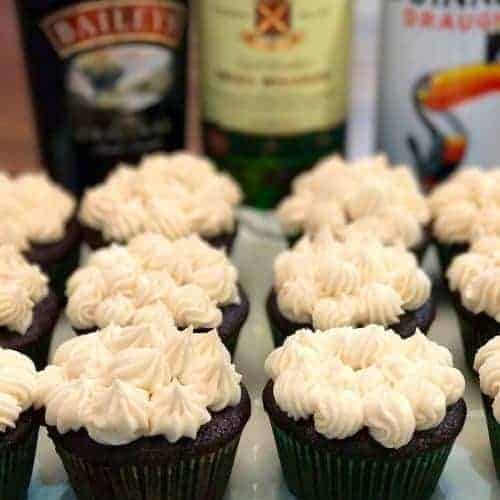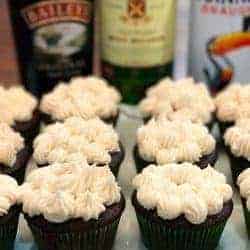 St. Paddy's Car Bomb Cupcakes
Guinness Chocolate Cake, Irish Whiskey Ganache, Baileys Buttercream. OMG yum!

Ingredients
Irish Whiskey Ganache
10

ounces

bittersweet chocolate

⅔

cup

heavy cream

1 ½

tbsp

Irish Whiskey

About a half of a shot
Bailey's Buttercream
3

sticks

unsalted butter

room temperature

4 ½

cups

powdered sugar

3

tbsp

heavy cream

5

tbsp

Baileys Irish Cream

About a shot and a half
Instructions
Cupcakes
Preheat oven to 350℉. Prepare 2 cupcake pans, line with cupcake liners.

Add the flour, sugar and baking soda to a bowl and set aside.

Add the Guinness, espresso powder, and butter to a medium saucepan. Heat until warm, and the butter has melted. Remove from heat.

Add the cocoa powder to Guinness and butter mixture, whisk until smooth. Set aside to cool slightly.

Add eggs and sour cream to a mixing bowl and beat until well blended.

Add cocoa mixture to mixing bowl and beat until well incorporated.

Add flour mixture to mixing bowl and beat until just mixed. Do not over mix.

Fill cupcake tins, about ¾ full.

Bake for 17 minutes or until a stick comes out clean.
Irish Whiskey Ganache
Place chocolate in a bowl.

Heat heavy cream in a small sauce pan. Heat until just boiling, Be careful not to overheat.

Pour cream over chocolate and whisk until smooth.

Add whiskey, whisk until incorporated.

Set aside until cooled slightly.

Core cupcakes with a small knife or cupcake corer.

Add ganache into the centers of each cupcake. I use a small cookie scoop.
Baileys Buttercream
Cream 3 sticks of unsalted butter.

Add powdered sugar and beat until smooth.

Add Baileys Irish Cream and heavy cream.

Beat until well blended and fluffy.

Pipe icing onto the cupcakes.
Notes
If the chocolate isn't completely melted after adding the cream you can either place it over a double boiler or heat in microwave in 30 second increments.
SaveSave
(Visited 736 times, 1 visits today)